Chapter 6
Please Feed the Animals
---
(Originally posted February 3, 2013)
We went to bed at about 10 or 10:30 on that second night at Barb's house, but we weren't asleep for very long. At around 2:00am we were awakened by some bizarre noise coming from the living room. It sounded like there was some sort of ninja fight going on out there complete with "hi-ya" type noises. At first we just tried to ignore it, hoping it would go away, but after at least a half-hour of constant noise, we decided to investigate what was going on.
Of course, the minute we went out into the living room, the noise seemed to have stopped. We were definitely the only ones awake, and we poked around trying to figure out what had been going on. We were pretty sure the noise sounded like it must have been a broken toy or video game whose noisemaker had gone haywire, but it stayed silent the entire time we tried looking around.
The only living soul who did stir when we went out and tried to figure out what was going on was one of the cats who roam Barb's house. There are at least four of them, though I expect probably more, and they always seemed to show up in the most unexpected places during our visit. Tracy vaguely remembered the names of a couple of the cats, but mostly we just referred to them by their distinguishing characteristics. My favorite of the cats was the one who seemed to constantly be sitting on one of the bar stools at the breakfast bar in their kitchen. He always popped up from behind the bar, and I remarked that he looked like a barfly constantly slurring "I'll have another…" Therefore, we nicknamed him Boozin'. I wish I could have snapped a picture of him at the bar, but he didn't want to cooperate.
Well, on this second night, Boozin' was very interested in what we were up to, and seemed especially interested in coming to join our party because it must have been boring out in the living room. While we were out investigating the source of the sound, Boozin' wandered into our room and had jumped up on the bed to settle in for a nice catnap. In most situations, I'm sure this would be fine, but I'm extremely allergic to cats—much worse than I am to dogs. I was already barely surviving breathing in all the cat dander in the house, so having the kitty sleep in our room wasn't going to happen. We tried to nicely dislodge poor Boozin' from the place where he had gotten oh so comfortable, but he was not a fan of our double team. He splayed out all four legs like I have only ever seen in movies, and looked extremely affronted. Luckily, we were successful at chasing him out of the room so we could return to sleep.
Of course, what happened mere moments after we got back in bed? The video game noise started up again. I turned on the light, and figured I would at least peek out to see if there was some sort of bright light associated with the toy so we could find it and turn it off. I cracked the door and looked out—nothing. As I started to close the door again and give up, I noticed one tiny kitty paw stretched all the way out through the crack into the room just CLAMORING to get in. It was all just too much for 2:00am. We finally just crawled back into bed and, trying our best to ignore the sounds of karate and the meows and scratches at our door, we eventually drifted off into a not-so-restful slumber.
The next morning, we awoke as rested as we could hope to be after our long night, and we went out into the living room where the obvious breakfast food was cold leftover pizza. Larry asked us, "What were you doing up in the middle of the night??" and we had to explain the whole story. Barb made a mental note to sweep the room for abandoned games with a mind of their own. After hearing our explanation, Larry told us what had run through his mind when he heard all the commotion out in the living room. Apparently, one of Ben's friends who had been over for homecoming pictures the night before has a dad in the armed forces. Larry wasn't too clear on the details, but he had some notion that the dad was some sort of special ops hit man. While all the parents had been over that evening taking pictures, the dad had commented to Larry on how nice their house and property are. "You must have a pretty complex security system here," inquired the dad. "Not really," Larry had replied. So his thought in the middle of the night had been that army spies were breaking into his house. Apparently, none of us slept too well.
Once we were up and at 'em for a little while, we decided that it was probably about time for us to pack up our stuff and be on our way. Not only did we have a busy day in the Springs ahead of us, but then we had to drive back to Boulder. We took a couple pictures around Barb's property because it's got really pretty landscaping.
Here's the fire pit we had sat out at both evenings.
Apparently all the kids had wanted homecoming pictures on this little bridge, and I can see why!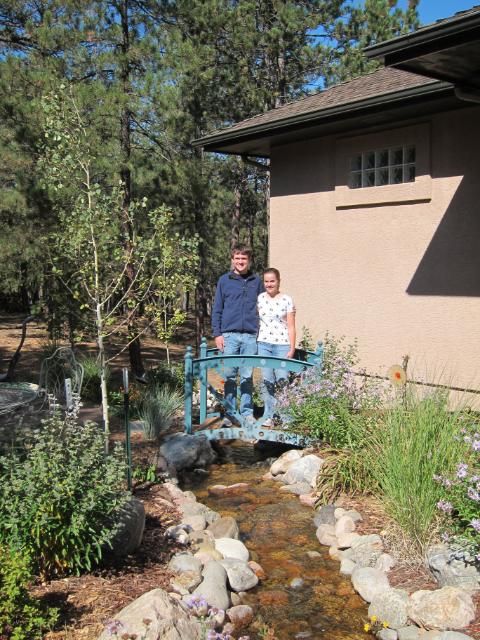 With that, we loaded up the car, profusely thanked Barb and Larry for having us, and we were on our way.
Pretty quickly on the first leg of our drive, our car hit the 90,000 miles mark, so I snapped a picture. Way to go, Dumbo!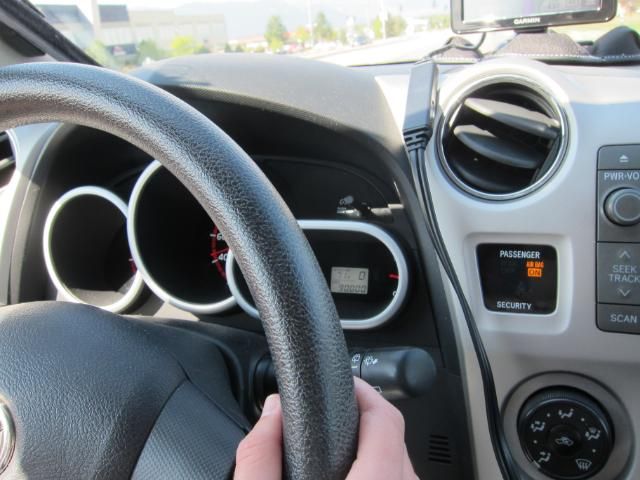 Our drive took us to the historic Broadmoor Hotel where we were going to eat lunch and explore for a little while. Tracy had been to The Golden Bee, the English pub that is associated with the hotel, a couple times before on her previous trips here, so she recommended it for lunch.
We started off the meal with a Le Cellier-esque bowl of Potato and Cheese Soup.
It was delicious! We followed this up with the Cottage Pie.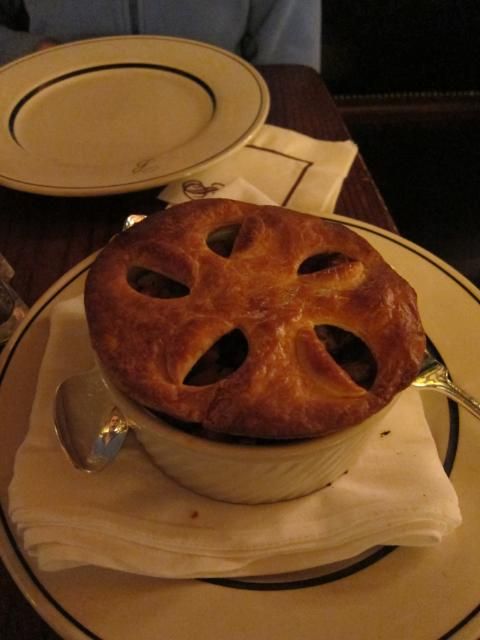 Also quite delicious!
After lunch, we headed outside to walk around the grounds of the beautiful Broadmoor Hotel.
I took another panorama to show the lake that sits in the middle of the hotel grounds.
Tracy and I had actually been to this hotel together once before. Our senior year of high school, one of our choirs was selected to sing at the Colorado Music Educators Association conference which is held here every year. The whole choir loaded onto a tour bus and took a day trip down in our tuxedos and choir dresses. We got to explore for a short period of time on that occasion, but it was January, so it wasn't exactly the best weather for looking around the grounds. Tracy has also gotten to stay here a couple times with her family. One of the times when they were there, there was a big to-do in the area over a missing-person case. The day after they left from their stay, the police decided to drag the lake as part of the investigation and found the body of the person who had been killed. Yikes!
Luckily, there were no murders (as far as we know) in the hour or so that we spent wandering the Broadmoor. We went into the lobby and sat in front of the fireplace for a while.
Before too long, however, we decided to be on our way. We passed by this fountain on the way back to the car, and I liked the spitting horses.
Our final tourist stop of the trip was the Cheyenne Mountain Zoo. As you know, Tracy and I love zoos, and this is a really fun one. The signature attraction is the giraffes, because you can feed them!! You used to be able to buy some sort of graham-cracker-like giraffe treat to give them, but apparently since we had last been down, they changed to selling hunks of lettuce. Once you buy your lettuce for a dollar or two, you can rip it up and offer it to any giraffes who are interested. As we quickly discovered, they were ALL interested.
Giraffes have black tongues, which is one of the weirdest parts about feeding them.
We made so many new friends among these beautiful animals! The first one, pictured above, hung out around the entrance. He was smart because everyone who bought their lettuce was looking for a good giraffe to start feeding, so he never had to wait long.
Our next favorite giraffe was this fellow. He seemed to have some sort of problem with his tongue, so he could only stick it out a couple inches. He also didn't seem to have much control over it.
He was very glad for a snack!
There was also a baby who was having trouble reaching the level of the platform, so of course we had to give him some of our lettuce.
After we'd given out our whole lettuce allotment, we moved on through the rest of the zoo. We saw lots of great animals.
Hippos, a.k.a. the deadliest animals in Africa.
This kind of bear actually loves to eat honey! We loved him because he's like Winnie the Pooh.
Here's Tracy with a grizzly in the background.
And me getting hugged by one…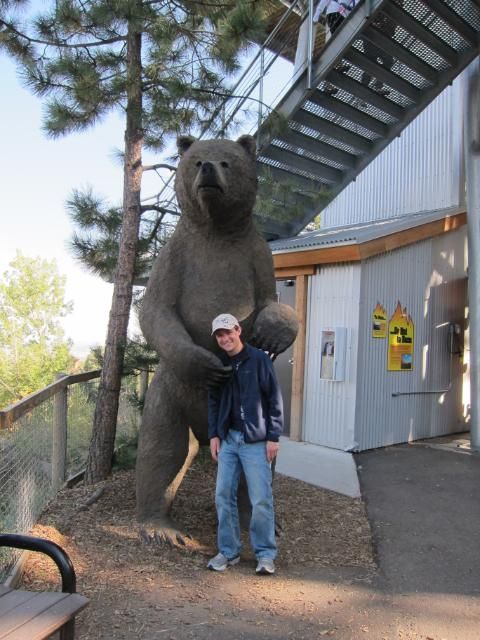 Loved the wallabies.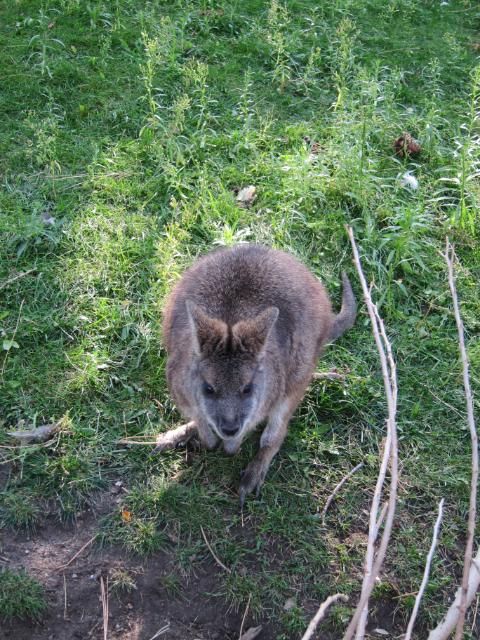 And the zebras.
Unfortunately, I didn't get that many good pictures through the various fences and cages, but we saw a ton of animals! This zoo is actually built on the side of a mountain, so it is quite the workout trying to walk all the way up to see all the animals. On their website, it says that the elevation gain from the bottom to the top of the zoo is equivalent to walking up a ten-story building—and it certainly feels that way! Nonetheless, it's still one of my favorite zoos to visit. The giraffes alone are worth the price of admission, but beyond them there's a great group of animals.
This actually marked the end of our trip down to Colorado Springs. After we finished seeing everyone at the zoo, we made our way back down the mountain and drove back up to Boulder. I don't even have any pictures from the drive back because we didn't pass anything too exciting. On the whole, we had a great weekend. It was packed with things to see and do, and we got to catch up with family. I'd say Dumbo's first road trip was a rousing success!



Share