Chapter 8
We Heart Drizella
---
(Originally posted July 25, 2012)
Perhaps the most exciting part about our monorail ride from the Magic Kingdom was the first monorail announcement of the trip.
"Please stand clear of the doors. Por favor mantengase alejado de las puertas."
This is another one of those "I can't believe we're here" moments, so we were pretty thrilled to hear it for the first time. Once we got moving, however, we were sad to hear the new narrator for the actual monorail spiel. He's much less engaging than his predecessors. Aural atmosphere aside, the monorail ride was very smooth, and we were excited to make it around the Seven Seas Lagoon and to our destination:
The Grand Floridian
I had been in the Grand Floridian lobby/grounds on a family trip when I was eight years old, and have since seen it on such shows as the Disney World episode of Full House. In terms of first person memories of the resort, however, I didn't have many. So it was pretty exciting to see how grand and fancy it is. This chandelier is ridiculous.
So where were we heading? We decided to start off our table service dining with a meal full of character. And characters. So we were going to…
1900 Park Fare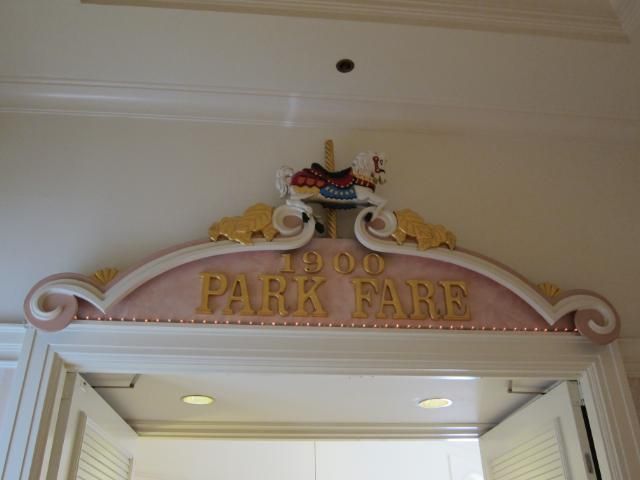 We checked in at the front podium and were given our pager, and then we were led to the photographer to take our picture in the kingdom. Here's a tip: at these photo opportunities, if you don't have Photopass Plus, always ask the photographer to take one with your camera. They have to oblige. The same is true for all Photopass photographers, but it's more worth it at the dining photo ops when the package they offer costs a lot.
We were told it would be a few minutes until we would be seated, so we could go back to the lobby to wait. I took advantage of this time to take a few more pictures of the lobby. There's the band playing.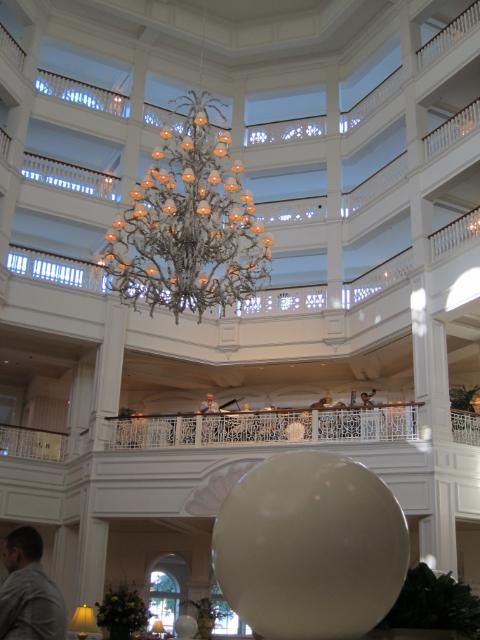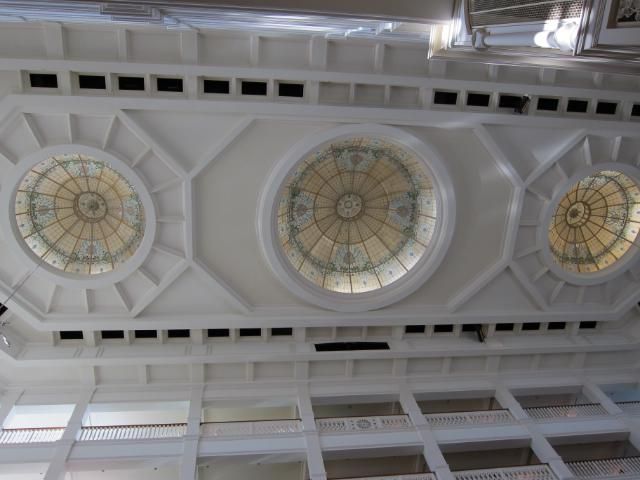 We sat down on one of the couches in the lobby, and at this point I distinctly remember feeling absolutely exhausted. We had been up for about 15 hours already and I hadn't really slept the night before, so my eyelids were drooping as we waited for our pager to buzz. Once it did, I luckily got a feeling of a second wind, and we went to be shown to our seats.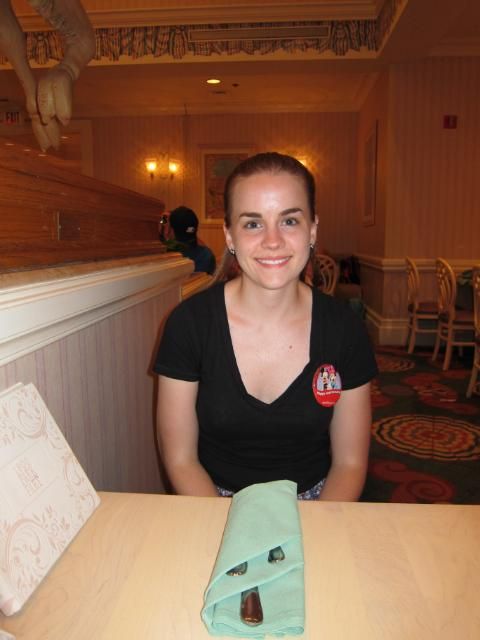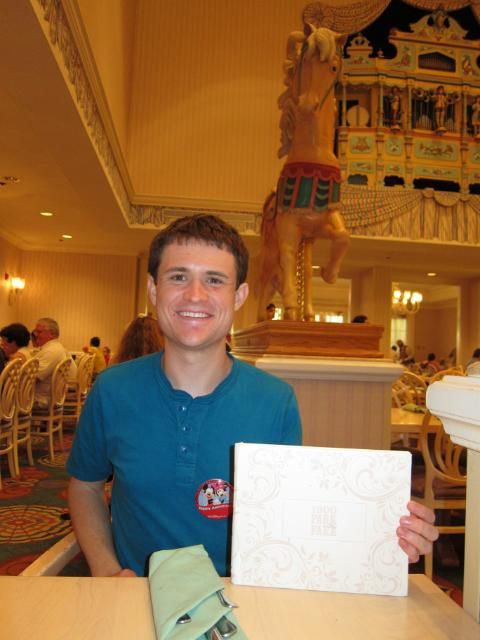 Our server came over and asked us what we would like to drink. Tracy had the idea to ask for an Arnold Palmer, which our server told us would be made with pomegranate lemonade. I decided to copy Tracy and asked for the same.
Before we headed up to the buffet for the first time, we saw that Cinderella's stepsister Anastasia was almost going to be at our table, so we decided to wait lest we miss her.
Anastasia was very jealous of our anniversary buttons. She pouted about not having a prince of her own and let us know how disgusted she was by Cinderella and Prince Charming's displays of affection.
After Anastasia moved along to another table, we guessed that we had about 5 minutes before the next character showed up, so we quickly ran to the buffet to get plates of food.
Here's my first plate.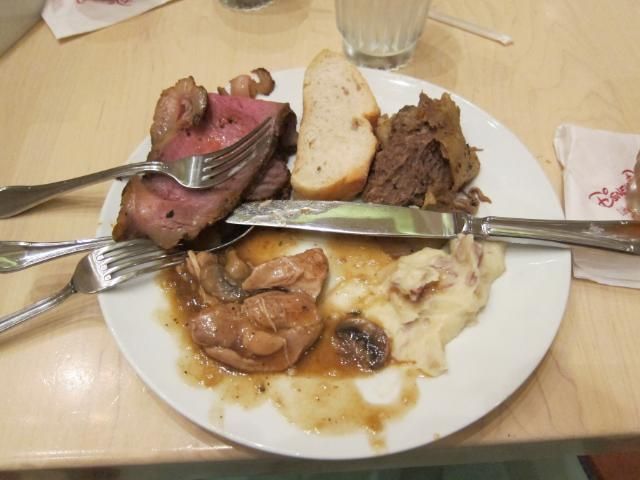 Starting from the top and going clockwise, we have bread (always delicious), beef stew (nicely tender), mashed potatoes, chicken marsala (one of my favorite things here), and prime rib (very good).
And here's Tracy's first plate.
She had pasta salad, bread, mashed potatoes, and prime rib with the horseradish sauce.
Next up, Drizella came around to our table. She was a real hoot. First she asked about how long we had been married and when we told her two years she yelled about it for a while. When she asked Tracy how I proposed and she explained that I proposed to her in the mountains, Drizella had heard enough. She yelled across the restaurant to her sister, "Anastasia!! These two got engaged in the mountains!!"
"I want to go to the mountains!!" yelled Anastasia from well across the room.
"I want to get engaged!!" shouted Drizella. Then she pouted for a while before posing with us.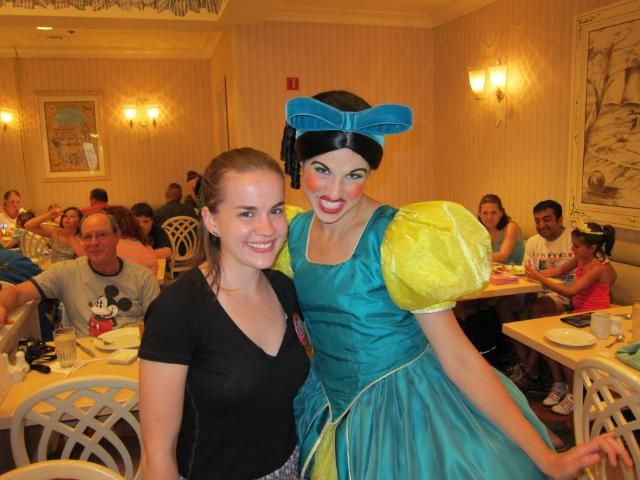 This was one of our favorite character interactions of the trip. A lot of times the characters don't know what to do with a couple without kids, so this was a really fun back and forth.
Next it was time for another trip to the buffet. Here's Tracy's second plate.
Salmon, seafood paella, and sushi.
And here's my plate.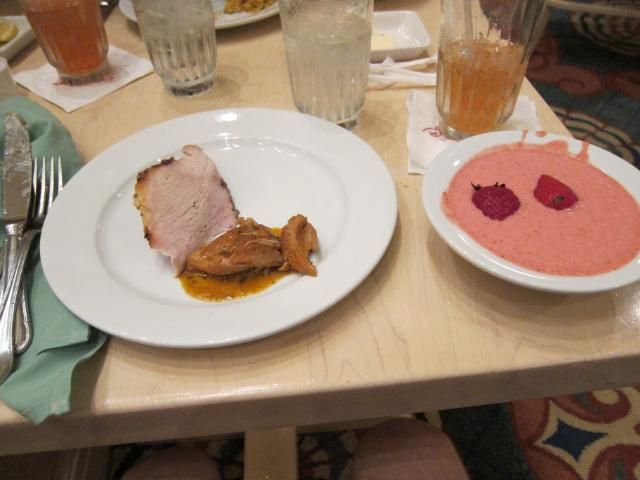 Pork (very tasty), and some sort of Chicken (had a curry flavor that I didn't love).
And of course, we both had the strawberry soup!! This was one of the things we had read about before coming and one of the things we were most excited for. I'd read mixed reviews, the worst of which referred to the soup as tasting like melted sherbet, but I thought it was great. I love strawberries, so the basic taste was of course to my liking. But I also enjoyed the consistency of it, and it was just a real delight.
I should mention that 1900 Park Fare was not in our original plan for ADRs. We actually went through quite the saga trying to schedule our first table service meal. Right after booking the trip, we made a reservation for California Grill. That was where we went for the big fancy dinner of our honeymoon trip. We got crab sushi that was topped with pieces of thin-sliced beef, which is to-date one of the most delicious things I've ever eaten. When we made our reservation, we planned on getting this again, but about two weeks before the trip we checked a menu online. The sushi was gone! There were plenty of other good options available at California Grill, but nothing appealed enough that we could justify the Signature Dining aspect. Next, we made a reservation at Narcoosee's. We looked at the menu and thought the surf and turf sounded delicious. We planned on splitting that, therefore only using 2 credits total. But then about a week before our trip, we had lobster at my uncle's house and it really upset my stomach for some reason. I know I'm not allergic to it, but since it made me feel bad I didn't want to risk getting that feeling in WDW. It was back to the drawing board. With about a week to go, Tracy suggested 1900 Park Fare and I thought it sounded like a good idea. So the search was on for an ADR. We got one for around 9:00 without much of a problem, but didn't really want to eat that late. Tracy kept checking the Disney dining website for a better reservation time, and two days before we left, a reservation opened up for 6:55. Perfect! Anyway, back to the meal…
It was dessert time. Here's my plate with Tracy's in the background. You can also see one of those delicious Arnold Palmers.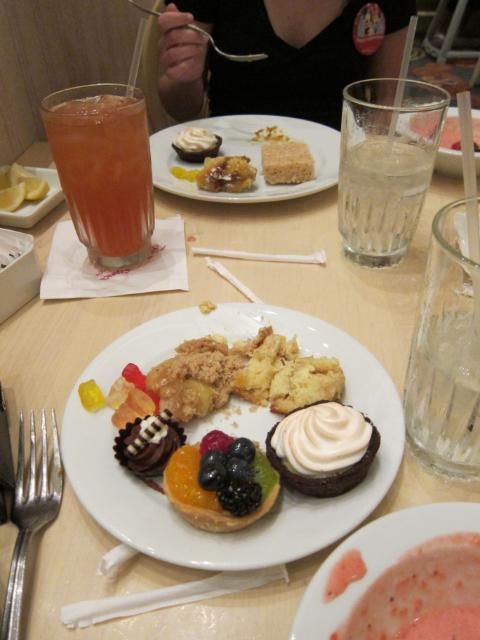 My plate included apple cobbler, bread pudding, key lime tart, fruit tart, chocolate mousse and gummi bears. Tracy's had most of the same plus a rice krispie treat. All these were good, but I was SO FULL that I only had a bite or two of each.
As if we weren't full enough, next our server brought out these cupcakes for our anniversary.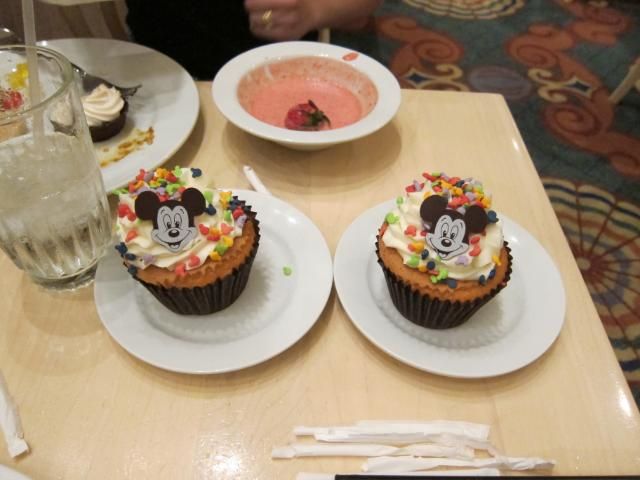 We couldn't even think about eating any more at this point, so we asked for them to go. At this time, Cinderella and her Prince Charming were announced and danced around the restaurant.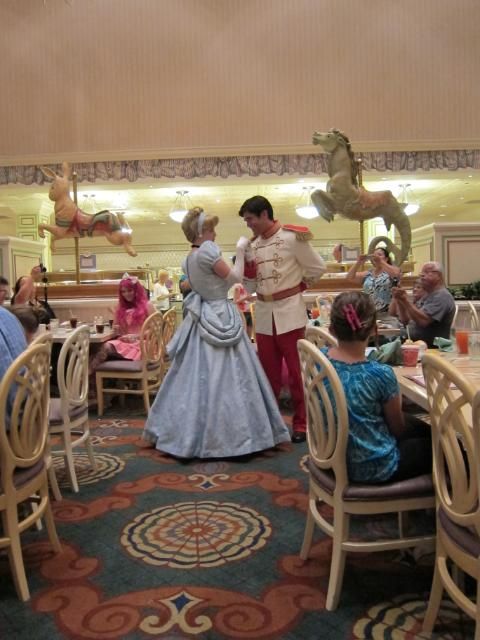 Next, Lady Tremaine showed up at our table. She was funny if a little creepy. She asked about where we had come from and if there were any eligible men there for her daughters.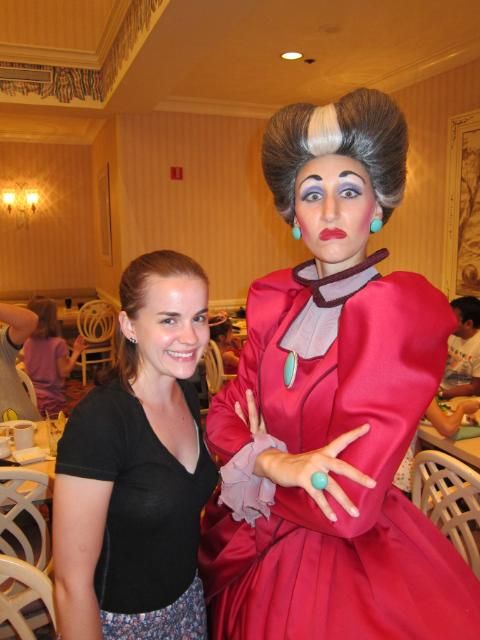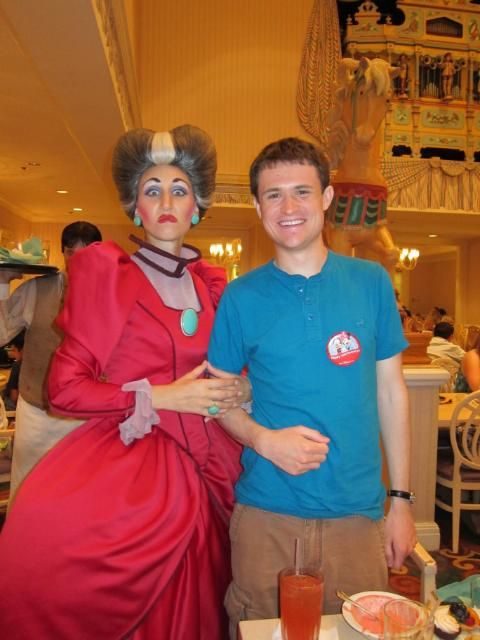 Tremaine was soon followed by Prince Charming.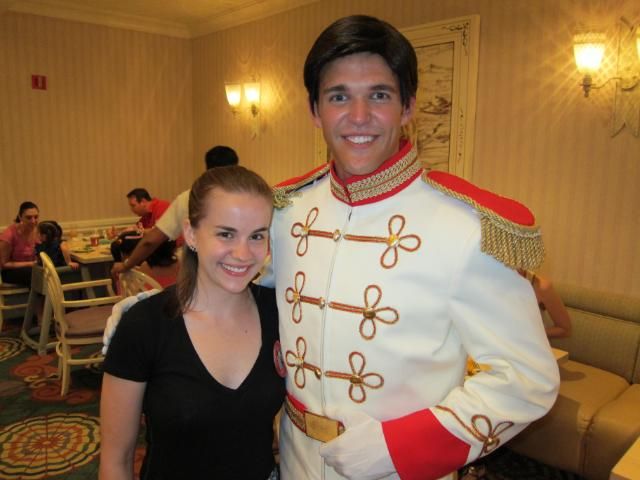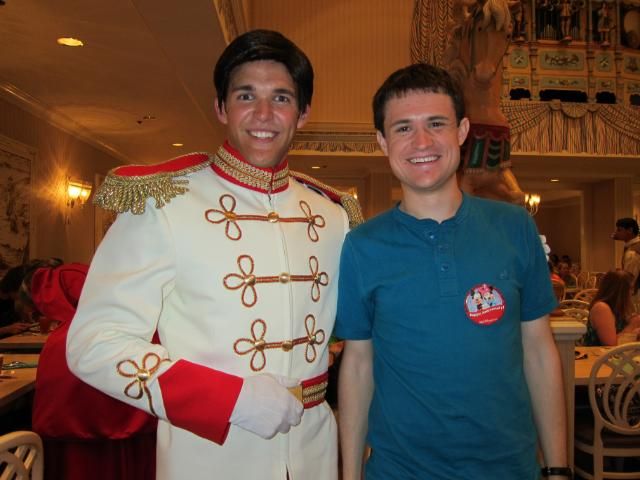 And after him, came the star of the evening, Cinderella.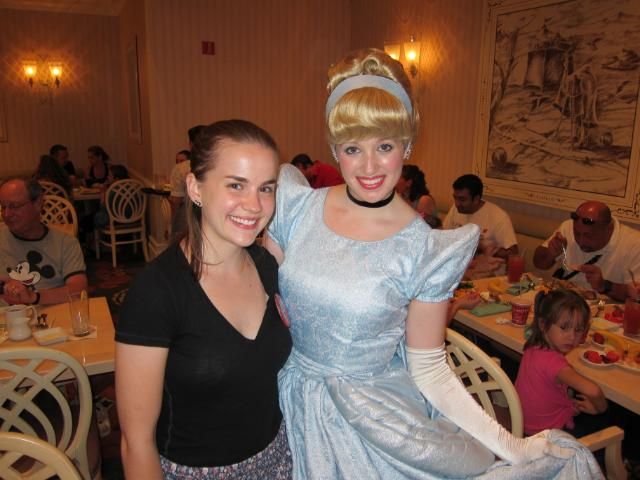 By this time, we'd been done eating for a while, and after thoroughly stuffing myself, I was finally starting to digest and feel human again, so we made our way out of the restaurant. We took some pictures of the carousel animals scattered around the restaurant on the way out.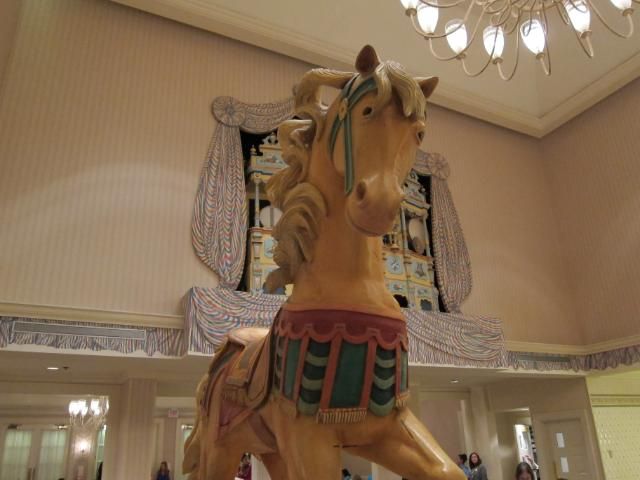 Camel?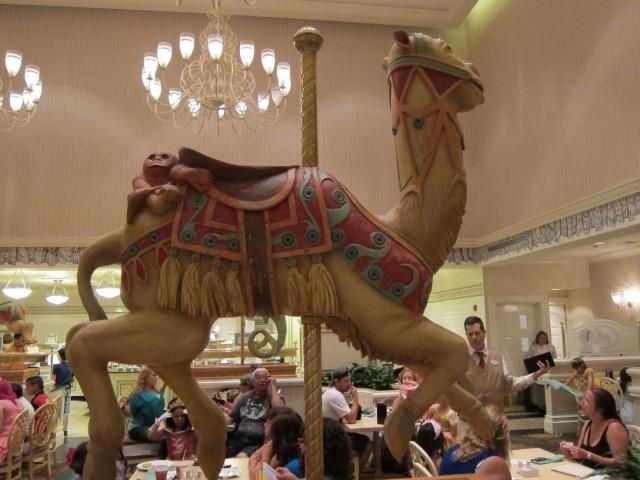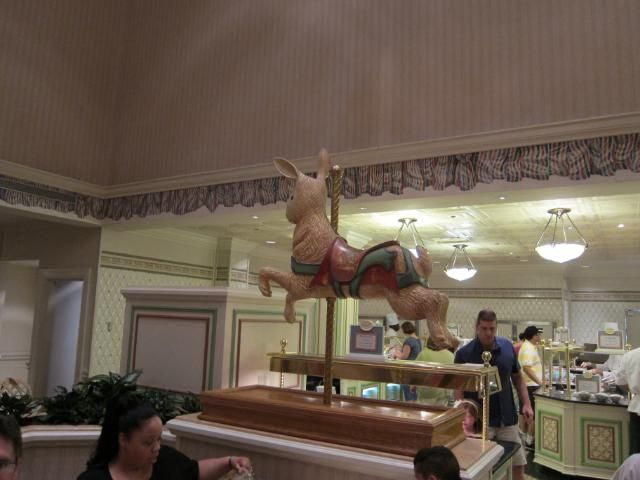 Now there was a pianist playing in the lobby.
We got back on the monorail and started on our journey toward the next adventure!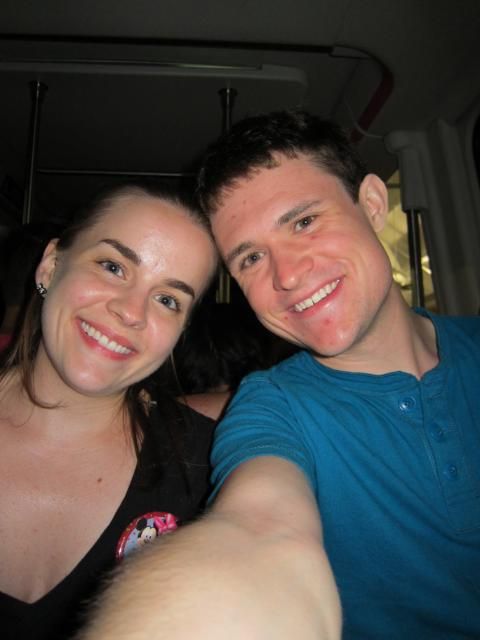 Overview of 1900 Park Fare Dining Experience
Service: Great for a buffet. Our server was very attentive, refilled our drinks several times, and went out of her way to get a bag from the gift shop when we wanted to take our cupcakes to go. 5/5
Atmosphere: The restaurant is a little loud, but nothing more than you would expect at a character meal or really at any Disney buffet. It's a little weird how the entire restaurant is on the interior of the building so there are no windows. 4/5
Characters: All the "evil" ones were wonderful! They really made the meal. And Cinderella and her prince, while a little blah, were still perfectly pleasant. 4/5
Food: For the most part, very tasty. This buffet has so many options that you can easily find something to suit any palate. 4/5
First Visit?: Yes
Will Return?: We would. Not a must-do every trip, but it was fun!



Share