Chapter 7
From the Mississippi to Agrabah, Then Into Space
---
(Originally posted July 25, 2012)
We made a stop at the Winnie the Pooh gift shop for a little burst of A/C because by this time it was getting very hot. While there, we found this very nice Dumbo plush.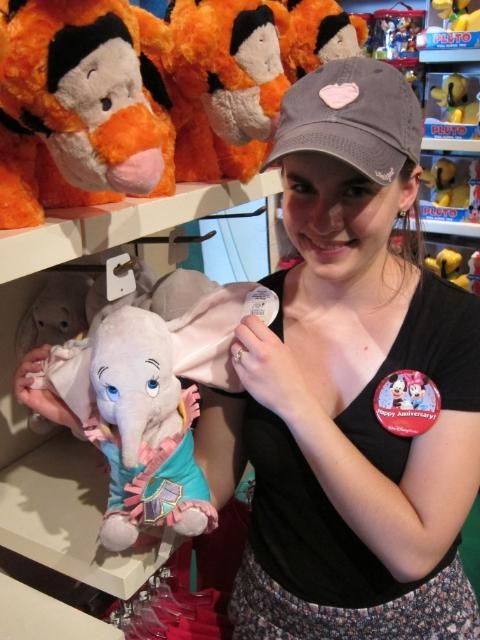 We recently watched Dumbo again for the first time in many years and fell back in love with that movie. It's one of my favorite Disney classics. As we left there and journeyed further through Fantasyland, we got the first glimpse "over the wall" at the Fantasyland expansion.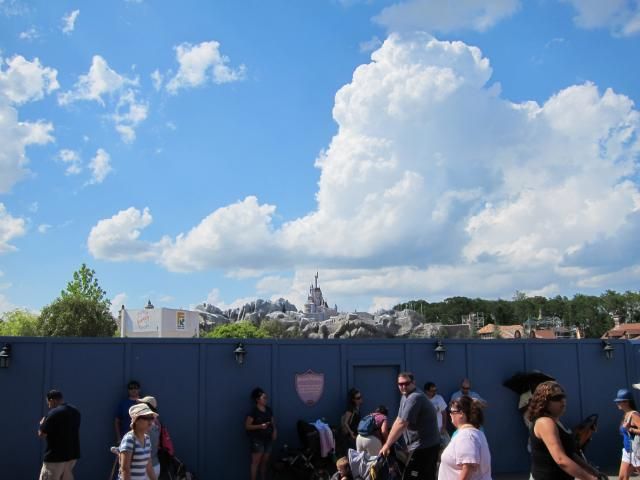 Not to ruin the illusion, but Disney's use of forced perspective seems to have gone to a new extreme with the Beast's castle. Since the construction wall obscured my depth perception, it was hard to tell how far away the castle really was, but I'm sure it's much closer than it looks, and hence it must be REALLY small. Making our way across Fantasyland, we stopped for a minute at Cinderella's fountain.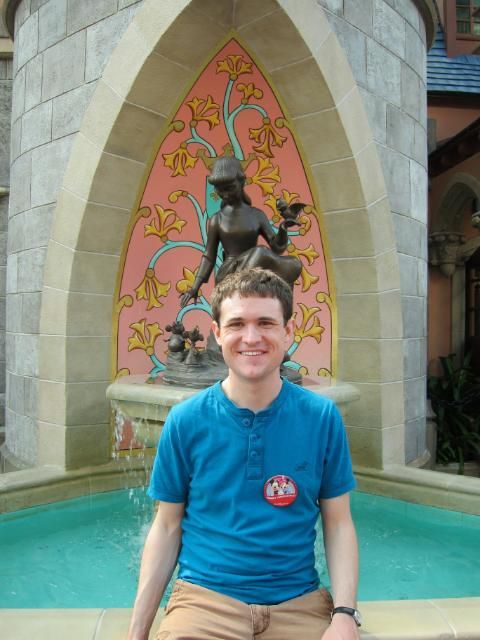 All the Fantasyland wait times were ridiculous at the height of this Saturday afternoon, so we didn't stop to wait for anything there. Instead we made our way to Liberty Square. We thought about the Haunted Mansion, but again it had quite the wait, so we decided to put it off till later. We decided to stop and take a picture in the stocks. I'm pretty sure this was the first time we had ever done this; not sure what took us so long.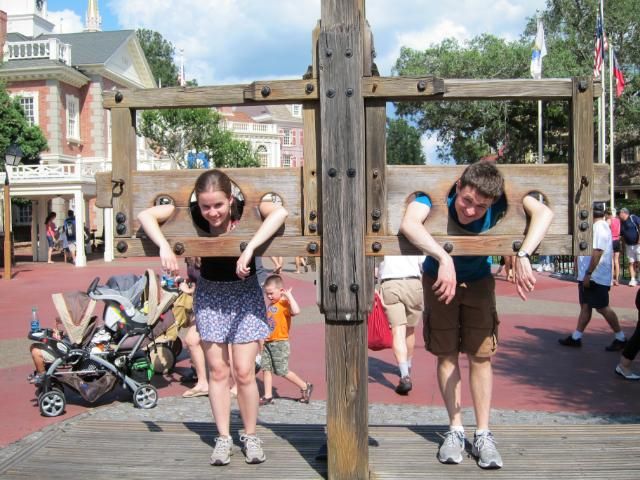 That last picture was taken by some nice guests who we stopped to ask if they would take our picture. They assented and we struck the pose in the stocks. So we waited. And waited. And those stocks grew increasingly uncomfortable. Almost a full minute later, the guy handed me back my camera. We thanked him and checked the camera, expecting to see several shots after that eternity in the stocks. But there was just the one. I truly have no idea what he was doing all that time, and I guess I never will.
Moving on. We decided this trip that one of our goals was to do some of the attractions we'd always bypassed in the past. One of those attractions that always seemed so time-consuming was Tom Sawyer Island. We boarded our raft, the Becky Thatcher.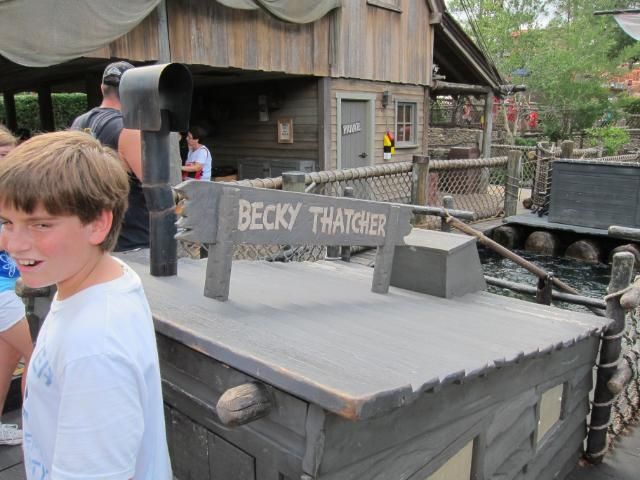 The ride over to the island is short but pleasant.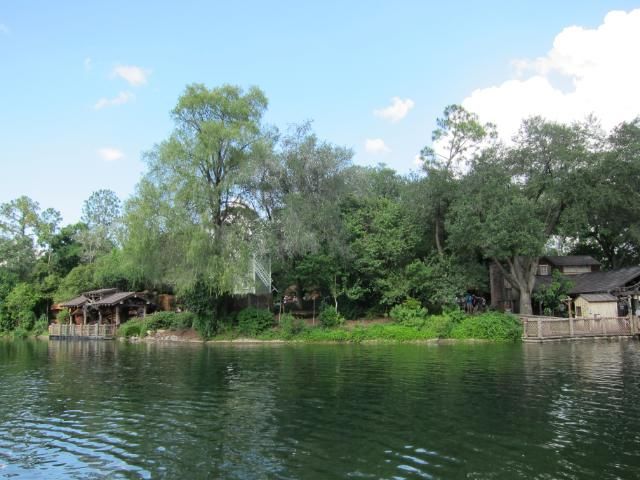 Passing another raft.
The Old Mill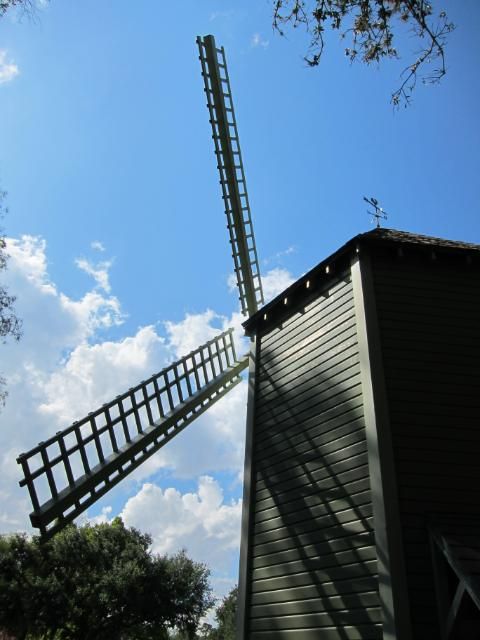 Big Thunder Mountain Railroad is Tracy's favorite ride (and one of mine). This was right at the end of its lengthy refurbishment and we were supposed to leave the day before it reopened. At this point, we were still really hopeful that they would soft open a day early, but even that would have been several days after this day. Here is the nice view of the mountain that you get from Tom Sawyer Island.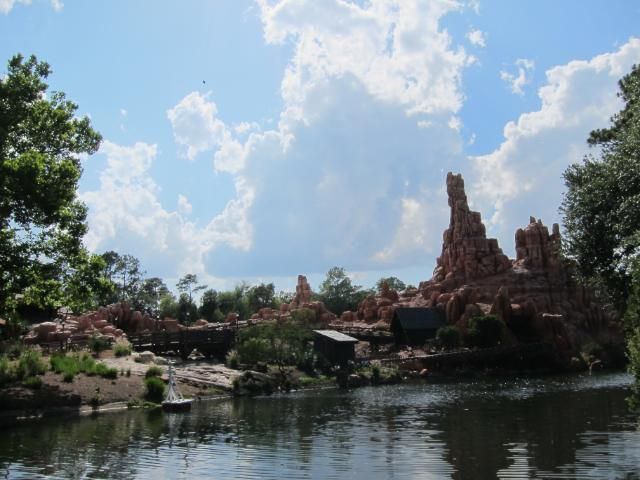 Tom Sawyer Island was fun. Not sure if it would make it to my must-do list for every trip, but it was a nice diversion from the crowds on this busy day. We went into Injun Joe's Cave, which was a little unnerving. It's extremely dark in there and a little hard to know where you're supposed to walk. Next we wandered over to the Fort Langhorn area. There were some nice audioanimatronic horses.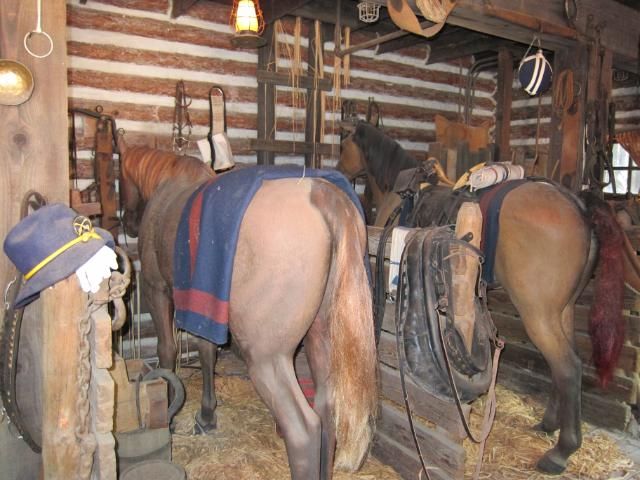 We sat for a while and wandered a few more of the paths. This rocking chair was very pleasant.
Before too long, though, we made our way back to the dock to take the raft back.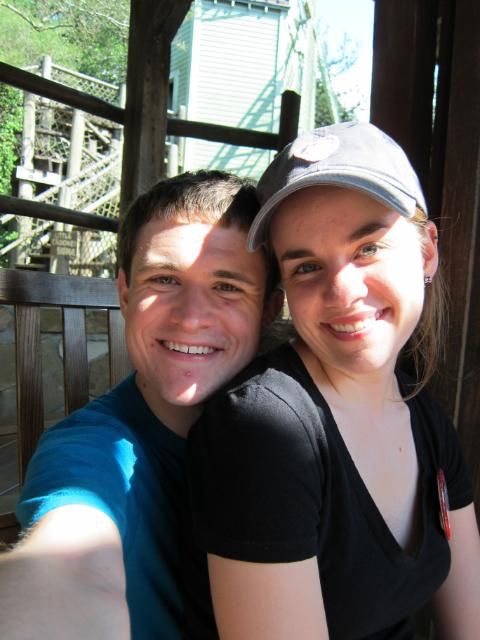 When we arrived back in Frontierland, we tried to decide where to go next. We returned to Pecos Bill's for a free cup of water—one of the nicest changes that have come to WDW counter service restaurants since our last visit. Making our way back to Adventureland, we noticed that there was a relatively short wait for The Magic Carpets of Aladdin.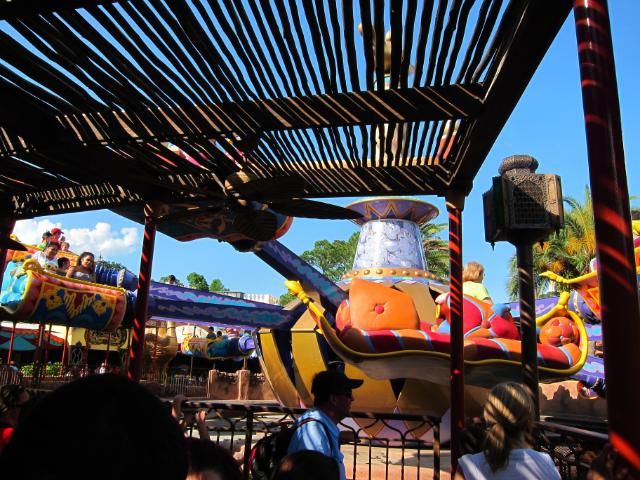 This spitting camel was funny.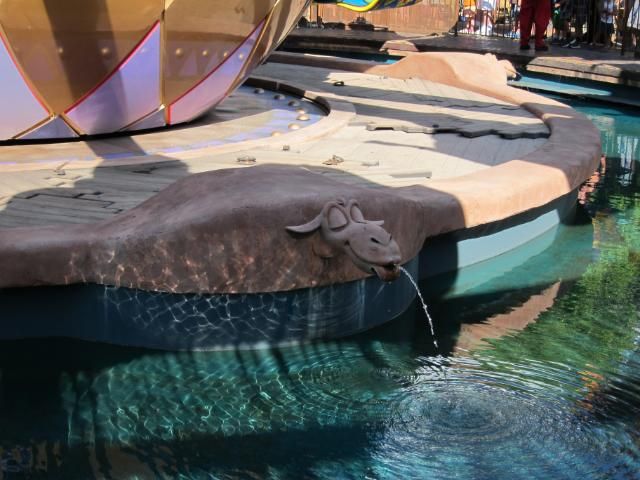 This ride has one of my favorite pre-boarding spiels. "As Genie says… Para su seguridad, etc…" We boarded our carpet and enjoyed our rotations around Agrabah.
Hair blowing in the wind.
Nice view.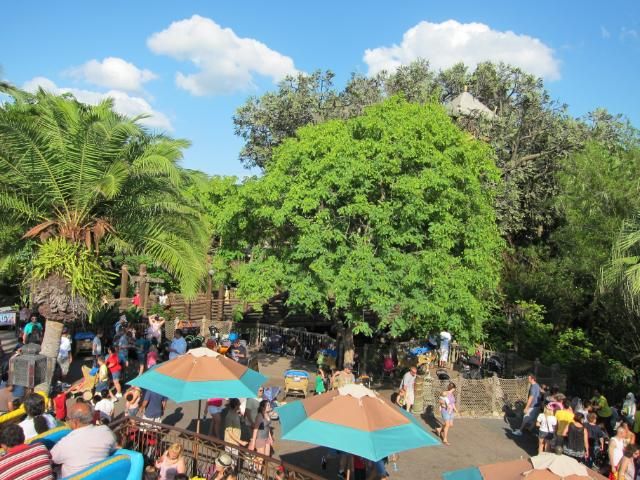 Just avoided getting spat on.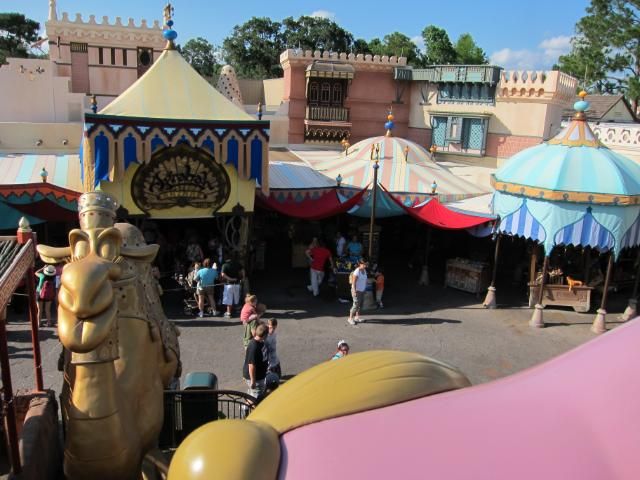 After our carpet touched back down, we realized it was time for our Space Mountain Fastpasses. So we headed back across the hub and stopped for another few Photopass pictures in front of the castle.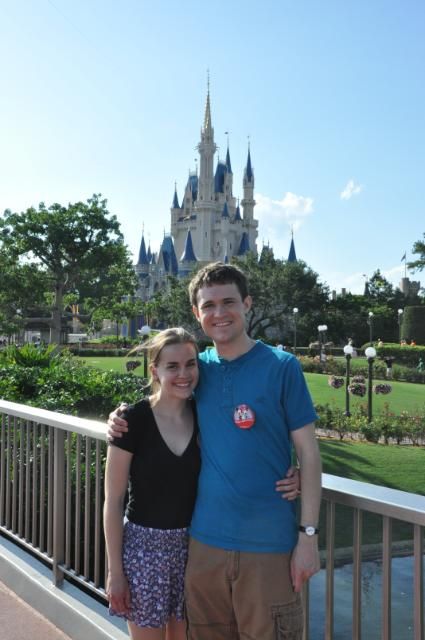 We got to Space Mountain and went quickly through the Fastpass line.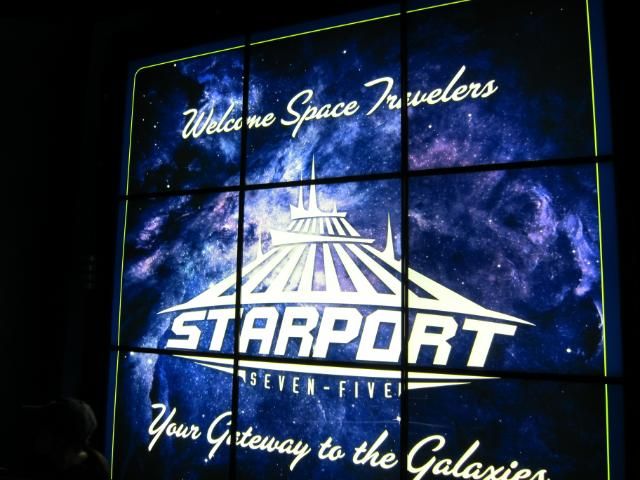 Almost 4 years ago Tracy and I were in a pretty bad car accident. We got rear-ended when trying to merge onto the highway and both got pretty bad whiplash. Since then, despite physical therapy galore, we both have pretty sensitive necks. Usually we just try to ignore our injuries as much as possible when it WDW, but some attractions have been known to irritate my neck. Space Mountain had never been particularly bad before, but on this ride I was in the back row of the second car. This made every bump and turn extremely violent. By the end of the ride, I was ready for it to be over. I could tell my neck would be hurting in a few minutes. At least the ride photo was taken before the pain started.
After the ride, it felt like a good time for a break. And luckily, it was time for us to head to our first ADR anyway. We made our way out past the castle.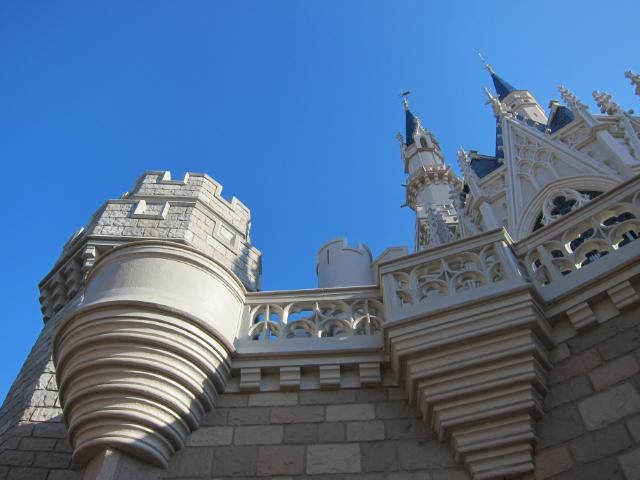 And toward the monorail.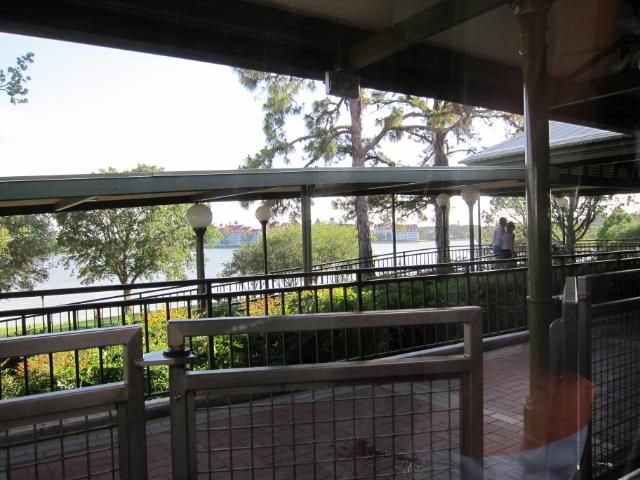 Neither of us was super hungry yet after our late lunches, but we knew we had to make room, because it was time for dinner!



Share