Chapter 10
Decisions
---
(Originally posted February 16, 2013)
In a lot of ways, it felt like October really flew by. Partly, this was because I really wasn't feeling well for almost the whole month, so rather than our impending move feeling like an exciting prospect for the future, it loomed ahead as a deadline we were marching toward but weren't at all prepared for. That feeling wasn't entirely unwarranted. We really didn't have very concrete of plans. First of all, we were still thinking we would move to L.A., though we didn't know much about what we planned to do when we got there. We had vague notions of living in the Valley—likely in Burbank or Glendale—and trying to get some sorts of jobs with one of the studios there with the hopes of eventually working for Walt Disney Studios or Imagineering. This plan would have looked a lot rosier if I were in a state in which I could really hope to work, but in October that didn't seem like even a remote possibility. I would have attacks of pretty severe dizziness at least twice a day, and it honestly felt like every one of the medicines I tried was only making it all worse.
We seriously contemplated just staying put in Colorado on several occasions. It would have been so easy. We knew that we couldn't exactly remain permanent houseguests with Tracy's parents forever, but it wouldn't have been that hard for Tracy to find a decent job in Boulder. We would likely have been able to get on our feet and find a cheap apartment close to our families. I would try to find some sort of work I could do from home, and eventually we would carve out a niche for ourselves in our hometown. But no matter how many times we tried to picture that life, it just seemed incomplete. You'll note from Tracy and my track record that we rarely play things safe in life. We're no strangers to throwing ourselves behind some new idea and sticking it out until things eventually go our way or fall apart. We've had our fair share of both outcomes. Our New York adventure didn't end up being the perfect adventure for us, but that's not to say we didn't have some fantastic times while we were there and have several unique experiences simply by putting ourselves out there. We weren't ready to give up on adventure just because things weren't going perfectly, and staying put in Colorado just felt like we would be settling. That's not to say there's absolutely anything wrong with Colorado. As you can tell from the way I talk about it, I revere the place; it was simply that if we were going to end up in Colorado, we would have wanted it to be because that's where we wanted to live, not because we felt like we didn't have any other choice.
California still felt so very far away, but it had a couple things we were longing for. Disney was, of course, the main attraction for us. So finally Tracy just threw it out there: why were we planning on moving an hour away from Disneyland when we didn't actually have any solid prospects in L.A.? Working at Disneyland had never struck us as the smartest decision financially. We knew they paid terribly and it would be hard to match up with the cost of living in Orange County. But we also knew that we couldn't imagine a place we would be happier to work than Disneyland. Tracy, especially, who has never been passionate about a job before, was able to see herself really enjoying working for Disney, so that was huge. The signs were all starting to point toward Orange County as the place where we should actually be moving.
So we officially decided to change our plan. We began researching where to live in the Anaheim area. We knew Anaheim itself wasn't supposed to be the nicest place to live, but we were intrigued by Fullerton and Brea, both of which are about 10-20 minutes north of Disneyland. We actually took the most significant step yet toward moving in mid-October. We called UHaul and had them send our UBox from the warehouse in which it was sitting in New Jersey out to California. Somewhat arbitrarily and somewhat because we thought we might end up there, we had it sent to the UHaul location in Fullerton. That step was actually quite huge for us. We no longer were able to view California as a nonspecific entity where we hoped to move—we had just spent thousands of dollars to ship all our worldly possessions out here, so we had no choice but to follow through.
Meanwhile, in Colorado, we were still doing as many fun things in Boulder as we could afford as well as just enjoying our now limited time left with zero responsibility. Tracy's mom bought a new outdoor fire pit that she had been eyeing for months, so we christened it with a weenie roast on the deck.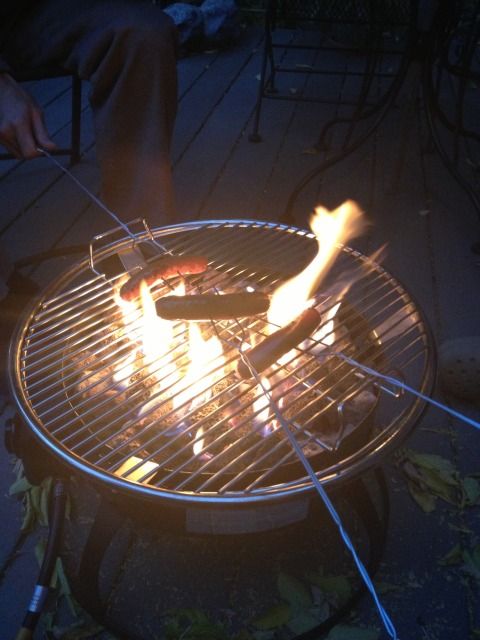 This was also when the weather started taking a turn for the cold. Tracy's parents' house has a sunroom in the back, and the heat it produces actually heats the whole upstairs of the house pretty well, so they rarely run the heat, even in the winter. There were a couple problems with this, however, because Tracy and my room was in the basement, which did not enjoy any of the heat from the sunroom. On one of the first really cold days, we went downstairs at the end of the night to find the room at a brisk 60 degrees. We put on a space heater and huddled for warmth until it heated up, and that became part of our nightly routine for the remainder of our time in CO. The other problem with the sunroom is that it only heated up when it was actually sunny out. Now, Boulder has a reputation for the sun shining 300 days out of the year. Still, on those rare cloudy days, the sunroom didn't heat up and the whole house was cold until we ran the heat for a while. But poor Stewy Monster, who (I repeat) is not very bright, would still insist on laying out in the sunroom—where she was used to staying warm—even when it was freezing out there. We'd often come out to find her shivering, so we had to start draping one of her jackets over her when she would lie out there.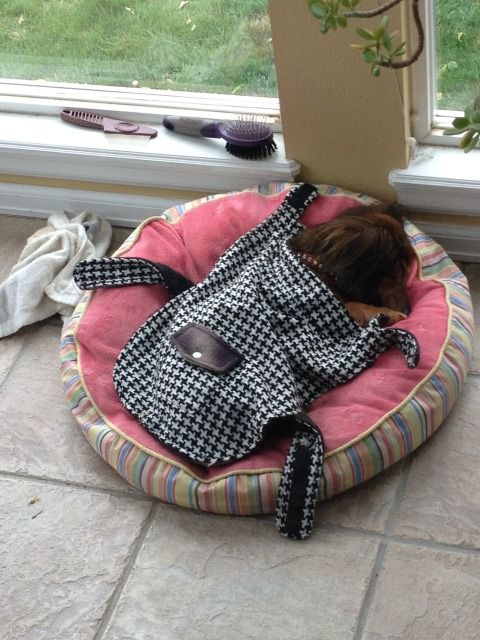 On some of the warmer days, we would still go for walks at various scenic locales in the Boulder area, and continued to take lots of good autumn pictures.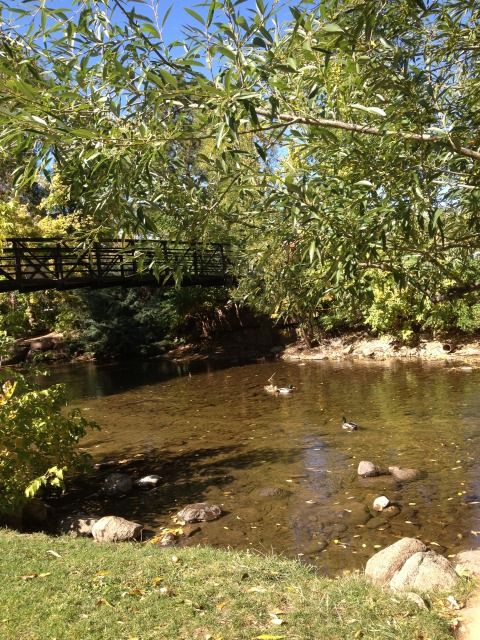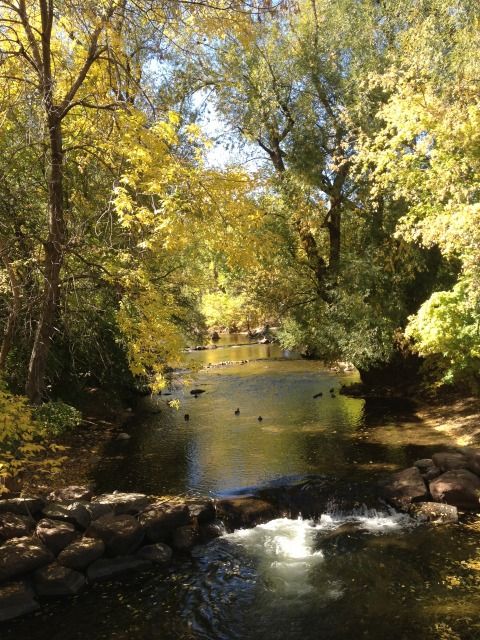 Some of my favorites were at Golden Pond in Longmont where the trees were a perfect canopy.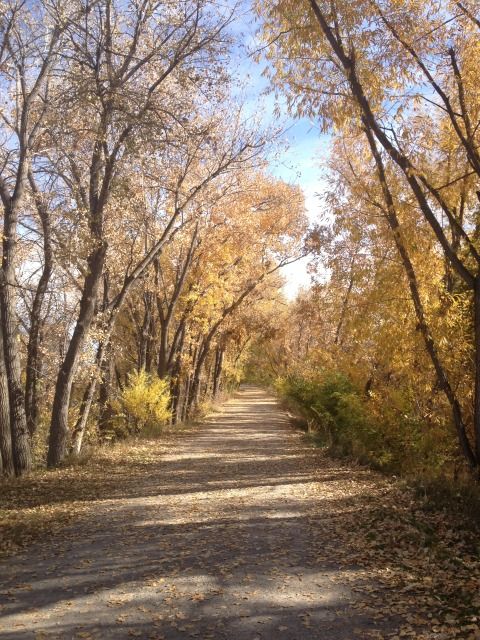 Meanwhile, October's progression also meant that Halloween was getting nearer. We really enjoy Halloween, as you can see from my Disneyland Halloween trip report, so we were excited! Among the fun things we did to prepare for one of our favorite holidays was bake some cookies. We made the slice-and-bake type at home.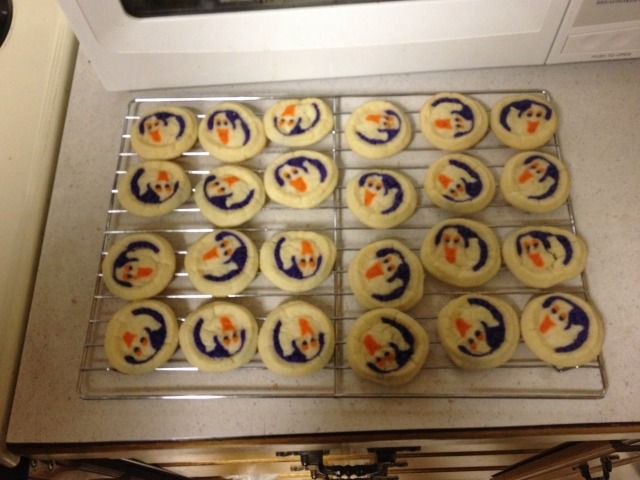 And then we went to our friend Lainey's new apartment for a Halloween cookie-decorating get-together, where we frosted these.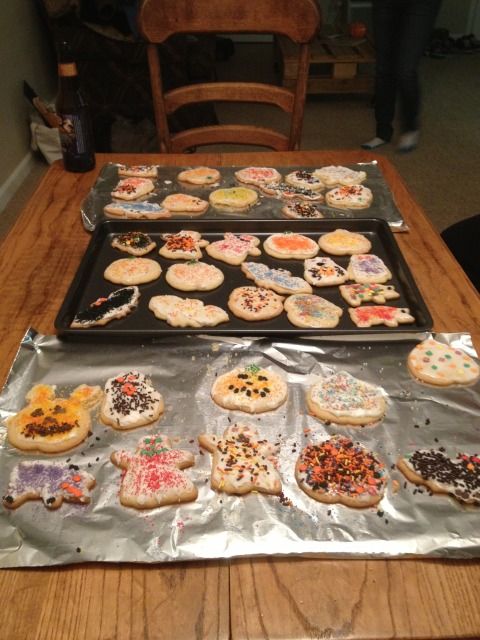 Here was my attempt at a Mickey pumpkin.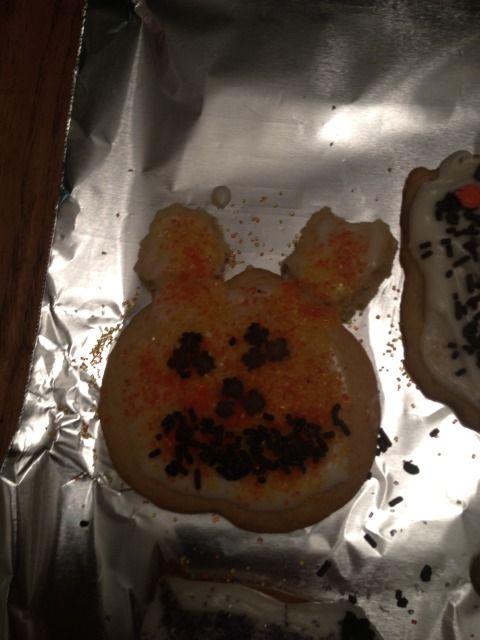 We also bought a deal through one of the local Groupon-type sites for a small farm in Boulder where you could go pick out pumpkins. As a bonus, it was a real, working farm, so they had animals you could pet as well. We were excited for the llamas they had, though none of them were too friendly.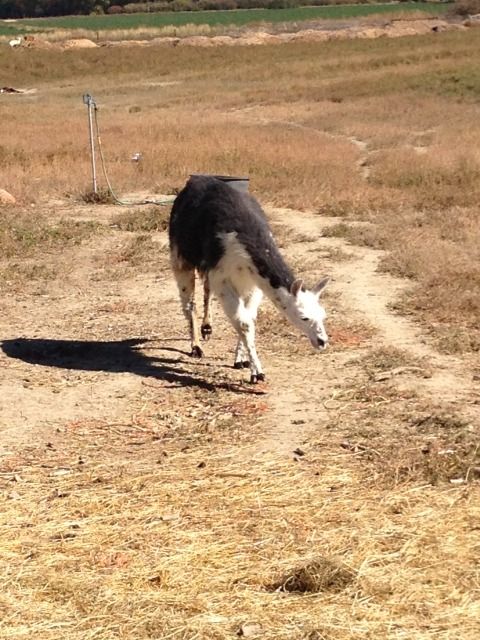 This goat, on the other hand, really enjoyed being pet and didn't want us to leave.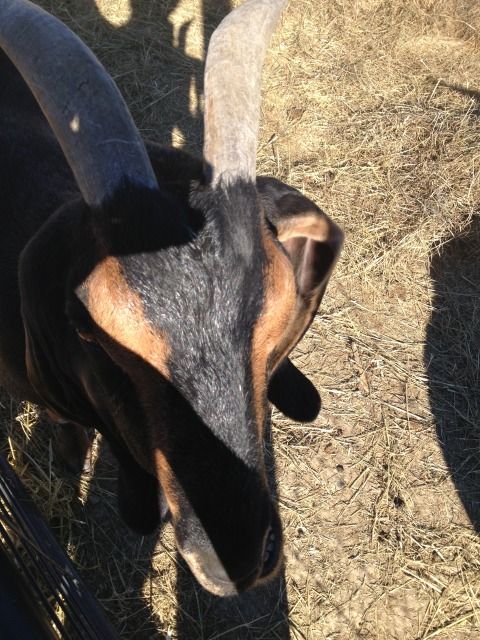 We went through quite the process carving the pumpkins we got. For the first one, we bought a kit from Target that was almost like a Lite Brite for jack-o'-lanterns.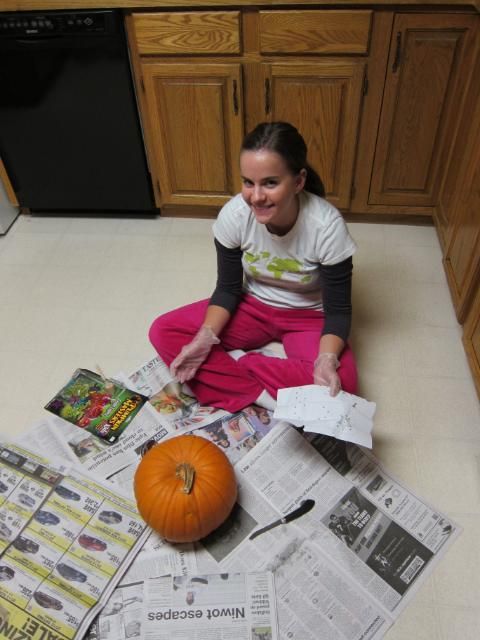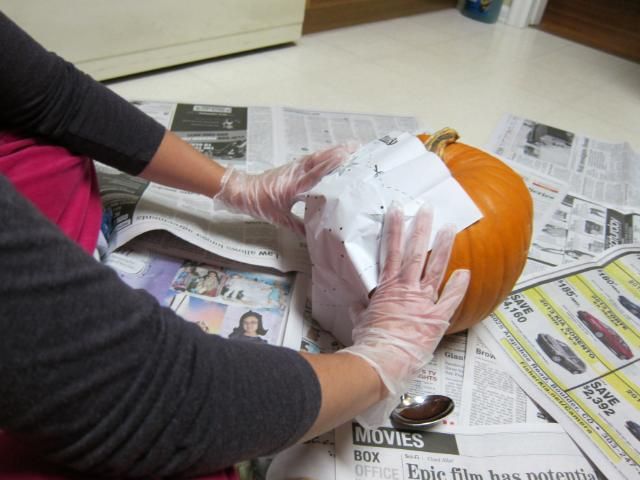 Stupey was really helpful with the whole pumpkin-carving experience.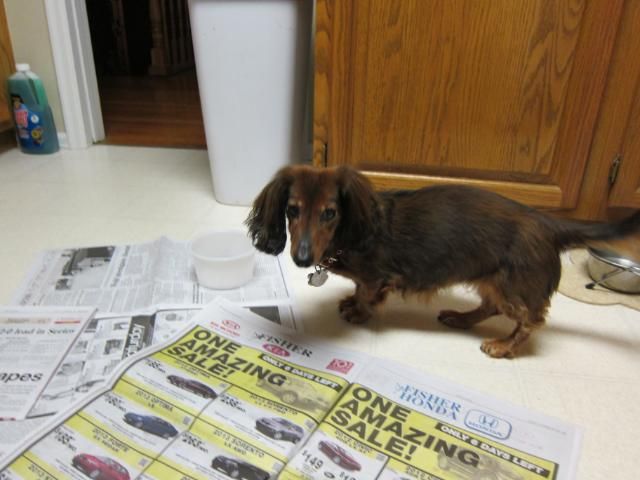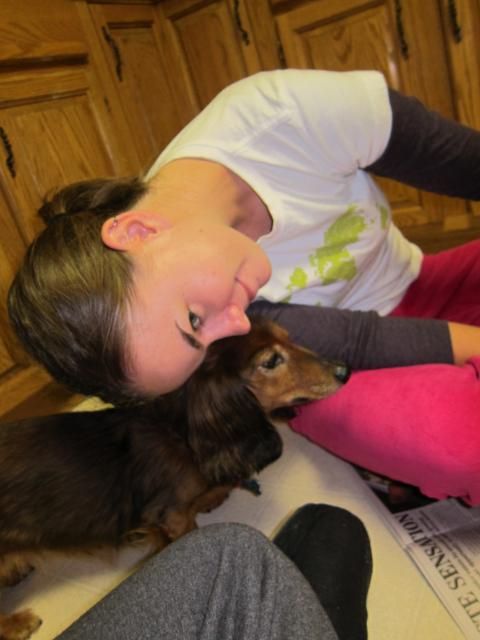 After gutting the pumpkin, it was time to insert the colored pegs according to the design.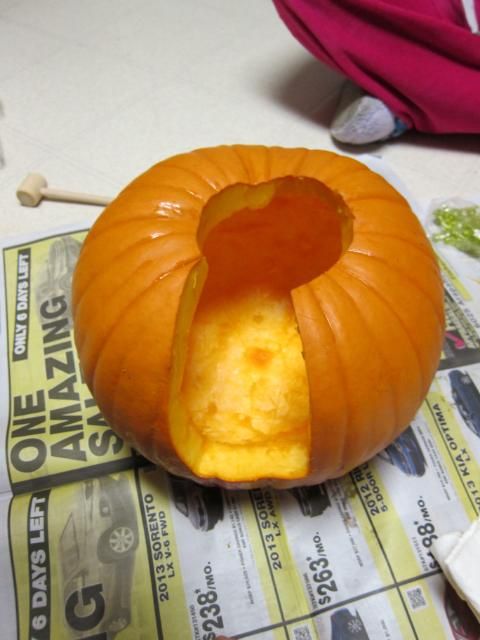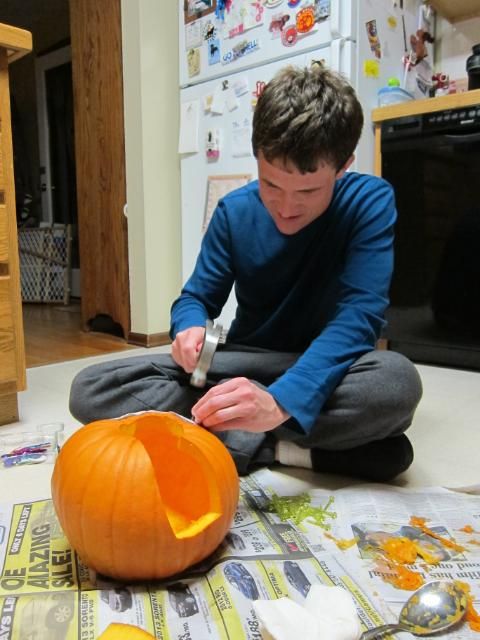 Once all the pegs were in, there were other little plastic doo-dads to hang on it as we wished.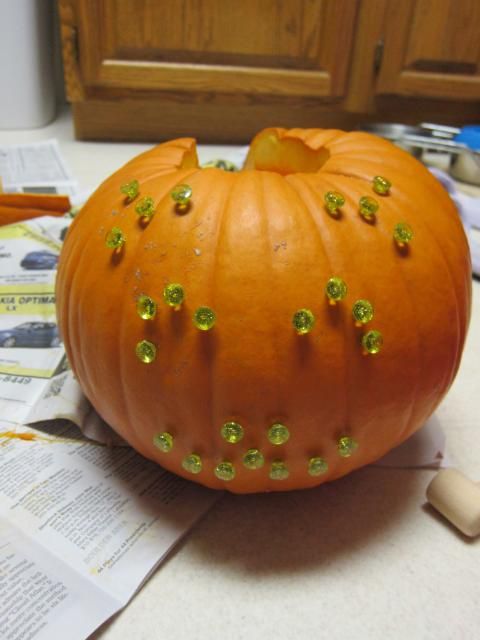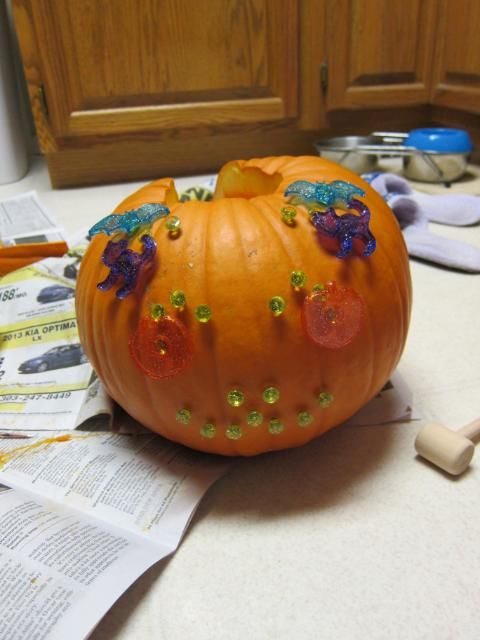 For the other pumpkin, I decided to try to make a Duffy design. First I drew our favorite bear onto the pumpkin.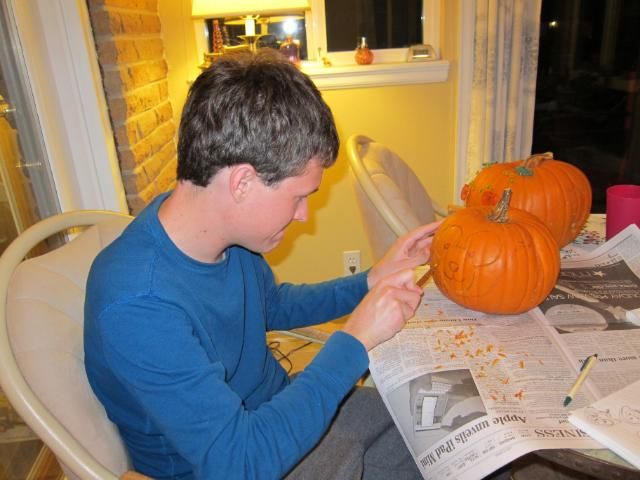 Next I carefully scraped off a layer of pumpkin to make a nice Duffy face. It was a huge pain, but it was worth it in the end!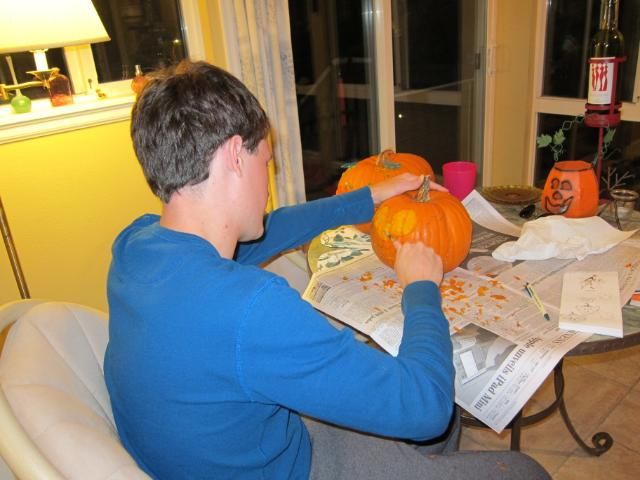 Ta-da!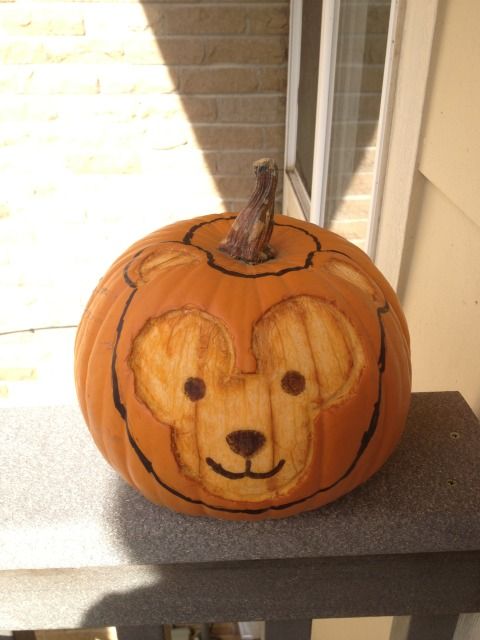 I was proud of our pumpkins overall!!



Share