Chapter 11
Spooky Scary
---
(Originally posted February 21, 2013)
With Halloween fast approaching, there were a few fun things we wanted to do in preparation for the holiday. The first actually brought us back up to Estes Park again.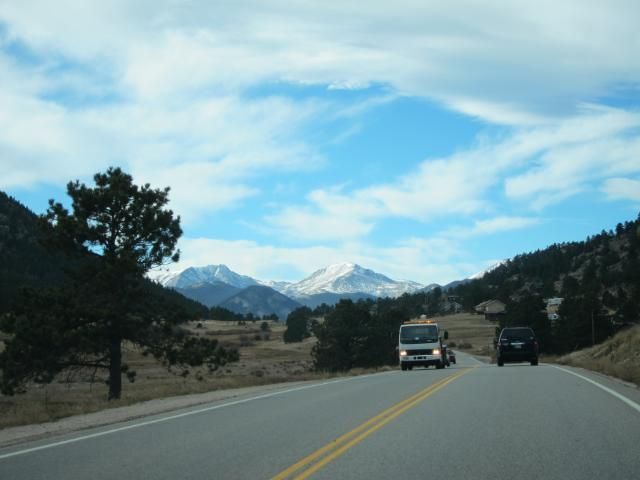 The elk were still out in full force.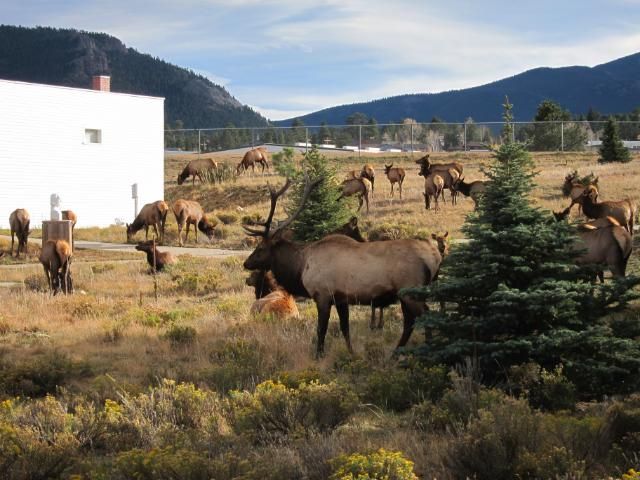 We had bought a Groupon for a "Haunted Hayride" at the Elkhorn Lodge, one of the oldest places in Estes Park. The lodge, which has been around since 1874, actually played host to Teddy Roosevelt and Buffalo Bill Cody among many other famous people. And—shocker, I know—it's supposed to be haunted! As we pulled up and parked at the lodge, some deer passed right by us.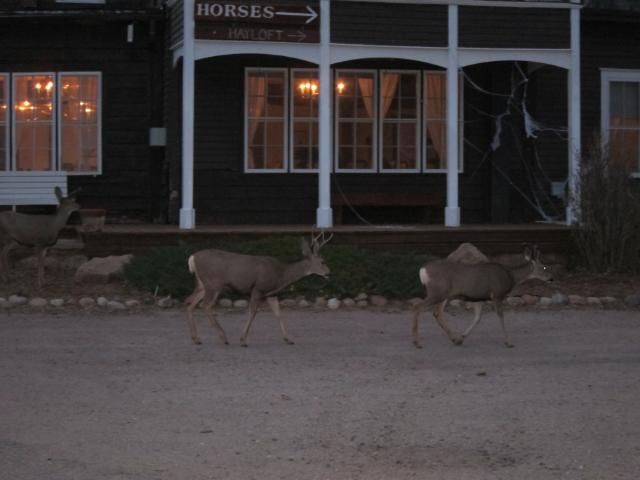 We went into the lobby, which was all decked out for Halloween, to await our hayride. Tracy took a picture with one of the deer heads on the wall. Apparently all the ones on display in this lobby were actually shot by Teddy Roosevelt himself.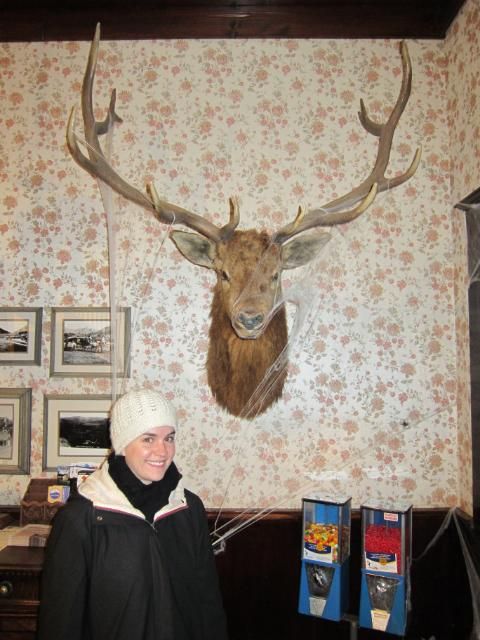 The fireplace had a nice roaring fire going on, and was decorated to look very spooky.
This was the view out the picture window in the lobby as the sun set.
These zombie handprints on the door leading outside just seemed like a funny joke until the door opened wide and slammed shut of its own accord. Then it just seemed a little creepy.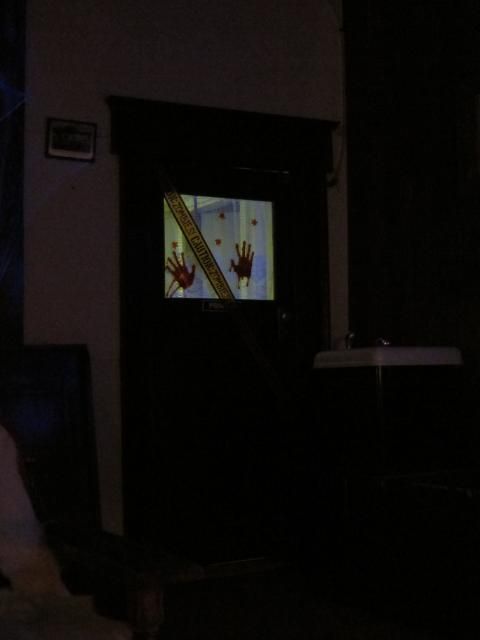 The rest of the lobby was equally themed for Halloween. There was a movie playing on the TV all about the various ghost sightings around the lodge.
And here's another of Teddy's deer lurking above the fireplace. Spooky!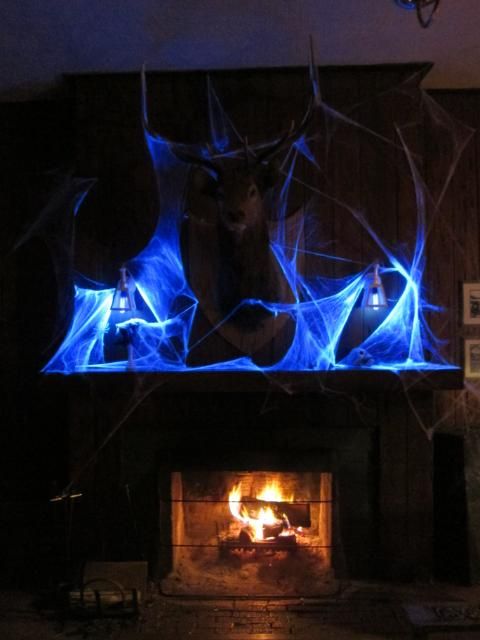 I don't have any pictures from the actual hayride itself, so hopefully my description can suffice, because the whole thing was RIDICULOUS. First of all, this lodge is also a horse farm. They have riding lessons, and barns full of horses. The picture from the Groupon deal showed a nice hayride with a wagon hitched up to two horses pulling people through a field. Except that Groupon picture must have just been a stock photo, because when it was time for our hayride to start (almost an hour later than our reservation time), we went outside to see not a wagon hitched up to horses, but rather, one connected to a tractor. There would be no horses on this ride through the horse farm.
Already taken aback and wondering what exactly we had gotten ourselves into, Tracy and I grabbed our seats on the wagon. It was a really cold night, so we were lucky we had thought to bundle up as much as we did. In heavy down jackets, hats, scarves, gloves, and with a blanket on our laps, we were comfortable. There were people on the ride with us wearing just sweatshirts; they were not comfortable. Once the wagon was loaded up, it was supposed to be time to go—except the tractor wouldn't start. The driver valiantly tried many times to get the ancient tractor's engine to turn over, but to no avail. So a pickup truck was driven over to jumpstart the tractor. As I'm sure you can imagine, this gave us a lot of confidence in the tractor's ability to tow not just a heavy wagon but one loaded down with at least fifteen people.
After a few false starts, we finally started off on our way. As we began to drive off around the property, we quickly realized that the reason this was the "haunted hayride" was because the organizers had recruited some of the local kids to dress up in costume to jump out and scare us at various points along the path. These kids, in addition to a few other token locals, joined in the fun and hid in the shadows as they waited to pop out. Our favorite was the middle-aged gal who was dressed as a chef. She appeared behind our wagon several times throughout our ride shouting "Aauggh, I'm going to cook you on my grill." The first time she appeared, she was wielding a meat cleaver. While you would expect that it would have been a fake, plastic cleaver in a situation like this, that wasn't how the characters rolled on this hayride. Instead, it was a real meat cleaver that she brought down against the side of the wagon as we wheeled by. The chef was followed up by several kids dressed as Jason or Freddy Krueger or various monsters. They always popped up and yelled loudly before half-heartedly chasing after our trailer. They couldn't ACTUALLY chase after it because it was moving extremely slowly and they would have caught us quite easily.
As the tractor turned a corner and wound around behind the main lodge building, we had our one and only horse sighting of the trip. There was a headless horseman atop a black steed, who was actually quite impressive. Unfortunately, we only saw him for a few seconds before we were too far past and he disappeared back into the dark. Up ahead, we saw that the next part of our hayride took us up a relatively steep hill. As we started going up, even at the slightest grade, it became clear that our decrepit tractor was not looking forward to this journey. Making our way up the hill, I think the tractor stalled a solid three or four times. Every time this happened for a few seconds, you could feel our trailer threatening to fall backwards down the hill. I won't pretend that there weren't a few moments where I pictured our having to jump off a runaway trailer lest we crashed into something on our way down. Miraculously, the tractor finally chugged to the top of the hill. It was straight out of The Little Engine that Could. Once we reached the top of the hill, we saw that there were some mounds of dirt up there masquerading as freshly dug graves. Probably not worth all the effort to make it up the hill, but fun nonetheless.
It was around this point in the tour that we began to hear those people around us start to complain about how incredibly lame this hayride was. I can't blame the people who paid full price, honestly. Had we not gotten the Groupon, this experience would have cost us $15 per person—and there were several families of four taking rides. Luckily, our voucher only cost $15 for the two of us, and we thought the whole experience was hilarious. We couldn't stop laughing at just how ridiculous the whole ride was.
After making our way through the "graveyard," we immediately went back down the hill we had struggled so to climb. The tractor handled the descent a lot better. As we approached the end of our hayride, our old pal the chef popped up for a third time. This time, she was wielding a set of salad tongs. "Aauggh, I'm going to cook you on my grill," she proclaimed yet again, and halfheartedly chased after us. "What are you gonna do with those tweezers?" taunted back one of the young ruffians riding our wagon. At this, the chef broke character completely and responded, "I broke my cleaver hitting it against the wagon." It was all the perfect end to this amazing hayride. Disembarking from our trailer, we headed back into the lodge for a minute to grab some complimentary hot chocolate. We made our way back to the car and headed home, still slightly in disbelief that the whole night had been real. The funniest thing about the hayride was the fact that it's not like it was a one-night event, nor were we there on their "opening night." No, this was something they were offering several nights a week all throughout October, so I can't even imagine what kinds of shenanigans happened every other night. I would be shocked if that tractor held up through Halloween.
Back home, it was, of course, necessary to prepare for Halloween by buying a costume for our favorite puppy. We raided the Target Halloween section while there was still a pretty good selection and decided on this pumpkin costume.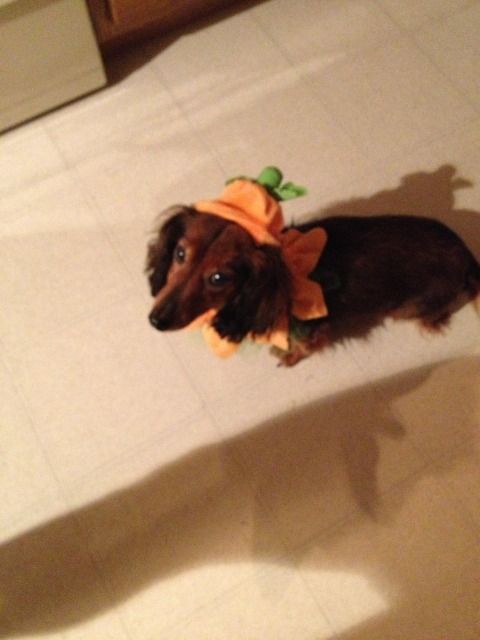 She was just so adorable, even though she was not a huge fan of the costume. We've been trying to dress Stewpot in various outfits for years beginning with jackets and moving onto Halloween costumes. She actually appreciates a good jacket in the winter when she needs it for the warmth, but she still likes to try to shake off any article of clothing we put on her. This was our first attempt at a hat, and we knew it was a risky venture, but she actually kept it on pretty well most of the time.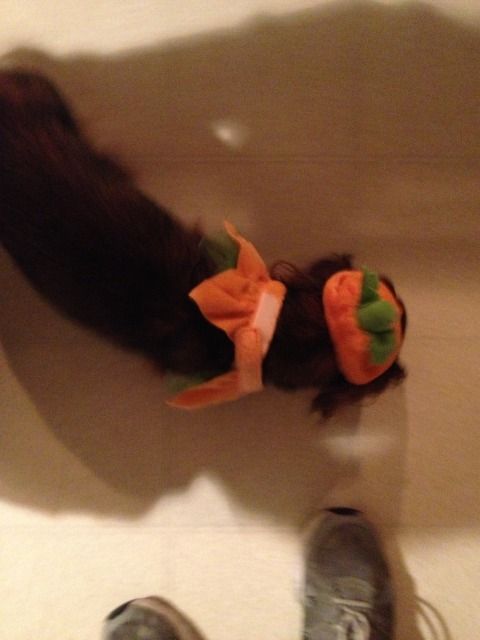 Her ears went through little loops in the hat and it tightened under her chin. She would often try to shake it off right after we put it on her, but if it stayed on through the initial shake, she generally just let it be from there. Our most successful venture was taking her for an entire walk with the costume on. She made it all the way around the block successfully and then posed very nicely for a picture.
We rewarded Stupey's effort with the costume by letting her sit on our laps in the recliner chairs. She's definitely not allowed up on the furniture, but Tracy and I were housesitting for a long weekend while her parents visited Steve, so we bent the rules just a little bit. How could you say no to this little angel?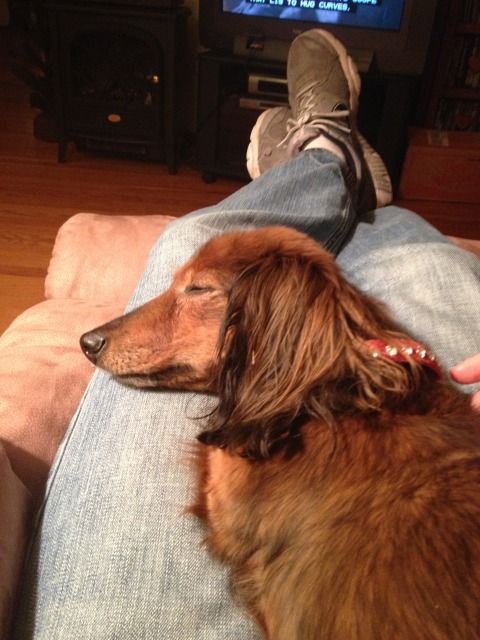 Right before Halloween came my birthday, so we celebrated in style. After two days full of gatherings with both sides of my family, Tracy and I spent the morning of my actual birthday with just the two of us since her parents were in CA. I woke up to find lots of presents under the "tree."
That birthday card from Tracy features Stewy herself on the front. She's quite the party animal.
I made out quite well with my presents from Tracy. Most of them were Disney related—just the way I like it. My loot included: a Gryffindor scarf and gloves, a Mickey Waffle air freshener for the car, two Disney t-shirts, a Dumbo Vinylmation, and the Nana figurine from the Jim Shore Disney collection that we have been acquiring for a while. Good set of birthday gifts.
After lunch, Tracy went to our friend Lainey's baby shower and I went to spend some time with my mom. Tracy and I reconvened for dinner, however, at another of our favorite Boulder restaurants—The Med.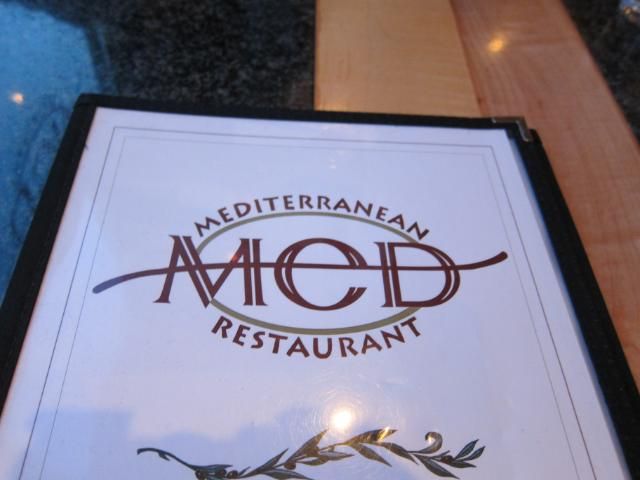 They have a delicious happy hour with a cheap tapas menu, so we got some fantastic food to share including a hearty Margherita Pizza for $4 as well as delicious Falafel balls, Fried Artichoke Hearts, and Spinach Artichoke Dip.
We topped off the night with this delicious Bundt cake that Tracy made for me. Notice Duffy's frosting visage.
A few days after my birthday, Halloween came at last. I had contracted a stomach bug in the interim, so between that and my dysautonomia symptoms being extra bad, I was not feeling well while celebrating the holiday. I still tried my best to get into the spirit, however, and chose my own pumpkin costume to match Stewy and Duffy.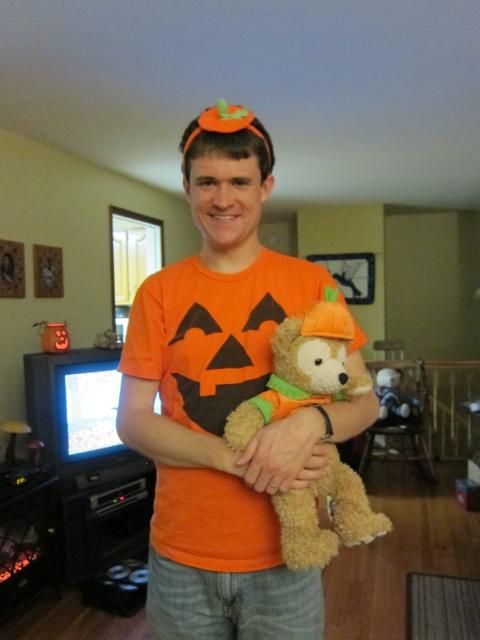 Tracy was a raccoon to match Meeko.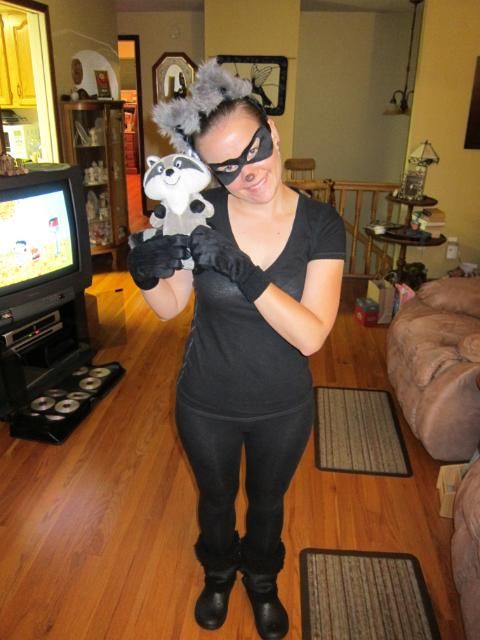 We watched It's the Great Pumpkin, Charlie Brown in between handing out candy to trick-or-treaters. Way more children came to the house than I was used to getting in the last few years we lived in CO. It was fun to give out candy, since we never had gotten to while we lived in NY.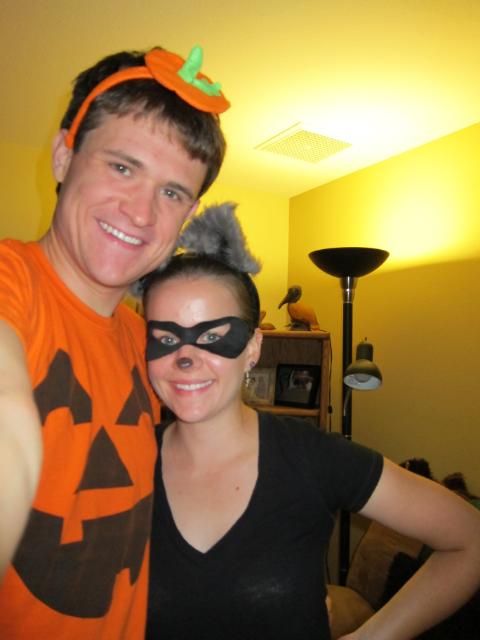 With the passing of Halloween, October was officially over. Another month in Colorado completed, we knew that it was almost time for us to actually head to California. We just really wanted me to start feeling at least a little better first.
Overview of October 2012
Best Disney Movie We Watched
Pooh's Grand Adventure: The Search for Christopher Robin (Tracy had never seen this one before and it was one of my favorites growing up. She wasn't very exposed to Pooh as a child, so we've watched several of the Pooh films over the years to introduce her more thoroughly)
Worst Movie We Watched
Monte Carlo (Starring half the cast of Gossip Girl, Selena Gomez, and Finn Hudson)
Jeff, Who Lives at Home (This one wasn't bad per se; it was just a little too bizarre for our taste)
Best Restaurant Discovery
The Hungry Toad (We went to this English pub in Boulder because Tracy's parents had a Groupon, and found out it was delicious. They made some of the best Bangers and Mash I've ever had, so we went back again before leaving CO)
Worst Food-Related Experience
Long John Silver's (We refer to this restaurant chain as "Greasy Chicken" among the family because that's what they specialize in—the most disgusting fried food imaginable. Nonetheless, sometimes that's what you're in the mood for. After eating here this time, however, we might never be back. Not only was it greasier than ever, but all of us felt sick for several hours after the meal)
Book I Read
The Casual Vacancy by J.K. Rowling (I think this book has gotten quite the bad rap on sites like Goodreads and Amazon because the people who gave it one star should never have picked it up in the first place. The summary makes it very clear that it is going to be nothing like Harry Potter despite being written by J.K. Rowling. I'll be honest that the book wasn't exactly my cup of tea, but this book was expertly written and had the same style that we all love about Rowling's writing. The cheeky humor and fantastic character development were right up my alley; I just generally prefer books that aren't as depressing as this one was)
Favorite Guilty-Pleasure TV Show
Jersey Shore: The Final Season (I don't have much of an excuse for this one. We started watching Jersey Shore when it was all the rage a few years ago, and kept watching despite our better judgment. Now we had to tune in to see how it all ended)
Food of the Month
Pulled Pork Sandwich from Georgia Boys BBQ in Longmont, CO (This place has fantastic barbeque and was one of our favorite restaurants to go back to several times to try almost everything on the menu)



Share