Part II
November 2012-Mid-February 2013
Chapter 12
Let's Get This Show…
---
(Originally posted February 26, 2013)
Right at the end of October, we had our first snowfall.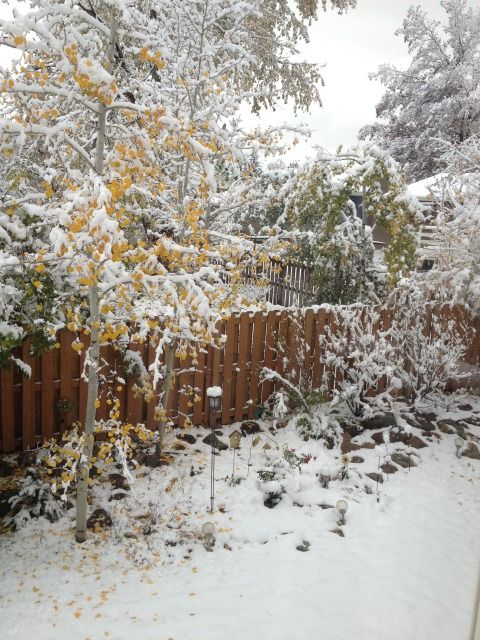 I have to admit that we didn't foresee snow being part of the picture for our year since we had imagined we'd be out of CO long before winter weather came along. Even so, we were still a little excited for the first snow. I think anyone who lives in a climate where it does snow will agree that the first one is always fun; it's just all those that come after it that start to be a big pain.
Here it is coming down.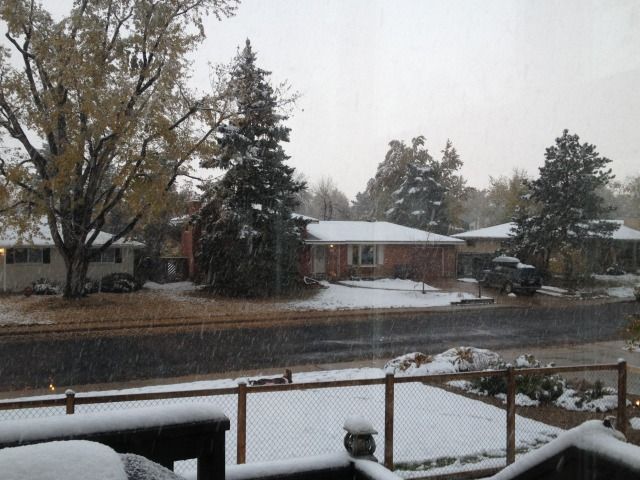 Stewy had to snuggle up by the fire.
About a week into November, our pumpkins were still out on the railing, and this fellow came along to eat one of them. He didn't seem to care that it was getting a little moldy—he was just very proud of himself for finding the pumpkin.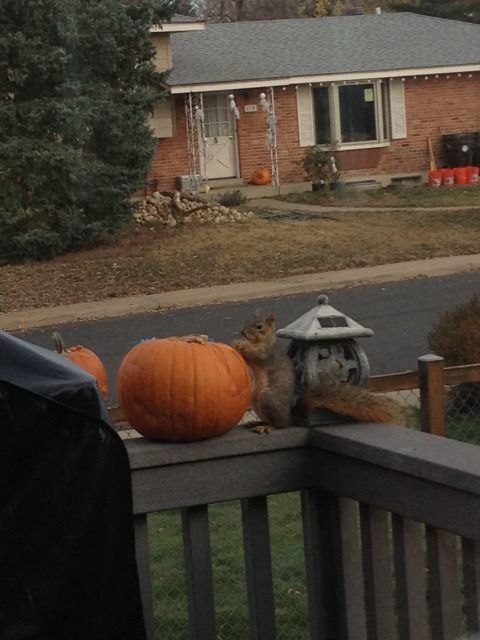 Since we only had a little while left with our best friend Stupey Doodle, we knew we wanted to snuggle with and pet her as often as humanly possible, but we were left with a bit of a conundrum—she was seeming a little dirty. Stinky Stewy seemed like she needed a bath, but she's been banned from at least one of the local groomers. Though the most docile dog imaginable, she actually bit the groomer last time she went. Hence, she hasn't been back for a while.
We knew that we could make the experience much less traumatic for Stewpile if we just tried to bathe her at home, so Tracy and I took on the challenge in the middle of one November day. Luring her into the bathtub, we washed Stupey as gently and quickly as we could. She definitely didn't like it. She was shaking the whole time, and tried to climb out on several different occasions, but she survived. When we finally picked her up out of the tub, she tried running away so fast that she slipped on the hardwood floor and face-planted in the midst of her escape efforts. But since it was a warm day, she was able to air dry pretty quickly. Here's our little wet rat, looking just adorable.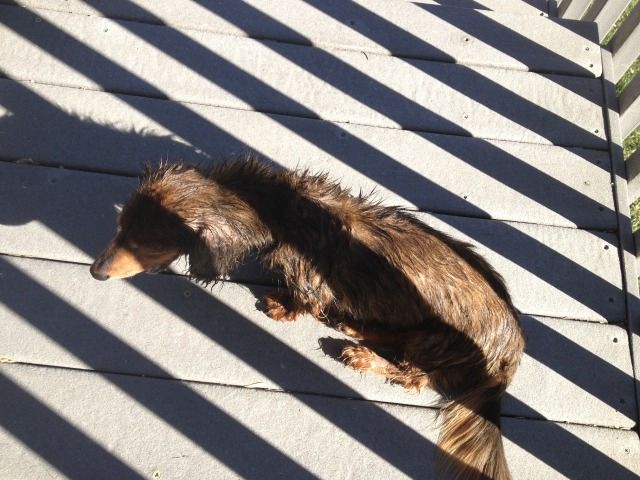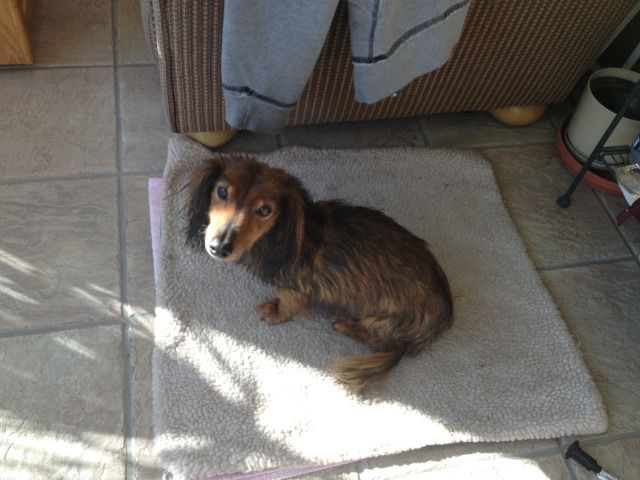 The first week of November was a really weird time for us. We knew we were about ready to go but needed to settle on an exact date and time to head out. Maybe I should step back a bit and explain exactly how our moving plans had taken shape during October. Originally, we had to make a pretty simple decision: Tracy's parents were going to be visiting Steve in L.A. for the long weekend of October 25th thru 30th. They needed to know whether we were going to be there to dog-sit for Stupey or not. Without too much deliberation, it seemed pretty clear that we weren't in enough of a rush to head out that we would be gone before that time. The one hitch was that the Disney Auditions site had posted a face-character audition for October 28th, so if Tracy wanted to go to that, we would have to make it out there by then. In the end, we made the decision that there would always be another audition—not necessarily as true as it seemed at the time, but we'll get to that later—so we planned to head out right around the beginning of November. After all, we still didn't want to have to register our car in CO.
As time passed in October, and we began trying to plan exactly when we would arrive in CA if we started the move on November 1st, we realized there was a snag in our plan. Rather than arriving just in the nick of time to register Dumbo before his temporary plates expired, our leaving at the beginning of November would have had us trying to register our car in CA without having a permanent address yet. We couldn't imagine them taking very kindly to our putting a hotel as the place we lived. It was an annoying decision financially, but we just caved and registered in CO. And now, suddenly, our fixed deadline was gone. We knew when we wanted to leave, but we didn't HAVE to go by a certain date anymore.
Thus, we always felt like we were right on the edge of making our life-changing move, but unable to decide exactly when to bite the bullet and go. We began planning our departure based on what days we wanted to be in hotels in each city. The main factor was Las Vegas. Since we were going to be staying for a night in Sin City, we knew the hotel rates would be way worse there on the weekends. We narrowed it down to the best day for us to leave being either Saturday or Sunday. We had all but planned to get out of Dodge (okay, Boulder) on November 3rd or 4th, but I really wasn't feeling great going into that weekend. So we pushed it back another week.
And finally, it began to feel right. I don't know exactly which factors influenced it, but I began to feel pretty decent. I made it through a couple days back at that state of almost-equilibrium that I call "the new normal." So we were all ready to depart on Saturday, November 10th. Then the weather changed for the worse. A light snow was in the forecast for the weekend in Boulder, but Boulder's weather was no longer what really mattered. We were heading due west for the first part of our journey, which meant a trip straight through the Rocky Mountains. A general rule in CO is that if there's any amount of snow on the Front Range, the snow in the mountains is much worse.
Normally, a little snow wouldn't bother us. Even driving, we've made it through many snowstorms growing up in CO. Dumbo, however, was equipped with a brand new set of highway tires. The mechanic who looked over our car noted the fact that while the tires were new, we'd probably need to replace them with snow tires to survive a CO winter as they had almost no tread in them at all. Since we didn't intend to be in CO for the winter, we didn't think this would be an issue—and it wouldn't have been, if we didn't need to drive through the snowy mountains. In the end, we considered our options. The weekend was supposed to be the worst in terms of the weather in the mountains, so we decided to push our departure back one final time to Monday. This still put us in Vegas on a weekday and in California with plenty of time before our phone interviews on Friday (I'll get back to that later). Still, we didn't know exactly what we'd find in the mountains, especially at the sometimes-treacherous Vail Pass. It didn't seem quite safe to go up there totally unprepared to face snow. We decided to buy a set of chains for our tires, just in case. It was a bit of a nightmare finding chains, learning how to put them on the car out in the snow, and then packing them away knowing full well we might not need them at all, but we did it.
And finally it was officially upon us—our last day in Boulder. I'd like to pretend we got to do a bunch of fun "Bouldery" things on our last day, but really we spent the entire day packing.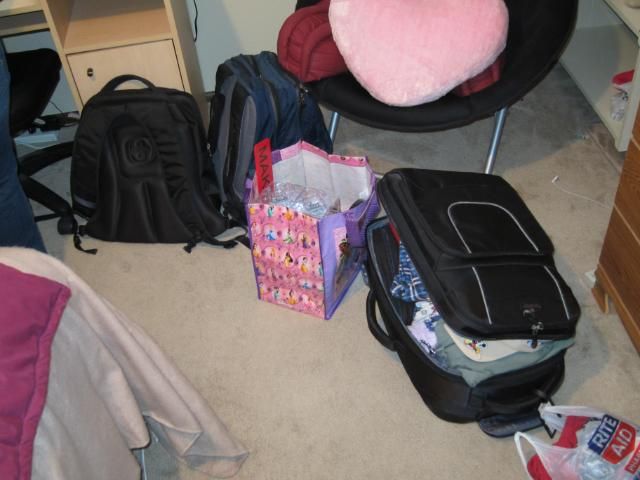 Getting everything into suitcases, boxes, and occasionally bags was the first difficult part of packing. Not only did we have a lot of "stuff" just in terms of clothes and the other possessions we didn't entrust to the UBox, but we had also picked up quite a bit more during our three months in CO.
The next, much more dubious task was packing the car. Our little hatchback has a lot of storage space, but we knew we would have to use every ounce of it on this journey. On top of the luggage, we also wanted to transport Tracy's bike out with us. The most space-conscious way to do this, we realized, was to put the bike, sans front tire, standing in the middle of the rear of the car, and to carefully arrange everything else around it. The whole process involved several bungee cords, a few tarps and blankets, and a lot of rearranging, but almost everything fit—miraculously. I wish I had ever gotten a really good picture of the madness, but this is the best one I could manage. Here's a look back from the front seat at a very full Dumbo.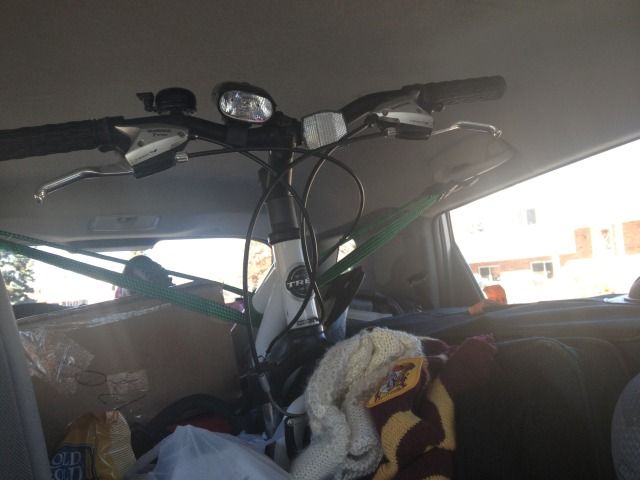 On our last night before heading out, we went to dinner with Tracy's parents and my mom and grandma. It was a nice sendoff from Boulder as we prepared to jump headfirst into the next adventure that was just about to begin.



Share