Chapter 10
Bears
---
Previous Post | Next Post
Table of Contents
After lunch, we went back to the retail shops to do our second round of shopping. Clearly, they had planned much better for this cruise than the one our table mates were telling us about because I don't think they had actually run out of any merchandise on day one.
Tracy tried on this very becoming sailor hat.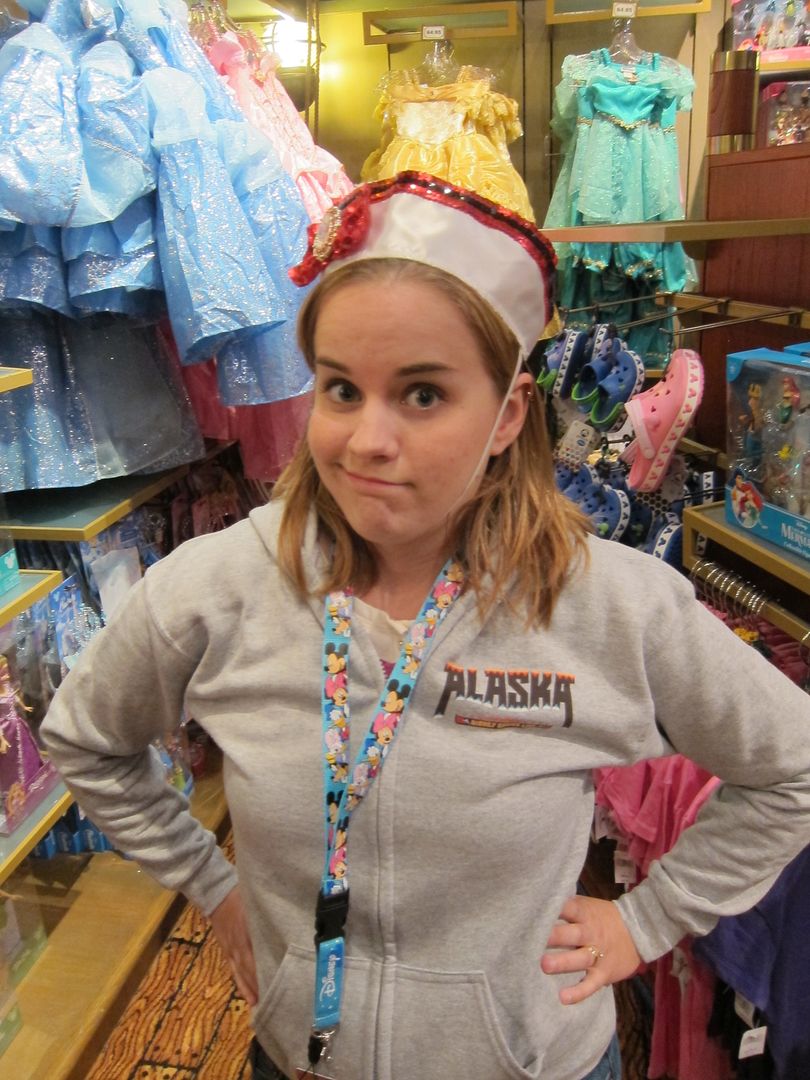 Our next purchase this afternoon, however, was chosen because we had gotten jealous of all the people we'd seen sitting on deck draped in this lovely fleece blanket. We just had to get one for ourselves, and we actually used the gift card Jan from MouseFan Travel had sent us to pay for it, so it at least FELT free.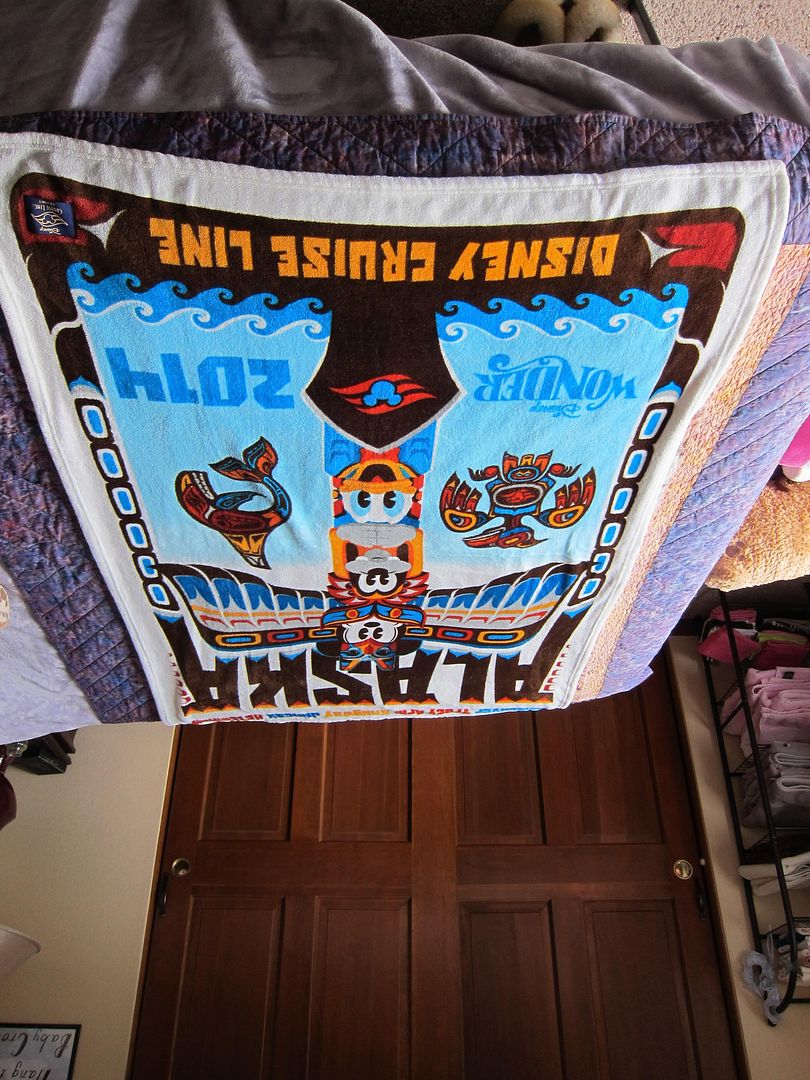 We headed back to the stateroom to drop off our purchase and took some pictures from the verandah.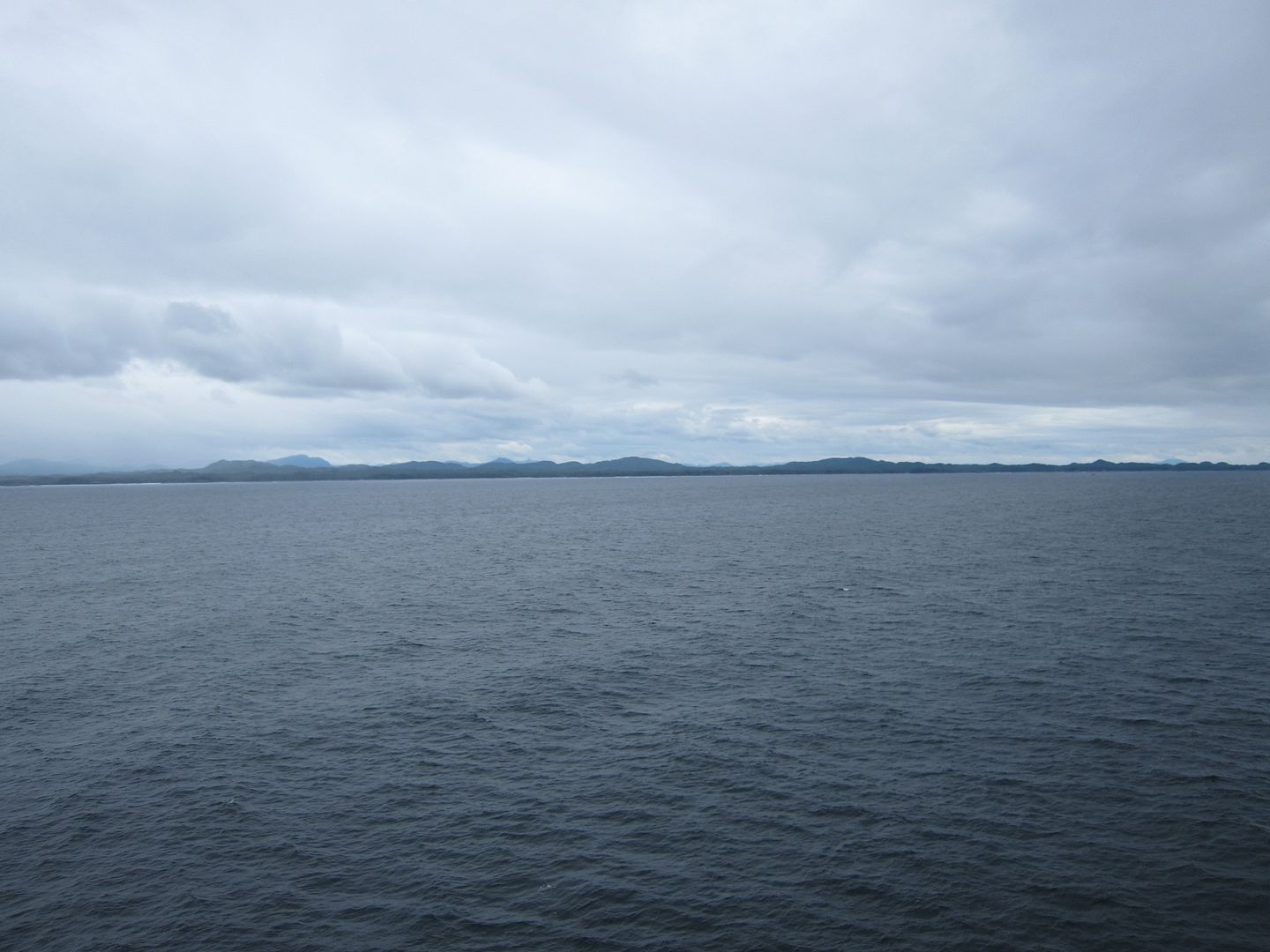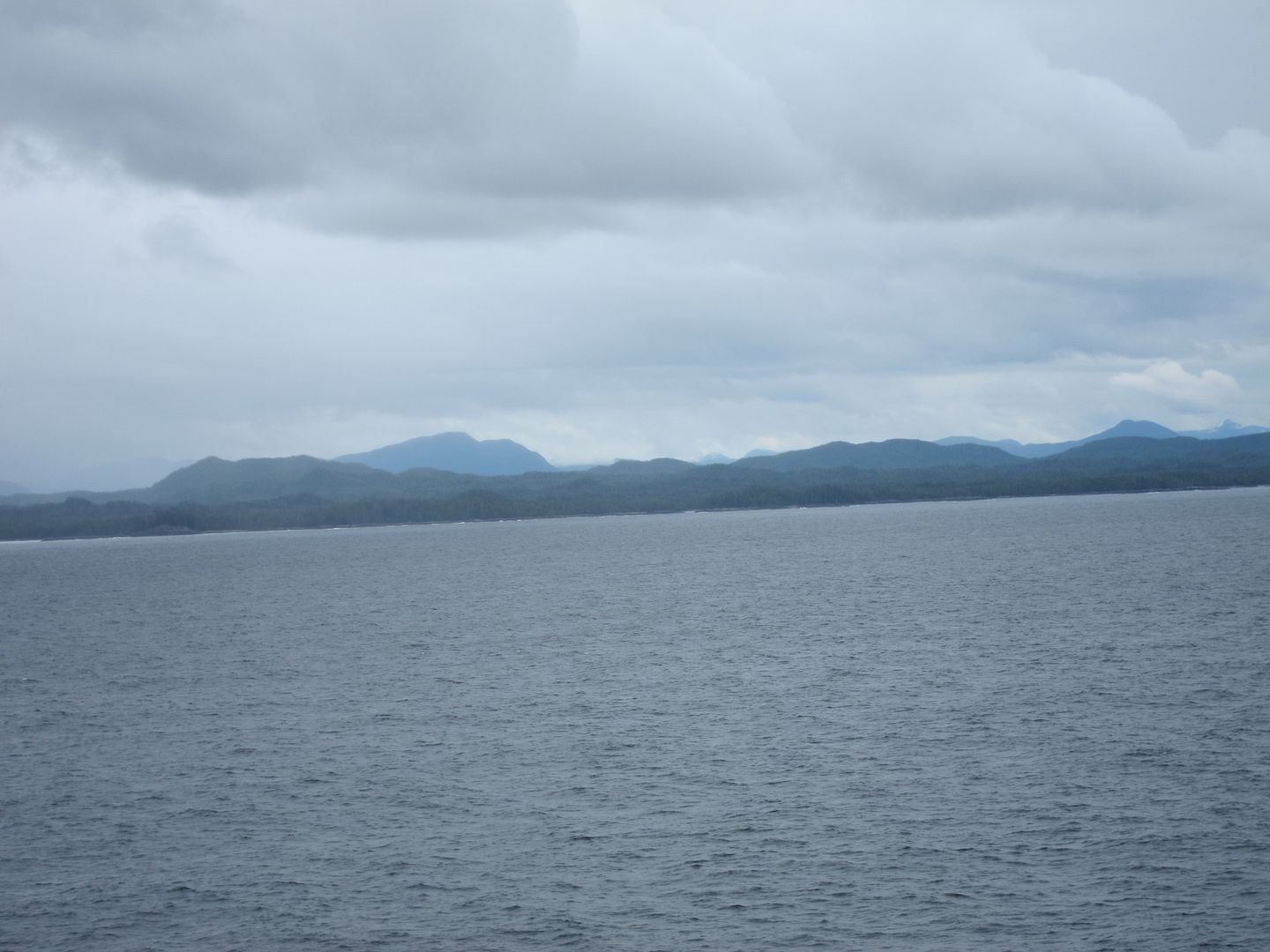 After sitting outside for a little while, it was time to head to our first organized activity of the day. The Alaskan naturalist on board the ship was going to be giving a talk on bears (aptly titled "Alaska's Bears") in the Walt Disney Theatre, and we got there a few minutes early to get good seats.
Doug Jones was the naturalist for this cruise, and he had quite the history with bears in Alaska. After working as a biologist for many years, he retired to Juneau, where he volunteered at the Mendenhall Glacier visitor's center. While there, he put his picture-taking background to good use and became something of a semiprofessional wildlife photographer.
He showed us all kinds of slides taken during his time at the glacier. Apparently, the area is a hotbed for bears during salmon season, but he warned us that it would likely be a little too early in the year for many grizzlies to be around.
Speaking of grizzlies, Doug also explained to us the differences between grizzly bears (also known as brown bears) and black bears. Color isn't enough of an indicator because there is such thing as a brown black bear. It all comes down to their size, the shape of their bodies, and the way they behave. Grizzlies have the big hump on their backs and are much bigger than black bears. They're the ones you might see hanging out on the ground, and they are unlikely to be too spooked by humans. Black bears, on the other hand, are smaller, don't have the signature hump on their backs, and are typically scared of humans. Doug told us that if we saw a black bear, it would most likely be hiding in the treetops.
Next, we learned about how Doug approaches bears in the wild and gets them to leave him alone so he can take photos. He told us about how these extremely intelligent animals learn to recognize human voices that they've heard before and the type of tone you should speak to them in if you want to live peacefully together. He specifically mentioned that it's rarely a good idea to try to stay quiet (because the bear will know you're there). Instead, you should speak low and calm. Make sure the bear knows you aren't threatening, but also make yourself known. Tracy and I spent the next several days mimicking Doug's entreaties of "Hey bear. I'm just here taking a picture."
The presentation went on for about 45 minutes in total, and I'd say Tracy stayed awake for about half of it. Something about getting her in a dark theater right after lunch time NEVER bodes well for her ability to stay awake. It's true in movies, and it was also true in this presentation. In her defense, however, she was FAR from the only one who nodded off—even in our immediate vicinity.
I managed to stay awake through the whole talk and really enjoyed it all. I love bears, and we had just recently seen Disneynature: Bears in theaters (which is a great movie, by the way). It was a little bittersweet to hear what Doug had to say about our chances of seeing a bear on this cruise, however. He explained to us that there would definitely be bears living in all of our ports (Sitka, especially, is known for its grizzly population). But he also was honest about the fact that it was still very early in the year. The salmon wouldn't be around for at least a month, and that meant the bears wouldn't have a ready food source to bring them out. In the end, we accepted that we might not get to see a bear in real life on this trip… but we could still hope!
After the nature talk was over, Tracy admitted she needed a jolt of caffeine to get her through the afternoon. Since we weren't about to get more Nescafe, however, we decided to check out Cove Cafe on Deck 9.
It's a really cozy area of the ship, we discovered, and they had a great selection of free pastries out that we could eat along with our coffee.
We ordered a latte and started a punch card for frequent visitors.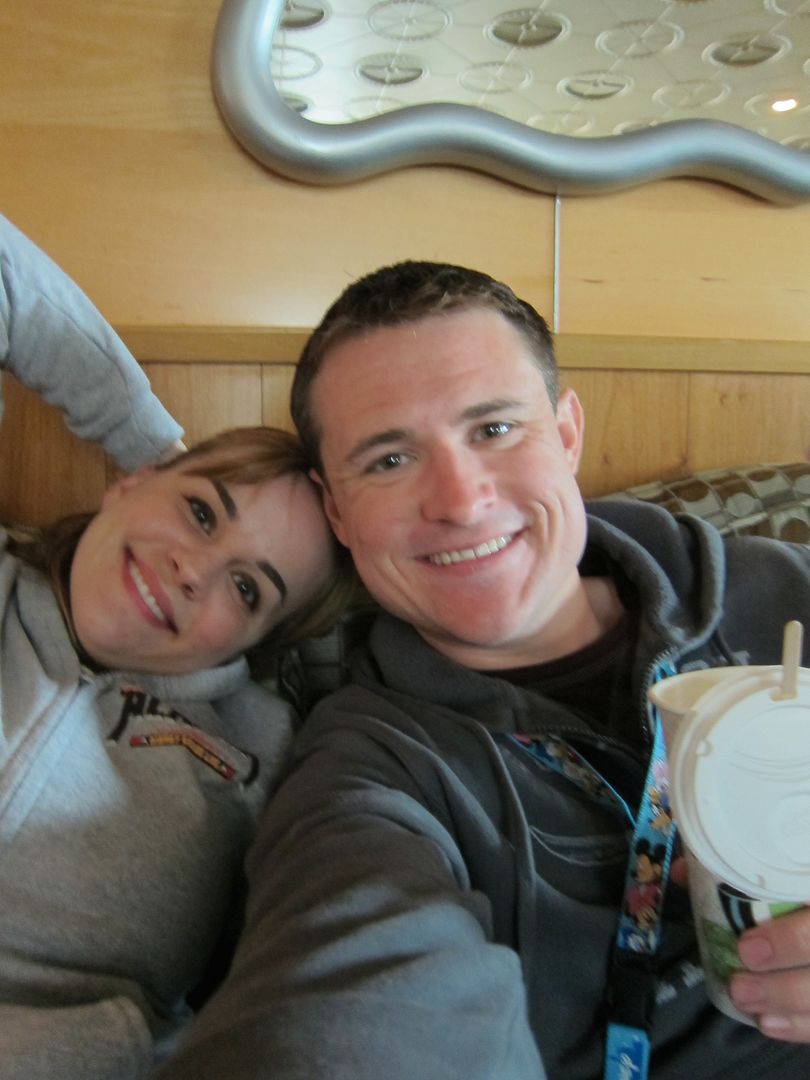 Now THIS was real coffee. Made with Illy brand beans, it was delicious, and it was very fun and relaxing to sit on a couch in the cafe for a few minutes and enjoy our drink.
We couldn't stay too long, however, because we had plans to head down to Diversions on Deck 3 for our next activity.
Previous Post | Next Post
Table of Contents
Support the Wandering Mouseketeers and get yourself a little something! Do your online shopping via our Amazon link!
Follow



Share