Chapter 19
Going Home?
---
(Originally posted April 2, 2013)
We started the drive away from Vegas around lunch time, and we knew that one of our first goals needed to be finding somewhere to eat. As we pulled out, I tweeted:
We lost a grand total of $8 in Vegas but at least we got to play several rounds of "Wolf Run" #leavinglasvegas
We had planned on trying to put off stopping for lunch until we were outside the busy area, but upon looking at a map, I realized we were about to be heading into the middle of nowhere for a while.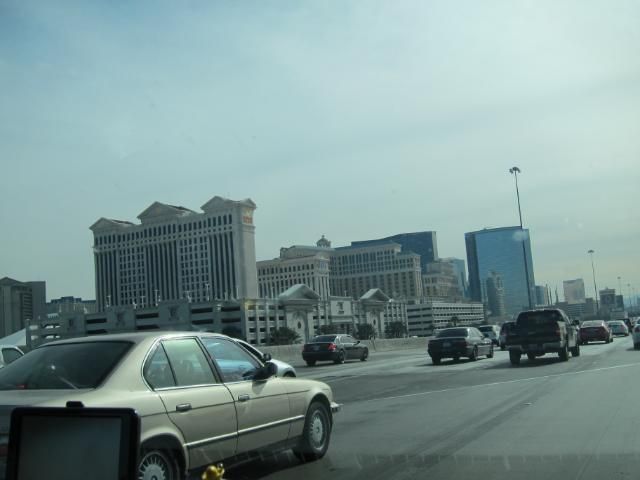 So right after leaving the Vegas city limits, we found ourselves looping back around to try to find a simple fast food restaurant. Unfortunately, this proved to be more trouble than either of us anticipated, as we drove past several closed restaurants, and then a lot of residential streets.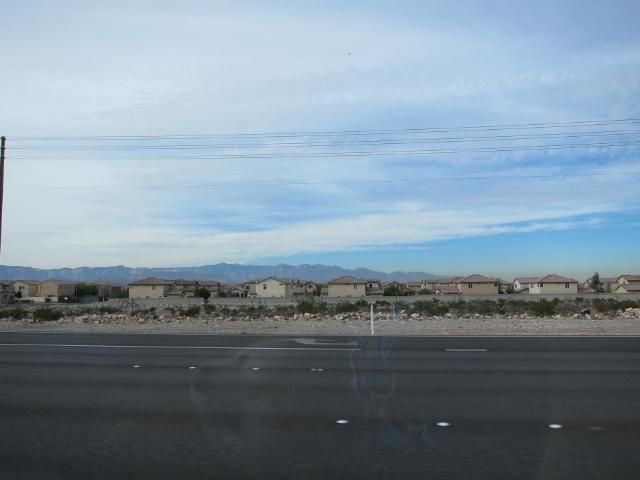 Finally, we had our map direct us to the nearest Taco Bell, which was about ten minutes off our course. We arrived and ate a hurried lunch, trying to get back on the road as quickly as possible.
Stopped at Taco Bell outside Vegas for lunch. You gotta eat healthy on the road…
When we started driving again, neither of us was in a particularly great mood. Tracy was tired of driving. And who could blame her? Obviously, I was a very conspicuous passenger on this whole trip. My state of feeling well was always teetering precariously on a pin at this time, so I was nervous to drive and risk putting either of us in danger when I started feeling badly. I'm sure to an extent, it was anxiety getting the better of me, but I just never know.
Despite certainly not enjoying it by this point in time, Tracy drove on like a trooper.
We took heart when we saw the first sign of our final destination with a road sign pointing toward Los Angeles.
And now, it was back to the relatively boring scenery of Nevada.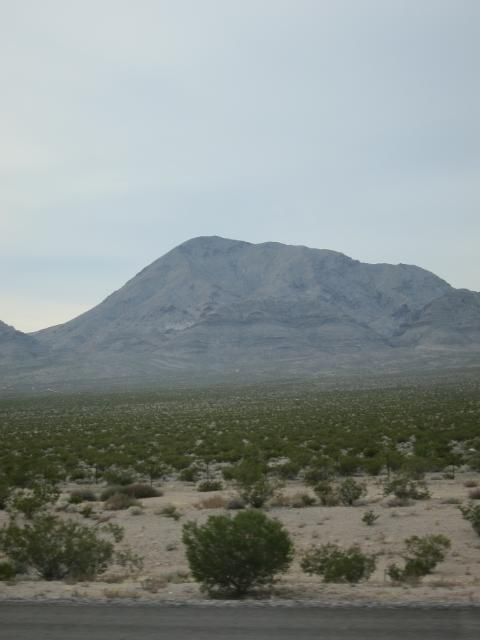 One of the most exciting moments thus far on the drive happened somewhere in the middle of nowhere in Nevada.
Just passed our first @Disneyland billboard! #californiabound
Of course, Nevada didn't last too long. Soon we had passed into the last state of our journey, and our new home.
California was, if anything, uglier than Nevada when we first entered.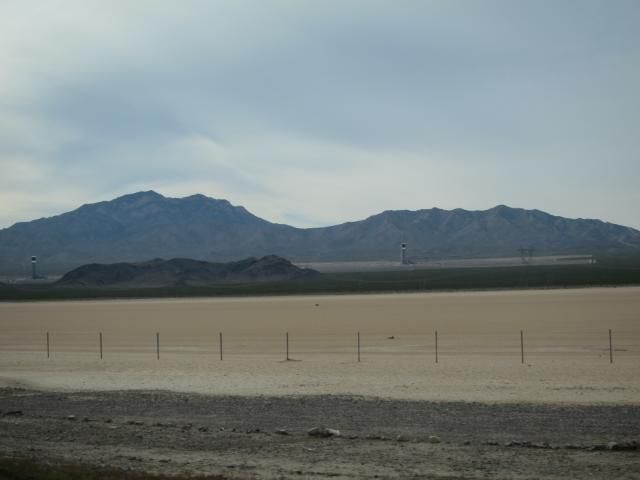 Partly it was just a sort of gross, cloudy day, and partly it was just the landscape.
They're not kidding when they say that a huge portion of California is desert. We saw plenty of proof along the sides of the road.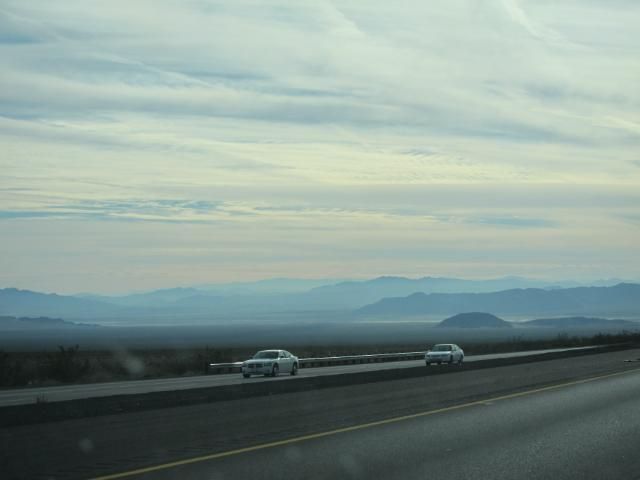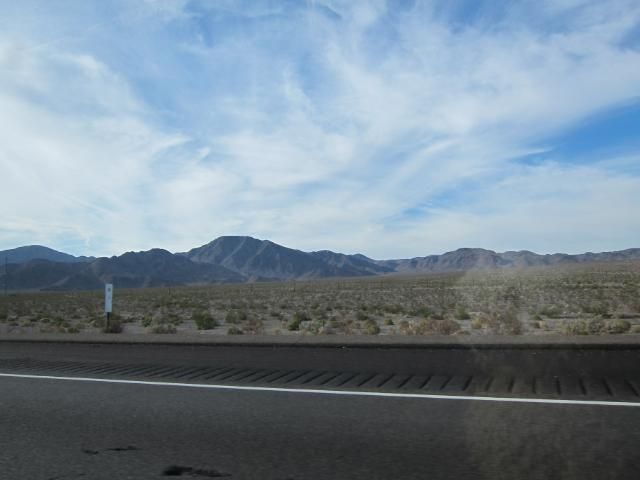 Our moods lightened as time went on, and we played some more Twilight before the unthinkable happened: we reached the end of the first part of the audiobook. When I had downloaded the book in the Audible app, I hadn't ever worried about getting the second half downloaded because I was used to almost always having access to wi-fi throughout the day. But now, here we were in the middle of the desert with only a 4G signal, and an app that wouldn't allow me to download the pivotal climax of our book. The drive got considerably more silent without the voice of Ilyana Kadushin reading to us about the foibles of teenage vampires. We switched over to music for a while, but mostly we just found ourselves really wanting to arrive.
Luckily, after the drive the day before, this drive was almost a cakewalk at a mere four hours. We just had to get through all the boring parts of California and then hope that we could survive our first tastes of the freeways around L.A. and Orange County.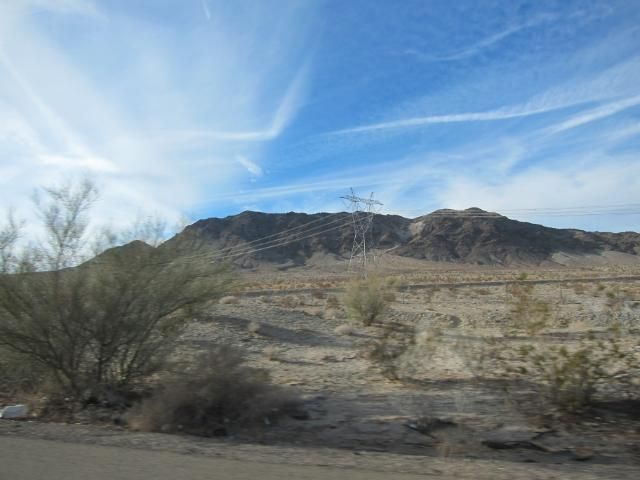 We only made one stop in Bloomington, outside San Bernardino, for a quick bathroom break. Other than that, we barreled on, noticing that the roads around us were getting quickly more congested.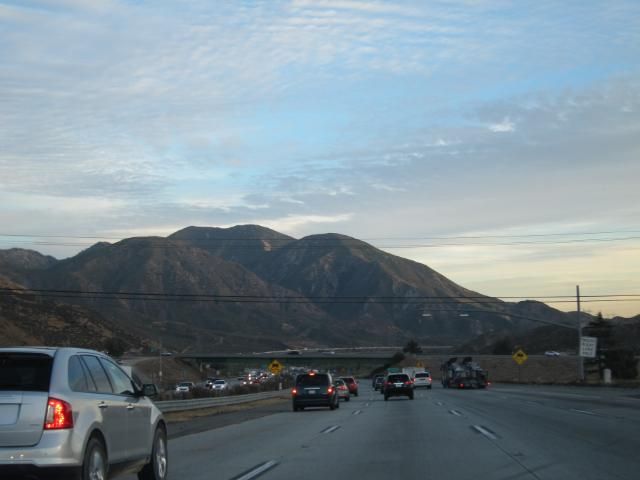 The sun began to set as we continued along I-15.
This road introduced us to how terribly some of the freeways in the L.A. area are maintained. It was so uneven, and the lane lines were so horribly drawn that both of us found ourselves getting a little white-knuckled as we chugged along—and I wasn't even driving.
Things started to get better as we merged onto the 60 and into the actual direction of Orange County, but now we found ourselves facing our first taste of rush hour traffic in CA.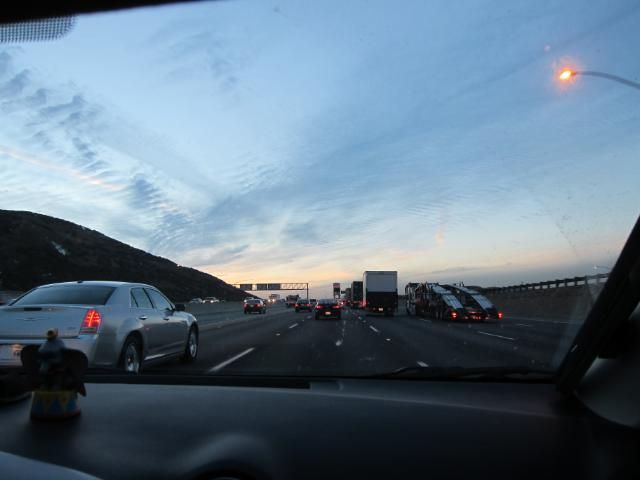 It was a pretty typical night in retrospect, but on our first experience with the constant 6-lane freeways, it was a little shocking. On this last phase of the journey, we had Daniel's predicted time of arrival ticking closer and knew that, though the surroundings weren't yet familiar, we were entering the general area we would come to know as "home."
We had bid on a hotel on Hotwire the previous night in Vegas, so we knew we would be staying there for at least a few nights while we apartment hunted. So, for now, the Fairfield Inn Fullerton-Placentia was our destination.
We merged from the 60 onto the 57 and found ourselves officially in Orange County. We began seeing exits for places we knew the names of from our research—Brea, Yorba Linda, Fullerton. And finally, we reached our exit. We drove into the parking lot of our hotel, stopped the car, and had a moment in which we looked at each other and couldn't believe we'd done it. Our cross-country move was, for all intents and purposes, basically done. Now we just had to find ourselves a home.
Here you can see our map for the last day of driving.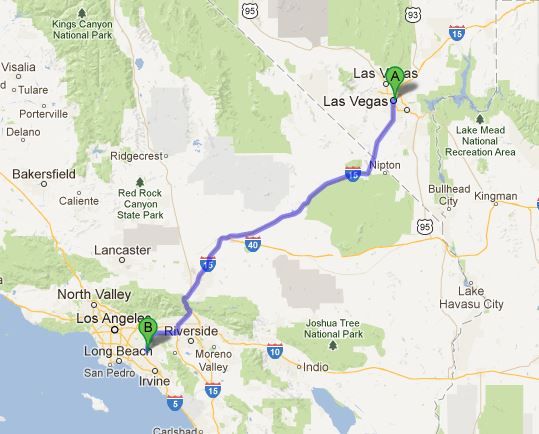 And here is the entire 1,029 mile road trip mapped out.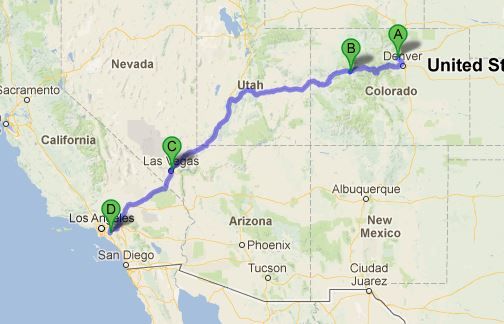 Share