Chapter 18
Vegas, Baby!
---
(Originally posted March 29, 2013)
Walking into The Venetian, we saw a representative of another of our old favorite guilty-pleasure TV shows. As I explained in my Disney World trip report, we were big fans of Newlyweds: Nick and Jessica, mostly because it was hilarious. Well, The Venetian had a candy store with a wax figure on loan from Madame Tussaud's of none other than Jessica Simpson. We had to take a picture.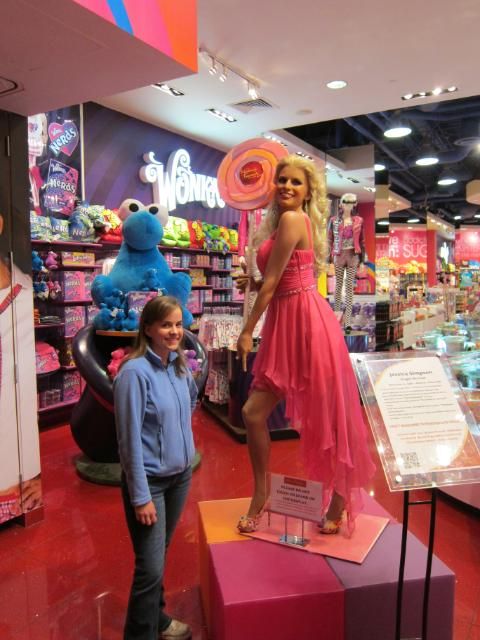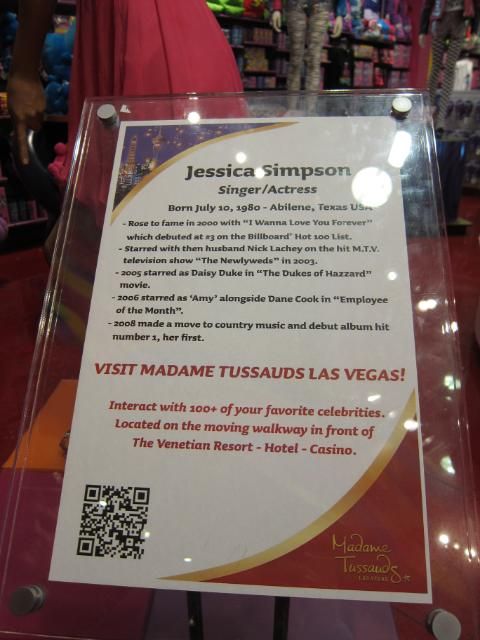 Next, we moved into The Venetian proper, and we were able to get our first glimpses of both the canals and the beautiful faux-sky that is painted above the whole marketplace area.
We passed our first gondoliers who were serenading their passengers.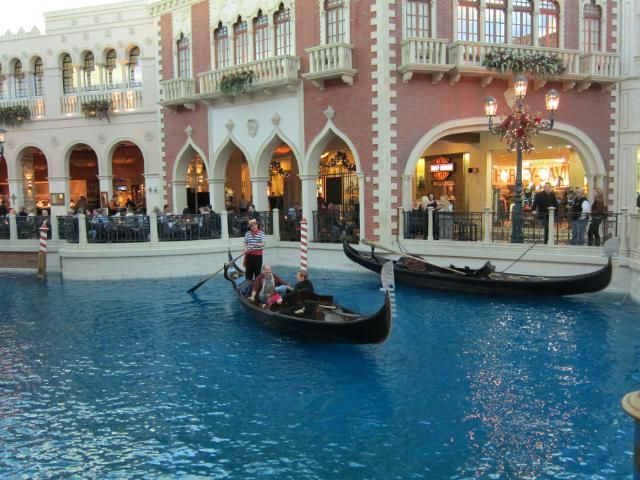 We walked through the whole marketplace before finding ourselves in the adjoining Palazzo resort quite accidentally. It had a pretty waterfall though.
Our goal this evening after wandering around The Venetian was to find the Bouchon Bakery that is located there. It's an outpost of the same restaurant in NYC where we would regularly get one of the best cookies I've ever had, the Better Nutter (they used to just call them Nutter Butters before they were told to cease and desist by Nabisco).
We looked at a map of all the shops and restaurants in the mazelike Venetian and thought we had a general idea where we were heading, but then we got hopelessly lost several times. We got to the vicinity of the restaurant, but could not find it for the life of us. We must have checked the directory a solid five times before we finally found it. And when we did find it, it was right as they were putting up their "Closed" sign. Blast! We decided we'd try again in the morning.
Exiting our little slices of Italy, we returned to our hotel across the street. We wanted to catch the nighttime show performed in front of Treasure Island, "The Sirens of TI."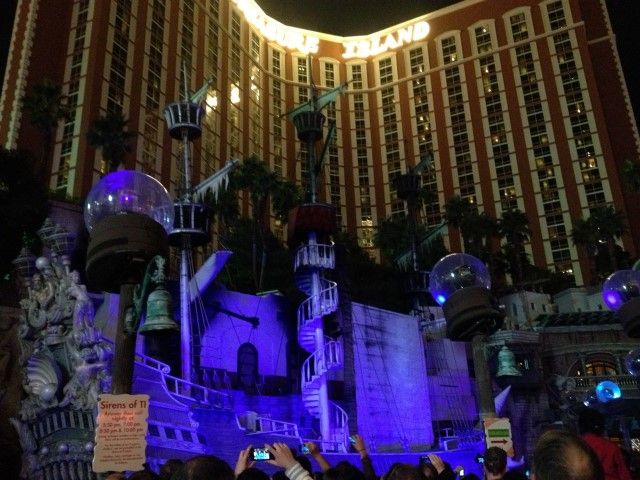 I remember listening to Lou's interview with Imagineering legend Bob Gurr on WDW Radio a couple years ago when he talked about designing the sinking ship for the show at Treasure Island. I was intrigued, therefore, to see it in action. Our hopes for the show itself were far from high. We could hear the first show of the evening from our room when we first arrived, and it was clearly pretty bad. Directed by Kenny Ortega, the description I read about the "plot" of the show explained that it was basically an excuse to get scantily clad "sirens" and shirtless "pirates" up on stage to entertain the drunken crowds. When the show started, we quickly realized this was an accurate description.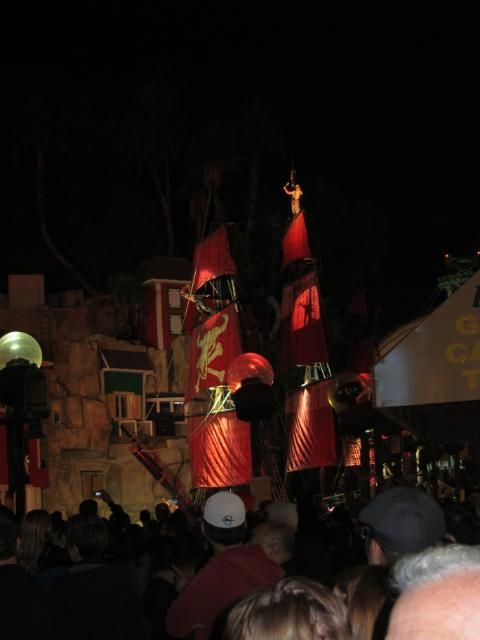 The sinking ship effect was cool, though I honestly expected it to sink a little more than it did. It only went down a couple feet and then quickly rose up again.
After the ship was sunk, we headed into the casino. At Treasure Island, they give you some free slot play credit as a reward for signing up for their email club, so we each went and got our cards. Tracy and I each received $10 of free credit, and we decided this was probably all we were going to spend. We really didn't have much in the way of actual money to spare, and we certainly didn't intend to break the bank on this night in Vegas.
On our trip to Atlantic City, we actually made money using the free slot credit. There, we were each given $25 free dollars in credit (which you can't just cash out as it has no real value anywhere except the slots). We played there, found some good machines, and each turned our $25 credit into a real $25 at which point we cashed out and left. We must be some of the only people to visit Atlantic City and come out $50 ahead.
Our luck in Vegas was nowhere near as good. I think it was clear that they stack the odds against you a little more in the gambling capital of the world as we rarely won more than a few cents when we did win the slots, and we just continued to gamble away our paltry winnings. Within about a half-hour, our credit was gone and we called it a night.
We headed upstairs to bed, and I can't think of many nights in my life when I was more excited for my head to hit the pillow. Just by laying down, I could tell that these beds were extremely comfortable, and after our horrid previous night's sleep, I was out in moments.
After the blink of an eye, or maybe it was eight hours, we awoke to the alarm. I can't remember the last time I slept as well as that night. We got up and opened the blinds to reveal our view in the daylight.
I'm being dead serious when I say that neither of us noticed the enormous empty lot outside the window when we had seen the view in the dark. Now, we were interested to find out what was coming there. Apparently it had been the site of the Stardust Casino, which was imploded in 2007 to make room for the new Echelon Casino. After being partially built, plans for the Echelon were put on hold indefinitely, so it just sits there as a big construction site.
We started off our morning by heading downstairs for breakfast. We didn't want to venture too far, so we just went to the Starbucks in our lobby. Living in New York, we saw our fair share of expensive Starbucks drinks, but this one was the worst yet. For the Grande Gingerbread Latte that we split, it cost more than five dollars. Add on the three dollar scone we grabbed for breakfast, and it was quite the costly Starbucks experience. At least we were satiated for now.
We still had a couple hours until our checkout time, so we decided to do a little more exploring. Our first stop was back at The Venetian.
We figured we should buy our cookie now and then eat it a little later in the day. Luckily, we were able to find Bouchon Bakery much more easily this time and got our snack for later without any difficulty.
We inquired at The Venetian if they offered free slot credit when you signed up for their club, but they just rudely scoffed at us and sent us away. Apparently that kind of thing is reserved for the riff-raff casinos like Treasure Island.
Our last stop was The Mirage, a sister casino to TI. We walked over and were very impressed by the grounds.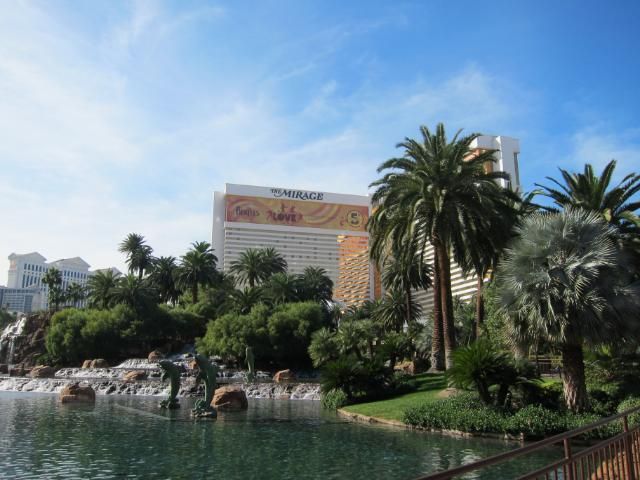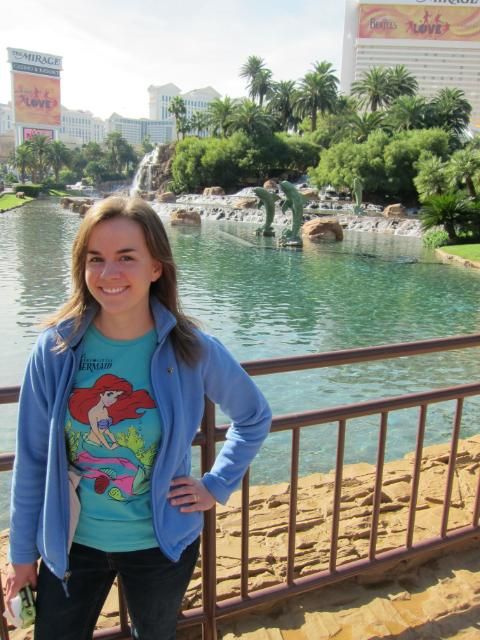 There's a volcano that erupts every hour, but we had just missed it, so we went inside instead.
In addition to being the location of the Siegfried and Roy white tiger show, the signs at The Mirage boasted about their dolphin habitat. We wondered if it was free to enter, so we wandered in that direction to check.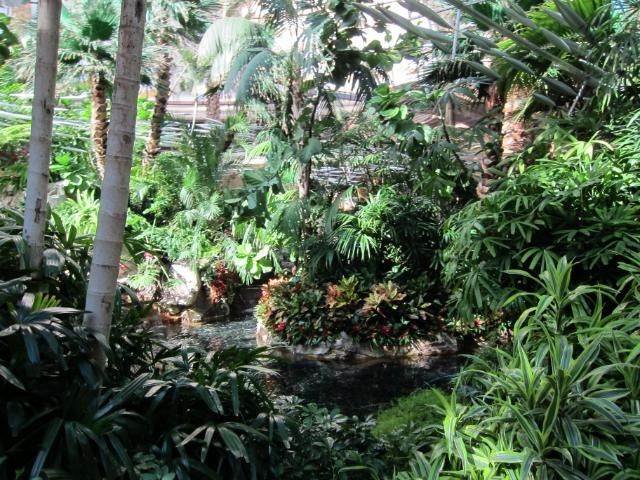 We got a little lost in another mazelike casino, and when we did find the dolphins, there was a steep cost of admission. Maybe some other time…
Since The Mirage didn't offer any free credit for slots either and we felt like we should at least try to win a few bucks this morning, we whipped out a little bit of cash. We still had $8 left from the ten we had broken in Glenwood Springs, so we decided we would spend the rest of that gambling and then cut ourselves off.
Being us, the slot machines we thought were the most fun were those with an animal theme, so we spent all of our money at Wolf Run and Jungle Cats.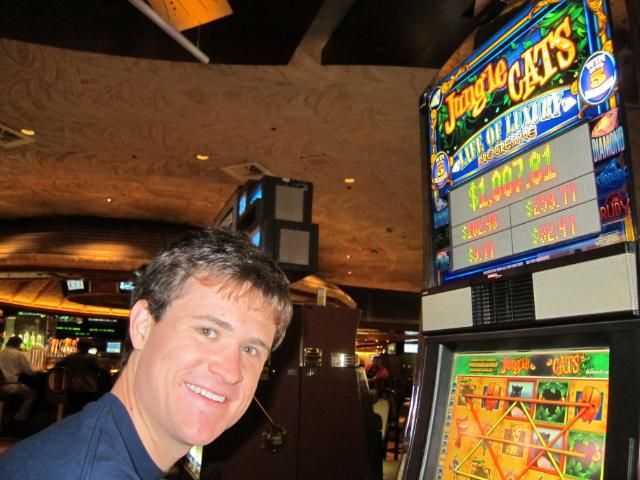 Losing our $8 took a matter of minutes, and we moved along before we could get tempted to waste any more money.
We stopped in at the Kardashians store at The Mirage (another of our occasional guilty-pleasure TV shows). We'd been into their Dash store in NYC before, and were shocked both there and here by how ridiculously expensive everything they sell is. To even get a t-shirt is $60. I understand that they're making a statement about how high-end they are, but the type of people who take the time out to watch their show on E! are not the kinds of people who should be spending that kind of money on a t-shirt. The cheapest thing they sell is a $10 pencil. I wish I were kidding.
After exiting the store empty-handed, we decided to sit and eat our cookie. It was getting close to lunchtime, but we weren't planning on eating lunch until we were out of Vegas. It was almost as delicious as we hoped it would be. The Better Nutter is comprised of two peanut butter cookies sandwiched with a delicious peanut butter cream filling between them. Unfortunately, the cookies here were a little on the crunchier side, and the whole thing was smaller than we were used to in New York. It was still good though, and worth the trip to find it.
We returned to Treasure Island via the monorail that connects it to The Mirage.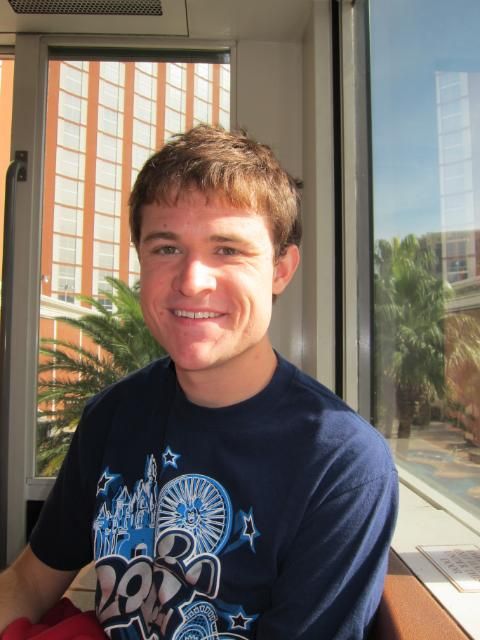 We arrived back at our room with just a few minutes to throw all of our stuff together.
Taking one last look out at our amazing view, we left our panoramic room behind us.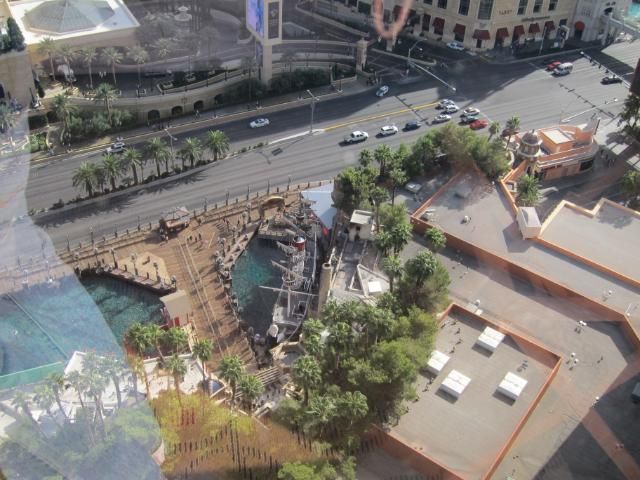 We went downstairs and found Dumbo just as we had left him. Breathing a collective sigh of relief, we realized this was the last time we would have to leave the bulk of our possessions in the car overnight. There was no way we were going to unpack the car for these one-night stops, so we had just covered our suitcases with a blanket and hoped that no one tried to break into the car for these first two stops. Our next destination would be more long-term, so we'd unpack this time.
And now, it was time to get underway. This day's drive would be the last leg. At the end of it, we'd be in our new home county, and we were anxious to arrive.



Share