Chapter 17
Viva Las Vegas
---
(Originally posted March 25, 2013)
Arriving at Treasure Island, we parked in the garage and hauled the luggage we didn't feel comfortable leaving in the car to the front desk. Now we didn't bring in THAT much luggage, and at any normal hotel the trip to the front desk takes about a minute, but when you're entering a hotel/casino in Vegas, you inevitably have to cross the entire casino area before you make it to the check-in desk.
By the time we made it, my back and neck were killing me from wearing a heavy backpack, dragging a heavy suitcase, and carrying a variety of other random things into the lobby with us. Then there was a line at check-in. Finally, we made it to the front and were called over by the front desk clerk who must have sensed we needed a little Disney-esque magic this evening. Upon seeing that we were only staying for one night (a Tuesday night at that), she said she was going to upgrade us to one of the hotel's panorama rooms. Located on the top floor of the hotel that isn't taken up by suites, these rooms are on the corners of the wings of the building and feature two huge picture windows with views of the Strip!
We headed up to check out our digs for the night, and we were very impressed. This was the view in one direction.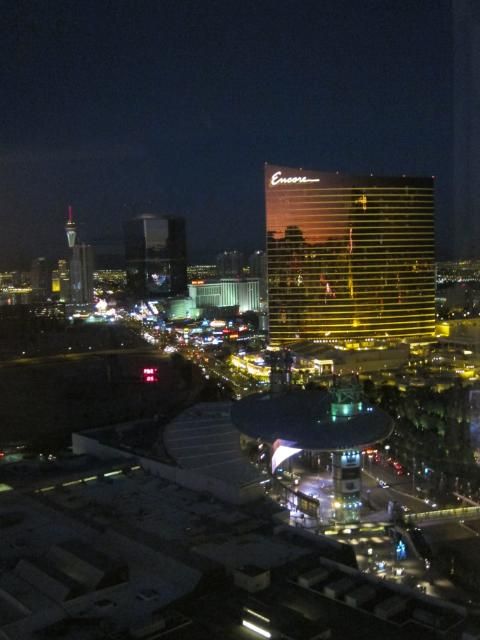 And here was the other direction.
Plus, our room was great! It was so sleek and spacious.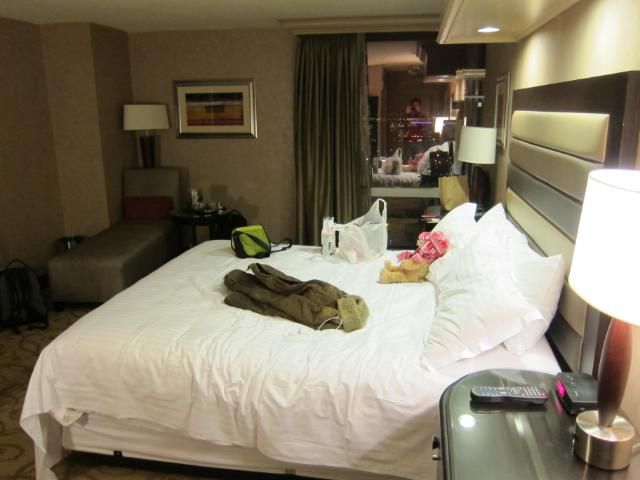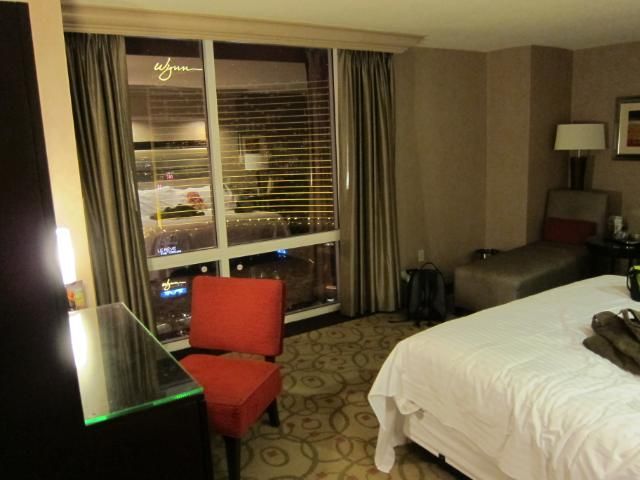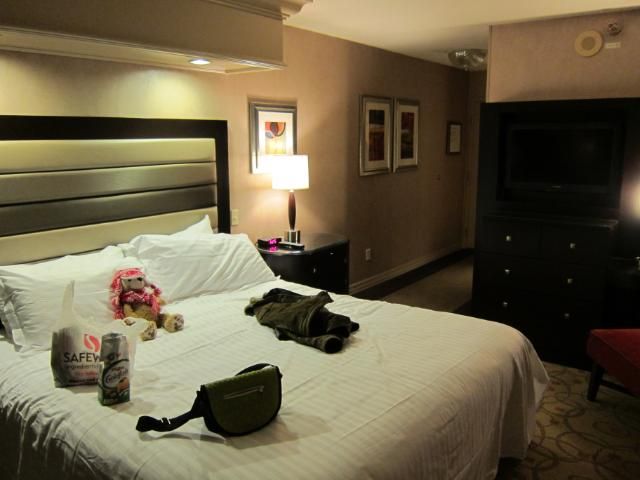 Out one of the windows, we could see another of the wings of the building and the Treasure Island sign.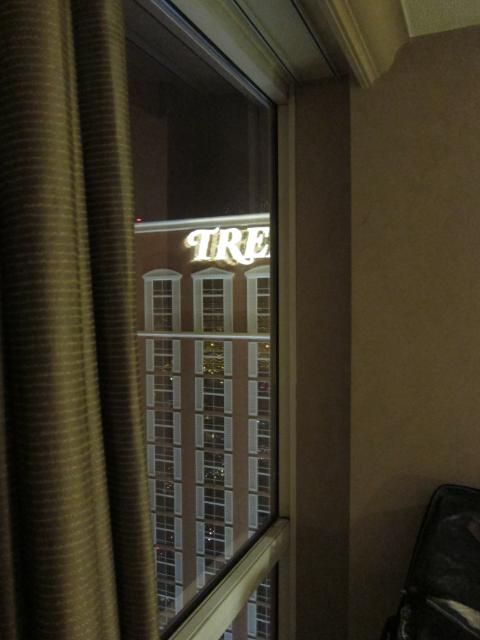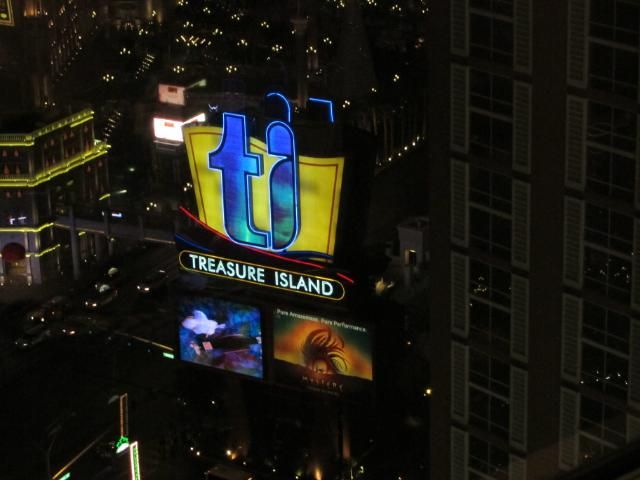 Anxious to get out of the room and start exploring, Tracy and I grabbed sweatshirts and headed downstairs. Our first destination was going to be finding somewhere to eat dinner.
Let me step back for a moment here and describe our respective histories with Las Vegas. Tracy had never been before and was excited to see what it had to offer. We had been to Atlantic City during one of our last months living on the east coast, and she was basically hoping it wouldn't resemble that too much…
I had been to Vegas twice before, but this was my first time coming back since I had entered the target demographic. My first trip had actually been with my middle school class. Our school had a chapter just outside of Las Vegas, and part of the trip had been to visit the school and do some sort of bonding activities with our brethren over there. The rest of the trip was for the purpose of having fun (mixed in with a little learning). We toured the Hoover Dam and went on a hike, but mostly we just spent time around the Strip. Obviously gambling was out of the question for a bunch of 13 year-olds, but we still managed to have fun hopping between the different themed resorts, going on the many roller coasters that are spread around the strip, and generally just being teenagers who thought it was so cool to be there.
My second trip to Las Vegas was just about a year later when my grandparents celebrated their 50th wedding anniversary there. We stayed at the Flamingo Resort for a long weekend and went to their vow renewal ceremony. Other than that, however, we mostly lounged by the pool, rode more roller coasters, visited the themed resorts, etc. Notice a trend here?
Now, however, Tracy and I were finally of age to experience Las Vegas in all its glory. We could gamble and drink and party all night… and we had no real desire to do any of those things. Instead, we intended to walk around and, you guessed it, visit the themed resorts. Okay, maybe we did a LITTLE bit of gambling too.
Anyway, back to our evening. We didn't travel too far on our expedition for dinner. Walking through the casino in Treasure Island, we realized we were ready to eat. Luckily, the pizza place at our hotel had decent reviews and was right there. So we headed into Pizzeria Francesco's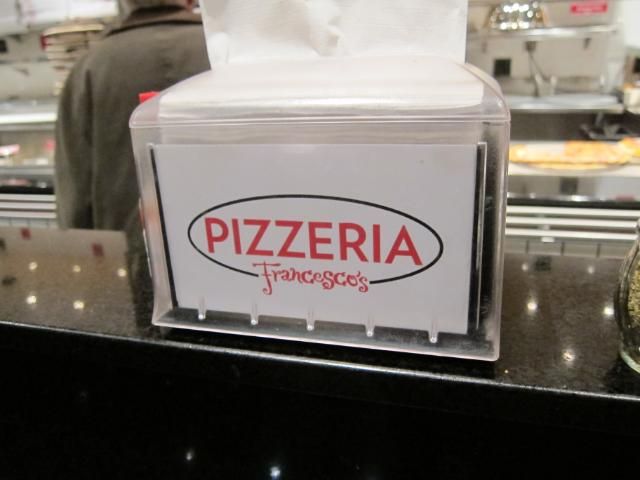 The pizza looked okay, but what really caught our eye was the special listed on the wall—a calzone complete with pepperoni, sausage, mushrooms and spinach.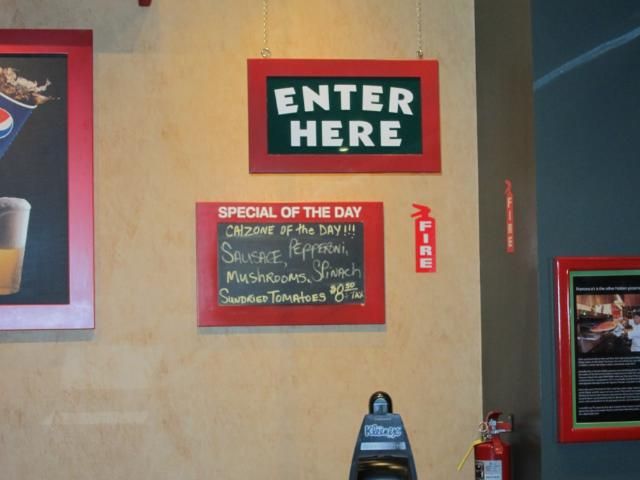 We ordered and it was ready within a couple minutes. Of course, in all my hunger I forgot to take a picture. The calzone was actually really delicious! We practically inhaled it because we realized we were starving. I literally inhaled a little piece of pepperoni and had a coughing fit in the restaurant. It was a classy moment.
After dinner, we stopped by the room to grab a few things. Here's the hallway our room was at the end of.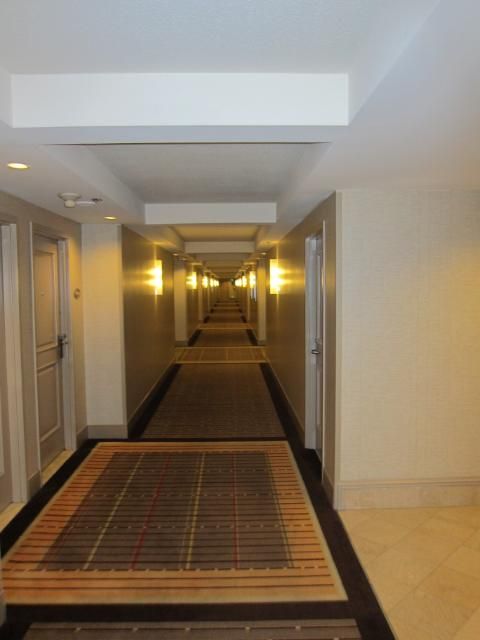 Next, we were out and on our way down the strip. We walked past The Venetian.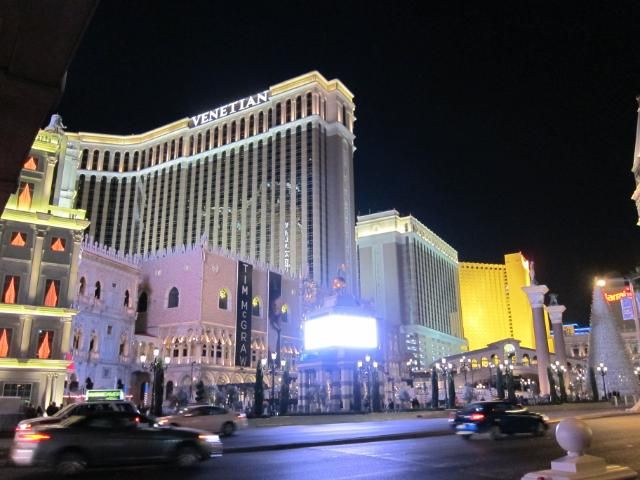 And The Mirage.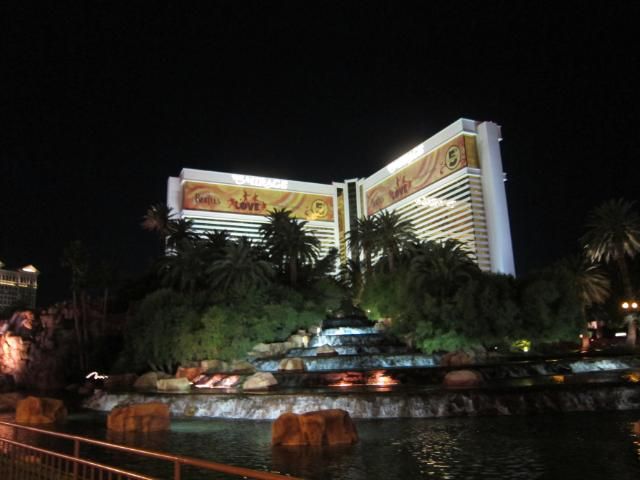 Caesar's Palace.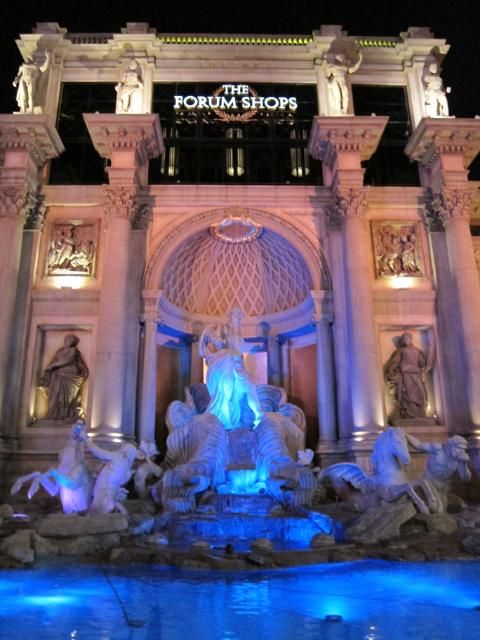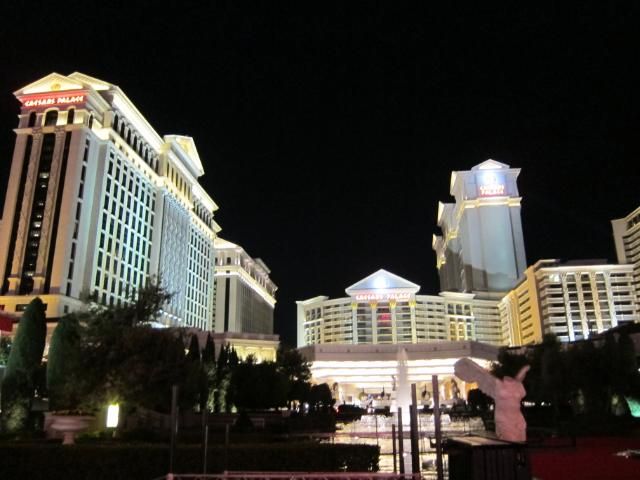 My old stomping grounds, The Flamingo.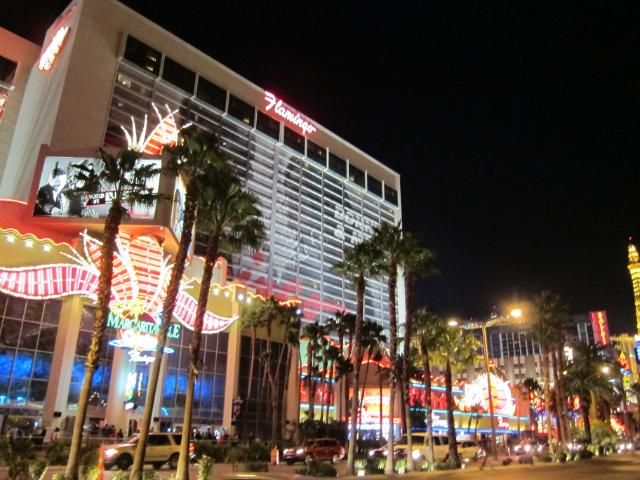 And finally, we arrived at our destination—The Bellagio.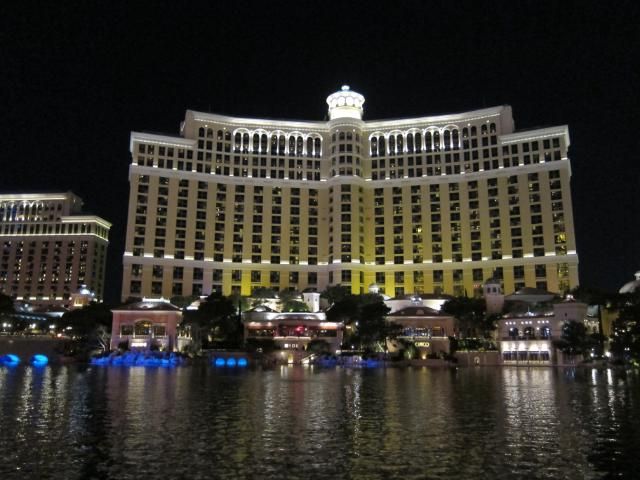 It was not a quick walk. The Strip is very deceiving when you look at it from above in your hotel room. But each building is absolutely huge and they're decently spread out. Getting to The Bellagio, which was only about four casinos away from Treasure Island, was a mile walk.
Our goal in reaching The Bellagio was, of course, to see the fountain show that takes place on the water in front of it several times each hour. We had just missed a show when we arrived, so we had to wait about ten minutes until the next one. We were chilly, but compared to the temperatures the previous night in Glenwood, this felt like paradise.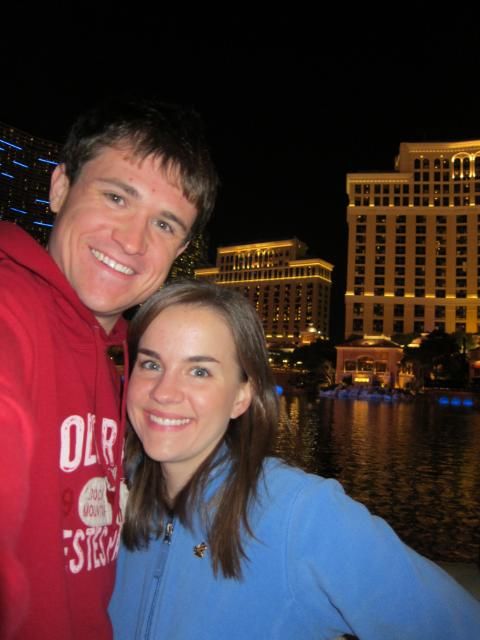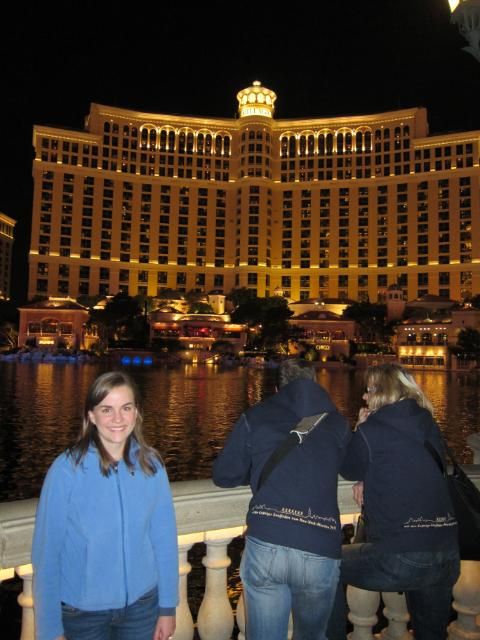 When the clock ticked to 8:00, we turned our attention toward the water as the music began and the fountains quickly followed.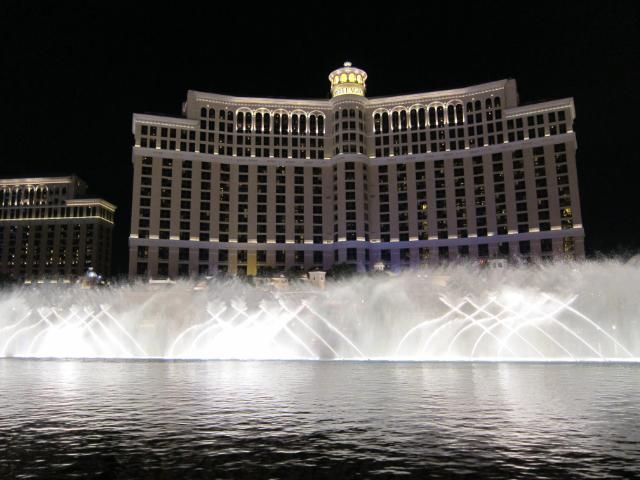 I first saw the Bellagio fountains on my second trip to Vegas and I was absolutely entranced. It was such an original idea at that time, and the way the water danced with the music was just beautiful. I made my family come back to watch at least a few times throughout the trip. The show here is what provided the inspiration for World of Color years later at DCA. Each show is synchronized to a song, and the songs are randomly shuffled throughout the day, so we had no idea what we were going to get.
I was thrilled when the music started and it was the Andrea Bocelli/Sarah Brightman duet "Con te partiro (Time to Say Goodbye)." I've always loved the song when I've heard it in random situations, though I'd never taken the time to find out what song it was. The song just builds so majestically to a climax, and it was the perfect music to accompany the fountains. By the end (after a seemingly infinite number of key changes), the music was soaring and the fountains were bursting impossibly high into the air. I didn't take any good pictures because I was too busy enjoying the show, but it was pretty awesome.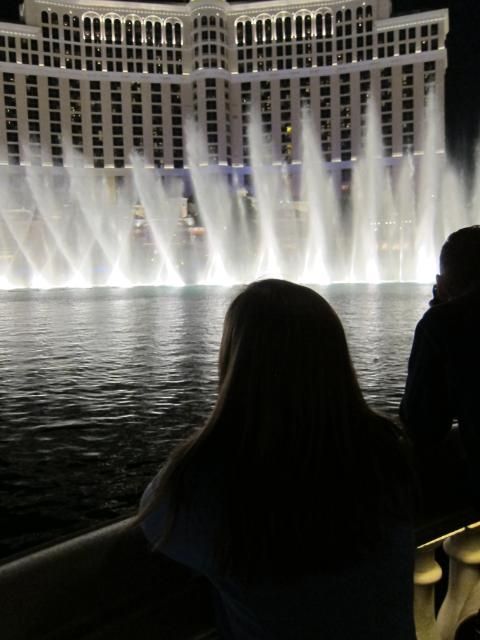 Here's a YouTube video of the show[/URL] not taken by me. It's nowhere near as cool as being there in real life, but it will give you an idea.
[kad_youtube url="http://www.youtube.com/watch?v=cP0K6H2QK7A" ]
Tracy really enjoyed it as well, and she agreed that it was worth the mile trek out of the way.
Now it was time to start the walk back to our resort. The strip went on for many a mile more, but this wasn't to be the trip for us to explore Vegas in its entirety. We only had one night. We started walking back on the other side of the street, so at least we'd see different themed resorts. First there was Paris.
Tracy and I were guilty-pleasure fans of the TV show The Girls Next Door and its spinoff Holly's World, which followed Holly Madison after she moved out of the Playboy Mansion and to Las Vegas. While she was starring in Peep Show at Planet Hollywood, I know that her face was plastered on practically every billboard around the city. When we were there, she was out on maternity leave, so we didn't see many ads, but there was this one in the candy shop at the Paris hotel.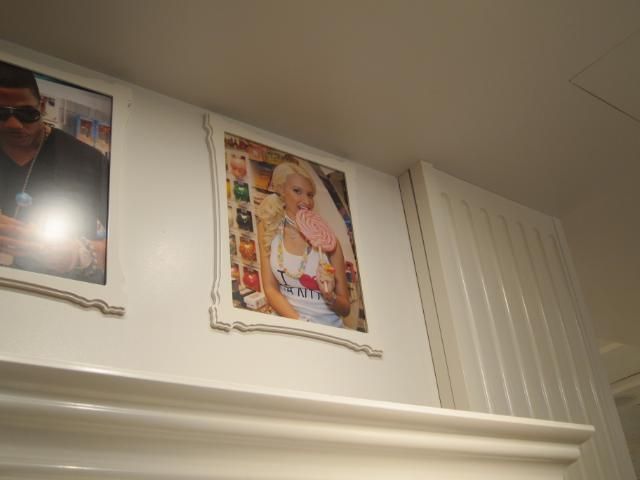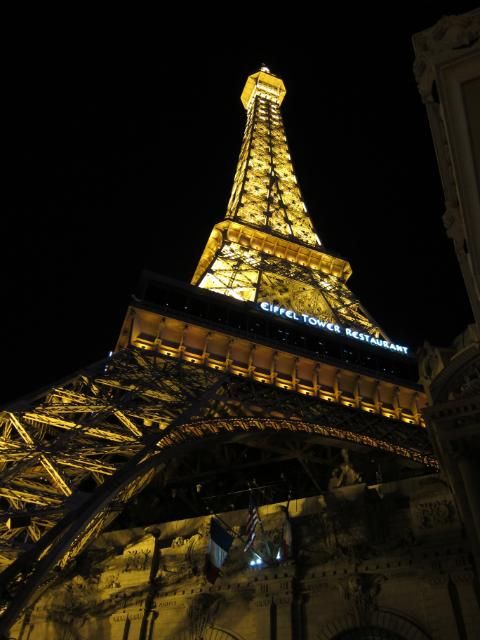 Our next stop was The Venetian, the hotel I was most excited to show Tracy based on my memories from when I was young. They had already started decorating for Christmas, so I took a picture of their "tree" out front.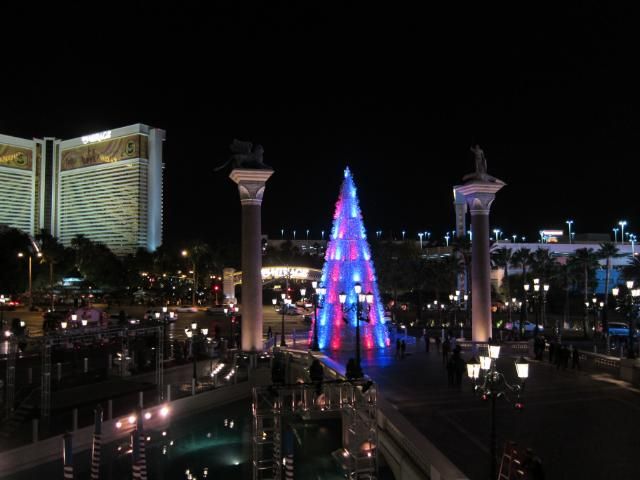 Share