Chapter 24
Moving In
---
(Originally posted April 18, 2013)
Here's a secret. Just like in the real House Hunters, I changed one thing about the first apartment hunting update for dramatic effect. The pictures I posted of the condo we ended up in were actually taken after we got the place as we were getting ready to move in. When we first saw the apartment, it was still being thoroughly lived in by the previous tenant and I forgot to take any pictures. As a result of this, we had already seen how he had arranged his furniture and was using each room, so we had a good idea how the condo would be best lived in.
When the movers were gone, one of the first rooms we set up was the living room, partially because it was the one with the most usable storage furniture and partially because we knew it would be the room we'd spend the most time in, so we wanted to clear it of boxes as quickly as possible. First we set up the TV stand and bookcase.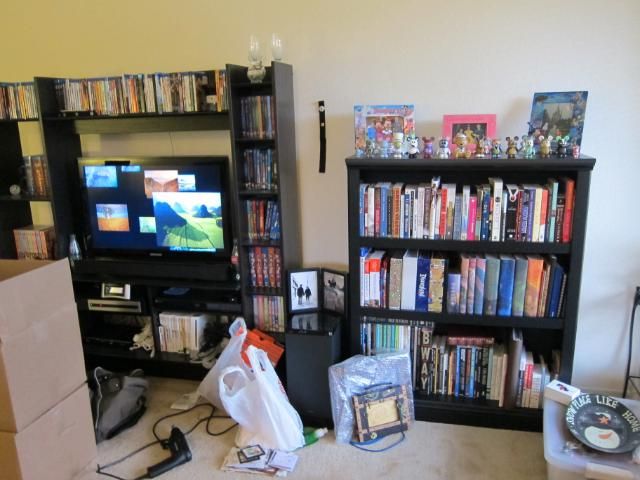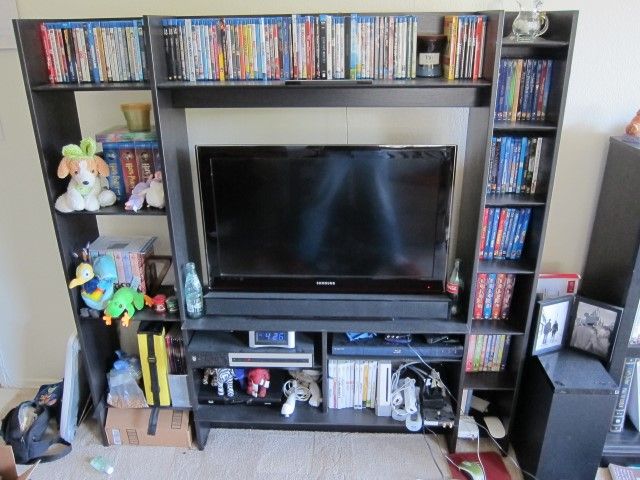 We knew that with the unsteadiness of the TV stand, we needed to install earthquake straps to keep it from toppling over, but that process turned into a whole mess of issues. First, we knew we needed to get the straps, get a stud finder, and get a drill to install the straps. Finding everything was the relatively easy part, but then we had to try the installation. First off, our stud finder seemed to have no idea what was going on in that wall. It would light up in the most random of places where there turned out to be no studs at all, and it claimed that there were live wires in practically every inch of the wall. We drilled so many extra holes trying to find a stud that our wall still looks a little pockmarked. In the end, we got the straps installed, but it was a saga that lasted several days instead of the promised few minutes. Luckily, we haven't had any real earthquakes to speak of (knock on wood), but I guess it's always better to be prepared.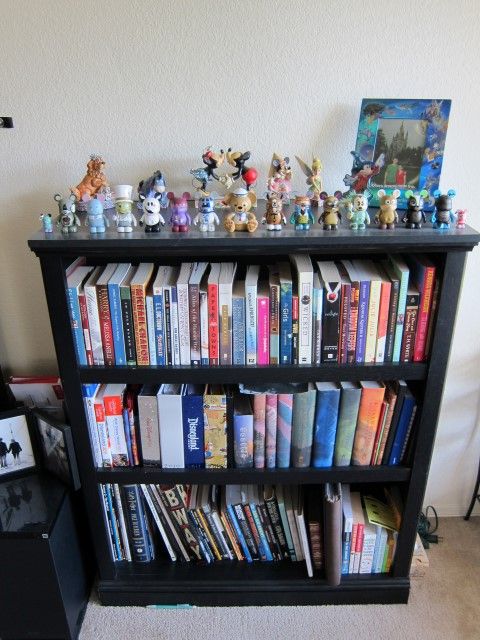 As I said in the last update, that bookcase was actually one of our acquisitions from one of the better thrift stores in the area. Assembled and in really good shape, it was only about $20.
Once those pieces of furniture were in place in addition to the recliners and side table (another thrift purchase), the living room was pretty complete.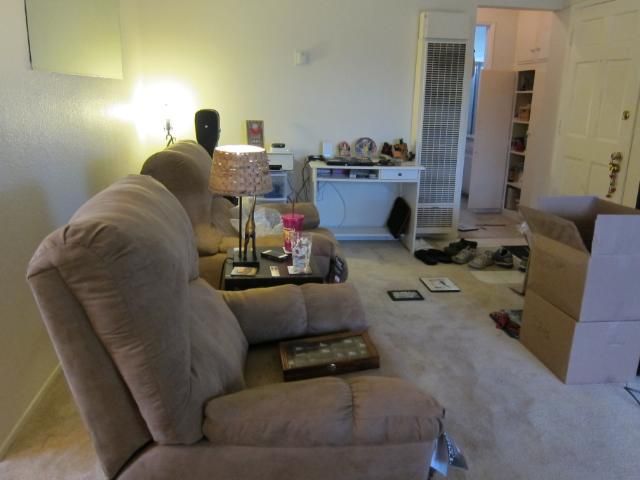 We had to put off buying a couple pieces of furniture for the time being until we had money coming in, and we still haven't gotten to the point where we can afford them. As a result, our board games are all piled in one corner of the apartment—we'd like to get a storage ottoman or cool trunk to put them in—and the desk area setup isn't perfect, but it will do for a while.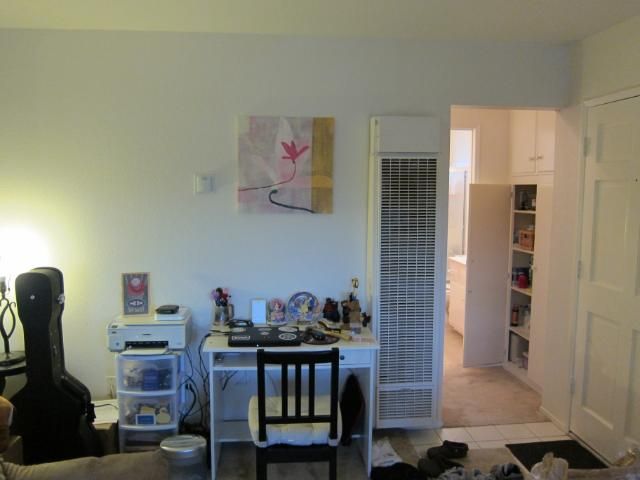 Next, we set to work organizing the bedroom.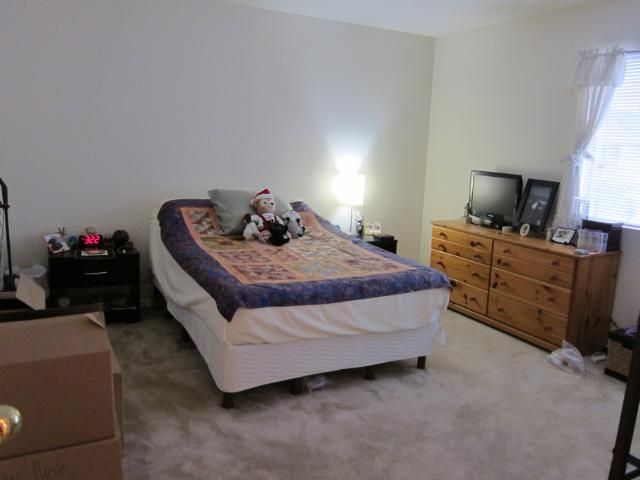 Now, the bedroom furniture acquisition was a little more difficult than the living room had been. First off, we got everything we needed for it (nightstands and dresser) off of Craigslist rather than a thrift store. Looking for furniture on Craigslist is always an interesting game of chance, and for the most part we lucked out.
The nightstands we got from a seller in Fullerton. It was one of those scenarios where in his ad, he had said he wanted to communicate via text or phone rather than email, which I'm not a fan of. I always prefer emailing until we get to the last part of negotiations. I texted him, found out the nightstands were still available, and tried to set up a time when we could come buy them. I gave him a few possible options for times when we could swing by and he responded that literally ANY time would work for him. Later, we narrowed it down to a specific date and I wanted to confirm that he would be home at a certain time. He responded again, "Oh, I'll definitely be home. Any time." At this point, we weren't sure if we were dealing with a shut-in or just someone without much of a social life. Our original plans got derailed and I had to reschedule when we would show up. "Don't worry," he replied via text, "I'll be here :-)" Complete with the smiley face. Again we were just starting to wonder if this guy was under house arrest or something, but when we showed up he seemed perfectly normal. He met us, showed us into the garage (where we were only slightly afraid of being murdered) and gave us the nightstands without issue. One successful Craigslist interaction off without a hitch!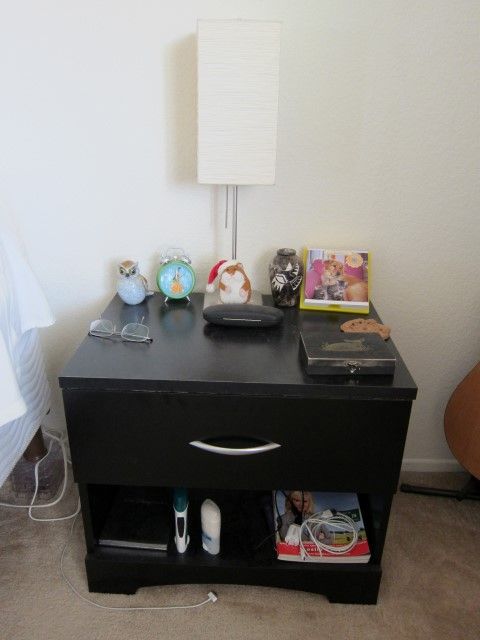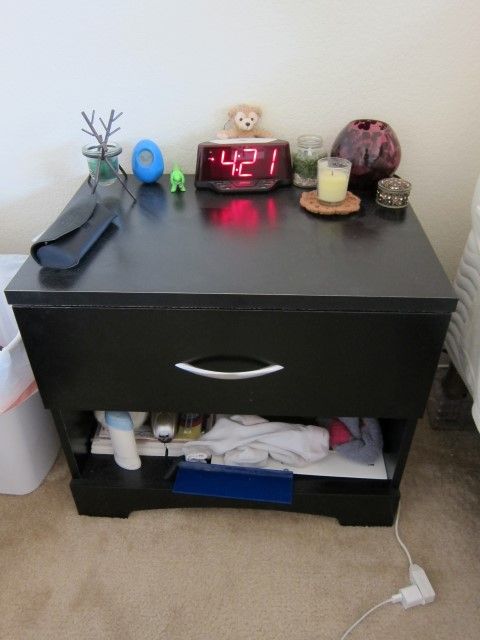 The dresser was available from a seller in Santa Ana, which is just to the south of Orange. We knew from our research that this didn't have a reputation as being the safest city in the county, but we hoped that we wouldn't have any troubles. When we followed the directions to meet up with the seller, it took us first into what is known as the "sketchier" part of Santa Ana and then into a trailer park that was definitely not in the best shape. Again, we just hoped this wasn't a Craigslist killer setup, but when we arrived at the right address, a jolly guy emerged and showed us to the dresser, which he was keeping to the side of his house. It definitely wasn't in the best shape cosmetically, but we figured with a little polish, we could get rid of the scratches and it would be good for us until we could afford something better. We wanted a long and low dresser like this one and the price was definitely right. Now that is one LONG dresser, so we were a little worried about fitting it into the car, but with my seat smashed up to the dashboard and the dresser taking up every inch of the back, we were able to fit it. Dumbo truly never failed us in our efforts to move even the most ridiculous pieces of furniture. The sellers we dealt with were constantly awestruck by how much could fit in our little car, and we were once again extremely thankful we had gotten a hatchback. Once the dresser was loaded in, we revved up and left the scary part of Santa Ana in the dust. A second successful Craigslist transaction complete with nary a real problem!
The previous tenant here had been using the dining area as an office space, but we decided to use it as a dining room. Therefore, since we had sold our old dining table and chairs in New York, we needed to acquire some of those. We found a good set on Craigslist and set off again, this time to Anaheim Hills. This was perhaps the most casual of our transactions. The seller was an Asian student getting rid of everything as she prepared to move back to her home country. This was one of her last days here, so she was desperate to unload as much as possible. Therefore, we not only got her practically brand new table and chairs for a really good price, but she also kept handing us other various knickknacks she had no reason to keep for free. We left her apartment with a bedroom trashcan, a bag full of clothes hangers, and a surge protector in addition to our actual purchase. That's Craigslist transaction #3 without any issues. Perfect trifecta!
Here's the table as it looked when we got it.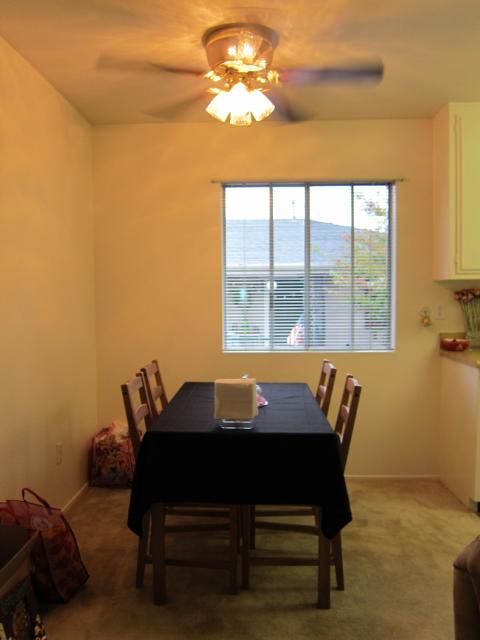 The seller had used that tablecloth the entire time she had it, so the table itself was flawless. We didn't really want to use a table cloth so we replaced it with placemats soon after getting it home.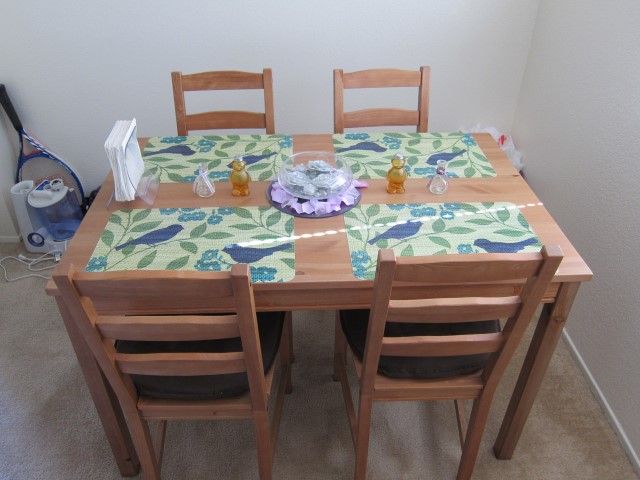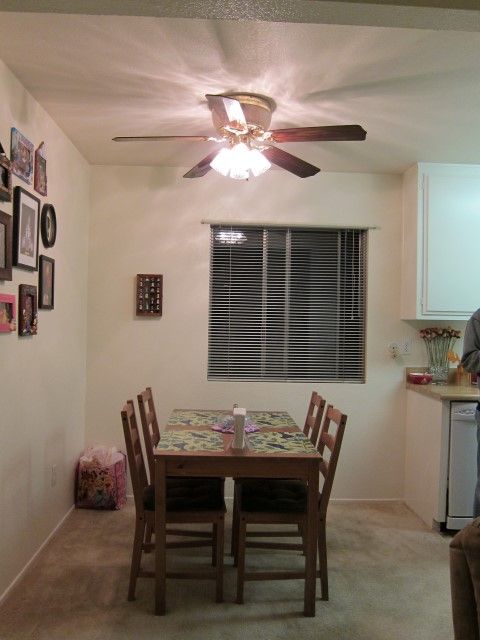 The bathroom isn't too exciting, but it's fine for our needs. Having any counter space is so much better than our New York setup, and this actually provides us with plenty.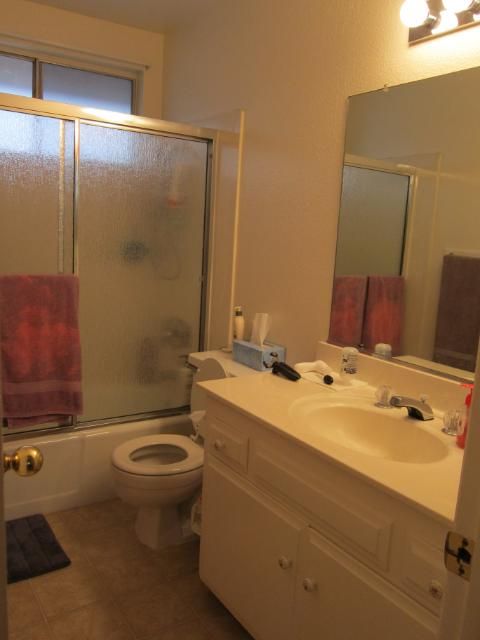 One of my projects soon after we got the first round of everything unpacked was to hang up some of our pictures in the hallway and the dining room. Here's how the hall turned out.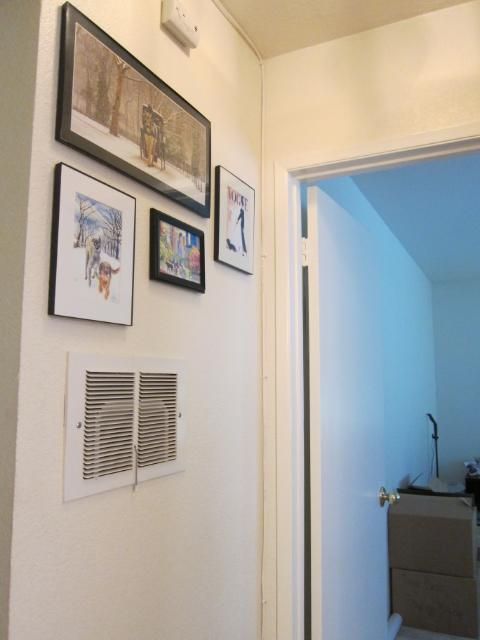 And here's the dining room.
We also decided to try to do something fun with all of our ear hats. Here's the display of them we put on the wall.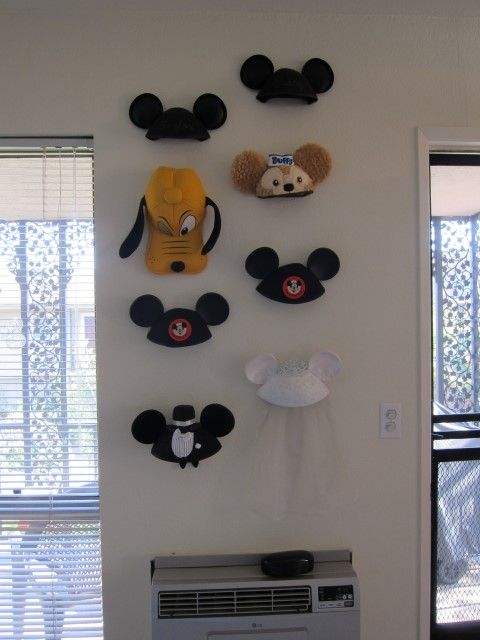 The kitchen is the room with the least real personality.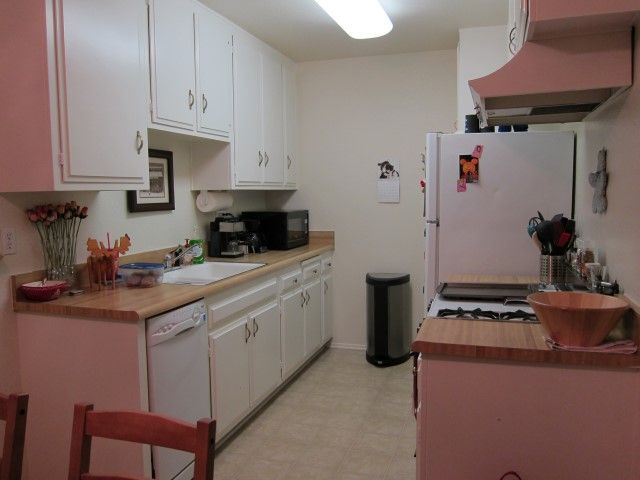 But at least we made the fridge obviously our own by loading it up with magnets and pictures.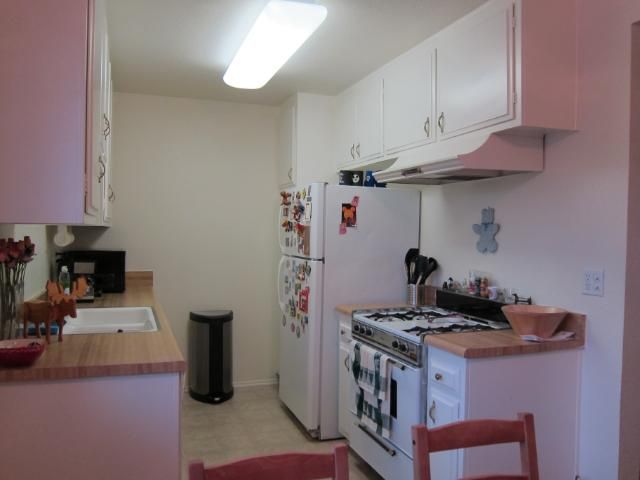 The balcony had to stay empty for the time being, unfortunately, because we didn't really have the money to furnish it or to get a grill. We knew that was another of the purchases we'd make as soon as possible.
With all of our few rooms filled up, we were officially moved in. Tracy is a stickler about unpacking, always trying to get rid of the boxes as quickly as possible. At the time, it feels like a monumental task, but once we're all the way unpacked after just a few days, it feels so nice not to have boxes around anymore. Now I can't imagine being one of those people who still has boxes full of various belongings for months after a move. I think I've officially been converted to Tracy's method.
There will, of course, be more pictures of the apartment as it gets decorated for various holidays coming up, but now you have a good idea of where we're living and what it looks like. Next, on to the job search and living life in Orange County!



Share