Chapter 23
Moving. Is. The. Worst.
---
(Originally posted April 16, 2013)
Before the commercial break, we showed you our top three apartment options in Orange County. So which one did we go with? Was it the Fullerton apartment with the nice layout but a noise issue; the Fullerton condo with the great interior but no outdoor space; or the Orange condo with the great balcony and garage but lacking central air?
We chose…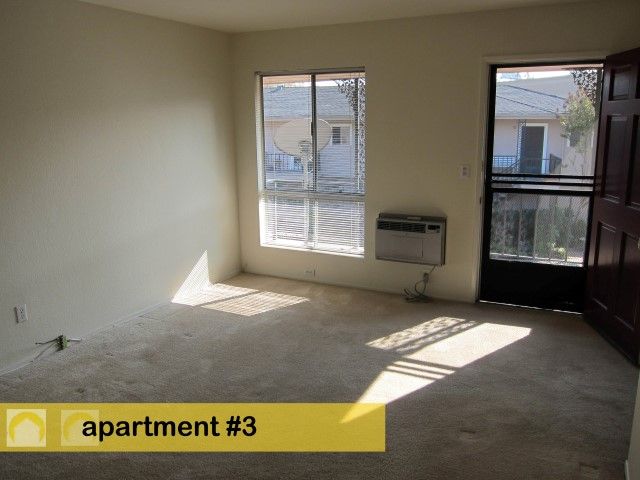 Apartment #3!
After narrowing down the options to these three, the Orange condo felt like a clear first choice. The complex had felt the "homiest" walking in, and we had immediately gotten a good feeling about this one. The noise factor seemed like less of an issue here than at the others because it was set back a little from the freeway and the bedroom faced away from the freeway entirely. Plus it would be so nice not to have any shared walls and only to have neighbors below us. The natural light was great here as was the outdoor space. The balcony was easily big enough to fit a grill and have room for a table and set of chairs. We were sad not to have access to a gym, but glad there was a pool and hot tub. There was also the added perk that this condo was right next to two different decently-sized parks so we'd have some places to walk to. The air conditioning would also be a bummer as we had really hoped to never see a wall unit again, but it's something we could deal with. As to the outdated stove, as long as it worked we would be fine.
We didn't know much of anything about Orange before our first visit here, but we quickly educated ourselves after deciding we were interested in this condo. We quickly found that it's a really nice city and we would be right near Orange Circle, the "olde towne" section with lots of great restaurants and little antique shops. It seemed like a fun place to hang out, and it would be great having something like this within walking distance.
The choice to rent this condo wasn't entirely ours to make, however, as we still had to deal with actually getting it. The landlord had made it clear on the day when we toured it that he had several other potential renters coming through that afternoon, and at least a few had filled out applications.
Our application was extremely strong on every front except our lack of employment. We turned it in on Monday afternoon and he told us up front that he wouldn't be making a decision until the end of the week. This, of course, meant that we had to extend our stay at the Fairfield Inn for at least a few more days.
We still hadn't heard anything by Wednesday evening, and Thursday was Thanksgiving, so we were thinking Friday would be the earliest we'd know anything. Then on Thanksgiving Day at around noon, we were waiting in line at McDonald's for lunch, en route to Steve's apartment in L.A. where we would be having dinner, when my phone rang. I knew we were expecting news about the apartment, so I answered quickly and went outside to take the call.
It was the landlord. He said that he had received a few applications for the rental. There was another gal who had been his first choice because she had solid employment, but the deal with her had fallen through. Therefore, if we were still interested, he'd be happy to have us as tenants. His condition about the security deposit was that he wanted to double it because of our unemployment situation. I asked whether we could do one and a half times the original amount and he conceded. So we officially had ourselves an apartment after we paid up and signed the lease.
Even better, since his tenant was moving out Friday, he was willing to let us move in as quickly as possible and prorate the rest of November. This would get us out of the hotel after just a couple more days, which we really wanted to do. I got all this information outside the McDonald's while Tracy ordered our food. When she came outside with our McNuggets, she tried to read the situation and had no idea what was going on. When I asked her a question about a minor detail regarding the apartment as an aside, she blankly asked "so we got it??" When I clued her in, she was very excited!
On Friday, we went back to the condo as the previous tenant was in the process of moving out. We met up with the landlord and signed the lease at a nearby Starbucks. Since the current tenant was already moving out right in front of us, we knew that we should be able to move in quickly. The landlord, who we began referring to as "Moustache" among Tracy and I because his moustache was his most prominent feature, said he would try to have the apartment cleaners and the carpet cleaners both come on Saturday so that we would be able to move in on Sunday. We were given another piece of good news when the old tenant agreed to sell us his fridge, so neither of us would have to deal with trying to move it!
We set to work organizing the move. We had to call UHaul and arrange for them to drop off our UBox and then call another company called Moving Help which would set us up with local movers to come unload the UBox for us. Everything about setting up the move went really smoothly except for the UBox delivery. The person at UHaul explained to us that for them to deliver the UBox and then pick it up a couple hours later would cost upwards of $200. If we rented a pickup truck from UHaul, on the other hand, and towed the UBox to the apartment ourselves, it would cost something like $50. We really did not like the prospect of driving through unfamiliar Orange County in a rented pickup truck towing a giant storage pod filled with all of our worldly possessions, but the cost difference was just too big for us to consider the other option. We decided we would suck it up and make it work, so after several phone calls to both UHaul and the moving company, we finally set it up such that we would pick up the UBox and the truck on Sunday morning.
Since we got the apartment on Thanksgiving and signed all the documents on Black Friday, it was the perfect weekend for us to do some discount shopping for furniture. We had sold our loveseat that we had in the living room in New York, so we needed to replace that. We found a great Black Friday deal through K-Mart online to get two recliner chairs for $100 off their regular prices, so we snatched those up online and planned to pick them up after moving in on Sunday. We also asked the landlord for the keys and garage door opener on Saturday night so we could empty out the hotel room of everything we had been storing in there for the last week and a half before the big move.
Sunday morning came and we finally checked out of the Fairfield Inn. We had timed it out perfectly so that we ate lunch and showed up at UHaul with lots of time to spare before the movers were on their way. We checked in at the front desk and the guy working said that according to their system, our reservation wasn't until Monday. We explained that while we had originally booked the reservation for Monday, we had changed that information several phone calls ago and had confirmed many times that we would be coming on Sunday.
The guy behind the desk half-apologized and said that all he had to go by was what it said in his system. So as it stood, we were at UHaul; our movers were arriving at the condo in about an hour; our UBox was still in a stack of boxes a couple stories tall and would need a forklift to take it down; there was no truck ready for us to rent; and once the UBox was picked, we would need to wait for them to get us a truck and hook it up to the trailer. We were already close to our breaking points having just barely scraped together this move, and now we had them telling us that it wasn't going to happen any time in the immediate future. Tracy and I both LOST IT. Between the situation and the rudely apathetic attitudes of the employees we were dealing with, it quickly escalated from us trying to calmly figure out what to do to us yelling, cursing, crying, etc. at every stupid employee at the stupid UHaul location because we were set to lose a lot of stupid money if they made this stupid move fall apart. The movers alone were a non-refundable couple hundred dollars.
Our news went from bad to worse as one of the employees came from the back to inform us that no one with a forklift license was working that day anyway, so there was no way even to get the UBox down. Cue a lot more cursing, yelling, crying, etc. Because of the gross incompetence of the UHaul workers, there was nothing to be done in the situation.
We needed to try to salvage the move as quickly as possible, which meant trying to get the movers to reschedule. After several calls going to voicemail, I finally got in touch with one of the movers. They were already only a few minutes away, having come from L.A., but they understood the situation and could turn around. They agreed not to charge us for their inconvenience and to come the next morning when, we were assured, everything would be able to go according to plan. It was so refreshing having these nice people be understanding and reasonable on a day when we had all but given up from our bad luck. I wanted to hug them through the phone. We left UHaul in a huff, threatening that there would be hell to pay if we encountered the same situation the next morning.
Now we were left in an annoying situation, but at least it was one we were prepared for. We could easily survive one day and night without our possessions. The one thing that would have made it difficult would have been not having a bed to sleep on, but we had prepared for that possibility on our last night in New York. Since we had to spend one last night in our apartment there after our stuff had been packed into the UBox, we had kept out our air mattress and slept on it before shipping it to ourselves in CO on our last day there. We had then brought it in Dumbo, anticipating that there might be another inconvenient night where we were left without a real bed.
We took advantage of our day without possessions to unpack everything we had brought in the car as best we could. We also went and picked up the recliners and microwave we had bought from K-Mart. We had discovered a couple great thrift stores on Yelp and bought both a side table and bookcase from them, so setting up all that furniture definitely kept us busy on our "ruined" moving day.
When "moving day: take two" rolled around the next day, we hoped with all our might that we would have better luck. At least when we arrived back at UHaul, it was an entirely different set of employees working. The gal who actually worked in the UBox division was there that morning. She showed us our truck and the UBox that was not only picked correctly, but hitched up on a trailer. We signed the paperwork and were able to go on our way.
I wasn't feeling well at all this morning, so Tracy had to drive the truck, which she was not happy about. The seat was too high for her, so to be able to reach the pedals, she had to feel like she was standing on her tip-toes. We drove that truck from Fullerton to Orange, which is already a decently long drive, but since we didn't want to try bringing the trailer on the freeway, we did the whole drive on surface streets. It took about 30 minutes, and it's a 30 minutes of my life that I would never want to relive. Tracy was stressing out because she was in pain driving; I was horribly dizzy and the stress of the situation was making that way worse; and every time we hit a bump or took a tight turn, we were both extremely nervous about everything we owned being strapped onto a trailer behind us.
Finally, we arrived. We pulled the truck around to the unload zone, and our movers were already there to meet us. We finally opened the box, having no idea what state everything would be in, but we were thrilled to see that pretty much everything seemed to be in one piece. The one immediately noticeable casualty was a lamp shade, but if that was the worst of the damage, we could certainly live with that.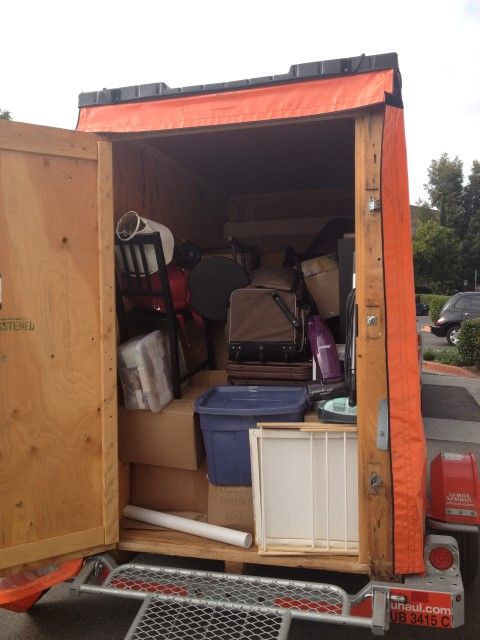 All we had to do was take turns standing by the UBox and directing the movers as to where everything needed to go. They were great. There were only two of them, but they got the job done really quickly and we never felt like our possessions were in any danger. We had one box labeled simply "books" that must have weighed easily over 100 pounds, but they didn't even have trouble getting that up our stairs.
Once everything was moved out of the box, it was time to tow it back to the UHaul center. We groaned when the movers informed us they could have towed the box for us on their truck with a hitch, and we groaned even louder when they informed us they also had forklift licenses, so they could have solved the previous day's situation as well. Oh well… There was no way we could have known that and no way to change the past.
I got the pleasure of driving the truck back to UHaul, so we both experienced the fun of it. I was not a fan of driving the truck either, but at least we knew the UBox was empty this time rather than being full of everything we owned. We still breathed an ENORMOUS sigh of relief upon pulling up to UHaul, dropping off the truck, and leaving the whole experience behind us.
Though we still had a lot of unpacking ahead of us, the actual move was officially done—just three and a half months after it started back in NYC. Now we could experience the actual fun of setting up our new home.



Share