Chapter 22
Apartment Hunters: Orange County
---
(Originally posted April 11, 2013)
Hello everyone and welcome to tonight's episode of Apartment Hunters: Orange County.
Tracy and Taylor are two twenty-somethings who just moved to southern California from New York City. They're looking for an apartment in easy driving distance to Disneyland, where they plan to spend a good portion of their time. They're looking mainly in northern Orange County, specifically focusing on the cities of Fullerton, Brea and Orange. They know with their budget, they're looking at a one bedroom apartment. Must-have's include an assigned parking spot for their car, Dumbo, on-site laundry, and easy access to local shopping and dining. Other items on their wish list include outdoor space, central air conditioning, a pool/hot tub, a gym facility, and a quiet location.
This is what Tracy and I were looking for as we started the search for a place to live in Orange County. We arrived and moved our stuff into the Fairfield Inn on Wednesday, November 14. Starting Thursday at 10am, we were out looking at our first apartments. The first one we went to was actually the first real contender. We had done our fair share of due diligence before moving and looked into all the apartment complexes in the area. We had checked out their websites as well as apartment ratings sites to try to get actual reviews. This first complex, located in Fullerton was one from the short list we were most excited to see. The floor plan we were interested in had a loft design with the bedroom above the living room. If you can, picture Laura Linney's character's apartment in Love Actually. We had always been charmed by this type of apartment design and were excited for the amount of light we hoped it would let in.
The unit was on the higher end of our price range but still doable. The complex, as advertised, featured gated entry all around, a pool/hot tub, assigned car port parking, a gym, and central air conditioning. In addition, the entire complex was centered around a little lake so most units had waterfront walk-out decks where you could sit and feed the ducks. It sounded truly idyllic from the descriptions.
When we arrived, the complex matched its advertisements for the most part. The whole lake area was very pleasant as we walked by when going through the center of the complex. But then there were the downsides. First, there was only one unit available in the floor plan that had so interested us. It was still being flipped after the last tenants vacated it, so we couldn't even go in, but it was probably the worst of the units with that floor plan based on its location. It was right by the main entrance to the complex, next to the main office, and instead of its view looking out on the lake at all, it had a patio next to an area with high foot traffic, so it was not to be the calm waterside oasis from their ads.
We decided this location wasn't for us but asked whether there were any other floor plans currently available. Luckily for us, there was another unit to see. It was located across the complex and had an entirely different layout. Instead of a normal patio/balcony, you entered the apartment through a walled-in private atrium.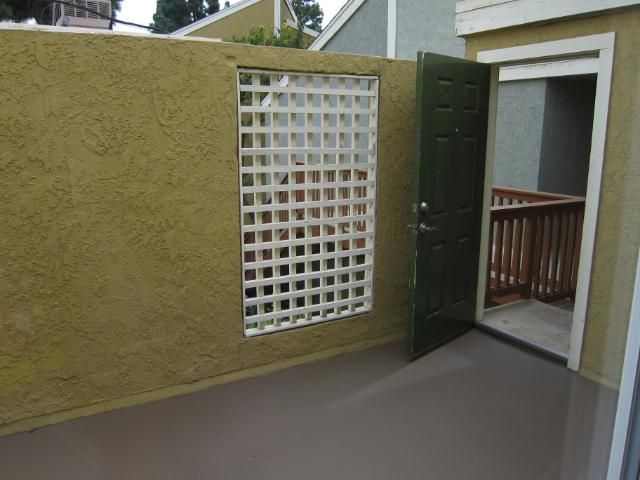 Technically you had outdoor space in that there was sky overhead if you sat out there, but that lattice window was the only source of a "view."
We entered the apartment with the leasing manager at this complex, who incidentally happened to have a hickey tattooed onto his neck and seemed like he could NOT care less whether we were interested in one of his apartments or not. We were actually pleasantly surprised with this layout.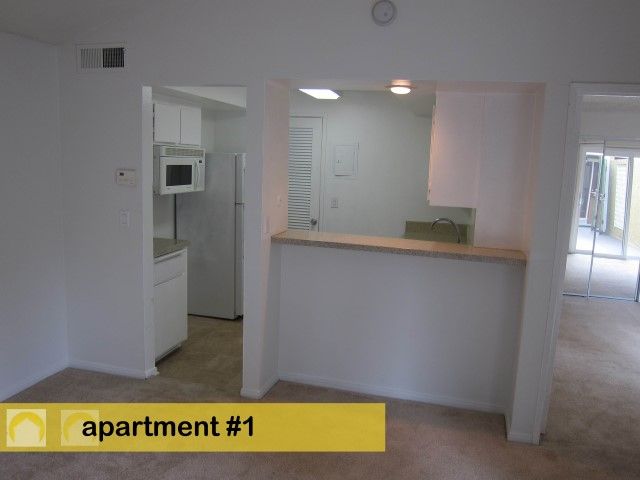 The living room had a high ceilings and a lot of natural light from the big sliding glass doors that went out to the atrium.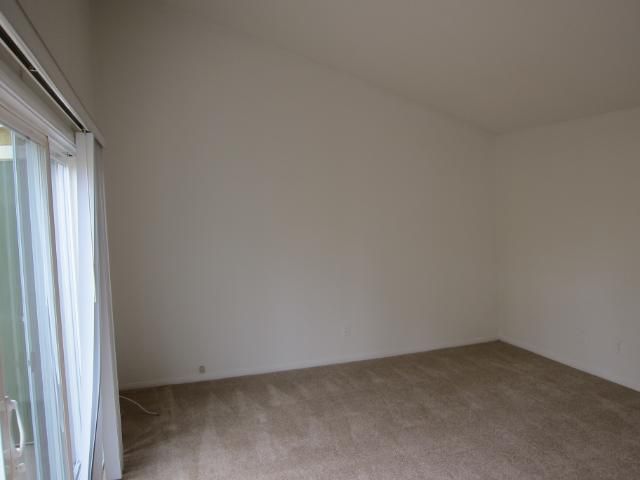 The pattern of natural light was continued in the bedroom, which also had big sliding doors leading outside as well as two big, mirrored closets.
The bathroom had the same setup as most of the apartments we had researched in Orange County, with the vanity separate from the shower/toilet area. This was definitely nice because we had always hated trying to get ready at the same time in New York where we literally had a pedestal sink shoved into a miniscule bathroom.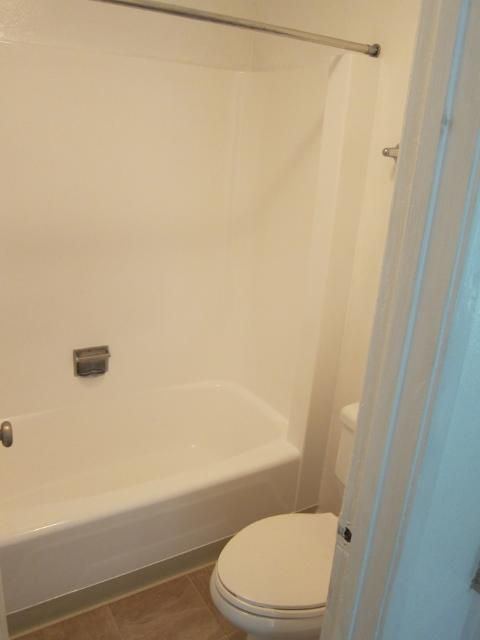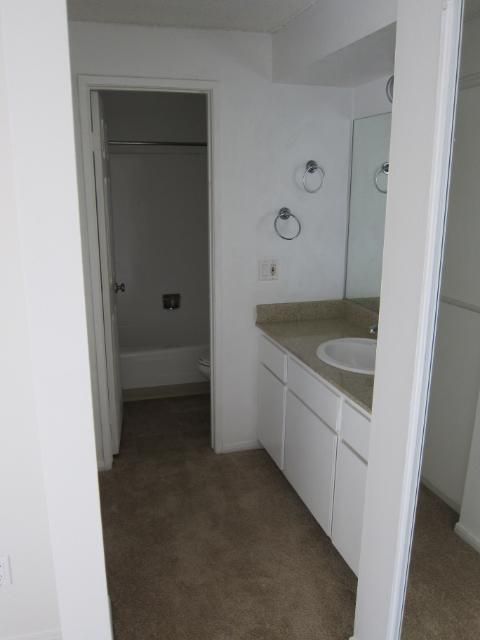 There was generally a lot to like about this apartment. It had lots of storage, which is always a plus, including a storage unit off the atrium where we could stash our suitcases, bikes, and whatever else would usually go in a garage or basement. The kitchen was also on the better side than most of the apartment complexes we had on our list to see because it came with a fridge. We were very surprised to learn that in SoCal it is a normal thing for you to have to supply your own refrigerator when you rent an apartment. In addition to being highly inconvenient to move a fridge, this was another added expense we wanted to avoid if possible.
The immediately noticeable downside of the apartment was the noise level. It was located on the perimeter of the complex, and the complex was adjacent to the 57 freeway. Outside the apartment was just plain loud, and inside, you could still definitely hear the hum of street noise. We worried that we might never actually use our outdoor space because it would be so loud out there. Unfortunately, as our apartment search progressed, this didn't turn out to be a one-time concern.
We continued our search on that first day of apartment hunting from morning until late afternoon. I think we went to six or more complexes that day across both Fullerton and Brea. We kept encountering a lot of the same pros and cons. The most common cons were apartments with wall A/C units instead of central (we had that setup in NYC and knew how poorly they distribute air around the whole apartment), apartments without any outdoor space, and generally, apartments that were overpriced for what they had to offer. But the most common complaint was the noise factor. We quickly learned that almost every one of these apartment complexes were located right next to major freeways. In terms of convenience, that's great, but boy were they loud. We found that many of the complexes had areas that were totally shielded from the street noise, but (non-coincidentally, I'm sure) none of those units seemed to be the ones for rent.
The other problem we kept encountering were apartments that would become available "in a couple weeks" or "at the beginning of December." Since we were living in a hotel, every day we spent not in an apartment was a day grossly overpaid for.
In a couple days, we had already basically exhausted all of the viable apartment complexes in Fullerton and Brea. There were several we didn't bother to visit at all because their reviews were so bad, but we even went to our fair share of those just to make sure we weren't missing out on something.
We began trying to think outside the box for other options. Tracy would constantly check Craigslist to check for new listings. Craigslist can be a great resource for house hunting, obviously, but it can also be a total pain to deal with. A couple days into the search, we came across a few different condos that were being rented out by their owners and decided to try taking a look and seeing if we liked any of these options any better.
Obviously, dealing with a private landlord versus one of the leasing behemoths who controlled the apartment complexes had its own sets of pros and cons. On the plus side, condo rentals were surprisingly a little cheaper than most apartments. They offered most of the same amenities, though a couple were definitely lacking. It would also be nice to deal with a human rather than a company both in the leasing process and the process of actually living there.
The downsides of condo rentals also seemed to trend across the board. They generally had higher security deposits—not surprising I suppose when they're trusting you not to destroy the unit that they own—and the process to rent seemed a little more involved. One thing we were relying on, whether at an apartment of a condo, was for the landlord to be okay with a cosigner. Tracy and I still had enough money saved up to go a couple months without finding jobs and still be able to pay rent, but we didn't expect the landlord to simply accept that reasoning. Therefore, we had asked Tracy's parents if they would cosign for us just to vouch that we would be safe renters despite our unemployment. The apartment complexes are home to lots of students, so they had no problem with cosigners, but the condo owners were a little more suspicious. We found some of them saying they weren't sure whether they'd consider us at all while others wanted to double the already high security deposits.
This brings us to Apartment #2, which was actually the first condo we looked at.
Tracy had found this one on Craigslist and had gotten her hopes up that it was going to be perfect. The landlord was a real estate agent who was renting out one of the properties he owned (again, we soon found out this was a trend). We made our appointment with him to see the unit, and on the evening of our second day of searching, we pulled up in front of the building.
This condo was in Fullerton, but on the other side of town from most of the apartments we had looked at. If you know Fullerton at all, you'll know that the most central business in town is the Cal State Fullerton campus. Located right on the eastern edge of the city where it borders Placentia, the college is the center of the rental market. Obviously, most of the renters at these apartments are students, which was another thing we were trying to avoid. A complex full of students would undoubtedly mean a noisy complex. This condo, however, was located further south and west, more in the center of Fullerton. It was only a short drive from "Downtown Fullerton," the first of many olde towne areas we would come to visit over time, and it was a little ways off the freeway, which we hoped meant it would be quieter.
The building actually used to be a hotel, but it was converted into condos in the last ten years or so. This proved to be its first bizarre feature. When you walked into the lobby, it was a three-story atrium that obviously used to house the front desk. Now that it was condos, this room looked bizarrely cavernous and out of place. Not to mention the fact that to preserve electricity, they apparently only lit half the lights. When we walked in, there were several old men in the lobby playing chess. I'm not going to lie, it felt sort of like we were visiting a nursing home.
We met the landlord in the lobby and he showed us upstairs to the second floor where the unit was located. Upon walking in, we remembered why we had been so interested to see the condo in the first place. The landlord had just renovated and it looked beautiful. He had opted for slightly higher-end fixtures on everything, and the result was that it looked worlds better than the standard junk we were used to at every apartment.
The living room was nice and spacious.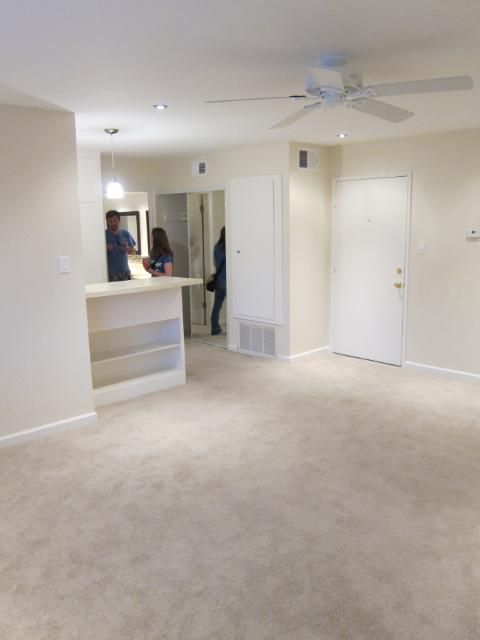 It had both ceiling fans and central air conditioning, so we were excited not to have to deal with a wall unit.
The kitchen had been nicely redone with a pretty tile backsplash that was repeated a couple times throughout the house.
The bedroom was really big. We had come from a studio in NY so the entire concept of having a bedroom felt like a luxury to us (sad, I know), and this one had way more room than we knew what to do with. Our double bed wasn't going to take up much of the room.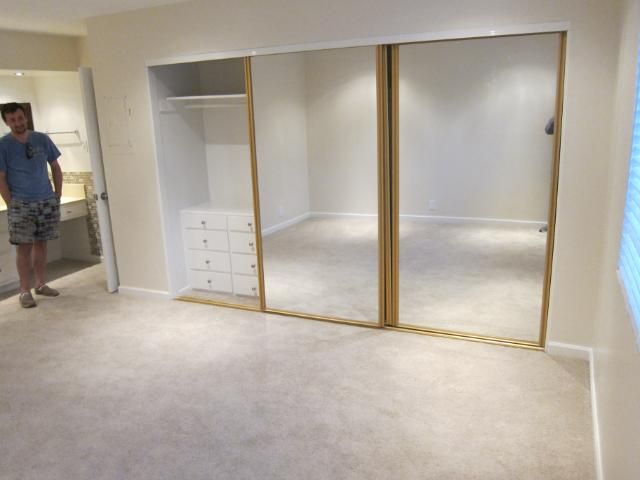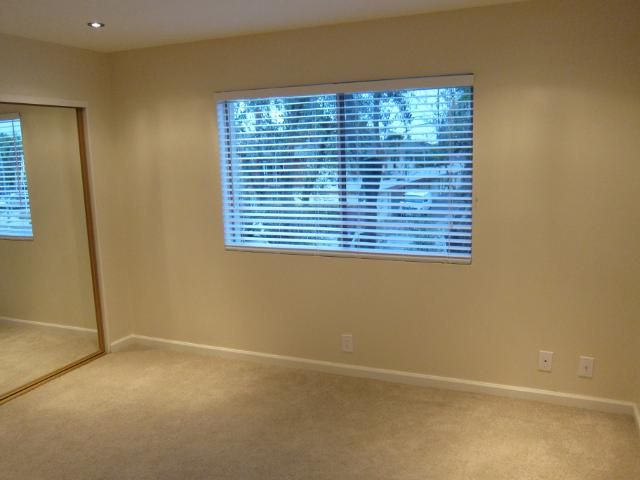 The bathroom had the layout we were liking with the vanity outside of the WC area, and it even included an extra vanity area where Tracy was excited to get ready in the morning.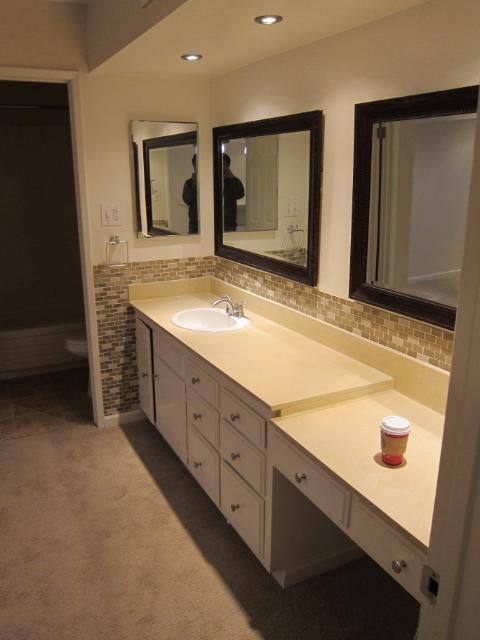 The bathroom itself was another area of the condo that he had just redone, so it was looking great.
This place had a lot of pros. We loved almost everything about the interior. Our two complaints inside the apartment were both noise related, however. Even though we weren't by the freeway, the building was located on a busy street, and the condo had old aluminum windows which were terrible about letting in sound. We were there right at rush hour in the evening, and it was definitely loud. The other noise issue was that there was a unit located above this one and we could already hear the residents up there clomping around.
As we left the unit to walk around the complex, we saw some of the other amenities. There was laundry located at the end of the hall on each floor, which was nice as we were used to having to go down to the basement in NYC. The ceilings throughout the entire building were in a state of construction as they were apparently adding a new security system throughout. The landlord apologized profusely for this but we weren't bothered. Construction by the building wasn't his fault, obviously.
We went outside to see the courtyard, and it felt very much like the courtyard of any hotel—because it used to be one. The pool and hot tub were pretty standard, and there were at least barbeque grills available for residents to use. It just still felt a lot like a hotel, so it seemed a little impersonal to us.
The biggest con about this apartment was its lack of outdoor space. Again, having come from New York where a balcony would cost you at least an extra thousand dollars a month, we yearned to have our own little slice of the great outdoors where we could sit out and drink coffee in the morning or enjoy a meal. It didn't feel like a deal-breaker, but at the same time this was one of the only places we'd looked at that didn't have anything. Between that, the noise, and not being crazy about the location, we weren't sure about this condo. It felt perfect inside, but we wanted to make sure we weren't getting swayed by the fancy fixtures.
This condo also had the high security deposit and was on the higher end of our price range anyway, but at least the landlord was fine with Tracy's parents being our guarantors.
The apartment search continued through that first weekend in CA. Saturday, we had a nightmare of a day with another realtor who was renting out her own condo, which wouldn't be available for several weeks, was out of our price range anyway, and was in an absolutely terrible location. She insisted on giving us the "hard sell" nonetheless.
By Saturday night, we were getting exhausted with the whole process and realizing that we had basically looked at everything currently available in both Fullerton and Brea. There were several places we felt like would be "fine," but nothing had really wowed us. We decided to extend our search to Orange. We didn't know much about the city of Orange except for its proximity to Disneyland (slightly closer than Fullerton even), but we were game to check it out. I found a whole list of apartments, most of which wouldn't be open until Monday, and I also found a condo on Craigslist. After calling the landlord for the condo, we set up a showing on Sunday afternoon. From the pictures, we thought this could be a good option.
That brings us to Apartment #3.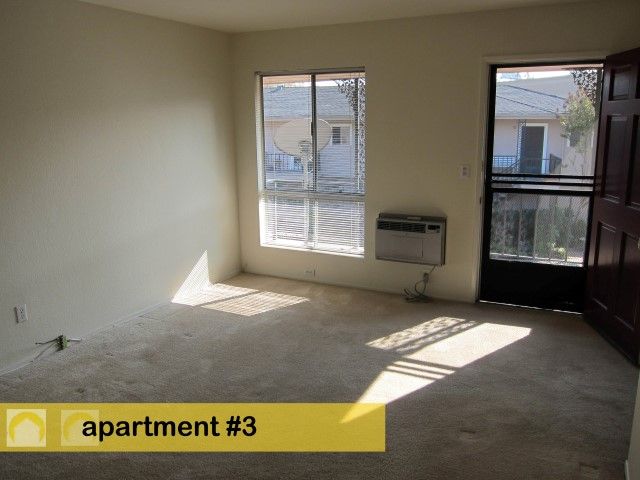 This condo caught our eye first by the fact that the atmosphere of the complex seemed really nice. When we pulled up, I immediately remarked that it felt like we were arriving at Port Orleans French Quarter. All the balconies featured some black cast ironwork that had a New Orleans flair. There were several courtyards amongst the maze of two-story condo buildings that made up the complex, and we were impressed with all of the landscaping.
When we found the unit and went upstairs to check it out, we were greeted by the landlord (another realtor renting out his own unit). He left us alone to look around.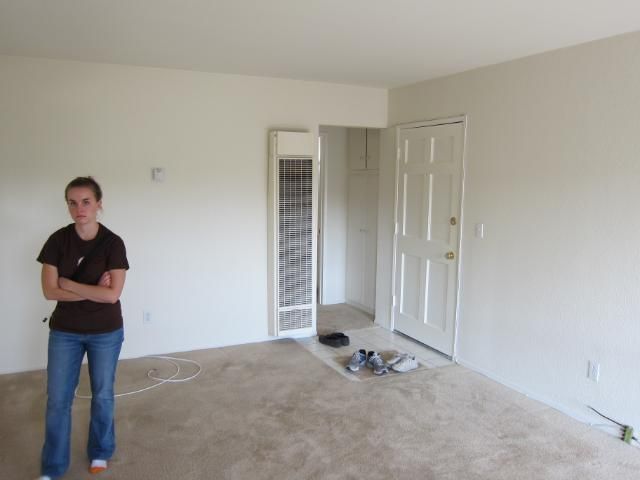 The condo was nice and spacious, and it had a lot of natural light, which was high on our wish list. The living room was big, it had a little dining room, and it had a huge balcony.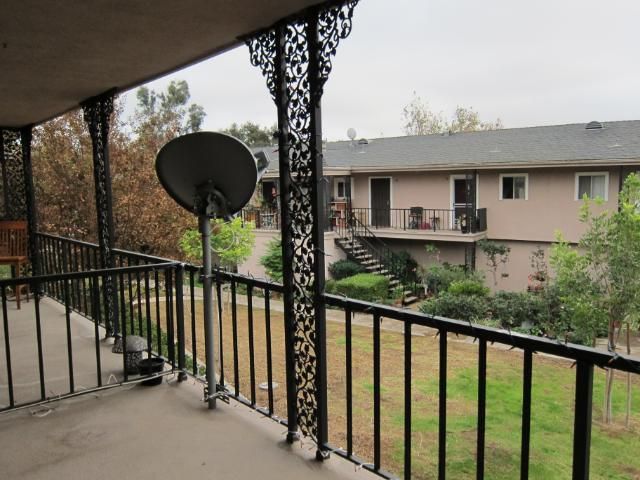 Not only was there a balcony, but we realized lots of people had grills on their balconies. We had put the ability to get our own grill on the "dreams" list, and had all but written it off as something that wasn't going to happen.
Inside, the bathroom left something to be desired. It had the more traditional setup with the sink inside, but at least there was a decent amount of counter and storage space.
The bedroom here was huge too. Again, we realized the space would dwarf our little double bed.
The kitchen was… definitely dated. The stove was gas, which was a plus, but was from the 1970s at the earliest, which was a minus. And while there was a fridge there when we looked at the unit, it belonged to the tenant who was vacating, so we would need to buy our own.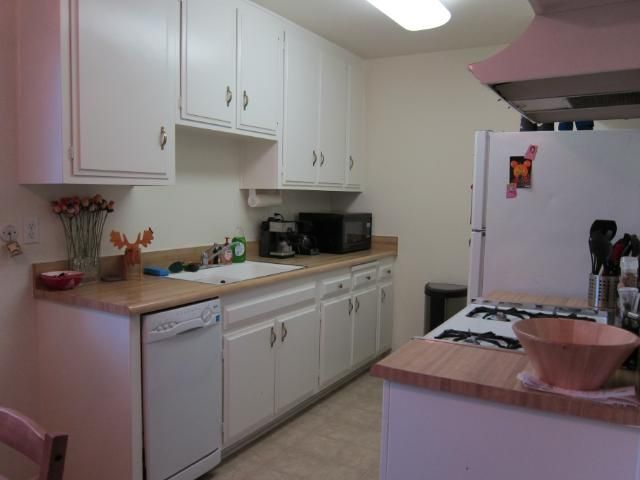 Heading outside, the grounds were definitely nice. There was a pool and hot tub as well as several laundry rooms within easy walking distance. There was, however, no gym. What easily made up for the lack of a gym was the fact that the unit came with a private one car garage. This was something we'd never even dreamed of. Not only could Dumbo have guaranteed parking, but the garage had plenty of extra storage space.
The noise issue was still a concern here. The complex was right by the freeway, which meant it was in a great location for commuting, but it was still a little loud. At least this unit was on the inside of the complex, so there was less noise than the perimeter units we'd looked at elsewhere. When we closed the door, we didn't really notice the noise anymore. The windows were the same ancient aluminum ones which provided no protection from the elements or the noise, but at least it was an end unit on the top floor with no shared walls. Rather than central air, this condo had a wall A/C unit, which was exactly what we were hoping to get away from, and we didn't know how it would fare during the hot summer.
One major pro about this condo was the price. The rent was cheaper than anything else we had looked at, and some of the utilities we would have paid for elsewhere were included. Unfortunately, the landlord wasn't crazy about our lack of employment, but he said he would consider a guarantor if we would be able to put down an extra hefty security deposit.
After our little tour, we thanked the owner and went back outside. This complex definitely felt the most like a "home" out of the places we had visited, but we knew basically nothing about the city of Orange, which made us a little hesitant to move forward.
With that last tour complete, we had narrowed it down to a final three, each with their own pros and cons. So which one would we choose?



Share