Chapter 26
Learning Curve
---
(Originally posted April 26, 2013)
So now you know what happened with our apartment search and our job searches. That means it's time to tell some of our tales about life in Orange County as we adjusted to the move. For this, I'll take you back to where our chronological story left off—the night of our arrival at the Fairfield Inn in Fullerton/Placentia.
Moving everything into our hotel room after the road trip wasn't easy, but we could almost hear Dumbo's sigh of relief as his load got lightened. We were preparing to move in for a few days at the max (or so we hoped). The fact that we would be calling the hotel home for almost two weeks was not a thought we would have been too happy about.
Our first evening in Southern California was pretty uneventful. We celebrated the completion of our long journey by hitting up Chipotle. I know, after moving to a new state filled with delicious local food options, we decided to start off our culinary experience with a chain, but Chipotle is delicious and one of our favorite restaurants in the world, so who cares?
You know about the next few days for the most part. Our first day was filled with apartment hunting and then our first trip to Downtown Disney while the next few days were mostly taken up with more apartment searches all over Fullerton, Brea, Placentia, and eventually Orange. While we were living in the hotel, we started to establish a sort of routine. We got in the habit of waking up early (for us) because the hotel had a really decent free breakfast each morning. We could choose to make our own Belgian waffles, microwave some breakfast sandwiches, or just eat muffins or yogurts. Everyone else at the hotel seemed to be vacationing at Disneyland, so we jealously eavesdropped on them as they discussed their plans to head to the parks after breakfast.
After several days straight of apartment hunting and trying to familiarize ourselves with Fullerton and Brea, we made our first excursion out of our little bubble. We headed up to L.A. to meet up with Steve for lunch. We decided to meet somewhat in the middle, though it was still a decent drive for both of us. Since he knew the area much better than we ever would, he picked the place to meet. He chose a restaurant in Arcadia that served soup dumplings much like the ones we loved in New York. These were as delicious as those had been, and we were excited to get to catch up with Steve now that we lived in (generally) the same place.
After lunch, we were about to part ways but Steve asked if we had any plans. Since we were just planning to head back down to O.C., he offered to show us around one of his favorite haunts in the area, the L.A. Arboretum and Botanic Garden. After a quick drive from the restaurant, we arrived at the gates, and when we walked through, we left all the urban sprawl behind us.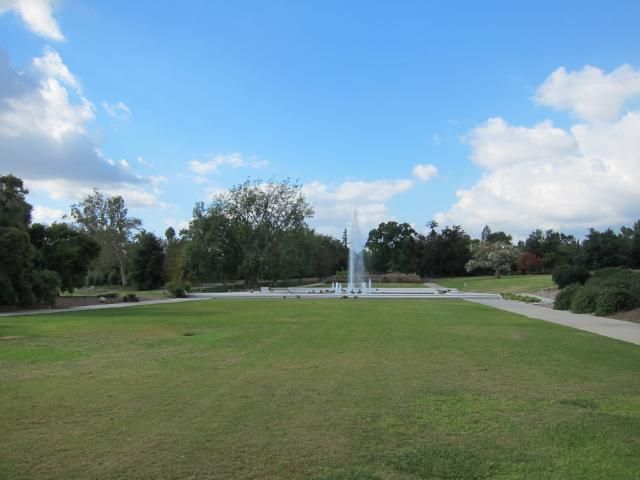 The gardens were really pretty, and some of the trees were HUGE!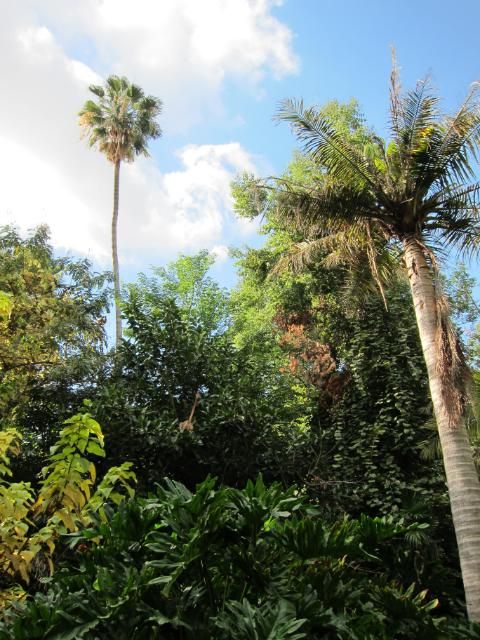 This tree was hard to get a picture of that adequately represented it, but it grew sideways before starting its ascent, so you could go out and stand on the trunk. It was cool.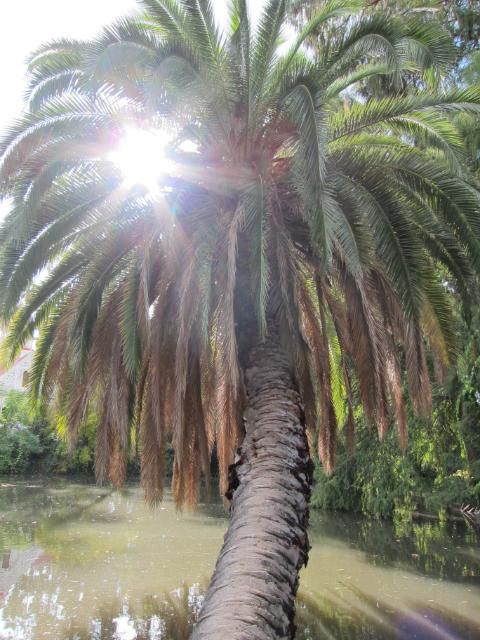 Steve tried to relate the story to us about how this cottage in the arboretum was used in the opening credits of the TV show Fantasy Island. Apparently when he and Tracy's parents had been visiting a few weeks prior they had recognized it. It all went over our heads however…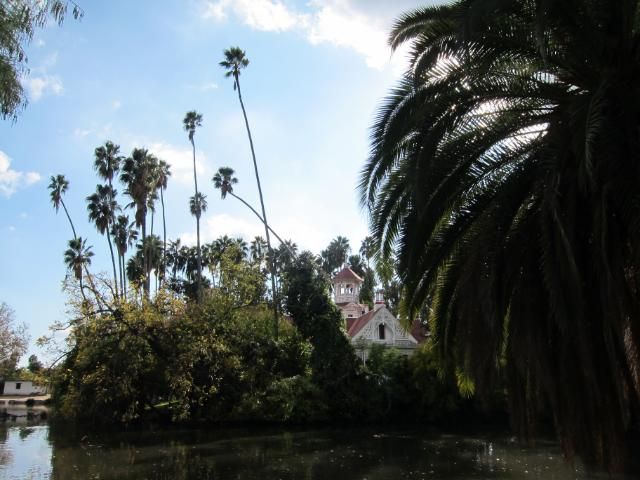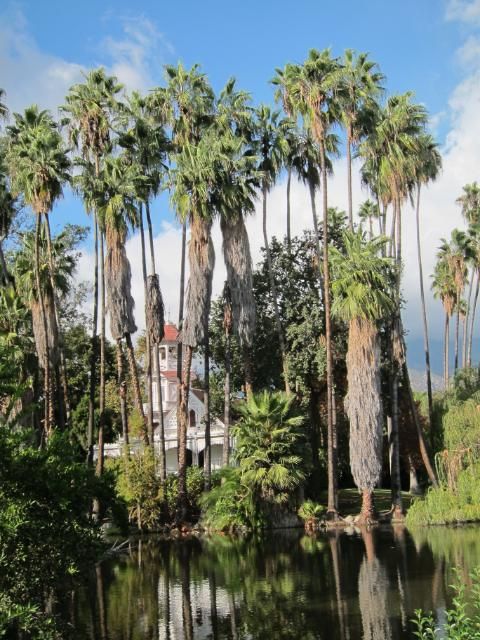 The gardens just kept on going.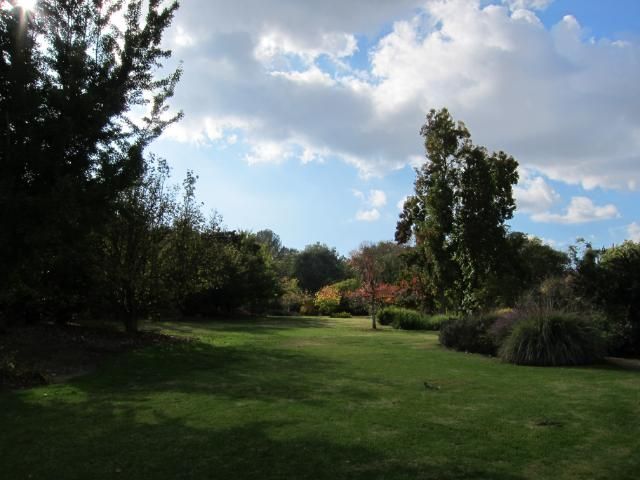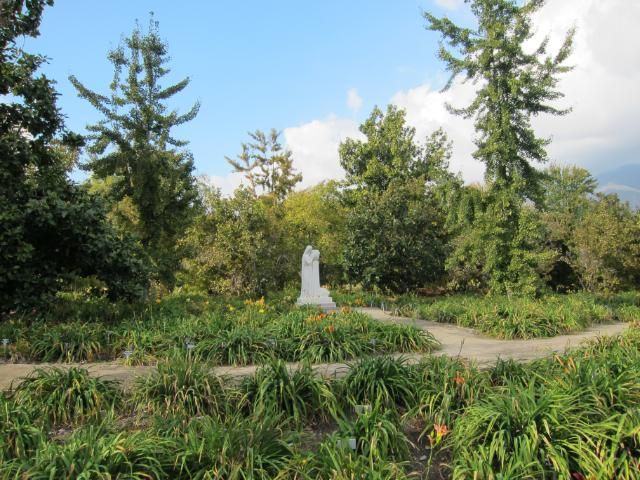 Suddenly, we were at a waterfall.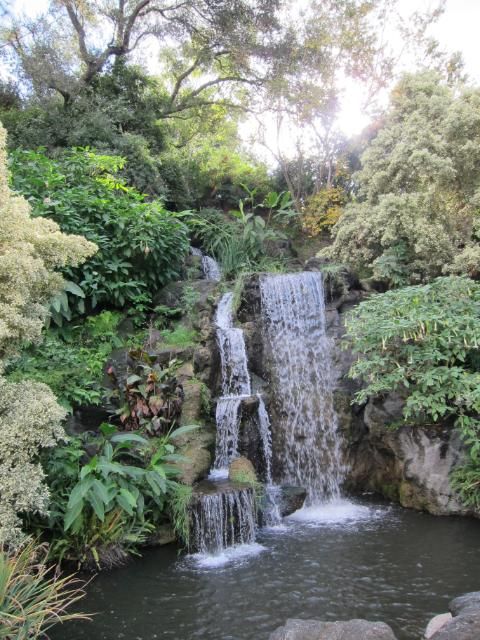 And we followed that up with some cacti.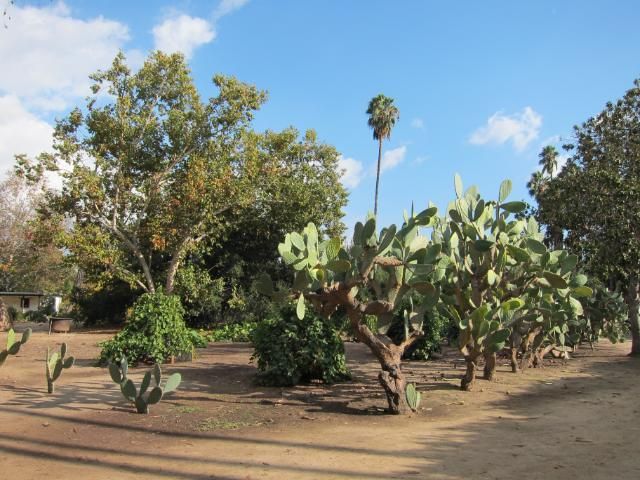 Several of these looked like Hidden Mickeys.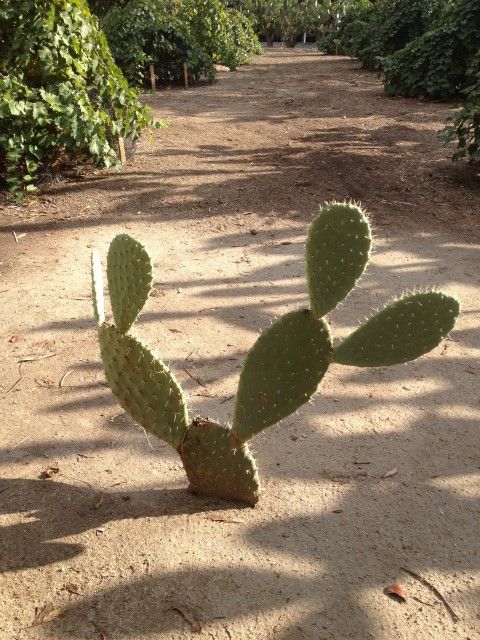 We only spent about a half-hour in the gardens—we had to make it back to Orange to tour what turned out to be a VERY important condo—though we could have easily enjoyed it for hours. We made the drive back to O.C., saw the condo we ended up moving into, and called it a day.
The next day (Monday, November 19th if you're really trying to keep track) we had to figure out how we felt about Orange. We had only visited the condo thus far, so we started our little exploration of the city by heading to its Olde Towne section, Orange Circle.
First, a word about the cities in Orange County. Every one of them seems to have an old-timey downtown area with a mix of local shops and chains (designed to look like local shops from the outside). We've visited the olde towne areas of Fullerton, Brea, and Orange, and I know these downtowns exist in at least a few other cities here. They're all fun to walk through, but they're also all pretty similar.
Orange Circle is known as being the antiquing capital of Southern California. There are more antique stores and full-on antique malls there than I have ever seen in my life. There are also several upscale restaurants that we hope to have the money to visit someday, two Starbucks literally across the street from each other, and a selection of other local businesses like barber shops, smoke shops, etc. We walked around the circle itself, ate lunch at Wahoo's Fish Taco (one of our favorite chains), and got a holiday drink from Starbucks. We sat in the circle and enjoyed the fact that they had recently put up the Christmas decorations, which included this giant Santa and, of course, the big Christmas tree.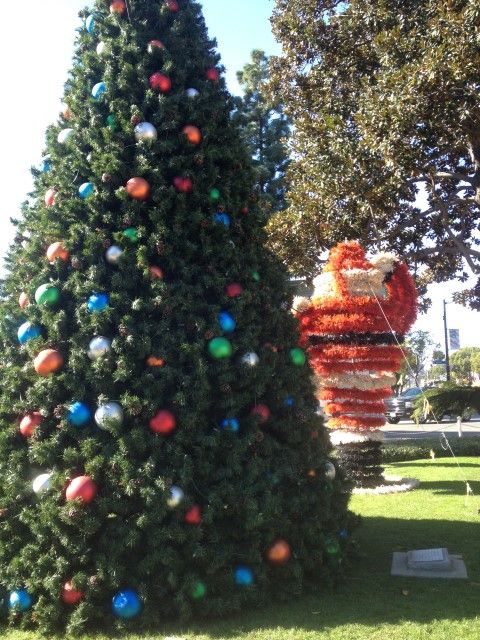 It was the quaintness of this circle that really sold us on Orange, I think. It's a little over a half-mile from the condo, and is walkable. What we had come to learn from every place we had visited since arriving here is that almost NOTHING is walkable. Everyone drives everywhere. So the fact that we could head over to this nice little part of town without having to get in the car was a big bonus for us. After all, we'd been used to walking everywhere in NYC.
Another word about our biggest culture shock in reaching Orange County: we had been well-prepared for the prospect of traffic, but I think that the "style" of the traffic is something that you can never quite prepare for without coming here. First off, we were shocked to find how much traffic plays a role on the surface streets. You expect it from freeways, with images of bumper-to-bumper sprawl for miles, but it's really the normal roads that are constantly busy. I've never lived somewhere like this where every road is a busy one. Obviously, Orange County and all of Southern California are just overpopulated for what the cities were built to handle, so the prospect of deserted roads never really happens.
Second, I think it's hard to prepare for the freeways around here until you live among them. When we pictured living next to freeways while we were researching the area from Colorado, in my mind I was just picturing the highways there. Usually two or three lanes wide in each direction, those highways can feel busy, but never feel overwhelming. Here, there are almost always at least six lanes going in each direction. This was just crazy for me to realize. The result is that there are no "small freeways." They just all seem huge. And obviously, this is why it's so loud right next to them. Luckily, navigating them isn't too hard, and we have rarely hit truly terrible traffic in our almost six months of being here. The traffic is just usually so stupid. There never seems to be any rhyme or reason to it. Suddenly, everyone will be stopped, but when they start moving again it's never obvious why you were stopped in the first place.
Anyway, back to the day at hand. We wrapped up our trip back to Orange feeling pretty good about the city. We were a little bummed that the condo wasn't right by many grocery stores or our favorite restaurant chains, but they were still within easy driving distance. After making this decision, it became a lot easier to finally decide on our condo. That settled for the day, we decided to head over to a downtown we already knew we loved and had no qualms about—that's right, it was time for another trip to Downtown Disney.



Share