Chapter 27
The Lay of the Land
---
(Originally posted April 29, 2013)
Since Tracy and my wedding anniversary is June 19th, we try to make it a habit that we do something fun every month on the 19th to celebrate another "month-iversary." Usually we go out to dinner somewhere fun, but this month we decided to go to Downtown Disney—an obvious choice now that it was only about 15 minutes away from our hotel.
This time, Daniel led us there on surface streets rather than the freeway since we were arriving at rush hour and apparently the 5 was backed up (what else is new?). After arriving, we parked in the Lilo lot and started the walk toward one of our favorite arches.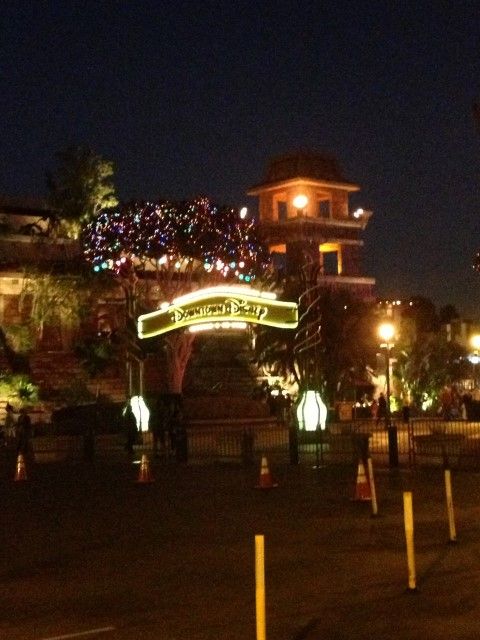 We went back to World of Disney first, both to look around again and because we had a purchase we wanted to make. I liked this popcorn cart shirt and tweeted a picture of it to Lou Mongello because he always raves about Disney popcorn.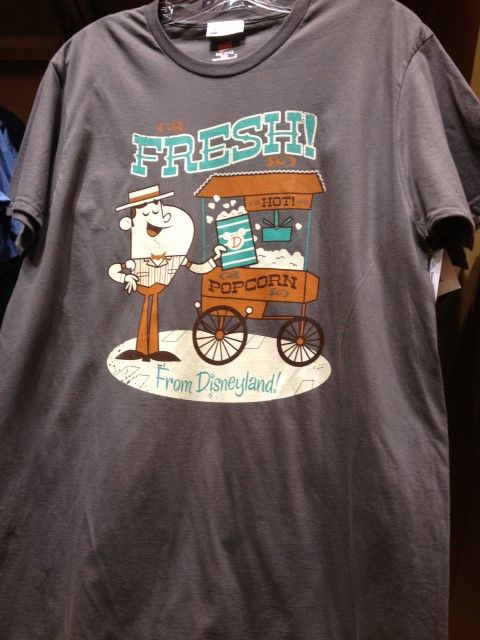 Next, we made our purchase and exited the store. So what did we get? A Christmas outfit for Duffy, of course!!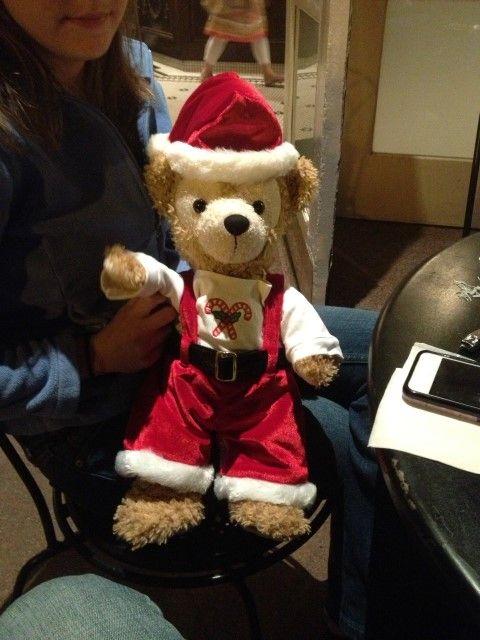 With our savings constantly dwindling, we were stingy about buying anything for ourselves, but we couldn't let Duffy suffer…
Next, we headed over to our restaurant for dinner. We were going to try out another repeat from our last trip to Disneyland because we had really enjoyed it: Ralph Brennan's Jazz Kitchen Express.
One of the main reasons for wanting to eat here is that Tracy wanted to try out the Classic Red Beans and Rice. If you remember, that was the meal that Steve got when we came with him on the first night of our September trip, but he wasn't feeling well so Tracy ended up eating more of it than he did. She raved about the dish and was dreaming about trying it again. Red beans don't agree with me, so Tracy ordered her own entrée.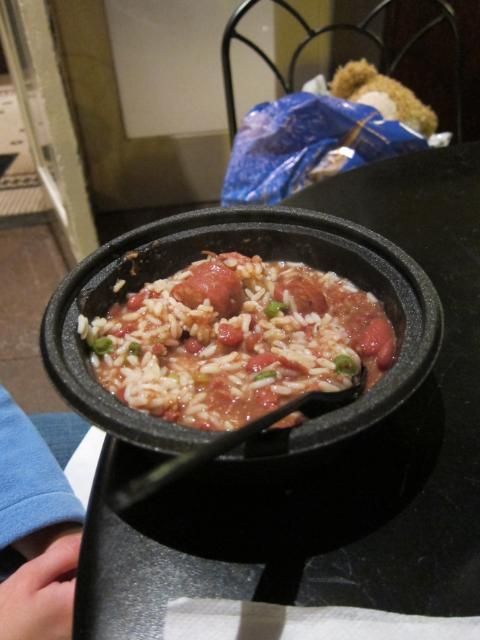 I hate to say it, but she was disappointed! Something about it just wasn't the magic that she remembered… She thought it was drier and not quite as flavorful. Not bad per say, but not great.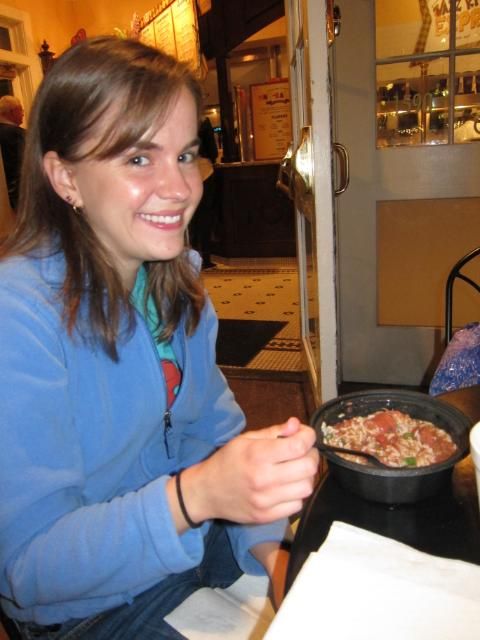 I got the BBQ Pork Po-Boy (and ate a couple bites before remembering to take a picture).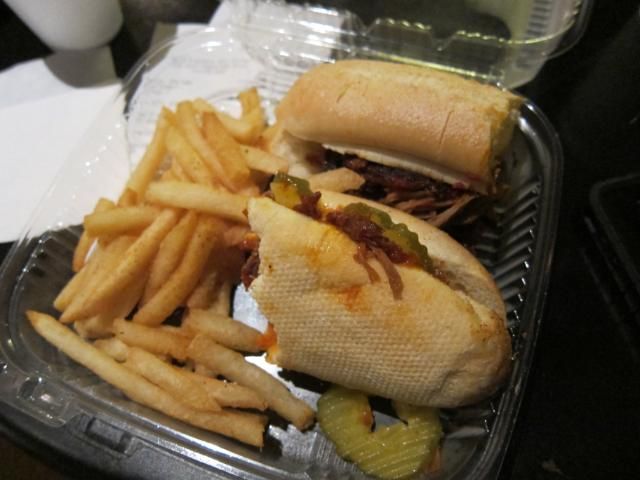 I was really happy with it. I'm not very picky when it comes to pulled pork sandwiches, but this one was definitely good! I also thought the fries were good. I know I bolted down the whole meal.
After dinner, we decided to torture ourselves a little. We headed to the end of Downtown Disney and wondered what we would see if we went through bag check. We entered the Esplanade, and saw Disneyland to our left and the new (to us) DCA entrance on our right. We went up and took a picture of Main Street Station, welcoming us from behind bars.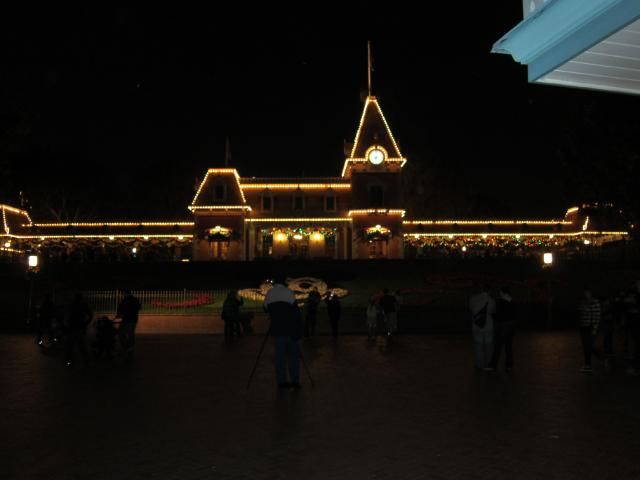 It looked beautiful, and we stood there for several minutes just wishing we could go in. Alas, it wasn't the time for that yet. When we broke our trances, we headed back out into Downtown Disney. We decided to console ourselves with a Disney treat.
We went into Marceline's Confectionery and bought ourselves a Marshmallow Wand. It wasn't quite a Tigger Tail, but it would more than suffice.
We brought it to the Grand Californian to eat in the lobby by our favorite fireplace.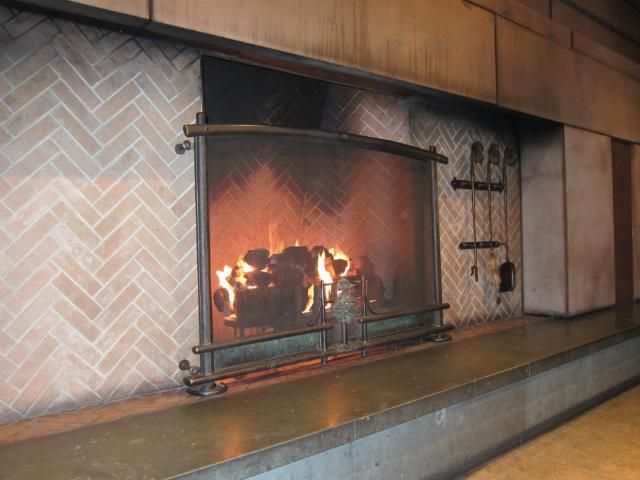 This time Duffy got to enjoy it too.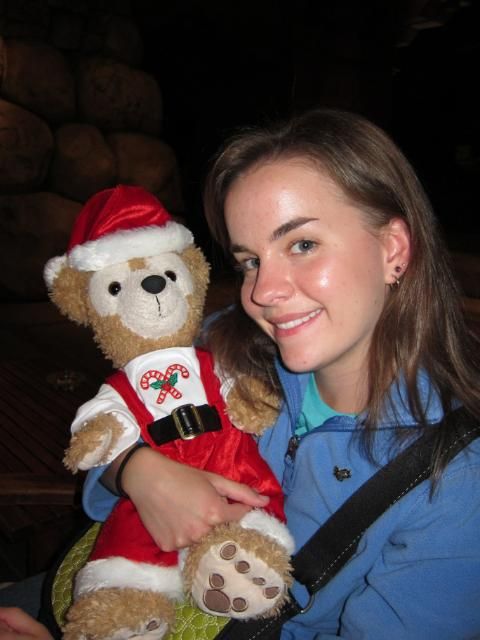 I really like all the details in the lobby here, especially this tree ornament on the hearth.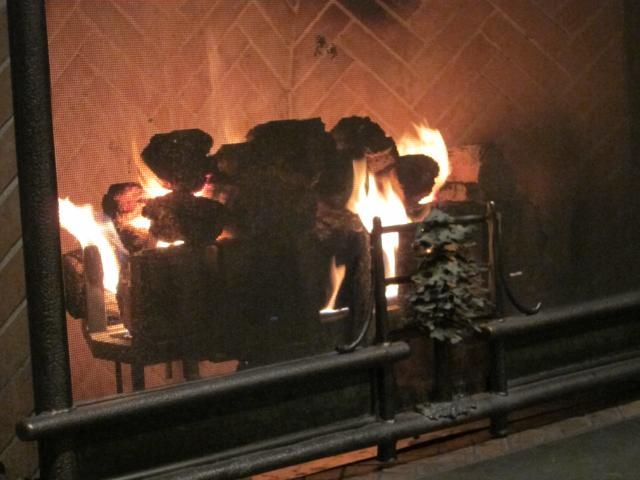 We sat there for a while taking in the atmosphere. Again, our favorite pianist played some Disney ditties on the piano. It was all very relaxing, and it was a great way to end our day.
The next day, we decided since we had been in California for almost a week, we really needed to go check out the ocean and the beach. Researching the beaches around us, we decided on Seal Beach (pretty much for no reason other than that we hoped there might be seals or sea lions there).
The drive was very quick. I think when you're in the inland portions of Orange County, it can be very easy to forget just how close you are to the ocean at all times. Within about a half-hour, we were there and had parked.
Seal Beach seemed like just the more laid-back beach environment we were looking for. Between it being a weekday and it being pretty cool outside, there was almost no one else there.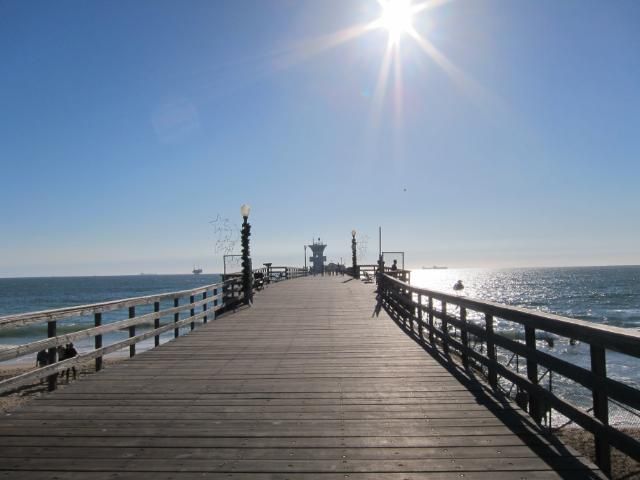 We liked their Christmas tree. The whole area just seemed really quaint.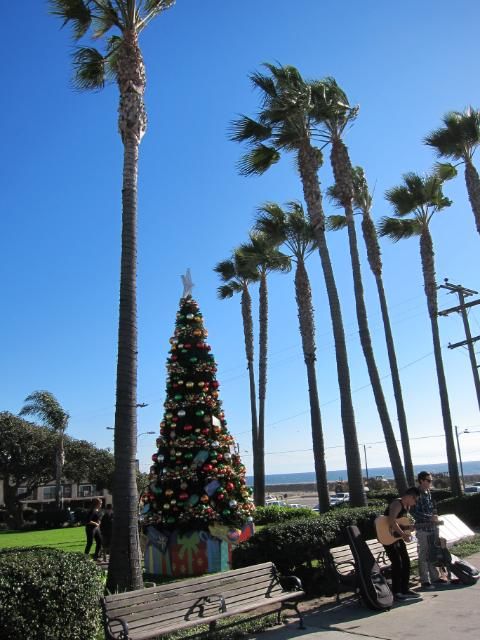 We made our way down the pier.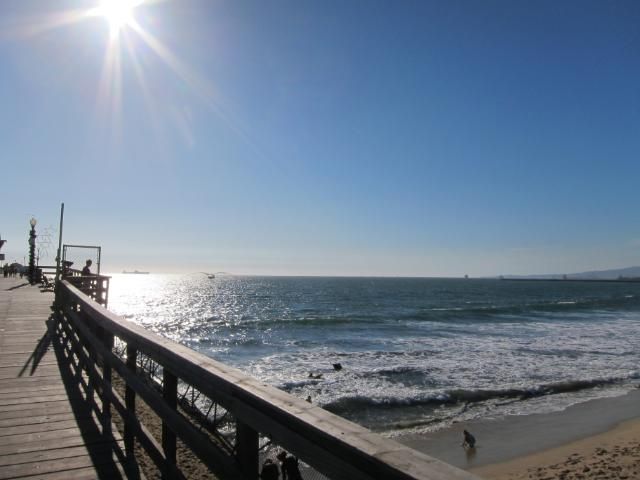 There were some people surfing and a few others milling about like us, but really it was quite deserted.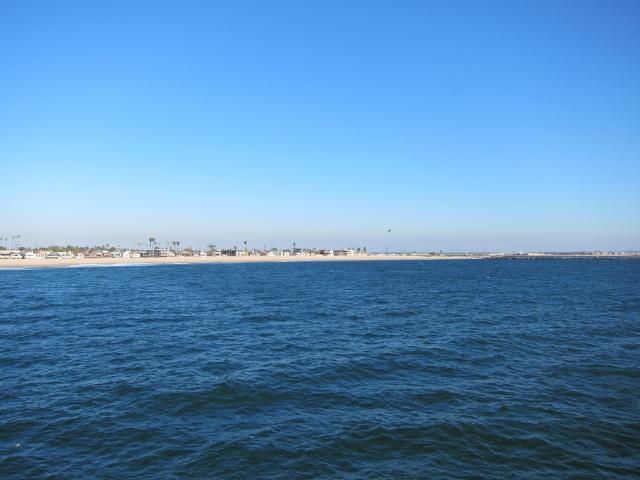 After a while, we started getting a little cold being right by the water, so we walked through the streets of the little town and enjoyed all its little shops. When we got to the end of the main street, we decided to stop in for our first drink at The Coffee Bean and Tea Leaf. While California is littered with these shops, they had only just moved into New York right as we were leaving, so we had never gone. Our friend Lainey raved about their chai, so we decided to try it out.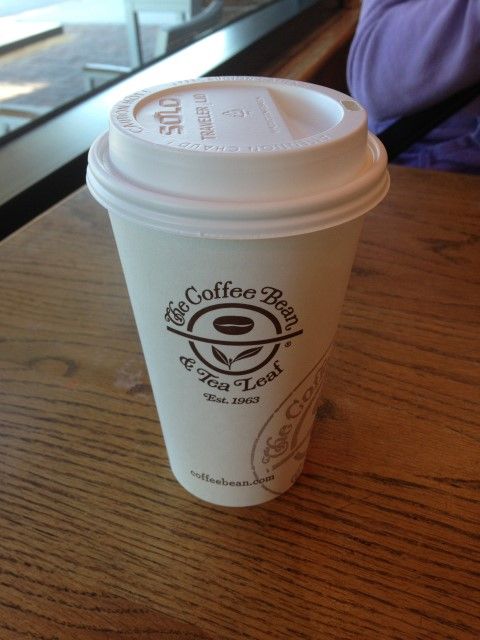 The chai was definitely good. We enjoyed walking down the streets of Seal Beach sipping it. While we had sat for a few minutes at Coffee Bean, however, I had been wondering aloud why we were seeing no sign of seals here at their eponymous beach. I did a little Googling and found out that there aren't seals here at all anymore. They had lived at Seal Beach some years ago, but no longer do. We'd have to search elsewhere for me to find my favorite animal.
We wandered back toward the beach, heading toward our car, when we stopped in a store we hadn't visited on the first journey down that road. It sold a wide variety of dog-related items, from pet clothes to awesome t-shirts devoted to dogs. We struck up a brief conversation with the owner/proprietor who welcomed us to SoCal and confirmed our suspicions that Seal Beach seemed like a quiet sort of place. He described it as a family beach as compared to the ones on either side of it (Long Beach to the north and Huntington Beach to the south). We were glad to have found this place first and to enjoy exploring the little town. It was a fun way to get exposed to the Pacific Ocean without having to fight for parking, and we knew we'd want to return sometime when the weather was a little better.
Departing from Seal Beach, we realized we still had a couple hours of daylight left, so we decided to head south along the Pacific Coast Highway to check out Huntington Beach.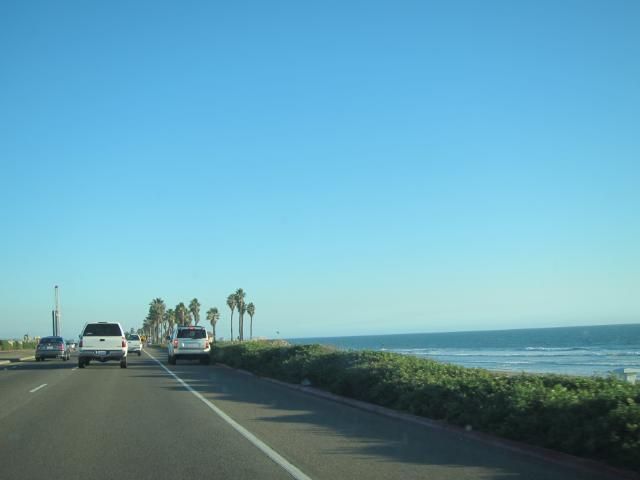 The fact that somebody decided to build the PCH many years ago makes me happy, because I love the fact that you can drive along the ocean for the entire stretch of the west coast.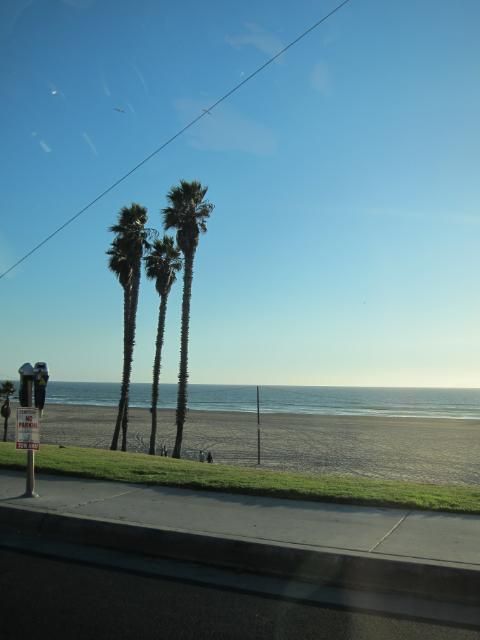 Upon reaching Huntington Beach, we tried to find some free parking because we had already paid to park at Seal. We ended up finding a garage with a free half-hour, so we decided that would at least give us time to check out the pier and the main shopping strip. There was a big street fair going on, so it was fun to walk by all the tents and see the wares they had for sale.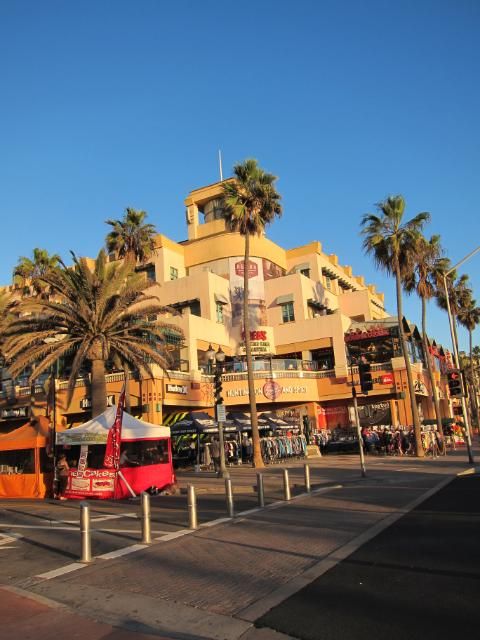 We only just peeked out onto the pier itself before deciding it was too cold and realizing we should head back to the car anyway due to time.
You could definitely tell that Huntington had a much livelier atmosphere, however, and had earned its reputation as the "party beach." We decided it would be fun to come back sometime!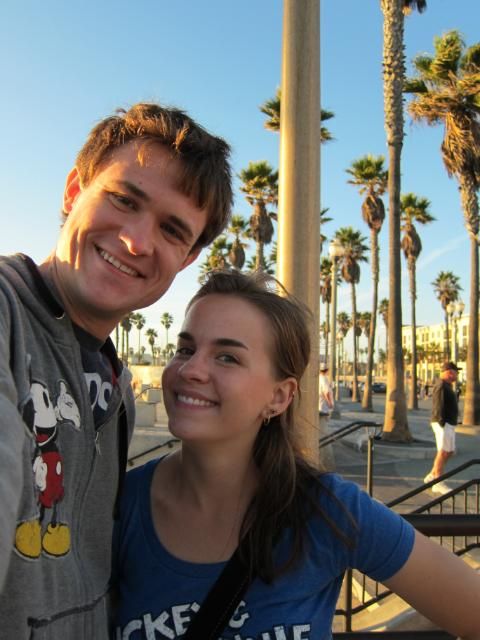 And now, we hopped back in the car, hit some of the worst traffic we've encountered to date on the way back to Fullerton, and returned back to our little Fairfield Inn. Another fun day of getting accustomed to O.C. in the books!



Share