Chapter 28
Give Thanks
---
(Originally posted May 1, 2013)
The next day in our exploits, we decided to check out one of the main parks in Brea. One thing you have to get used to when living in Orange County is that there aren't too many big stretches of green just spread out all over the place. Almost every inch of usable space has been built on. Luckily, there are still lots of great parks. You just have to drive a little out of your way to get to them.
Such was the case as we tried to find Craig Regional Park in Brea. We didn't know much about it besides that it was a big chunk of green on our Google maps app, but we knew that it must be easy enough to get to. Unfortunately, finding the park was easy enough, but finding parking was the hard part. We ended up first at an "exit only" street, and then when we did find the entrance, we realized that you had to pay to park in the lot. We didn't want to lay out several bucks to park our car at the park, so we were about to give up until we realized there was plenty of free street parking right outside the park's confines.
Walking around, we realized just how big the park felt. It's definitely a doozy to traverse because it's extremely hilly. Finally reaching the other side from where we had come in, we discovered a nice little lake filled with ducks.
We weren't sure if this duck had some sort of birth defect or whether his bouffant hair style was just a normal feature.
There were also two pelicans swimming around the lake and fishing. They would both dive in perfect unison every few seconds and then one or both would almost always come up swallowing a fish. We didn't imagine there could be enough fish in this little lake for them to eat that much that often, but for that day, they seemed to have it made.
Fast forward a couple days to Thanksgiving morning. Tracy and I rolled out of bed to the alarm, grabbed our breakfast to go, brought it back up to the room, and turned on the TV. Of course, we needed to watch this: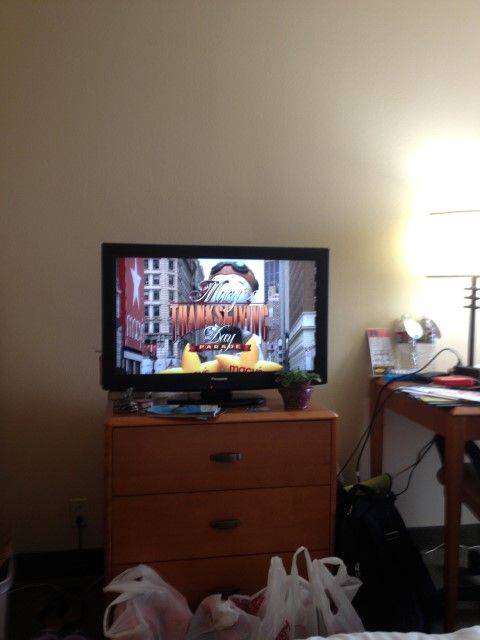 The Macy's Thanksgiving Day Parade! People often ask us if we ever went to see the parade in person while we were living in New York. The answer is no we did not because the whole experience seems dreadfully unpleasant. You have to show up at around 6:00am to get a decent spot even though the parade doesn't start till 9:00. The temperatures at that time of year are usually right around the freezing mark and with the deathly New York wind chill, it feels terrible to be outside. We always dreamed of having a friend who happened to live in a building with a façade facing Central Park West from which we could watch the parade in heated comfort, but we never had rich enough of friends for that.
We did go watch the balloons being inflated on the Wednesday before Thanksgiving one year. This was actually quite miserable too. You are packed like sardines as you walk along the square block where the balloons are blown up. Picture the crowd leaving Disneyland on Christmas Day right after the fireworks—complete with strollers—and imagine walking in that for well over an hour while you hope to glimpse your favorite balloon through the nets that are tying it down. It was an experience I'm glad we had once, but we never had any desire to go back. The saddest thing was that the Mickey balloon was the only one that hadn't been inflated yet when we walked by…
Anyway, back to the present. We watched the first couple hours of the parade, and then it was time to drive up north to Steve's apartment in L.A. On the way, we stopped at McDonald's for lunch and I got the call from Moustache, our future landlord, informing us that we got the condo—but you know that part of the story!
We made it quite easily all the way up to the Valley, passing straight through downtown L.A. but never encountering any real traffic. Steve later told us it was probably one of only two or three days a year when that was possible.
When we arrived, we saw that the cooking process of our turkey breast was well underway in the crock pot. Steve never cooks ANYTHING, so we were very proud of him for following our directions as to how to get that started. Tracy and I set to work making our pumpkin pie so that it would have plenty of time to cool. We don't cook that many things from scratch, but our pumpkin pies are always quite good. Except in 2011. We usually just follow the recipe on the can, but at some point we copied that recipe into a recipes app on our iPad. We followed that recipe in New York on Thanksgiving Day 2011, and we served up our slices after we had recovered from dinner. We started eating our slices of pie, and it tasted… earthy. Neither of us could figure out what could have gone wrong because we'd made this recipe so many times before. Suddenly, Tracy asked, "Did we put in any sugar??" We checked the recipe app and, indeed, sugar had somehow been left off the list when we copied the recipe in. Neither of us had noticed while we made the pie. Let me tell you, pumpkin pie NEEDS sugar. We ended up tossing the pie, running to the one 24-hour grocery store within 20 blocks of us to replace the ingredients we were out of, and we made another pie WITH sugar. That one was good.
Anyway, back to 2012. While the pie was cooling and the turkey continued cooking, we sat around and caught up with Steve. We put the re-airing of the parade on the TV in the background and watched the first couple hours of it again even though we'd just seen it. Then, right when we would have gotten to the part of the parade that we had missed earlier, it was time to kick our cooking into high gear and start making our side dishes. So we saw the first 2/3 of the parade twice and never saw the last 1/3.
When everything was finished, our spread looked like this.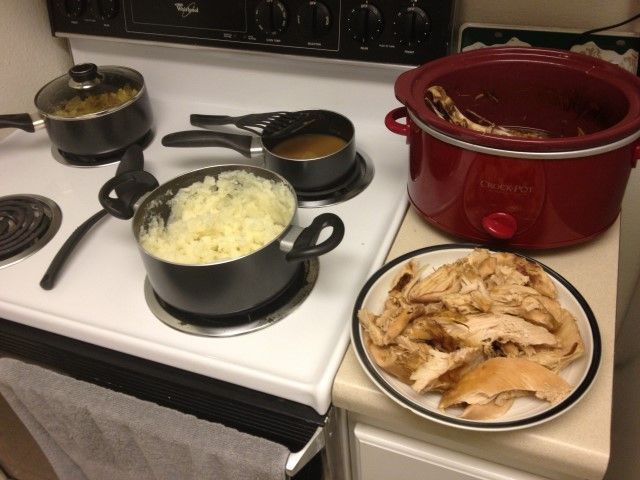 Here was my plate.
Everything was delicious! The turkey got a little drier than we're used to, mostly because Steve couldn't find a Butterball breast at any of his local grocery stores and that's the moist brand. It was still a really great Thanksgiving dinner though, and we loved that we got to spend the holiday with family even though we had just left most of our family behind in CO. We headed back to the hotel happy with our day and really thankful for everything that had transpired that day (with getting our apartment at the forefront!).
The next couple days were mostly spent doing all the planning and preparation for moving as we celebrated the fact that the Fairfield Inn was only to be our home for a little while longer. Over the weekend, we made our Thanksgiving sandwiches with the leftovers we had brought back from Steve's. Even though we were making them on paper plates and using the hotel room's mini-microwave, we still made them like we are used to, complete with the Friends-inspired "moist-maker."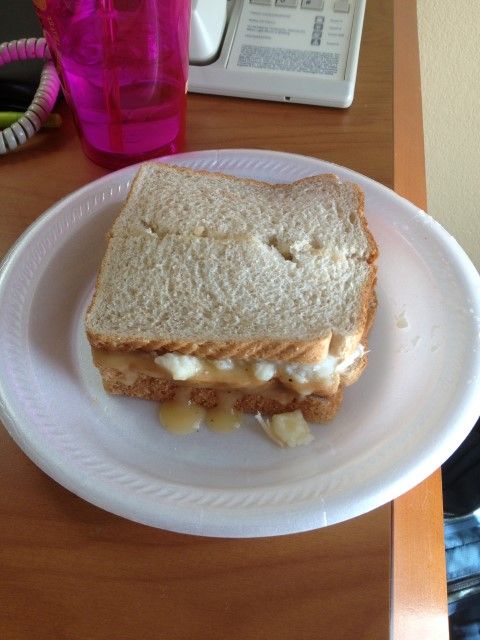 That day, we also took advantage of the hotel's pool and went for a swim. It was amazing being able to take a dip at the end of November. Welcome to SoCal!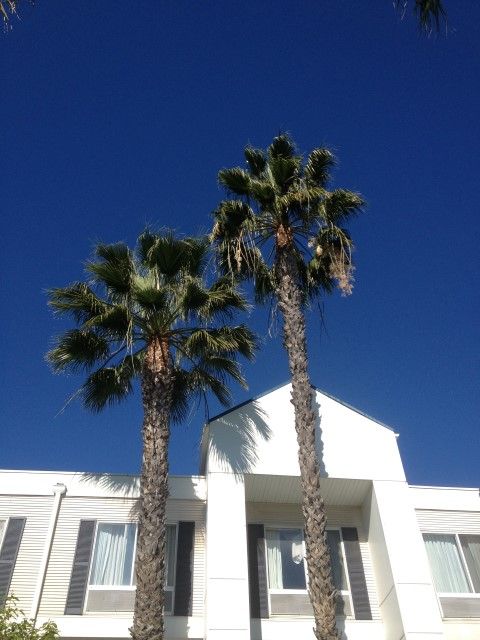 You already know all about our exploits in moving, acquiring furniture, and unpacking over the next week or so, and before we knew it, November was on its way out. I don't know if I've ever experienced a more jam-packed month in my life, but everything worked out pretty well by the end of it!
Overview of November 2012
Random Photo of the Month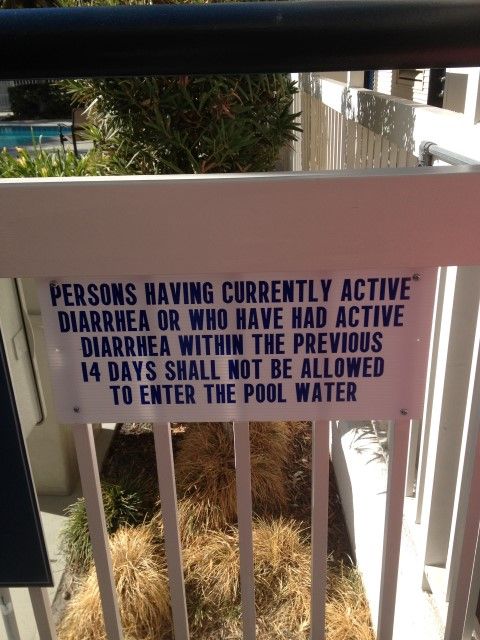 This sign was up at the entrance to the pool at the Fairfield Inn. We were thoroughly disturbed at first, but then found ourselves morbidly curious…
Movie We Watched in Theaters
The Twilight Saga: Breaking Dawn, Part 2 (If you haven't seen the final movie in the Twilight Saga, be warned that spoilers abound. This was probably only the third movie we saw in theaters in the whole of 2012 and is still the last time we've been to a movie theater to date. How about that ending? Neither of us knew what to make of it as the battle kept escalating. We both just thought "okay, they've thrown the book out the window and are doing whatever the heck they want." Then when the pullback revealed that it was all just a vision of the future, the theater went nuts. People applauded, laughed, groaned. It was honestly a brilliant idea by the filmmakers, and I don't know if the word "brilliant" has EVER been used to describe a Twilight movie…)
Number of States Visited
5 (That is, oddly, 10% of the entire United States right there!)
Favorite California Restaurant Visited
In-N-Out Burger (For this one, I didn't include Disney restaurants in the competition. It was just great getting back to a state with In-N-Out because it's oh so delicious)
Favorite Disney Snack
Red Velvet Cake Pop (This one was easy this month because we only really got two Disney snacks, and while the Marshmallow Wand was delicious, the Cake Pop beat it out)
Favorite Disney Meal
Holiday Sandwich from Earl of Sandwich (Again, not much of a competition this month, especially because Tracy didn't love her Red Beans and Rice from Jazz Kitchen Express. The Holiday Sandwich is just SO GOOD)
Book I Read
A Walk in the Woods: Rediscovering America on the Appalachian Trail by Bill Bryson (I thoroughly enjoyed this book having picked it up after liking At Home. It was a little tangential at times and a little too preachy at others, but on the whole I thought it was a great narrative. I learned a whole lot from this book just as I had from the other Bryson book, and I would definitely want to read another book of his sometime)
Favorite Guilty-Pleasure TV Show
Dancing with the Stars: All Stars (We have been on-again/off-again fans of Dancing with the Stars for a few years now, sometimes only watching once it gets down to the final few, sometimes watching the whole season, and sometimes not watching at all. We watched the entire All Stars season knowing it would be the best of the best, and it did not disappoint. Some of those competitors did absolutely phenomenal dances, and we had a lot of fun watching right up to the end)



Share