Chapter 74
Ch-Ch-Changes
---
Previous Post | Next Post
Table of Contents
(Originally posted October 12, 2013)
After Pirates, we rode Indiana Jones. We try to always ask for the front row on this attraction, but we didn't this afternoon. Unfortunately, Tracy's view was completely blocked by the tall people in front of us, so we made a mental note to always wait for the front without exception from then on.
We were determined to see the next showing of the Beauty and the Beast show at the Royal Theatre, so we went over there to see if a line had started forming yet. We were almost an hour early, so we would have been the first ones in line. Rather than wait that long, we killed some time by riding Pinocchio before wandering back and sitting down in the queue for the show. Eventually, we were let into the theatre, and we got decent seats. We waited for a long while before the show finally got started, but it was really worth the wait.
I know I just said Aladdin was probably my favorite stage show at the Disneyland Resort, but I may have misspoken. We REALLY enjoyed this show at Fantasy Faire. The script was great, and I loved the vaudevillian nature of the entire performance. It was really funny and the actors did an impeccable job. I got a little camera-happy while we watched, so here are several pictures.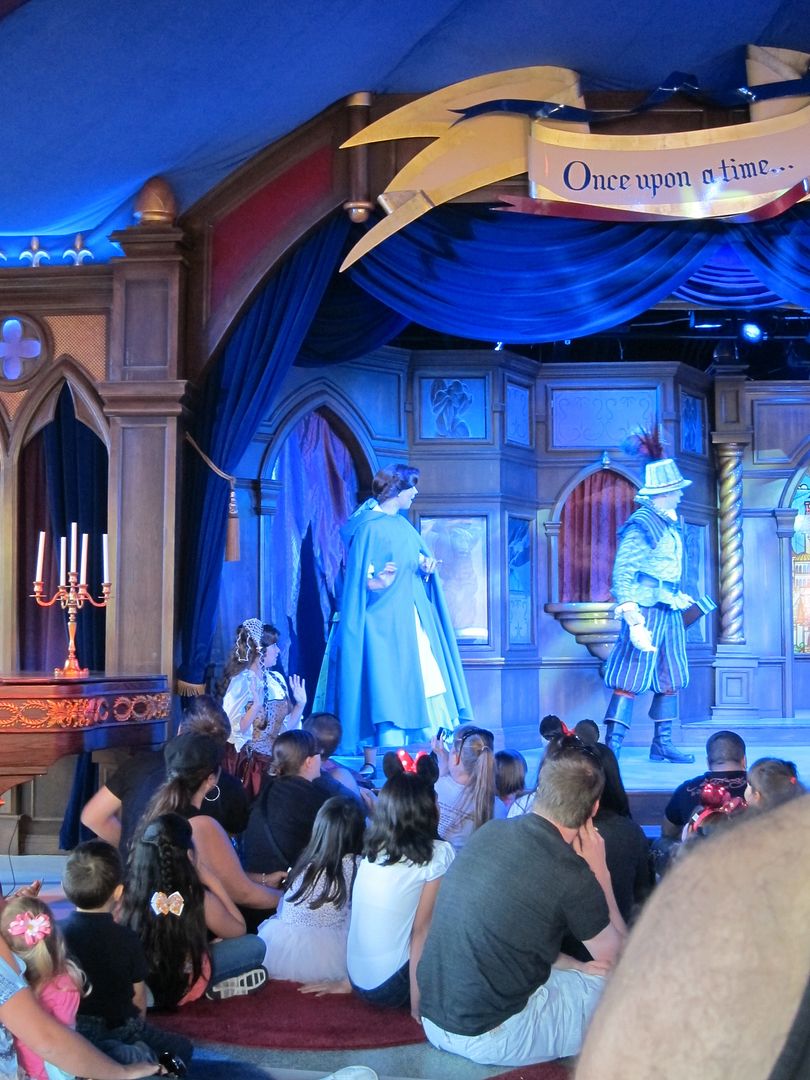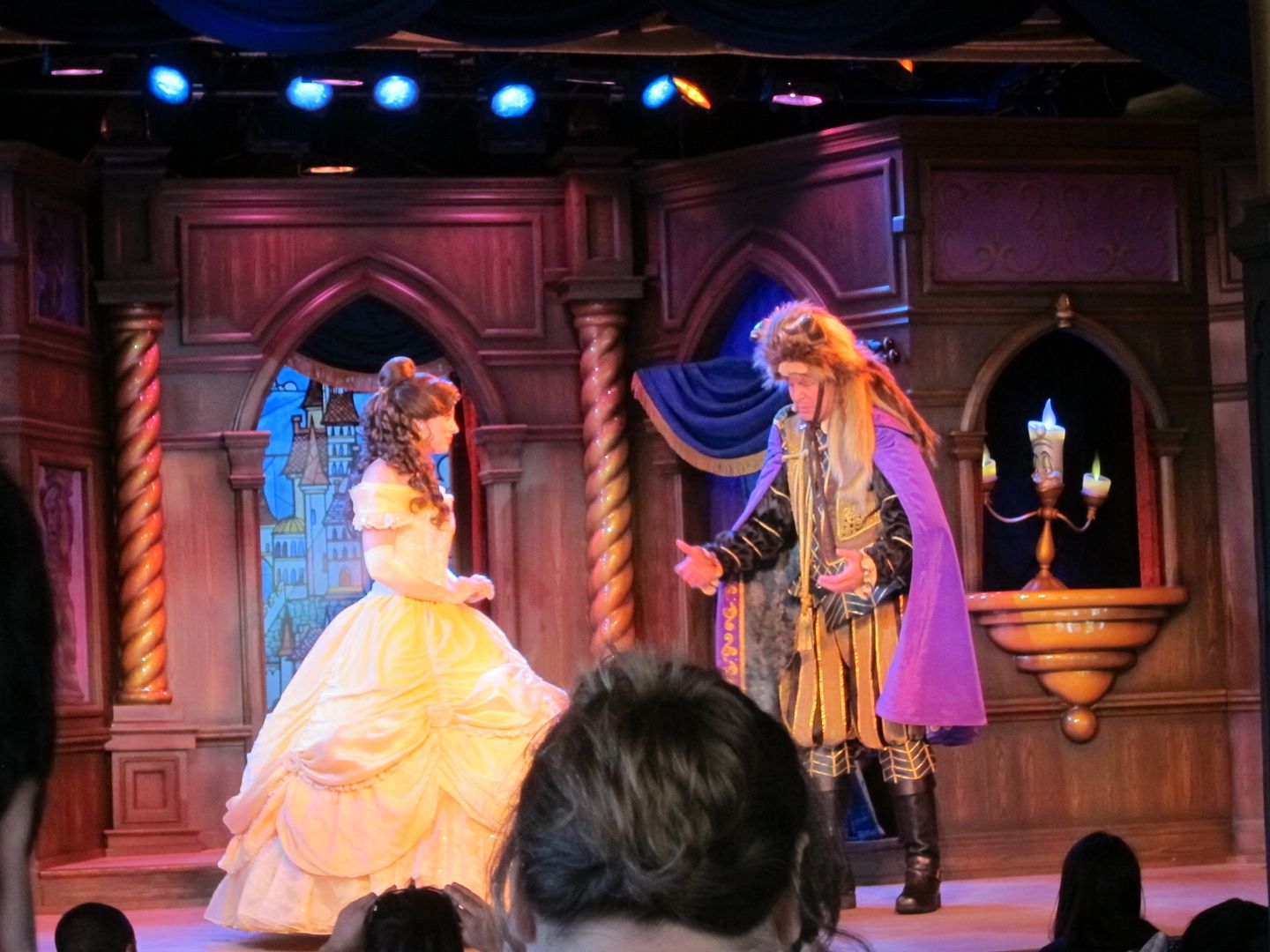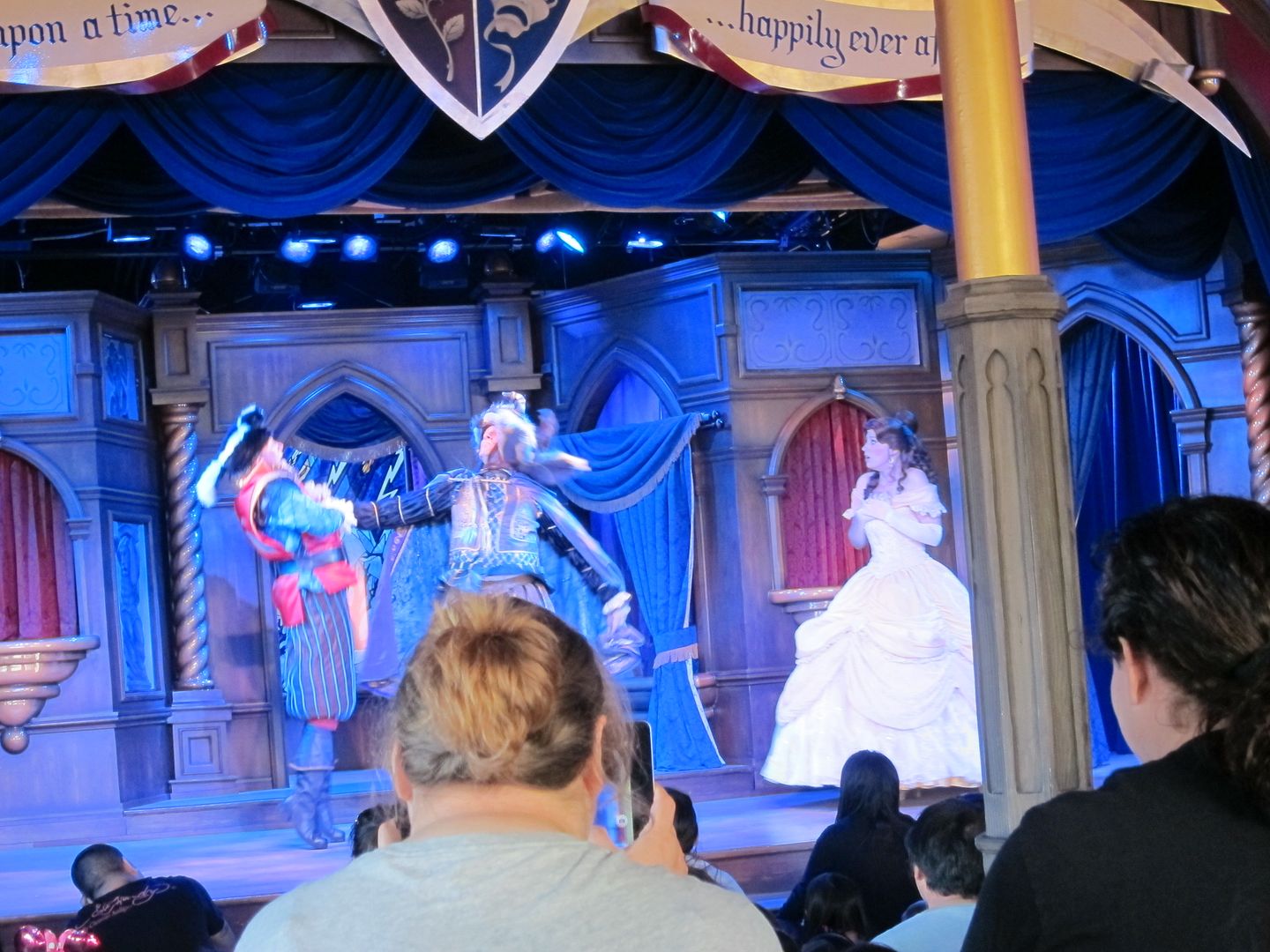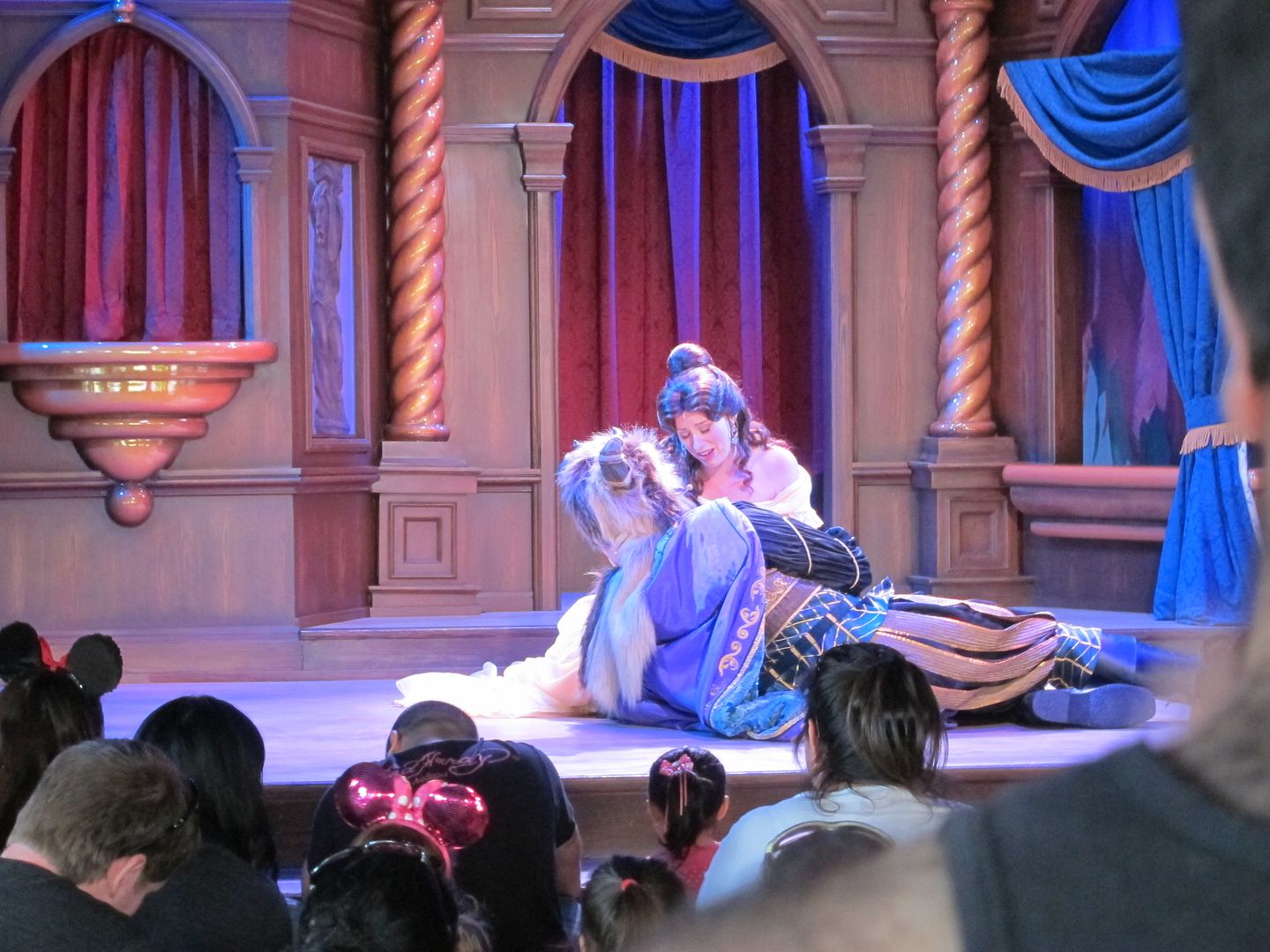 I don't know if I've ever expressed just how much we HATED the Beauty and the Beast show at WDW's Hollywood Studios, but this show was a million times better than that one. I'm almost ashamed to admit that we have neither been back to see this show a second time nor seen the Tangled show at the same theatre, but both tasks are high on our to-do list.
After the show was over, we wanted dinner, but it was still too early. To distract ourselves, we rode the Haunted Mansion. The ride got stuck for several minutes as we descended backwards from the attic, so it was a good place to take a little nap.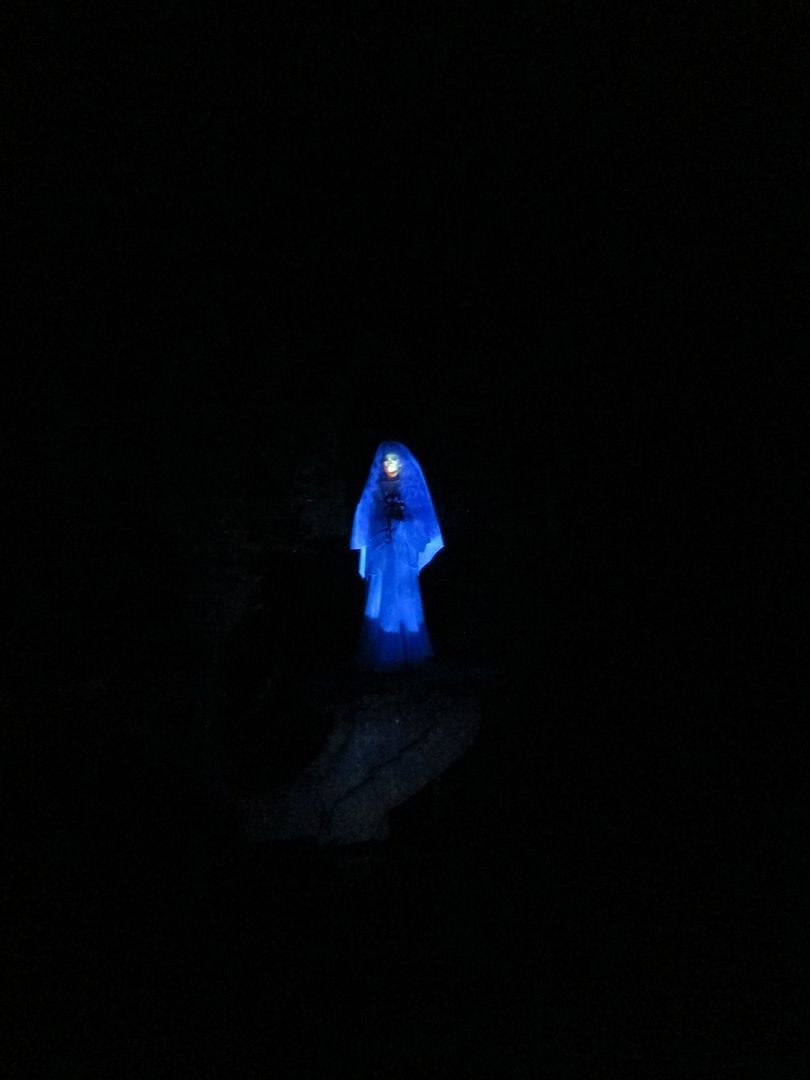 For dinner, we both had a craving for a Turkey Leg. We found the nearest cart and procured our massive hunk of meat before taking it over to the tables at Rancho Del Zocalo to eat.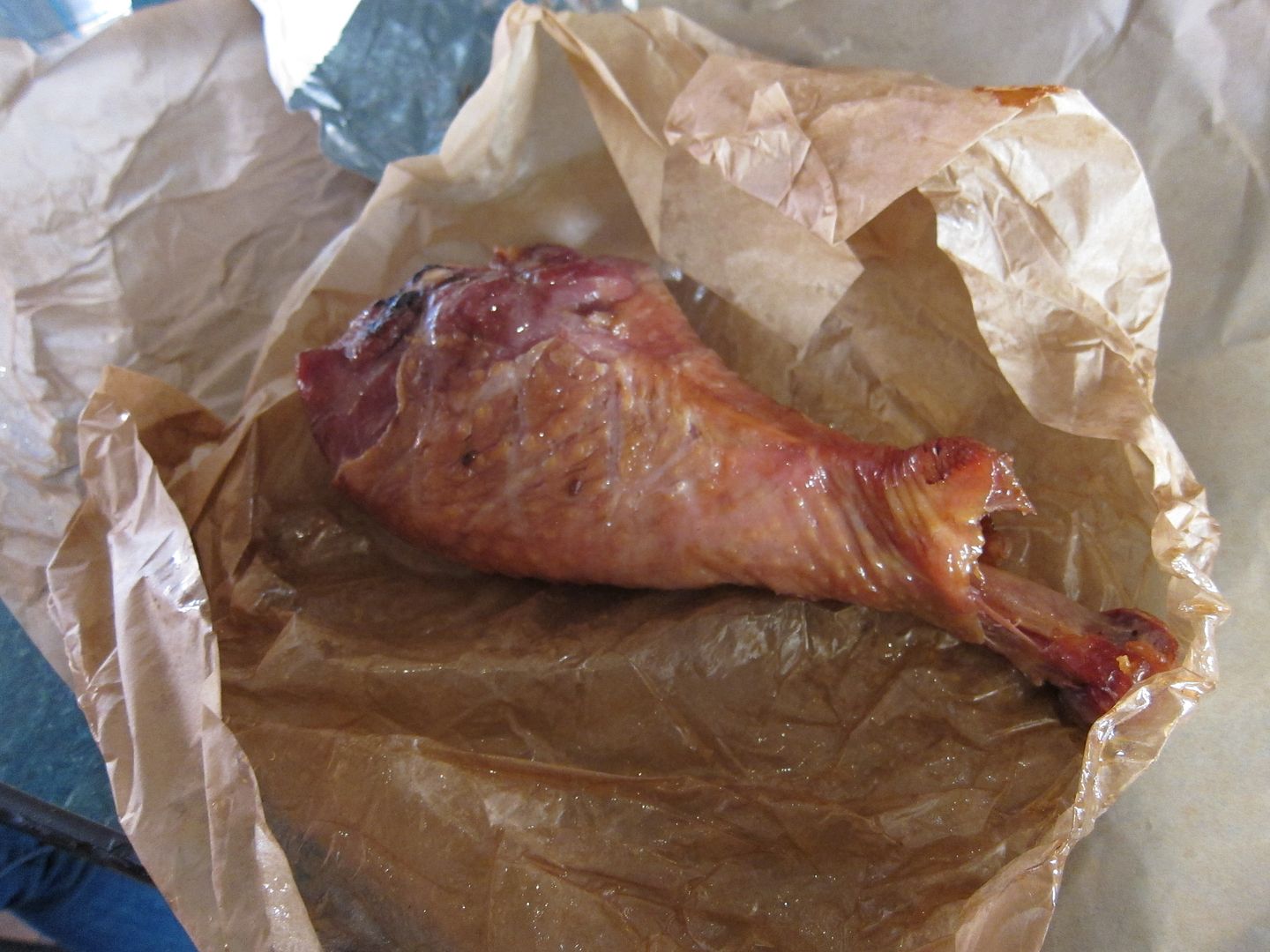 I'm almost embarrassed to admit that we attacked this turkey leg with knives and forks rather than digging in like everyone who usually eats Disneyland turkey legs. We picked it clean, however, so there was not a scrap of meat left. Tracy was so dainty about the whole meal that she didn't even need to wash her hands after eating (probably some sort of turkey leg record), though I wasn't quite that prim. We both really enjoyed it at the time, but Tracy decided she wouldn't be in the mood for another one any time in the near future.
Hopping to DCA, we noticed that the orange bump-on-a-log cat was back (I guess I was lying when I said we never saw him after that first time, though I'm pretty sure we've never seen him again since).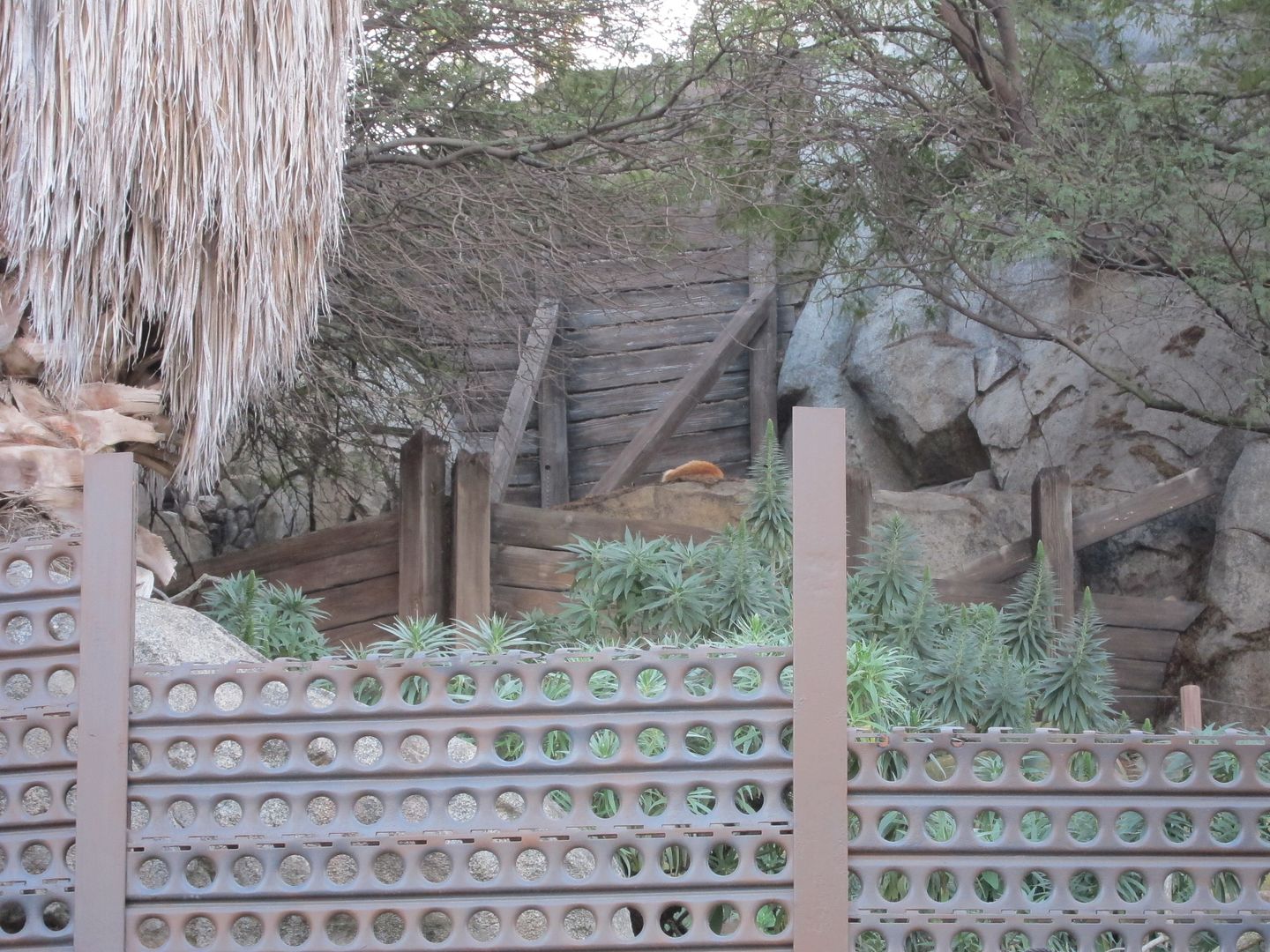 Francisco was out too, though I didn't get a picture of him.
We walked through Grizzly Peak and admired Grizzly River Run. It always looks like so much fun, but we are absolutely never in the mood to get that wet during a day at DCA. It remains a ride we've yet to go on since moving here, though we've thought about it many times.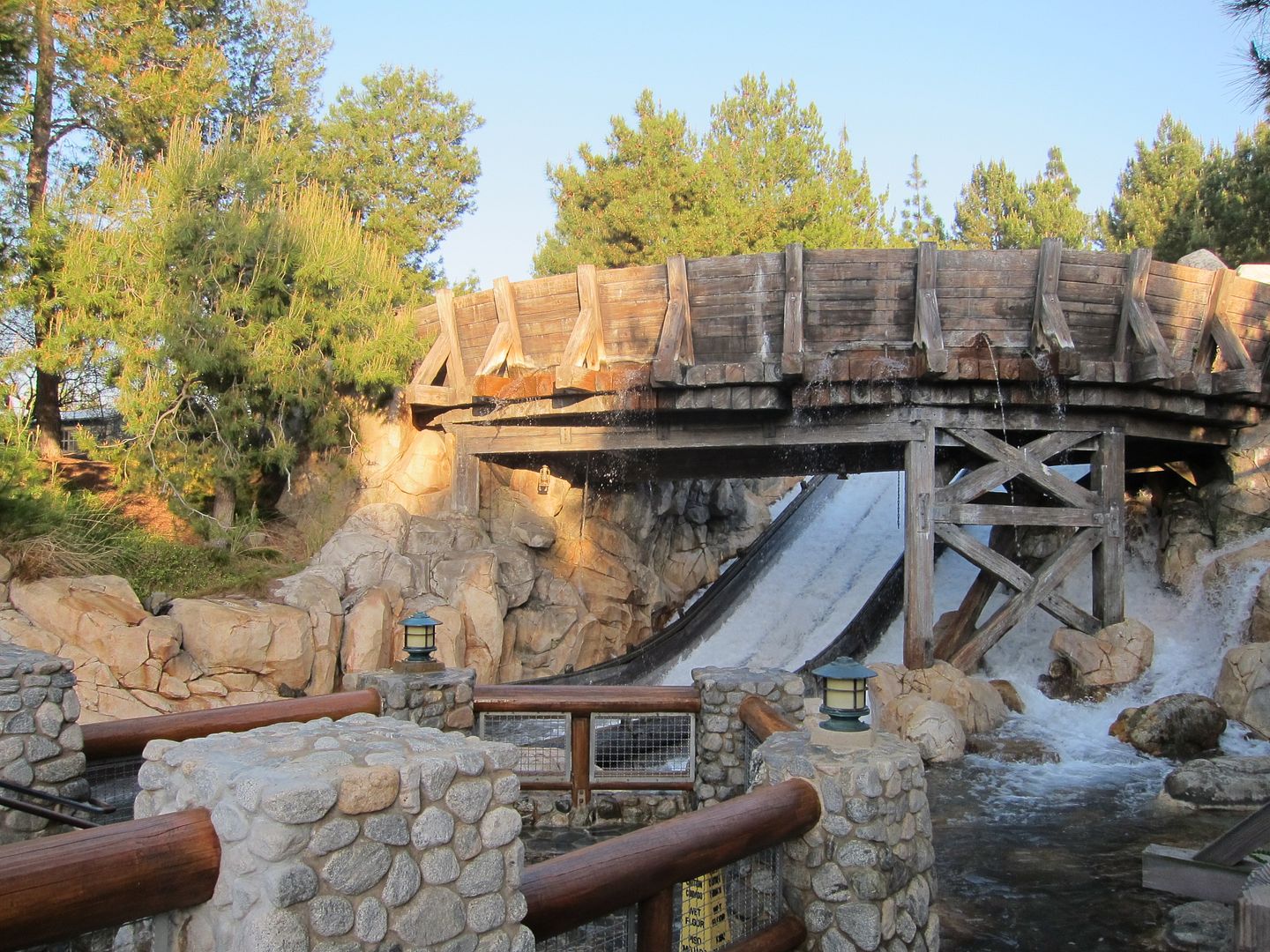 I do love the silhouette of the grizzly bear.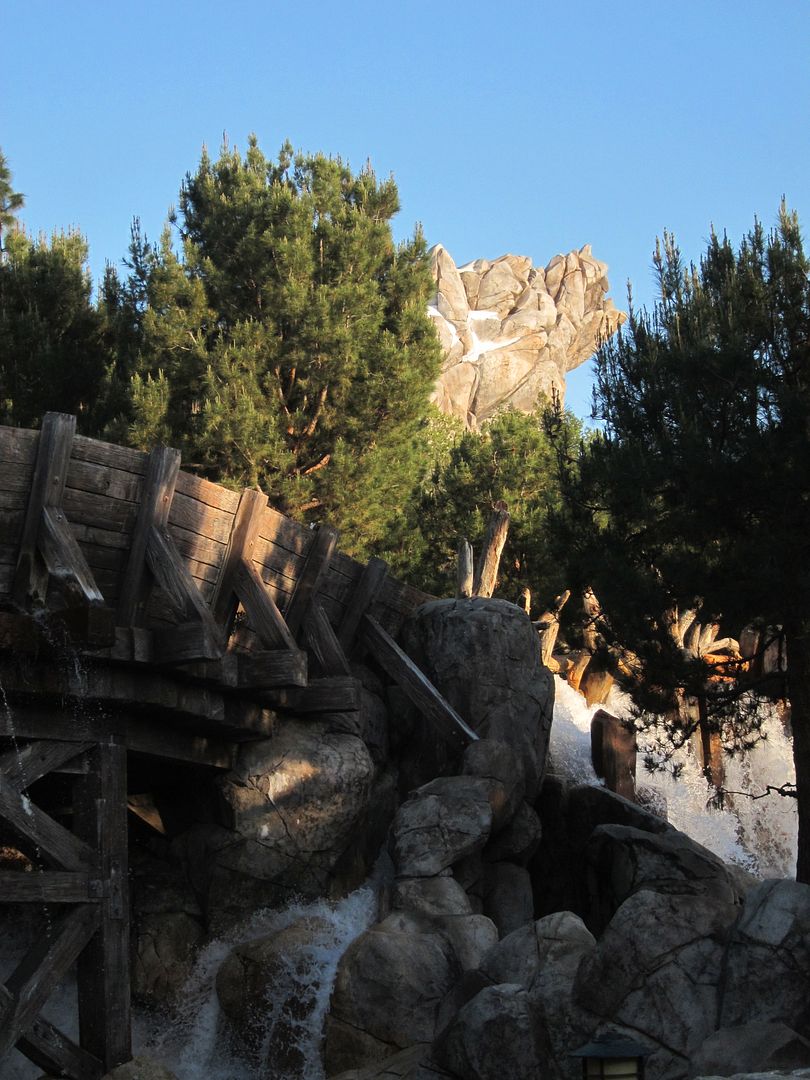 We walked out onto the dock where you can watch the rafts coming down the falls, and it smelled WONDERFUL out there. It was like an olfactory onslaught of the "musty water smell" that I associate so fondly with the Disney Parks.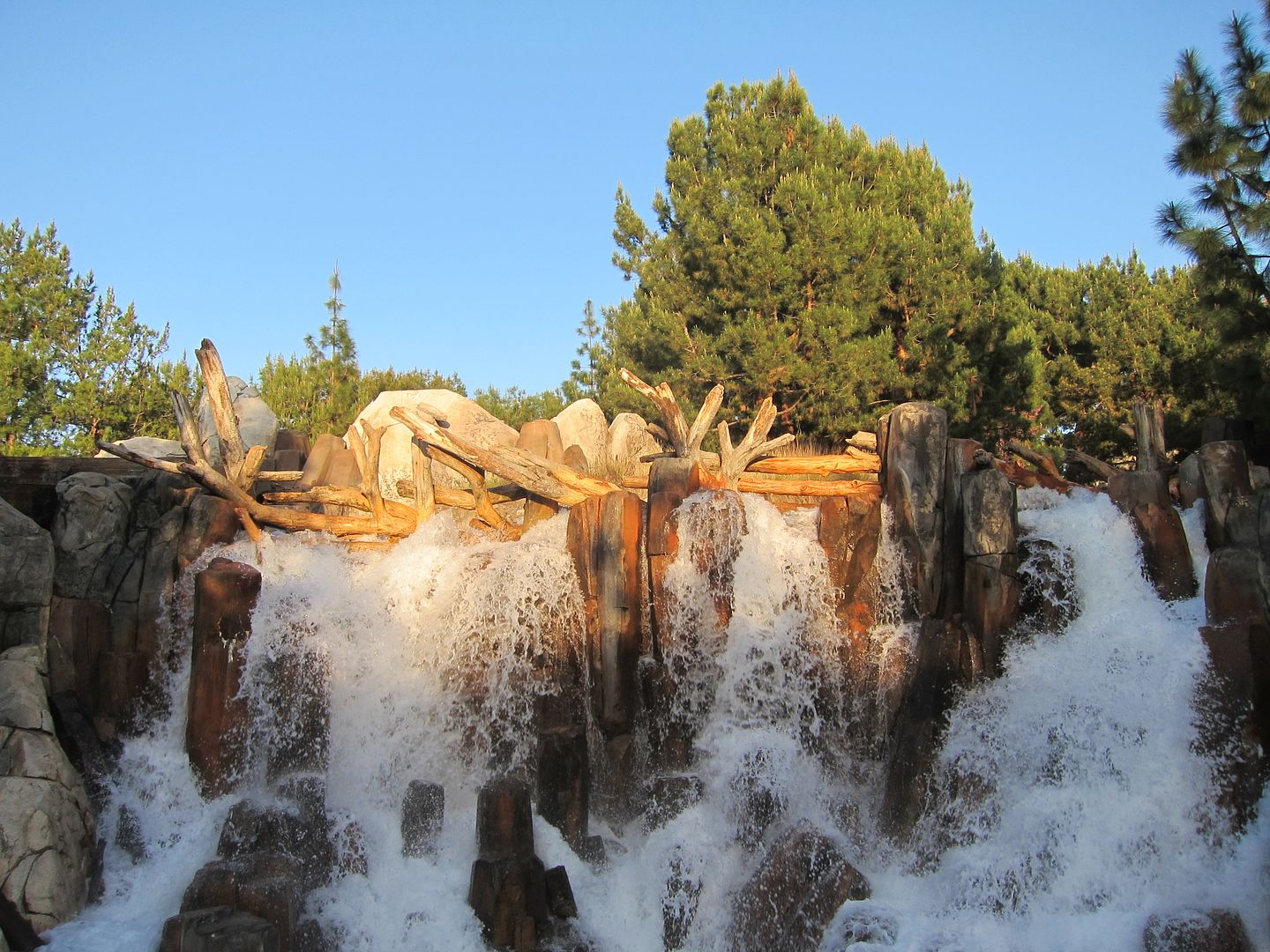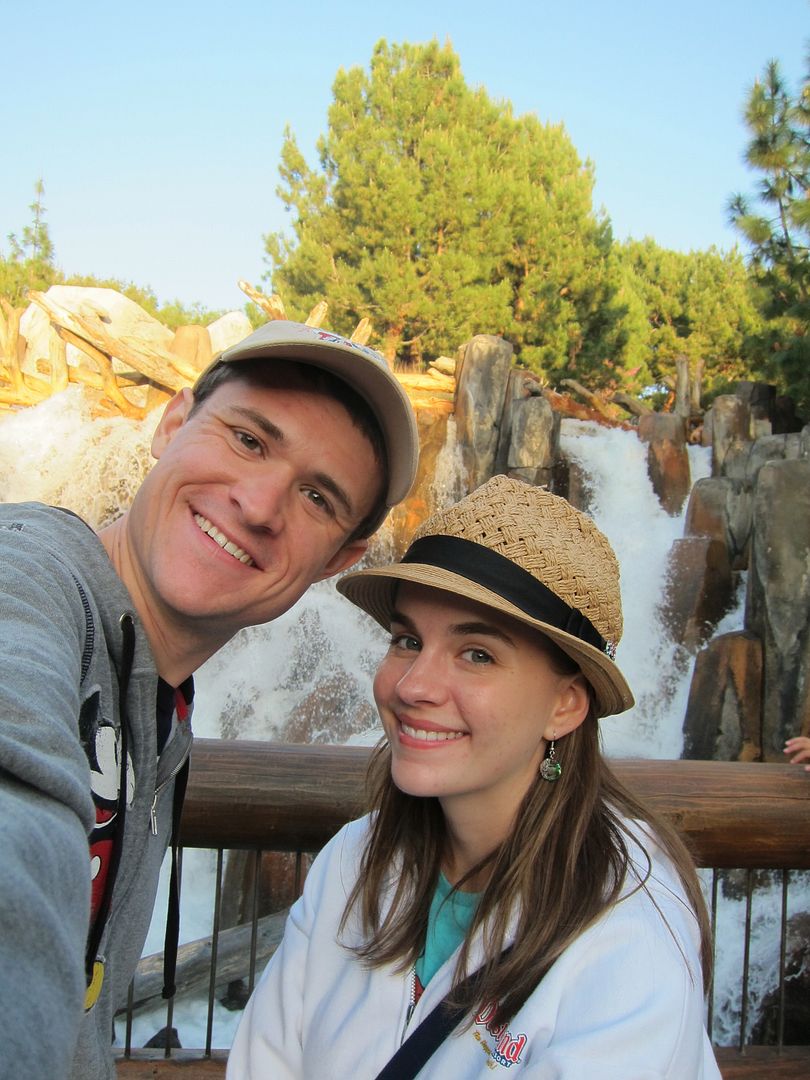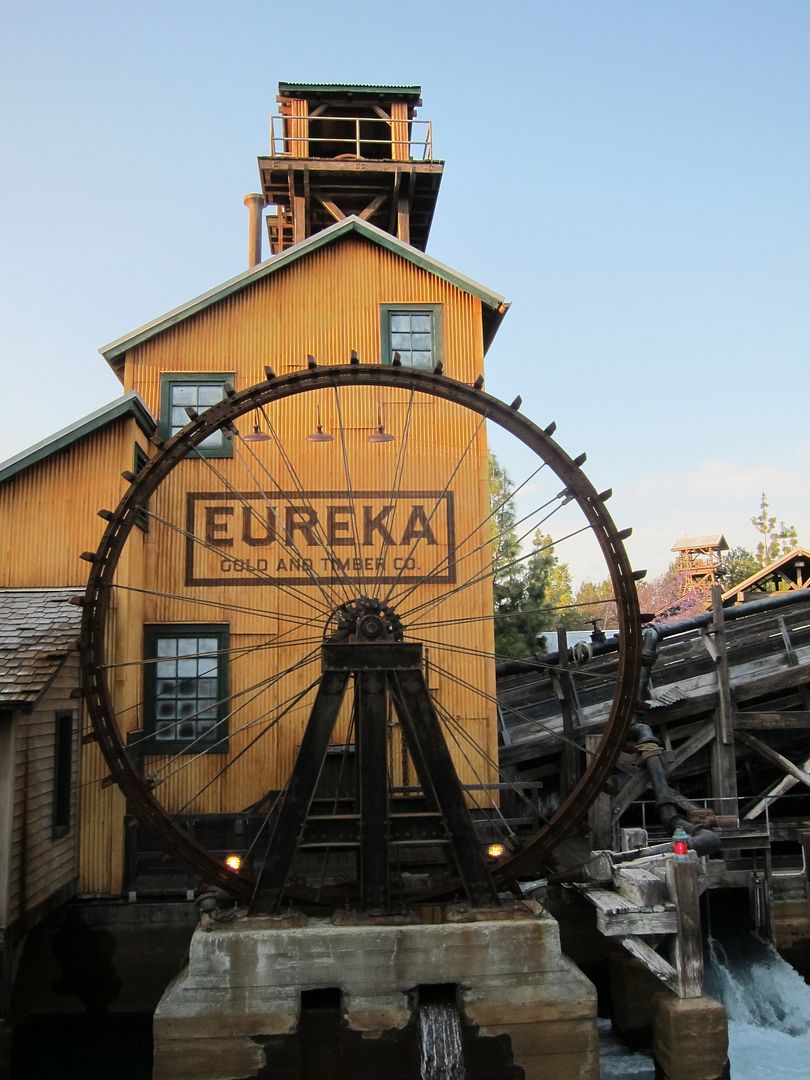 We rode Jumpin' Jellyfish next, and it was thrilling as always.
I think the fact that you're supposed to be jellyfish jumping "to the top of the sea" is a bit of a weird storyline. Especially since the ride is much more about the falls than the drops.
As we walked past the smoking area in Paradise Pier, we noticed for the first time the spot where the Maliboomer used to be. I had been reading up on my DCA 1.0 history, so I had been interested to learn about that attraction's demise.
We rode Toy Story Mania next before walking over to Cars Land and exploring some of the shops we hadn't ever been in before (like Sarge's Surplus Hut). Before heading home, we took a spin on Luigi's Flying Tires, but then it was time to go. Tracy started work in the morning, which meant our lives were about to transition yet again.
March 25-29, 2013
Tracy's first day (and entire first week) of work went well. She liked what she was going to be doing, and she liked her coworkers. The entire CoolTech culture was proving to be like most other tech startups, with several interesting perks you won't find at a corporate company. In addition to the stocked beer fridge in the office and ping-pong table in the back room, the employees all had Nerf guns to shoot each other with. The office also has a "meal plan" with a nearby restaurant, so Tracy can get free lunch every day. Add that on to the fact that the hip, young crowd was fun to work with, and Tracy was pretty sure she would enjoy her work life as much as it was possible to enjoy a job.
At home, I didn't fare quite as well at first, but I quickly adapted. I'll be honest in saying that I got spoiled by having Tracy at home with me 24/7 for almost seven months because we had a lot of fun spending so much time together. Once she went back to work and I was left home alone, I went through a period of monophobia (fear of being alone) because it had been so long since I had needed to deal with my own daily medical issues without anyone around. That morphed into some high anxiety that I had to find a way to cope with, which was difficult because I was unemployed and didn't really have any idea what I could find to do with my time.
That I needed to find another job I could do from home was clear, but I had no prospects. I started trolling message boards where other people who worked from home posted—the most helpful was a board for stay-at-home moms—and I discovered that the most popular freelance work-at-home profession was doing content writing.
Now, since I really didn't know what content writing was at the time, I'll assume some of you don't either, so I'll explain. In this digital world where companies need to be found via search engines like Google if they want to survive, having well-written content on websites is more important than you might realize. Google has fancy algorithms that are able to find the best sites for any given topic based on the quality of writing that appears on web pages, so most webmasters need to outsource their writing tasks to freelance professional content writers. So who are these content writers? Well, as it turns out, most of them are people like me who realize they have a knack for writing and wonder if they can make money off of it. There are several "content mills" scattered around the Internet where we are able to find writing assignments and write articles to fulfill them. The topics truly run the gamut, so you can go from writing an article about touring Aruba to one about how to kill fleas on dogs all in a day's work. The pay isn't great, especially when you start out, but if you work hard to build a client base, you can eventually start to earn a living—or in my case, supplement your spouse's fulltime income so that you can live a little more comfortably.
Suddenly, I was becoming a paid writer, and I like to say that I have all of you readers to thank for it. I never really thought I liked writing when I was in school, but writing these trip reports showed me that when I can write about something I'm interested in, the task of writing can actually be enjoyable. I'm excited to say that I really like what I'm doing (and I like it more now that I'm somewhat consistently making money off of it, but that took several months of barely making pennies).
Now that you know how things are now, we'll return the story to Tracy's first week of work. I was beginning to dip my toe into the world of writing, but I spent most of my time watching TV and trying not to freak out about the fact that I was occasionally going to have to deal with feeling dizzy without having someone by my side to distract me. Luckily, at the end of each day, Tracy would come home, and on some of those days, we would go to Disneyland.
After skipping Monday, we returned to the parks on Tuesday evening after work. We thought it would be a clever idea to park at Downtown Disney and to use our free hours of parking to avoid taking the tram. Unfortunately, we were far from being the only people to think of this, so we spent much longer searching for a spot than we probably would have by going to Mickey and Friends.
We took the Monorail in from Downtown Disney and were immediately greeted by some of the worst crowds we had seen on a weeknight. We rode the Carrousel (Tracy got Jingles this time), then Mr. Toad, and then we tried to go meet the princesses at Fantasy Faire, but we arrived right as they were closing off the line. Instead, we went to Tomorrowland.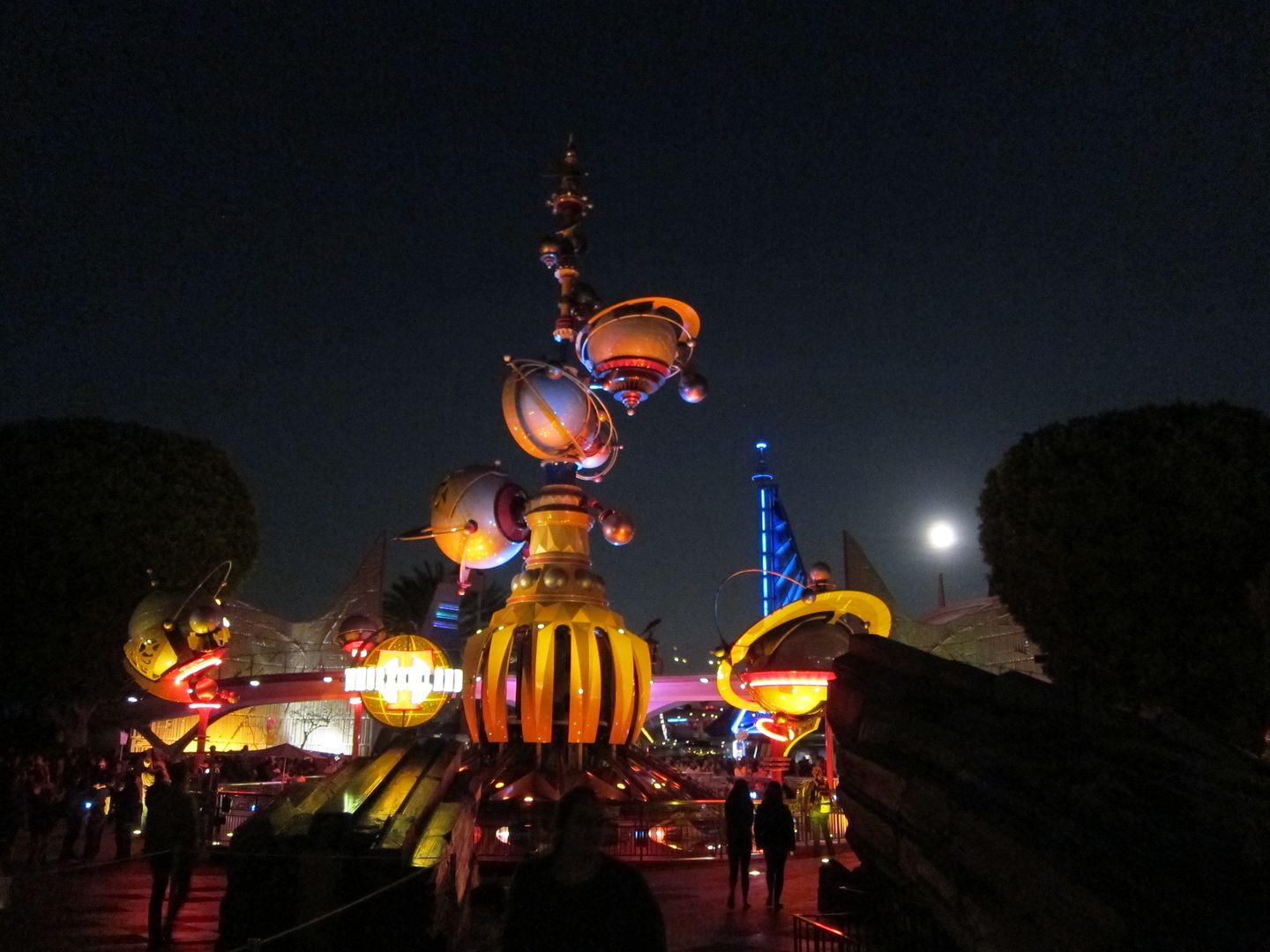 Space Mountain was closed, so we rode Star Tours (and got to experience the pod racing scene from seats with a great view for the first time ever). Of course we were getting hungry, so we had yet another Matterhorn Macaroon.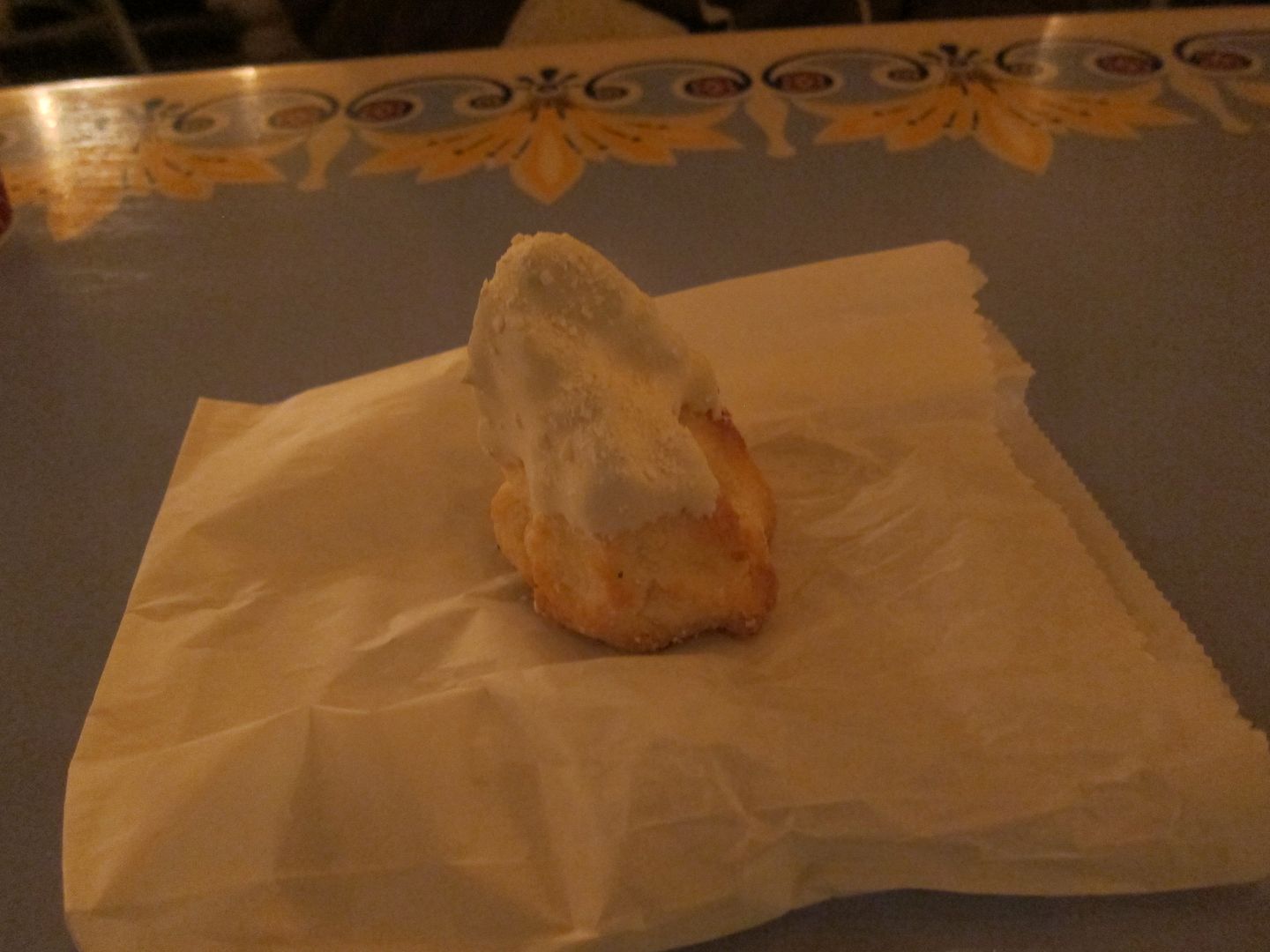 As we went back to Tomorrowland, Space was open again, but the line was too long and we had to get back to Downtown Disney before our three free hours of parking expired. We made our way toward the exit and went home.
The next day, we were back again after work, and this time we planned to spend most of our time at DCA. We had just gotten a new pin lot from eBay, so we were excited to trade.
After riding The Little Mermaid, we saw that the Silly Symphony Swings were finally open again after being down for refurbishment since we had gotten our passes.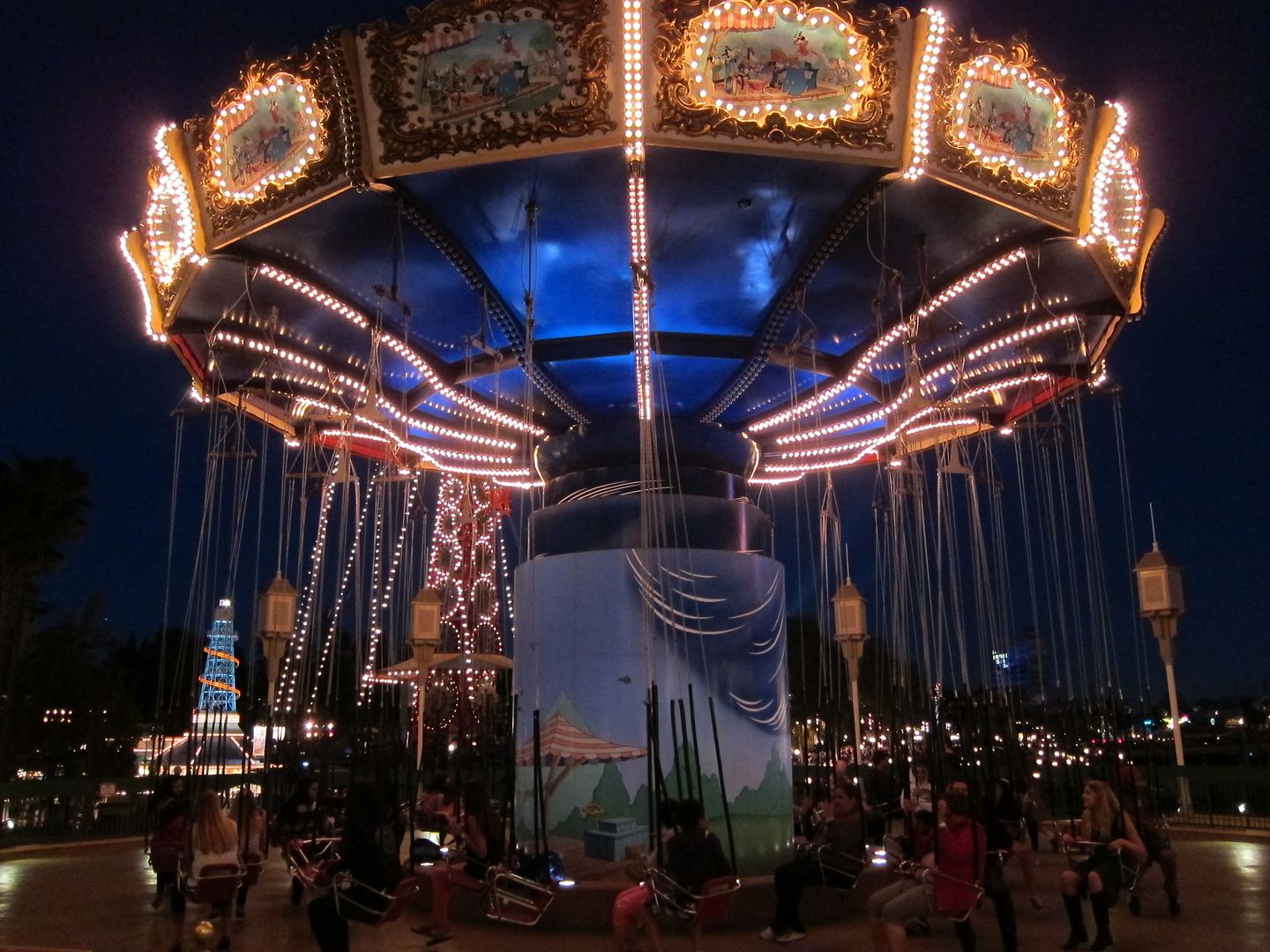 We really wanted to ride the tandem swings, but the line was full of parents/children, so we had to settle for the solo variety.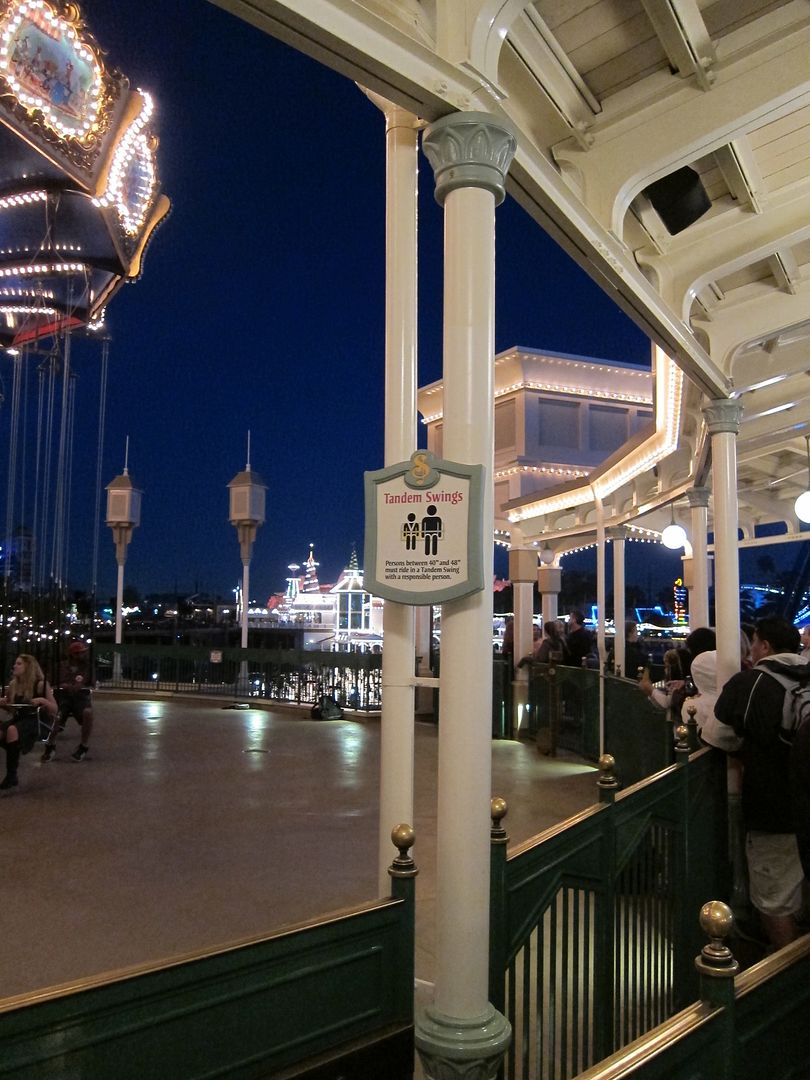 I will definitely say that this ride was a little more intense than we remembered. We both got a little dizzy and felt a little nauseous, but we both also enjoyed it because the swings were fun. We decided that next time, we would wait if necessary to be able to ride tandem.
We rode Toy Story Mania before the evening was over, but we mostly just spent time going to various stores and seeing what pins they had to trade on their various boards. Eventually, we exited back out to Downtown Disney, and I noticed that this fountain looked particularly pretty this evening.
Since we were in pin-trading mode, we also went to the Guest Services desk at the Grand Californian to check their board, and I loved this mural of dancing bears on the front of the desk.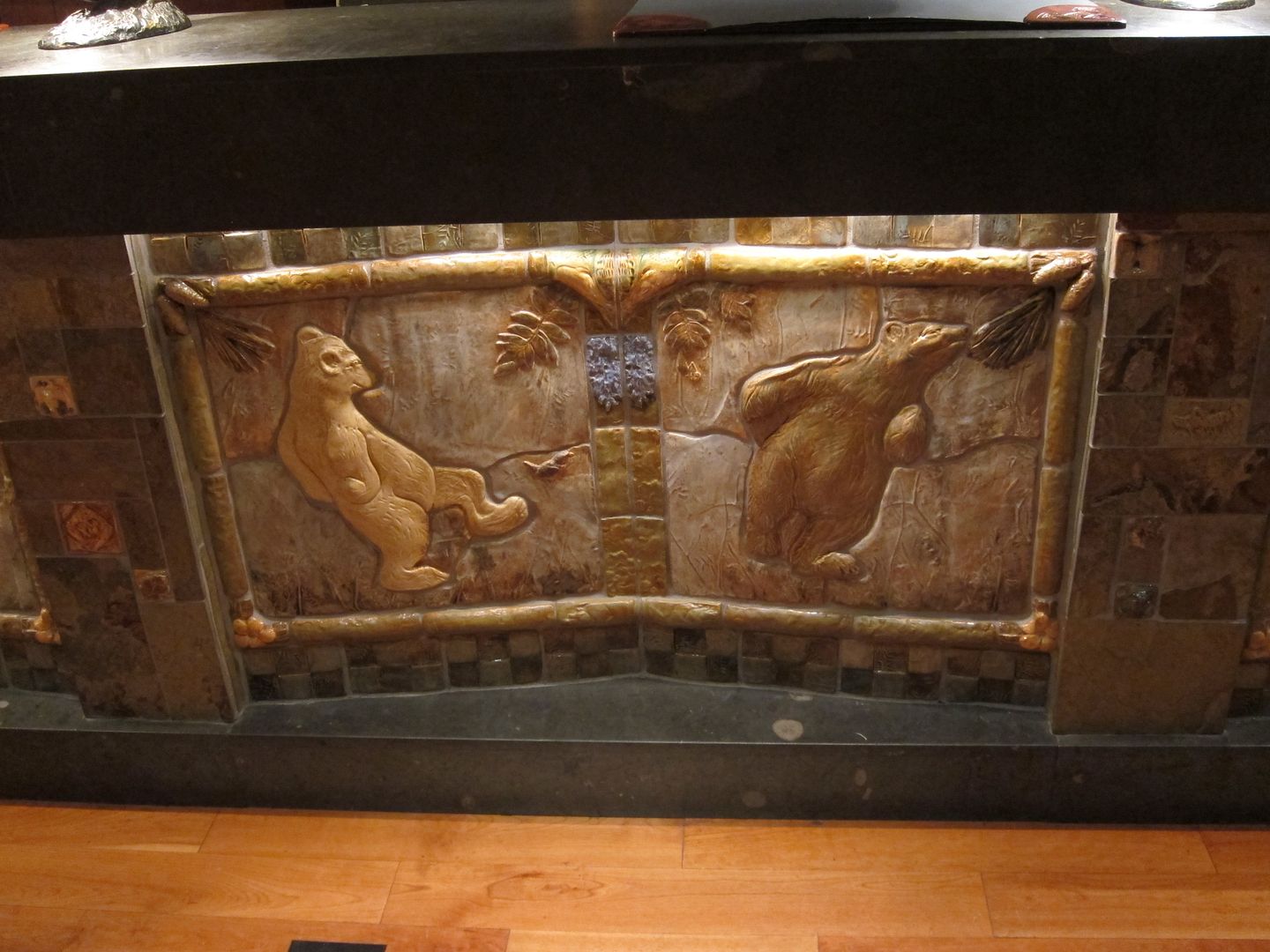 It was one of the first times we had been back to the Grand since we had gotten our passes, and it felt a little like going home. We stopped for a few minutes in front of the fire and remarked how it seemed like ages ago when this lobby had been one of our only Disney outlets.
Previous Post | Next Post
Table of Contents
Follow



Share