Chapter 37
Celebrating a Quarter-Century
---
A couple weeks into January, I was the first one of the two of us to find a job. It wasn't a huge accomplishment, per say, because all I really did was convince the company I had worked for in NYC to let me do some work for them remotely. The company, which I'll call Washington Crabtree (the real name is just as nonsensical) makes really expensive designer doorknobs. Like, we're talking $1000 per door just for the set of two knobs. I originally found my job with them on Craigslist when I was still auditioning, and it seemed like a great "day job." The pay was pretty good, I would only work three days a week, and the duties were child's play. I was literally hired on to print pages, put them in binders, and then ship these binders off to customers. I was making great use of my college degree. Within a few months, however, my immediate boss had left the company, and they had me step into her role (basically giving me the option of step up or ship out). Suddenly, I was in charge of all the marketing for the entire company. Now, you may be thinking, was it really wise for them to put a fresh college grad with a theater degree in such a high-ranking position? The answer would be a resounding "NO," but these were not the smartest business people. Instead, they liked the fact that they were basically paying me peanuts for a job that they would have to shell out big bucks to fill with a qualified candidate.
And so my time with Washington Crabtree progressed. I wasn't happy, but it was steady work. We knew we would be leaving New York imminently, and saving up every possible penny was essential. My health also started going downhill while I was working there, and while they gave me a hard time about my issues at first, eventually they let me start working from home when I went through my worst period of all-but-constant dizziness. I had a countdown clock ticking down to the exact moment when I could officially be done working for the company starting about 9 months before the fact. When I was finally able to officially clock out on that last day (albeit from my home computer) I felt one of the greatest sighs of relief I think I've ever experienced.
So now, here we were about 6 months later, and I found myself working for them yet again. Had I gone crazy? No, but we were pretty desperate. And I didn't have any other options lined up for jobs that I would be able to do from home. More specifically, I had no idea where to even start looking for such jobs. In early December, I made the decision to email my old boss and ask if there was any chance they would want me to take back over some of my old tasks. After giving me the runaround for about a month (they obviously wanted to wait until the new calendar year before shelling out the money to bring me on), I got the email saying there were a few things they could use me for. I was able to start the following week, and pick up several of the tasks I was used to covering. Mostly, I just had to update the company website because it had literally gone untouched since I left. It wasn't that there weren't new things to add/change, it was that no one else had any idea how to do anything on the site. Again, not the best business people. The work wasn't anything I was excited about, but it was easy enough. The biggest upside, however, was that I was now 3000 miles away from the people in the office who I really couldn't stand. Yes, I occasionally had to check in with them via phone or email, but mostly I was able to work independently. I would start my days logging in remotely at 9am and finish promptly at 2pm. Even working these part time hours, however, I was making more money than I would have gotten from full-time hours at one of the Disneyland jobs we had been looking into. For now, it really was the perfect situation. Not the perfect job, by any means, but just what I needed right now. Above all, it meant that we were safe from the imminent prospect of going broke (for up to a few more months if it came down to it) even though Tracy hadn't found anything yet.
It was during my first week of working from home that Tracy's birthday arrived! I had been given any sort of flexibility I wanted as long as I completed 25 hours per week, so I decided to space it out this week such that I could take her birthday entirely off.
Tracy started off the morning with presents (of course!). Since we still had the tree up, we put them under there. It was like a second Christmas. The first card Tracy opened was from her parents, and they included her new insurance card with it. Tracy was SO thrilled about that first present.
Now, onto the presents I gave her. First off was this Dumbo mug that she had been eyeing at the Disney Story at the mall. We have SO many mugs—way more than we ever use—but I couldn't pass up Dumbo.
Next was this Monorail bracelet I ordered from the Etsy seller Migoto Chou. She makes all kinds of great beaded Disney jewelry (Tracy got the Orange Bird necklace from her a few months earlier), and she's had her eye on the Monorail bracelet for many months. I think I surprised her with this one pretty well because she had no idea I had figured out how to use Etsy…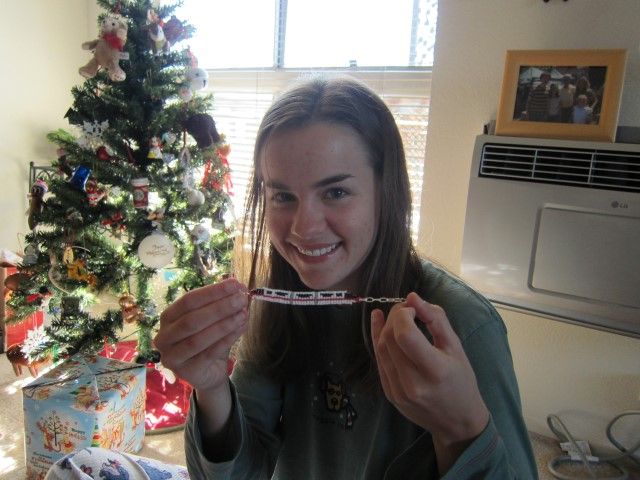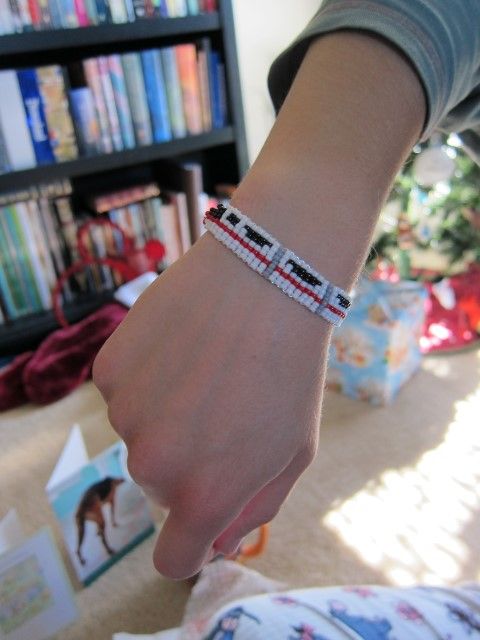 Tracy's last present from me was a Jim Shore birdhouse to hang from our balcony. This one features Tinkerbell! Alas, we still haven't had any birds make this house into a home…
After lunch, we headed back over to the Orange County Zoo to continue celebrating. Unfortunately, we weren't doing a very good job keeping track of time, and by the time we got there, the zoo was only open for another half-hour or so. Luckily, you really don't need too much time to see all the animals at this zoo.
There was only one bear out today, and he was sleeping adorably.
Speaking of adorable, our raccoon friend was heading out for a drink of water.
There's a nice duck pond right next to the zoo where you can rent pedal-boats during the summer. We'll need to go back sometime soon, but for now, we just enjoyed watching the ducks.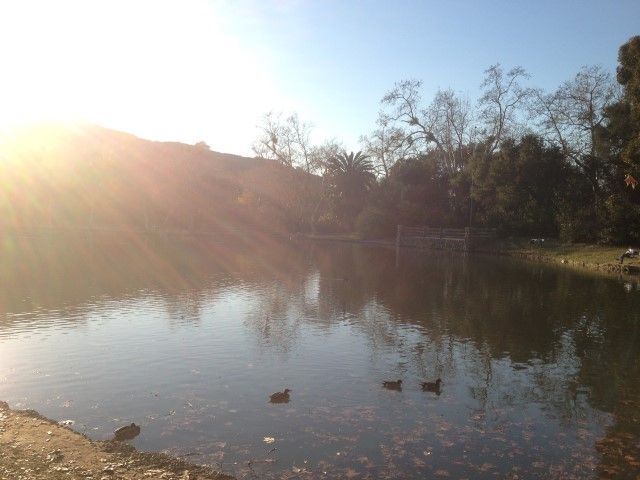 Soon after we finished at the zoo, it was time to head to Downtown Disney for our dinner reservation. We ended up trying to cram a little bit too much into this day, so Tracy was feeling more stressed than excited as she drove from the zoo into Anaheim—not the birthday glee we were going for!
When we arrived at Downtown Disney, however, it was actually too early for our reservation. Unfortunately it was also pretty chilly, and we didn't feel like walking around outside. In the end, we just decided to check in a little early, which we had no problem doing.
A few weeks before Tracy's birthday, we had seen a thread on the Touring Plans Lines chat about how some of the restaurants in Downtown Disney offered free food if you joined their birthday club. The three sit-down restaurants that participate are the ones that are part of the Patina restaurant group: Tortilla Jo's, Catal, and Naples. When we signed up, Tracy quickly got the birthday email entitling her to $30-off at any of those three restaurants. Since we usually split our entrees anyway, that amount was probably going to cover our entire meal at any of the restaurants, so we looked into which one we were most anxious to try. Catal undoubtedly had the best reviews from what we could find, but it had some more eclectic entrees that we weren't sure we would like. Tortilla Jo's seemed like pretty standard Mexican fare. Then we heard that Naples was run by the same people as Via Napoli, and our decision was made for us. Since we had LOVED Via Napoli in Epcot, we were hoping to recreate the experience here at Downtown Disney. We called and made our reservation a couple weeks in advance. Then we started reading reviews. Unfortunately, it seemed that the general consensus was that this pizza was just okay. People who had been to (and loved) Via Napoli were warning us that we wouldn't find the same magic here. We were worried, but since we love pizza and are very rarely "pizza snobs," we figured it would almost definitely be acceptable even if it wasn't the greatest thing we'd ever eaten.
Our reservations weren't even necessary when we decided to check in. We were quickly shown to a table on the first level of the restaurant.
We started looking at the menu, but since we had already checked it out online before coming, we were pretty sure we knew what we wanted.
While we were waiting to order, our server brought us out some bread.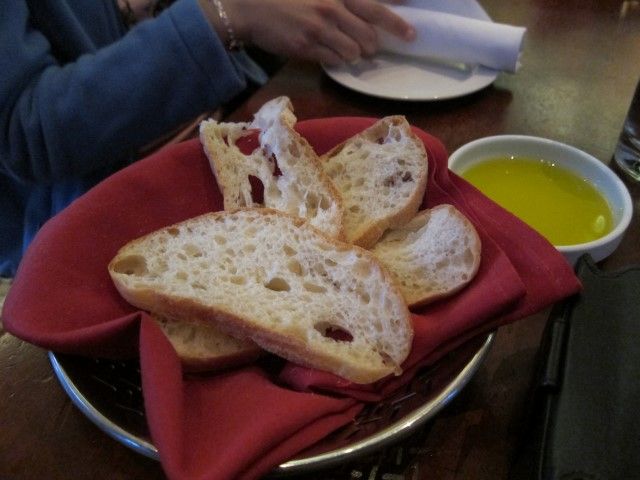 Unfortunately, the bread was cold and not too fresh. Strike one, Naples.
We ordered the Barese pizza (which was topped with sausage, mozzarella, and tomato sauce). It arrived quickly and looked quite delicious.
After eating a few slices, I guess I understood the reviews we had read. It was definitely good. It was in no way offensive, as pizza goes. But it also wasn't extraordinary. If anything, it was actually a little bland. As is sometimes the case with fresh mozzarella, the cheese didn't have that much flavor to it, so the pizza was a little lacking as well.
While we were eating, the real highlight of the night was actually watching the balloon artist that was going around to all of the tables with kids and making the most elaborate and awesome balloon animals I'd ever seen. They were all Disney characters, and they were EXTREMELY well done. First, we saw him make a Snow White, then an Ariel, and later, a Pluto. I tried to get some pictures across the room of him doing Pluto, but I wasn't at all able to capture the full effect.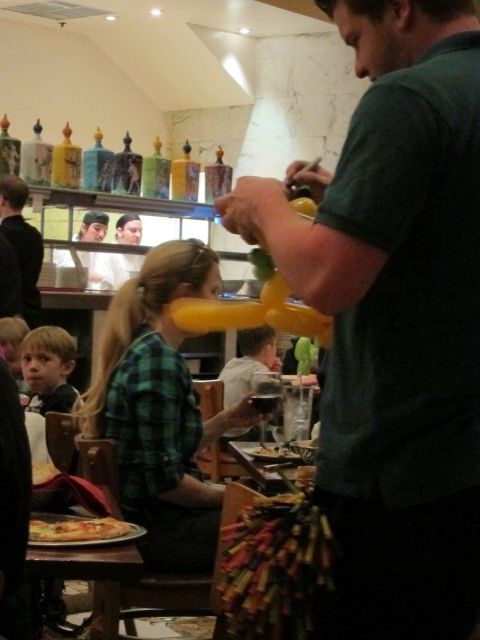 We kept wishing he would come over to our table, but he was pretty focused on the kids. Stupid children, ruining everything in Disneyland. Just kidding… sort of.
When we were pretty sure there was no chance the balloon man was going to come make Tracy a birthday treat, we decided it was time to go. We "paid" the check (which was zero dollars after the discount, though we did have to still pay the tip). As we walked out, we stopped to admire the pizza oven in the process of cooking up some pies. They all looked quite delicious.
Overview of Naples Dining Experience
Service: Our server was definitely fine, though I wish he would have noticed that we could have used some fresher bread. Nothing to really complain about, but nothing memorable. 3/5
Atmosphere: I liked the atmosphere at Naples. The layout of the restaurant is cool, and I like that you can walk by the pizza ovens. We also really enjoyed watching the balloon artist, even if we didn't get one. 4.5/5
Food: The food was pretty consistent with the reviews we had read. Not fantastic, but not bad either. I wish they could make it more like Via Napoli somehow. 3.5/5
First Visit?: Yes
Will Return?: Maybe. Not any time soon, but I wouldn't rule it out. We thought the thing that looked the most delicious at other tables was the Panzerotti appetizer (fried pizza dough filled with fresh mozzarella, artisan ricotta and Parmesan cheese, marinara sauce), so we'd be tempted to go again to try that. On the whole, since it was practically free, it was obviously worth the money.
After we were done at Naples, we went to sit by the fire at the Grand Californian for a few minutes before heading home. It was fun, but we were sad that the pianist was now playing a mixture of Disney songs and regular piano tunes. We prefer all Disney, all the time.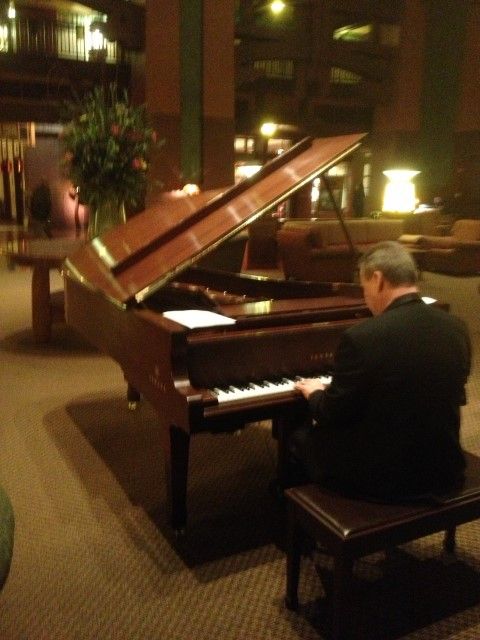 We headed home rather than spending too much more time in Downtown Disney because I needed to get to work on Tracy's birthday "cake." Instead of an actual cake, she wanted me to try making a homemade version of the 'Ohana bread pudding that she had loved so much on our WDW trip last May.
We had saved a recipe posted in the Touring Plans Lines chat by the user Banish, and Tracy had been craving it for months. Now was the time to see how accurate the recipe was and how well I would do at making it.
Here is the recipe we followed. It was originally posted on Banish's blog, but it doesn't look like it's there anymore:
'Ohana Bread Pudding and Vanilla Sauce
Ingredients:
– 5 eggs
– 3 cups whole milk
– 1/2 tsp salt
– 1/2 tsp nutmeg (we used Pumpkin Pie Spice instead)
– 1-1/2 cup sugar
– 8 cups French or 'Ohana breakfast bread (We used a French bread loaf from Fresh 'n Easy. It worked really well)
Directions:
1. In a large bowl (big enough for mixture and bread) mix eggs, milk, salt, sugar and nutmeg. Set aside.
2. Cut bread in medium pieces (about 1.5″ cubes), place on cookie sheet pan. Put in 350 degree oven.
3. Bake bread until lightly toasted, about 15 minutes. Remove bread and place in egg and milk mixture. Mix the bread into the mixture with a large spoon to let the bread soak up as much as it can, just do it gently so as to not break up the bread too much.
4. Place mixture in a lightly greased 10-inch cake pan and bake at 325 degrees for 1 hour. Test with a toothpick till it comes out almost completely clean. You want the custard to be set but not dried out. I set my oven for 50 minutes and checked every 5 minutes after that. Mine took 65 minutes to finish.
5. Let stand 5 minutes, serve hot with ice cream or the Vanilla Sauce recipe.
Here are pictures of our pan before and after baking.
Vanilla Sauce
Ingredients:
– 1/2 cup light brown sugar
– 1 tablespoon all-purpose flour
– 1 pinch ground cinnamon (again, we used Pumpkin Pie Spice)
– 1 egg
– 2 tablespoons butter, melted
– 1-1/4 cups whole milk
– 1 pinch salt
– 1 tablespoon vanilla extract
Directions:
For vanilla sauce, whisk light brown sugar, flour, cinnamon, egg, melted butter, whole milk, and salt together in a heavy saucepan until smooth. It will most likely start out with little lumps in it but whisk fairly vigorously for a minute or so and they will disappear. Heat over medium heat, whisking constantly, until thickened and the sauce coats the back of a spoon, 10 to 12 minutes. Stir in the vanilla extract. Pour sauce over warm bread pudding, or serve on the side in a bowl.
(Note: Ours never really got totally smooth. It ended up pretty thick, so I'm not 100% sure if it turned out how it was intended)
Here it is with the sauce.
At this point, since it was done and looked pretty good (if I do say so myself), I thought it would be time to put the candles in, light them up, and sing Happy Birthday. Unfortunately, what I didn't consider is that when you put candles in a cake, that cake has usually been cooling for hours. I learned the hard way, therefore, that when you put candles into a hot pan of bread pudding, those candles will melt pretty much instantly. After cursing and fishing out all the candles (except the waxy areas they left behind, which we would learn to try to avoid when eating our bread pudding on this first night and for several nights of leftovers), I put some candles in an unused hunk of bread and was able to sing to Tracy.
She made her wish and blew them out.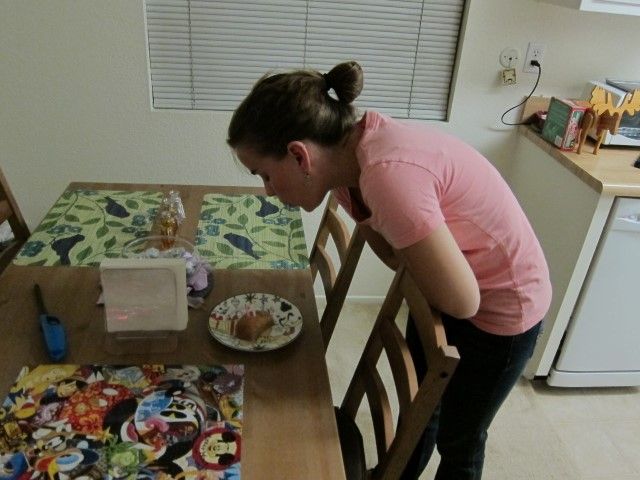 When we served up the dessert, it was actually very good! The vanilla sauce was a little weird (as expected). Obviously, the dessert at 'Ohana comes with a Bananas Foster sauce. I've made Bananas Foster in the past, but since those days, bananas stopped agreeing with my stomach, so Tracy had to sacrifice her beloved sauce. On the whole, I thought this first bread pudding was a pretty successful venture. Not perfect, but definitely tasty. Similarly, Tracy's birthday was pretty good. Not perfect, but not too shabby either.



Share