Chapter 36
Christmas is Over?
---
(Originally posted June 12, 2013)
The Christmas season was officially over, but you never would have guessed that to be the case if you stopped by our house in the first week of 2013. We always keep our decorations up until around Tracy's birthday in the middle of the month, so not too much changed despite January's arrival. I realized I never posted any good pictures of how we decorated the balcony, so here they are (if a little late).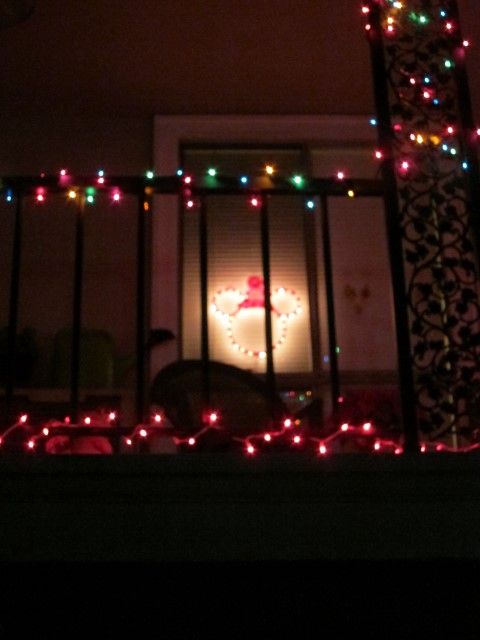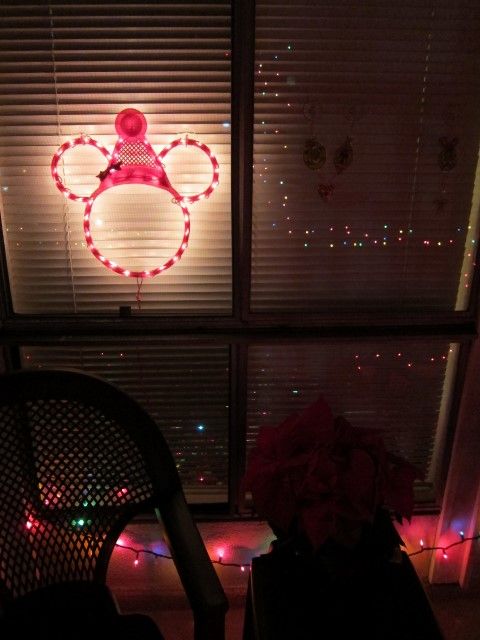 Disney, it seemed, agreed with our desire to stretch the holidays out as long as possible. When we arrived for our first visit to Downtown Disney since the new year began, our favorite trees outside the Grand Californian were still aglow.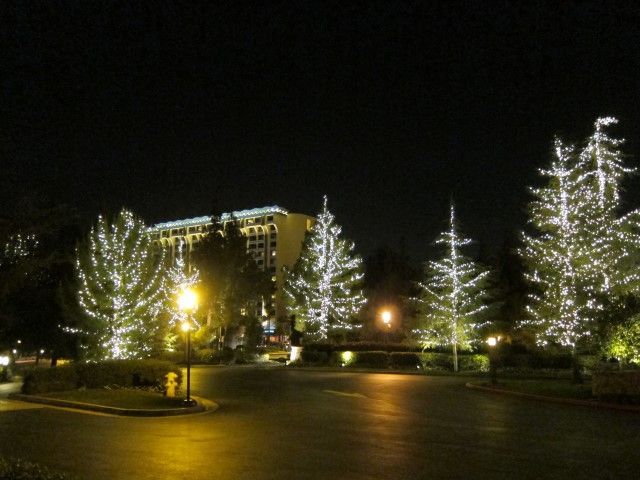 Alas, the same could not be said for our favorite Christmas tree. It disappeared from the lobby almost immediately after New Year's.
Luckily, however, the Grand Californian lobby is plenty phenomenal even without the holiday decorations. It was the perfect place for us to enjoy another great Disney snack. On our first visit to Marceline's Confectionery in 2013, we were craving another Red Velvet Cake Pop.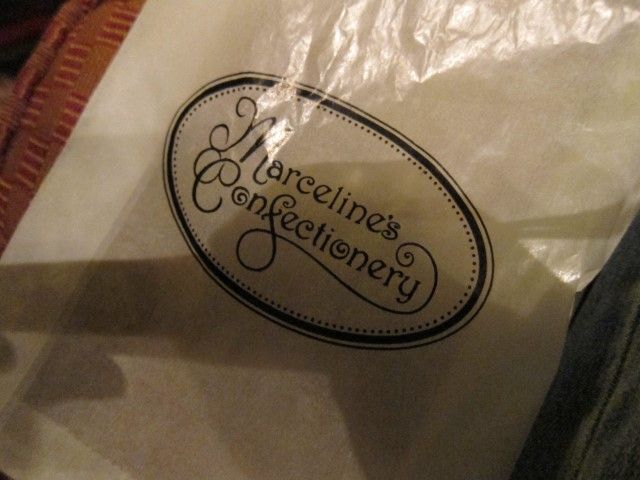 Unfortunately, they were out of Red Velvet, so we had to settle for a Chocolate Cake Pop instead.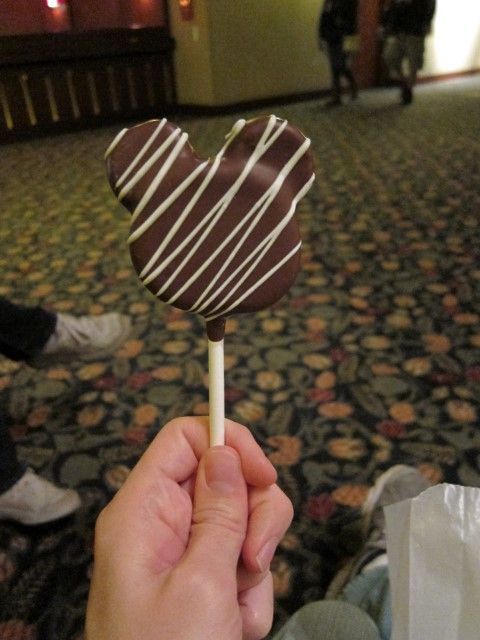 When it comes to Disney snacks, at least, "settling" is never really a bad thing. It was still delicious!
Since Tracy's birthday was now only about a week away, she continued to proudly sport her birthday button on our visits to Downtown Disney. We popped into World of Disney to do a little pin trading, and one of the cast members there let Tracy choose an extra pin off her lanyard as a birthday treat. Here she is with her prize.
The actual point of this trip back to Disney just a couple days after our New Year's Eve exploits was to see the Believe fireworks (with music) before they went away for the year. We headed back up to our new favorite non-park viewing area, Paradise Pier.
We grabbed some seats along the edge of the poolside balcony and waited for the show to start. Even though these fireworks were nothing more special than the ones that were happening daily, they still drew a fairly large crowd to this viewing area. I would guess that 50% of the people watching were vacationers/hotel guests and the other 50% were locals.
The show started, and this time the music started with it! We got to enjoy the whole show from a pretty decent perspective.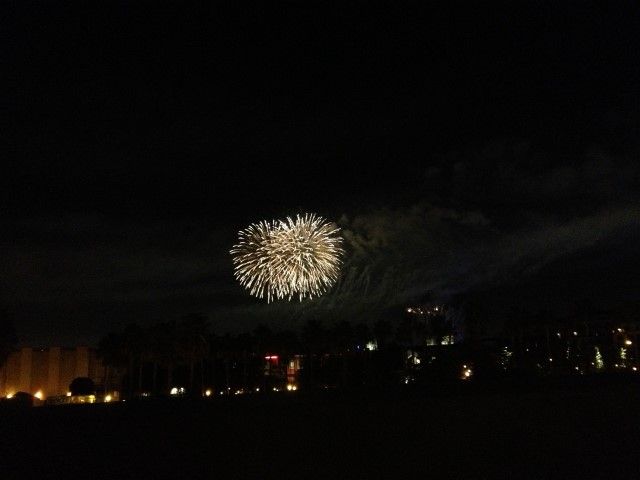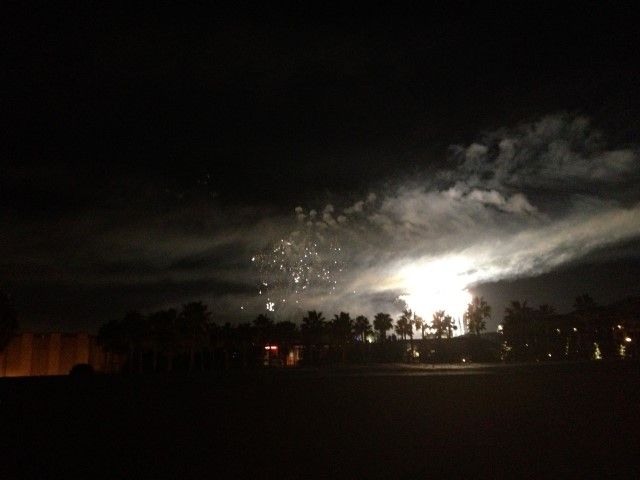 On the whole it was… all right. A little underwhelming, especially in comparison to the show we had seen a few days earlier. I want my Disney fireworks shows to pack an emotional punch, and this one achieved that to a certain extent, but nowhere near as well as Remember or Wishes. The Christmas music was a fun touch (we always love some good Christmas music), but it definitely didn't make for the most majestic accompaniment for fireworks.
On the whole, we were glad we had gotten to see the show, but I'm sure we still didn't get anywhere near the full effect. When you're on Main Street and there is snow falling, I'm sure it is much more exciting. This coming Christmas we'll get to see the show as it's meant to be seen, and I'm excited for that.
While we were wandering around the Grand Californian before we went to watch the fireworks, we had decided to go in the opposite direction from our usual path. This had taken us over by all the restaurants. Even though White Water Snacks was closed for the evening, we saw that they had Mickey Pretzels on their menu. We had been going this whole time thinking that was the kind of snack we couldn't find outside the parks, so we decided heading back there soon would be at the top of our list. A few days later, we made good on our goal.
We arrived at the Grand Californian and walked straight back to White Water Snacks. I say "straight back," but in reality, we definitely wandered around lost for a while. Despite now knowing that hotel pretty well, we can never seem to find the restaurants on the first try. Walking in, I liked some of these details.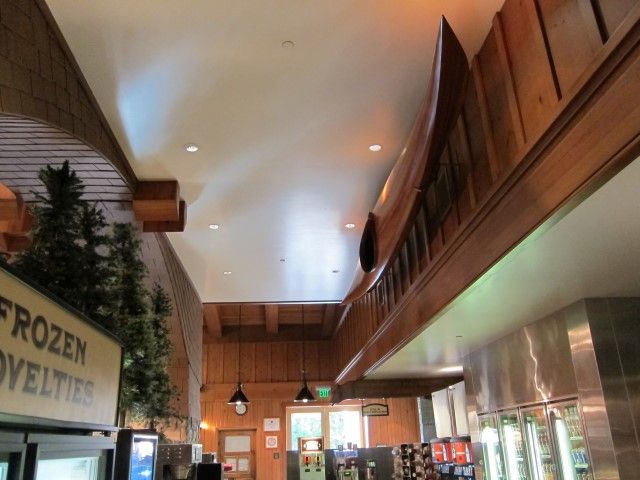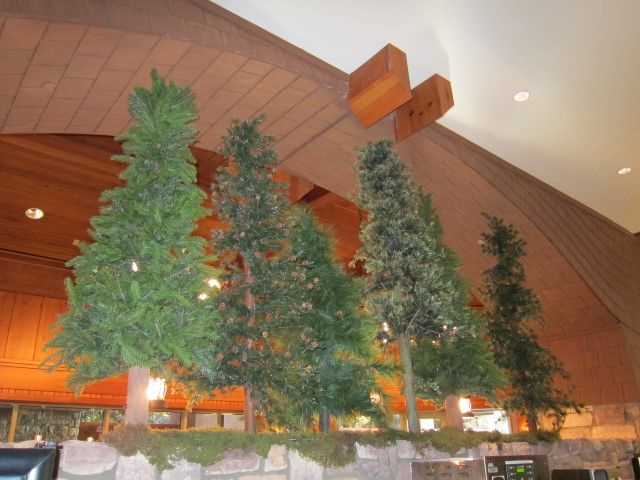 We walked to the back of the restaurant and found what we were looking for—the pretzel spinner! Unfortunately, all the pretzels in there looked like they were hours old. I may have poked one to confirm my suspicions. Tracy reprimanded me later, saying that I probably could have found a more hygienic way to figure out that the pretzels were stale. The point, however, is that these were not the Mickey pretzels we were looking for. We wanted a fresh one. So I went up to the cast member at the register and asked if they could make a fresh batch. Since we were literally the only ones in the whole place, she quickly obliged and asked the kitchen staff to start working on some new pretzels.
We waited for a few minutes while our pretzel got heated up. Here's the (now empty) spinner after the cast member threw away the old pretzels.
Finally, out our treat came. It was piping hot, and we had to wait for it to cool for several minutes before digging in. Of course, we got the requisite side of nacho cheese to dip it in.
To say this was a glorious snack would be a gross understatement. At the time, we were swearing it was the best possible thing we could imagine eating. Disney food does that to you, and we had been deprived of this kind of snack for far too long. We gobbled down our pretzel and then didn't stay too much longer at Downtown Disney.
At home, we were doing a few fun things during these first weeks of 2013. We had bought a set of Disney puzzles from Target. We started with this princess one.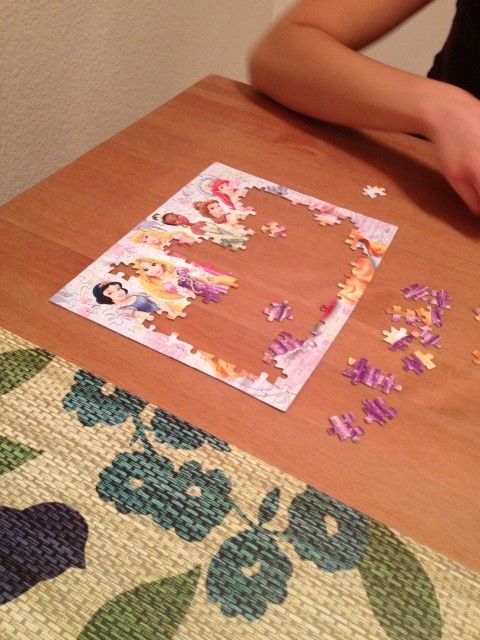 It was pretty easy and only took us around a half-hour. There are other puzzles in the same box, however, that are up to 500 pieces, and we haven't attempted those yet.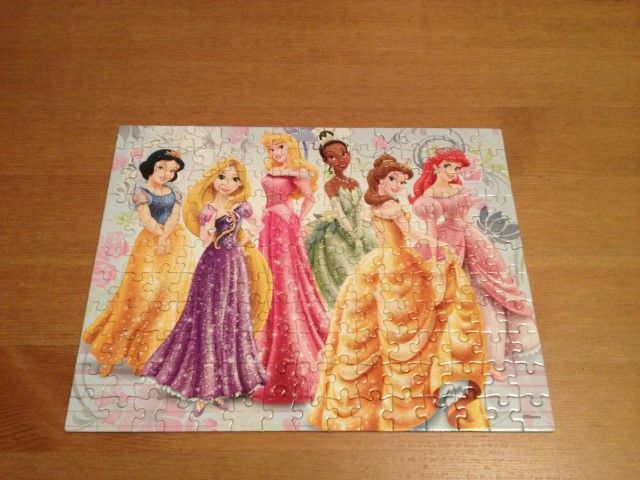 We also loved all the new Valentine's Day merchandise that was showing up at Target. We got two of these awesome dachshund tumblers because they reminded us of Stupey Doodle.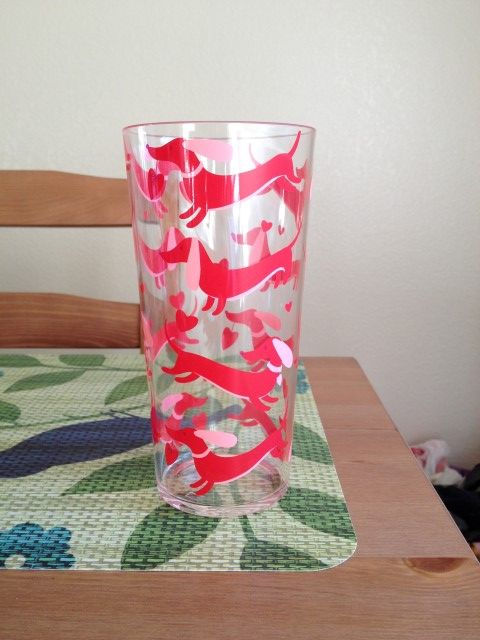 We also discovered this cool thrift store near us that is run by two of the people on the show Storage Wars. We had never seen the show, and then we happened to catch an episode about a week before we accidentally found this place.
On our first visit, the display that caught our eyes most quickly was several Disney pins priced very reasonably (about $3 each). This was obviously a collection that someone had prided themselves on at some point. We jumped at these really cool Autopia driver's license pins as well as this cool Minnie nametag cast member pin. We later looked them up on eBay to see if we had made some good finds and they were selling for over $50 each. Not that we were looking to sell. We just thought they were really cool, and they cost us less than $10 total.
These were actually the last few days of maintaining the routine to which we had become accustomed. The times, they were a-changin' starting the very next week.



Share