Chapter 35
…and a Happy New Year
---
(Originally posted June 6, 2013)
Between Christmas and New Year's, we actually accomplished quite a bit. We got a plant for Tracy's pot.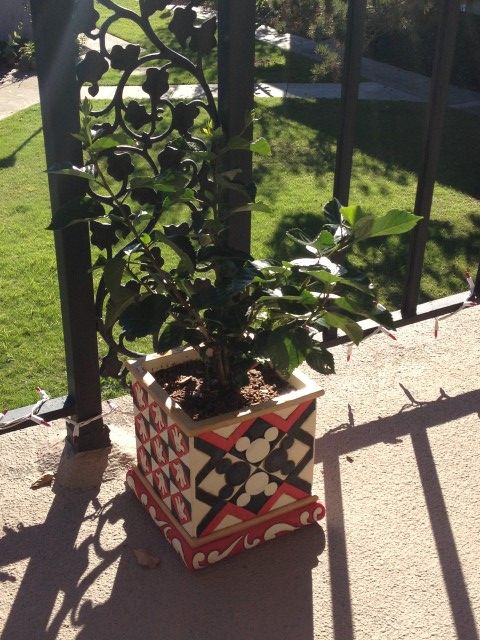 And we bought a grill! My mom gave us money to get one for Christmas, so we spent our Boxing Day buying and assembling the grill so we could cook something ASAP.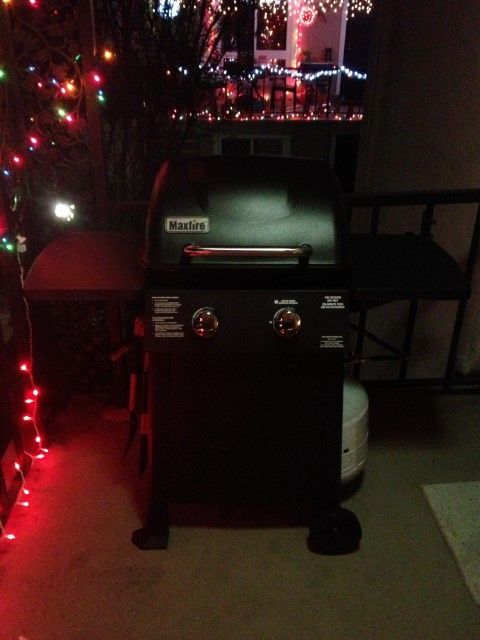 As we prepared for New Year's Eve, we tried to formulate a plan that would involve minimal expense and maximal fun. We knew we wanted to head to Downtown Disney and try to catch some fireworks, but we didn't think we wanted to try to brave the midnight crowds. Our plan, therefore, was to head over in the early evening and watch the normal Believe fireworks from somewhere in Downtown Disney, and then head home in time for the actual New Year's countdown to watch New Year's Rockin' Eve and drink our champagne at midnight. Tracy painted her nails to look all festive for the occasion.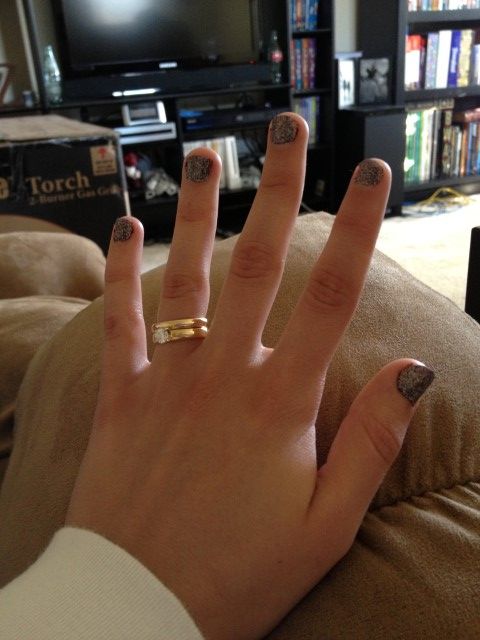 As we headed out the door, we were still deliberating about what kind of jackets and any other accessories we wanted to wear to Downtown Disney. It was getting really COLD in the evenings—colder than we realized it ever really got in SoCal—so after much scoffing on my part, we got our heavy winter jackets out of the garage. I can say now that I would go on to eat my words after saying we were going overboard. We also brought hats, scarves, and gloves "just in case."
When we arrived at the Downtown Disney parking lot, we saw a very unwelcome sight. Instead of offering the usual three free hours of parking, Disney was treating the evening as a "special event," and everyone was being charged $20 to park regardless of how long you intended to stay. We were a little mad that the first portion of our plan was being ruined, but we coughed up the money and just decided we'd rather pay and be able to enjoy the festivities than turn around and go home. The cast members at the entrance to the lot were telling people that if they ate at one of the sit-down restaurants in Downtown Disney, they could get their receipt validated and their parking refunded. We had already eaten at this point, though, so we weren't planning on hitting any of these restaurants.
We parked the car and walked through Downtown Disney trying to kill time until the fireworks. We went to sit in the Grand Californian lobby for a while and look at the tree, but Tracy started getting really bad stomach cramps while we were there.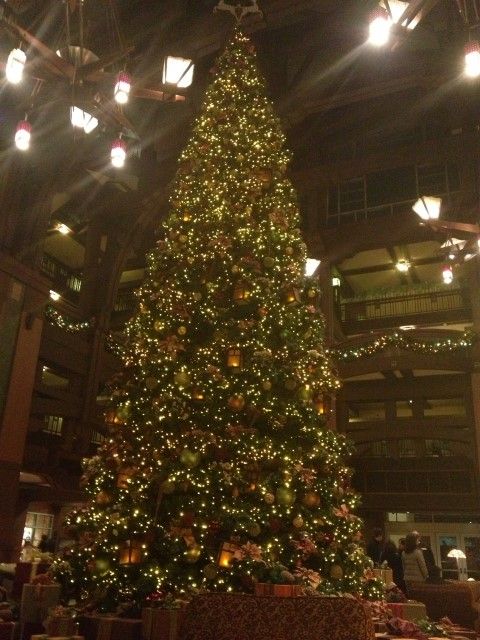 She was feeling pretty miserable leading almost right up until it was about to be fireworks time. The only thing I could try to do to cheer her up was to try to find us a pair of the plastic "Happy New Year" top hats that everyone around Downtown Disney seemed to be wearing. Apparently they had handed them out in the parks earlier in the day, so every cast member we asked seemed to be pretty clueless as to whether we could get them anywhere in Downtown Disney. After asking the fifth or sixth cast member and coming up empty, our chances were starting to look pretty slim…
Tracy started to feel a little bit better when it came to the time when we would need to go stake out a spot for the fireworks. We decided the Esplanade seemed like a pretty good place to watch from, so we went through bag check and found that there was an entire section of people who, like us, wanted to take in the show without forking over any money to Disney.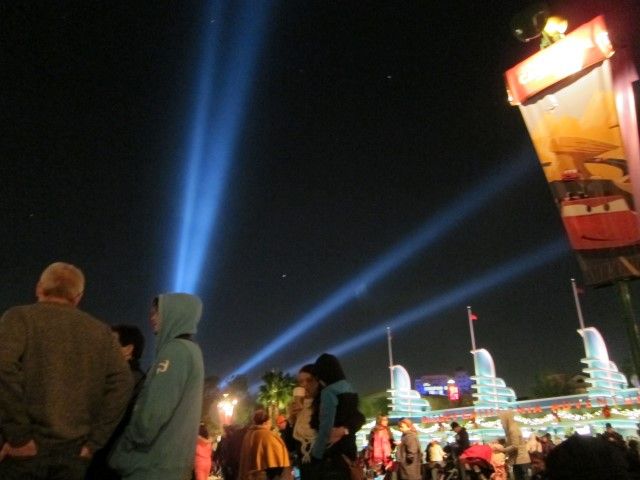 Everything was looking fun and festive as we huddled together and waited for the show to start.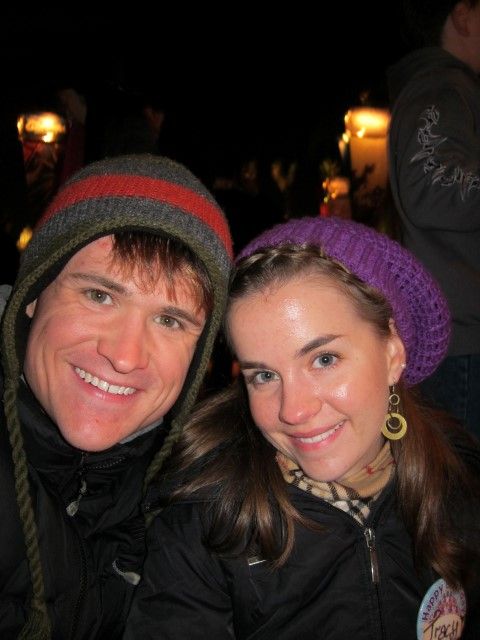 Duffy was pretty excited too.
While Tracy wasn't feeling well at the Grand Californian, I had gone up to a cast member at the front desk and asked if I could get a birthday button for her. Since it was about to tick over to January, and that's Tracy's birth month, I thought it would be an appropriate time for her to start wearing her button.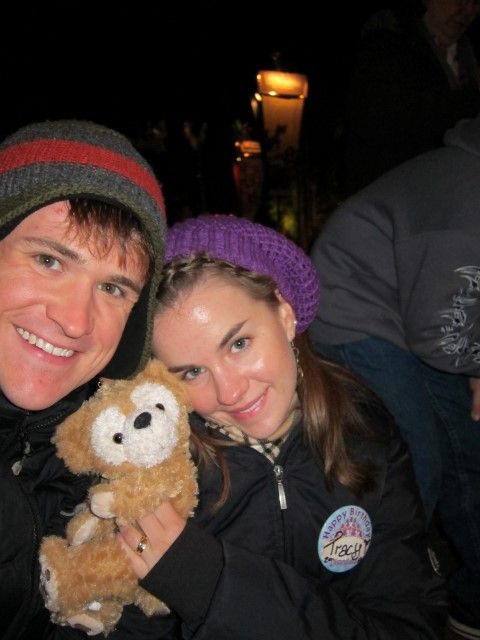 Suddenly, as the clock ticked to 8:30, the fireworks show began.
Unfortunately, the music was not pumped into the Esplanade (probably to deter people from doing just what we were doing), but it was still fun to see some fireworks.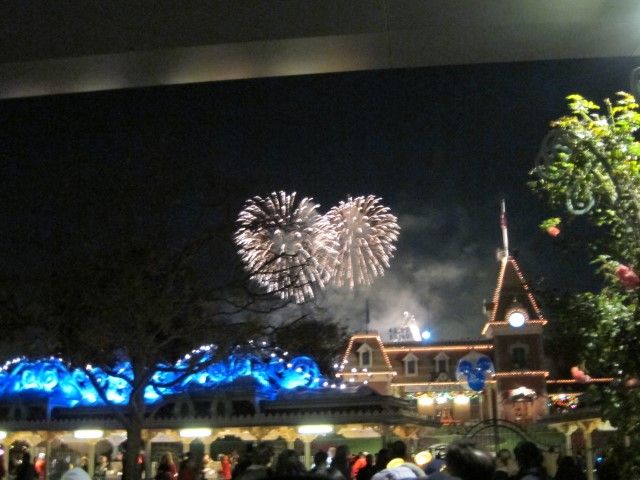 We moved forward a little and found slightly better spots to stand.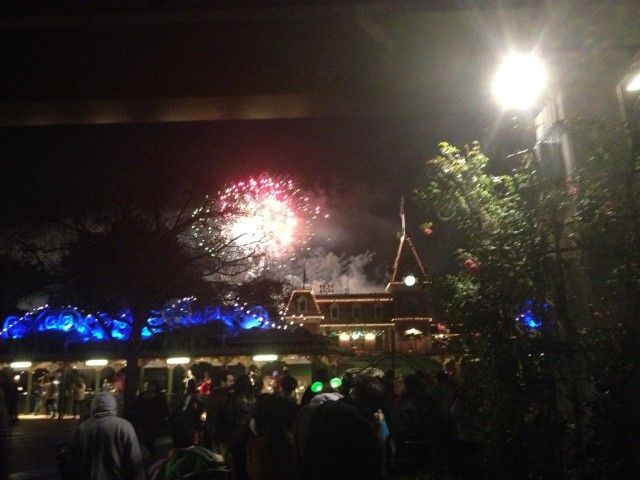 Nothing was going to come close to the magic of being in the parks, but we still had fun ringing in our own private "New Year" a few hours early. After the fireworks were done and the smoke had cleared, we walked up to the Disneyland gates and longingly took a couple pictures of the train station through the bars.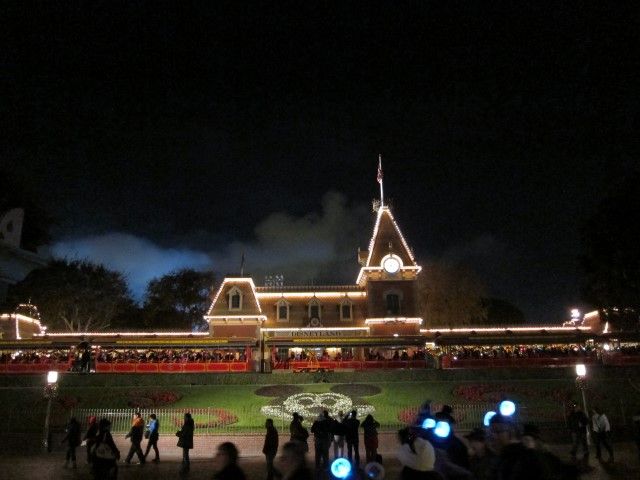 Now, we walked back out through the Esplanade and back into Downtown Disney. We weren't quite ready to call it a night yet after all.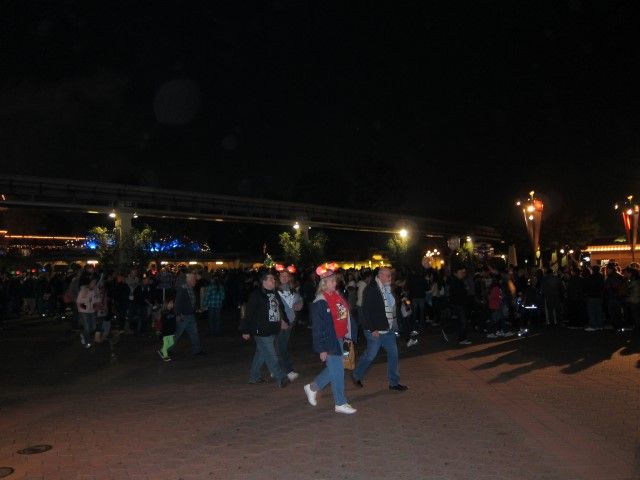 The ticket they had given us upon parking in the Downtown Disney lot made it very clear that we would have to go to a sit-down restaurant in order to get our parking validated and be refunded our $20. It did not, however, specify how much money we would have to spend at said sit-down restaurant. We decided, therefore, to see if we could walk up to any of the participating restaurants and simply get some dessert. We would likely spend less than $20, and we could then get a good portion of our parking money back.
The only restaurant that didn't have a ridiculous wait was the La Brea Bakery Café. We decided to put our names on the list and see if we could get a table fairly quickly. We were quoted about a 20 minute wait, and this turned out to be just about accurate. Once we were called, we asked for seats out on the heated patio.
We were immediately brought a basket of delicious, warm bread.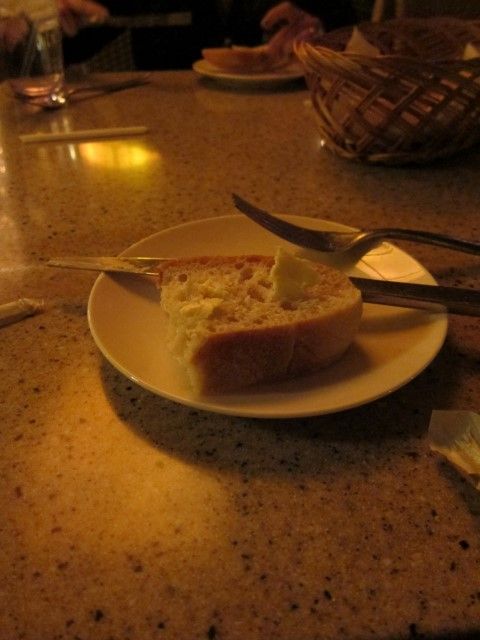 This was just what we were in the mood for after we had gotten a chill in our bones while waiting for the fireworks.
For dessert, we ordered the Rustic Cherry Tart with Gelato on top.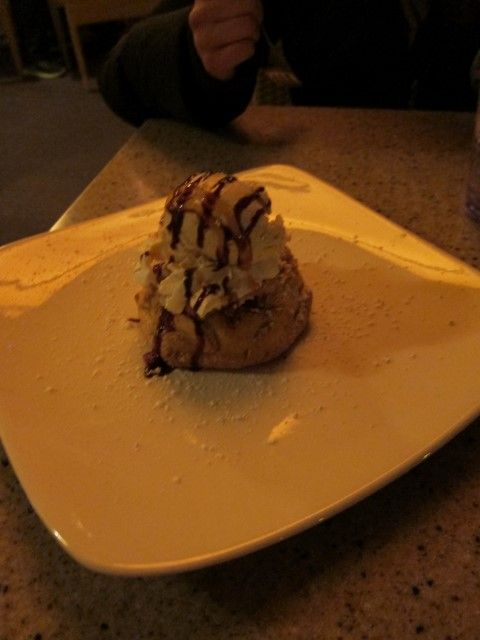 The dessert was so good! We devoured it quickly, paid our bill, and were all ready to head back out into the cold, crowded Downtown Disney. We immediately resumed our quest to find the "Happy New Year" hats. Even though there was really nothing too special about them, by this point it was much more about finding them than actually having them. We asked several more cast members who told us that the hats had been distributed at two places in the parks earlier in the day, but that we were unlikely to find them anywhere in Downtown Disney. We asked again at the Grand Californian, and the cast member told us basically the same thing. She also said, however, that there was a party going on at Paradise Pier Hotel and she thought there was a chance they might have them there.
We had nothing better to do at this point—it was either go over to Paradise Pier or head home—so we made the trek over to the hotel. We waited in line to ask the Guest Services cast member and made it up to the desk after a few minutes. We explained our search for the hats and how we had been unsuccessful finding them thus far. She said she thought there might be some somewhere in the lobby area and went off to look for them. Tracy and I started to get our hopes up that we might finally be successful! After being gone for several minutes, the cast member appeared again carrying our prize: two "Happy New Year" hats!
Donning our new prized possessions, we decided to stick around Paradise Pier for a little while longer. We rode the glass elevator to the top floor and were very excited to see that a showing of World of Color was just starting. We staked out some places by the window and watched the show. The angle wasn't great, but we could hear the music blaring from across the street, so it was actually a pretty decent place to watch from!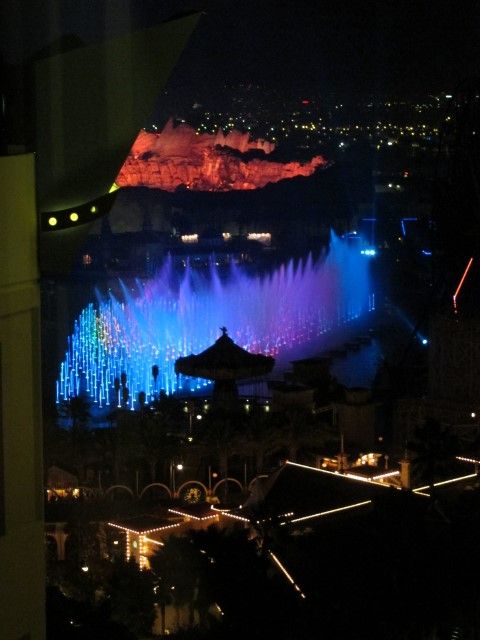 Mostly, it was just exciting to feel like we were getting access to one of the coveted Disney nighttime spectaculars in our typical renegade fashion.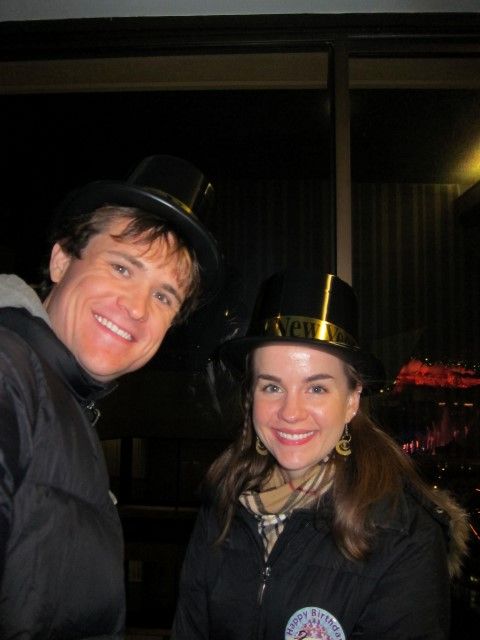 After World of Color finished (notice we had now officially watched the fireworks as well as this show without paying a dime of park admission), we headed down to the third floor of the hotel. I had read earlier on a DISBoards post about how one of the best places to watch fireworks from outside Disneyland was the third floor of this hotel. Apparently, if you went out to the pool area, they would pipe in the music from the fireworks show and you could watch from one of the many sets of comfortable chairs. We had said that if we had any interest in staying for the midnight fireworks, this would probably have been the best place to watch them. In fact, as we stood out there, several people began to come down from their rooms and stake out spots for the fireworks (by now, it was about 10:45pm). We felt a twinge of jealousy at those people who would ring in the New Year watching the fireworks show, but it was SO cold, and we were getting tired after our long night. We also just couldn't imagine fighting the traffic to get out of the whole Disneyland area after those fireworks concluded.
We headed out, therefore. Taking our receipt from dessert over to the booth specifically set up to give parking refunds, we handed it over to be validated. The cast member scrutinized our receipt for a few seconds (obviously not liking the fact that we had spent less than $10).
"You didn't go to the sit-down restaurant, did you? You just went to the counter service," she inquired/accused.
"No," we insisted, "we went to the sit-down restaurant."
She made some sort of non-committal grunt and handed over our $20 bill. Success!
Now we walked back to our car. We had just sat down and begun taking off our layers when we looked at the clock on the dashboard. It was already about 11:15pm. We were so close to making it to midnight. "Do you want to just stay for the fireworks?" Tracy asked.
I replied, "Kind of… It just seems like a waste not to at this point. And even if we do get stuck in traffic afterward, I'm sure it won't be THAT bad."
So we got back out of the car and re-wrapped ourselves in our scarves, hats, and gloves. We also grabbed the blanket out of the trunk for good measure.
We power-walked back over to Paradise Pier, took the elevator up to the third floor, and went outside to see pretty much the same crowd that had been there a while earlier. We dragged two chairs over to the edge of the balcony where we would have the best view and started waiting.
Even though it was only about a half-hour until the show, it felt SO cold to just be sitting still that time seemed to take forever to pass. We took it in turns to get up and walk around for a few minutes each, but mostly, we just sat there shivering.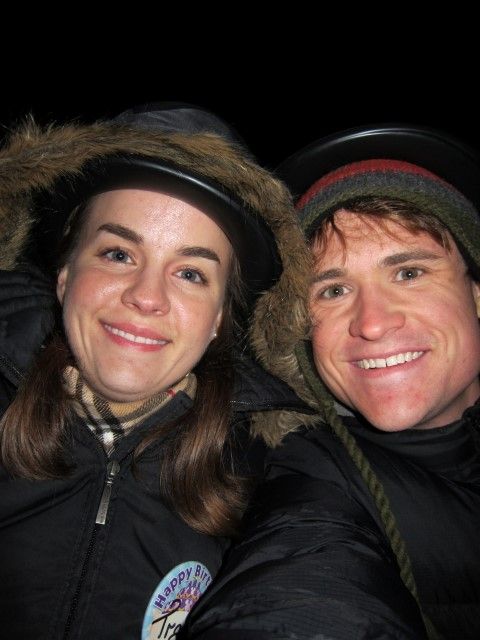 Even our iPhones were both basically dead, so we couldn't rely on them for much distraction. The parties in the parks were loudly raving, so we kept hearing the DJs yelling things in between breaks in the music.
As midnight approached, we tried to get together some sort of countdown, but before we were to "zero," the fireworks began. And what a show it was. I got a few pictures but they absolutely couldn't do the show justice.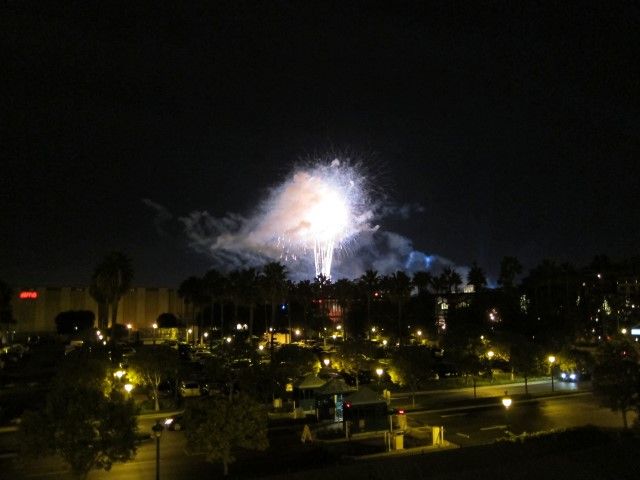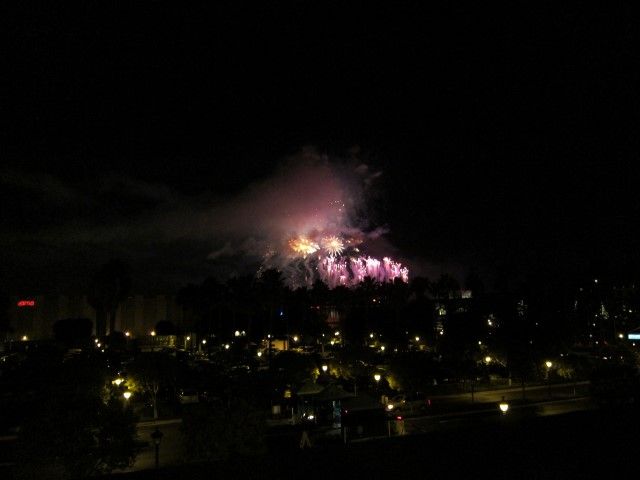 The Fantasy in the Sky show has to have SO many fireworks packed into such a short amount of time. I wouldn't be surprised if the number of actual fireworks is equal to the shows like Remember, which is 20 minutes long, but this show only lasted about 5 minutes. For the first minute or two, we watched the fireworks, but something must have been malfunctioning in the sound system because the music wasn't being pumped into our area as promised.
Then, all of a sudden, right before the grand finale, the music started blaring from behind us. The combination of Disney music and patriotic tunes while the finale erupted in a series of explosions that lit up the sky unlike any other fireworks show I can remember was such a great way to welcome in the New Year.
When the fireworks were done, we booked it out of Paradise Pier as quickly as possible. We wanted to beat the crowds and the traffic as much as we could. When we got back to Downtown Disney en route to our car, the mobs were definitely moving.
We made it to our car in record time, however, and by 12:20, we were on our way out from the Downtown Disney lot. Beating traffic, we made it home by about 12:30! On the whole, the night just felt so magical. Despite not being able to be IN the parks, we had really had a Disney New Year. 2013 was going to be OUR Disney year—we just knew it—and our whole experience was just such a great way to get it started.
Overview of December 2012
Random Photo of the Month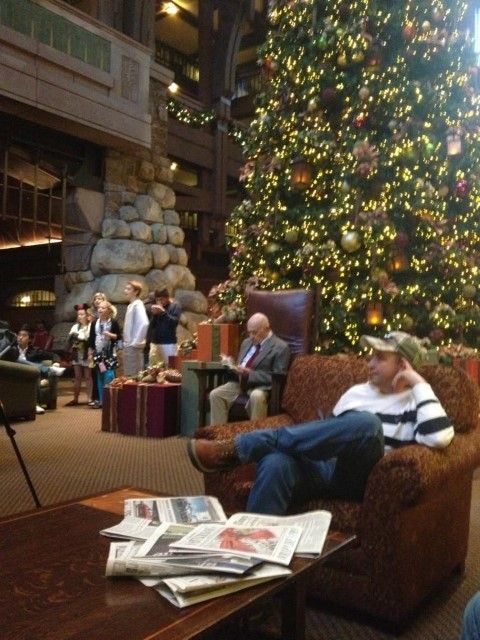 When we were at the Grand Californian while they were setting up for Santa, this guy was looking for a nice chair to settle down in and read his book. Even though there were all these cast members milling around setting up the camera and lights for Santa to come out, the guy settled into Santa's chair. We thought it was funny. When he realized he needed to make room for the big guy, at least he was jovial about vacating.
Christmas Classics We Watched Again This Year
Elf ("Buddy the Elf, what's your favorite color?")
Home Alone ("KEVIN!!")
Love Actually ("Eight is a lot of legs, David.")
A Charlie Brown Christmas ("I never thought it was such a bad little tree.")
The Santa Clause ("Elves with attitude.")
A Christmas Story ("He looks like a pink nightmare.")
Christmas Movies We Watched for the First Time
Arthur Christmas (This one was really enjoyable! It's definitely one I'll want to watch again)
Prep and Landing (This was cute, and I liked it for what it was)
Bad Santa (Not really our cup of tea, and probably won't be making another appearance next year)
Holiday in Handcuffs (Actually, we had already seen this one and watched it again this year. Sometimes those ABC Family movies are just what you're in the mood for!)
The 12 Dates of Christmas (Starring Amy Smart and Zach Morris from Saved by the Bell, this one was actually really fun. ABC Family strikes again!)
Santa Paws 2: The Santa Pups (We have probably watched every Buddies/Santa Paws movie there is even though they are genuinely awful. We like to look at the cute puppies, but this one was ALMOST unwatchable.)
Christmas Movies We Usually Watch That Didn't Make the Cut This Year
The Holiday
The Muppet Christmas Carol
Home Alone II: Lost in New York
It's a Wonderful Life
Miracle on 34th Street
The Preacher's Wife
Disneyland Cat Sightings
1 (But boy, would this number start to increase soon)
Favorite Disney Snack
Gingerbread Man Cookies (This was more about the ambience of eating it surrounded by Christmas decorations, though the cookie was definitely very good!)
Favorite Disney Meal
Holiday Sandwich from Earl of Sandwich (This time the Holiday Sandwich won by default because it was the only Disney meal we ate this month. It was still really good though, and we enjoyed having it with our Broccoli Cheddar Soup.)
Favorite Guilty-Pleasure TV Show
Pretty Little Liars (This obsession was nothing new as Pretty Little Liars has been one of our favorite shows to watch for fun since it debuted several years ago. Since the second half of the third season was set to premiere in January, we went back and watched the whole show from the beginning on Netflix looking for clues we may have missed the first time around. It was a lot of fun revisiting those first episodes again.)



Share