Chapter 39
Odds and Ends
---
(Originally posted June 25, 2013)
Soon after Tracy's birthday, it was time for another trip to the beach. Somewhat stupidly, we decided that we wanted to go to Newport Beach on one of the first truly hot Sundays in our area. Of course, everyone else in the county had the same idea. We arrived, therefore, amidst a mass of traffic leading up to the main street in the town.
After driving around for ages, we finally found parking. We got out and began to walk toward the beach. First, we went for a walk down the pier.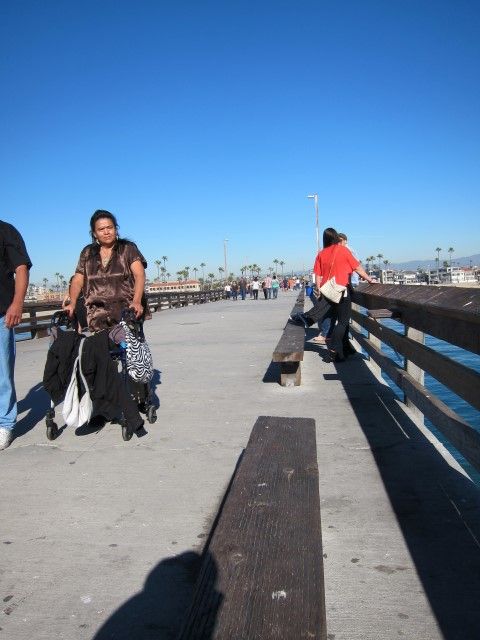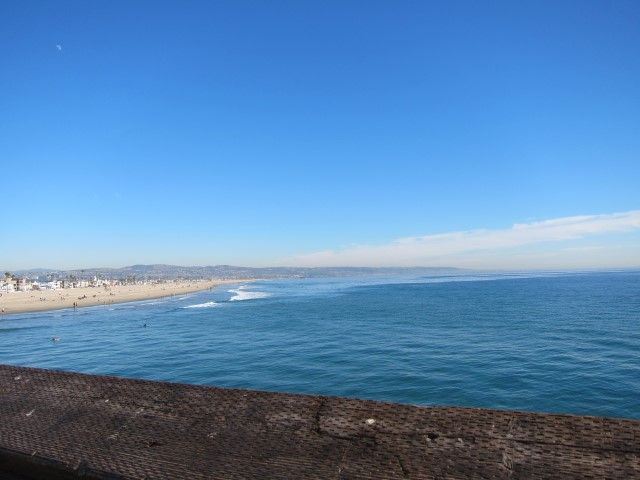 Way out in the distance, we could see dolphins swimming. That was very cool!
Unfortunately, none of them wanted to pose for my pictures.
We sat for a while before walking back toward the beach.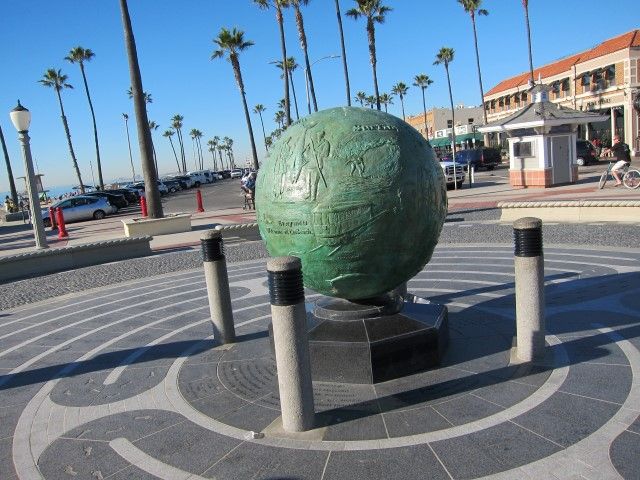 We had brought flip-flops in case we wanted to walk on the beach, but we weren't really in the mood to stay for that long, so we just walked along the sidewalk instead. It was just too busy for us this afternoon (though it became much less so when we started to walk away from the pier).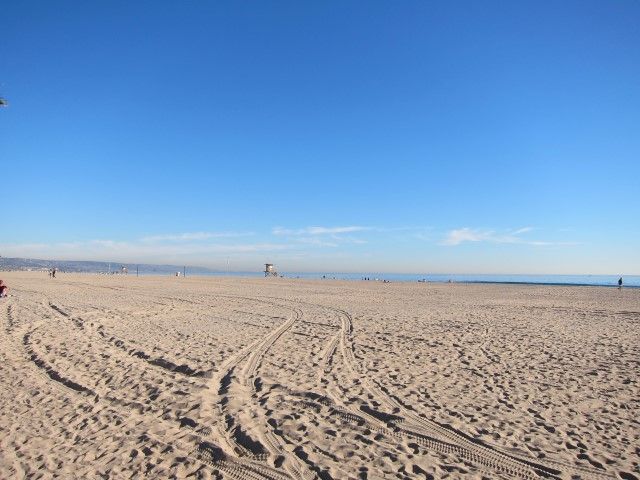 We admired all the beach houses and dreamed of being able to afford to stay in one.
Finally, after being there for about an hour, we decided to head out.
We quickly crossed Newport Beach off our list of good places to visit on a nice weekend day. It was certainly pleasant enough, but we had no desire to fight the crowds again when there were beaches we could go to without doing so.
Other than this expedition, the rest of January went by pretty quickly without too much excitement. We would get up each weekday morning in time for me to start working at 9:00am. I would then remotely log in to a computer in NY and do my duties for 5 hours. Luckily, most of these duties were pretty mindless, so Tracy could have the TV on in the background and I could be more tuned into that than I had to be tuned into actually working. We would break for lunch at around noon, and then I would finish for the day at 2:00pm. Then we could feel free to actually start doing whatever we had planned for the day.
Here are just a few of the things we did in those remaining hours for the rest of January.
We like to go for walks around the park by our condo, and on at least one occasion, we saw this hawk hanging out in a tree on the way.
We're also big fans of the TV show Parks and Recreation, and one day, we read online that they were filming an episode in Orange Circle (less than a mile from us). Unfortunately, we didn't see the article until after lunch, and by then they had already moved on, but we did walk up to the circle to see if anything remained as proof that they had been filming. At first, we didn't notice anything, but then I saw these banners hanging in the circle.
It's hard to read in the picture, but they were in celebration of the bicentennial of Partridge, MN. For those of you who are fans of the show, this was the episode where Ben and Leslie go back to the town where Ben had been the teenage mayor. All the outdoor scenes around Partridge were actually olde towne Orange!
We also went back to Craig Regional Park in Brea. Our favorite pelicans were still there, but they were hanging out on the shore of the little lake this time.
From far away, I could only see one pelican with something else that looked small and white from a distance sitting next to it. I kept telling Tracy that I thought it was just a bag of garbage, but she insisted it was the other pelican sitting weirdly. Of course, when we got closer, Tracy turned out to be right. She then informed me that the pelican was very offended that I referred to her as a bag of garbage.
We went back to Downtown Disney one more time in January, mostly just to hang around the Disneyland Hotel. First, however, we stopped into the Rainforest Café gift shop, and Tracy had a run-in with the always creepy Tracy Tree.
When we went into the Disneyland Hotel, we mostly just pin traded with the board they keep at the front desk before sitting in our favorite tea cup chairs.
Our final escapade in January was to try our hand at cooking another scrumptious treat from Walt Disney World. Not wanting to branch out too far from our first bread pudding, this time we made the Sunshine Seasons Croissant Berry Bread Pudding.
This choice was funny because we had never even had the real thing at WDW before. Tracy had just been reading one of the Frump trip reports and decided that it looked delicious. She did the legwork, therefore, to try to find a recipe. Unfortunately, she came up a little short at first. The recipe on AllEars.net looked a little too basic to be complete. It also called for heavy cream as the main ingredient, and while our bread pudding was never going to be HEALTHY, we didn't want to die either. In the end, we combined the recipe from AllEars with another one we found on The Food Network website. Here is what we ended up doing:
Sunshine Seasons Croissant Berry Bread Pudding
Ingredients
4 eggs
3-1/3 cups whole milk (we did 2/3 of the original recipe so it would fit in our pan, and this was the only measurement that became sort of weird)
1 cup sugar
1 tsp vanilla extract
1/2 tsp cinnamon
4 croissants ripped into pieces (we used the ones from Costco)
1 cup blueberries and strawberries (I know strawberries aren't part of the real recipe, but we thought they sounded good)
Directions
Preheat the oven to 350 degrees F.
In a medium bowl, whisk together eggs, milk, sugar, cinnamon and vanilla. Set the custard mixture aside. In an 8 inch square baking dish distribute some of the ripped croissants, then add the berries, then add more croissants. Pour the custard over the croissants and allow to soak for 10 minutes, pressing down gently.
Place the pan in a larger one filled with 1-inch of hot water. Cover the larger pan with aluminum foil, tenting the foil so it doesn't touch the pudding. Cut a few holes in the foil to allow steam to escape. Bake for 45 minutes. Uncover and bake for 40 to 45 more minutes or until the pudding puffs up and the custard is set. Remove from the oven and cool slightly. Serve warm or at room temperature.
It turned out really well and we enjoyed it immensely. I still have no idea if it was like the real pudding at Epcot, but we were happy with our effort.
Overview of January 2013
Random Photo of the Month
We saw this car and liked the Dachshund-shaped trailer hitch.
Disney Movie We Watched
Pocahontas (We have this huge collection of Disney Blu-rays, but we are often very bad about watching them after we buy them. We tried to remedy this in late January by starting to watch some of the movies that had just been sitting on the shelf for months. We watched Pocahontas for the first time in at least a decade and really enjoyed it. Obviously, we loved Meeko, but I also really liked the movie. I know I'm going out on a limb here, but I think Pocahontas and Hunchback of Notre Dame are among some of Alan Menken's best scores. Obviously I love the more "accepted" classics like The Little Mermaid, Beauty and the Beast, etc. as well, but I think Pocahontas is underappreciated.)
Disneyland Cat Sightings
2 (I think. I don't even know why I'm bothering to pretend I kept track. Eventually the Disneyland Cats just started appearing everywhere all the time.)
Favorite Disney Snack
Mickey Pretzel with Cheese (This snack was just heavenly. We loved the whole process of realizing we could get them at White Water Snacks.)
Favorite Disney Meal
Barese Pizza from Naples (This one wins by default because it was the only Disney meal we had in January. It was okay…)
Book I Read
Princess Academy by Shannon Hale (Yes, sometimes I read children's books. I bought this one as a Kindle Daily Deal one day after reading good reviews. Tracy read it first and really enjoyed it, so I did too. This book was actually really good! I thought it was a great story and very well-written. Tracy started reading the sequel, but she didn't like it enough to bother finishing, so I probably won't pick that one up.)
Favorite Guilty-Pleasure TV Show
Greek (Our obsession with the ABC Family show Greek was not a new development. Back in early 2011, it was recommended by a friend, and Tracy and I watched the entire SERIES in just about three weeks on Netflix Instant. We were both unemployed at that time, so there would literally be days on which we would watch 6 episodes and do little else with our day. The show is definitely one of the best things ABC Family has ever aired, and it's just a REALLY well-written feel-good comedy series. I think the show it compares best to is Gilmore Girls. They're both really quick and really witty. Anyway, I had re-watched the series during my first work-at-home stint last year, and now Tracy and I watched it yet again during this latest go at working from home. I would work at the computer and be listening to the episodes behind me while Tracy watched them on TV. It worked well since I had already seen the whole series twice—or maybe thrice…)



Share