Chapter 40
Branching Out
---
(Originally posted June 28, 2013)
February began with an interesting opportunity that came out of nowhere. We were doing some shopping/browsing at the mall near our condo, and I noticed a Barnes and Noble across the street. In this day and age when bookstores are few and far between, I hadn't been into one in many a month, but we were interested to see if they had any calendars left on clearance since the first month of the new year was now over.
We walked in and noticed a sign promoting Disney Legend Rolly Crump, whose new book had just been released. It said there was to be a talk/book signing later that evening. Since we had never gotten to see a Disney Legend in person, we decided it would be fun to go. So that evening after dinner, we made our way back to Barnes and Noble.
Even though we arrived right at the time the signing was supposed to start, Rolly was already in the middle of talking alongside his ghostwriter Jeff Heimbuch. We made our way into the crowd and stood while he talked a little about Walt and some of his Disney history. He was also taking questions from the audience (of whom there were probably at least 30 people), but it was a pretty quiet crowd.
After just about ten minutes, the talk came to an end and the actual signing began. Unfortunately, we were in poor financial shape at that point in time, so we honestly couldn't afford to buy the physical book. We had already gotten it on Kindle for much less, and we couldn't justify double-dipping on this one even though we wanted to. We just watched from afar, therefore, while people went through the line and got their books signed.
Even though we didn't actually get a chance to meet him, it was at least very cool that we had seen our first Disney Legend speaking. We hoped to get the chance to see many more now that we lived right near Disneyland.
The next morning, we embarked on a new adventure. We had plans to meet Steve in Santa Monica and explore some parts of L.A. starting with that area. The drive up wasn't too bad—I think we hit traffic only once—and soon we were pulling into the parking garage. We met up with Steve right outside the garage and started walking to our first destination, Cha Cha Chicken.
Tracy had been to this Caribbean restaurant once before on a family trip to the Santa Monica area, but it was my first time. We had looked through the menu online and knew that we wanted to try the Coconut Fried Chicken. It was really tasty, and we were very happy with our decision. The restaurant had a fun vibe to it, but apparently we missed out on sitting on their outdoor patio because it was closed for a private event.
Our appetites sated, we walked out onto the beach, which we were only a few steps away from.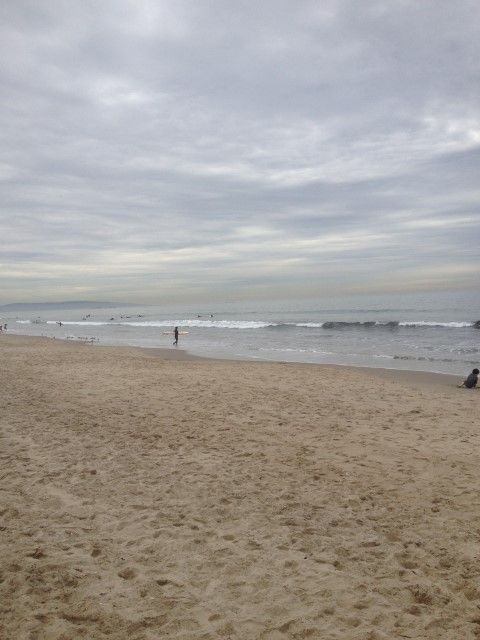 We started wandering in the general direction of the Santa Monica Pier. The whole area looked very similar to the last time we had been there on the first day of our 2011 California trip, but there was something different about it too. It wasn't just that it was overcast this time as compared to the sunny weather of our last visit either. I think it was just weird for me to actually UNDERSTAND where we were in the larger scheme of Southern California now that we lived here. On our first visit, I didn't know the lay of the land at all and just always felt a little lost.
We enjoyed meandering along the beach.
We had recently started watching The Bachelor (gross, I know), so we laughed when we saw this abandoned rose, and we joked that one of the girls had NOT been willing to accept it.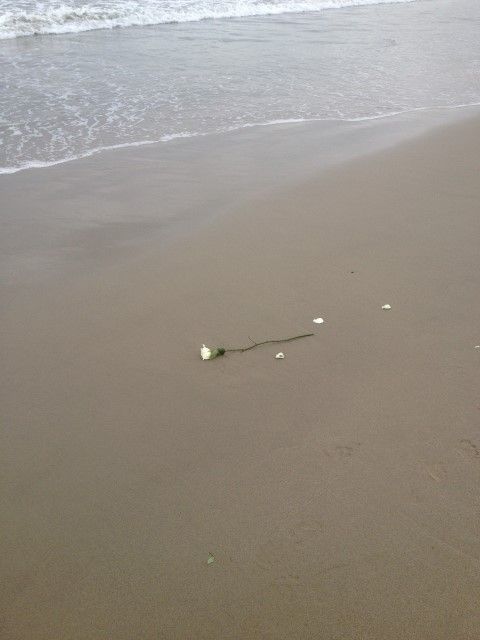 We figured that since we were all together, we should at least take one "family photo."
Eventually, we made our way to the pier and looked out to see more clouds hanging low over the hills in the distance.
After reaching the pier, we started to go back in the general direction of our cars. Walking back up to street level, we started toward the Third Street Promenade.
As we were turning a corner, we saw someone walking their bike through the crowds and heading in the opposite direction from where we were going. After he passed, I turned to Tracy and said "I think that was Ron Howard!"
"I thought so too!" she replied. Thus, we had our first celebrity sighting since moving to California. It certainly wasn't our first sighting ever, having lived in New York for those many years, but it was still exciting.
We were about to go our separate ways after we walked through the Promenade, but since neither we nor Steve had anywhere else to be this afternoon, we decided to extend our outing. Tracy and Steve had both been to the Getty Center before but I hadn't, and they told me it would be a fun place for us to check out. Always one for going on new adventures, I was all for it, so we started driving north toward Bel Air.
We arrived and parked at the Getty Center (there is a huge parking garage at the foot of the hill, and then you take a monorail up to the actual museum). I had no idea what to expect from this trip. Tracy and Steve had both been a little vague about what the Center actually was. When I arrived, however, it became clear that this was only because it's a really hard place to describe. A series of museum buildings set on a hill that overlooks all of Los Angeles, this was a very cool place to visit. Plus, there were all kinds of outdoor art exhibits that blended architecture and plant life.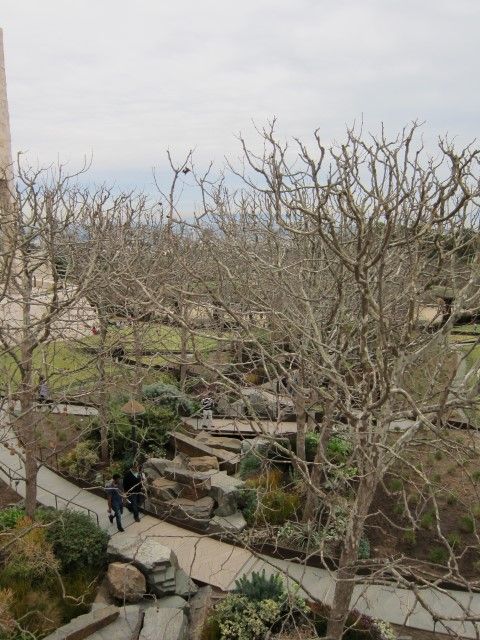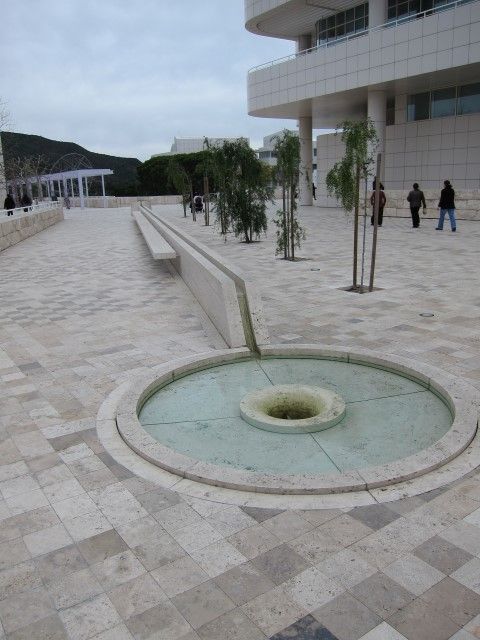 There was a whole row of our favorite Birds of Paradise.
And there were also several exhibits that revolved around the kinetics of water as it traveled ever downward using gravity.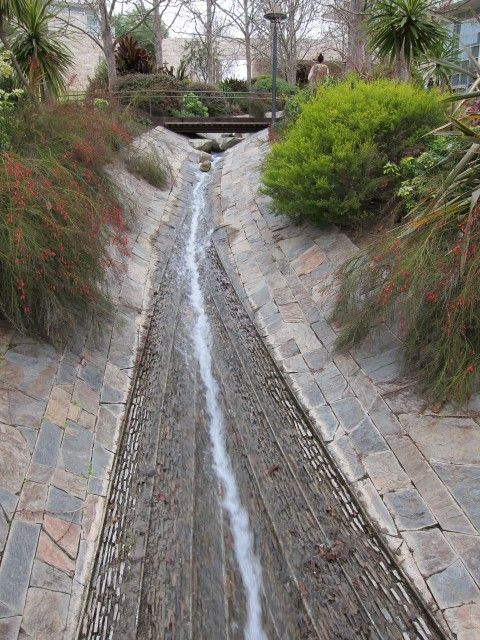 The gardens all around the whole area were beautiful.
And there were some phenomenal views as well.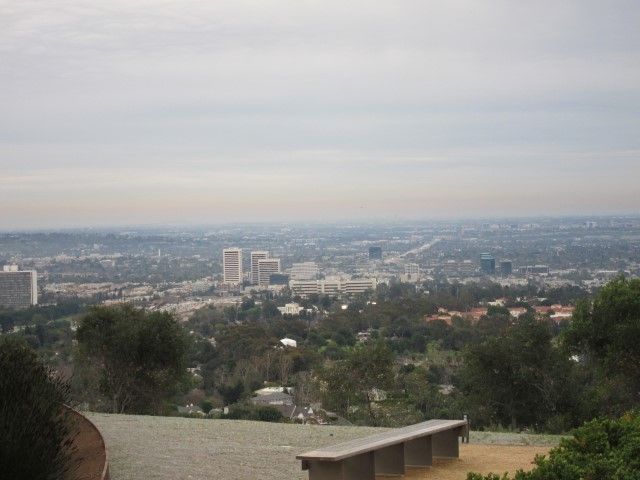 We liked this bird who was hanging around.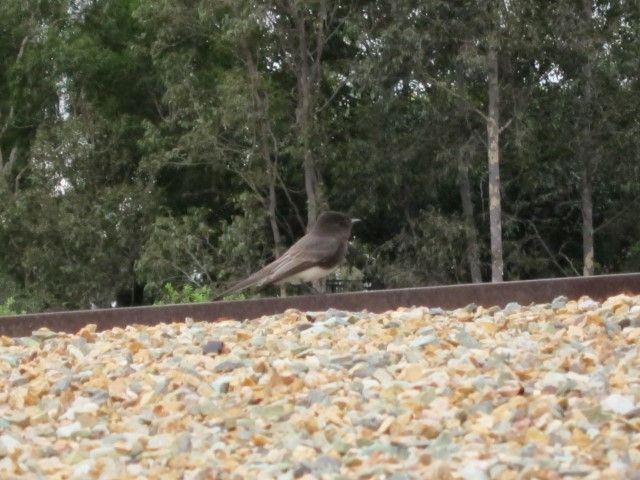 And this big topiary looked like a Hidden Mickey!
These flowers were bizarre and grew upside down.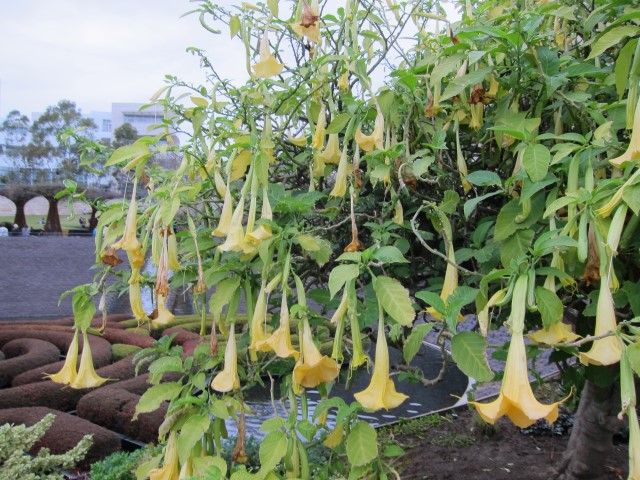 As we walked up several flights of stairs to another viewing area, we were truly able to see the entire city.
Here's a panorama I stitched together of all the different parts of the skyline that we could see. If I'm remembering correctly, I think that Hollywood is in the foreground and Downtown L.A. is in the distance behind it.

We also loved the snowy peaks looming not too far off in the distance.



Share