Chapter 41
Large and Powerful Dragons: A PSA
---
(Originally posted July 5, 2013)
There continued to be more stairs to climb and lookout points to discover at the Getty Center.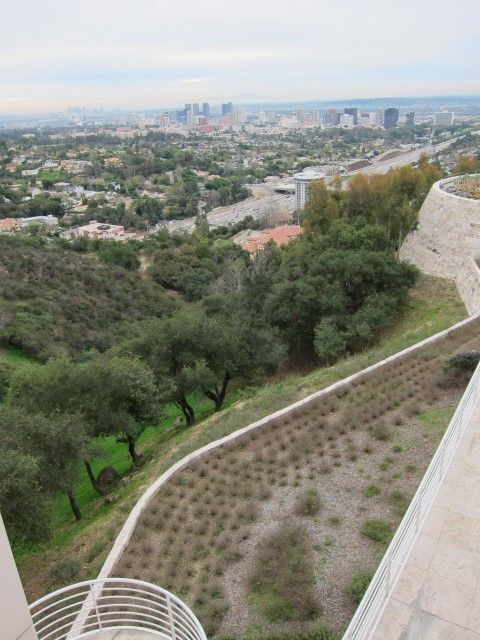 It was just crazy to me that if you looked out in one direction, you could see mountains, but looking in the other direction, there was the ocean!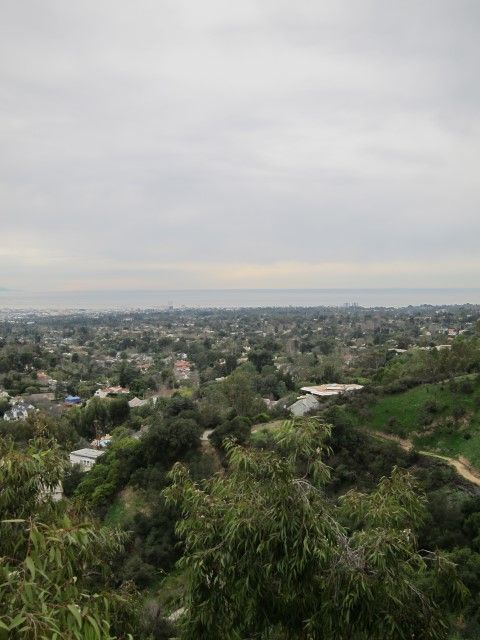 We did a quick photoshoot since the scenery behind us was very cool. Our one wish was that we could have gone on a day right after it rained, so that there hadn't been so much smog in the distance.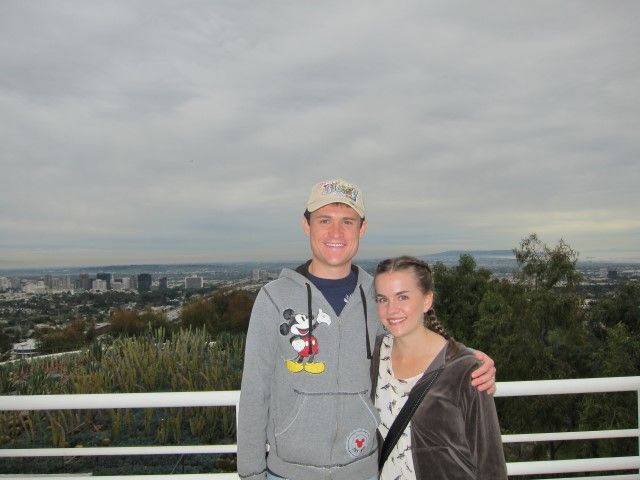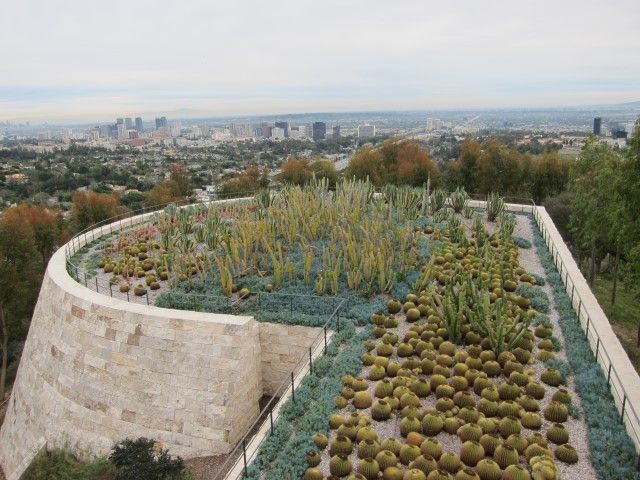 Finally, after we had been there for quite a while, we decided we probably shouldn't leave without going to at least one of the museum's art exhibits.
We walked into the first building we found and started looking around. Steve and I were both berated by the security guard in the room for having our water bottles out while we were inside. After apologizing and stowing them, I got yelled at a second time because I took a flash picture.
In the end, we weren't really in the mood to appreciate the museum for its exhibits—that would have to be an entire trip in itself—so we went back outside at our first opportunity.
After a few more minutes of looking around, we decided to call it a day.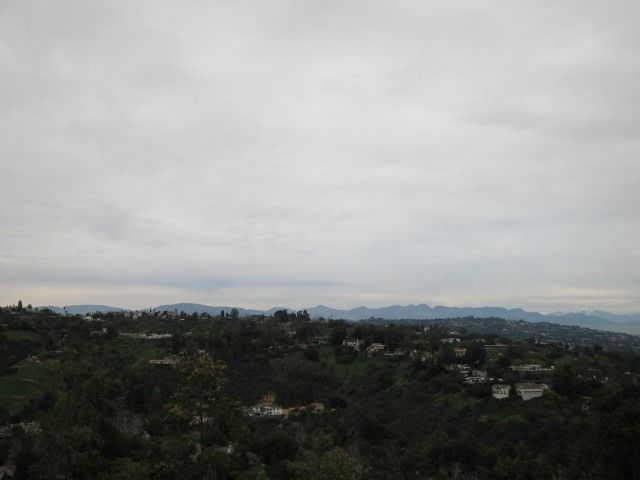 We took the monorail back down to the parking garage and went our separate ways. Tracy and I started to head south, though we stopped on the way in Culver City to eat at Qdoba. There aren't any in O.C., and we had been craving our favorite chips and queso.
A few days later, we decided to take another trip to Downtown Disney.
It happened to be when they were celebrating Chinese New Year with lots of different Asian presentations at the stage by Earl of Sandwich. We had been craving the Earl, and Tracy's birthday coupon for a free sandwich was about to expire, so we went there for lunch.
While waiting for our food, the show that was going on featured a large Chinese dragon.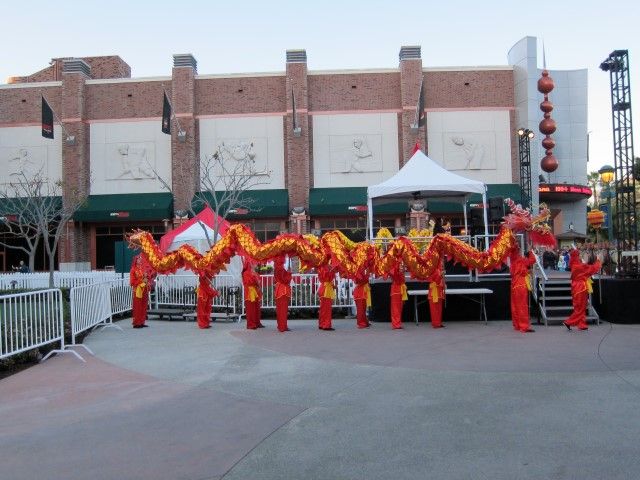 Since we were at a distance, we couldn't PROPERLY enjoy the performance, but we could catch snippets of what was going on. This performance gave us fodder to laugh at for hours because the announcer who was narrating the show over the speaker just kept repeating the same thing over and over again. The dragon was dancing around the stage while the onlookers watched, and the announcer kept saying:
"Remember, this is a large and powerful dragon. And like all large and powerful dragons, he needs lots of space."
First of all, when you are making generalizations about the preferences of a fictitious character, it already takes some suspension of disbelief, but she just wouldn't shut up about how much space this "large and powerful dragon" needed. She must have repeated this saying at least 20 times in the span of five minutes. By the end, Tracy and I couldn't stop laughing, and needless to say, we often jest about just how much space every large and powerful dragon needs. I guess they suffer from pretty severe claustrophobia! The more you know…
Luckily, before too long, our food was ready. Despite its availability year-round (or perhaps BECAUSE of it) neither Tracy nor I got the Holiday Sandwich. Instead, Tracy got one of her standbys, The Original 1762 (fresh roasted beef, cheddar and creamy horseradish sauce)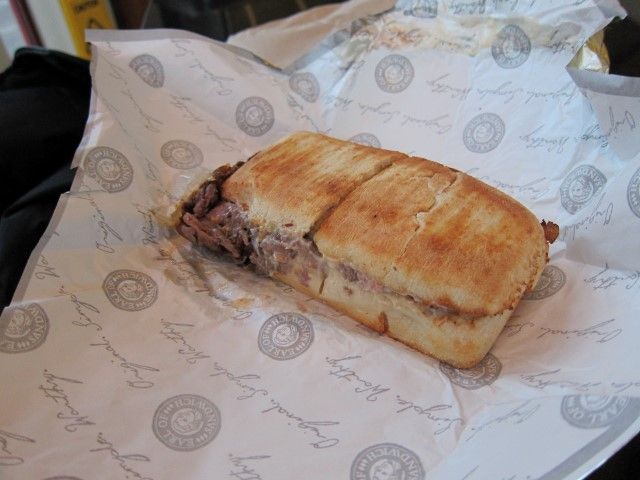 And I branched out slightly to try The Full Montagu (roast beef and turkey with sharp cheddar cheese and aged Swiss cheese, romaine lettuce, roma tomato and Earl's mustard sauce).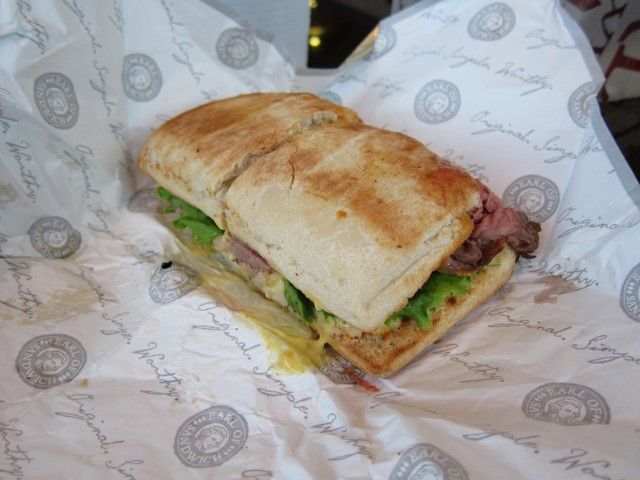 My sandwich was really good—one of the best I've had at Earl—but Tracy's wasn't great. She said the meat was pretty fatty, and there wasn't much horseradish sauce (which is what makes the sandwich). It was so busy in there, and by the time she decided she would have wanted to send it back, she'd already eaten most of it. Instead she decided to send an email to Earl of Sandwich about her negative experience in the hopes of getting a voucher for a free sandwich at least. She wrote her email that night and never heard back. Not even a form-letter apology. So be warned, if you are ever in the scenario where you don't like your Earl's sandwich, complain to the manager then and there, or you likely won't get anything to make it better.
Walking back past the stage after lunch, we were sad that the large and powerful dragon had gone in for the day… We went to our usual haunts—Marceline's Confectionery and World of Disney. At Marceline's, these apples they were working on in the window looked unique and very good.
One of these days, we'll finally splurge for a Disney apple. At World of Disney, we saw these new magnets that we really need to get someday.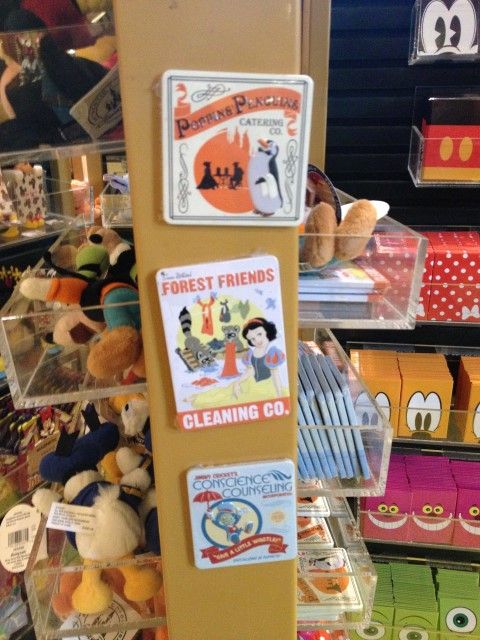 Before we called it a day, we headed back to the Disneyland Hotel.
We wandered around for a few minutes in the beautiful wedding pavilion area.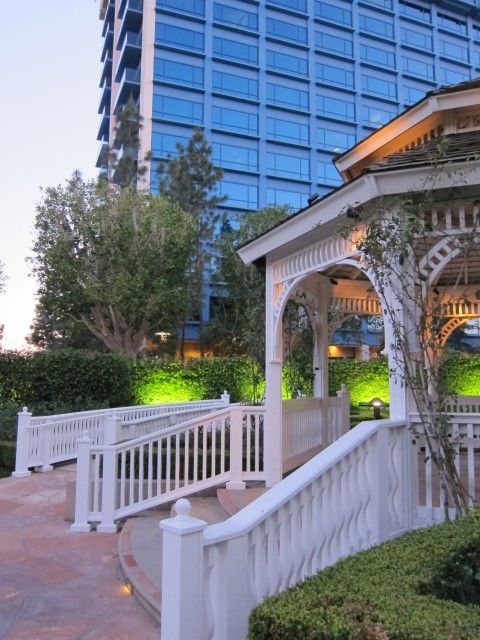 Next, we saw another Disneyland Cat hanging out in the bushes!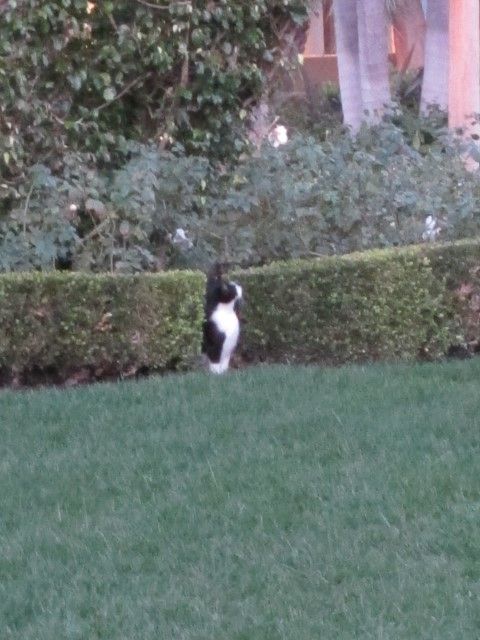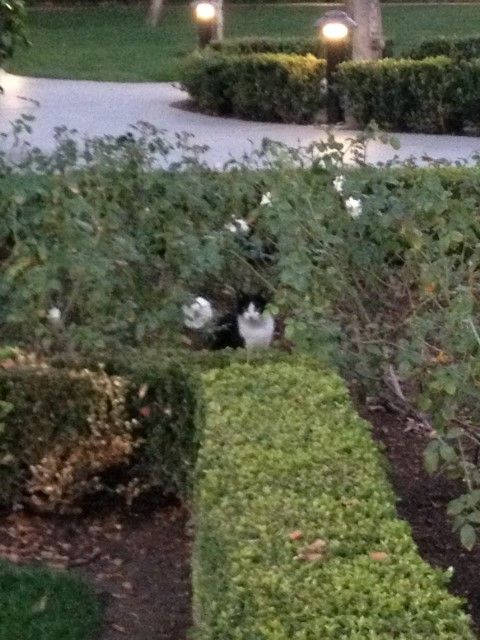 That whole area of the Disneyland Hotel is so pretty. It seems like an awesome place for a wedding.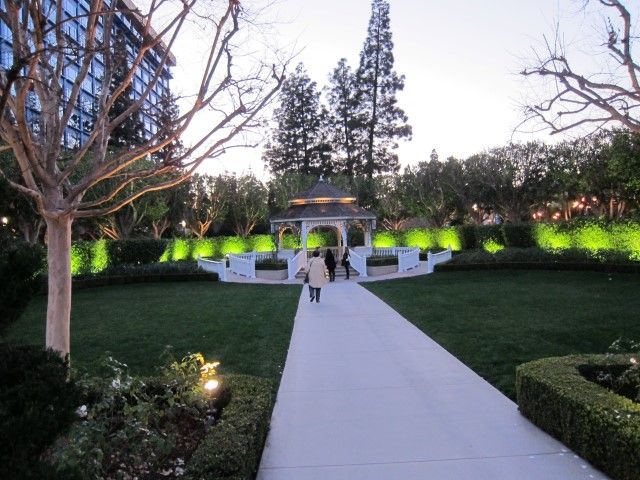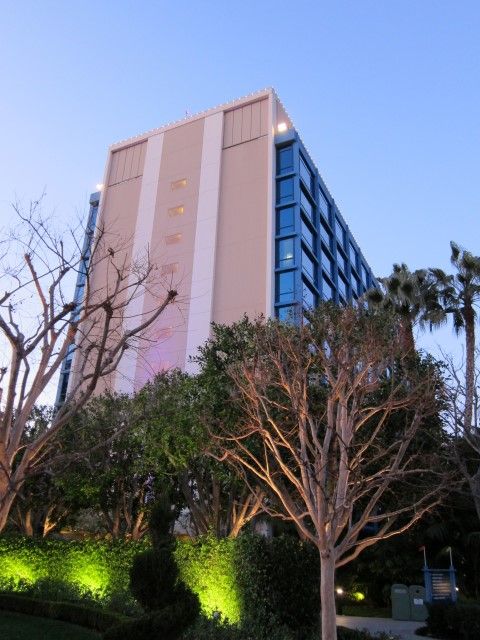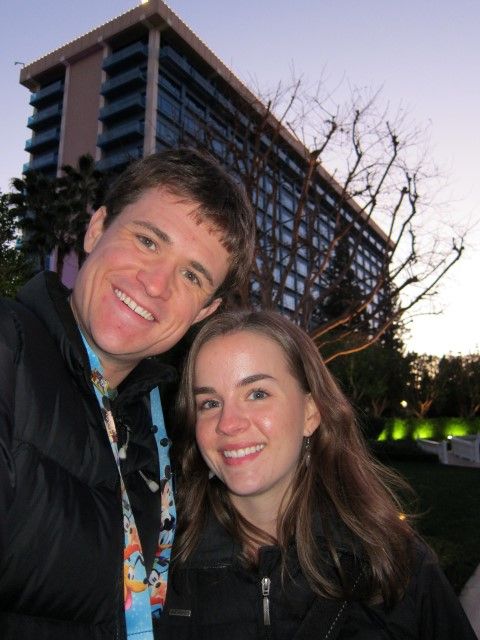 One of our main goals for the day had been some pin trading, and we had successfully acquired a few fun new ones. My goal going into our pin trading expeditions at Disneyland was to take photos of all the new pins we got each day. I took a picture this one time, and I don't think I've ever done it again… The best laid plans…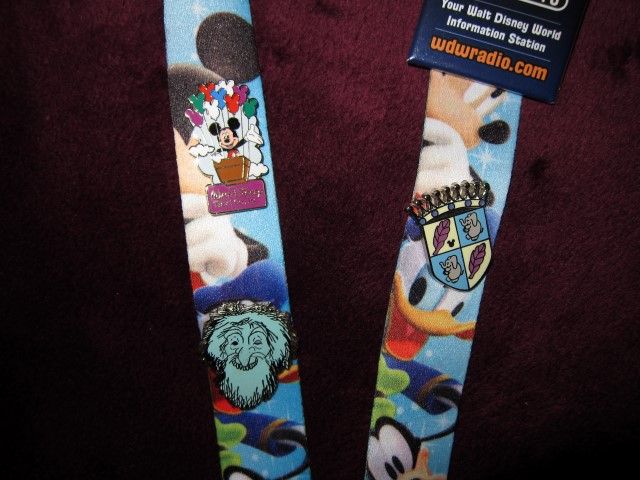 Share