Chapter 42
Desperation Days
---
(Originally posted July 8, 2013)
With Valentine's Day approaching, we had to decide on something fun to do. We started off the morning the romantic way most couples do—with a trip to the dentist. Both Tracy and I were due for cleanings and I was having some sensitivity in one of my teeth. After doing some exhaustive Yelp searching, we found a dentist with good reviews who accepted both of our insurances. Luckily, neither of us had any cavities and he just chalked up my sensitivity to cold as being nothing to worry about. Turned out that all my fretting over going to the dentist had been for naught.
That evening, we knew that we wanted to do something exciting for dinner, but we still weren't really in the position to be spending much money on dining out. Instead of splurging for a sit-down restaurant, we decided to hit up one of the restaurants that we kept reading reviews about but hadn't gotten to go to yet.
Bruxie in Old Towne Orange advertises themselves as serving "gourmet waffle sandwiches." They had fantastic reviews everywhere we looked, and their main sandwich was a Buttermilk Fried Chicken and Waffle. We LOVE chicken and waffles. It was one of our favorite things to get at a couple restaurants in NYC as well as at Sleepy Hollow in WDW. We knew, therefore, that we needed to try this place out. Further enticing us was the Valentine's Day special that we read about on their Facebook. They were serving a limited time Chocolate Dipped Strawberry Milkshake. We knew upon reading about that special that we would have to go.
We arrived and were faced with a pretty long line, so we had some time to figure out exactly what we wanted. The Fried Chicken Waffle comes doused in a chili honey sauce with cider slaw. Both of these options sounded a little scary to us, but we decided to trust the reviews and try the sandwich out as it was meant to be. We also ordered a side of syrup to put on the sandwich. We laughed when they presented us with this little shooter of maple syrup.
Our sandwich came out, and it was delicious!!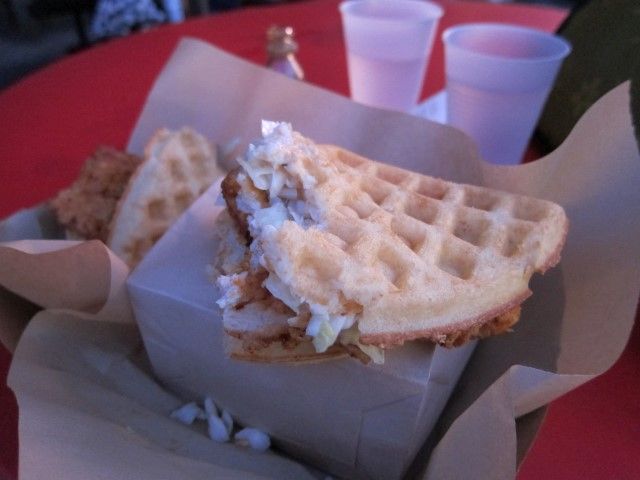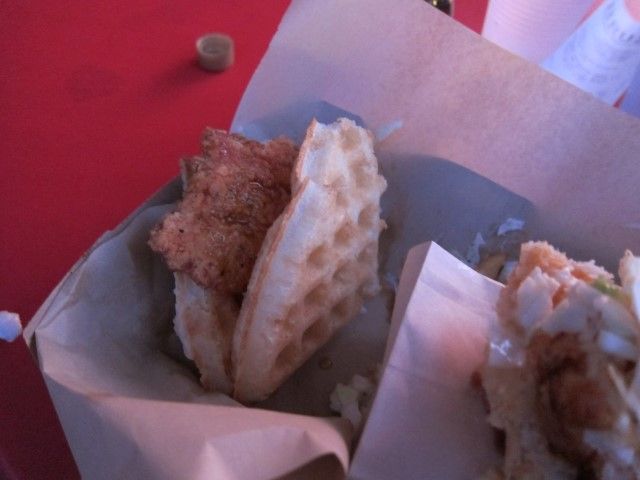 The chicken is so good and the waffles are made perfectly. All the toppings complemented each other quite well (including the syrup). We also got some waffle fries, which aren't pictured here but were extremely good.
Now for the milkshake.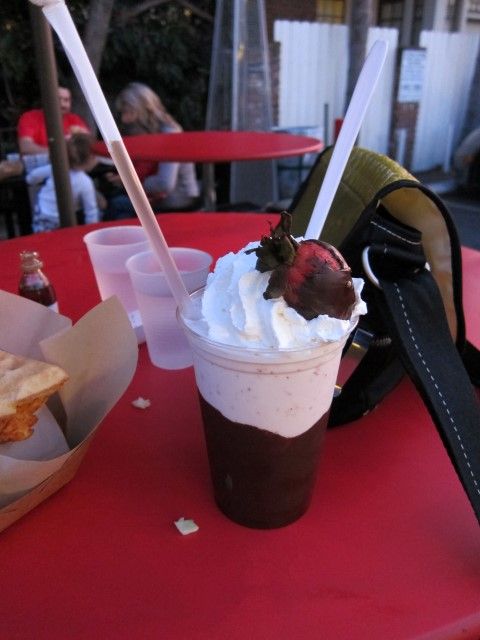 The bottom of the cup was coated with Belgian chocolate, the shake was made with fresh strawberries, and it was garnished with a giant chocolate covered strawberry. The whole thing was amazingly decadent. We loved it.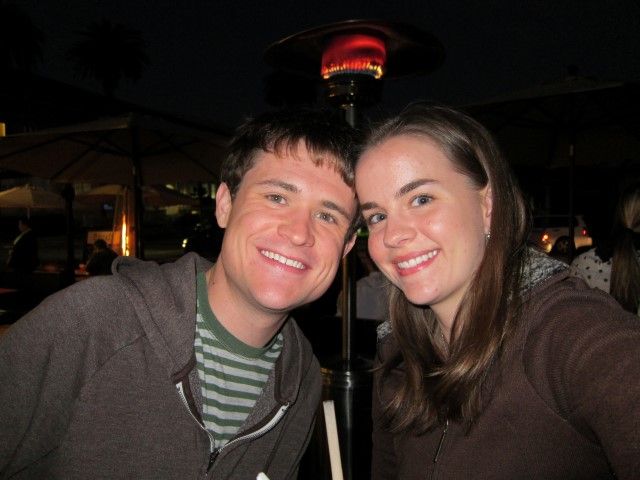 A new favorite restaurant discovered right here in Orange, we decided it had been quite a good night. We came home, popped open a bottle of our favorite champagne, and toasted a good Valentine's Day.
As part of celebrating Valentine's Day (and because we hadn't made a REAL cake for Tracy's birthday), we decided to make a delicious cake to continue our streak of unhealthy but wonderful desserts. Here's how it turned out.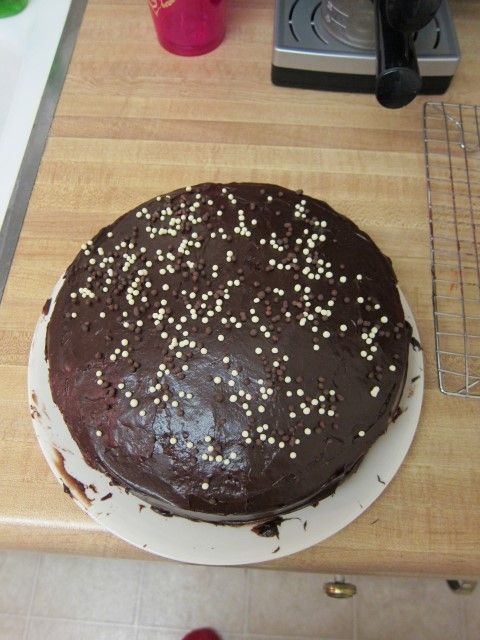 A few days after Valentine's Day, we headed back over to Downtown Disney to see what was new in our favorite haunts. They had just brought out some of the Easter merchandise, and we LOVED this Duffy who pops out of an egg.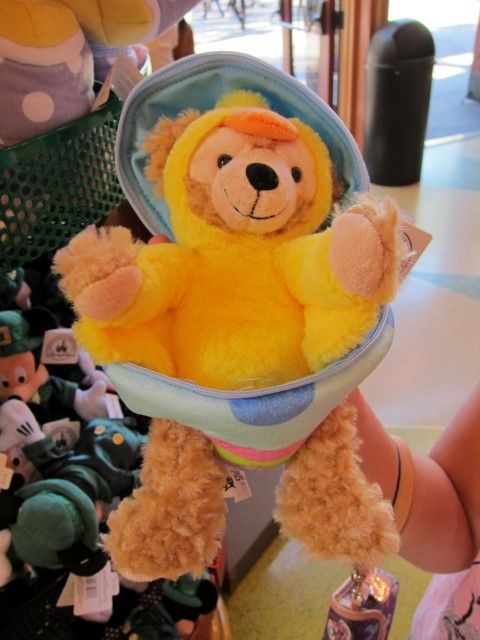 Since we hadn't in a while, we also decided to head through security and pine after the parks from just outside the gates.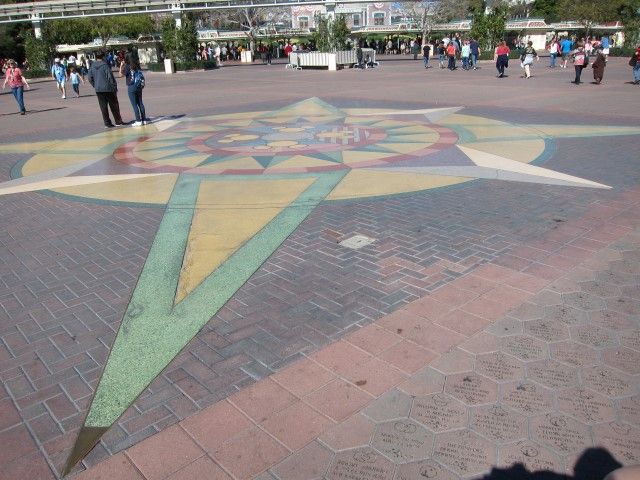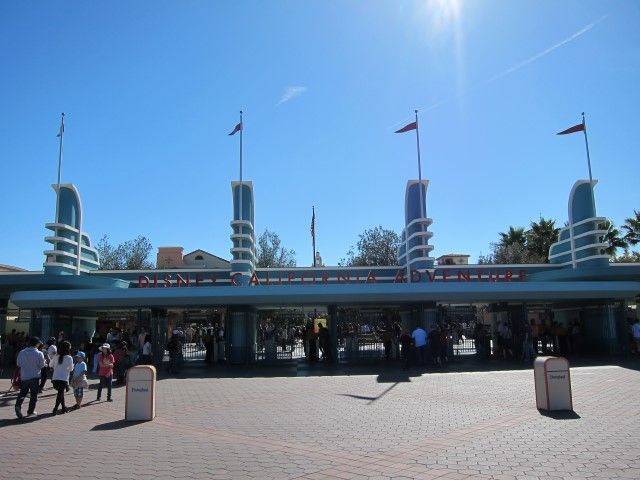 We're feigning smiles despite our yearning to get inside.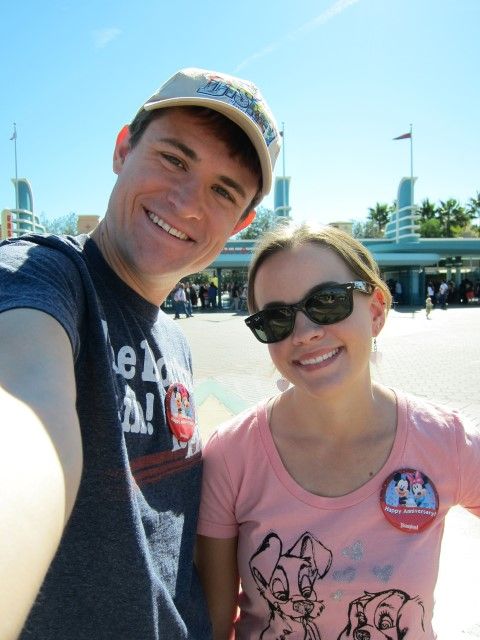 We also decided to wear our Happy Anniversary buttons for this trip because we were starting to get close to the eight-year anniversary of when we started dating. Time flies!
Hanging out in the middle of the Esplanade for several minutes, we took a few pictures of the cool compass in the middle.
Exiting the Esplanade, our desperation peaked in a way that we hadn't yet experienced. Since we hadn't gotten to ride an attraction here at Disneyland despite being here for four months now, we caved and decided to ride the tram for a round-trip tour to the parking structure and back.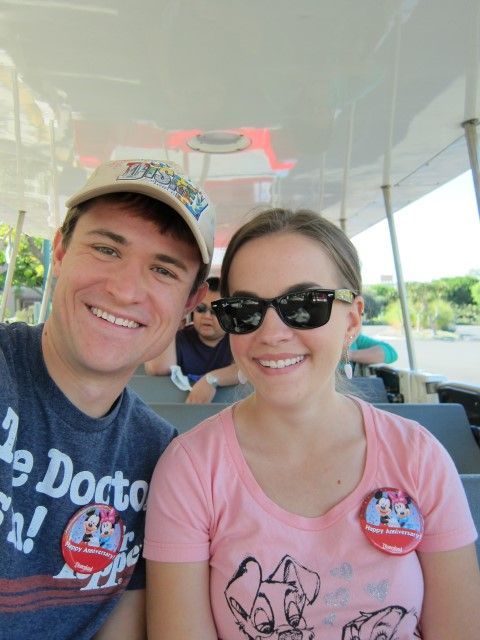 At first, it felt almost too desperate—even for us—but it quickly just became fun. We enjoyed our little ride.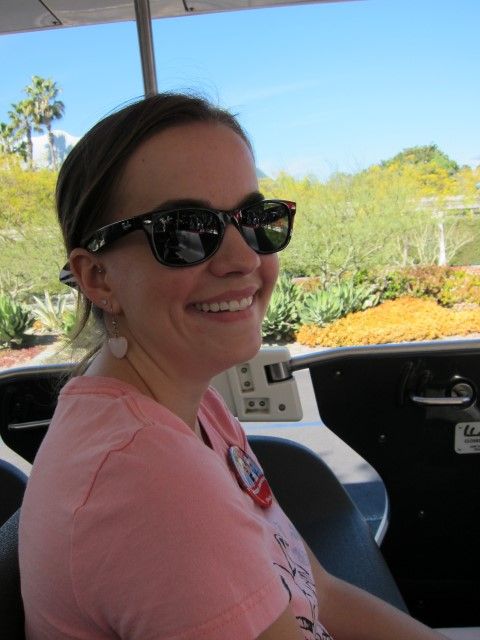 It also helped us to better understand exactly how the trams worked and where the parking structure was. This was all information that would come in handy when we actually parked there to go to the parks for the first time!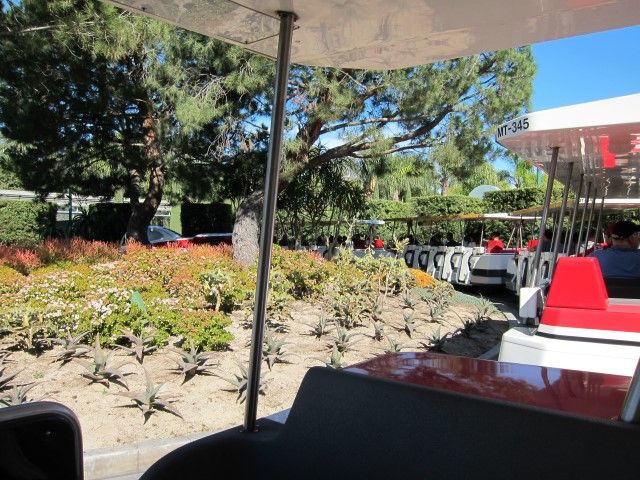 The monorail went by overhead, and we freely admitted that we wished THAT was the free mode of transportation around Disneyland like it is at WDW.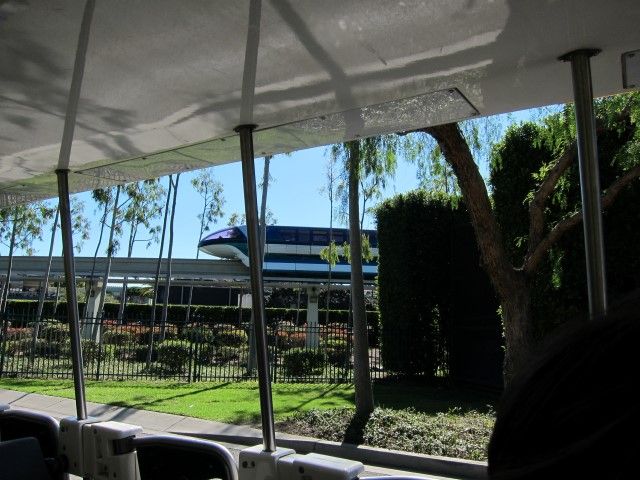 After reaching the parking structure, we crossed the courtyard and boarded a tram back to the Main Entrance Plaza. It was a fun little experiment on the whole!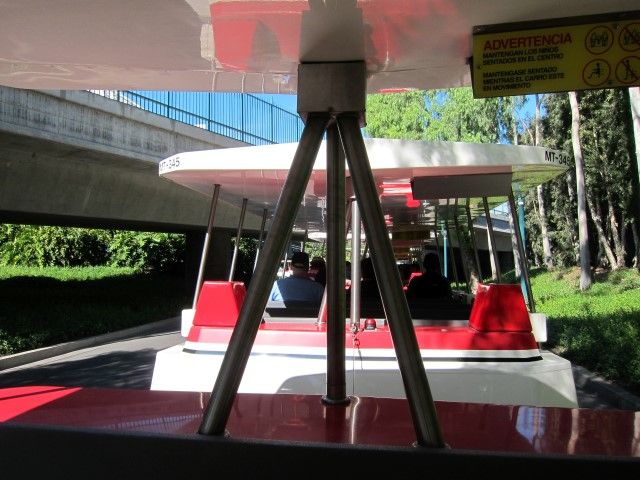 Still not done with our Disney excursion for the day, we headed over to the Disneyland Hotel next. We sat in the gazebo on the grounds and just relaxed for a while.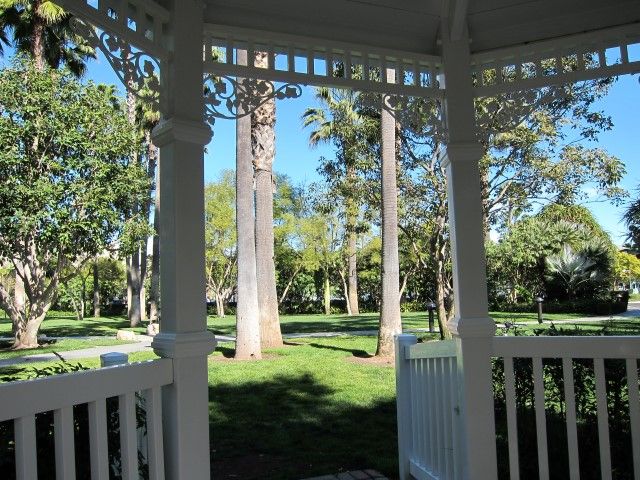 We tried to find some Disneyland Cats, but we came up empty.
Hungry for a snack, we decided to try out something that had been calling our names for months, but which we hadn't yet tried. We made our way over to Ralph Brennan's Jazz Kitchen Express.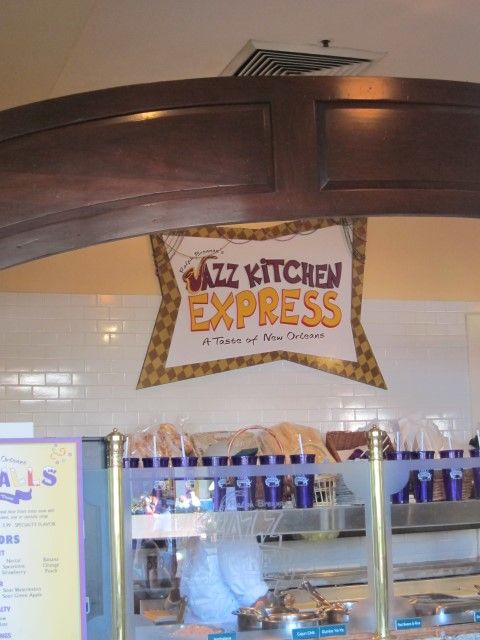 It was finally time to try some of the famous Beignets they serve there! We bought a bag and brought them over to the area of the Grand Californian by White Water Snacks so we could eat them at a nice table. Unfortunately, the minute I stepped outside the Grand Californian, I began sneezing like I had never sneezed before. Truly, I've never had such an intense allergy attack as I did in those few minutes. I probably sneezed well over 50 times in the span of five minutes, and my eyes were crying buckets full of tears. I have absolutely NO IDEA what brought it on, but since we know several cats frequent that area (and cats are usually out to get me) we were pretty sure it had something to do with them.
Luckily, the worst of the attack passed before too long. We were finally able to dig into our beignets.
They were so incredibly delicious! We devoured them—covering ourselves and the table in mounds of powdered sugar in the process.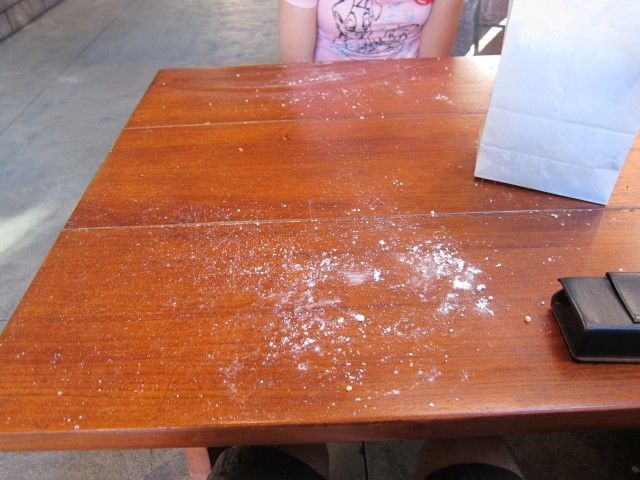 After eating, we peered through the emergency exit from DCA that is located right by White Water Snacks. Again, we were so close, but we felt so far from the parks!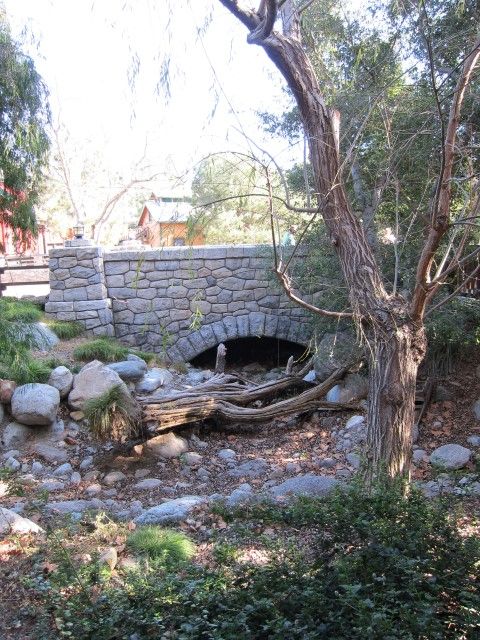 Share