Chapter 22
A Hair-Raising Tale
---
 (Originally posted August 3rd, 2012)
Our next stop was the Little Miss Matched store where Tracy found this purse that she still wants to get some time.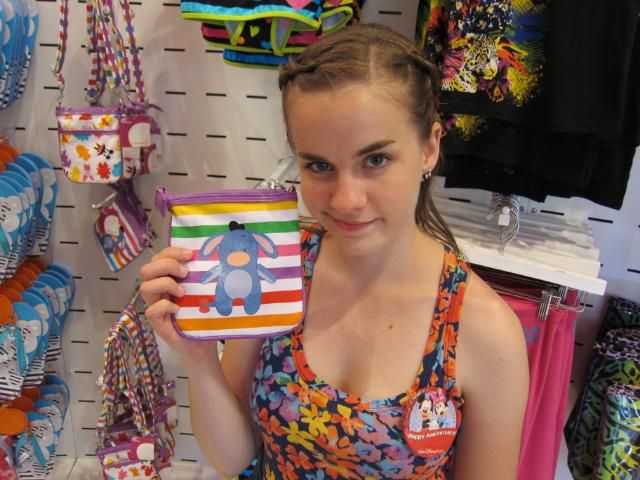 We posed with our friends from Winnie the Pooh.
Next we went to the pin trading store and traded with a few cast members. Apparently at certain times of the day, there's an entire pin trading wall at that store, but I guess it wasn't open when we were there…
At Once Upon a Toy, there was this large Duffy to pose with!!
Now, even though we weren't really hungry, we really wanted to go to Ghirardelli because it's absolutely delicious.
We ordered a sundae with chocolate chip ice cream and milk chocolate fudge.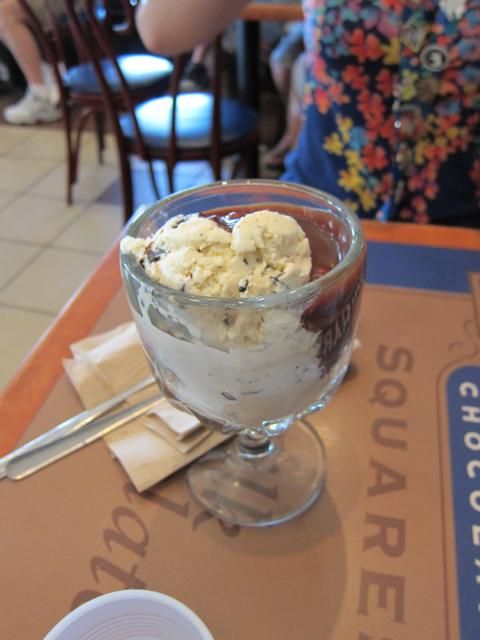 As I said, delicious.
Our last stop in Downtown Disney was World of Disney.
We wanted both of these pairs of shirts.
And we liked this Duffy display.
Now came the conclusion of a very important mission that we had started on the first day of the trip. Tracy had noticed that all of the little girls who went to the Bibbiti Boppiti Boutique came out wearing a certain hair clip on their princess bun. She wanted to buy that clip for herself, but after asking at all of the merchandise stores in the Magic Kingdom, it seemed that none of them sold it. We tried again at World of Disney, and once again came up short.
Our final idea was to go into the Bibbiti Boppiti Boutique and ask if they would be able to sell us one there. We waited in line behind several little girls who were waiting to check in for their appointments, and when we got up to the desk, Tracy asked about the clip. The cast member was a little confused by the question—guess they don't get it very often—but she directed us into the Boutique where they had a basket of them on the counter, available for purchase! Hooray! But now we had to wait as family after family got to go to the front of the line ahead of us to pay the fortunes they owed for their daughters' makeovers. As each little girl finished with her makeover, she got to cut in front of us, so a half hour later, we were still waiting to buy that blasted clip.
Finally, a nice family saw what was happening and told the cashier cast member to let us go in front of them. She rang up the clip, which hadn't had a price tag on it. It came up as $10. Yikes. Oh well, we figured, we'd been on this mission for a long time, so we weren't about to give up now. We handed over our money and got out of there. Here's the result of our persistence. Ta da!
After all that excitement, we had exhausted our time allotted for Downtown Disney, and we needed to get moving to make our dinner reservation, so we started to make our way toward the buses. We stopped to pose for a few pictures of course.
The bus stops in Downtown Disney are a pain to get to. There's a certain path you have to take to get to them directly, but it's not really logical. I feel like we always end up being able to see the buses but getting stuck behind a wall or a fence, or being separated by a multi-lane street with no crosswalks. Eventually, however, we got there.
A bus pulled up for our next destination. It was a resort we were very excited to check out and a restaurant we were hungry to try!



Share