Chapter 23
'Ohana Means Family
---
(Originally posted August 3rd, 2012)
Our bus pulled up to this beautiful resort.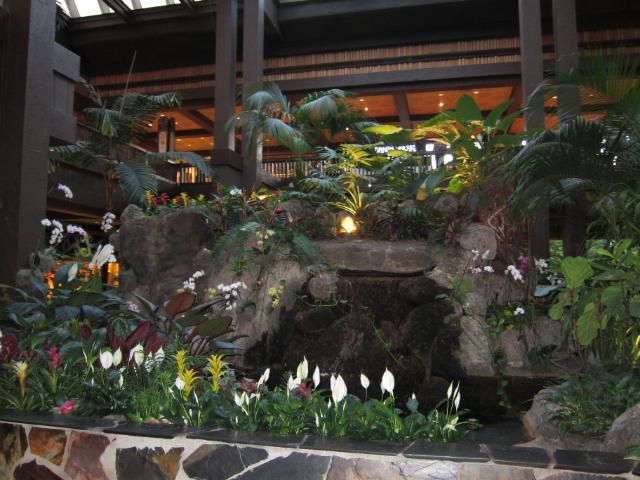 If we could stay at any deluxe resort, I think our first choice would be the Polynesian. Obviously, any deluxe resort would be a big step up from what we're used to, but between its proximity to the Magic Kingdom and the awesome theming, the Poly goes at the top of our dream list. We went into the lobby and got hit with that great "musty water smell" that permeates the whole resort. We were still a few minutes early, so we made a stop in the Bou-Tiki.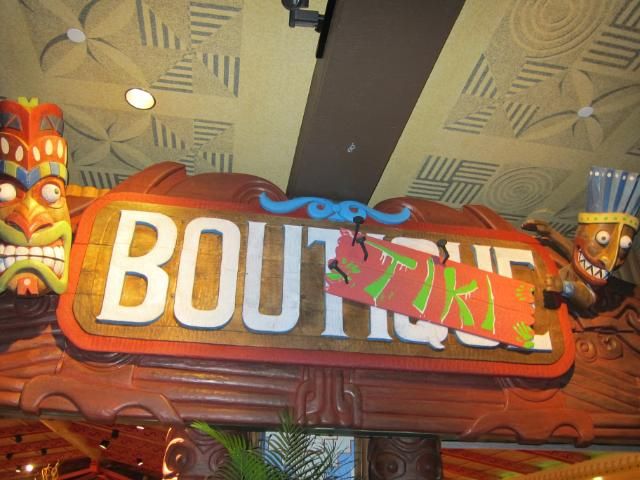 We walked around the lobby for a few minutes.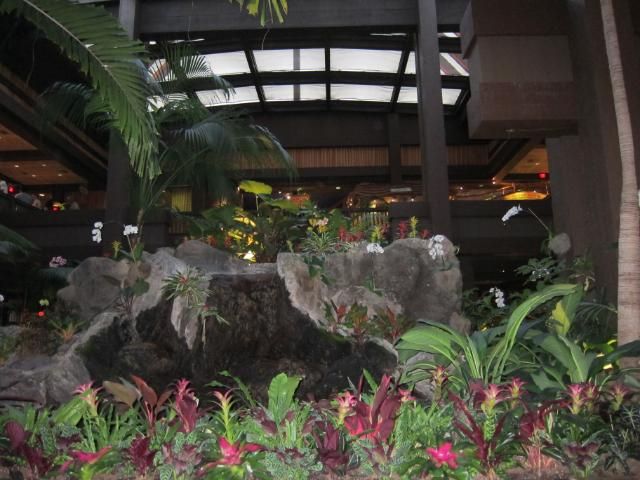 Finally, we made our way upstairs to check in for our reservation at 'Ohana.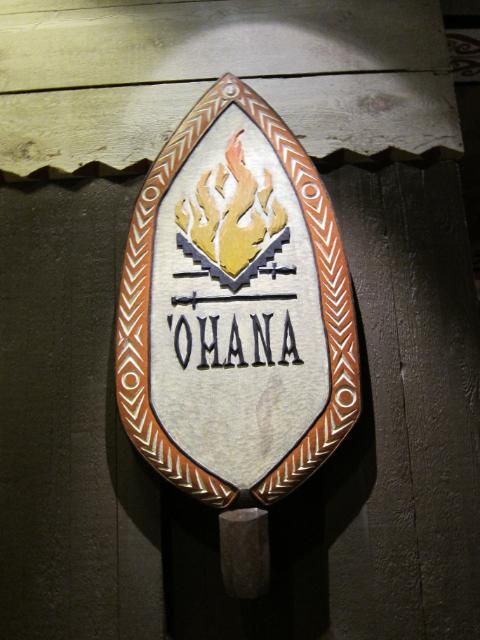 We were given our pager and told to wait a few minutes, so we took a seat.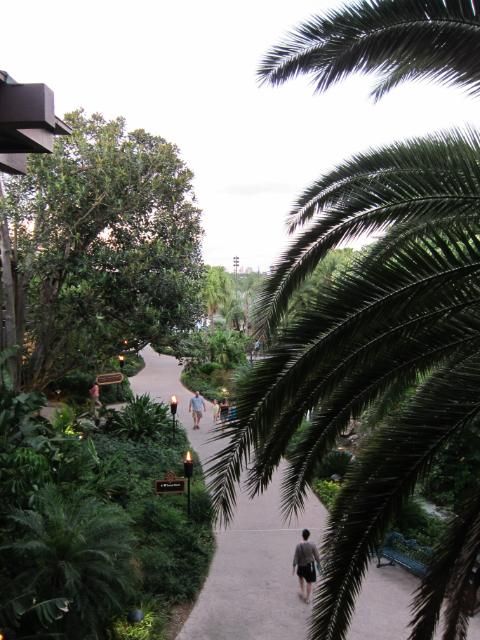 Tracy found several leis down in the kids' area of the lobby, so she snatched one.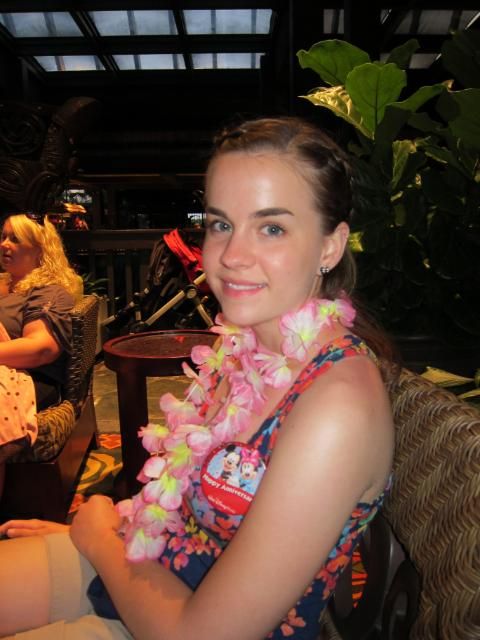 We waited about five minutes before we were seated. We had hoped for a seat by the window, but oh well.
'Ohana is one of the only restaurants that can handle huge groups of people at once, so there was a wedding rehearsal dinner going on behind Tracy with well over 20 guests.
Our server greeted us and told us how the meal would work, and then she brought us our first course: Pineapple Coconut Bread.
This was really good, though we had to keep ourselves from eating too much. Next was the salad course—complete with mango poppy-seed dressing—which was also tasty. Before the skewers start coming out, they bring you a hearty plate of Honey Coriander Chicken Wings and Pork Fried Dumplings.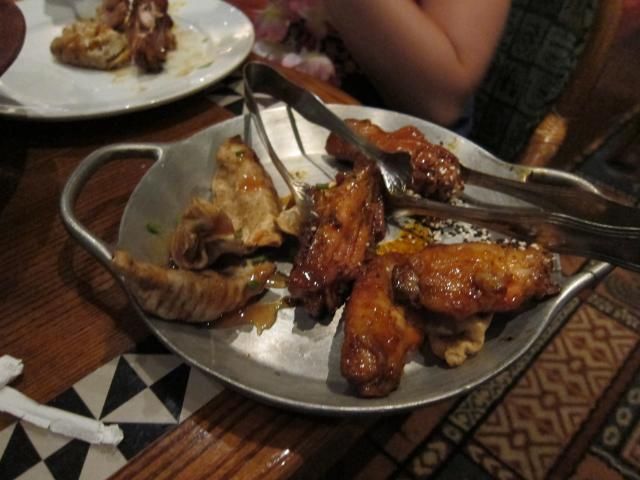 These chicken wings were one of my favorite parts of the meal. The skewers came out next. I wasn't able to get any really good pictures of them because they just give you as many pieces of meat as you want, but here's a few of the things from our plates. The different meats were: Oak Grilled Chicken,
Asian Barbecued Pork Loin, Marinated Sirloin Steak, and Spicy Grilled Peel-n-Eat Shrimp.
There was also this delicious side of Egg Noodles (tossed in a peanut sauce with pineapple) and
Stir-Fried Vegetables.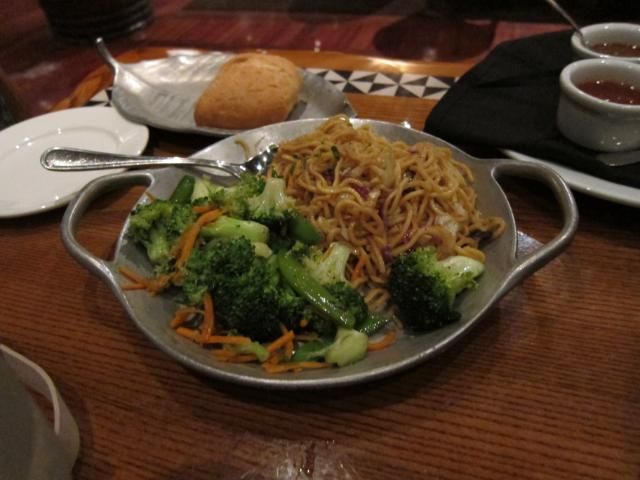 My thoughts on the food were that it was all very tasty! It all had those slightly sweet marinades and sauces that make it specifically Polynesian, but I like that flavor. The chicken and steak were probably my favorites along with the egg noodles. I know Tracy really enjoyed the shrimp.
We were right in the middle of the restaurant, so we had a front-row seat for all of the evening's entertainment. The ukulele player was great.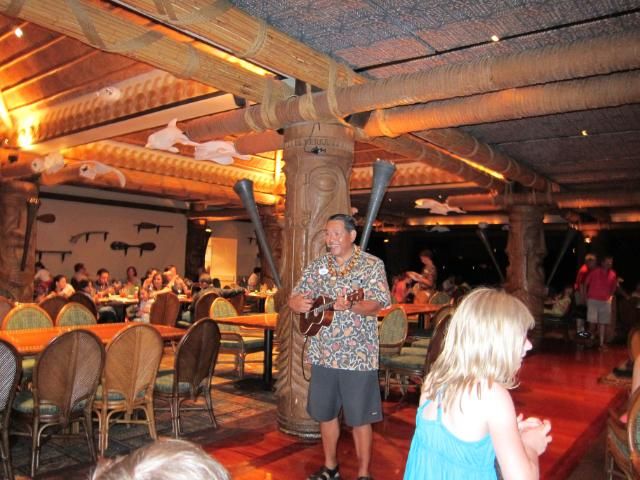 This also meant we were front and center for all of the coconut races and everything else the kids do at 'Ohana. It certainly wasn't a quiet, romantic atmosphere, but luckily that's not what we were expecting. The restaurant is a rollicking good time and we had fun.
They followed up our meals with hot towels, which we savored because this was one of the few places we encountered on our trip where the air conditioning was on too high and we were cold!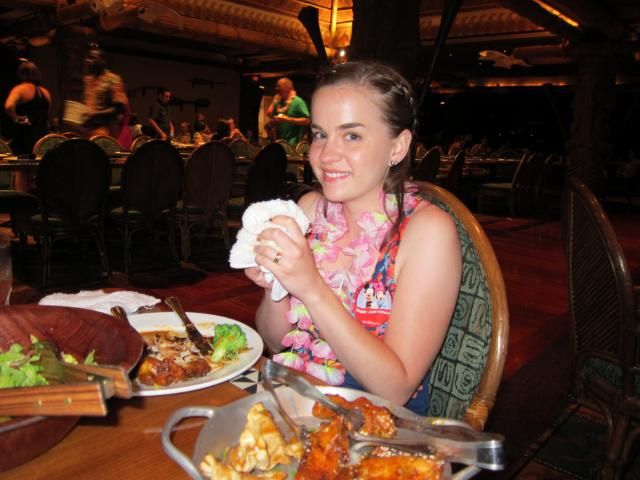 The final course at 'Ohana was easily the most exciting—Bread Pudding with Bananas and Caramel Sauce served a la mode.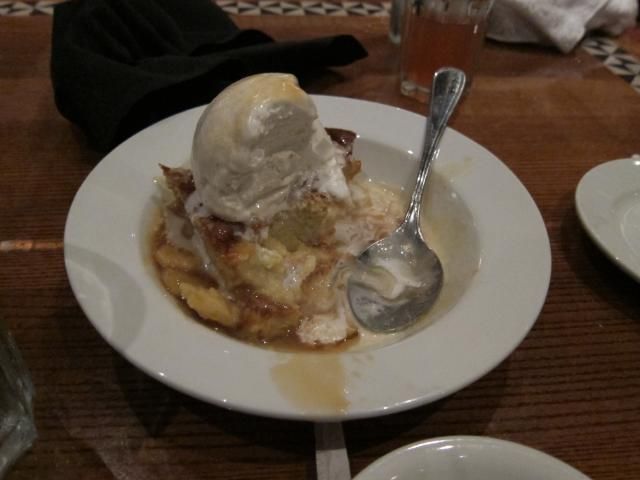 This was DELICIOUS. We were so sad we couldn't handle eating all of it because we had gotten so full on all the meats. Practically once a week since going to 'Ohana, Tracy talks about how she's craving more of this bread pudding, and I can't blame her!
We were on a bit of a tight schedule at the end of dinner, because we wanted to catch Wishes from the beach, so we quickly paid and headed outside.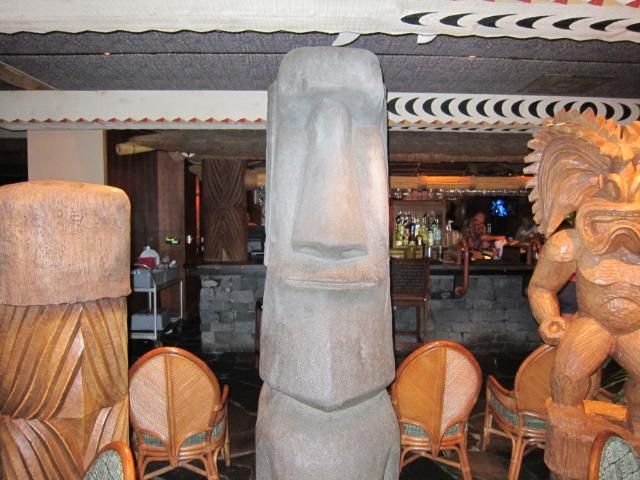 Overview of 'Ohana Dining Experience
Service: Great! We were wary about 'Ohana because we had read complaints that people had trouble with it taking forever to get seated and then only having the servers come around with each skewer once. We had neither of these problems at all. Our server and her assistant were very attentive and offered us more of each meat several times. 5/5
Atmosphere: The restaurant is certainly loud. Obviously, it's a family place, so this is what we were expecting, but it's still worth noting. 3.5/5
Food: We really enjoyed all of the foods here. Everything was unique and yummy. 4/5
First Visit?: I had been here when I was 8 years old, but it was Tracy's first visit.
Will Return?: Yes!
We walked by the volcano pool outside—everything about this resort is just so cool!
We got to the beach about 5 minutes before Wishes was set to start.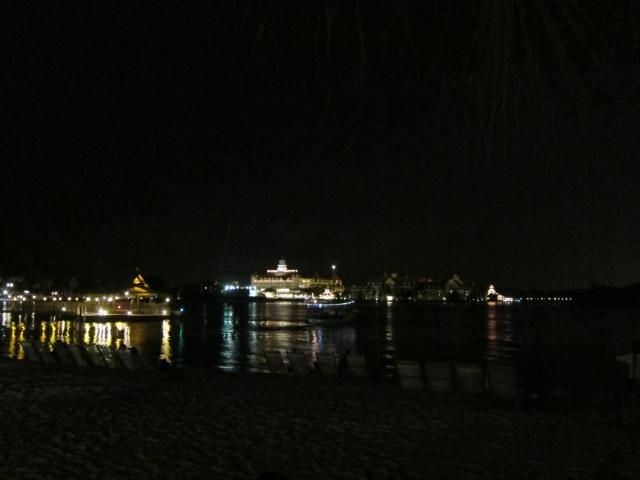 It was a little late for us to hope for one of the beach chairs, so we grabbed a spot along the curb.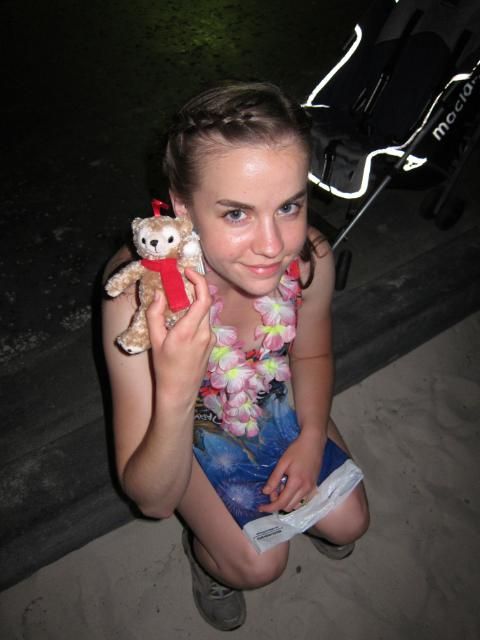 The show started and the music was piped into the speakers surrounding us. Talk about an interesting vantage point for Wishes. We have watched the show before from all over the Magic Kingdom as well as from the California Grill, but this was one of my favorite spots.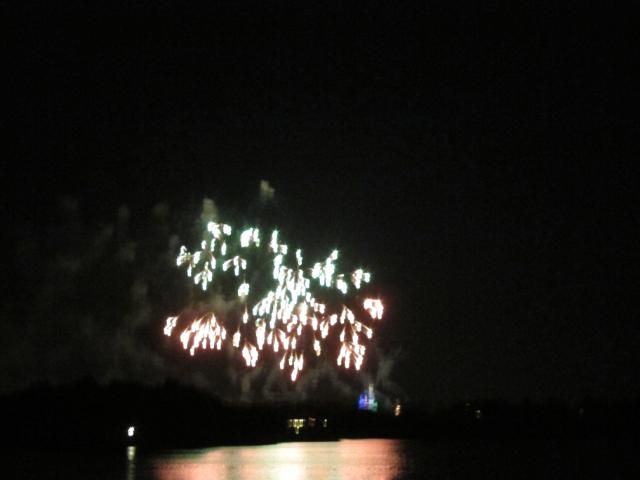 You feel both like you're a part of the action and as though it's in a whole other world just beyond the serene setting of the beach. I highly recommend trying it out if you've never done so before.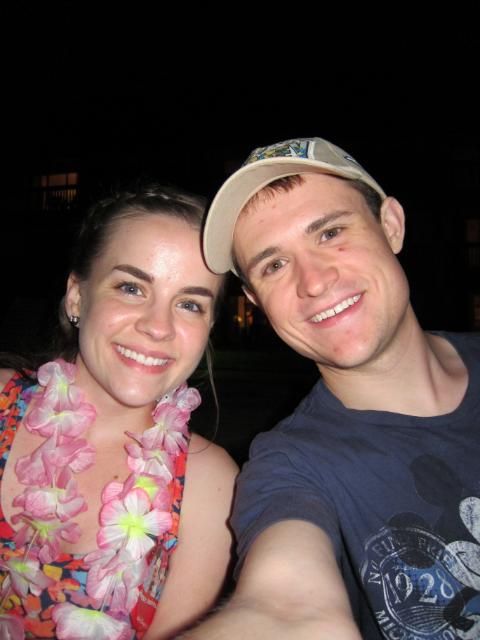 After Wishes, the beach cleared out very quickly, so we were able to grab a spot on a glider swing to sit for a while. We just relaxed for about a half hour enjoying the calm. While we were sitting there, several of the floats from the Electrical Water Pageant went by in the distance. We were pretty sure after leaving the beach that we would just go back to the hotel, but when we got to the monorail, we had another idea.



Share