Chapter 5
Revenge of the Monte Cristo
---
Once the goats were put away for the evening, we crossed the park over to Tomorrowland because it was our return time for Star Tours.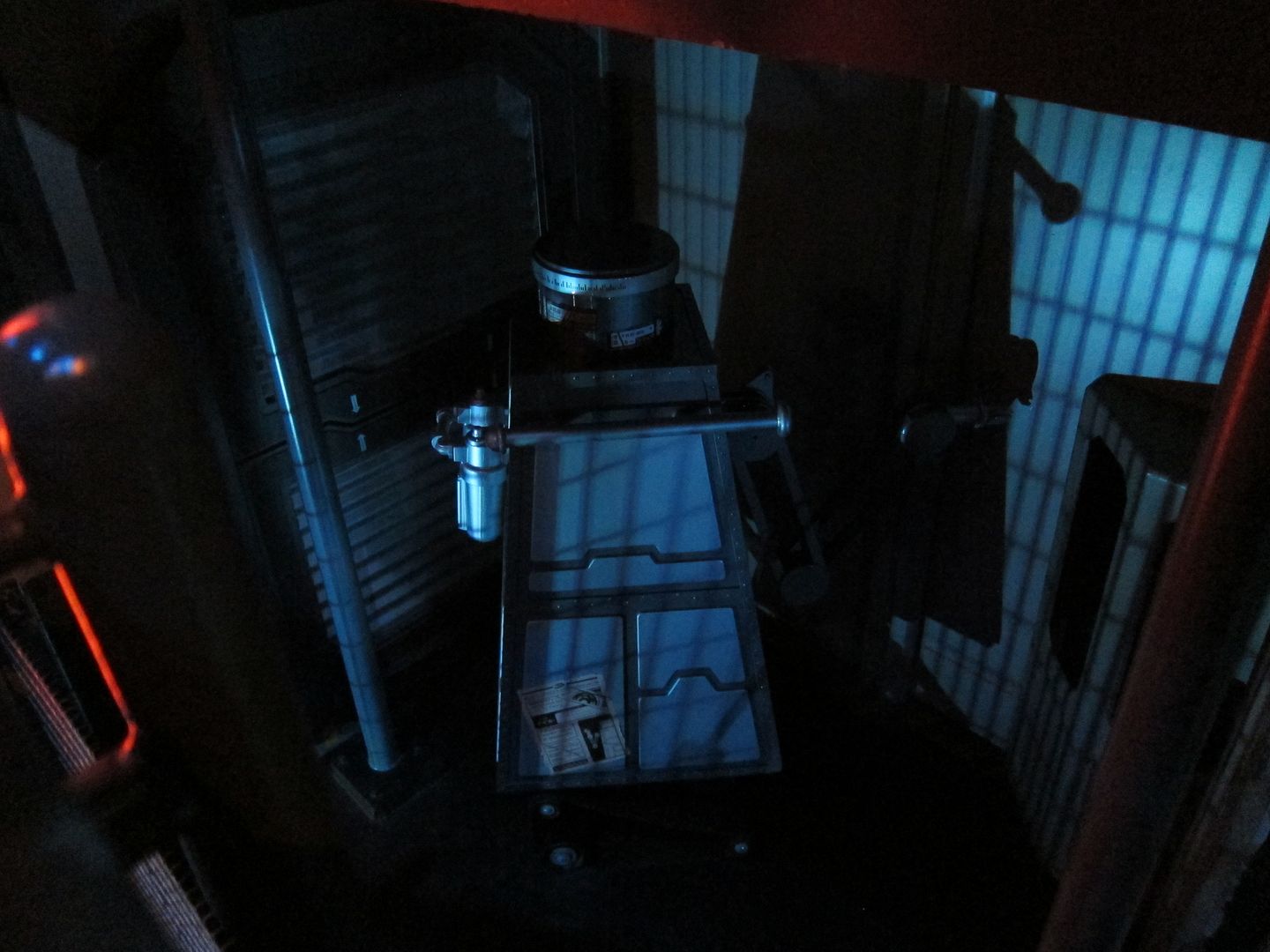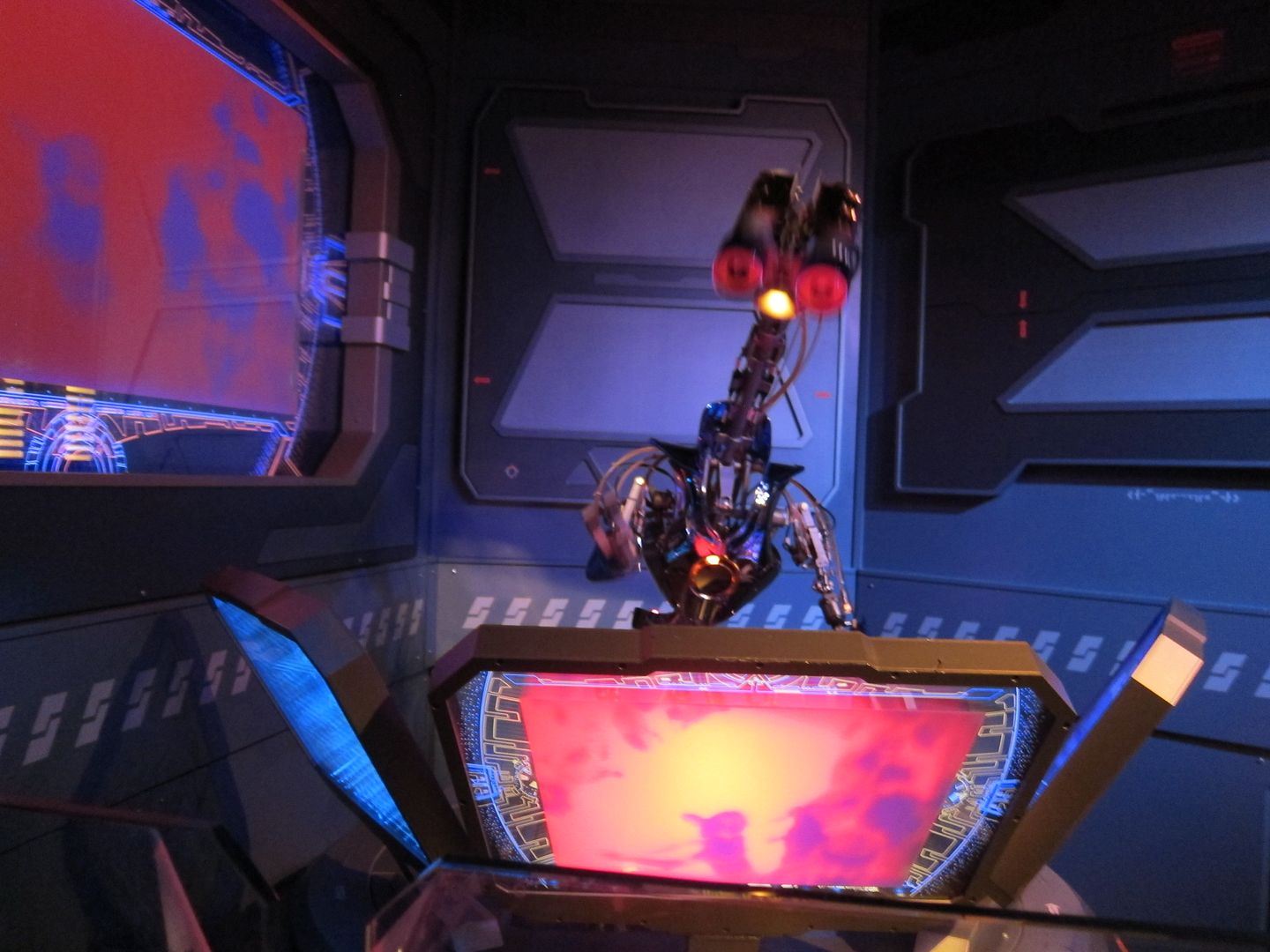 Our journey started with the Stormtroopers, took us to Kashyyyk, included a message from Admiral Ackbar, and concluded in Naboo.
Once our feet were firmly back on Earth, it was already about time for our dinner reservation. Walking all the way across the park yet again, we wound our way through New Orleans Square and checked in at Cafe Orleans.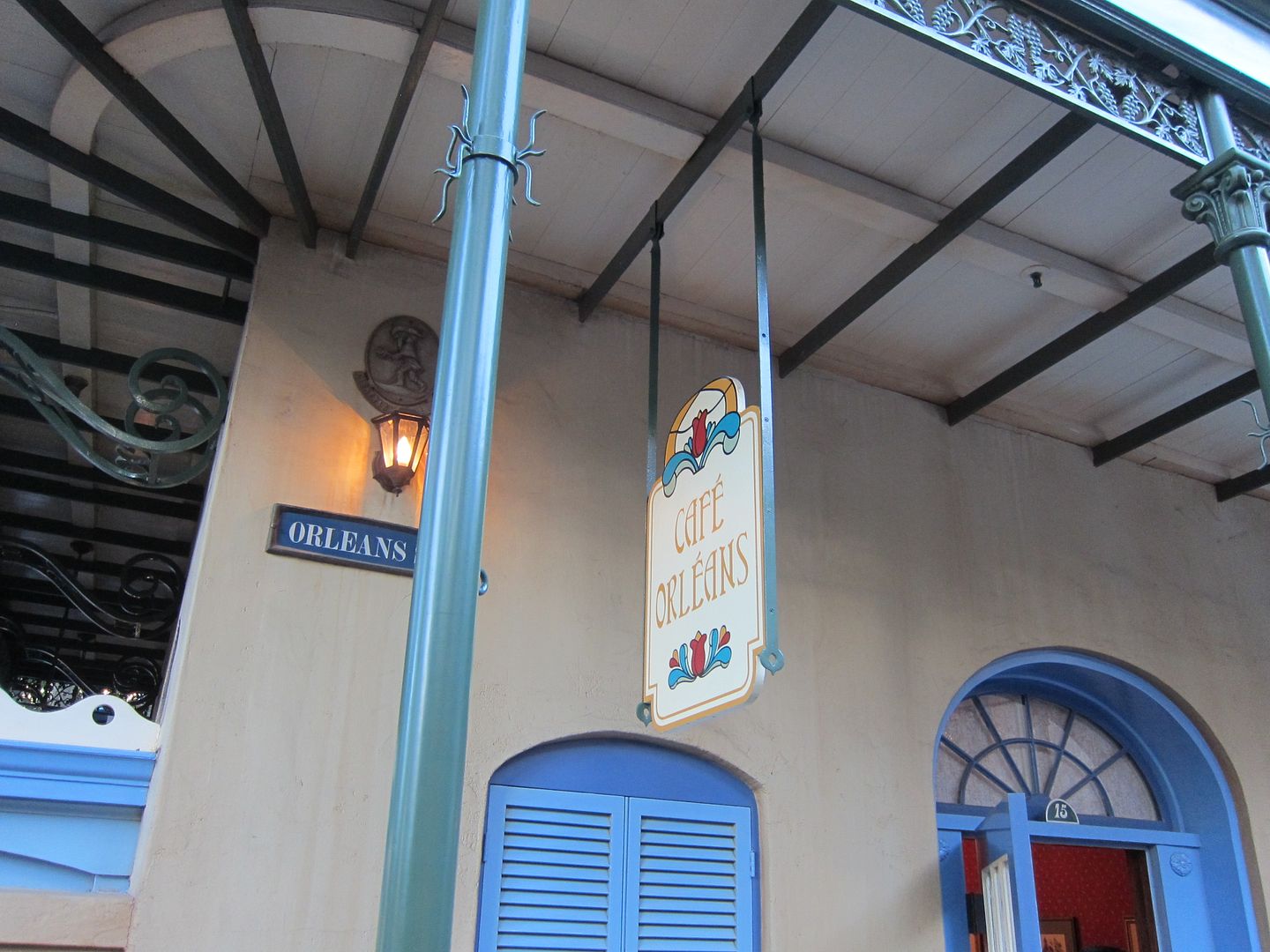 As we waited a few minutes for our table to be ready, I wandered around the land a little and took pictures of some of the architectural/theming changes I'd noticed since the refurb.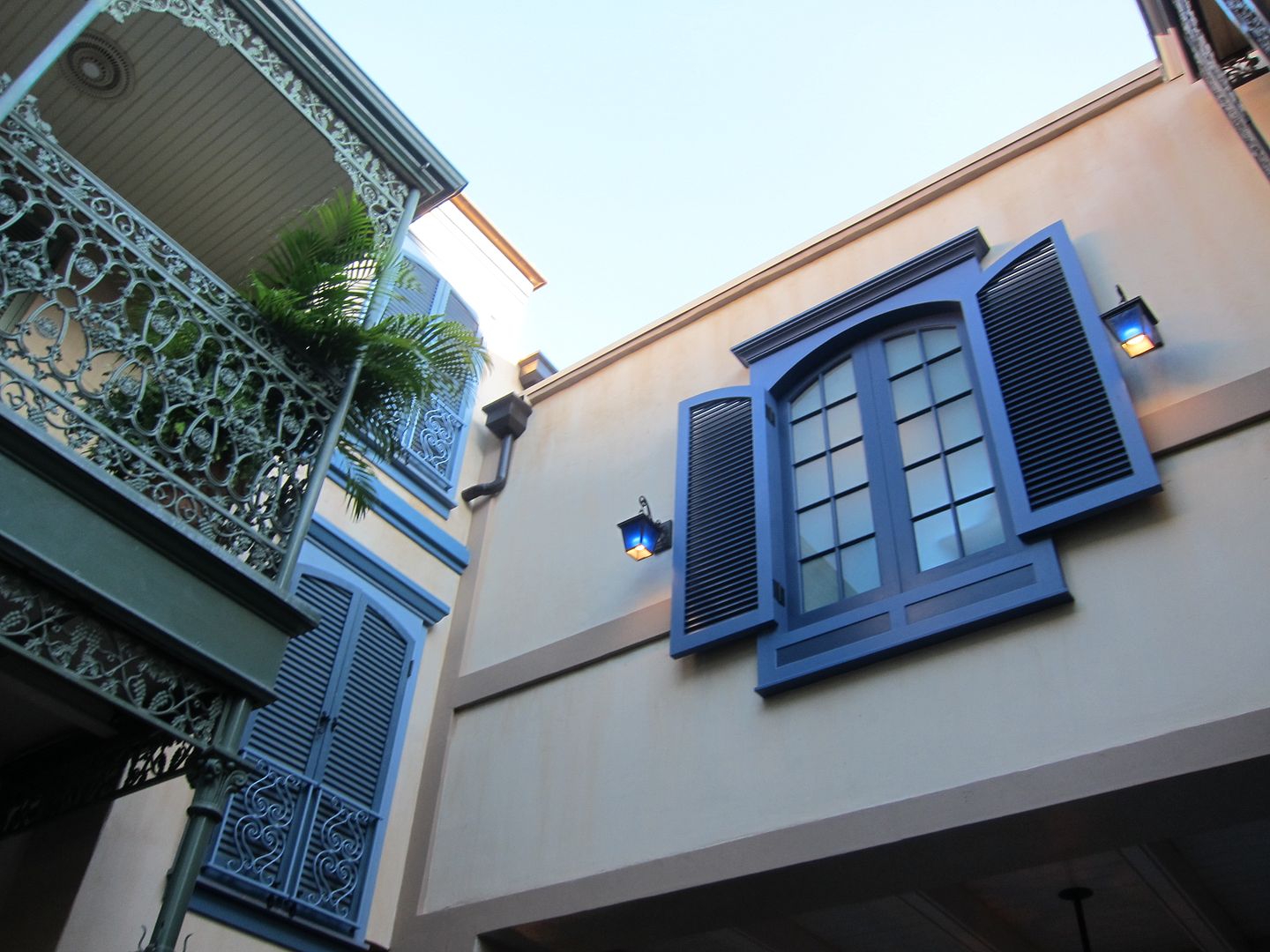 We were called back before long.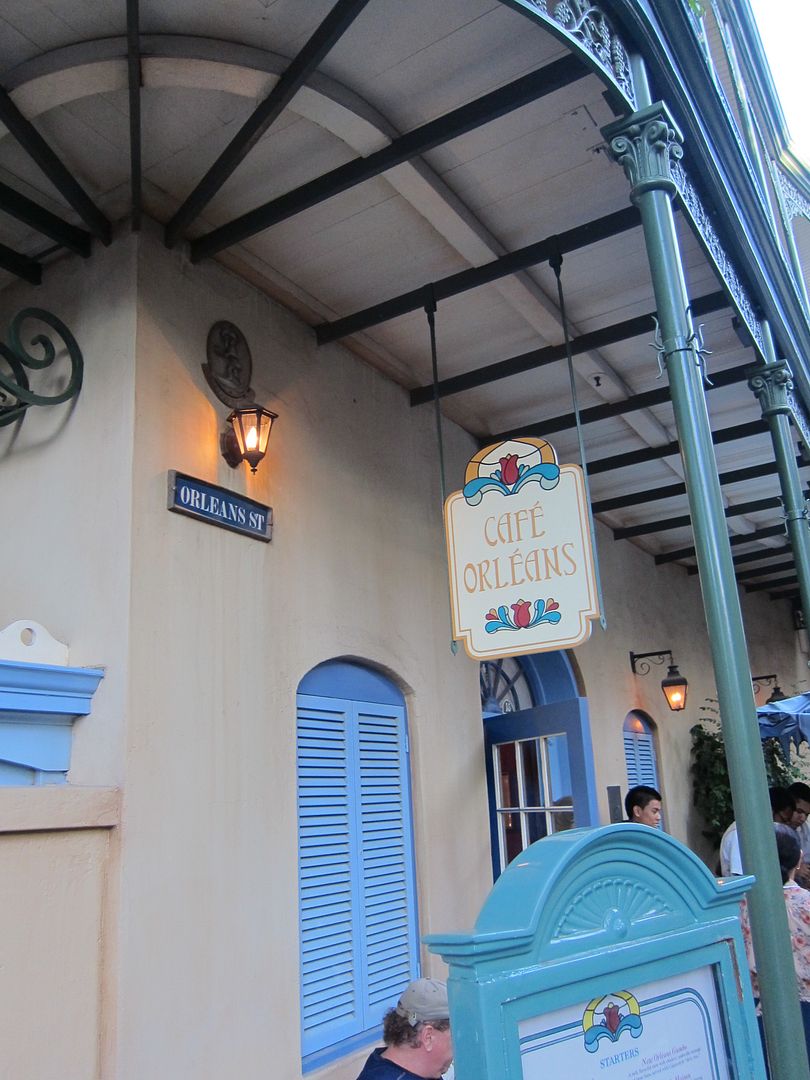 We hadn't specified where we wanted to sit, but they led us out to the patio and ended up putting us at the exact same table we'd eaten at the last time we dined here.
If you've been keeping up with my trip reports for years, you might remember that Cafe Orleans was the very first restaurant we experienced on our first trip to Disneyland in September 2011. During that visit, we ordered the Pommes Frites as an appetizer—which we loved—and the Monte Cristo for our entree—which we weren't so fond of because it was too heavy.
Now that we were back, we started with the same appetizer once more, and these garlic fries were as good as we remembered. They are INSANELY garlicky, but we like that sort of thing.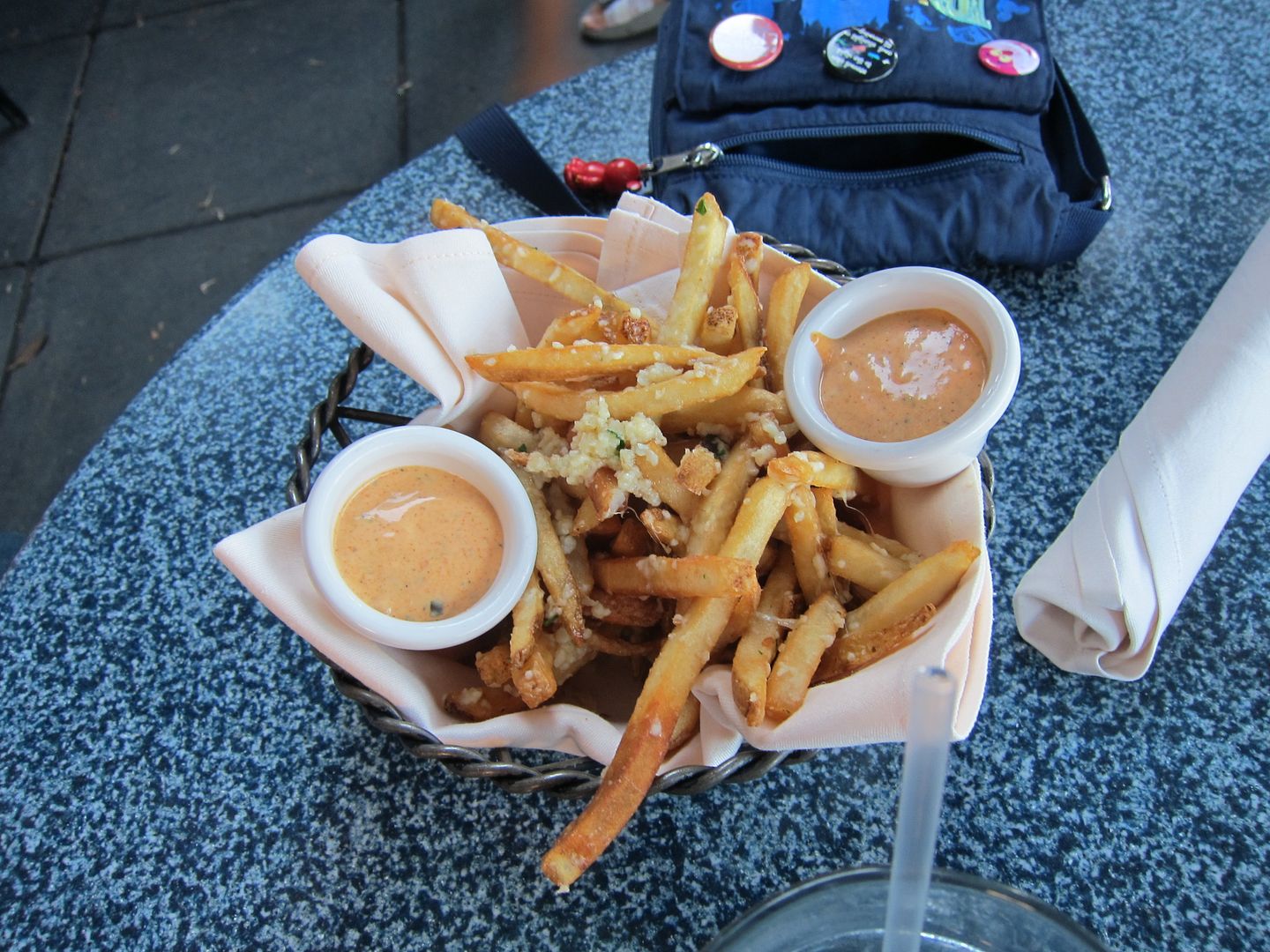 We hadn't made up our minds what to get for dinner, but then Tracy started seeing Monte Cristos coming out from the kitchen and she decided that maybe we hadn't given this popular classic the chance it deserves. She was able to talk me into trying it one more time, so we literally ended up having the exact same meal as last time—just three years later.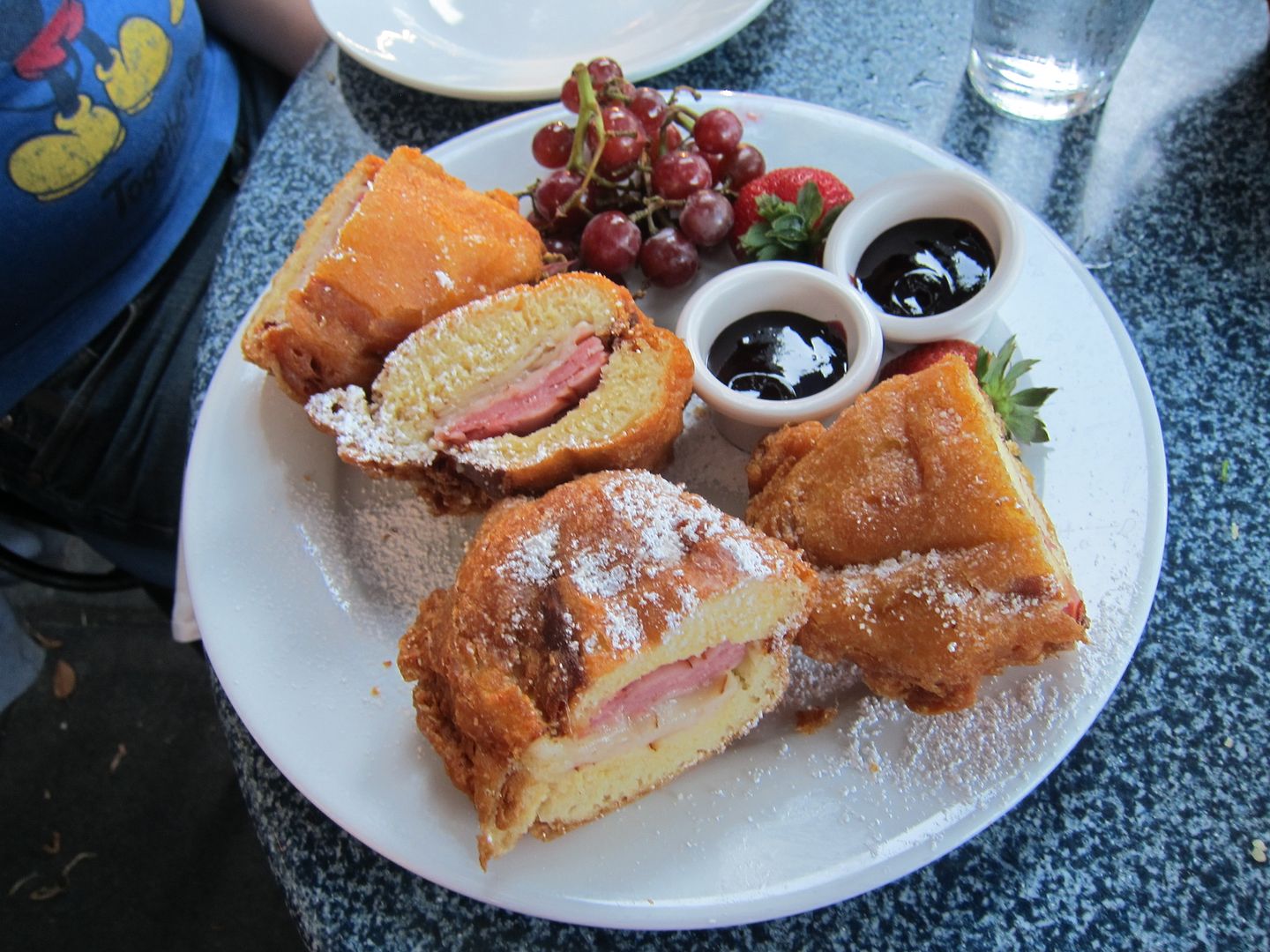 This time, the Monte Cristo was… better. I think knowing what to expect is helpful. We remembered just how uncomfortably full we'd felt after this meal a few years ago and we were careful not to fill up on Pommes Frites even though they were delicious and tantalizing. The Monte Cristo is always going to be heavy, but we were pretty good with two segments of sandwich each. By the end of my second piece, I was starting to get a little tired of the "fried" taste, so I started pulling pieces of the breading off and setting them aside while I just ate the meat and cheese. I think the Monte Cristo is just a dish that has to grow on you because we left with much more pleasant memories this time than the last. Who knows—maybe next time we'll just devour it all without even splitting. (Unlikely).
About halfway through dinner, our server (who had let us know that she was new and in training) came over to refill our waters, but the pitcher she was carrying was actually full of Sprite. The Sprite and leftover water in our cups commingled to form a very unpleasant mix, but we weren't really in the mood to let her know about the blunder when we were about to be leaving anyway.
After almost cleaning our plates, we paid and headed out. This Cafe Orleans meal had been full of deja vu moments, but we'd had a good time on the whole.
Overview of Cafe Orleans Dining Experience
Service: Our server was trying her best, but several mistakes made it clear that she was brand new on the job. 3/5
Atmosphere: Once again, we have no clue what it's like to eat inside this restaurant, but we've enjoyed our spot on the patio both the times we've dined here. I love being surrounded by the music and atmosphere of New Orleans Square in general. 4/5
Food: We took a risk trying the Monte Cristo again, and I was glad it mostly paid off. We were happy with the food—and the Pommes Frites are still a standout. 4/5
First Visit?: No
Will Return?: We'll be back. It might be a few years again, but this restaurant is worth returning to.
Done with dinner, we started back toward Fantasyland since we'd gotten another return time to use for Alice in Wonderland.
Tracy happened to look down and notice the survey marker near the Fantasyland restrooms for her first time.
Alice would become our go-to attraction for this trip, and this ride was only the second of many.
We just couldn't get enough of that excellent refurb and were excited to ride it again and again.



Share