Chapter 35
More Ketchup, Please
---
(Originally posted August 26, 2012)
As our boat plied the waterways toward Wilderness Lodge, we got to see some parts of the resort from unique angles.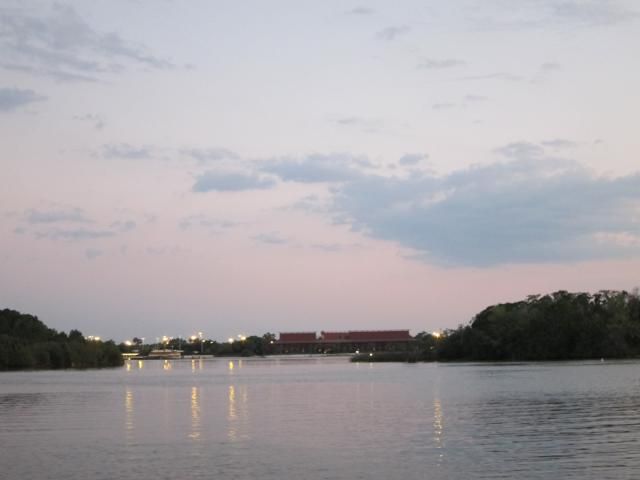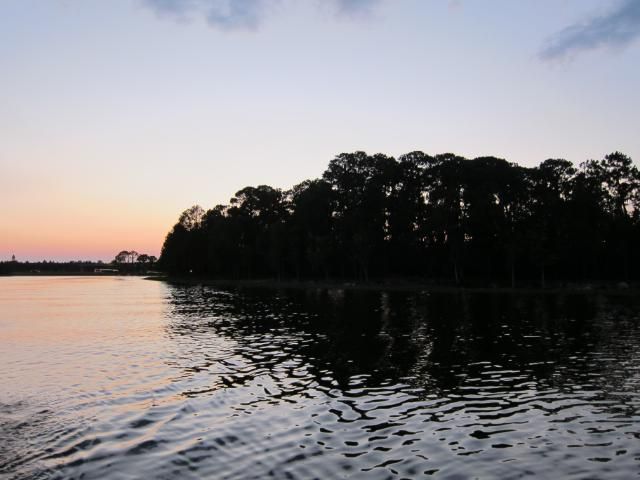 The ride actually didn't take too long, and soon we were approaching the Lodge. If we ever actually got to stay at this resort, I feel like we would use the boat once or twice to get to/from the Magic Kingdom, but in comparison to the buses I would bet the boat is actually slower…
We took our time walking from the boat dock toward the hotel entrance. There's so much cool scenery at this resort. I would love to get to stay here someday.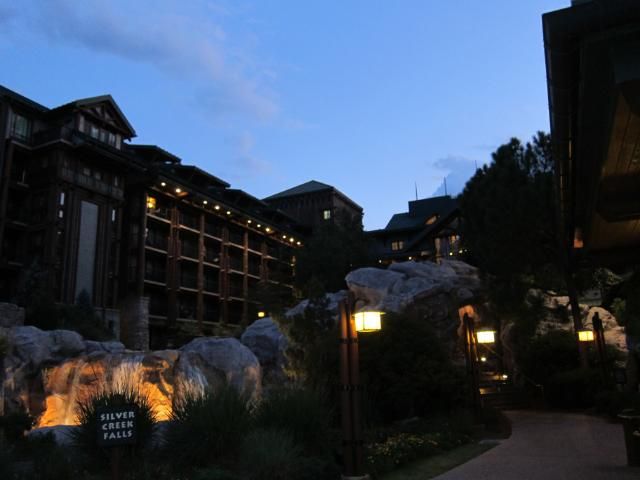 We got to the lobby about a half hour before our reservation, so we looked around for a few minutes before checking in early.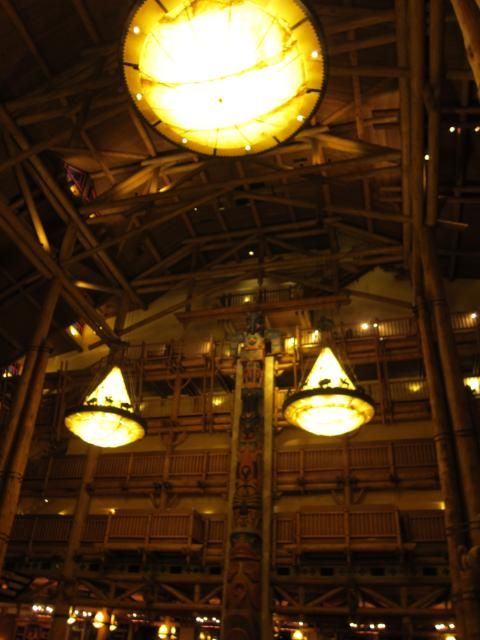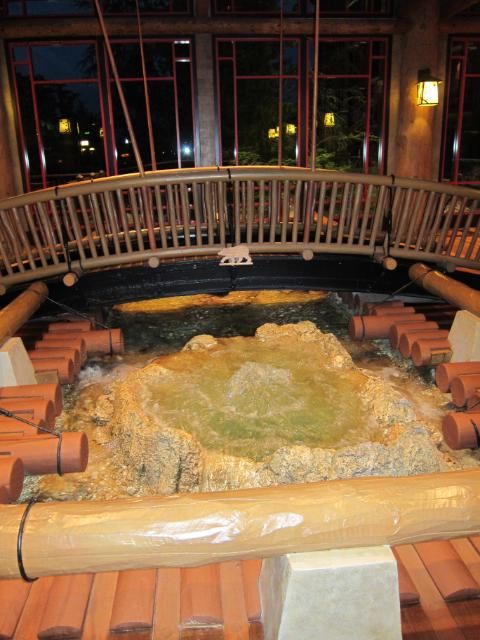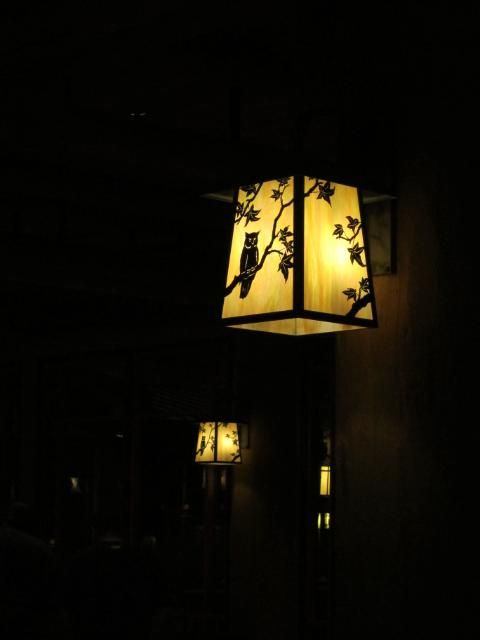 After properly washing up for what we knew would be a finger-lickin' meal, we checked in and were promptly seated at Whispering Canyon Café.
We looked at the menu, though we had already decided what to order in advance—"Our Famous Canyon Skillet All-You-Care-To-Enjoy." We started off with Strawberry Milkshakes, Cornbread, and Mixed Greens.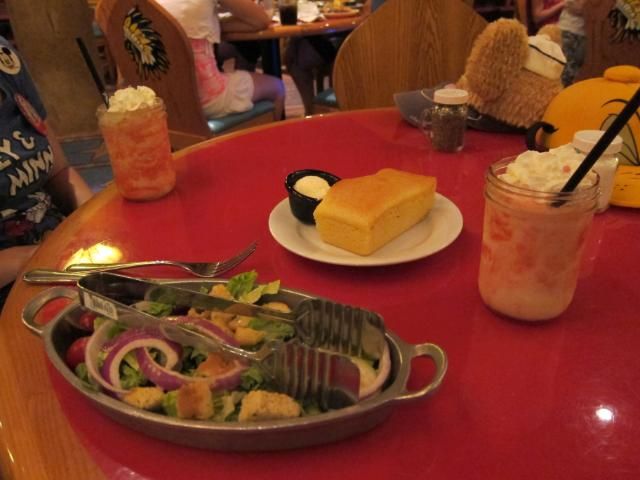 The cornbread was so good. I love cornbread above almost any other type of bread, and this did not disappoint. The shakes were also really good. Nice and thick with strawberry pieces in them. I think the salad was good too, though I don't remember many specifics. Next, the meats came out.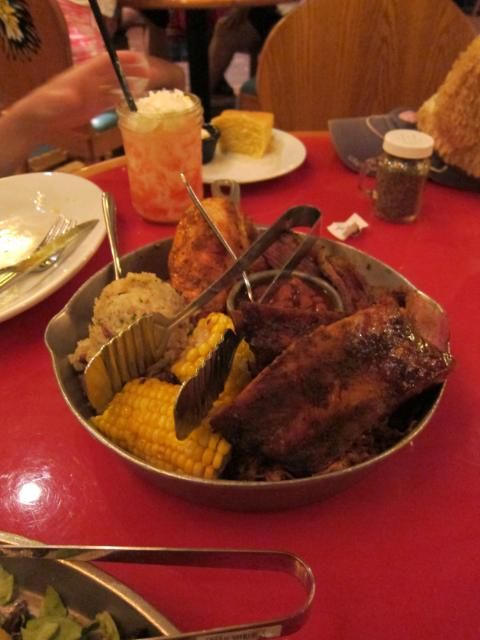 The skillet includes bottomless smoked pork ribs, pulled pork, oven-roasted chicken, pork sausage, mashed potatoes, creamy coleslaw, beans, and corn on the cob. The pulled pork was probably the favorite for both Tracy and me. The ribs also had a really good taste, but they needed more barbeque sauce and it took a while for us to get ahold of our server to ask for more. Everything was pretty standard barbeque fare, but I love barbeque, so I had nothing to complain about.
One of the most fun elements of Whispering Canyon is the atmosphere. We had heard about the shenanigans with the ketchup bottles and people yelling all across the restaurant, but seeing it all in person was really fun. We would have asked for ketchup to have it all brought to our table, but neither of us even likes ketchup so we were glad to get to see it in action even without participating. The table next to us was full of off-duty cast members enjoying a night out and getting a little rowdy, so it was fun to eavesdrop on them occasionally too.
After finishing our first round of meat, our server came and asked if we'd like more of anything. While we gladly would have LIKED more, we certainly didn't need to eat any more. As usual, we stuffed ourselves. Instead we moved on to the dessert menu. We decided to order the Whispering Canyon S'mores for one of our desserts and to get the Fresh Fruit with Ginger Yogurt and Granola to-go as our other dessert. We ordered the yogurt and granola on the side so we could put it all in the fridge to have for breakfast the next morning! The S'mores were delicious!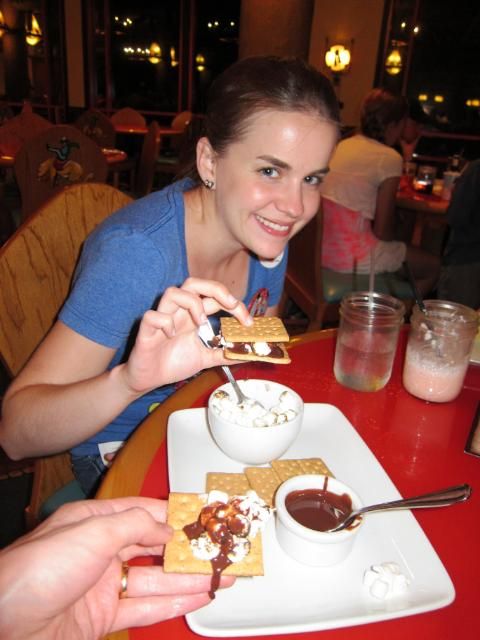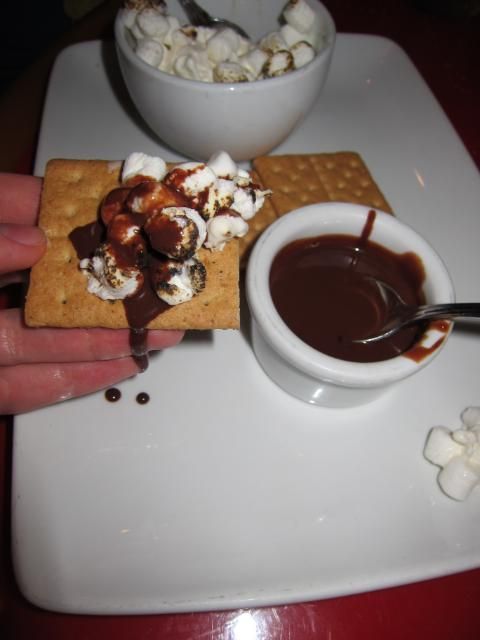 It's served with warm Dark Chocolate Sauce, Graham Crackers, and Marshmallow Gelato. It was honestly one of the best desserts we had on our whole trip, and I was so sad that I got stuffed before I could eat too much of it. Looking at current menus for Whispering Canyon online, I don't see this dessert as an option anymore. I hope they bring it back before the next time we go!
After eating as much as we could fit without feeling sick, we settled our bill and left to go explore the rest of the Wilderness Lodge grounds before heading back to our hotel.
Overview of Whispering Canyon Café Dining Experience
Service: Good, though we wished we had one of the other servers who was working at the same time. Our server was a little more reserved, while the others were loud and boisterous and really added to the atmosphere. 3.5/5
Atmosphere: We knew the restaurant was going to be loud and raucous going in. And this was when they were getting ready to close, so the tables were probably only half full. Still, everything from the ketchup ordeal to the multiple "Happy Birthday" songs were really fun and just what we were hoping for. 4.5/5
Food: Everything was pretty standard barbeque food, but that doesn't mean it wasn't tasty! I had no complaints. 4/5
First Visit?: Yes
Will Return?: This is the kind of place I would definitely come back to if I were ever visiting WDW with a big group. The two of us would probably come back, but it won't be somewhere we go every trip.
After leaving the restaurant, we found a cast member to ask where we could find the geyser we'd heard so much about. She directed us where we needed to go and we found our way out.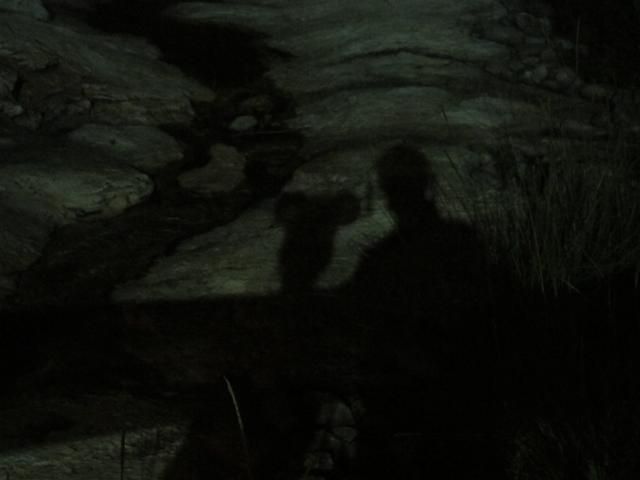 We had to wait less than five minutes before the geyser started going off.
What a cool, unique thing to have at the resort! I just love all the different themes of the Disney resorts. As the geyser was blowing, Wishes started in the distance at the Magic Kingdom, so we could see a few of the fireworks over the treetops. We started to make our way back toward the buses, taking our time to look at the pool, the streams, and everything else this resort has to offer.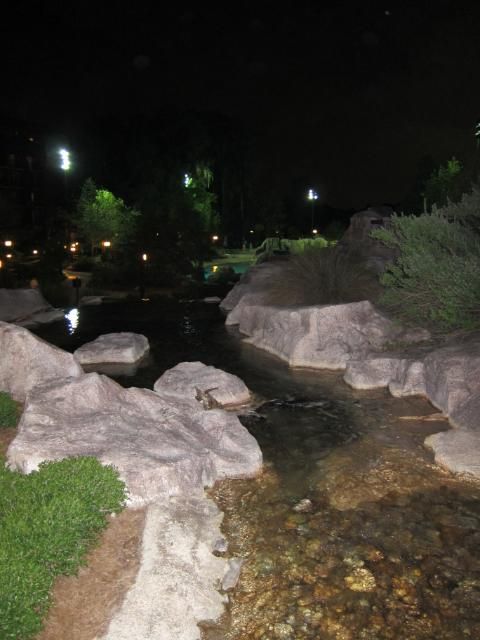 This was the end of my photographing for the night, though our journey back to our resort was actually worth highlighting. We got to the bus stops and realized that since Wishes was ending, the Magic Kingdom was about to be closing. That meant that every park was now closed. Since we had to ride a bus to either one of the parks or Downtown Disney to transfer to a Port Orleans bus, this left us with a big inconvenience. Once the parks are closed, the buses that arrive, bringing people back from those parks are no longer allowed to take people like us to the closed park. Therefore, as each bus arrived bringing guests back from Epcot, Hollywood Studios and the Magic Kingdom, the bus drivers told us they couldn't take us and we'd have to wait for a Downtown Disney bus. Unfortunately, Downtown Disney buses come approximately once every year. Maybe twice a year if you're lucky. We waited. And waited. And waited some more.
Finally, after about a half-hour had passed with no sign of a Downtown Disney bus approaching, we went to talk to the next bus driver bringing guests back from Hollywood Studios. At first, it seemed like we would be out of luck with him just like we had been with everyone else. He gave us the same line about waiting for a Downtown Disney bus before pulling forward and almost leaving. Then, just as we were beginning to contemplate taking a cab back to our resort, he opened the bus doors and waved to us to come forward. He asked where we were going, and when we told him Riverside, he told us we could hop on and he would take us there. Apparently he was about to go off duty and was going to be floating before his shift ended, so he had radioed in to ask whether he could take us to Port Orleans. We thanked him profusely and got on board.
There was one other couple on the bus who were riding it to the Fort Wilderness Campground, and we struck up a conversation with them for the time they were riding. Apparently one of them had a brother who is an actor in NYC, so we had plenty to talk about. Once they got let off at the campground, the bus driver took us the relatively short distance back to Riverside. He told us that he knew if we were stuck waiting for a Downtown Disney bus it could easily take us over an hour to get back to our resort, and that's why he had been so keen to help us out. As he dropped us off, Tracy asked for his name so we could tell Guest Services about how nice he had been to help us out. He told us it was Cliff, so we made a mental note to send an email about him. Then he drove off and we made our way back to our room, showered and hit the hay. We had another morning Extra Magic Hours day ahead of us!
Overview of May 22, 2012
Highs
– The Parade
– Spending a whole day in our favorite park
– The Parade
– Discovering new-to-us attractions at the Magic Kingdom
– The Parade
– The Orange Bird, and having both a citrus swirl and a Dole Whip
– Cliff helping us get back to our resort
– Did I mention the Parade?!
Lows
– Really nothing. This was one of those practically perfect Disney days
Weather
Low 90s and Sunny
Food of the Day
Pineapple Float with Pineapple/Vanilla Swirl from Aloha Isle



Share