May 23, 2012
Chapter 36
The Hollywood That Never Was, and Always Will Be
---
(Originally posted August 27, 2012)
We woke up early again Wednesday morning. Shockingly, Duffy decided to stay in bed.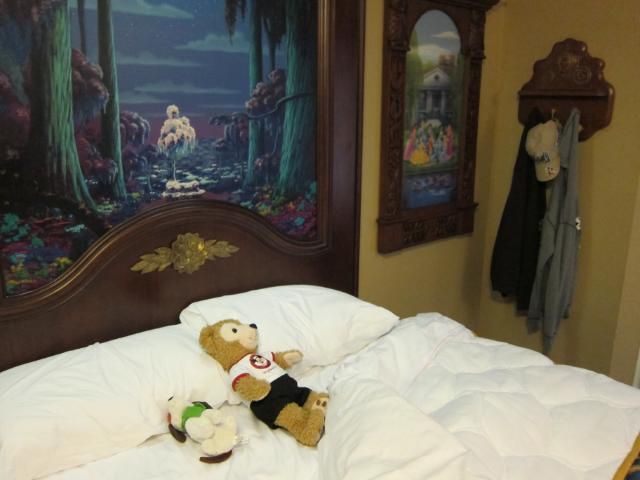 We got ready and made one cup of oatmeal to share (this time they brought us cups, luckily, so we didn't have to use the water glasses). We also had our leftover dessert from Whispering Canyon Café. I'm not a big ginger eater, so I steered clear of the yogurt, but Tracy enjoyed that, the granola, and the fruit. I mostly picked at the fruit, which was pretty delicious! Unfortunately I didn't grab a picture before we obliterated the whole thing…
Having gotten our free classic Mickey ears for the parade, we decided to wear them. We matched Duffy, so we had to get a family picture.
It was partly cloudy as we got out the door and made our way toward French Quarter.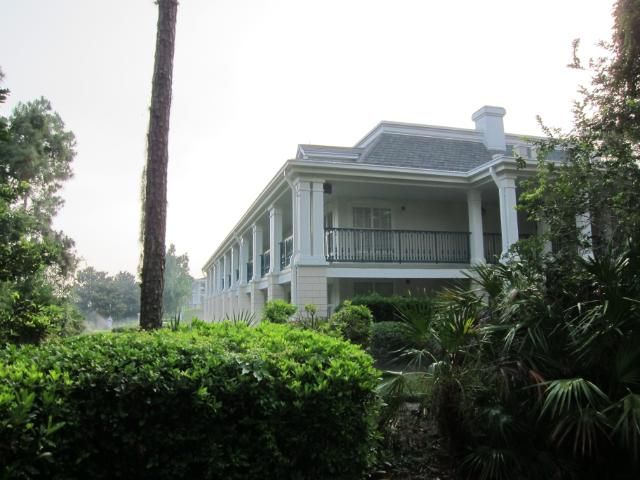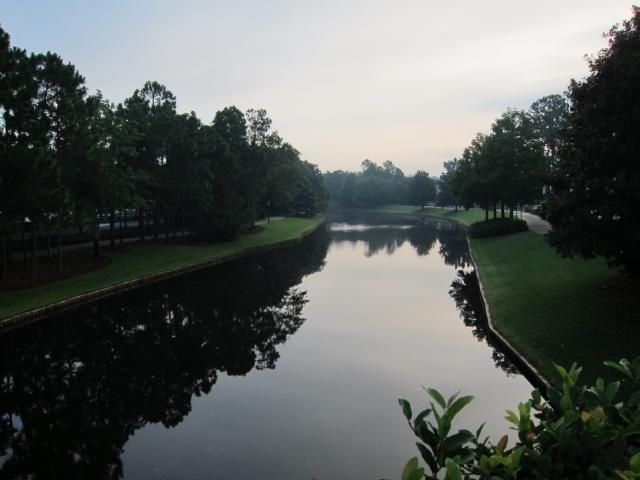 By this point, we had just made French Quarter our default bus stop, especially in the morning.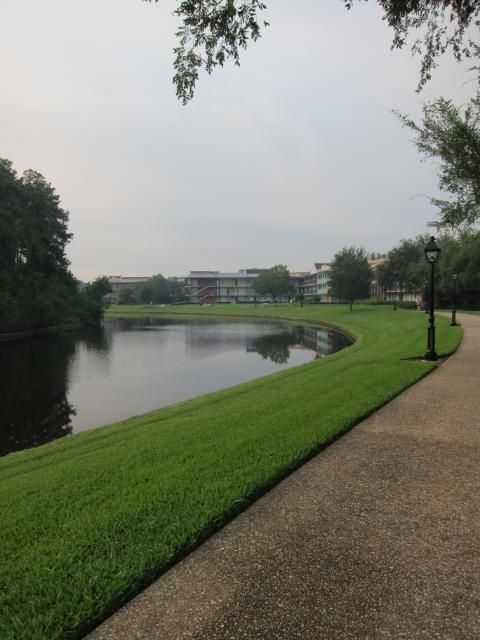 Since we were hitting the Extra Magic Hour park for the day, a bus pulled up before too long heading to our destination—Hollywood Studios.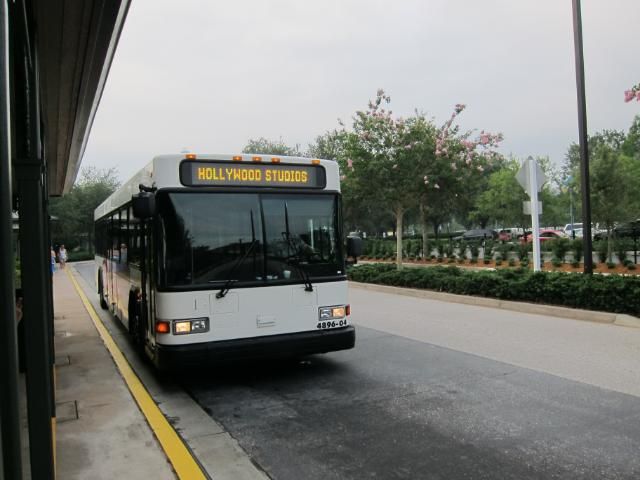 We cut it a little close and pulled up to the Studios at 7:58.
Luckily, we knew this would be one of our most leisurely days, so we weren't too worried.
We queued up and got through bag check right as the park was being opened.
Tracy let me know that she had decided while packing for our trip that Hollywood Studios day was when she was going to wear her Lady and the Tramp shirt. She didn't have any specific reason why, but it was a clear cut decision for her!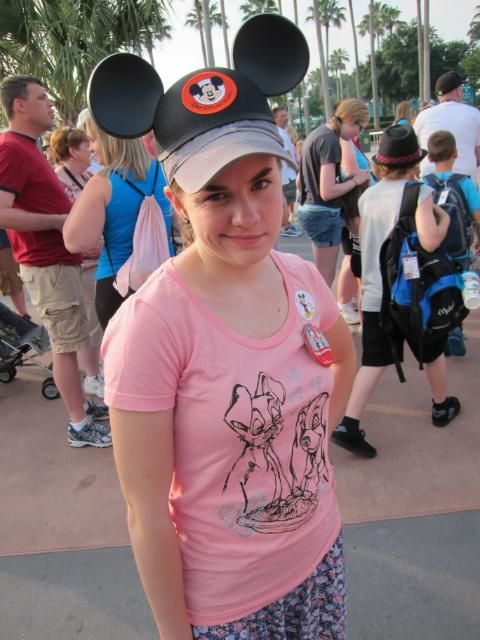 We kept being given stickers by cast members for various reasons, so we had stickers on our shirts from the beginning of this morning.
As the throngs began entering Hollywood Studios and making their way back toward Toy Story Mania, we joined them initially.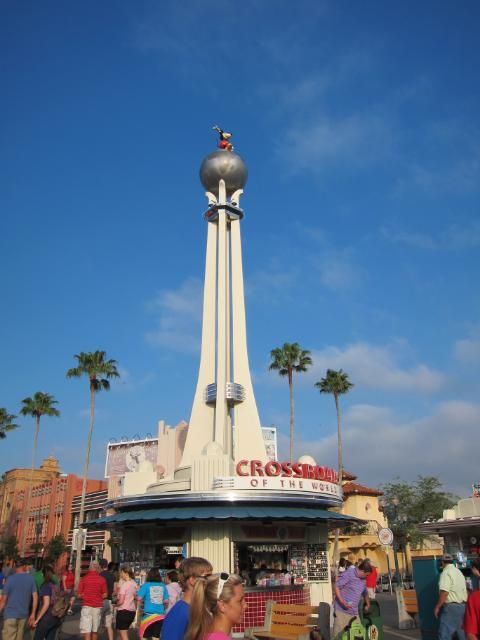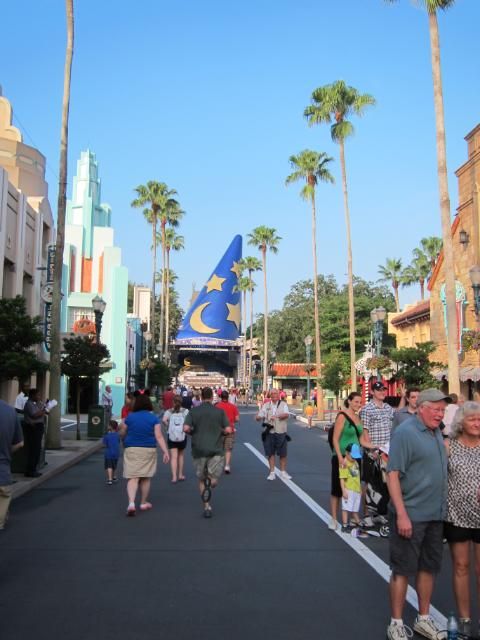 We had intended to ride Toy Story Mania and then get Fastpasses to ride again later.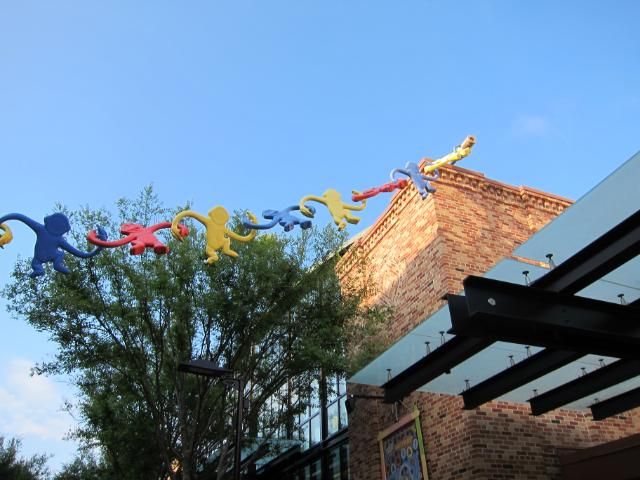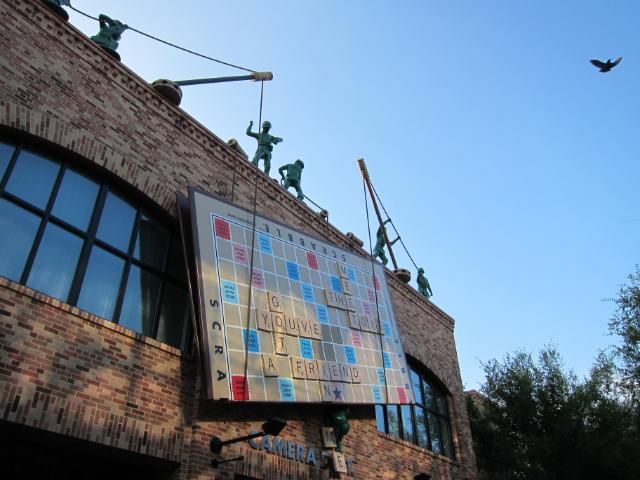 By the time we reached the entrance to the queue, the posted wait time was only 15 minutes.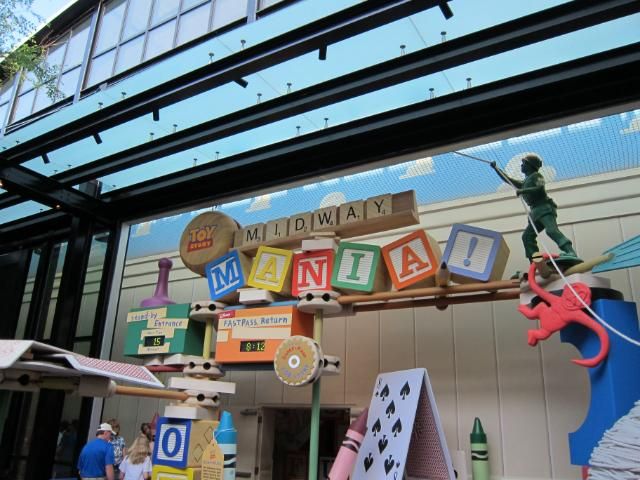 Once we actually got in line, however, we noticed that the entire main section of the queue was full, so we realized the posted time probably wasn't accurate. We really like Toy Story Mania and would have been sad not to get to ride it at all, but we decided we didn't really want to spend the whole Extra Magic Hour in line. We made the difficult decision, therefore, to get out of line and get Fastpasses to only ride once so we could do some other attractions and character meet and greets with our extra time.
When you're in Hollywood Studios for the morning Extra Magic Hour and not in line for one of the E-Ticket attractions, the place seems like a ghost town. There was literally no one in many sections of the park.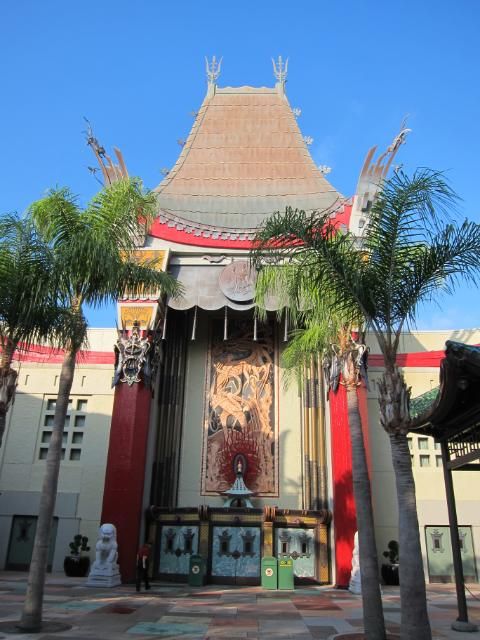 As we entered with the masses and hurried by the Sorcerer's Hat on the way into the park, we noticed several classic characters in "Hollywood" garb, so we wanted to get some pictures before they went away for their first breaks. Even though the park had practically just opened, we were the last ones to get to meet Minnie before she left for a while.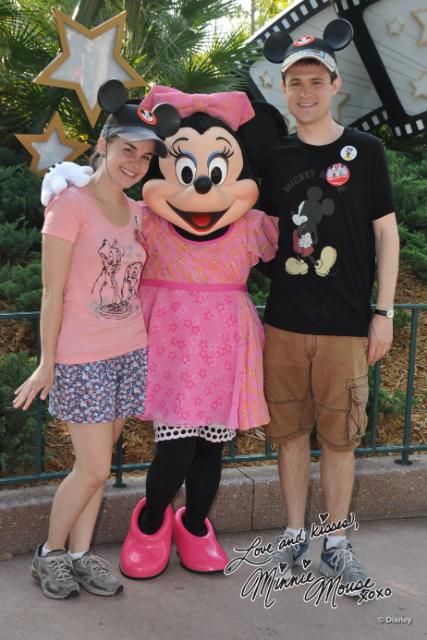 This Minnie was SHORT. Tracy is 5' 1", so within the "mouse height" range, and this Minnie must have been at least 4 inches shorter than her… After meeting Minnie, we went to the bathroom off of the deserted Streets of America.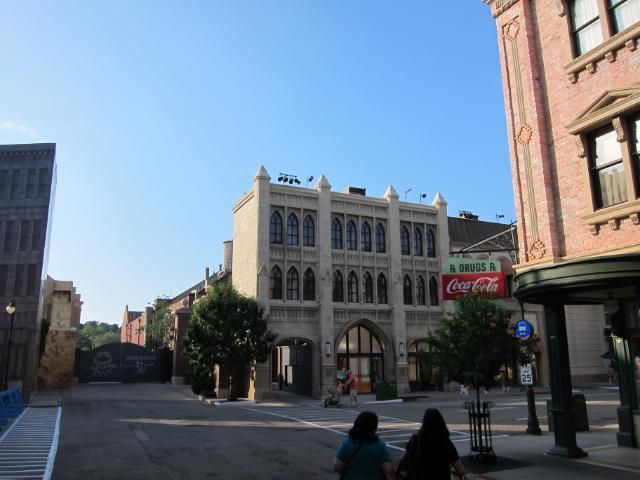 We knew that if we weren't going to go on Toy Story Mania first, we should start our day of attractions with Star Tours.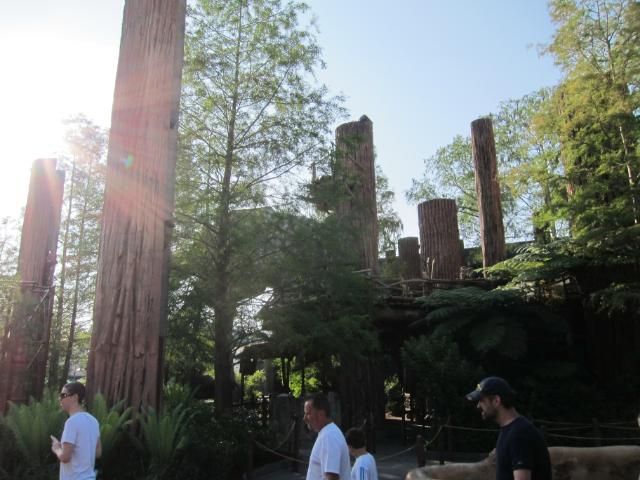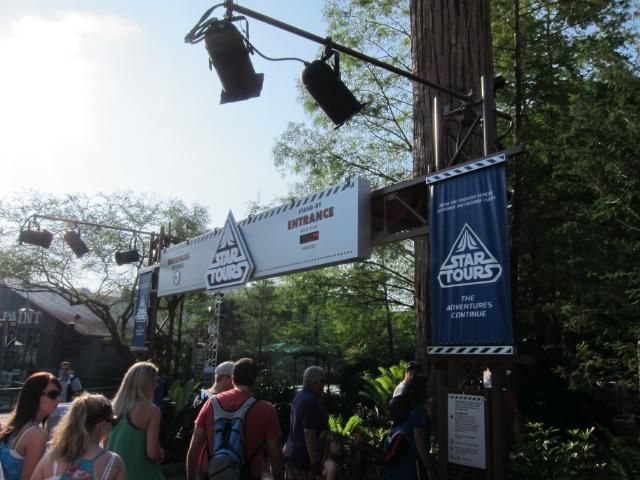 We loved the new Star Tours when we first got to experience it at Disneyland, but even though we rode it about seven times there, we kept getting the same basic combination of locations. We would always go to Hoth first and then usually end up at the Death Star. We couldn't seem to get away from this combination! About a week before this trip, we rented Star Wars: A New Hope and watched it on Blu-ray. Tracy, who had never been much of a Star Wars fan, really enjoyed it, and I did too—though I'd always been a little bit of a Star Wars geek. Now between her newfound love for R2-D2 and our memories of how awesome the new version of this ride is, Tracy announced early on in our trip that this was one of the things she was most looking forward to riding. And luckily, there was R2 to welcome us as we arrived.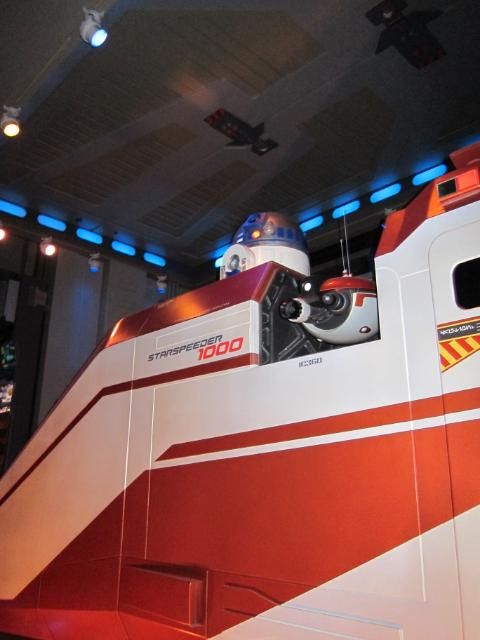 And C-3PO, who is also awesome.
There was literally no line for this ride at this time, so we made our way up the ramp and toward our vehicle. Would we make it to a new destination this time??



Share