Chapter 63
A Small Smackerel
---
Previous Post | Next Post
Table of Contents
(Originally posted December 22, 2012)
We checked in at Crystal Palace, were given our pager, and told that we would be seated shortly.
Finding a bench outside the restaurant, Tracy and I sat down to wait.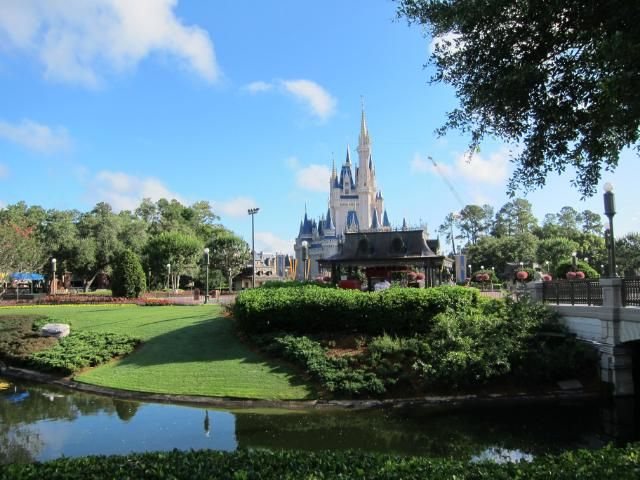 We found that this spot had an especially nice view when there weren't thousands of people rushing by.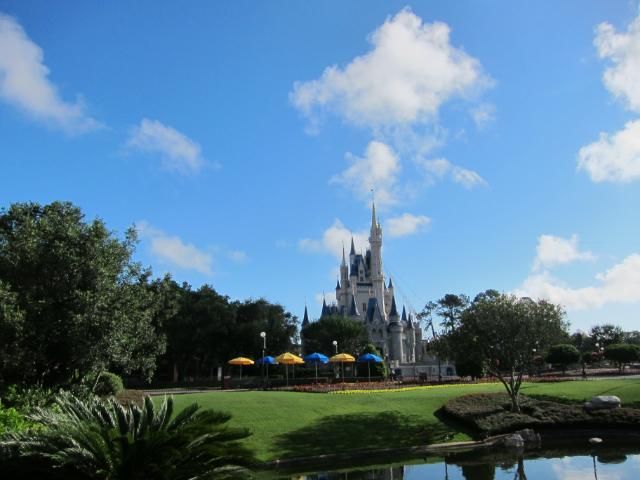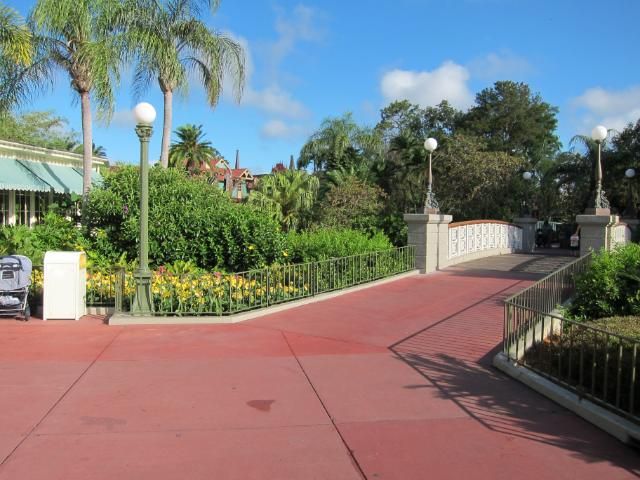 Both of us admitted that we weren't super hungry this morning—the food wall for this trip had definitely been hit—but we were still excited to try the buffet and meet our favorite Pooh characters.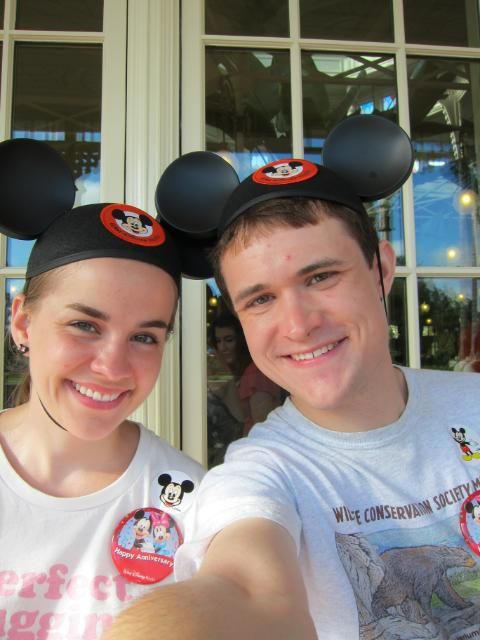 After our pager went off, we were led into the restaurant. I loved this topiary sculpture in the entryway.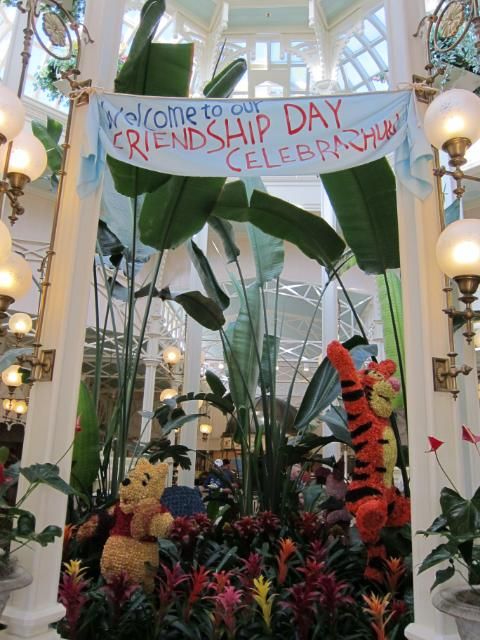 Our hostess offered to take our picture with it en route to our table.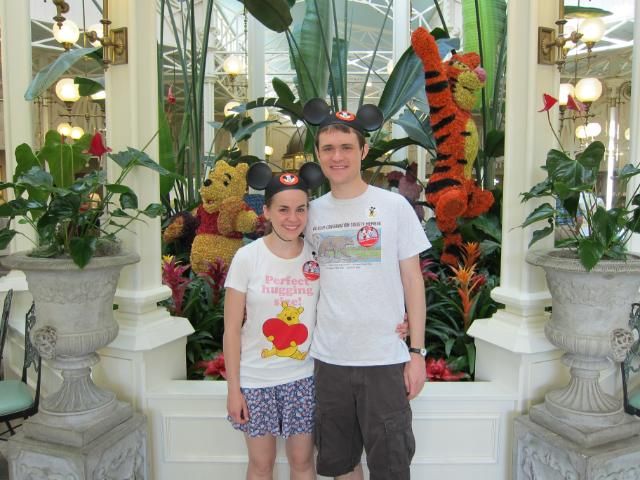 As we were seated, we noticed that our table had been decorated with confetti for our anniversary.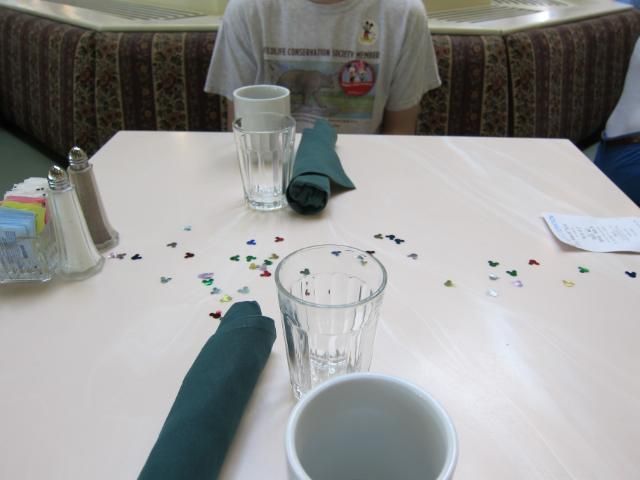 We were seated on the right side of the restaurant.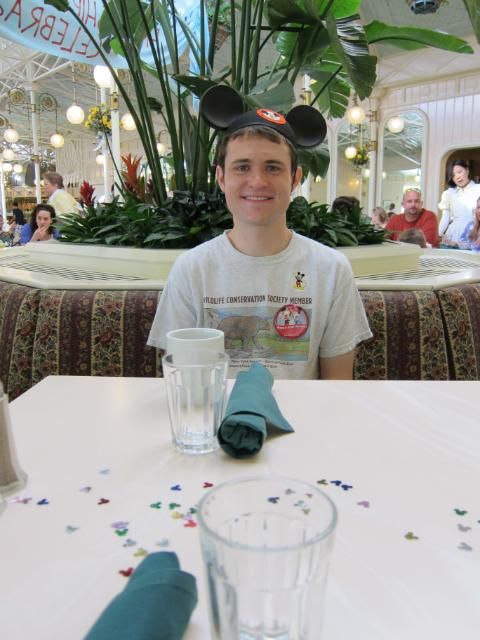 Our server came over and took our drink orders. Tracy got orange juice, I got apple juice, and we both got coffee. Almost immediately after she brought our drinks, we had our first character interaction! Tigger stopped by our table.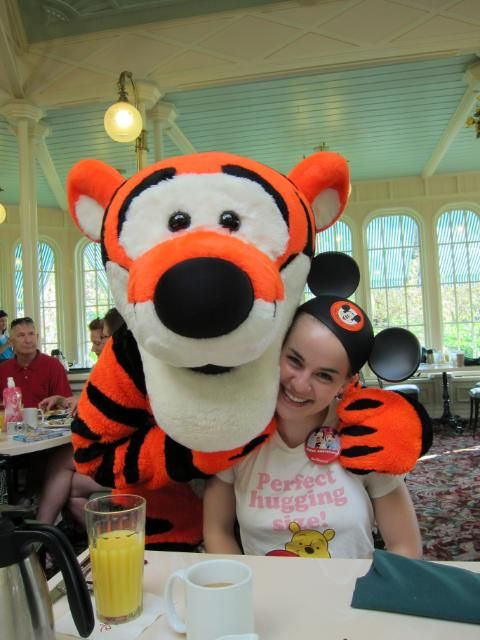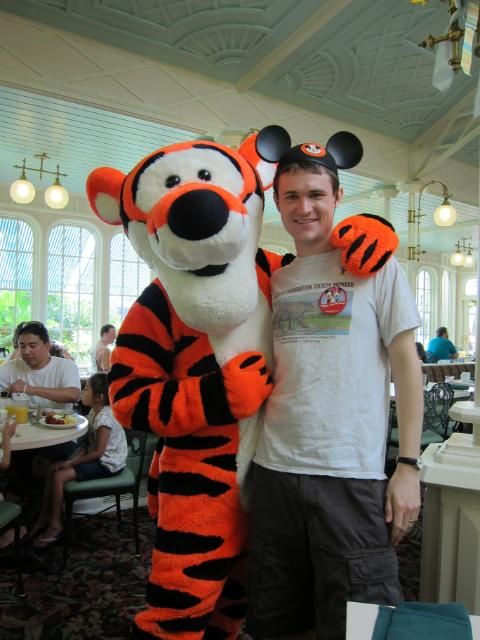 There was a nice lady at one of the tables behind us who offered to take our picture together!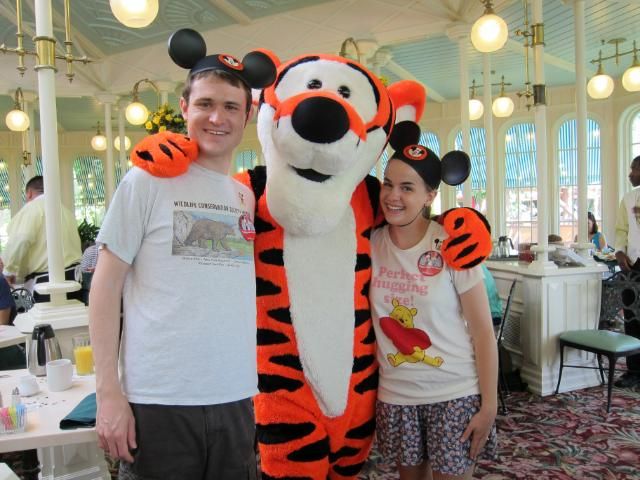 And now, we realized that Tigger had been the tail-end of the last round of characters that had come to visit. Now we had plenty of time to hit the buffet before everyone else came our way. On our first trip to the buffet line, Tracy and I ended up with pretty similar plates.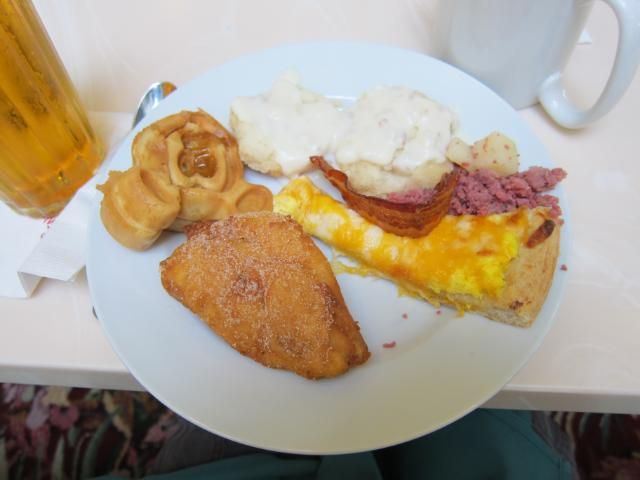 Clockwise from the top, we had Biscuits and Gravy (always a favorite, as you saw earlier in the trip), Corned Beef Hash (I rarely like corned beef hash at restaurants unless it is definitely fresh. When it comes from a can, as this kind did, I'm a little creeped out by the texture. Tracy enjoyed it though), Bacon (Disney bacon is never the best. I like my bacon crispy, which theirs is not), Breakfast Pizza (this was one of the things we were most excited to try, and it was good!), Puffed French Toast (the signature breakfast item here, this was definitely good. I think we would have appreciated it more at the front end of the trip, however. By this point, we had gotten a little sick of heavy, fried foods), and a Mickey Waffle (what can I say about Mickey waffles? They're delicious, and any food shaped like Mickey Mouse will automatically trump all).
After our first plates, the waiting game began. We were both pretty full already, but we knew it would be a while before the characters came around. I sniped this picture of Tracy when she wasn't expecting it, and I thought it came out with her looking a little shifty.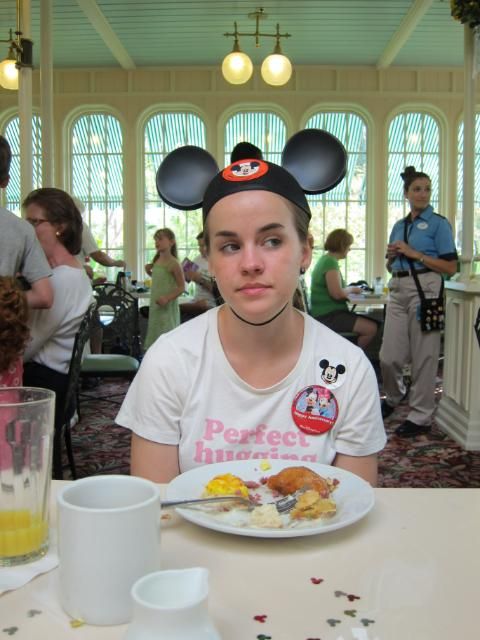 I tried to imitate the shifty-eyed look too, but mine didn't come out as well.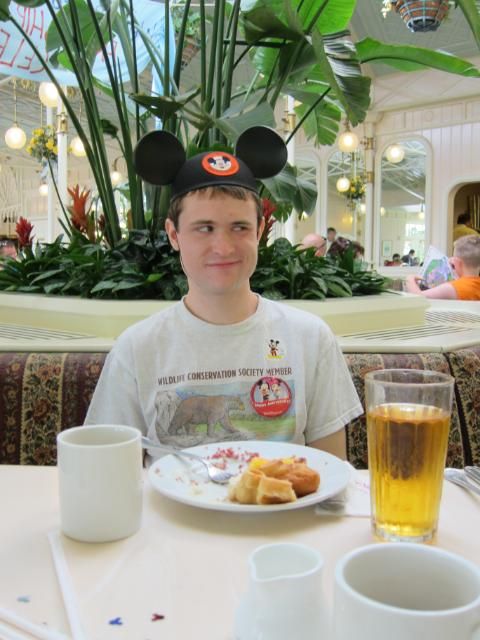 While we were picking at our plates and waiting, the parade around the restaurant started up. I took a picture of Eeyore as he marched by.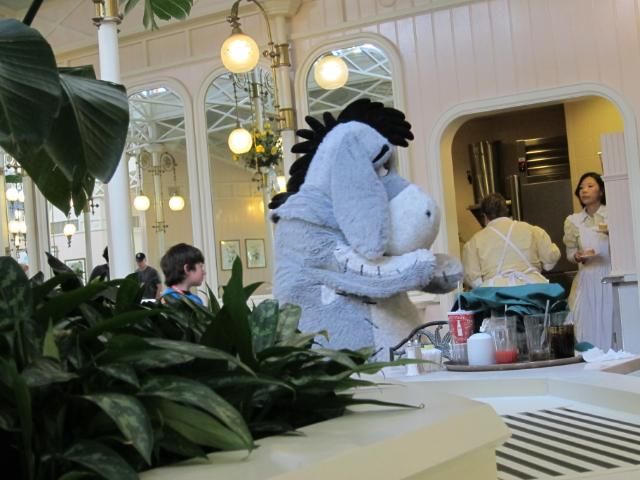 Finally, after about a half-hour since Tigger had stopped by, more characters started making their way toward our table. First was Winnie the Pooh himself!! Tracy had purposely saved her Pooh shirt for our last day, knowing wed get to meet him. He liked it!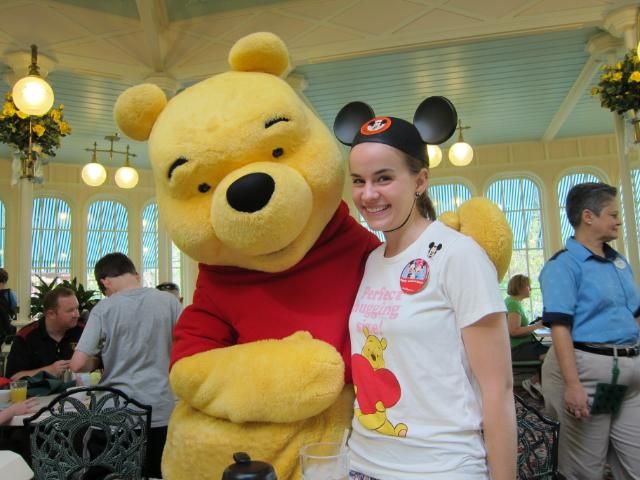 Next, Eeyore came by! Hes definitely Tracy's favorite Pooh character, so she was really excited.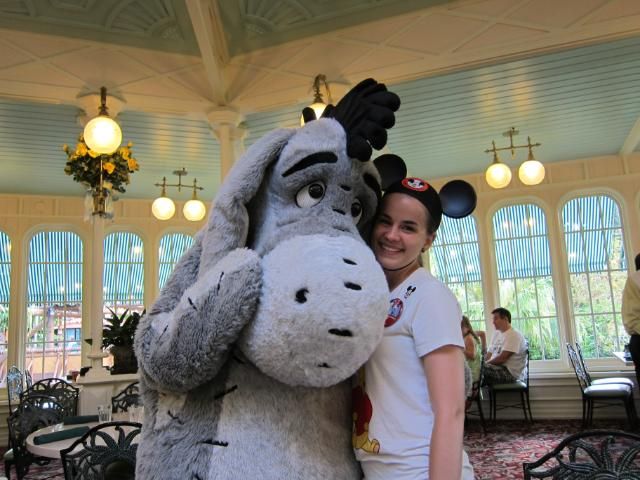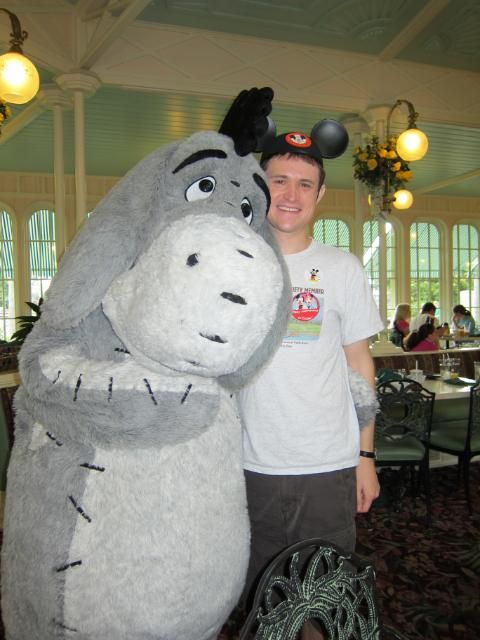 Once again, the nice lady next to us offered to take our picture.
The final character to come to our table was Piglet.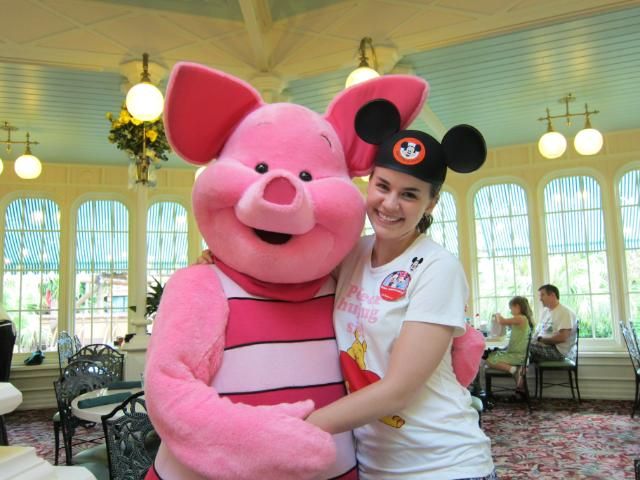 Piglet seemed to have some trouble figuring out where I was in relation to his ears, so I peered over.
Our server was very motherly and couldn't believe that we were full after just one trip up to the buffet. Every time she stopped by to refill our waters, she kept hinting that we should take another trip up. We finally obliged.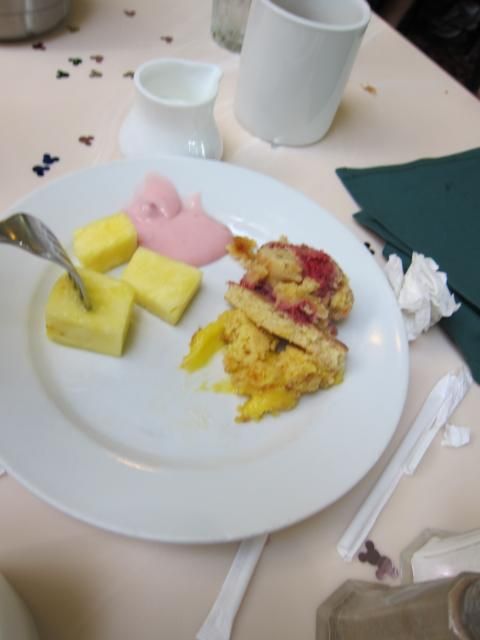 This time I got some pineapple, yogurt, and the Breakfast Lasagna. I realized after getting the lasagna that bananas were a key element, and since they bug my stomach, I ended up getting Tracy to try it. She only took a couple bites though, because she too was stuffed by this point. She also had a small bowl of ginger yogurt, but I didn't get a picture until it was all gone.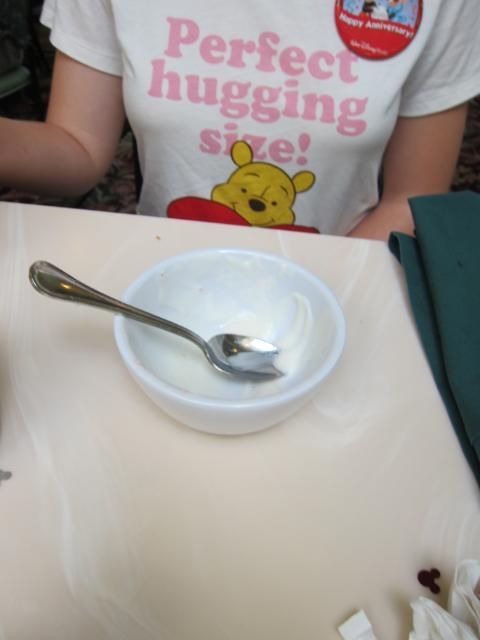 Satisfied with our attempt to eat some more, our server brought us our check. We paid with our last table service credits and got up to leave.
Overview of Crystal Palace Dining Experience
Service: Our server was very nice. She kept insisting we try to eat just a little more—she must not have understood the concept of the food wall. 4.5/5
Atmosphere: I really enjoyed the Crystal Palace setting. The restaurant is really pretty and we liked our location. The character rotation is totally luck of the draw, and it was a little lame that we were seated right at a time with such a long break between characters. I felt bad for some of the families around us with young kids who were seated at the same time as us. They couldn't get their kids to sit and wait for 30-45 minutes for the characters to come around and ended up leaving without getting to meet them. 3.5/5
Food: For a Disney breakfast buffet, this was definitely good. We tried and liked all the signature dishes. 3.5/5
First Visit?: For me, yes. Tracy had been here before when she was younger.
Will Return?: I think we definitely will. We love the Pooh characters enough that I think we'll want to do another meal here. Probably not on our next trip, but some day.
Previous Post | Next Post
Table of Contents
Follow



Share