Chapter 41
Elbows Off the Table, Mabel
---
(Originally posted September 15, 2012)
We checked in for our reservation at 50's Prime Time Café about a half-hour early both because we were already there with no real time-killing ideas and because we were starting to get hungry. The restaurant was far from packed, so we could tell we wouldn't have to wait too long. The waiting area for this restaurant is fun anyway.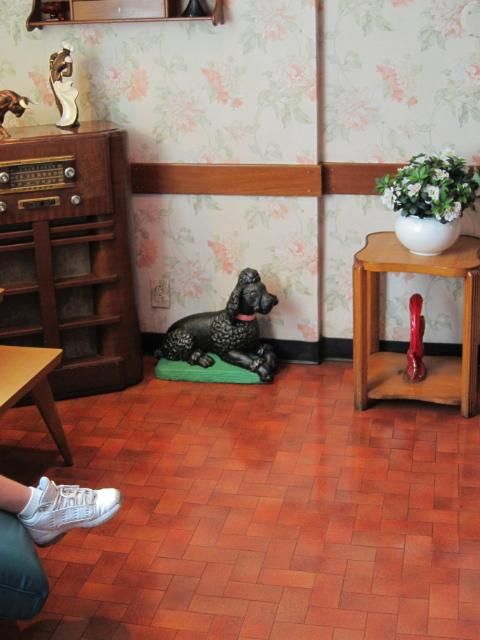 Tracy reclined in a seat straight out of I Love Lucy.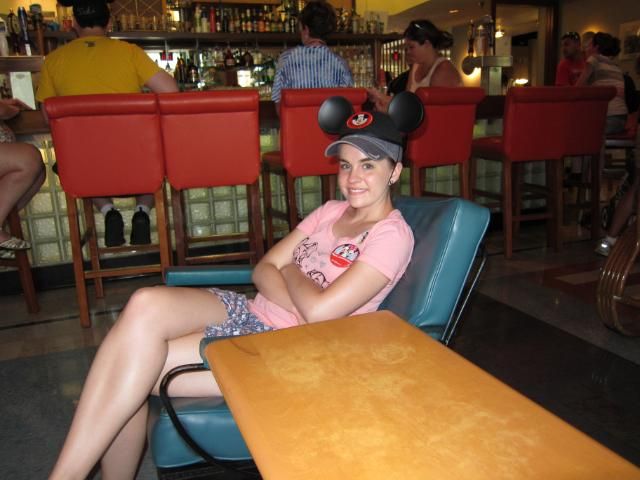 The only thing about this whole seating area was that seeing it in color made it feel more Happy Days than I Love Lucy because the latter was always in black and white!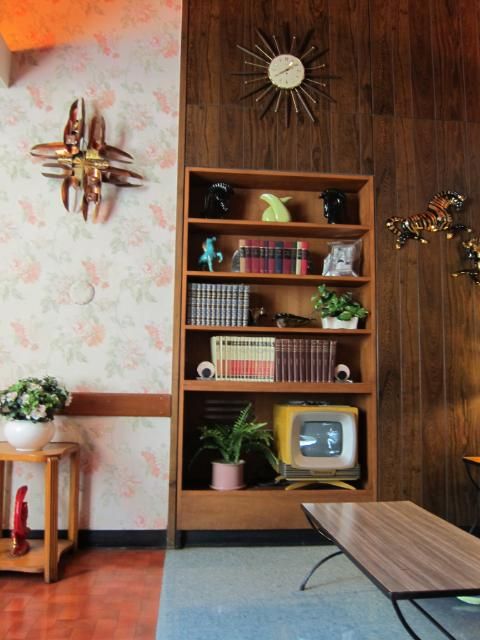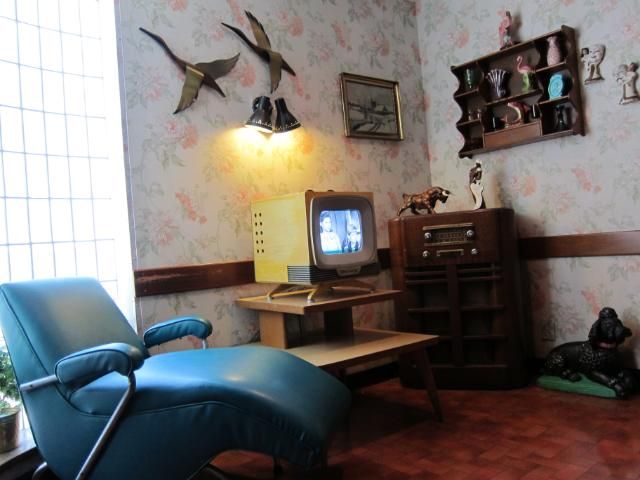 After waiting for about five minutes in the nice 50's chairs, our table was ready.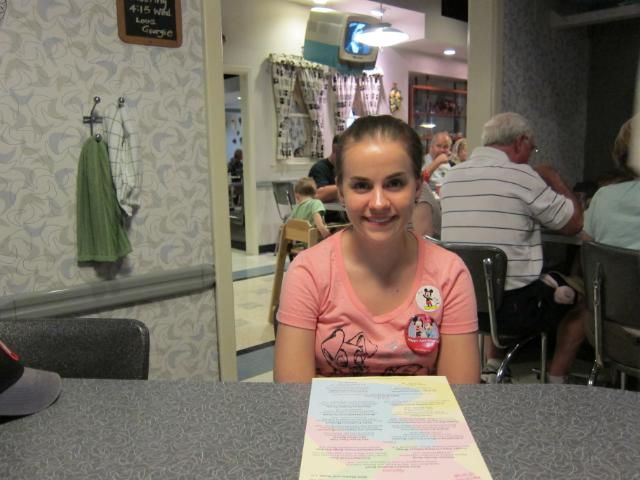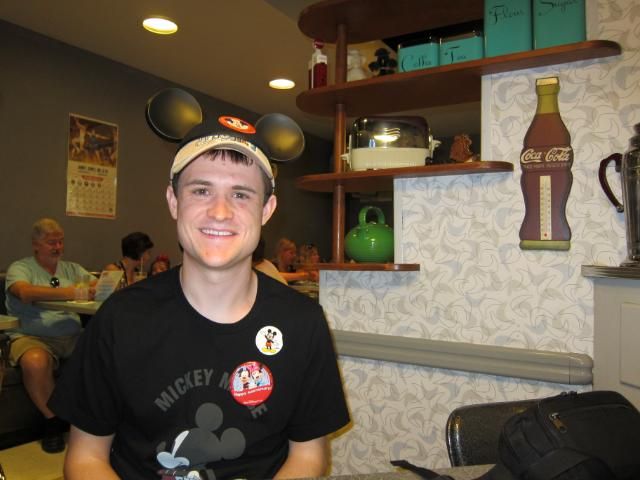 We didn't really know what to expect from the experience portion of this restaurant. We had picked it primarily because we wanted a table service option in the Studios and had already been to the Sci-Fi Dine-In Theatre on our last trip. Of the trip reports I had read before planning this trip, the ones that I got the most inspiration for were by those wacky Frumps, and their meals at 50's Prime Time always looked like a lot of fun.
What we discovered, however, was that being a couple without kids who are a little on the reserved side when it comes to interacting with our servers, they weren't exactly sure how to interact with us. We tried to indicate that we were excited to "play the game" when it came to the theming of the restaurant, but mostly our server just tried to leave us alone. I'm sure it's a really hard balancing act for them trying to decide what level of participation is right for each family, so I certainly understand the reason for him being a little more hesitant with us.
When we sat down, we admired our table's sweet décor.
We knew in advance that we wanted to try the famous Peanut Butter and Jelly Milkshake.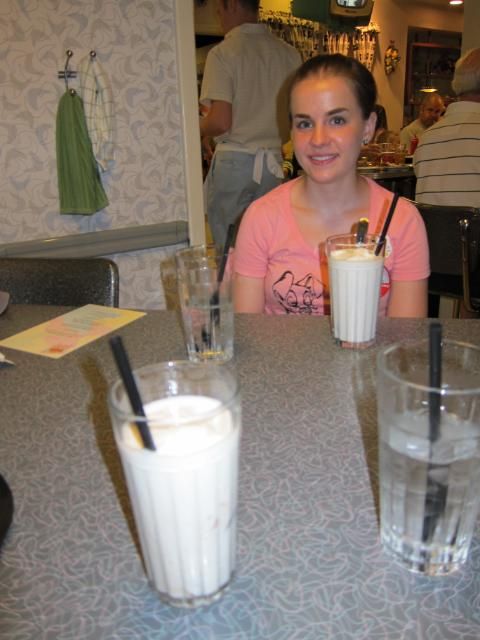 We were splitting a single table service credit between us for this meal, but our server still brought us two glasses for the shake which was nice. The shake was really delicious. It certainly met all my expectations! Next, for our entrée, we decided to split "A Sampling of Mom's Favorite Recipes," which includes Crispy-fried Chicken, Fork Tender Pot Roast, and Traditional Meatloaf with all the fixings.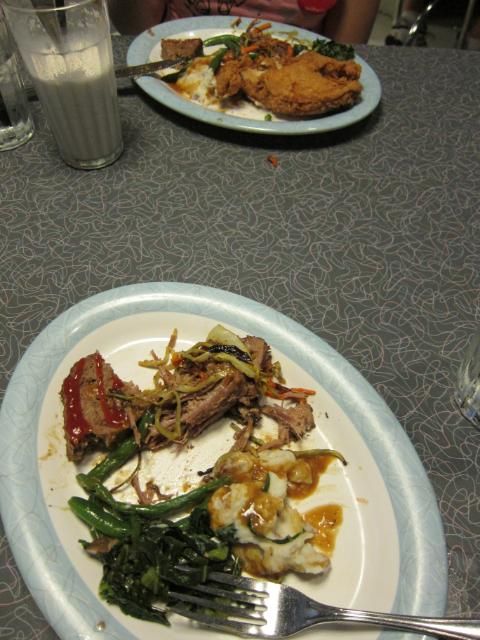 This was really good as well! We love fried chicken, and are always surprised how hard it is to find a restaurant that serves up a good recipe for it. The pot roast was also really nice and tender, and the meatloaf ended my aversion to it as a food. When I was a kid, I hated meatloaf for some reason. I made it clear from a young age that I wouldn't eat it. Now all these years later, however, it was perfectly fine. I don't think it would make my list of top foods, but I don't understand why I hated it when I was young… Evolving palate I guess…
While we didn't really get too much of the 50's flavor from our server, it was fun to see him interacting with some of the families around us. I can only vaguely remember some of the shenanigans going on because I didn't want to be too obviously eavesdropping, but I know there involved some sort of shtick with the grandfather at one table who only wanted dessert and was given a hard time for it, and also the kids at another table who had to be very polite if they wanted their treats.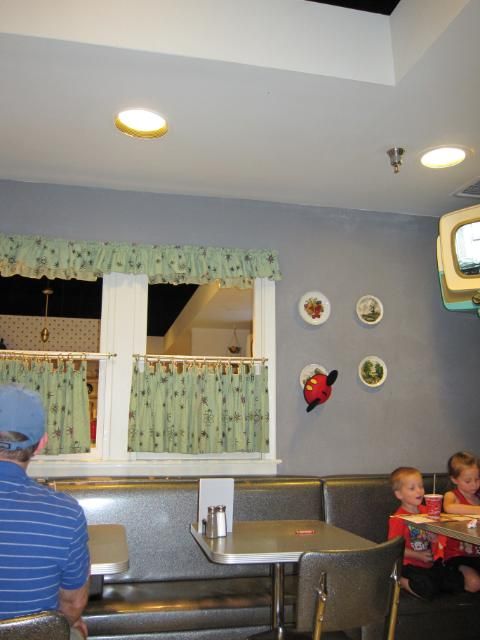 We had lots of kitties in the theme of our table.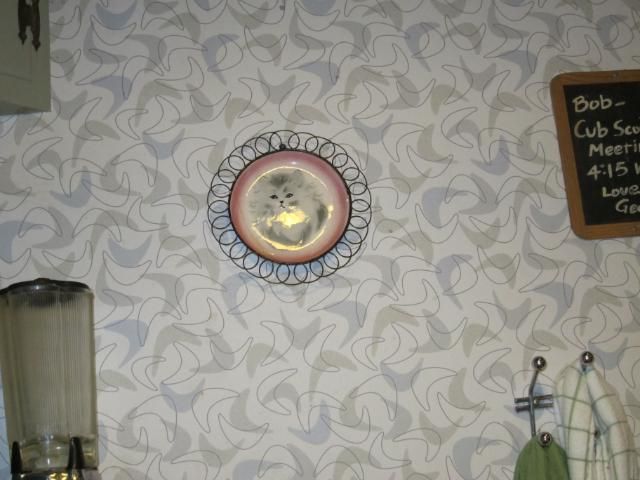 That boomerang pattern on the wallpaper was also present throughout. Even our plates had the same pattern on them. I'm not sure if it's coordinated like that or what! When it was time for dessert, we were once again pretty stuffed. We decided to try the 50's Boston Cream Parfait, however, because we usually love all things Boston Cream.
It did not disappoint! We couldn't eat too much of it, but it was very tasty. The Boston Cream part of it made it taste very different from a typical ice cream sundae even though that's what it looks like from the outside. After dessert, we settled up pretty quickly and were out the door back into the midst of Hollywood Studios!
Overview of 50's Prime Time Café Dining Experience
Service: Swell. The server we had was supposed to be one of the best ones at this restaurant, and we really didn't have anything to COMPLAIN about per say. We just weren't in the demographic that can fit into the theming as easily. 3.5/5
Atmosphere: The Bee's Knees. Once again, this one is hard to quantify. The theming of the restaurant was great, and it was fun seeing the servers interact with the families in a "mom's kitchen" sort of way. We just didn't get a whole lot of that at our table, nor am I sure how we really could have. 3.5/5
Food: The Cat's Pajamas. The food was really good home-cookin'-style American cuisine. Give me good fried chicken and I will never complain. 3.5/5
First Visit?: Yes
Will Return?: I would absolutely love to return to this restaurant with a larger group. Whether it's us with kids in the future or a group of friends or a big family reunion type of trip. When it was just the two of us, there was just no way that we could get made fun of in the way the servers are able to do it with big families. It would have been awkward. I totally see the merits of the restaurant, however, and look forward to going back someday.
After exiting the restaurant, we hung out for a few minutes by Echo Lake.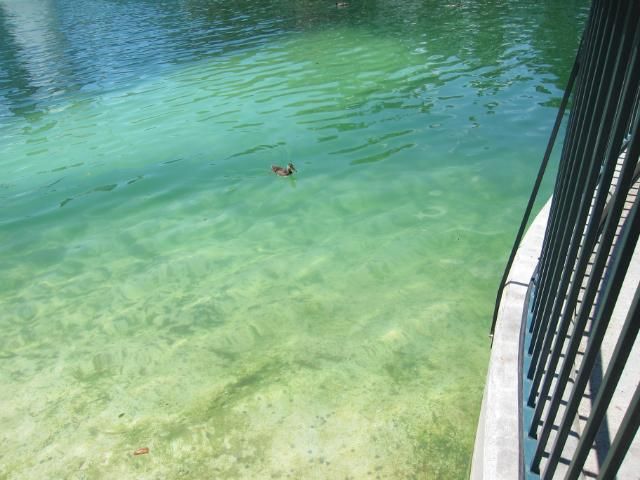 I don't know how I missed the memo that not only is that big boat across the way a restaurant, it's one that serves hot dogs on pretzel-rolls!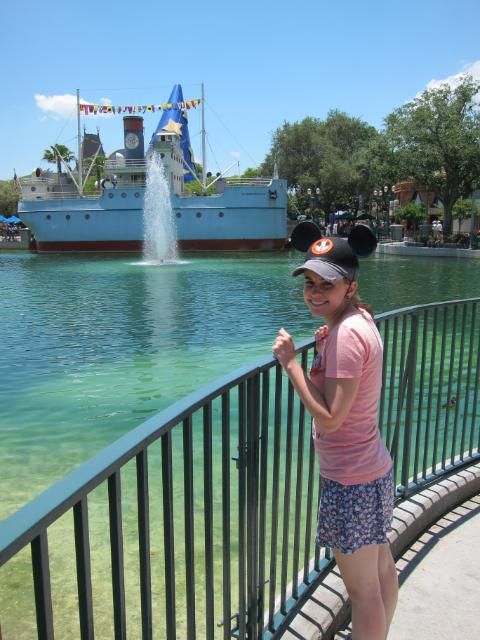 Had we known that, we certainly would have worked it into our plan. As is, however, we know that Min and Bill's Dockside Diner needs to be a dining stop on a future trip.
I've always wondered the story behind this dinosaur.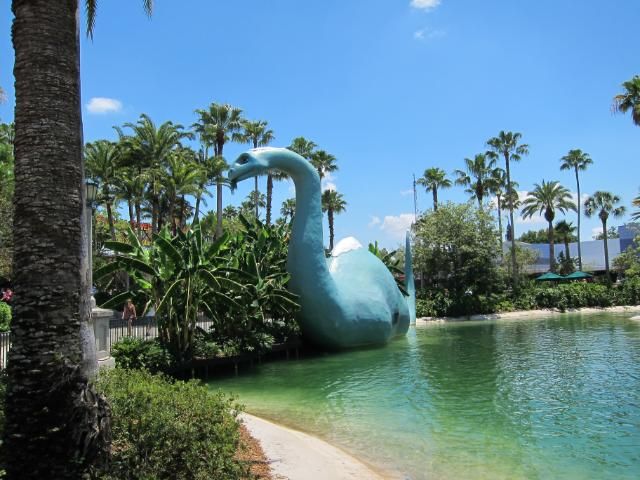 We became good friends.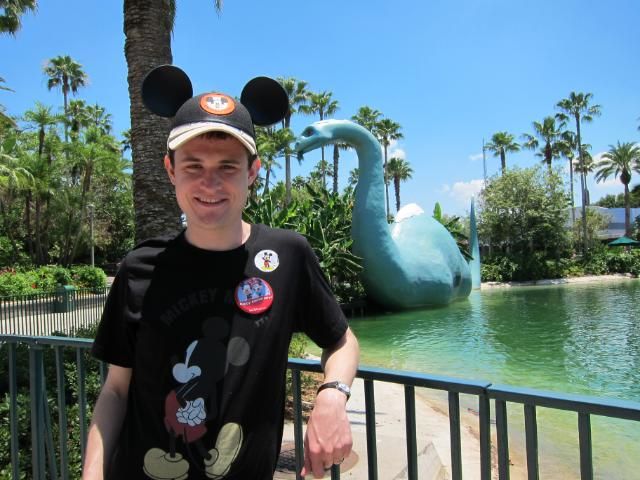 As we walked away from the restaurant toward our next adventure, I caught a better picture of the spinning sign outside.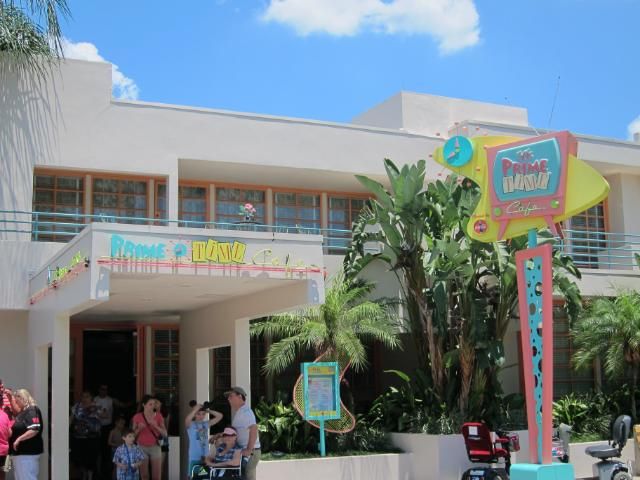 And now, of course, where did we have to go next? If your immediate guess was that it was time for another Star Tours journey, you would be correct.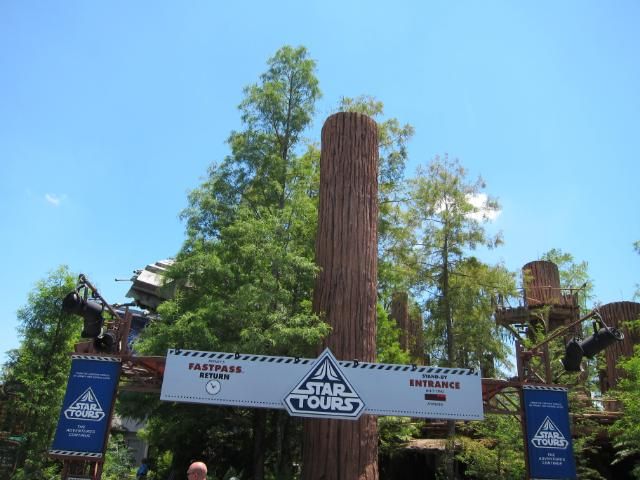 We had another set of valid Fastpasses that we needed to use. This time, our journey took us back to the Wookie planet yet again (it was becoming the new Hoth…) and then through traffic in Coruscant. Being right after lunch, this ride unfortunately made me a little ill, but oh well! We survived. Now it was time for the ultimate question: would Tracy be able to go without falling asleep on entire journey though The Great Movie Ride?



Share