Epilogue
---
I teased in the last update that we had made one final purchase before leaving Disneyland. Well, while we were at the Disneyana shop on our last day, they had just re-stocked their supply of Haunted Mansion attraction signs in honor of the 45th anniversary. Guy Selga had tweeted about having gotten one a couple days before, and we were jealous. Still, we didn't know if we could justify spending $75 on this souvenir—plus we didn't know if it would really fit in our suitcase. By the end of the day, I was convinced, so we went back to the store and made our purchase. The box was huge, and we knew we basically didn't have any option except for to check it as a separate piece of "luggage" (luckily, we were flying Southwest, so number of bags wasn't an issue).
The box got a few dings in transit, but nothing major, and when we unboxed the lovely sign at home, we knew we had made the right choice. We immediately mounted it prominently above our fireplace.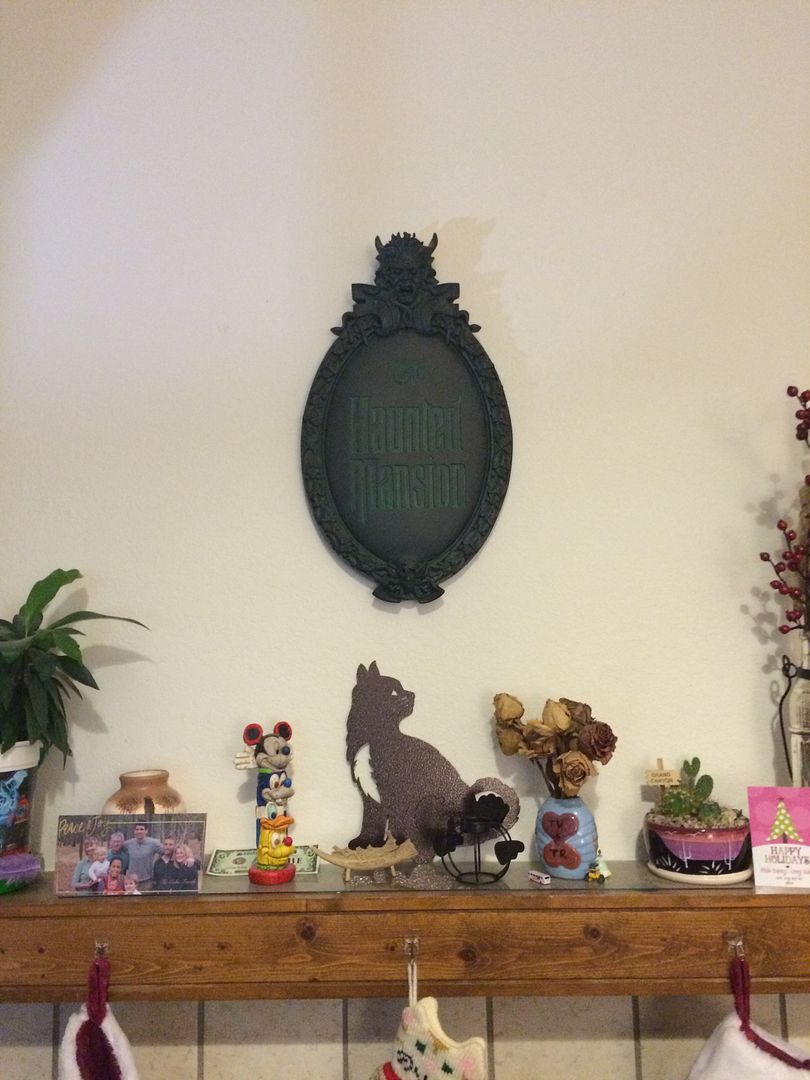 Since this had been our first time back to Disneyland after we'd stopped being locals, it was also the first time we'd ever stayed at Good Neighbor Hotels—and we got to experience two different ones! I feel like future visitors are always trying to decide which hotels to stay at, so I thought I would give brief reviews of both the Fairfield Inn and the Camelot Inn.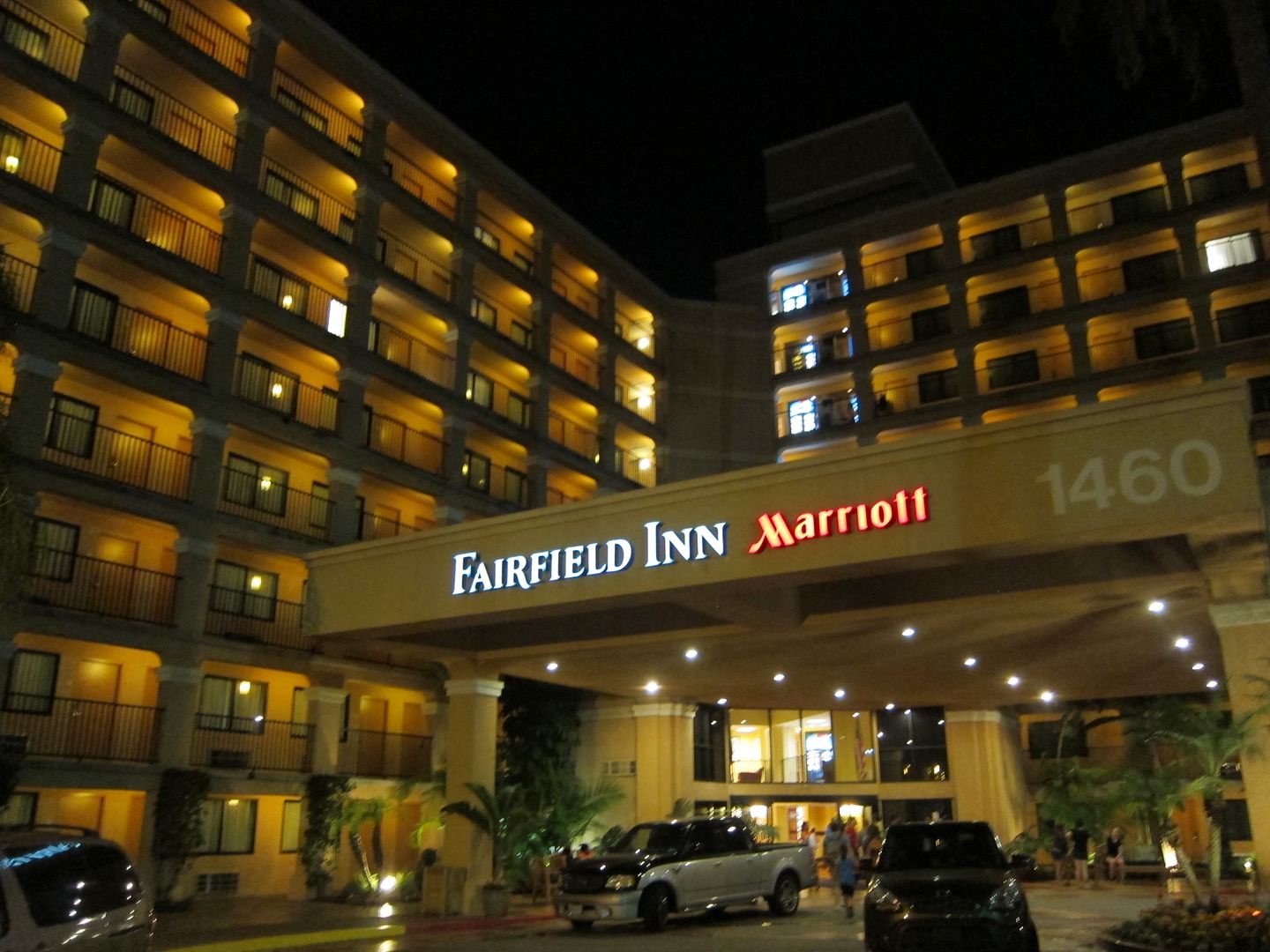 Fairfield Inn Anaheim Resort Review
We were big fans of the Fairfield, and it's actually become our go-to resort for the time being because it has everything we need while still being pretty reasonably priced. The rooms are certainly nothing special, but they do have desks and a solid Internet connection (necessary for me on these working trips). One major downside is the food court, which is sort of a generic cafe in the morning and then transitions into a Pizza Hut for lunch and dinner. We had pretty crappy breakfasts every morning that we ate here because everything was just low-quality—even the coffee. Parking is a flat-rate $13 per day (going up to $15 in January), and that covers either self-park or valet. We always just did valet because it was way more convenient, and we found that they were always very prompt. As a random bonus, we liked that they constantly had pitchers of spa water in the lobby, which was nice and refreshing after long days in the heat. It probably took us between 5-10 minutes to walk from our room to bag check, which was certainly close enough for us to decide that staying at a Good Neighbor was a better choice than choosing a random hotel further away. We loved being able to get back to our room within just a few minutes after we had decided to call it a night. I have an intense hatred for Harbor Blvd around Disneyland and think it's the worst to walk out onto it after the magic of Disneyland—talk about a change of scenery—but that's just Anaheim for you, and there's really no way around it.
Overall Hotel Rating: 3.5/5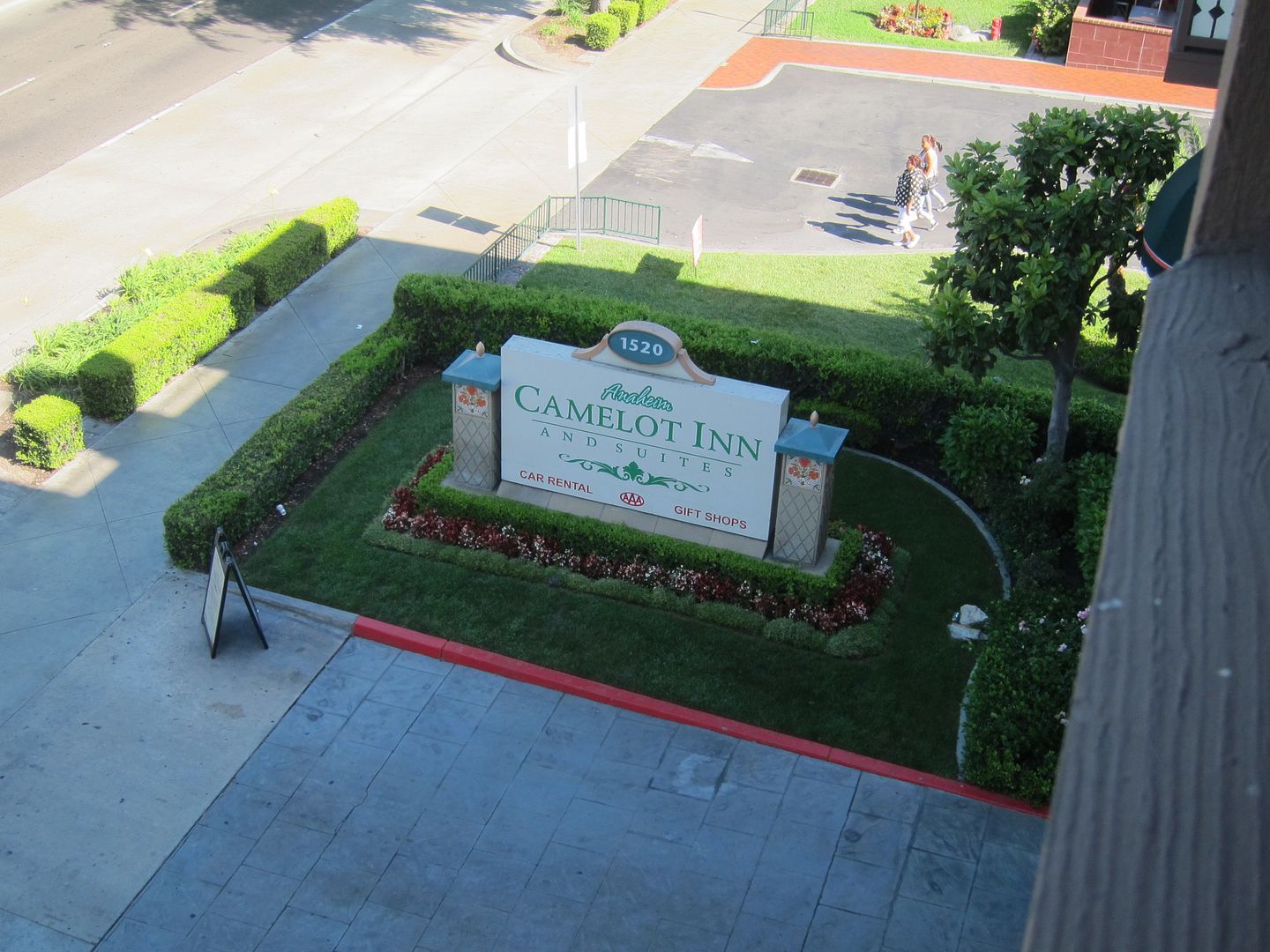 Anaheim Camelot Inn and Suites Review
Honestly, I think that the Camelot looks a little run-down from the outside as you walk past it on Harbor, but we didn't find that it felt that way inside at all. We were only checked into our room for about 12 hours in total, however, because we came back from the parks so late and then checked out so early the next day. I think that if our room had been situated along the bulk of the building, we probably wouldn't have been thrilled with the location, but our room at the front of the building was perfect and had the lovely balcony looking right toward the parks. In terms of amenities, we weren't there long enough to experience any of them—and I honestly don't even know for sure what all the hotel really boasts. Parking was about as expensive as it had been over at the Fairfield, but we just did self-park here. We also went back to the parks for our breakfast after checking out, so we didn't get any idea how the cafe located at the Tropicana would have been. Honestly, the main reason why I've been hesitant to give the Camelot a second visit is because the Wi-Fi wasn't in service at all while we were there, which would totally screw up my plans for working. Other than that hitch, however, it seemed like a perfectly adequate hotel and was certainly close to the Disneyland main entrance.
Overall Hotel Rating: 3/5
Well, that concludes this report on our first trip back to Disneyland after moving away from SoCal. I'm happy to report that it's just as great a destination for visitors as it is for locals, and our love for the resort hasn't decreased an iota now that we don't get to visit quite as often.
Follow



Share