Chapter 37
Puppies
---
Previous Post | Next Post
Table of Contents
The Unimog ride down was a little less eventful. I don't think the tour guide had as much to tell us—though she did let us know that she was adopting one of the sled dogs at the end of the summer, which made us plenty jealous.
We stopped off at a scenic overlook with some lovely views of the valley and the water below.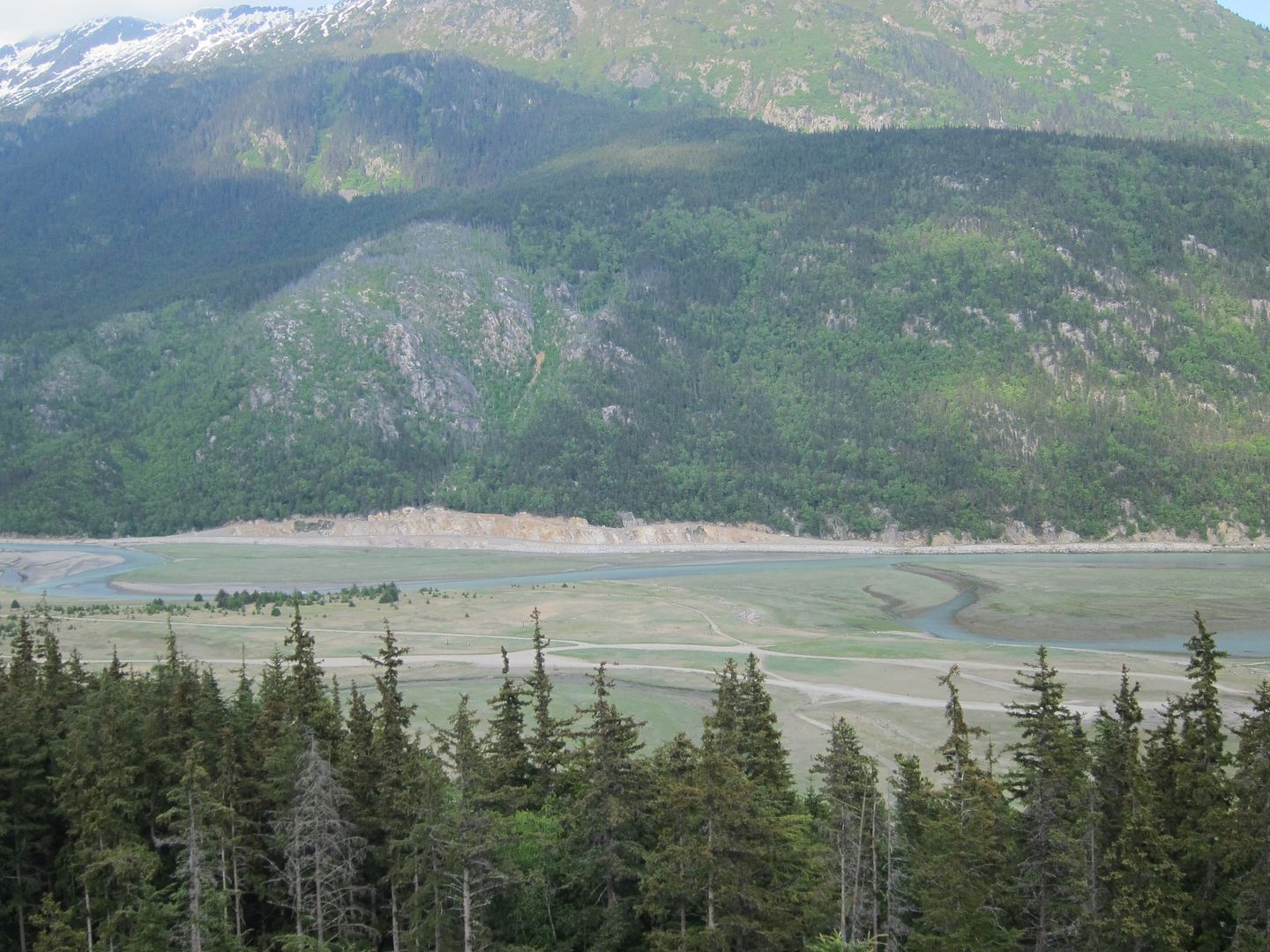 It was seriously a gorgeous view.
I took this panorama.

And Tracy and I asked the tour guide to take our picture.
We also took these individual shots.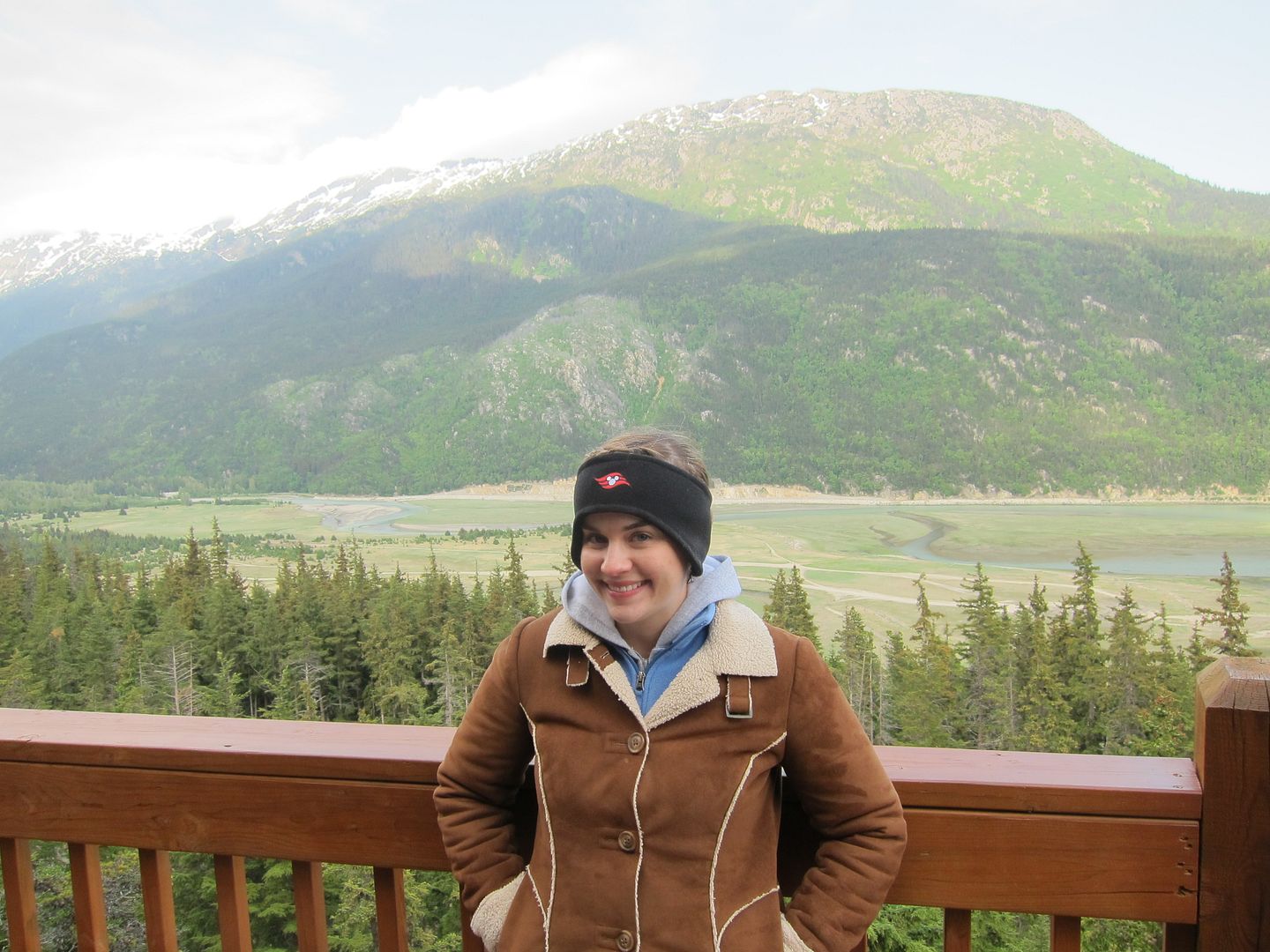 After everyone had gotten their fill of the overlook, we loaded back on the 'mog and continued down the hill.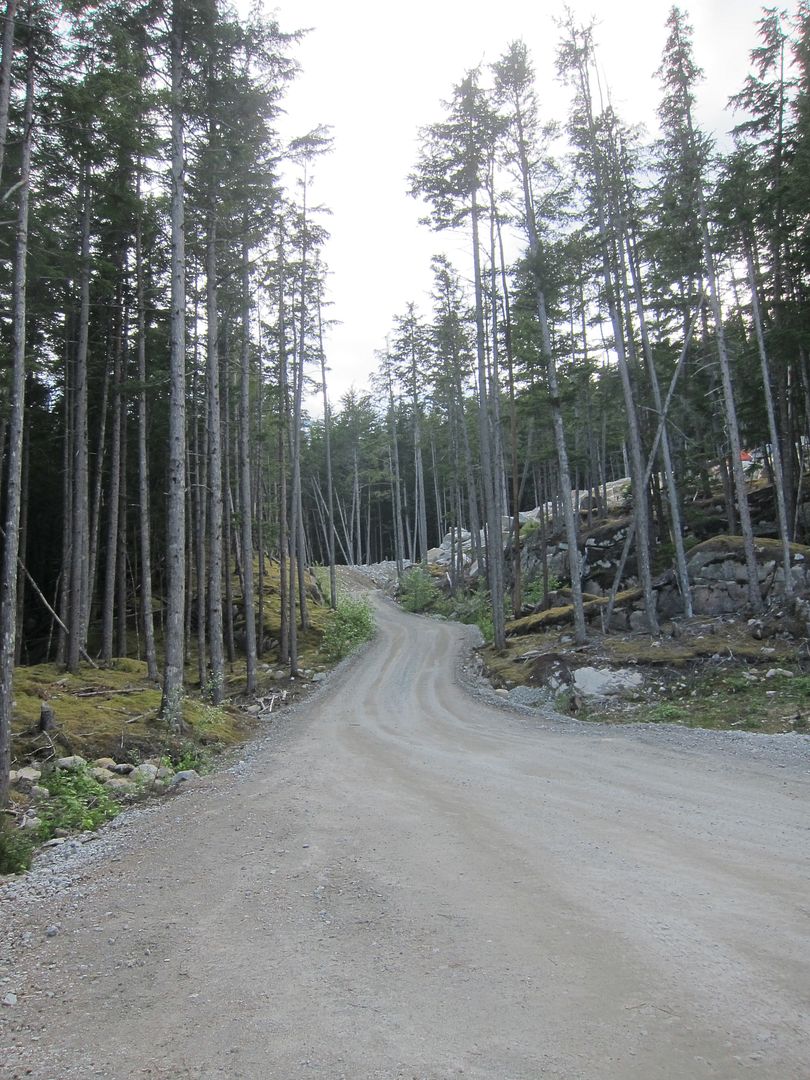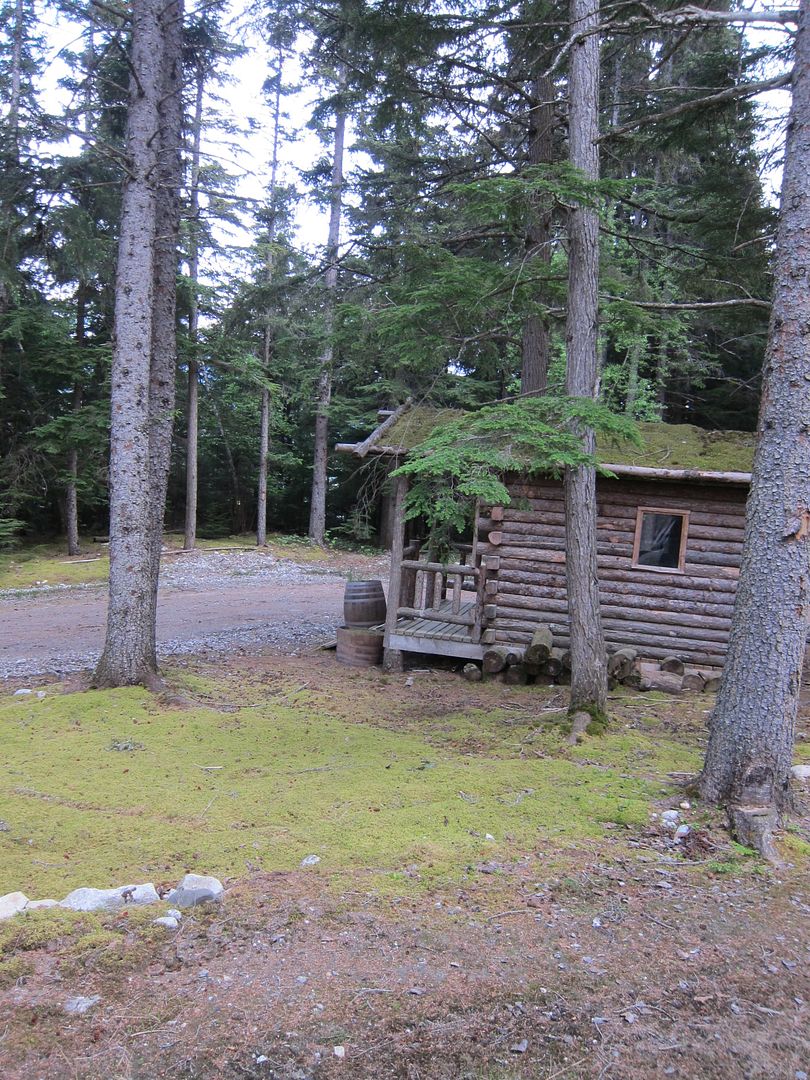 Soon, we arrived back at the base camp.
We wandered past another group that was just finishing up playing with several small puppies. We also looked into the pen where they keep the "teenagers"—a.k.a. the dogs that are in that in-between age where they're really rambunctious and a little out of control. One was running on a hamster ball.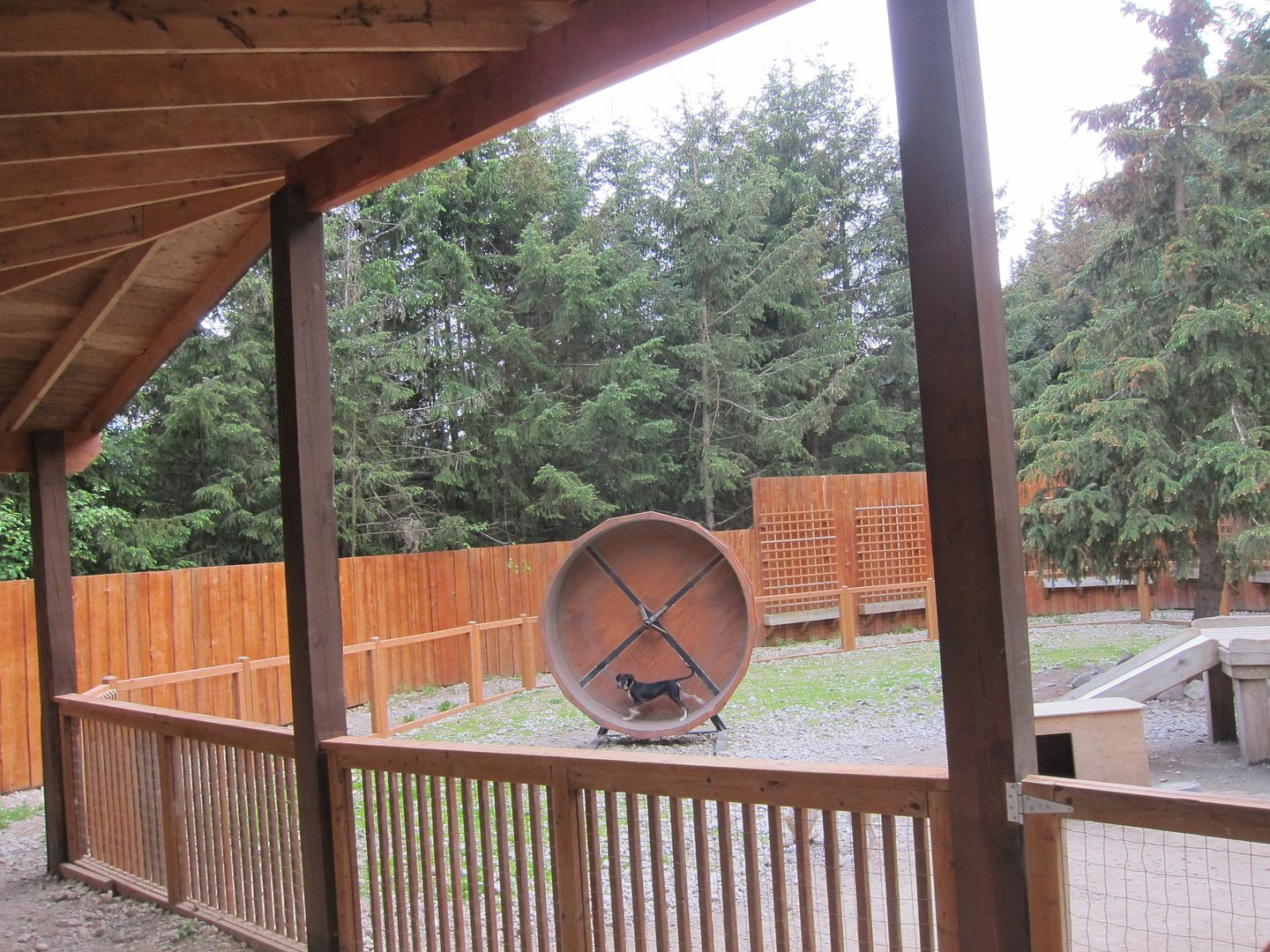 Another one of the mushers had us gather around in a little outdoor theatre they have set up, where he began to make a short presentation about actual dogsleds and the way that these pups (and their mushers) survive out in the wild during long races like the Iditarod.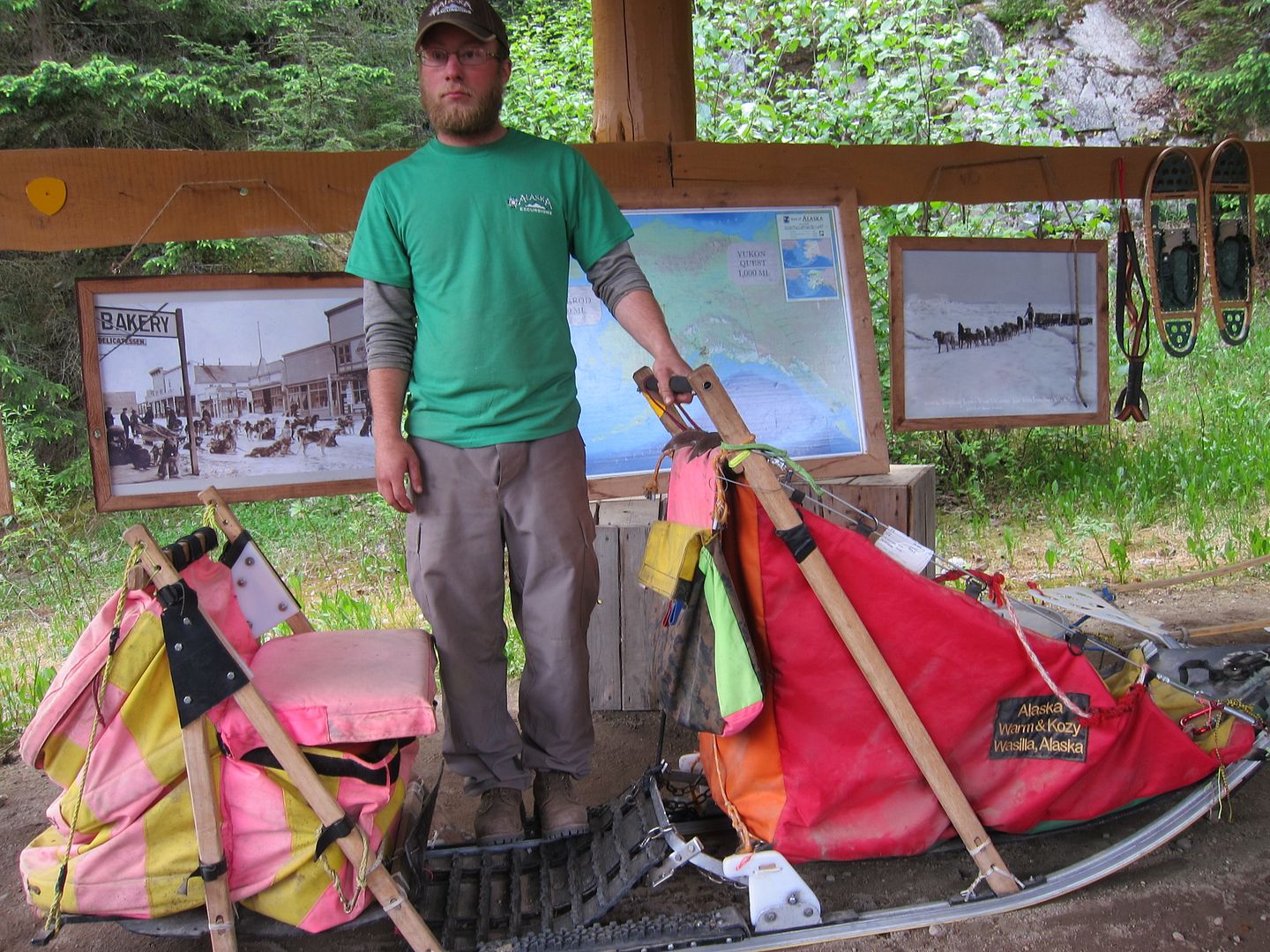 The picture above and the one below are two examples of racing sleds. They are the opposite of high-tech. Instead, they have as few parts as possible so that they will be extremely light-weight, and their components are mostly held together with ropes so they they will be very flexible. The rubber that you can see at the presenter's feet is actually just a piece of tractor tire that's been cut up, and that's one of the only brakes these sleds are equipped with. There are also some spikes that can dig into the snow, but they are only useful once the dogs have slowed down significantly.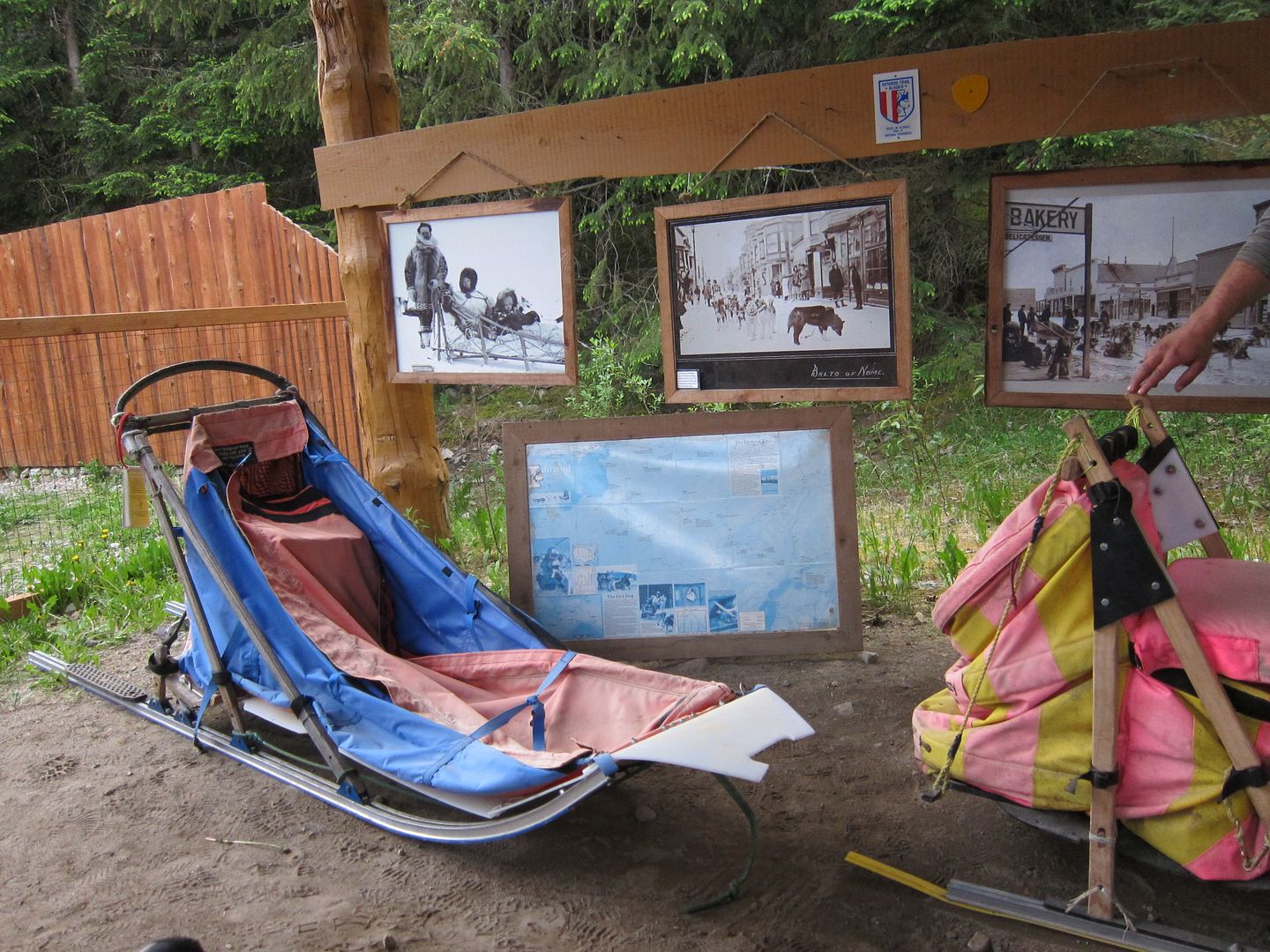 I wish I had videotaped this little presentation because it was chock-full of really interesting information. Another tidbit that I remember him telling us about is the fact that once the dogs start running, they really don't want to stop. So the musher has to be very careful about the way he walks around the sled, because if the dogs take off, they aren't about to come back for him. He also talked a little about how the dogs stay warm and showed us pictures of dogs bundled up in booties and jackets on particularly cold nights. It was really clear that the safety and comfort of the dogs is the number one priority during these races, which was certainly good to hear. One reason why excellent behavior from the dogs is so important during these summer camps is that if the dogs fight or get aggressive in any way, the whole team will quickly be disqualified, so these dogs need to be trained to be incredibly social from the get-go.
The musher also talked a (very) little bit about the history of the Iditarod and explained the myth that often surrounds it. Obviously, we'd all heard the story of Balto bringing medicine to the people of Alaska who were suffering from tuberculosis, and the Iditarod is supposed to mimic the course those dogs took. While the story is definitely true to an extent, our musher was explaining that it took several teams of sled dogs to complete that journey, and Balto's team was just the one that did the very last leg. Since the medicine's arrival saved so many lives, Balto is the one who became a legend, but his deed wasn't really any more impressive than the other dogs who were involved as well.
After we were done hearing about dogsledding as a sport, it was time for another part of the Port Adventure that we'd been looking forward to since first reading the description. We were going to meet some young puppies.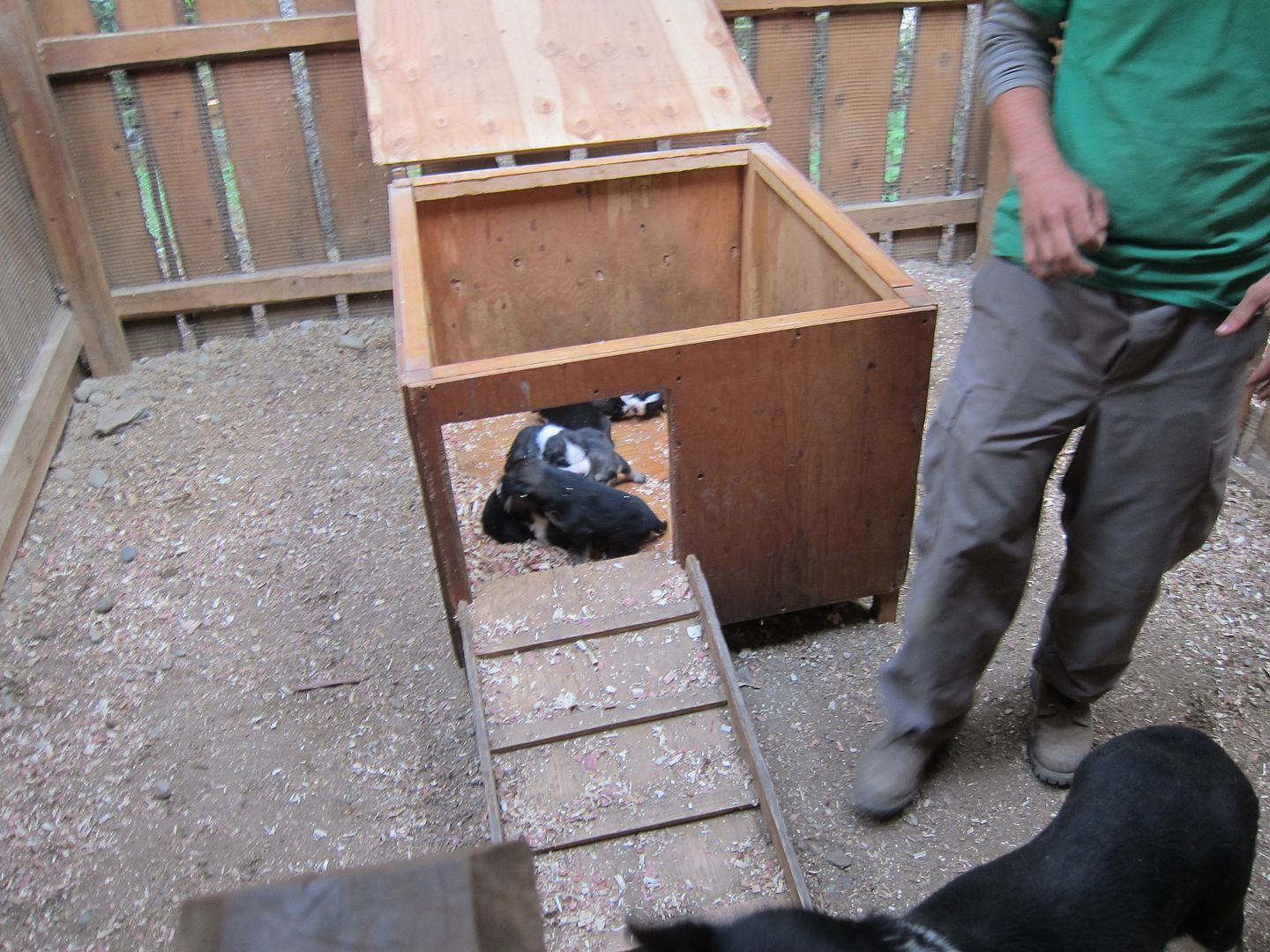 The pups we'd be cuddling with were just 12 days old, and they were only beginning to open their eyes (though they couldn't actually see out of them yet). Here was their mother.
And in there were the pups.
Each family essentially got their own puppy to snuggle with, and here was ours.
He was SO cute and SO tiny.
We obviously fell in love.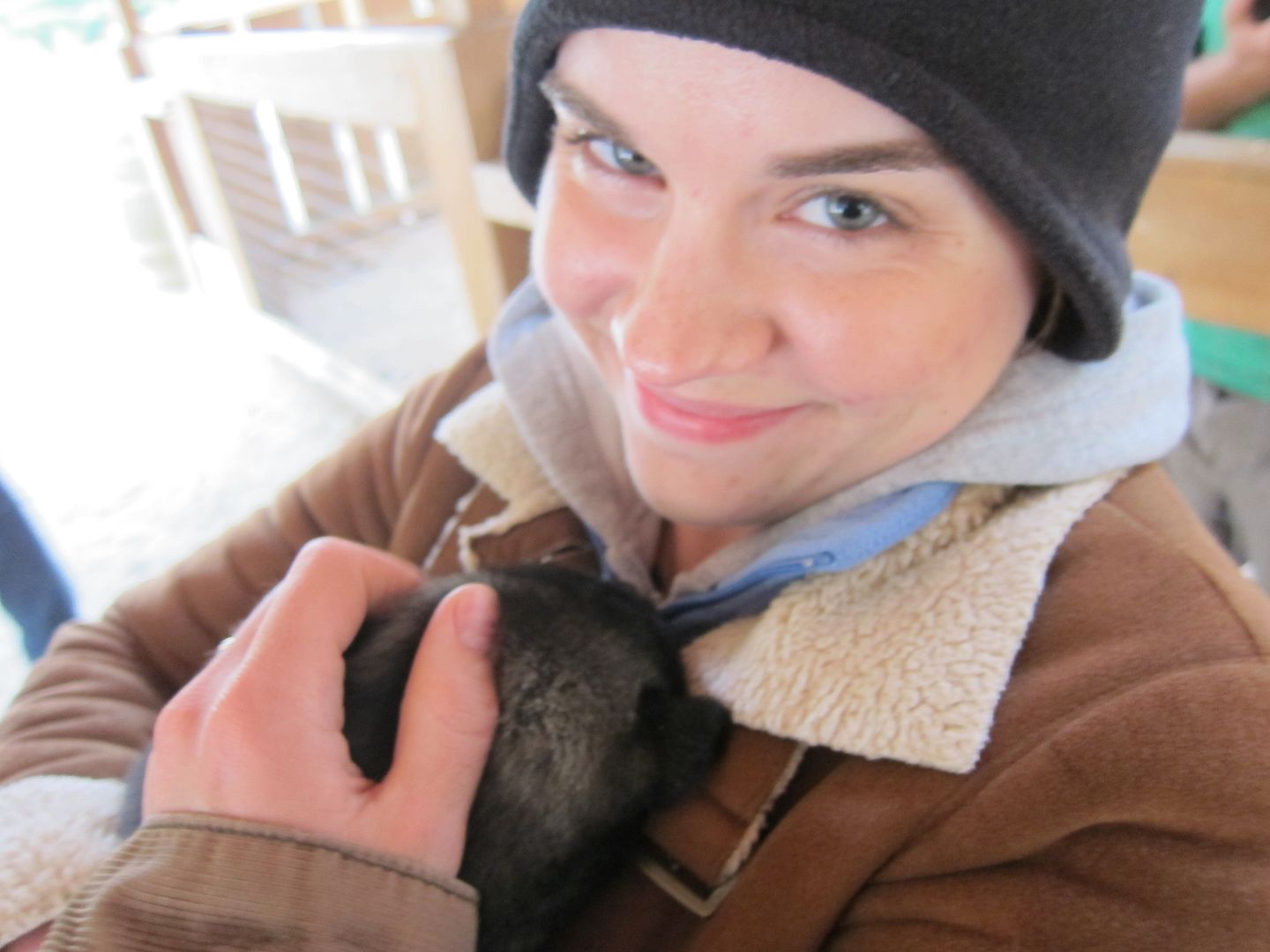 I took him for a while after Tracy had gotten her fair share.
Look at that face!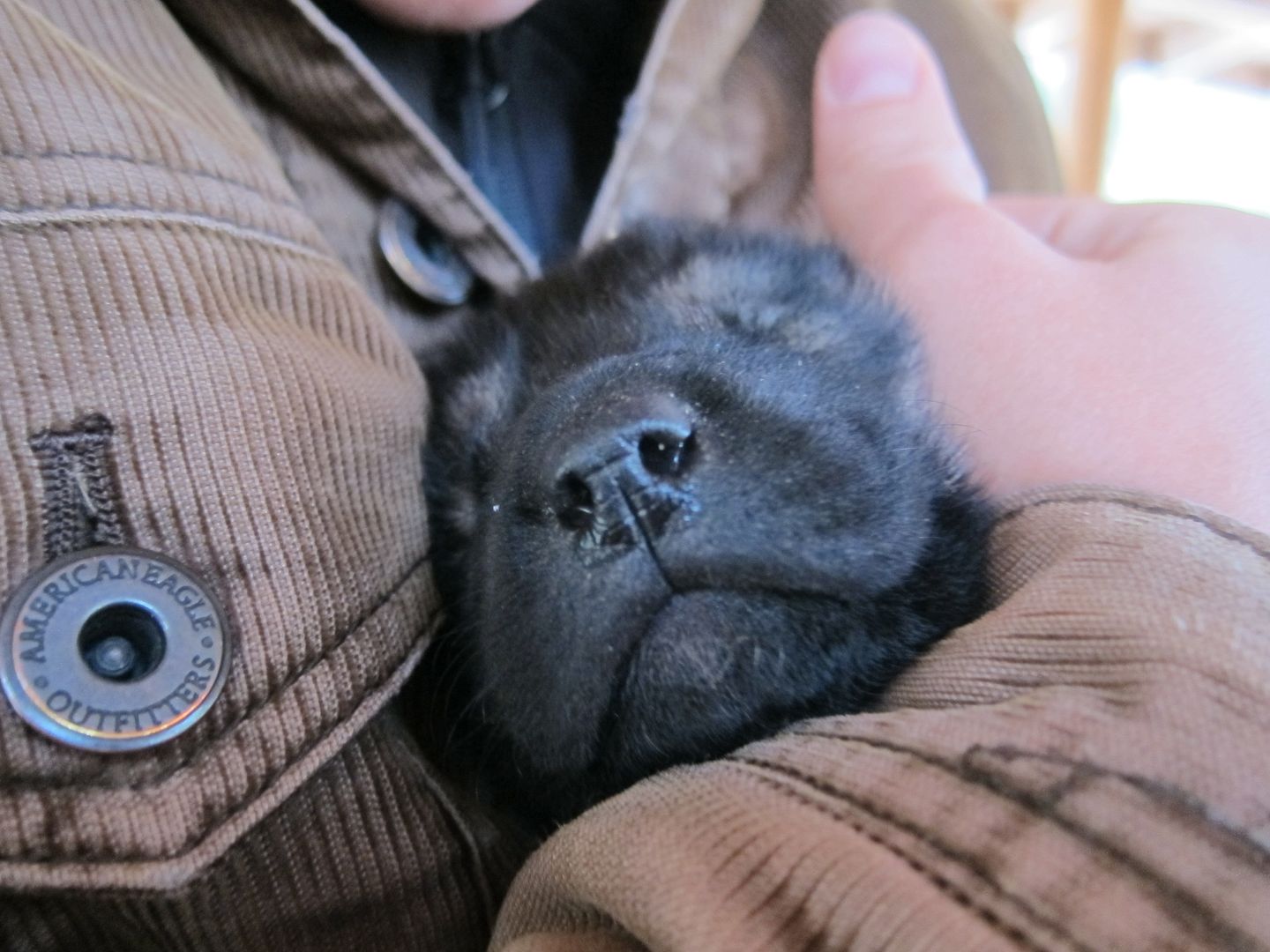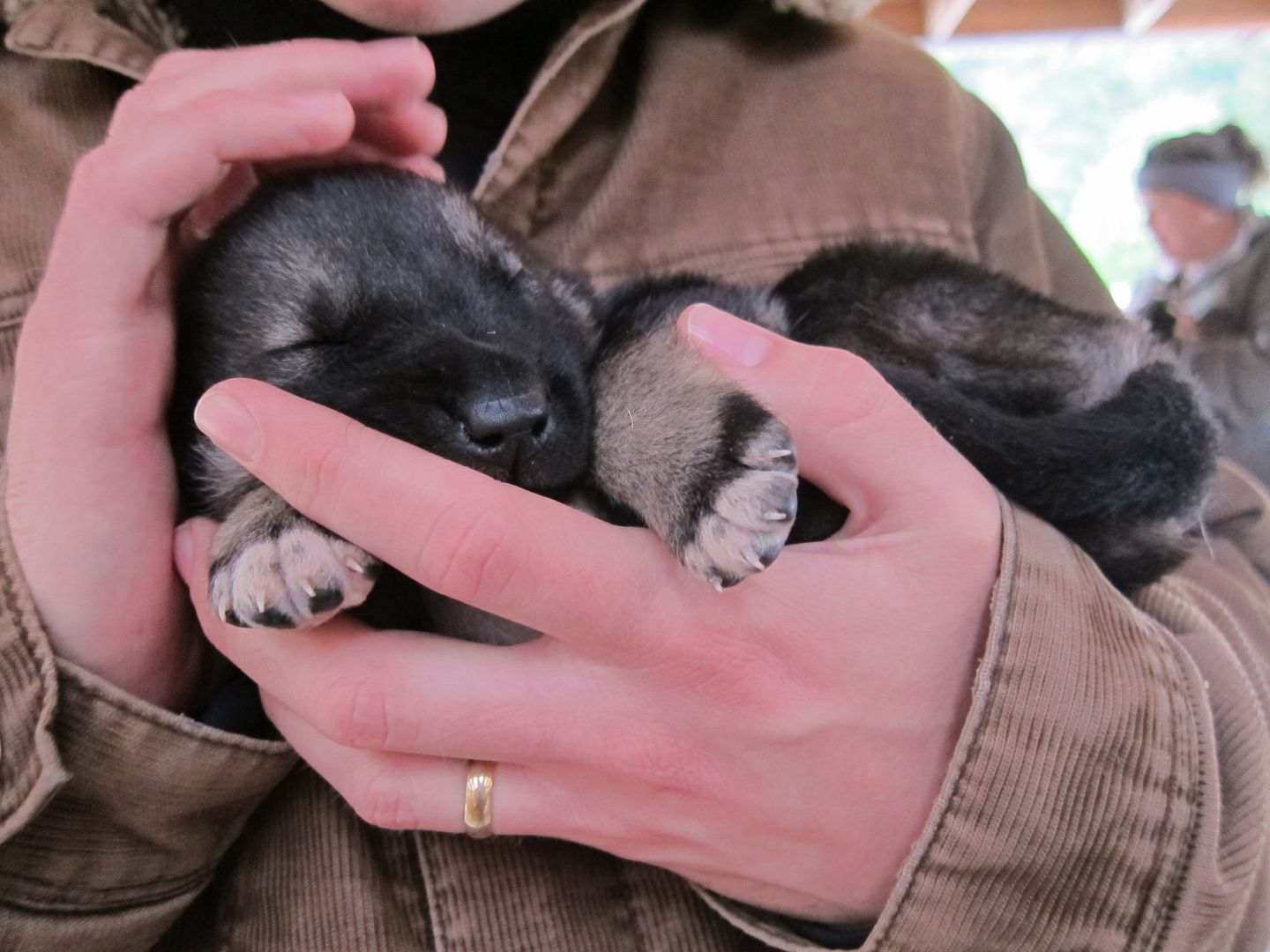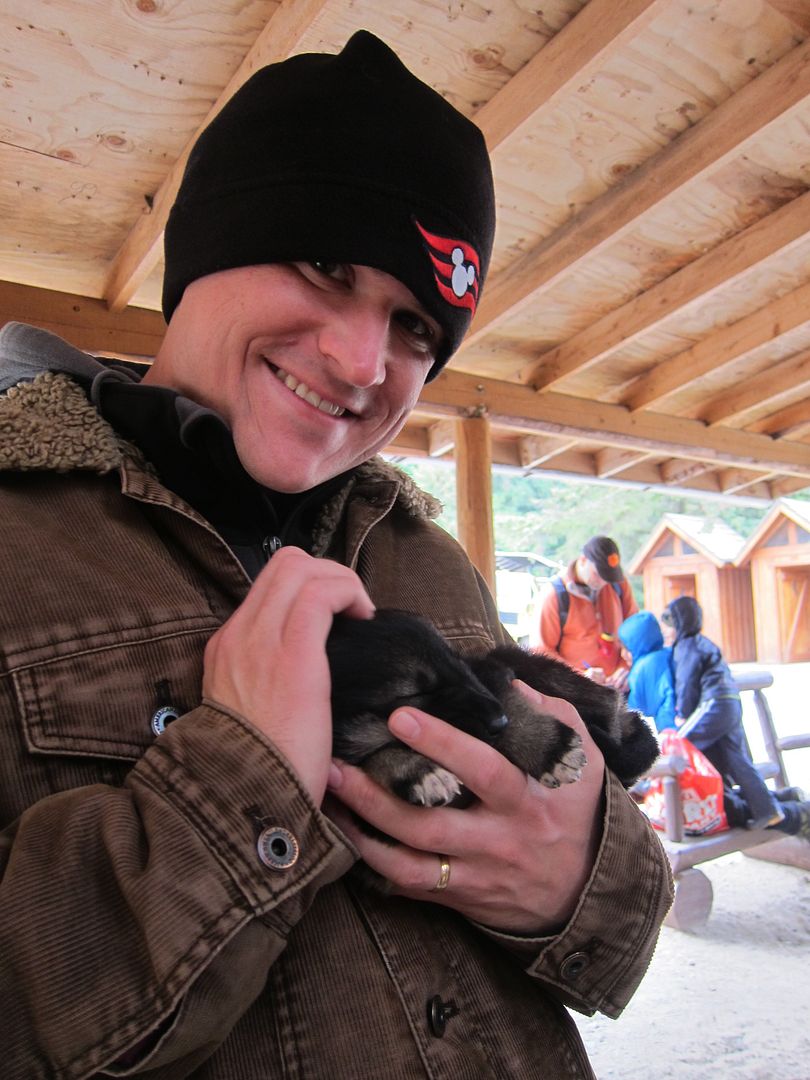 At that age, puppies don't really have any sort of personality yet. They just like being held and lightly pet, but we were good with that. I think we were the last group to give our puppy back because the little kids didn't have anywhere near as long of attention spans for holding dogs as we did.
After we returned our pup, we went over to the gift shop. We were amazed that we seemed to be the only ones interested in buying memorabilia from the musher's camp, but Tracy and I got a hat and a sweatshirt to help commemorate our wonderful excursion. They also had some complimentary hot cider for us to drink.
As we walked around the perimeter of the base camp, we saw a few more dogs that were out of reach from us. We especially liked the ones laying on top of their dog houses like Snoopy.
We got a warning from the tour guide when we had just ten minutes left before we needed to board the bus, and we wrapped up our exploring during that time. Right after we got back onto the bus, the guide asked us all to be very quiet for a second. After a few moments of silence, she said, "Okay, no puppy stowaways," and we all laughed.
It wasn't until a few minutes later, however, that she explained that the puppy check is a mandatory part of the tour because a guest actually tried to steal one from the camp a few years prior. They got all the way back to their ship before the dog was discovered while they were trying to take it through security! Sheesh!!
For the rest of the journey back to Skagway's main strip, our guide put on some music. We thought it was cute that she had prepared a mix CD with some Disney songs on it for the Disney Cruise groups, but apparently she'd gotten grief from people in the past—especially when she included "It's a Small World" in the mix. We obviously are Disney people through and through, so we thought it was really fun to have those songs played, but she also mixed them up with some oldies. Toward the end of the trip back, the song "The Gambler" came on, and everyone on the bus started singing along to the chorus just like in this classic episode of The Office.
After all this time referring to our guide generically, her name just came back to me, and I think it was Rosanna. So if you're ever doing this Port Adventure and happen to get her, you can know you're in for a treat because she did a really great job.
The Wonder came back into view as our tour bus pulled back up to the dock.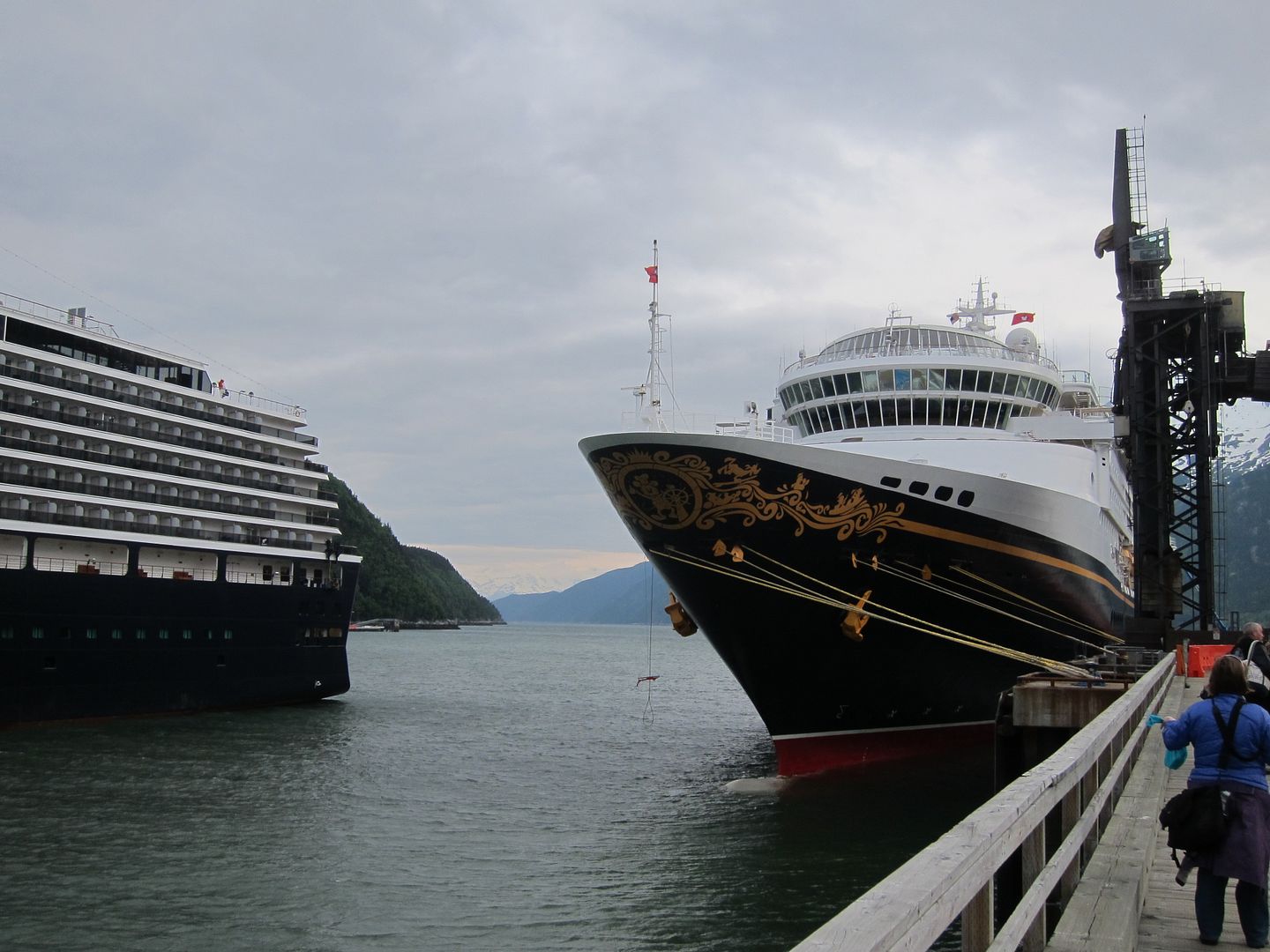 Though pretty much everyone else was heading straight back onto the ship, Tracy and I actually took a detour back toward town instead.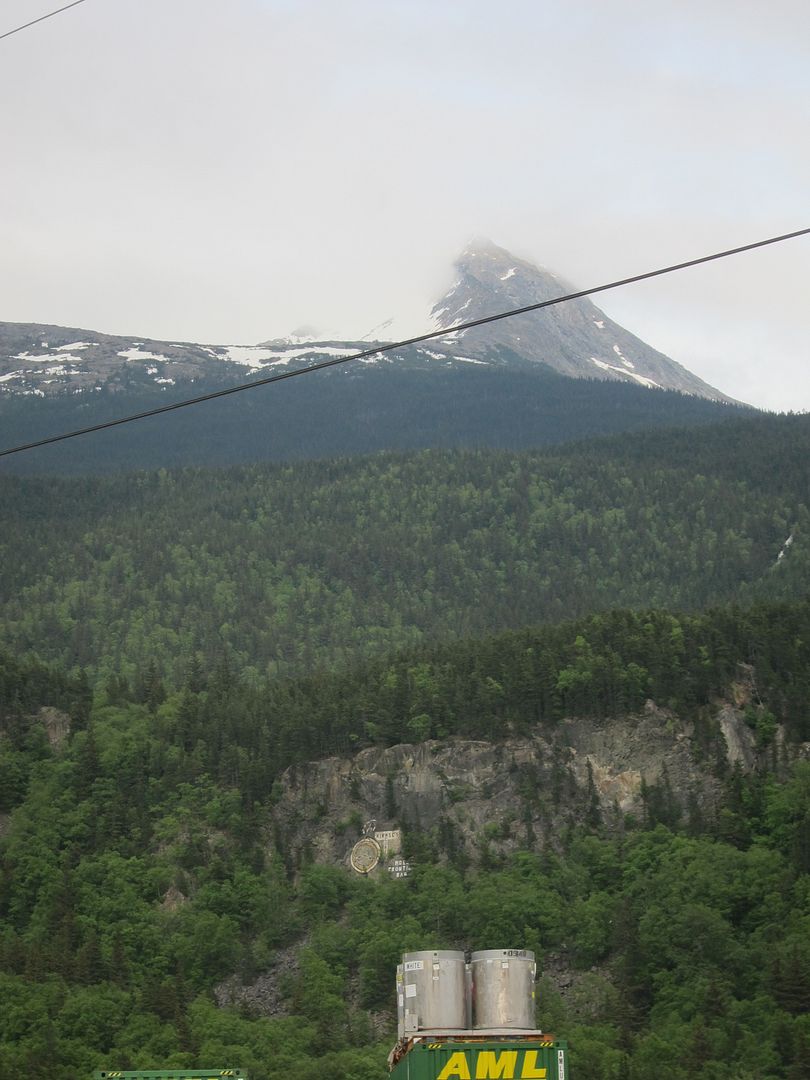 We were hoping to do a little shopping at one of the tourist superstores that sold some of the common Alaska trinkets like the Ulu knives and bear paw salad tongs. Unfortunately, since Skagway is the epitome of a one-horse town, the stores had pretty much all closed up shop by this time.
So we waved goodbye to the idyllic hamlet and began the trek back to the ship once again.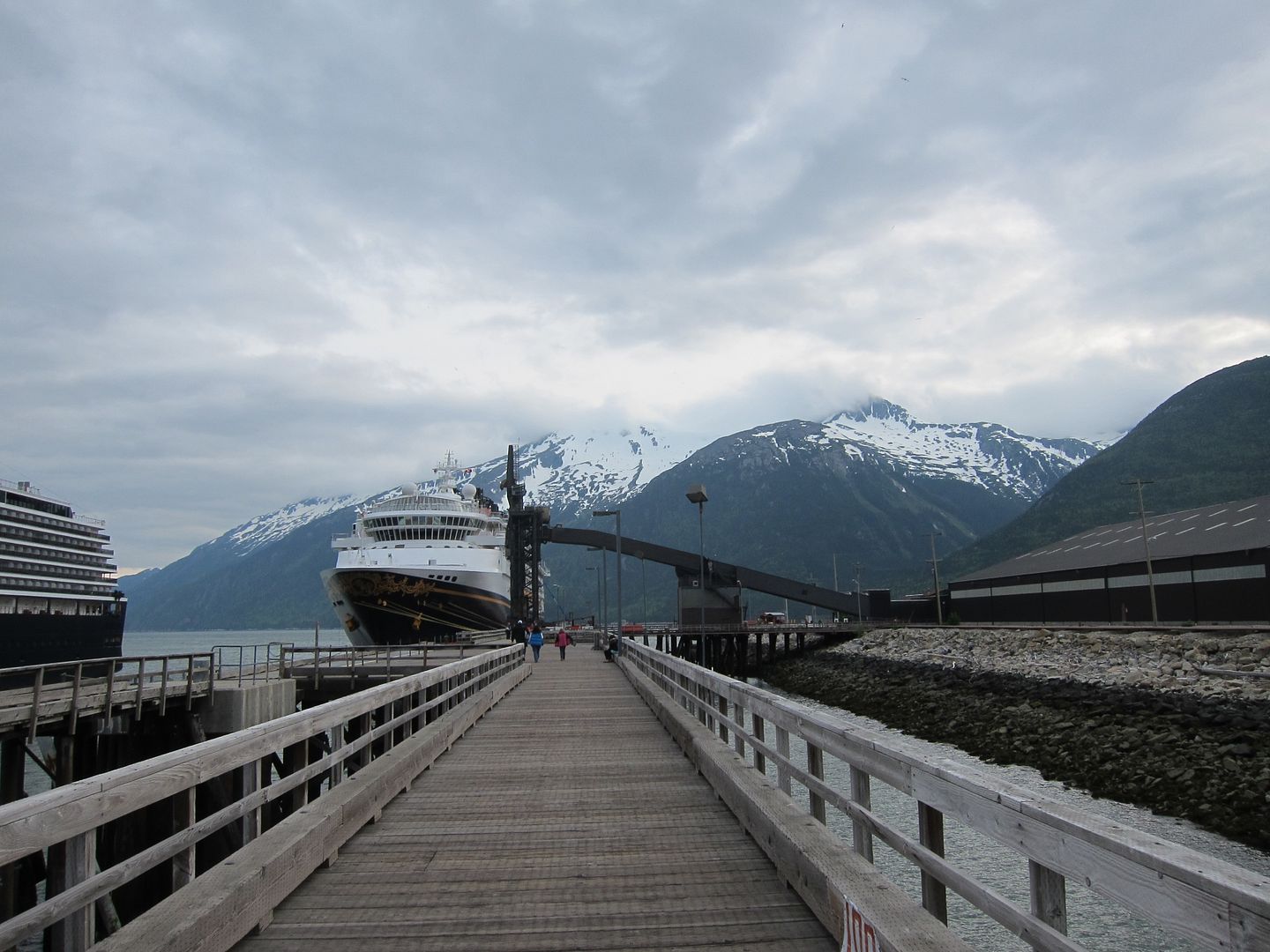 Even though it sort of felt like we were cutting it a little close, we still got back almost a half-hour before all-aboard.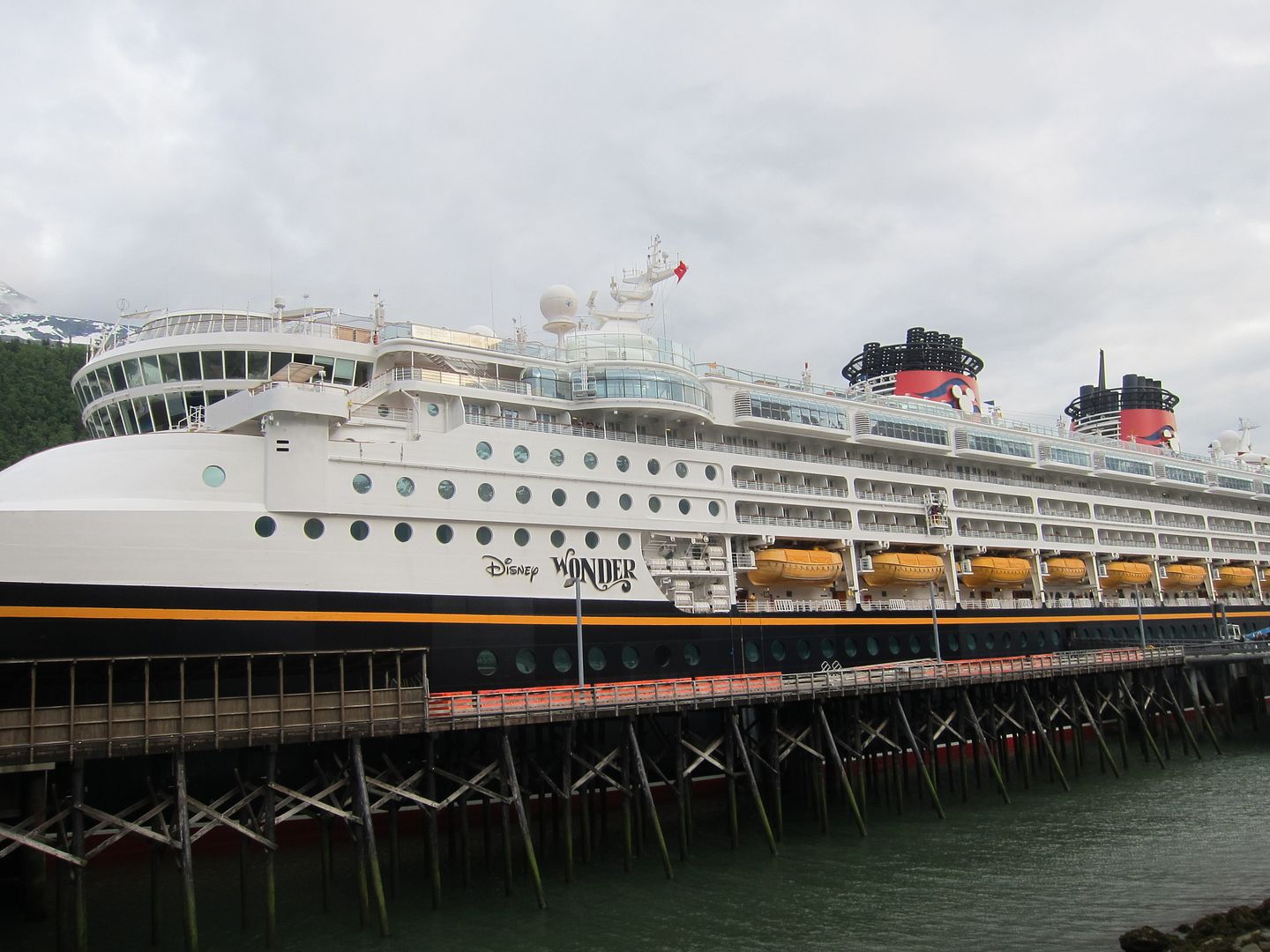 By this time, returning to our stateroom really felt like coming home, and we were glad to take a load off after an extremely long but truly fantastic day in Skagway.
Previous Post | Next Post
Table of Contents
Support the Wandering Mouseketeers and get yourself a little something! Do your online shopping via our Amazon link!
Follow



Share