Chapter 5
Goin' Down the Bayou
---
Previous Post | Next Post
Table of Contents
(Originally posted September 24, 2012)
Upon arriving at Paradise Pier, Steve dropped us off right outside the entrance then drove his car around to park while we checked in. At the check-in counter, we gave our information to the cast member and he pulled out our check-in packet, which included our room keys and everything else we would need. We asked him if he had any "Happy Anniversary" buttons and he pulled out a couple for us. We decided we wanted to celebrate our anniversary on this trip, even though it had been three months prior, because it's always fun to be celebrating at Disney. Plus, this was our first Disney trip since our honeymoon, so we WERE celebrating!!
After giving us our buttons, the cast member disappeared into the back for several minutes. When he reemerged, it was with two gifts for us. The first was two balloons and the second was a photo signed by both Mickey and Minnie. Good anniversary gifts!
We thanked this cast member for his help and headed up to our room to drop off our bags before heading out to dinner. Our room was classified as a "standard view" room, but it turned out we were on the side of the building that faces Disney California Adventure. We were only on the third floor, so it's not like we had the best view of the park, but in our minds this definitely qualified as a "theme park view" room! The Paradise Pier rooms are so nicely decorated.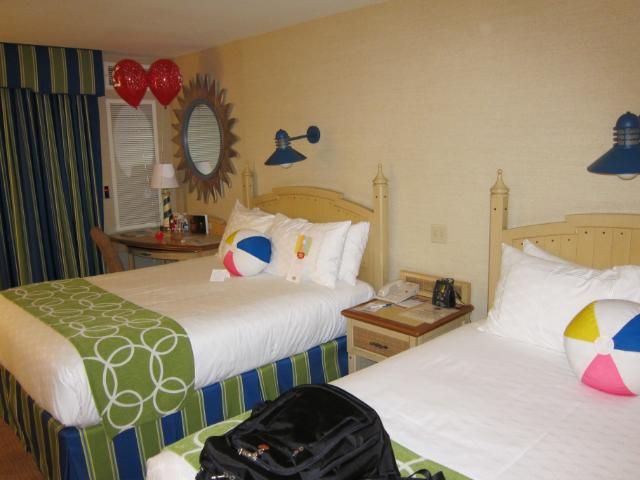 We literally only went into the room to drop off our bags before heading out again to meet Steve in the lobby. Next, we started toward Downtown Disney. We accidentally took the long way since we weren't acquainted with the area yet, so we went past the Disneyland Hotel and around the back of the AMC Theatre to get to Downtown. Regardless of how we got there, at least we made it!
Walking around this Downtown Disney for the first time, we were struck by how nice and compact it is. I honestly like the fact that it more closely resembles a typical strip mall design as compared to the WDW Downtown Disney. The one there has stores behind one another and cattycornered so I always find myself getting a little lost. Here, however, everything was very nicely laid out!
We stopped at the Lego Store just to look around.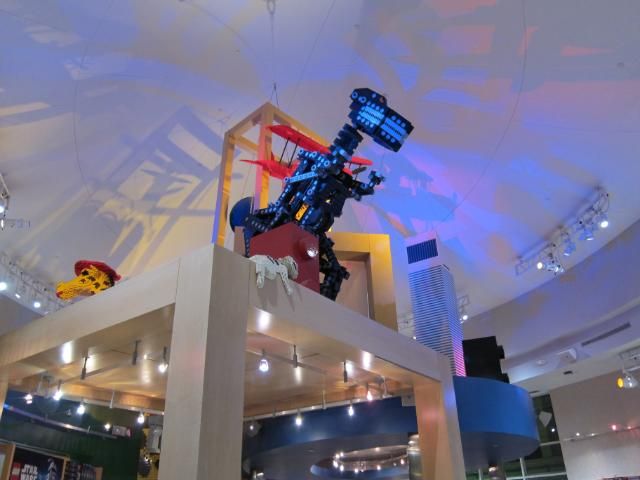 Lego Stores are always fun because of all the amazing Lego structures to take pictures with.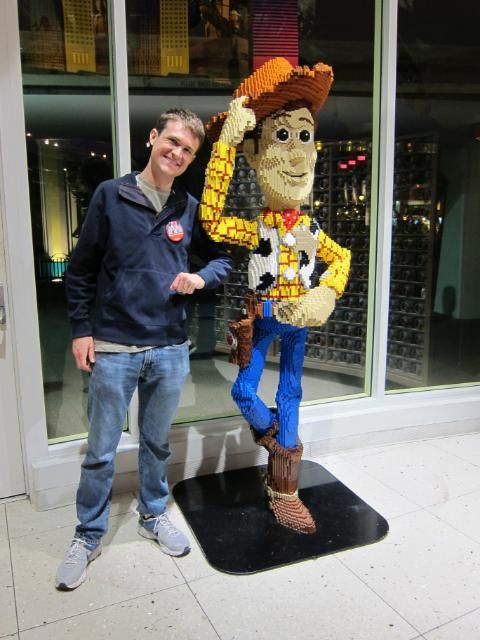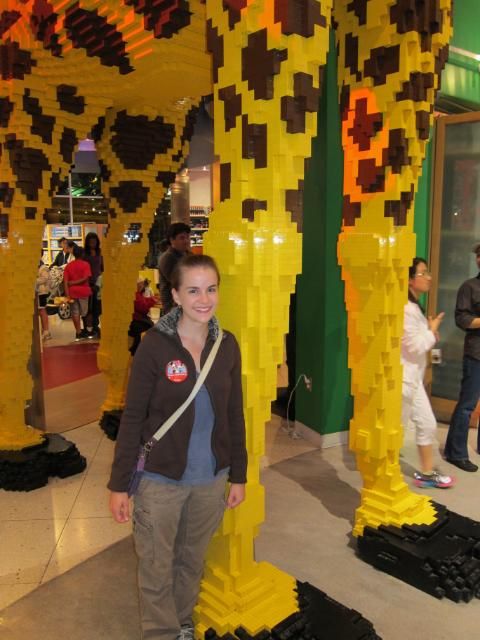 That's Tracy with this guy.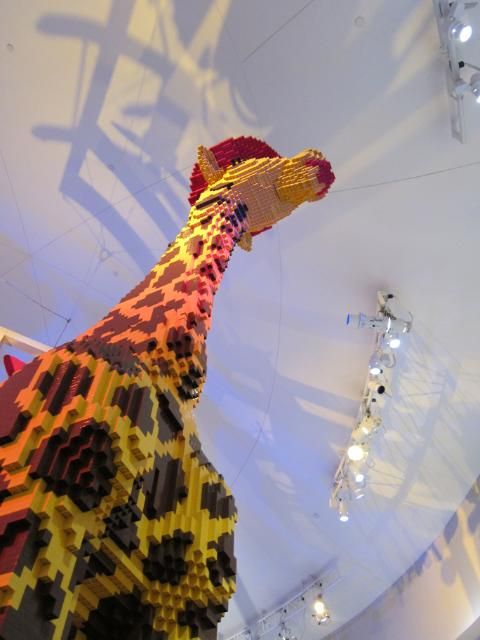 While we peeked into a few stores right upon our arrival, our main goal was to find somewhere to eat! I felt so unlike my normal Disney self because we had put zero thought or research into where we might want to eat on this first night, not knowing where we would be at dinnertime. In the end, we decided by choosing the first place that looked good.
Ralph Brennan's Jazz Kitchen seemed like it was a rollicking good time at night. We could hear the jazz band playing inside the sit-down restaurant from many stores away. Luckily, we noticed, they also had a counter service option attached to the main restaurant—Jazz Kitchen Express.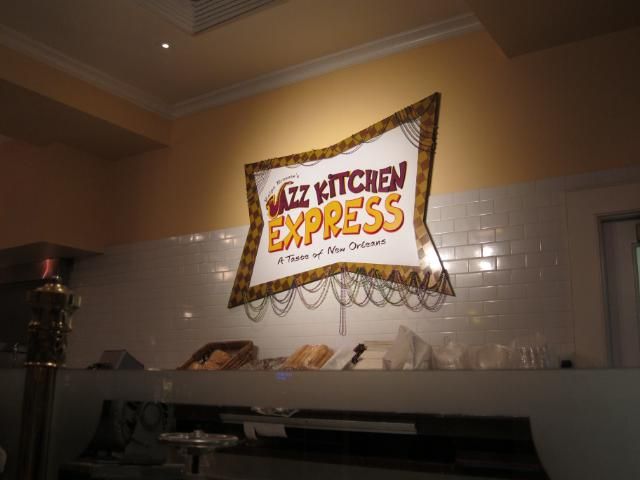 We always love Cajun food and this place certainly smelled good, so we decided to try it out. We checked out the menu.
Tracy and I decided to split the Jazz Kitchen Jambalaya with a side of Hush Puppies. Steve opted for the Classic Red Beans and Rice. After ordering, we grabbed a table outside and waited for our food to come.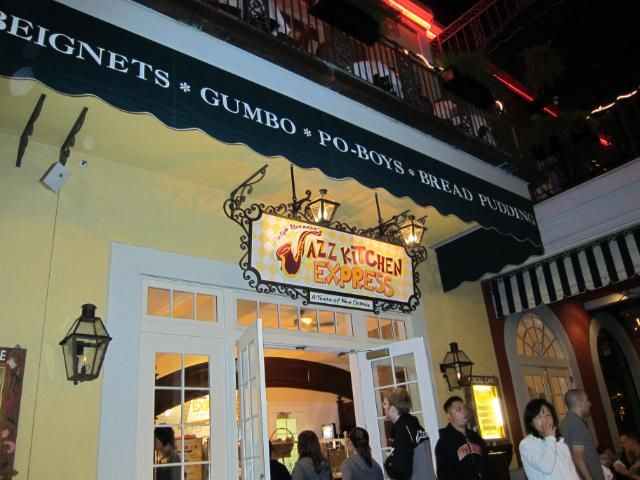 Before too long, someone brought us our meals. Here's Tracy and my jambalaya and hush puppies.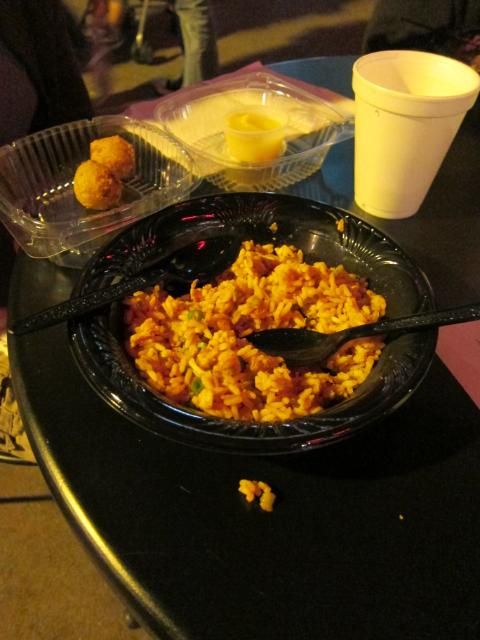 I think I would have felt too awkward asking Steve to postpone eating his meal so I could photograph it. I bet some people would think we hardcore Disney fans are just nuts! Anyway, I thought our jambalaya was good! There wasn't really anything super special about it, but we were really hungry, so it hit the spot. The hush puppies were good, though a little dry. Steve wasn't feeling too great so he only picked at his red beans and rice before giving up. He gave the rest to Tracy and she LOVED them. I've never much liked red beans so I didn't try them, but according to Tracy, that meal was just delicious. She kept saying she wished she could have gotten that for her whole meal…
Our appetites appeased, we moved along through the rest of Downtown Disney. We didn't spend too much time in each store knowing that we'd be able to do our actual shopping on a later day, but we got an idea of some of the stores and their offerings.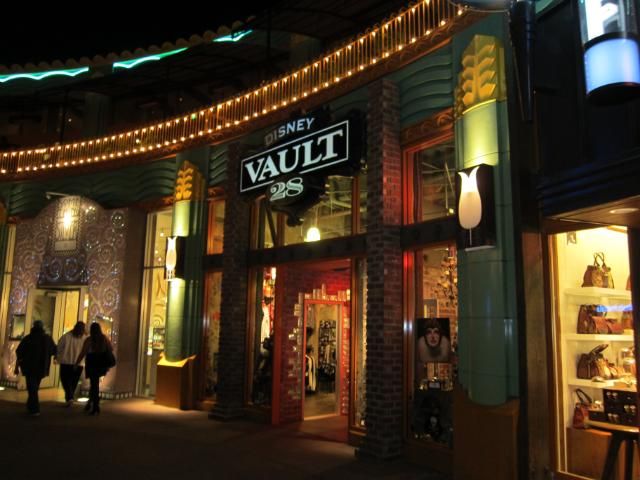 We also got to see several delicious-looking treats being made through the windows at Marceline's Confectionery.
This was our first glimpse at how Halloween was in full force!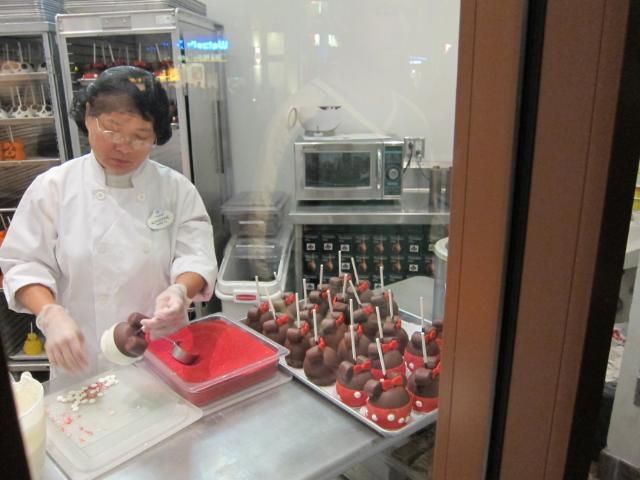 We went into World of Disney but only took a cursory peek. We didn't want to make Steve hang out in there for the hours that we could have spent.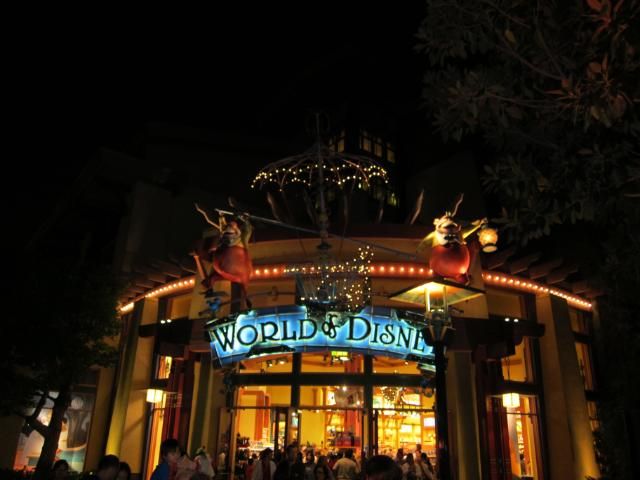 Downtown Disney has so many cool water features, which was especially true at night.
There was also lots of good music being played along the promenade.
Before too long, however, we decided to head back to the hotel. We wanted to get plenty of sleep before our first early morning in the parks the next day! We also wanted to allow Steve plenty of time to make it back to L.A. We walked back toward Paradise Pier (again taking the long way back from Downtown).
We bade Steve farewell at his car in the Paradise Pier parking lot. We thanked him profusely not just for picking us up from the airport, but for being such a great tour guide for our day in L.A. and, of course, for driving us all the way to Anaheim! After seeing him off, Tracy and I made our way back to the hotel entrance.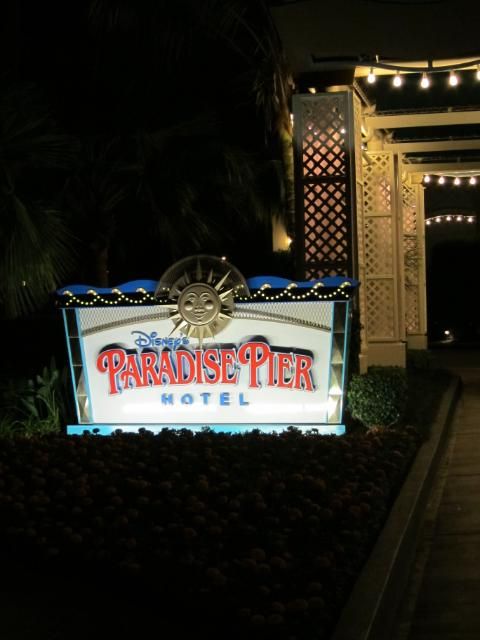 Previous Post | Next Post
Table of Contents
Follow



Share