Chapter 27
Royal Horses and Royal Carriages
---
Previous Post | Next Post
Table of Contents
After the crowds disbursed at the end of the guard change ceremony, we started to walk down the street adjacent to the palace (where our hotel was). Rather than heading back to our quarters, however, we were making our way toward the Royal Mews.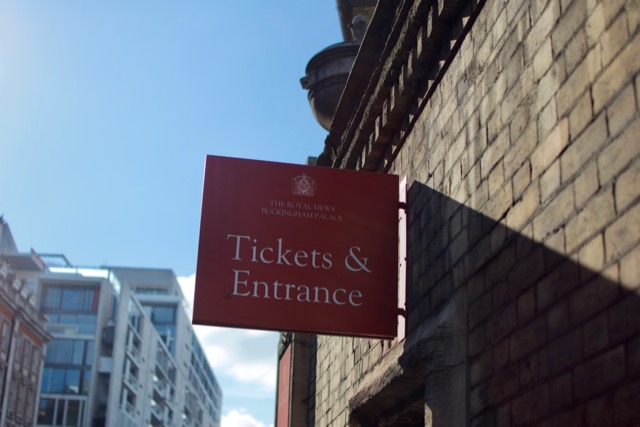 This "attraction" next to the palace is kind of just a glorified parking lot, where all of the royal cars are kept in a courtyard, but it's also home to the royal horses and all the carriages that are used for various ceremonies.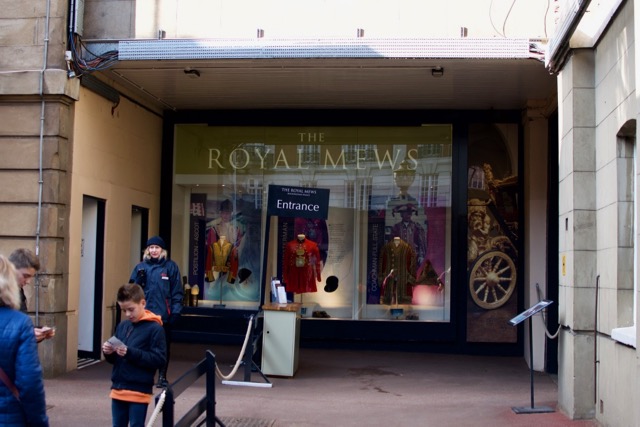 Admission to the Royal Mews normally costs £10 for adults, but it was included in our London Pass, so we didn't have to pay any extra. For those of you keeping track (or maybe that's just me), we still needed to save £75 on admission to different attractions in order to make the cost of the London Pass worth it, so these tickets bring that number down to £55.
This view of the courtyard was what we encountered upon entering, and this is the entire mews.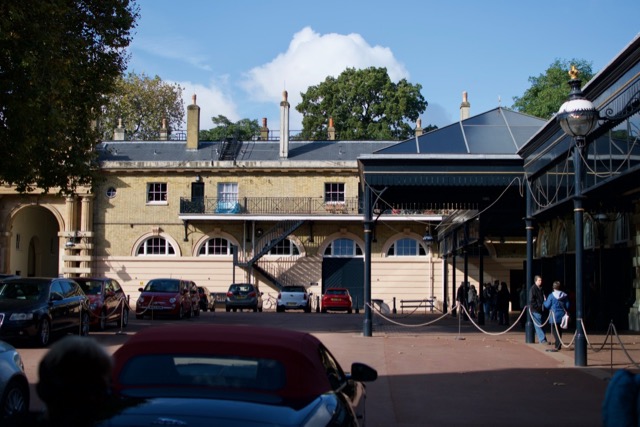 We were given audio tours to be able to learn more about what all was housed here, though we didn't know how much of it we would listen to.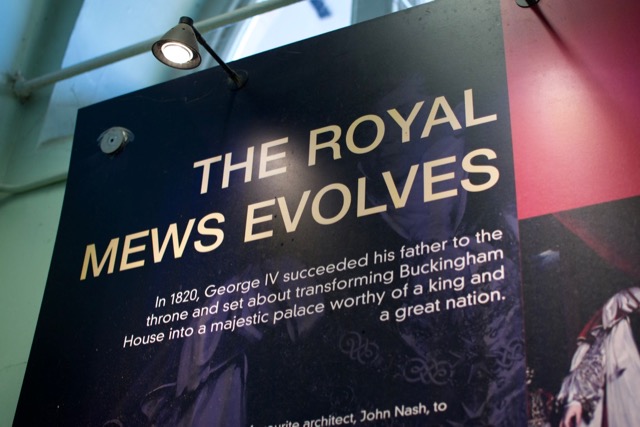 Honestly, the chance to see the Queen's horses was the main reason why we came here to begin with, and we were able to check that off the list pretty immediately. Once you have your ticket scanned and go through a full security screening, the first stop is this barn, which holds several equine inhabitants.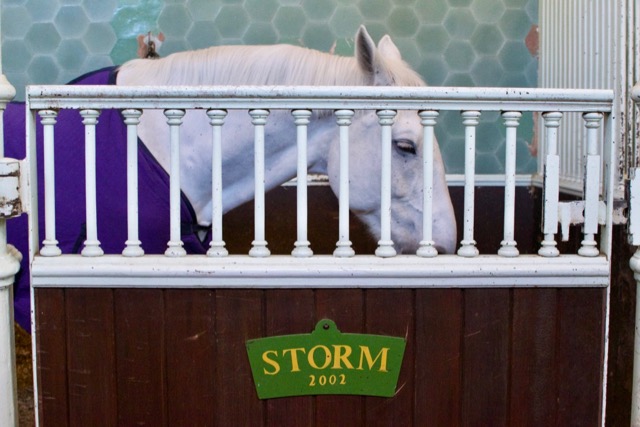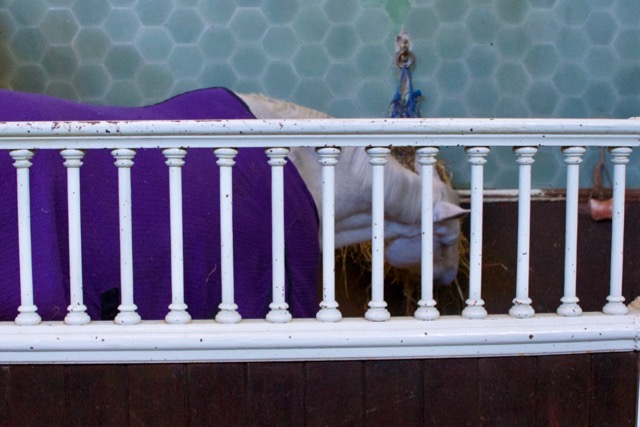 There were only about three horses in the stalls at the moment, but there was definitely room for several more.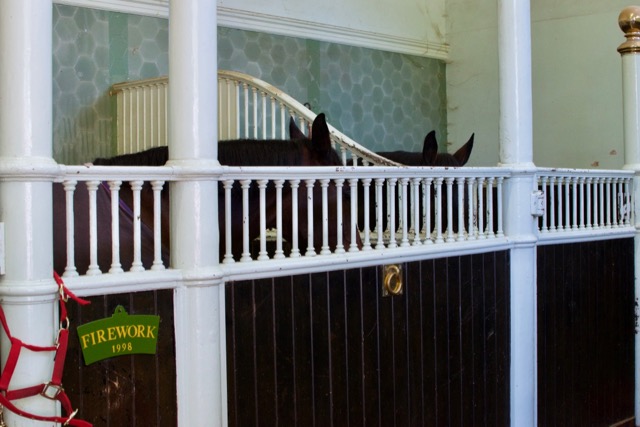 After walking through the "barn" (put in quotes because it was a much nicer structure than any actual barn I've ever been to), we went out into the courtyard to stroll around.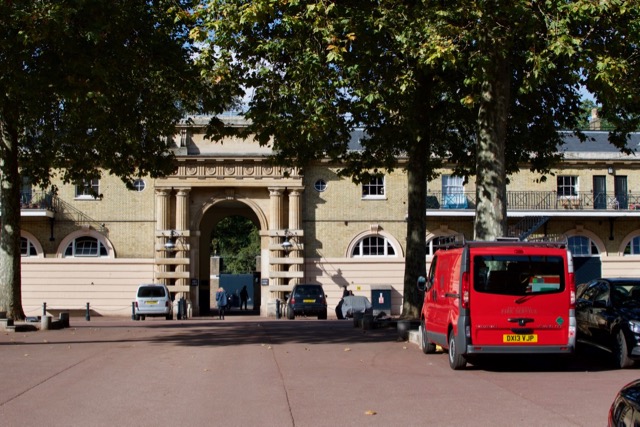 Good to see that no one at the palace needed a doctor this morning!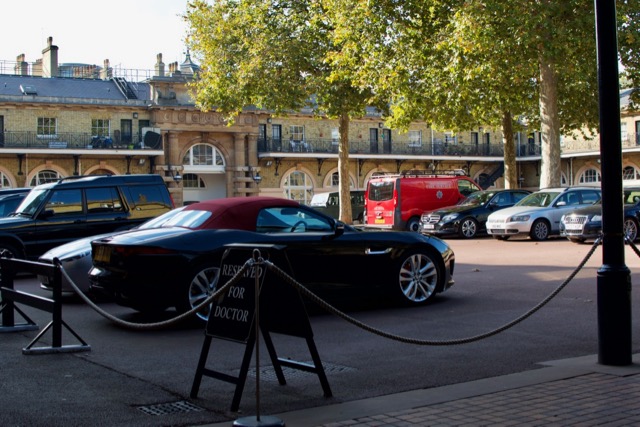 As it turned out (remember, we knew pretty much nothing about the mews before setting foot in here today), the main attraction here was the collection of coaches and carriages that are used for various events and rituals — many of which date back hundreds of years, while others are brand new.
First was one of the Semi-State Landaus (apparently, the palace has five of these), which has sides that can fold down to make it usable as an open-air transport.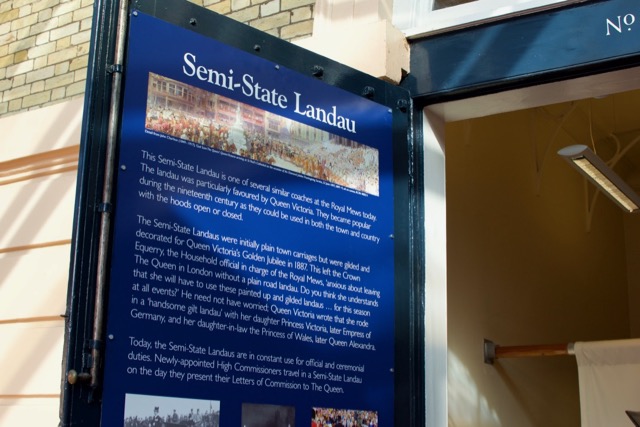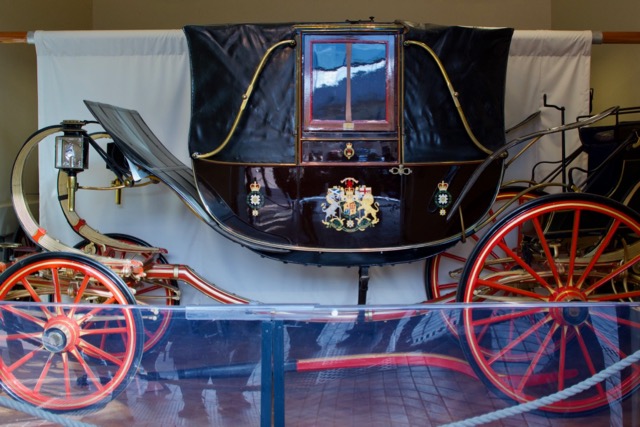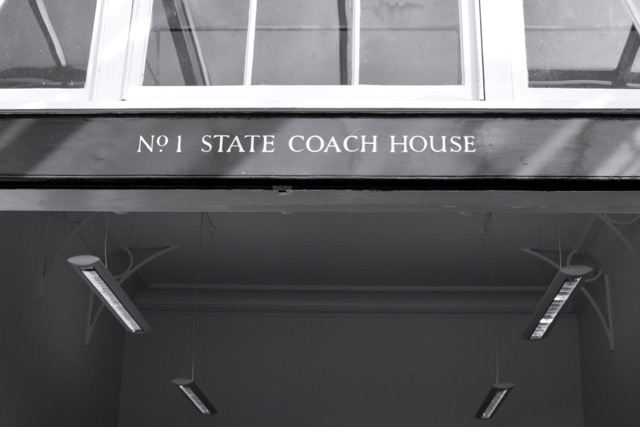 Next was Queen Alexandra's State Coach, which dates back to 1865 and is used each year to transport the crown to the opening of Parliament.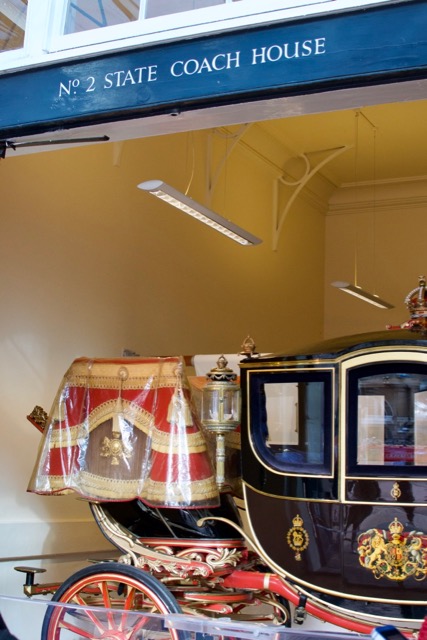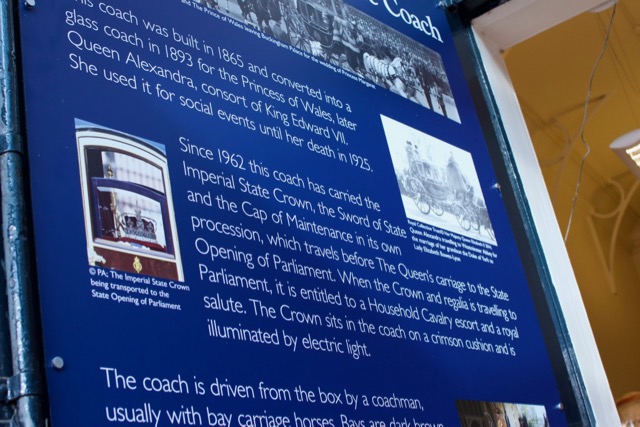 Here's the Irish State Coach. Queen Victoria received it as a gift in the 1850s and used it almost exclusively for her transport after Albert died.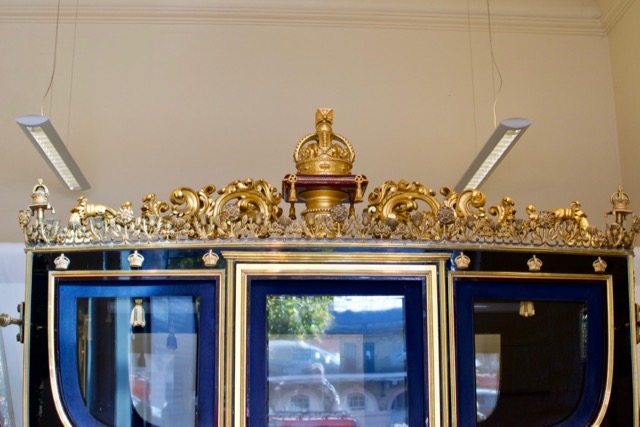 I took lots of pictures of the detail on the Diamond Jubilee State Coach, which was very gold and very intricate. This one debuted in 2014 for the celebration of the Queen's 60th anniversary as monarch.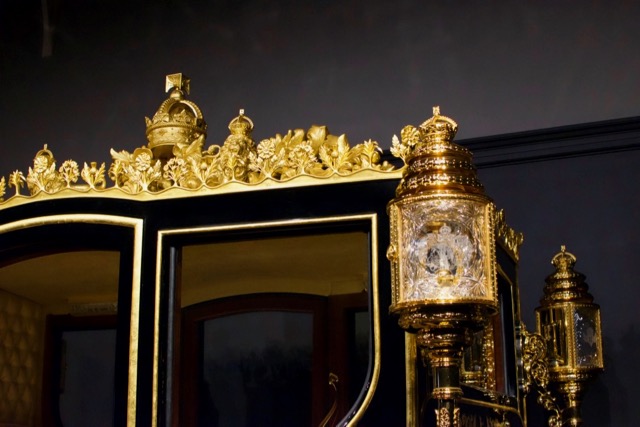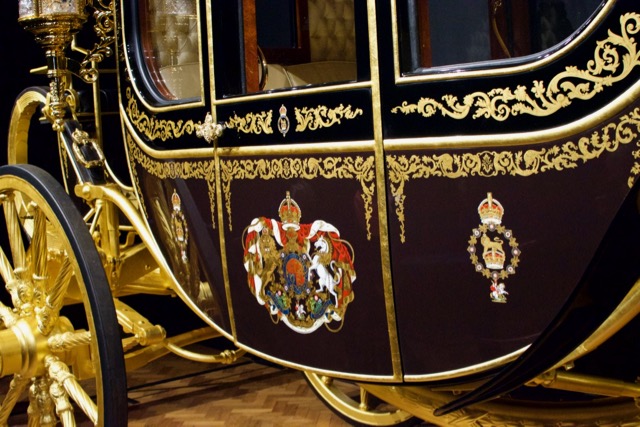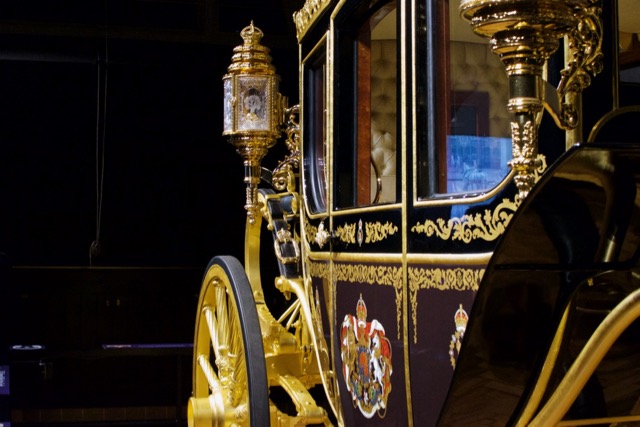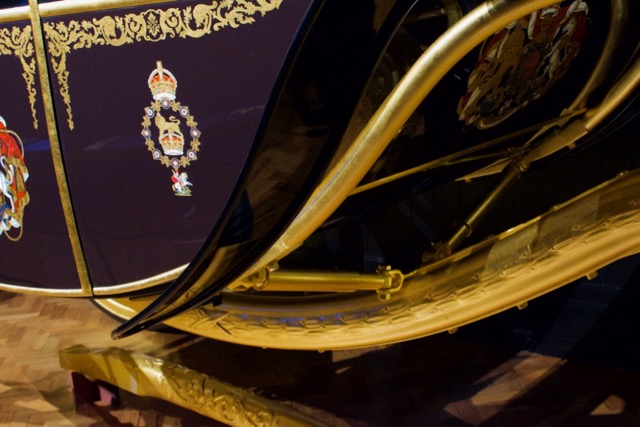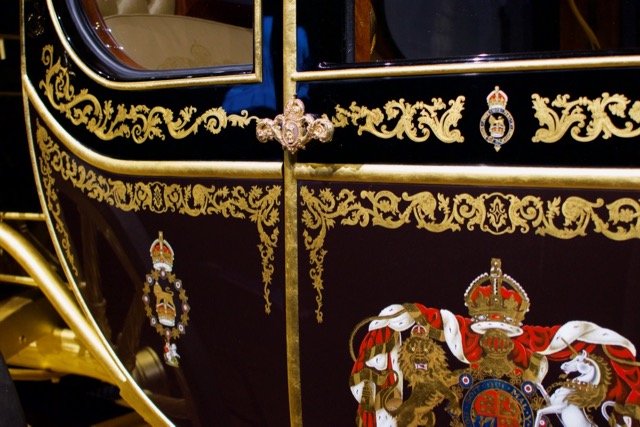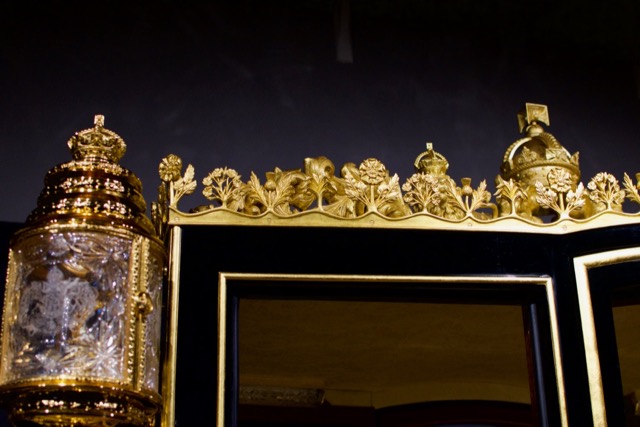 While it seems a little plain compared to some of the others, the Glass Coach was built in 1881 and acquired by the palace in 1911. It has frequently been used in royal weddings, and it transported the Queen (then Princess Elizabeth) and the Duke of Edinburgh away from Westminster Abbey after their wedding ceremony in 1947.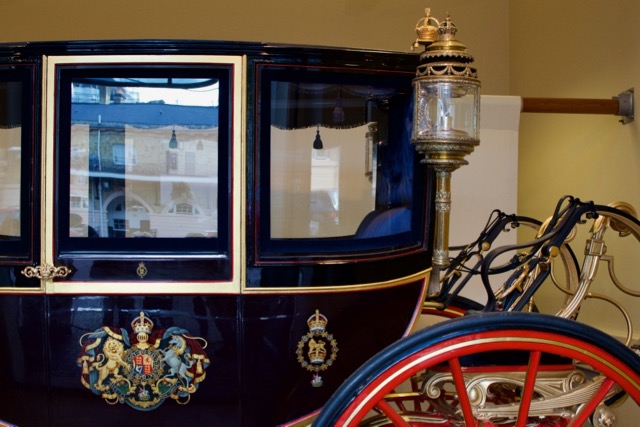 Since the Crown doesn't only use coaches for transport (if only…), we also saw a few of the palace cars, including this Rolls Royce.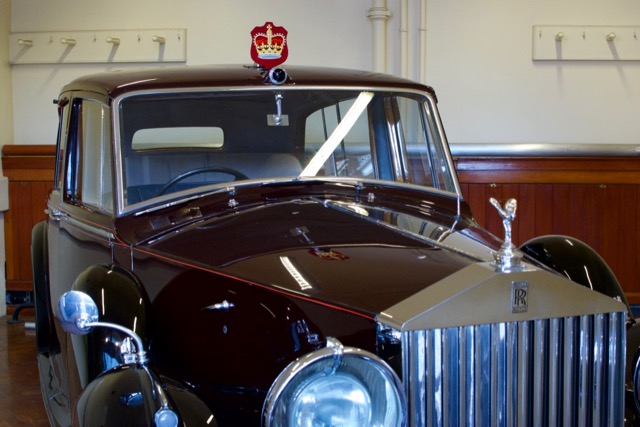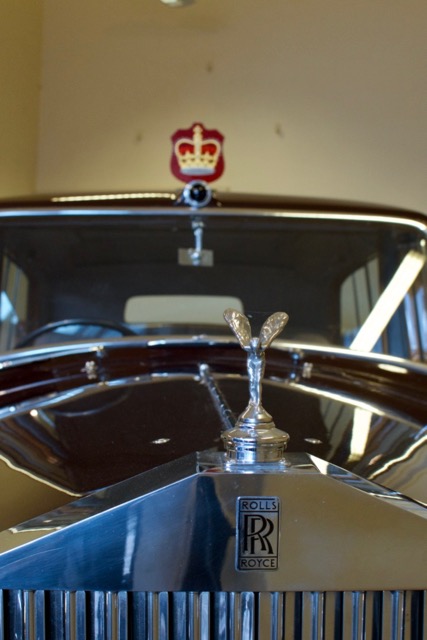 After peering into the last of the coach houses, we went back out into the courtyard and followed the audio tour across the way toward the other stables.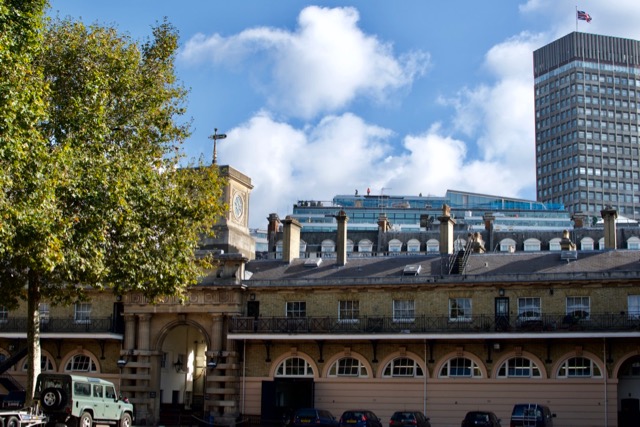 There was plenty of room for more horses, but no one was home today.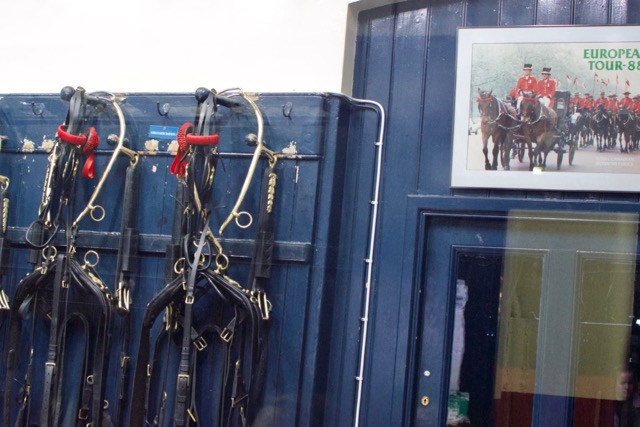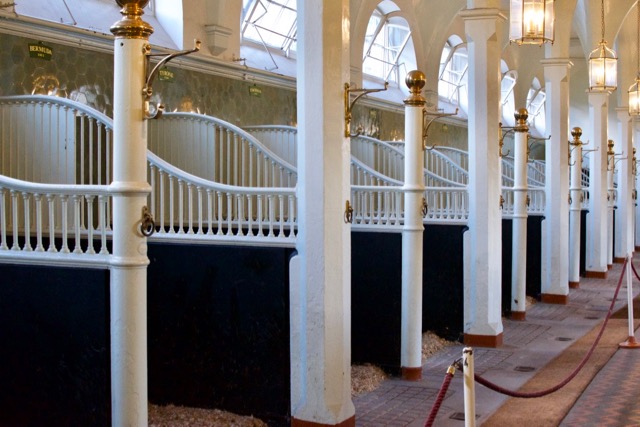 This is a goat cart. Not sure who got to ride in here.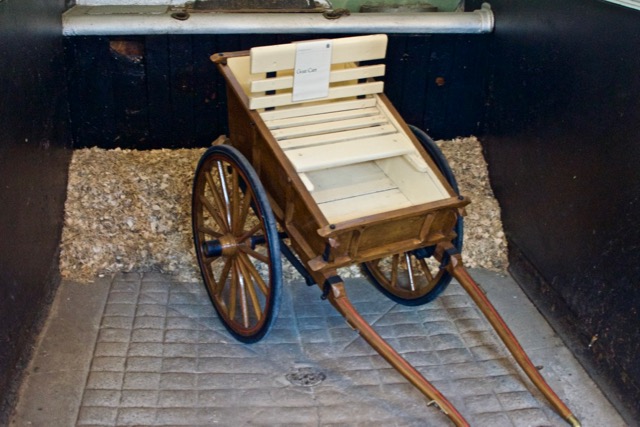 By far the grandest sight on the tour of the mews is saved for last. The Gold State Coach weighs four tons, is thoroughly gilded, and features several panels painted by Giovanni Battista Cipriani. It has been used since the coronation of King George IV in 1821 to transport every new monarch to Westminster Abbey to be crowned. It's also been used in royal weddings and jubilees, but it's only taken out for the grandest of occasions because it is so heavy and difficult to maneuver.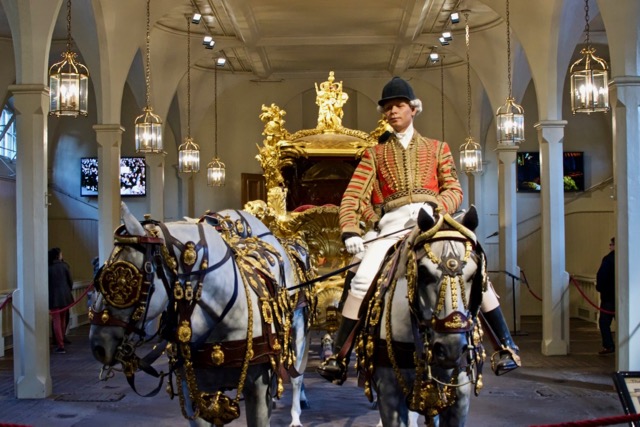 Seeing the coach fully decked out with mannequin horses and postillions really brings it to life, and it's easy to imagine the grandeur it would exude when being paraded through London.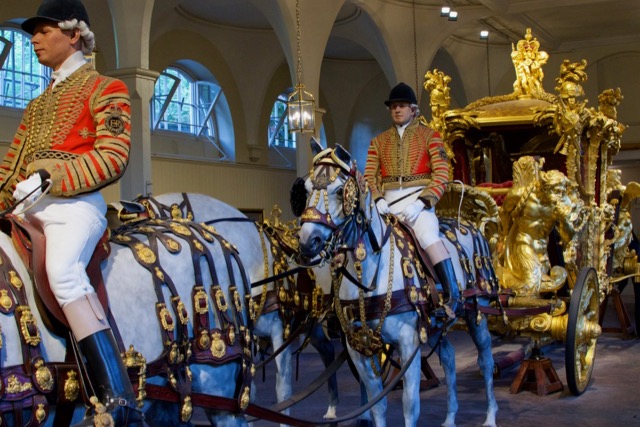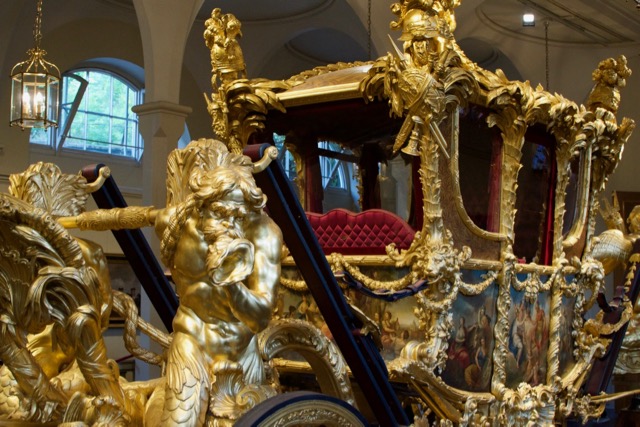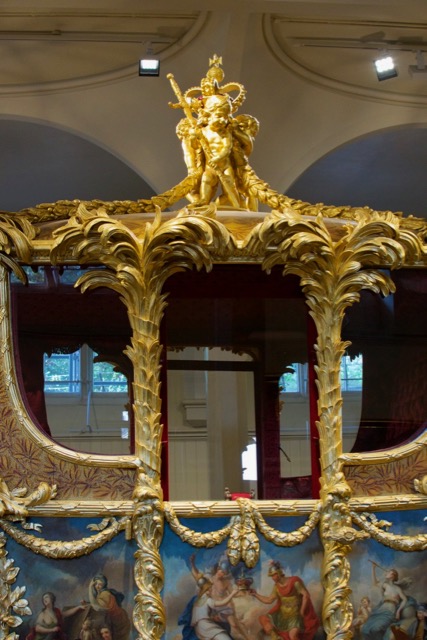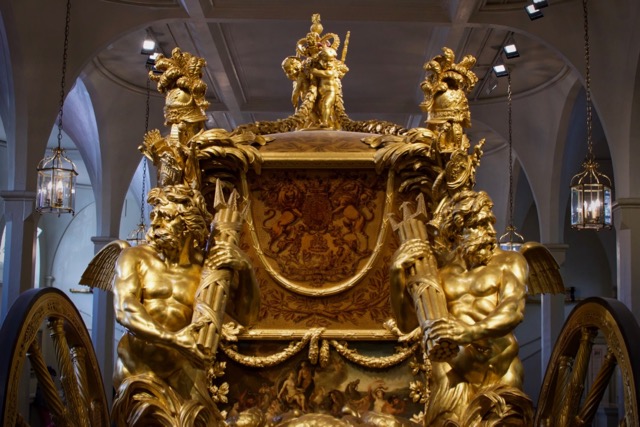 After admiring the Gold Coach from every angle, we turned in our audio tours and left the Mews (not before going to the gift shop, of course). On the whole, I think this destination is certainly worthwhile for tourists who are enthusiastic about the Royal Family — especially during the off-season months when tours inside Buckingham Palace aren't offered. I don't know if we were quite the target demographic, but we still enjoyed ourselves. And since we were staying right next to the Mews, we would have been sad if we'd never gotten to see one of the royal horses on our trip. Is the Mews a must-see for every visitor to London? No. Are we glad we went? Yes, especially since it was covered by the London Pass and didn't require going our of our way at all.
Our next destination was going to be along the Thames, so we started walking in that direction. As we went, I looked for the best-reviewed fish and chips shop nearby and found that The Laughing Halibut had a good reputation on Yelp.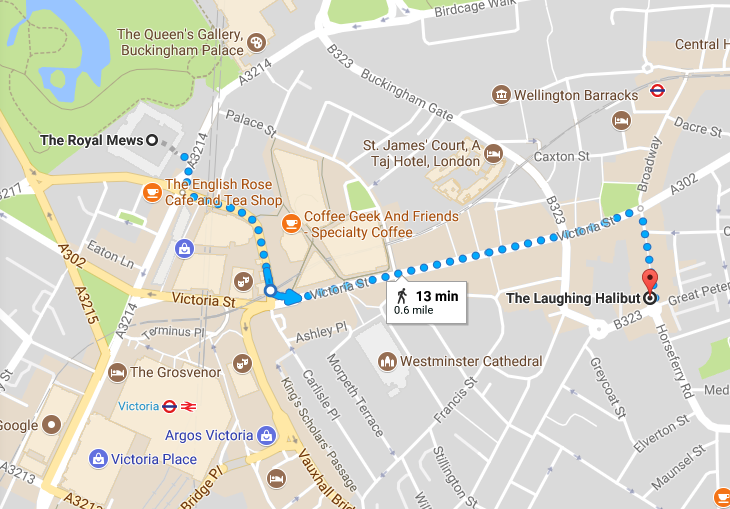 They have these fun bus sculptures scattered around the city, each painted differently. This one represented Westminster.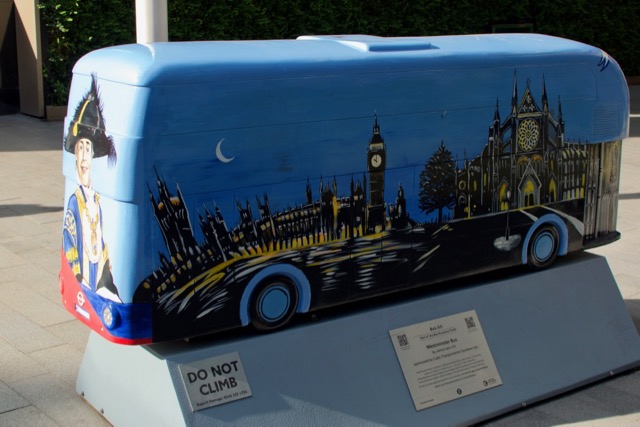 We found The Laughing Halibut with relative ease and placed our order. I'm allergic to fish, so I opted for fried chicken, but Tracy got the traditional English favorite and was a big fan!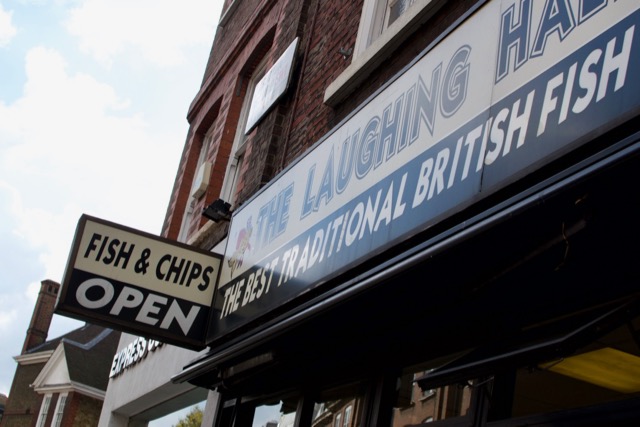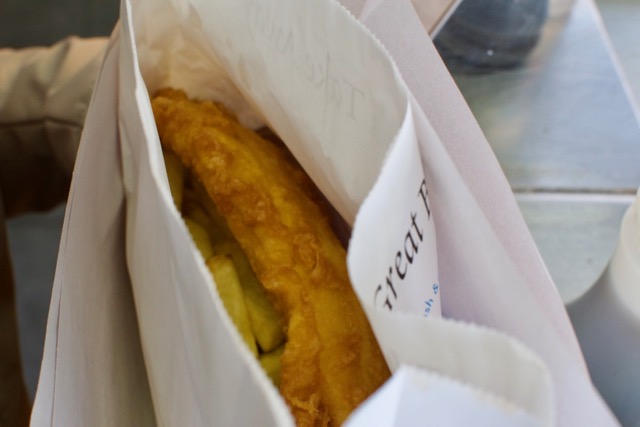 After lunch, we continued walking toward our next destination — continuing to tick items off our London bucket list one by one!
Previous Post | Next Post
Table of Contents
Support the Wandering Mouseketeers and get yourself a little something! Do your online shopping via our Amazon link!
Follow



Share