Chapter 28
Thames the Breaks
---
Previous Post | Next Post
Table of Contents
For our next excursion of the day, we walked all the way to the bank of the Thames to take a river cruise!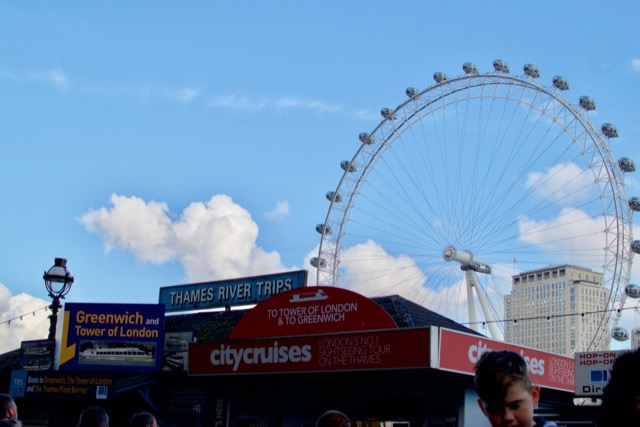 Most of the cruises on this side of the city departed from Westminster Pier. I thought it was interesting how the sign for this dock looks like the ones that adorn all the tube stops.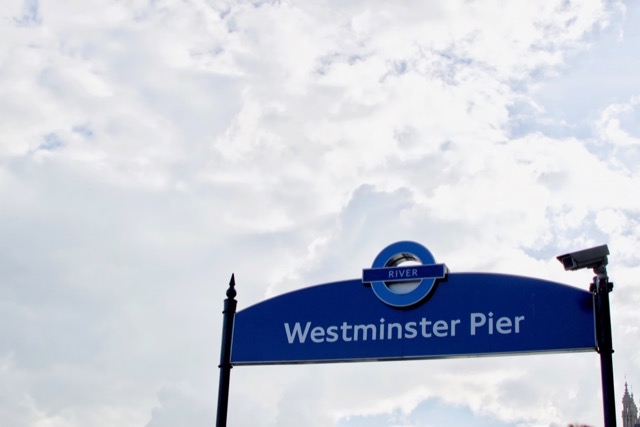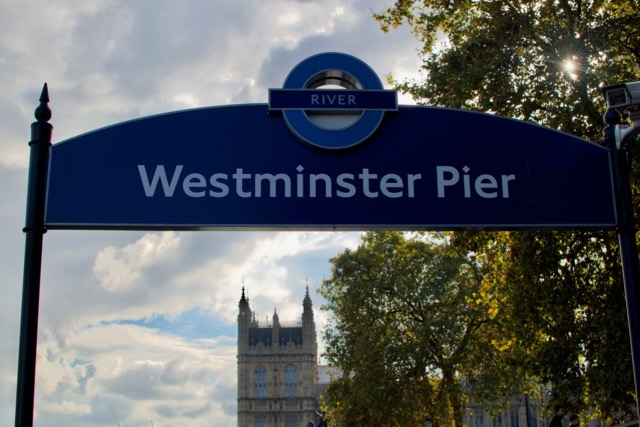 One river cruise was included in our London Pass, which was nice because we didn't have to pay anything extra. The downside, though, was that we had to wait for a very specific cruise operated by CityCruises (not a huge deal because we had read they were one of the most highly recommended tour operators anyway).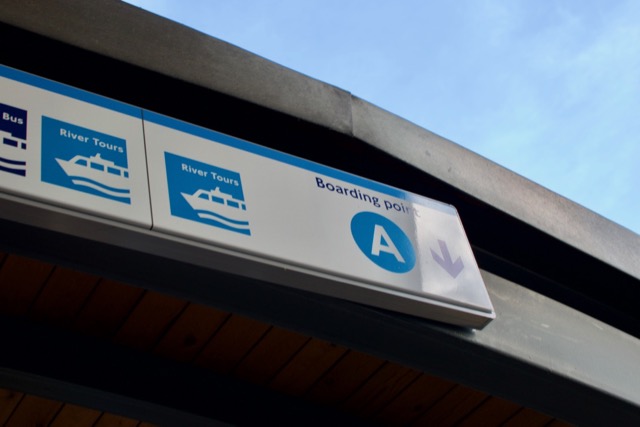 Okay, for all you math fiends, we needed to save another £55 going into this excursion in order to have officially broken even on the London Pass. Did we do it?!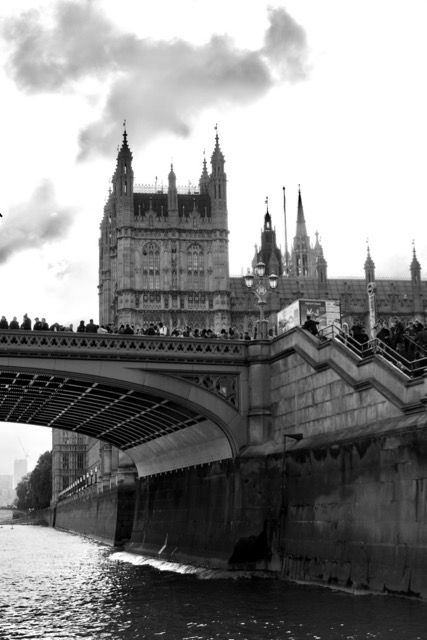 NOT QUITE. Two one-way tickets on the boat from Westminster Pier to the Tower would have cost about £21, so we still needed to save another £34 on the day in order to break even. Still, we were getting so close.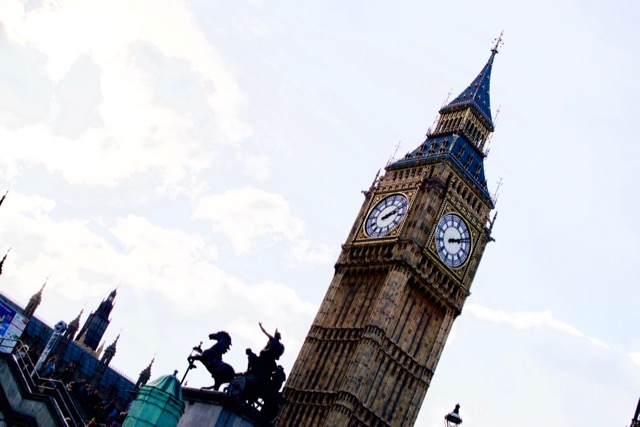 We took a fairly gratuitous number of Big Ben pictures whenever we were in the Westminster area, in case you hadn't noticed.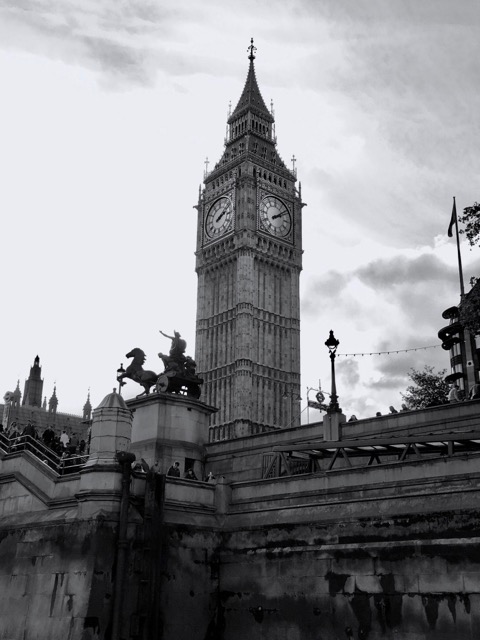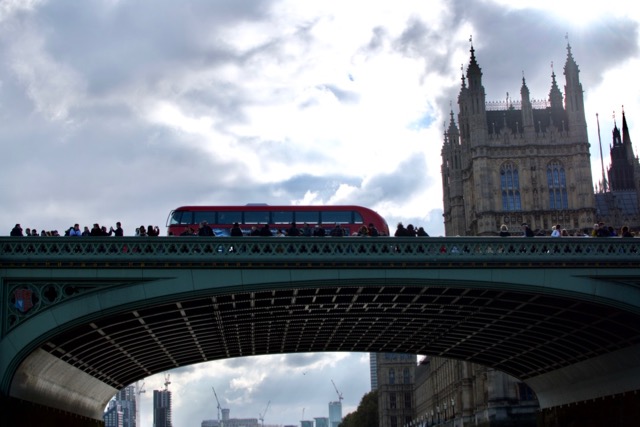 We had to wait what felt like a really long time for the boat to actually show up, so we were standing around on the pier with scores of other tourists.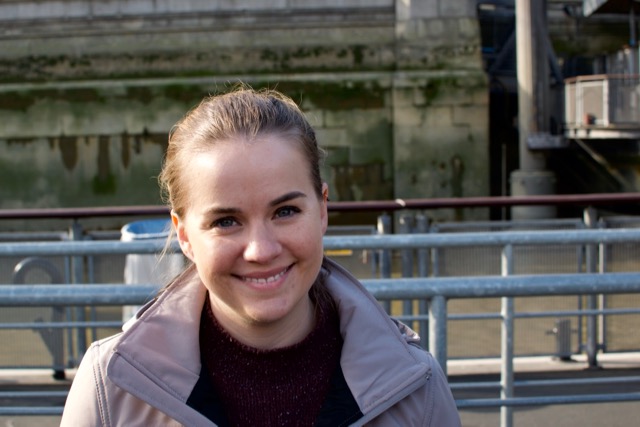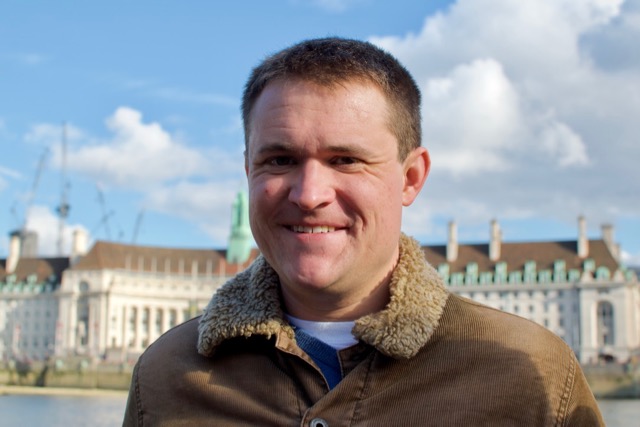 I suppose the view could have been worse while we waited.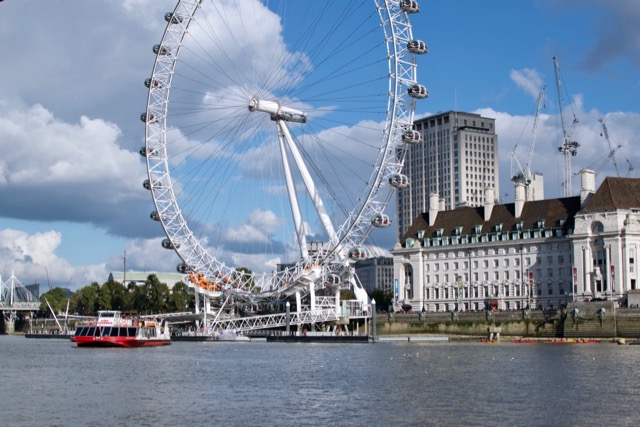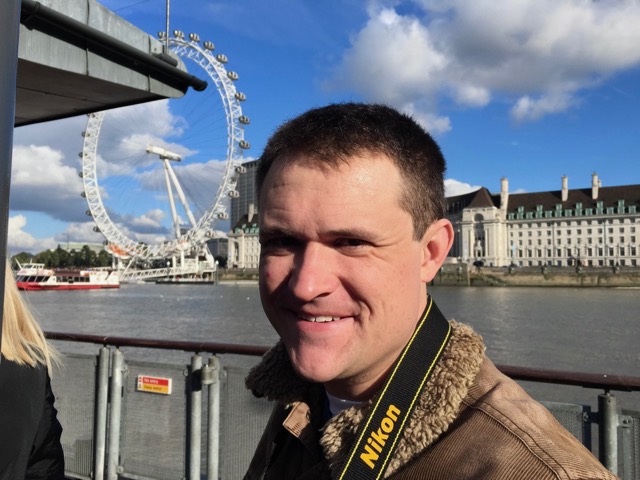 Even when the boat did come into view, it took forever for it to actually dock. I think it had to turn around, which was apparently some sort of 50-point turn.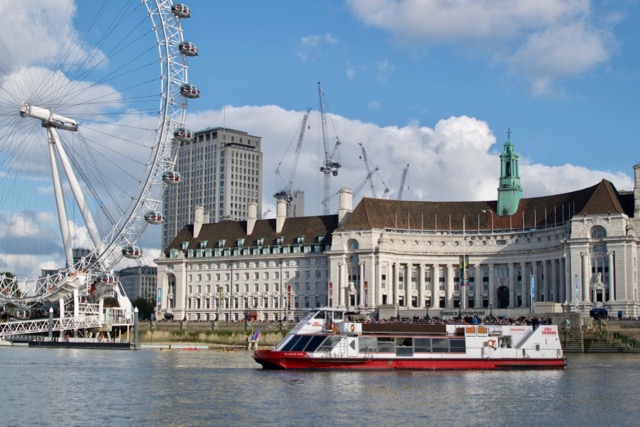 But eventually it stopped and the previous group of passengers cleared off.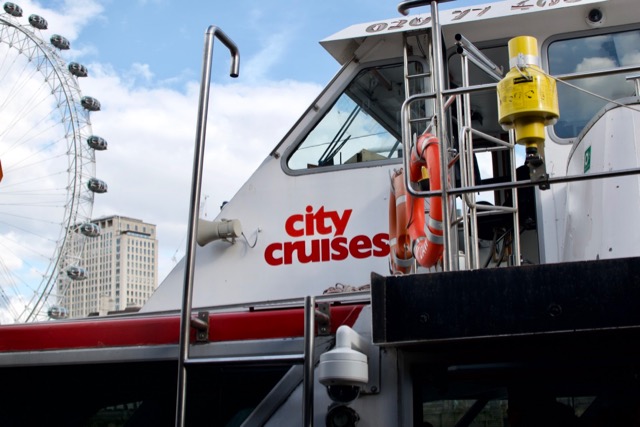 And then we got on board.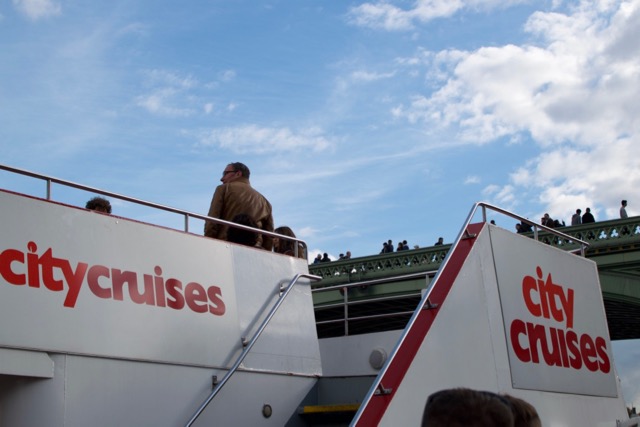 Here are just a few photos I took from our spot on the top, open-air deck, while we waited for everyone else to climb aboard.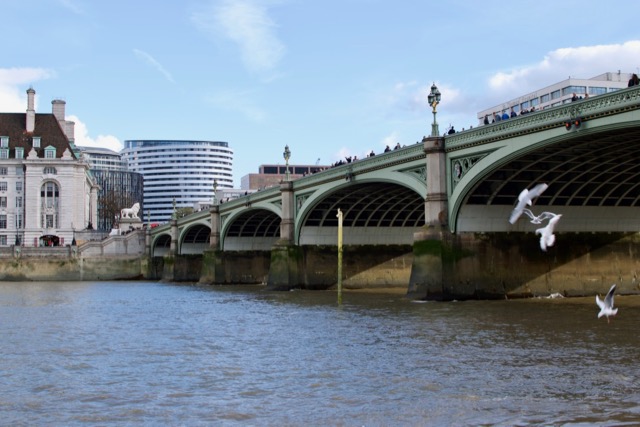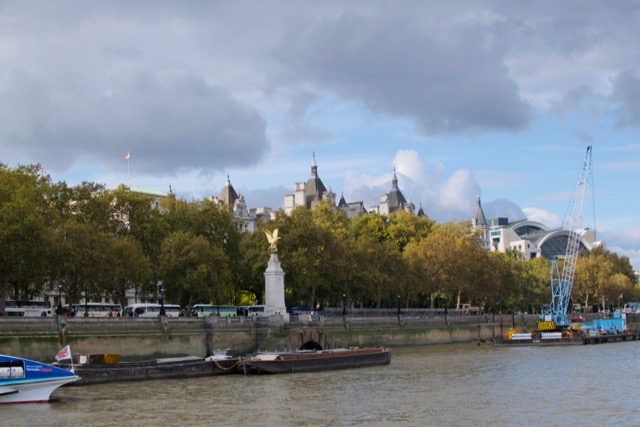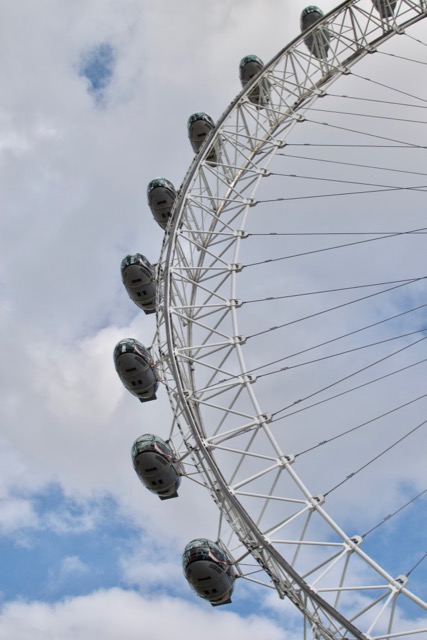 Unlike our HOHO bus, we actually got a live guide for this tour. He was one of the only people we came into contact with in London who had the totally stereotypical Cockney accent, and I loved listening to him speak. His commentary was very entertaining, and we were kept laughing throughout the boat ride. It was funny, though, how many people clearly had no idea what he was saying as he narrated because the majority of our fellow cruisers definitely didn't speak much English.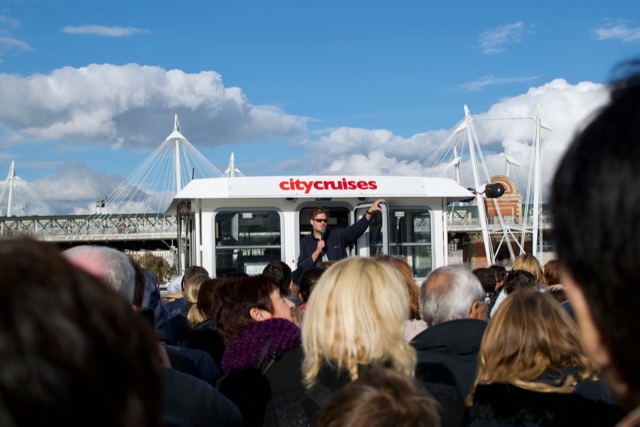 I took photos whenever he would point out a specific sight, but I can't really recognize most of them in the photos, so I'm probably not going to do a great job identifying what's what…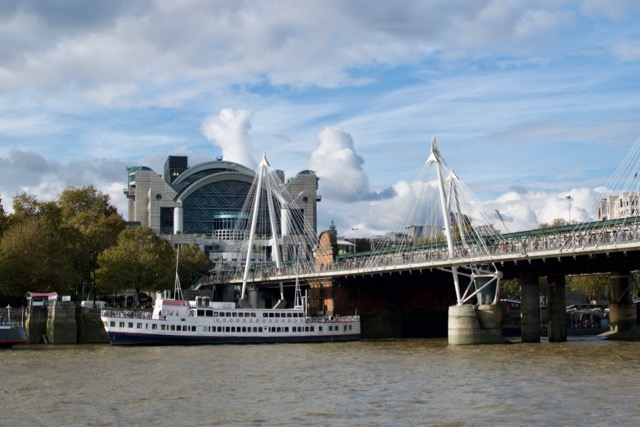 If Google Maps serves me correctly, this obelisk is Cleopatra's Needle.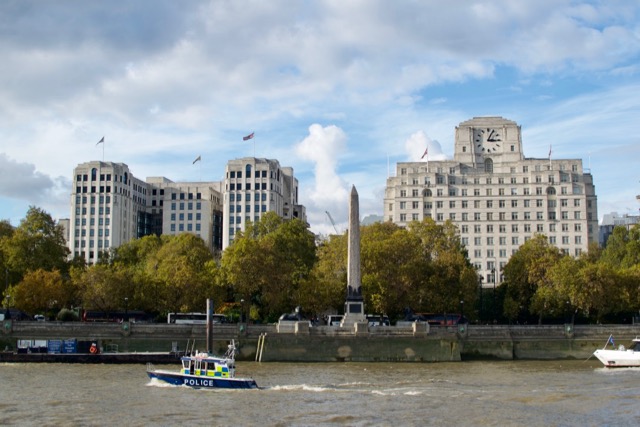 I can tell this is Waterloo Bridge (because it is literally labeled).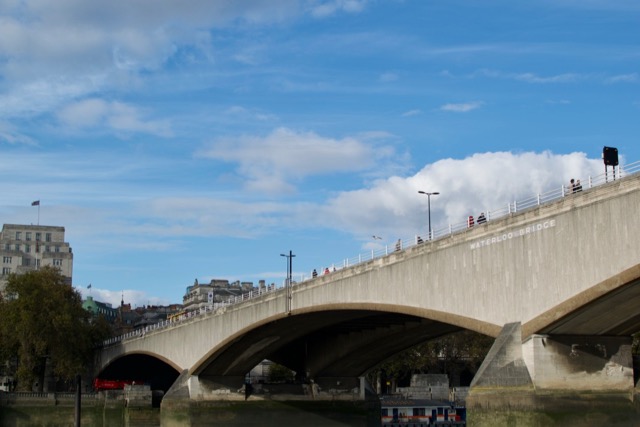 The guide pointed out the ITV studios, from which one of London's main news stations broadcasts.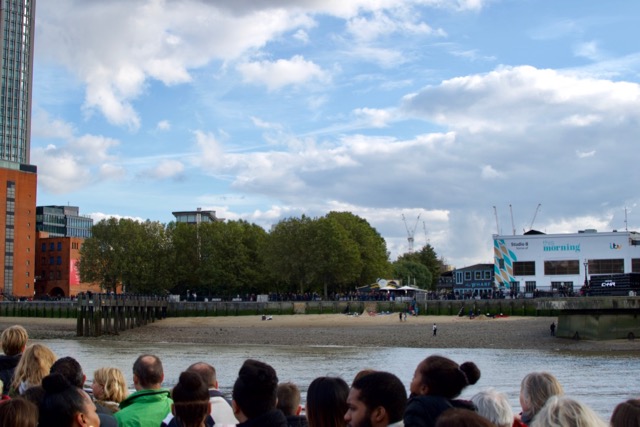 This next building on the South Bank side is the same one we had walked past yesterday and noted how it's the site of the famous Love Actually zip-up turtleneck scene.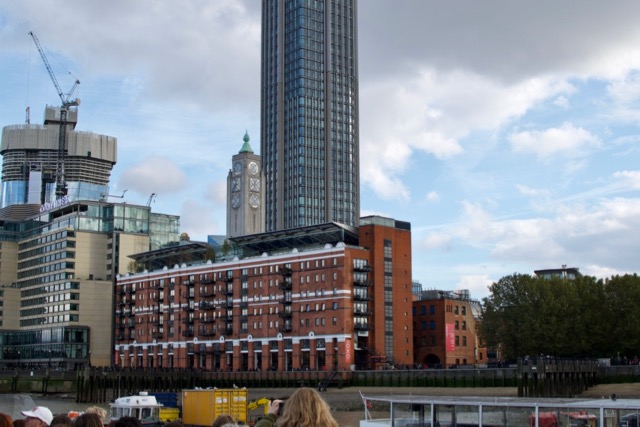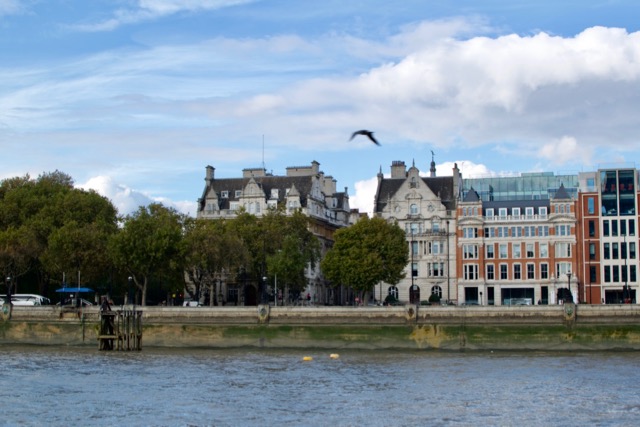 Here we have Blackfriars Bridge and the first "peekaboo" sighting of the St. Paul's Cathedral dome.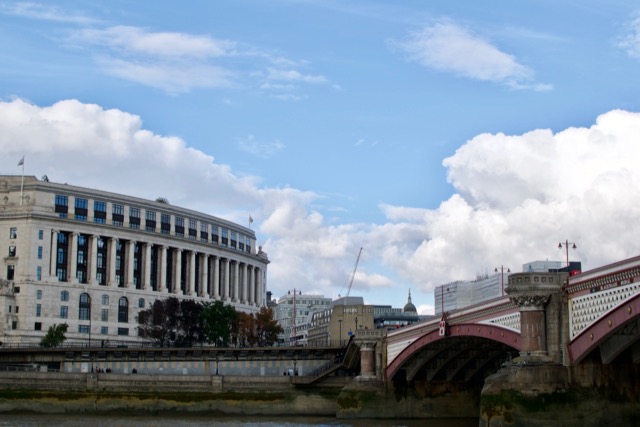 This photo shows it much closer.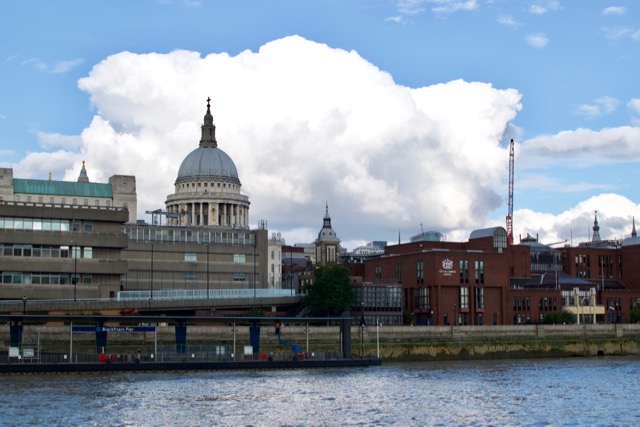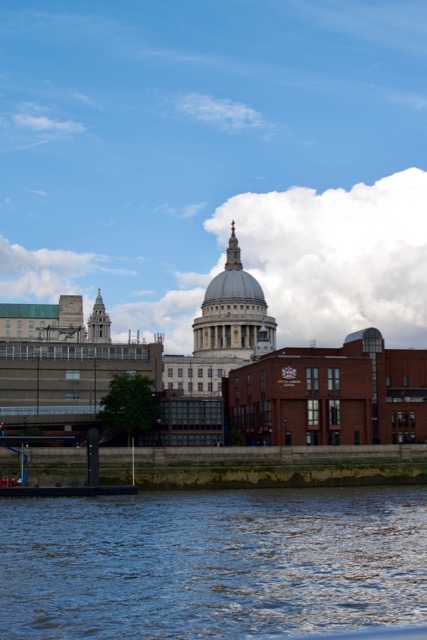 In the foreground, you can sort of make out the Millennium Bridge — famous for its Death Eater attacks.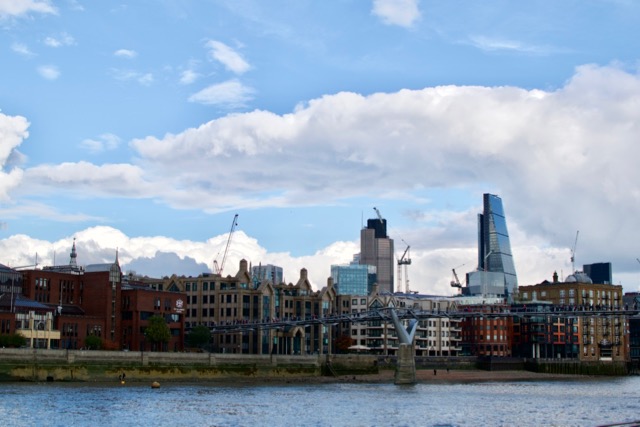 Here is is much more clearly as we went underneath.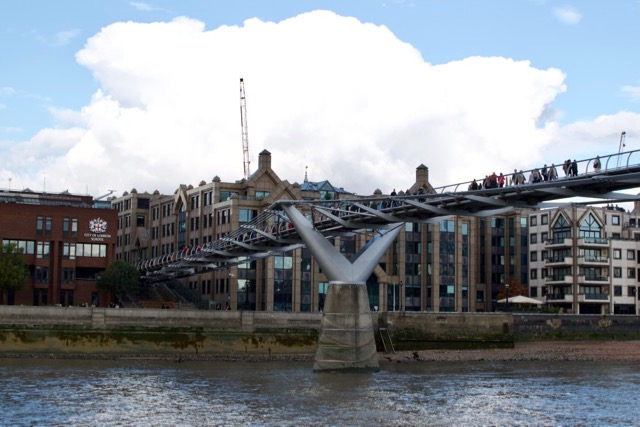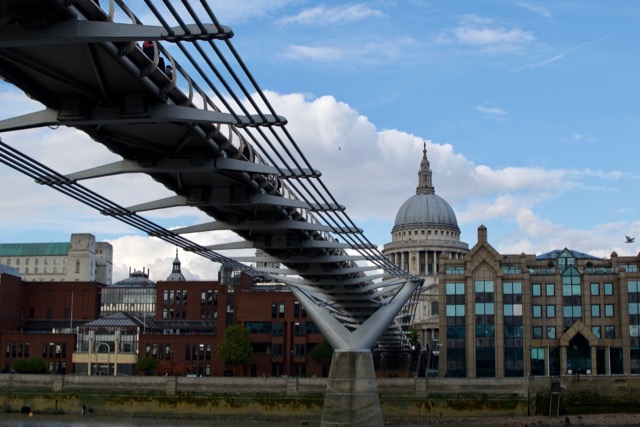 Another South Bank site was Shakespeare's Globe. This theatre was on our list of "must-do" attractions, but it was starting to become clear that we might not be able to reasonably expect to hit all of those…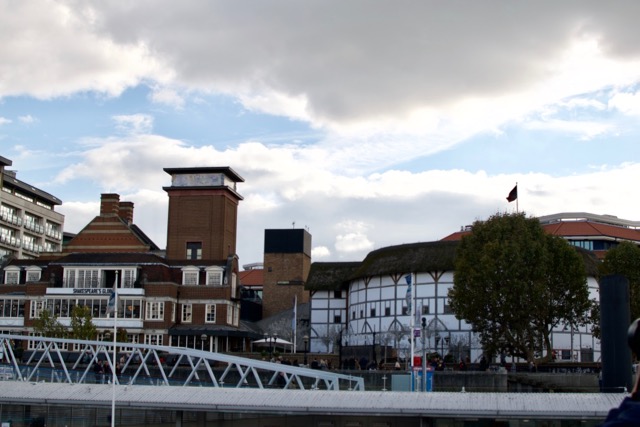 The Shard is one of the only recognizable London skyscrapers — topping out at 95 stories.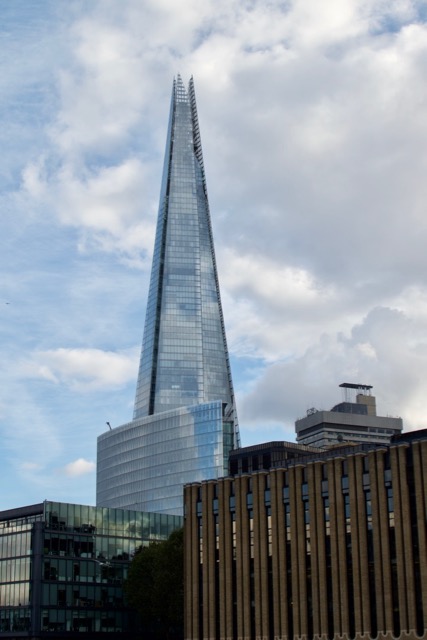 You don't really expect to see a moored pirate ship tucked away on the shore of the Thames, and I guess this ship didn't belong to pirates, per say. The Golden Hinde was the English vessel used by Sir Francis Drake to circumnavigate the globe in the 1570s. While the original ship didn't survive the centuries, this replica is a museum today.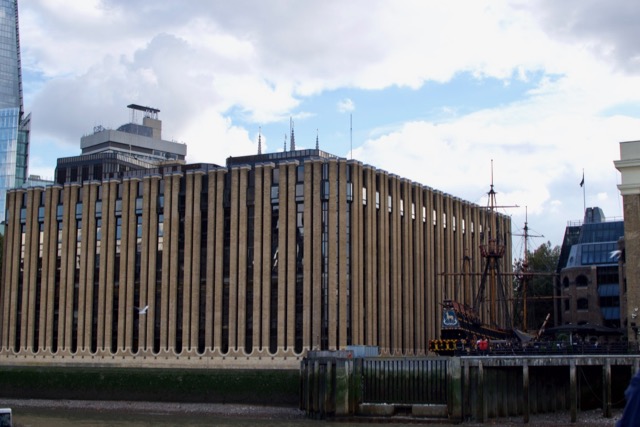 We got a two-in-one view of another pair of modern London landmarks — the Walkie-Talkie and the Gherkin.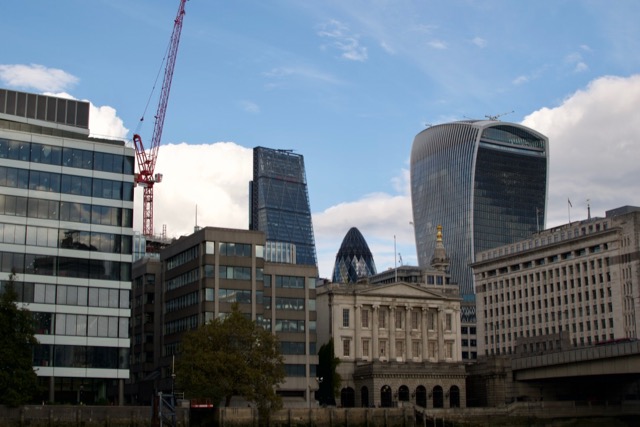 Hey look, it's London Bridge (not even falling down).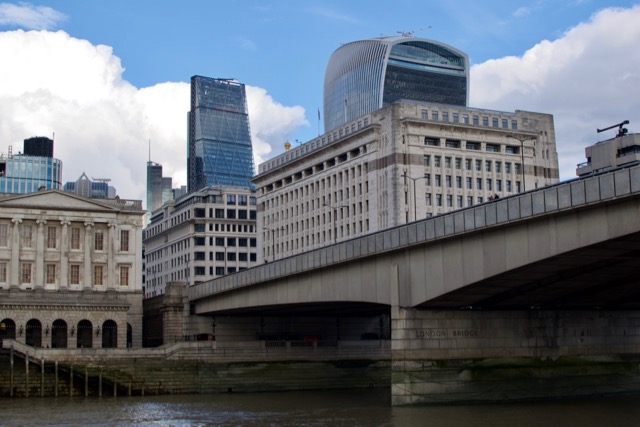 Here's our first view of both the Tower Bridge and the Tower of London. So many towers, so little time.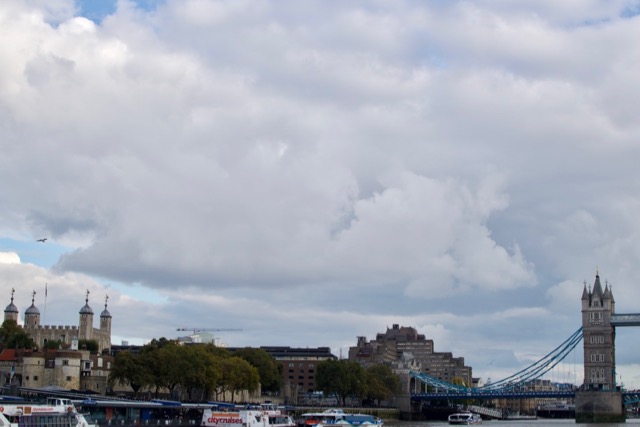 The HMS Belfast is another British ship permanently moored in the Thames. It's a tad more contemporary, since it was just from WWII.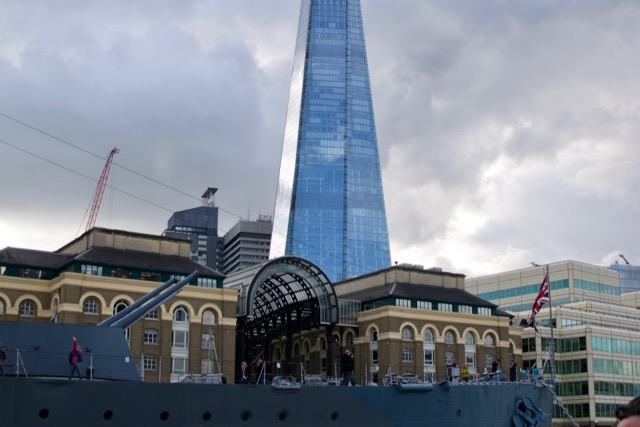 And in the blink of an eye (okay, not quite), we were already approaching the next dock. We planned to disembark here at the Tower, though the boat was going to continue sailing on to Greenwich. One day we'd love to go there, but there just wasn't enough time in the day.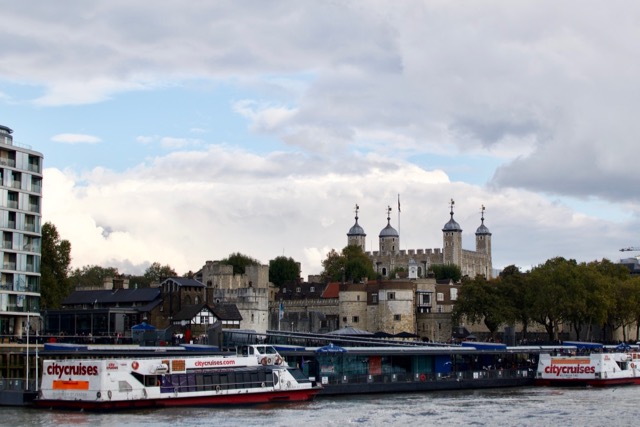 Similar to the boat's approach to Westminster Pier, it took plenty of time to actually pull in to our stop. On the plus side, it gave us plenty of time to take photos of some of London's most notable landmarks from a few different angles.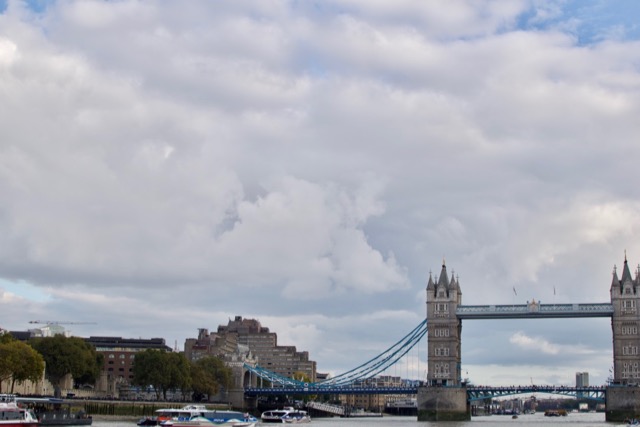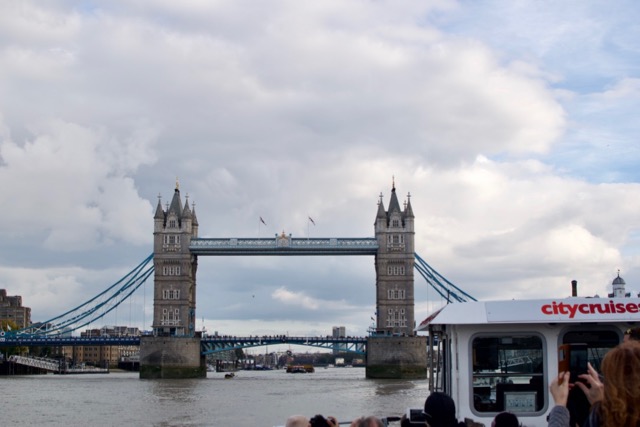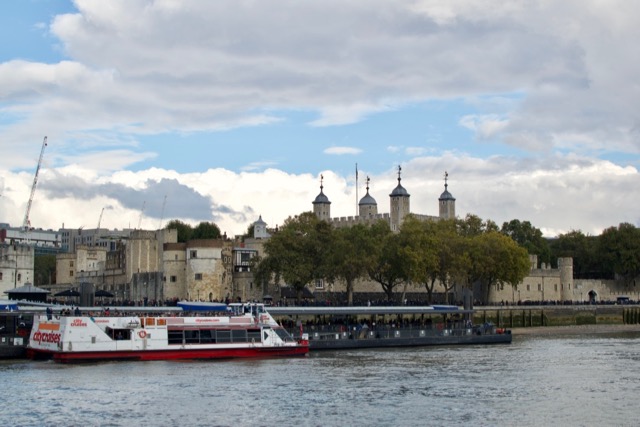 It's hard to see from the wide angle but there is a sign reading "Entrance to Traitor's Gate" on the wall behind the passing boat. It's filled in now with stones, but we would see the other side of the gate during our Tower tour.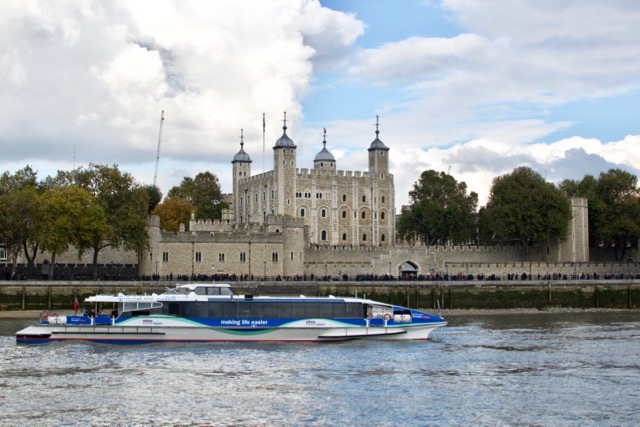 Between the boat moving and the constant crowds sitting/standing around us, it was tough to ever get a really good Tower Bridge picture.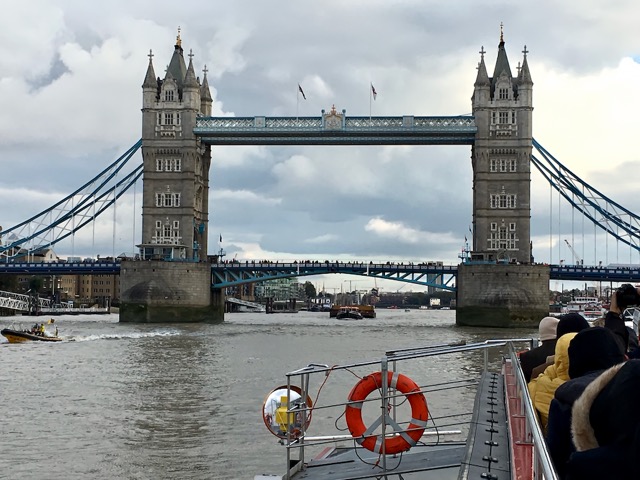 Here's another view of all those buildings in The City.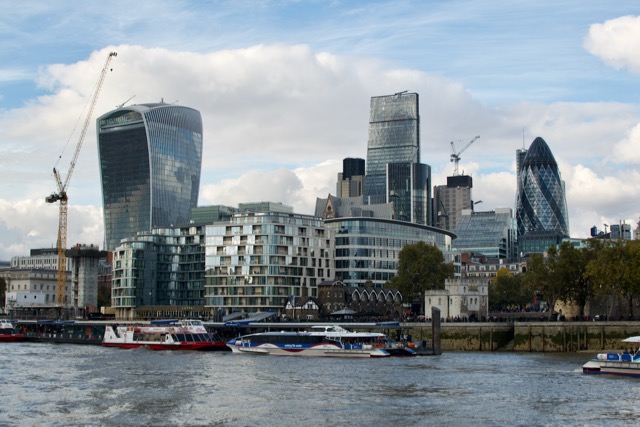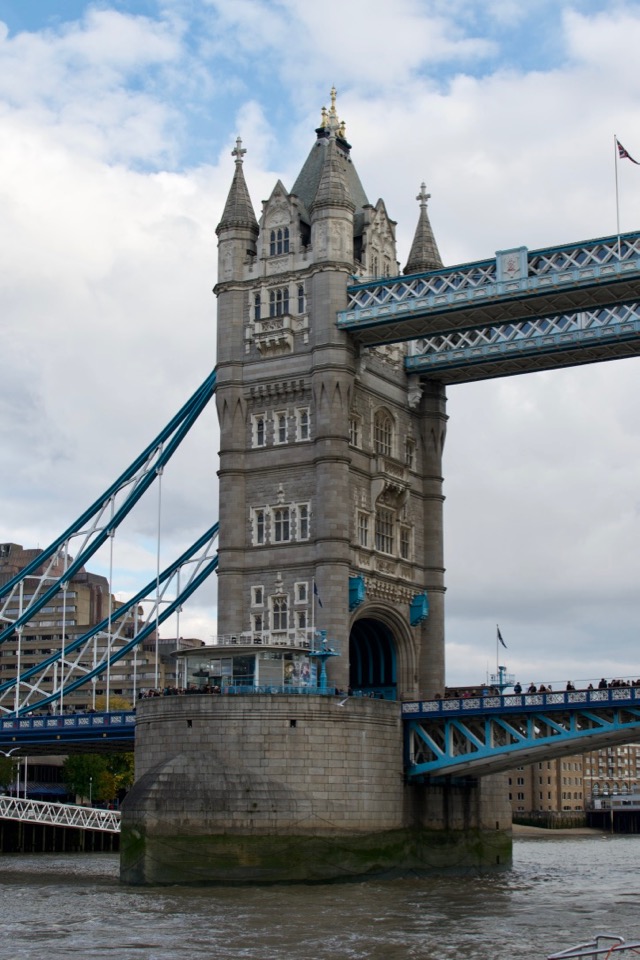 It's hard to decide if the Tower of London is an imposing structure or not. Obviously, its stone fortifications make it formidable, but if you didn't know the history of the place, would it stand out?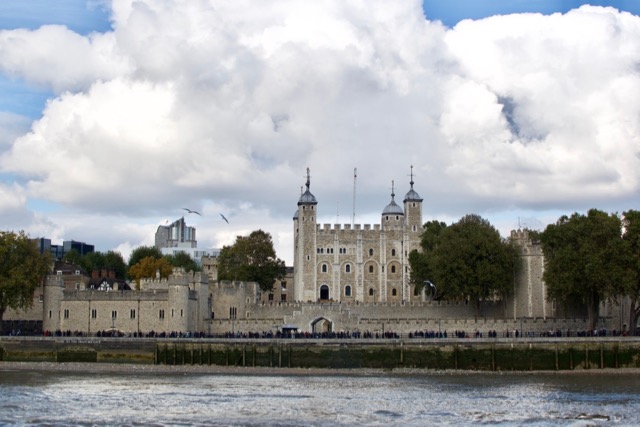 Here's some more bridge detail.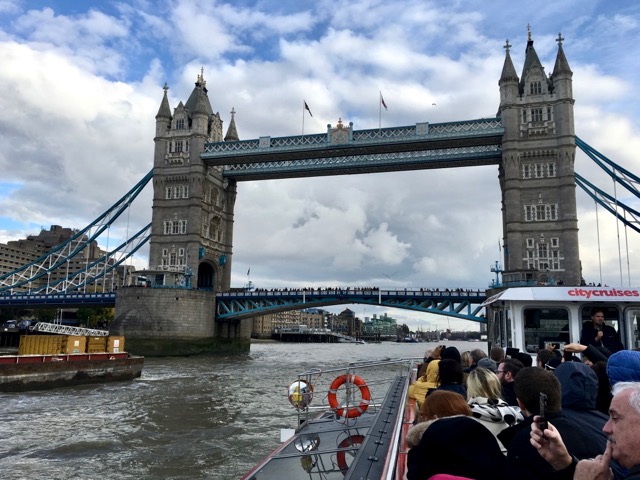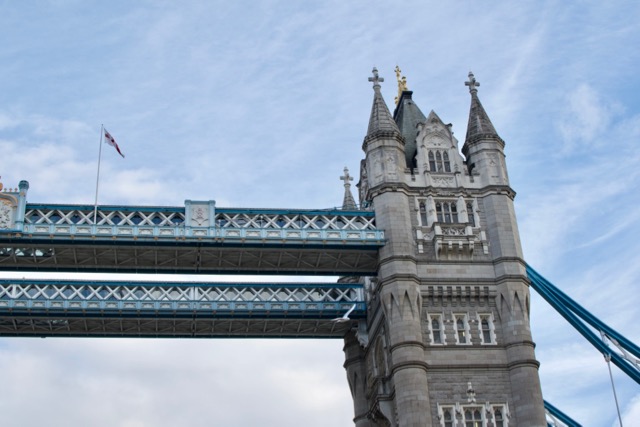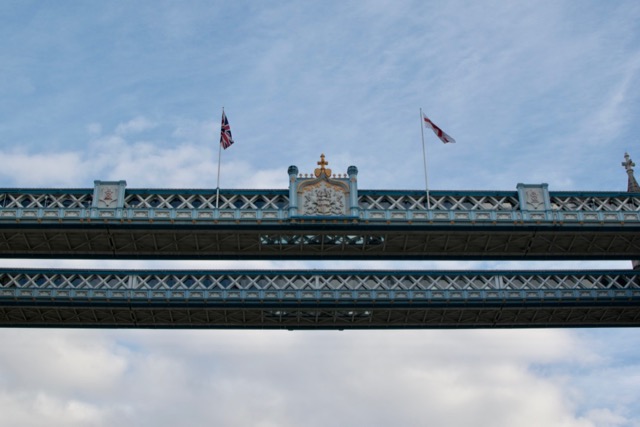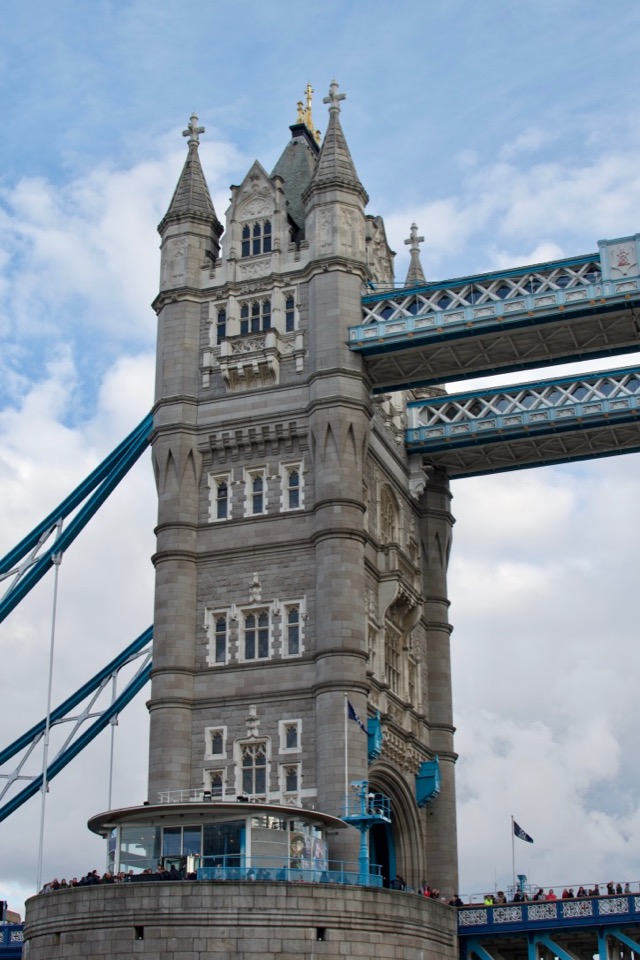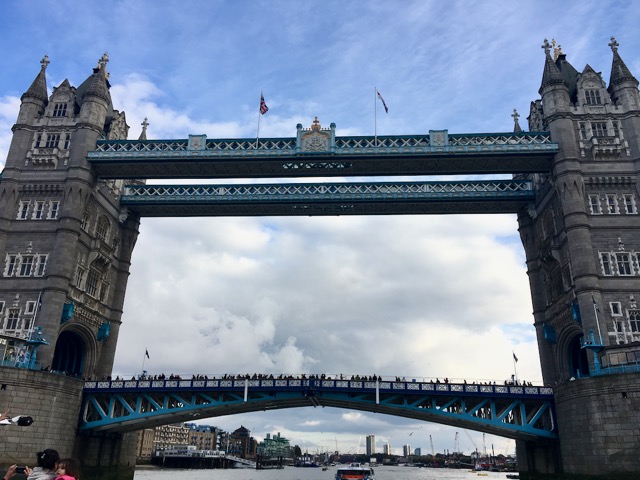 Who knew that London's City Hall (in the foreground) was so modern? It's interesting how it actually complements the Shard pretty well.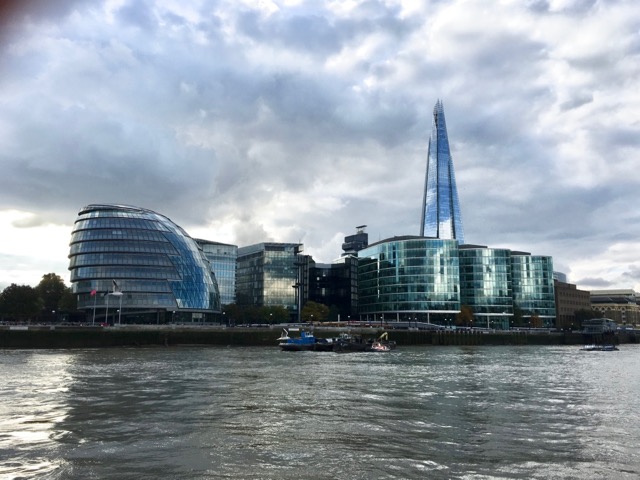 Seeing London from the water really accentuated the city's dichotomy of the old and the new in a way that we hadn't been able to appreciate before. This Thames cruise served as both an adequate means of transportation across the city (though not exactly a fast one) and a really fun activity that I probably enjoyed more than the oft-touted HOHO bus.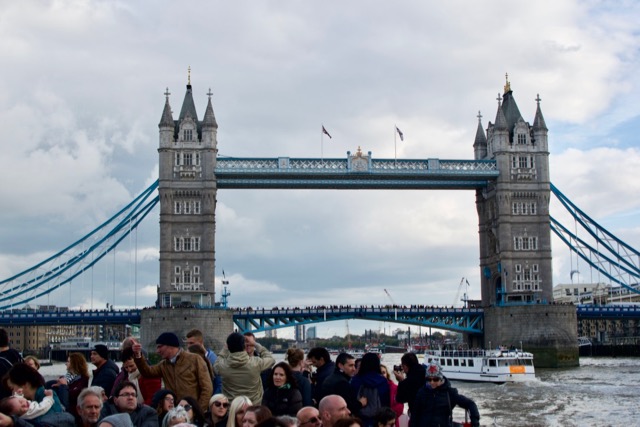 Are you really a contemporary traveler if you don't take a makeshift selfie with a landmark like the Tower Bridge?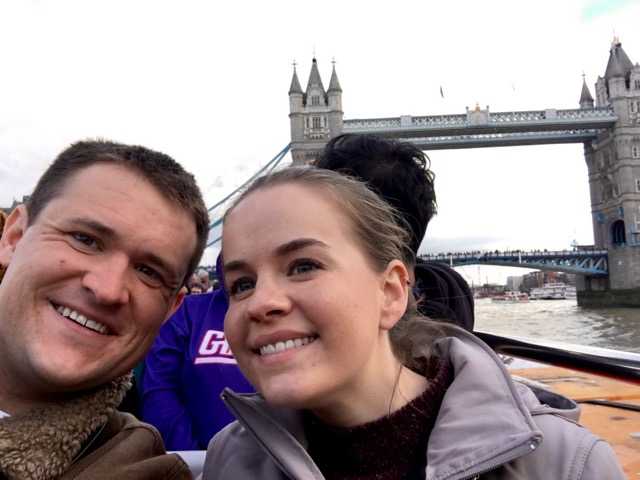 While this map actually depicts the public transit boat that you can take down the Thames as opposed to our exact cruise, the path is almost the same and shows just how far we went.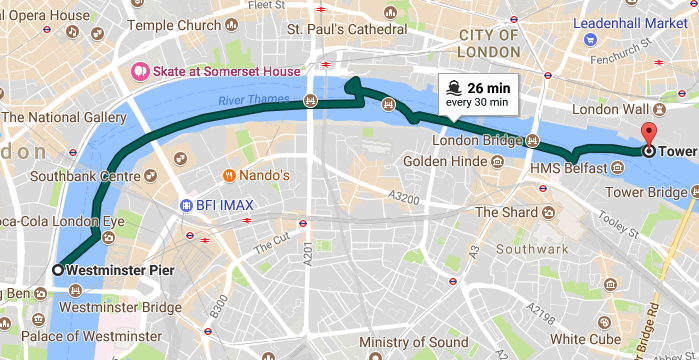 When the boat finally docked, we found ourselves perfectly situated to head in to the Tower of London. It was one of the tourist destinations we were most excited about, but it would actually be even more fun to visit than we had anticipated!
Previous Post | Next Post
Table of Contents
Support the Wandering Mouseketeers and get yourself a little something! Do your online shopping via our Amazon link!
Follow



Share