Chapter 183
Cowboy Eatin'
---
Previous Post | Next Post
Table of Contents
People seemed genuinely freaked out when these cardboard cutouts of the Fab Five (minus Donald) showed up on top of Main Street Station.
I think it was always pretty clear that they were just up there temporarily. In this case, it was just for fall protection during the performances of Candlelight.
I love the poinsettia version of the Mickey floral that they put up for the holidays.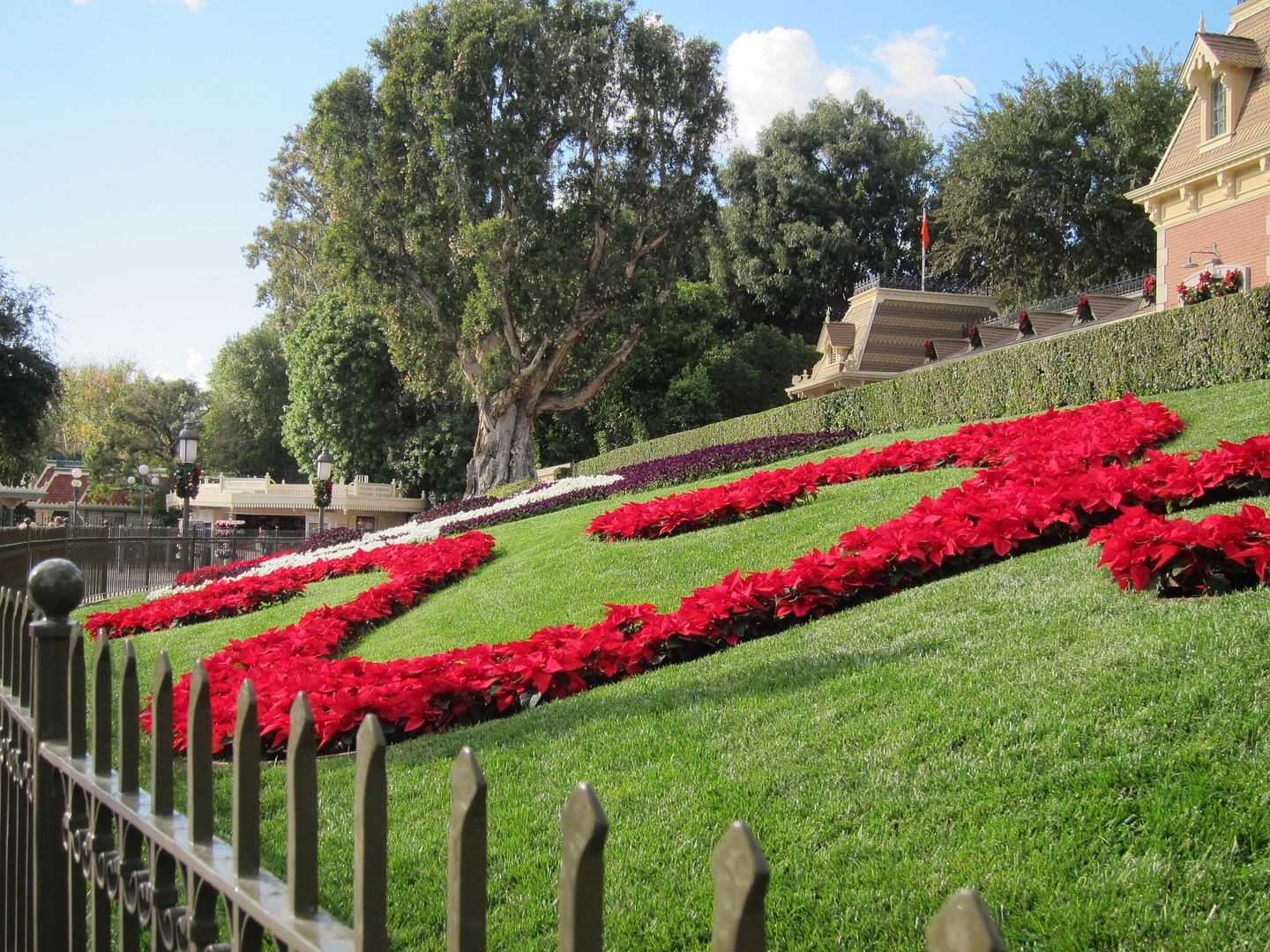 The horse-drawn streetcar was already loaded and getting ready to leave as we made it into Town Square.
We noticed that Ducky had left a "code H" on the ground.
Even the horses were all decked out for the season.
Here's a good view of this side of Main Street Station with the whole Candlelight stage set up.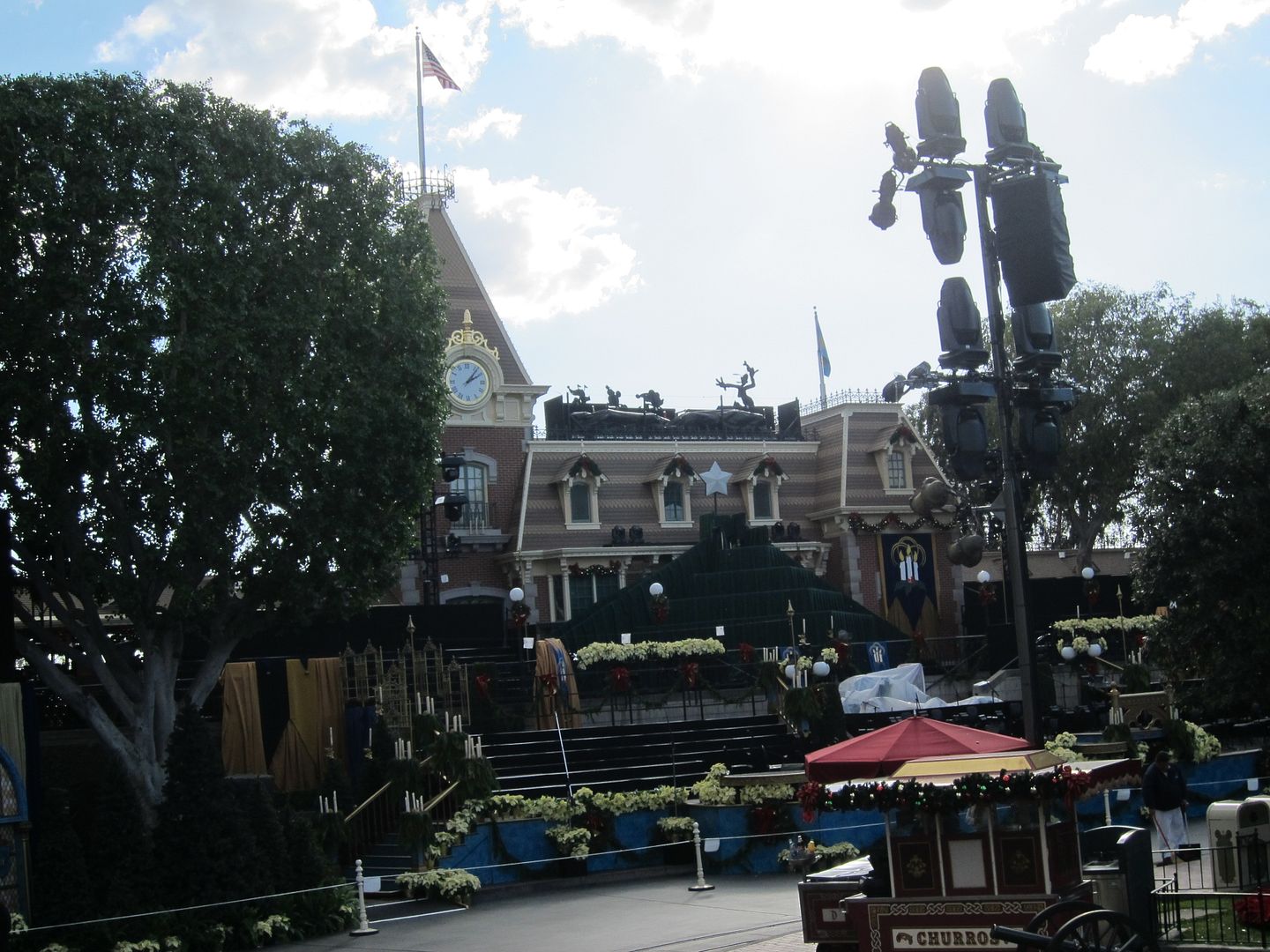 We started to make our way down Main Street.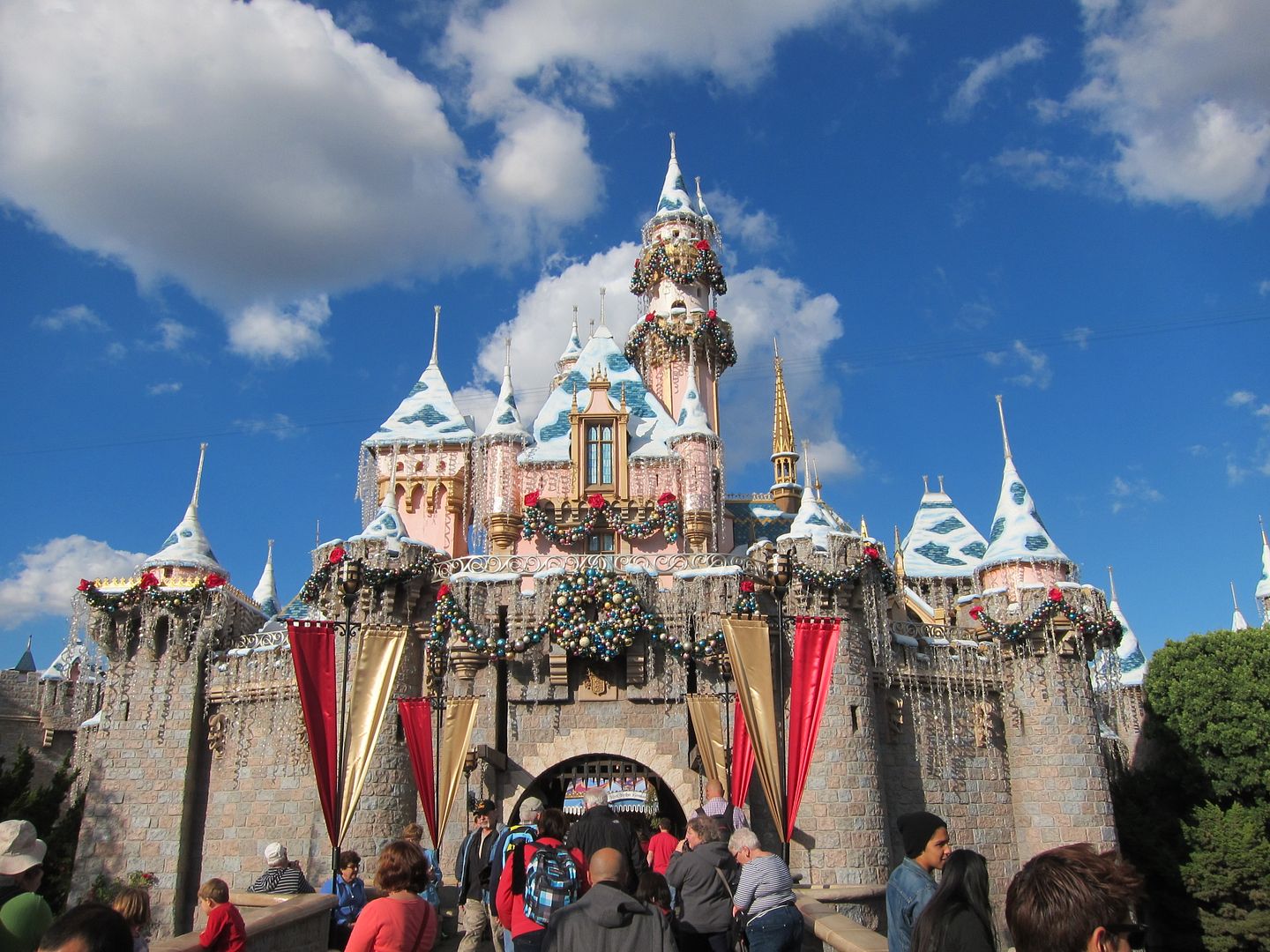 We made our way into Fantasyland next.
We had a time for Alice in Wonderland.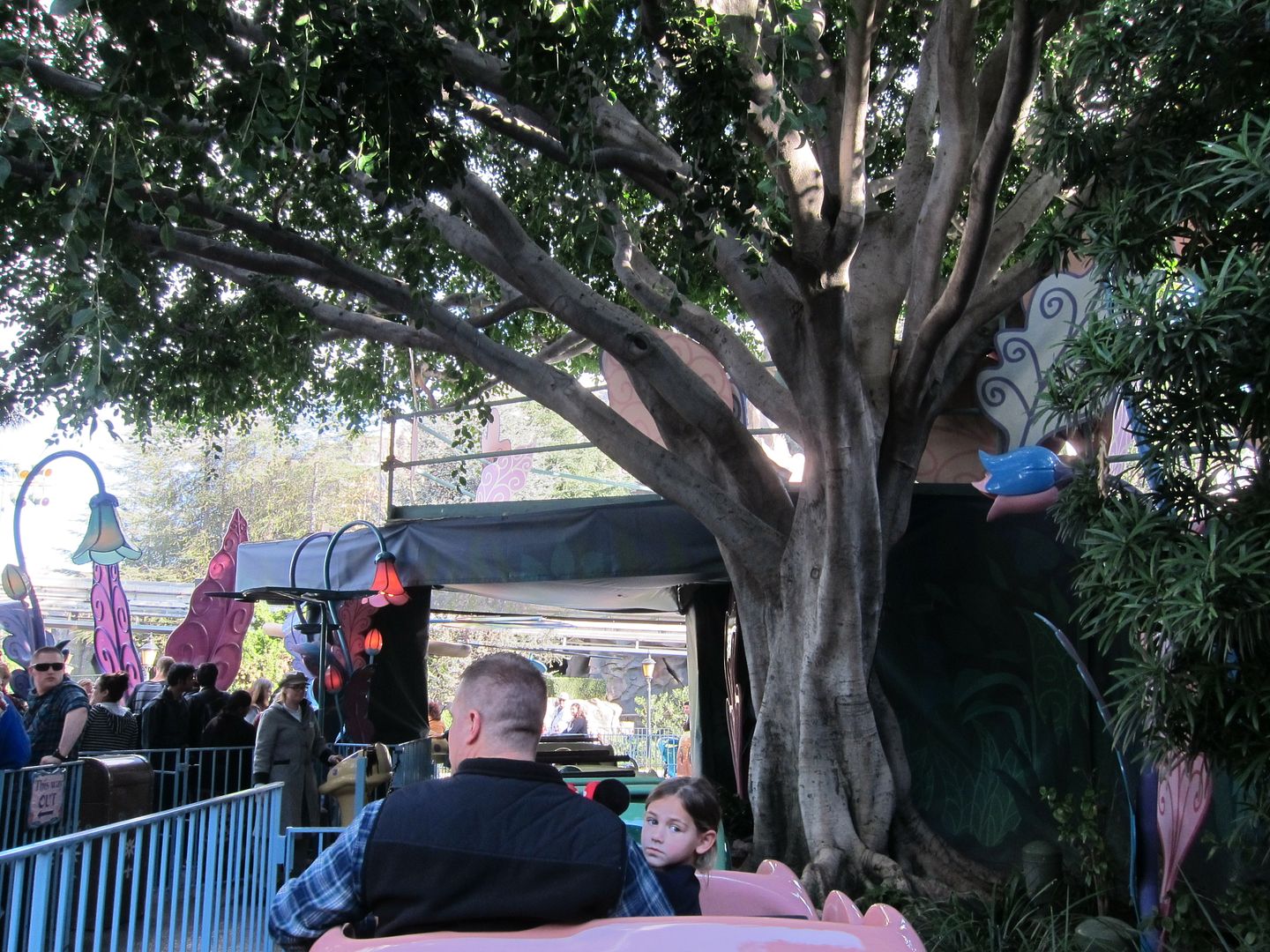 One of the new Santa Mickey popcorn buckets was on our must-have list, so we found a cart that just happened to have popcorn popped by Santa himself.
We did get to ride the streetcar back to Town Square while eating our popcorn.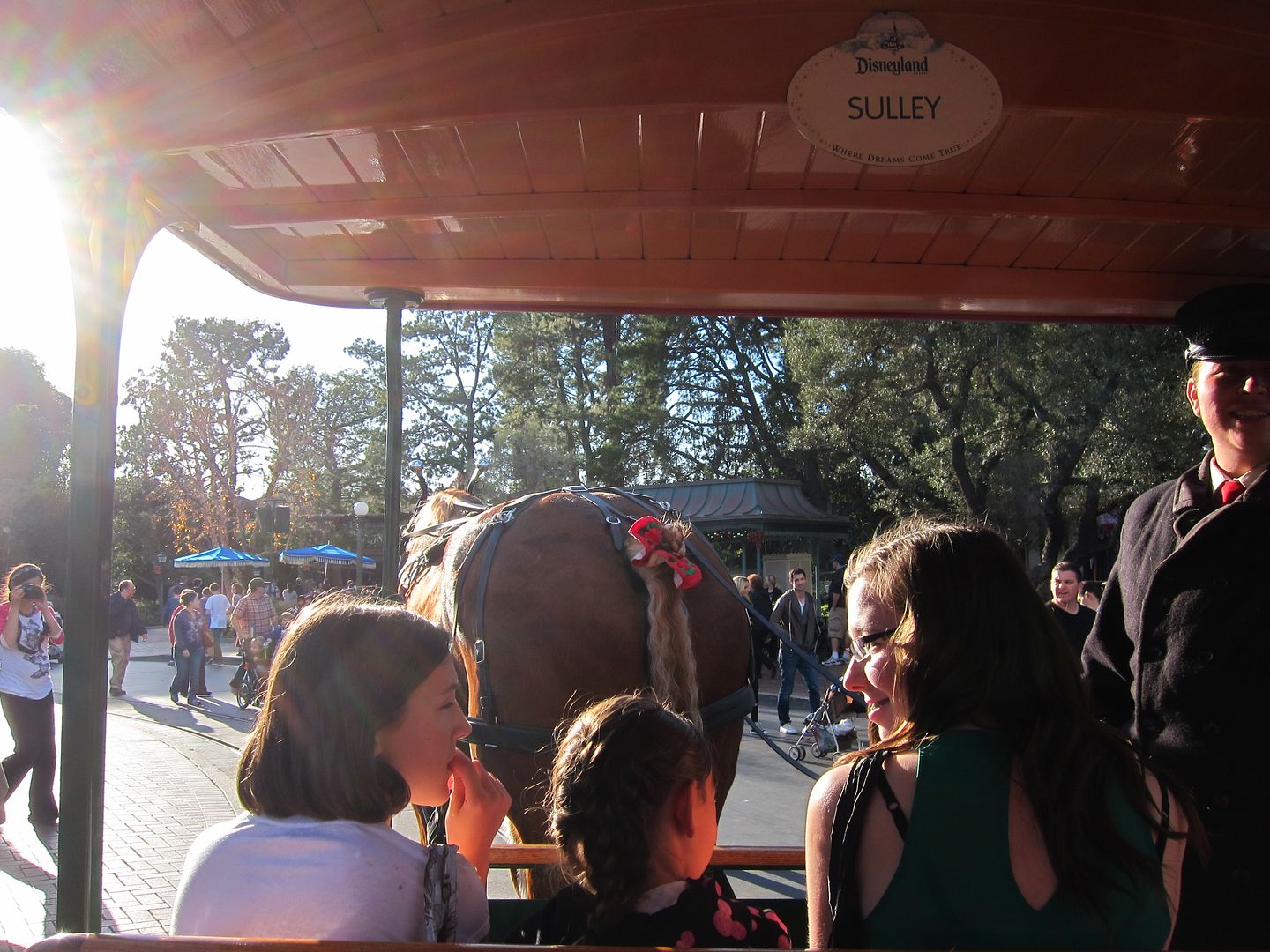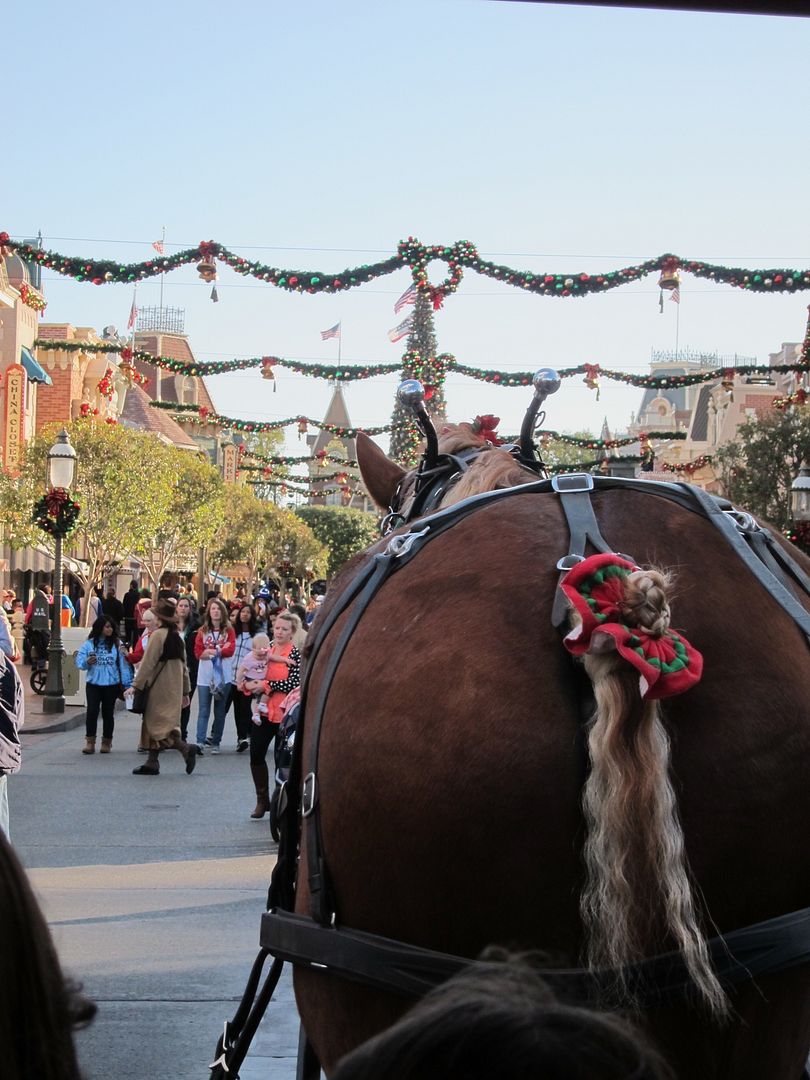 Then we walked back into the park proper and watched as two streetcars passed each other.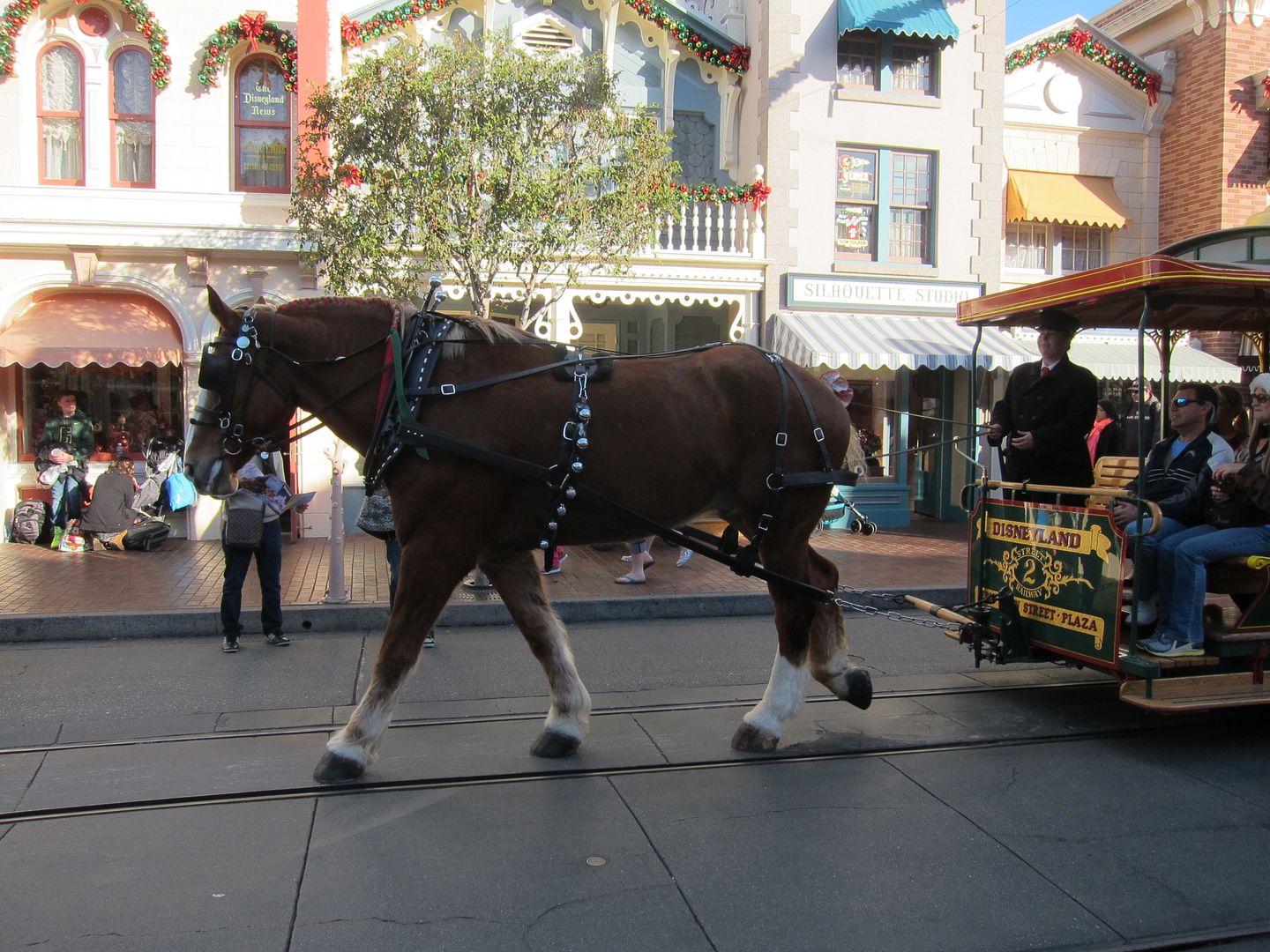 We had to go visit our friends back at Big Thunder Ranch, so we started in that direction. We stopped outside and posed with the decorative sled. This actually ended up being our Christmas card for 2013.
The animals weren't being particularly active, so we passed by them into the Jamboree.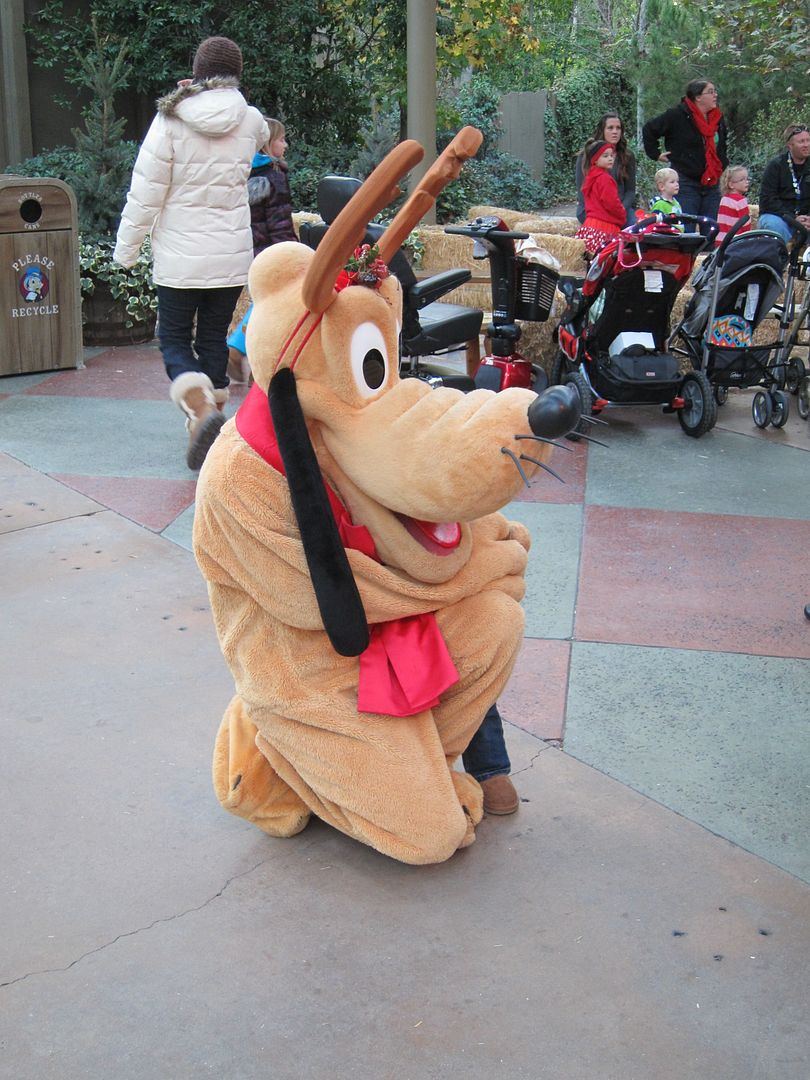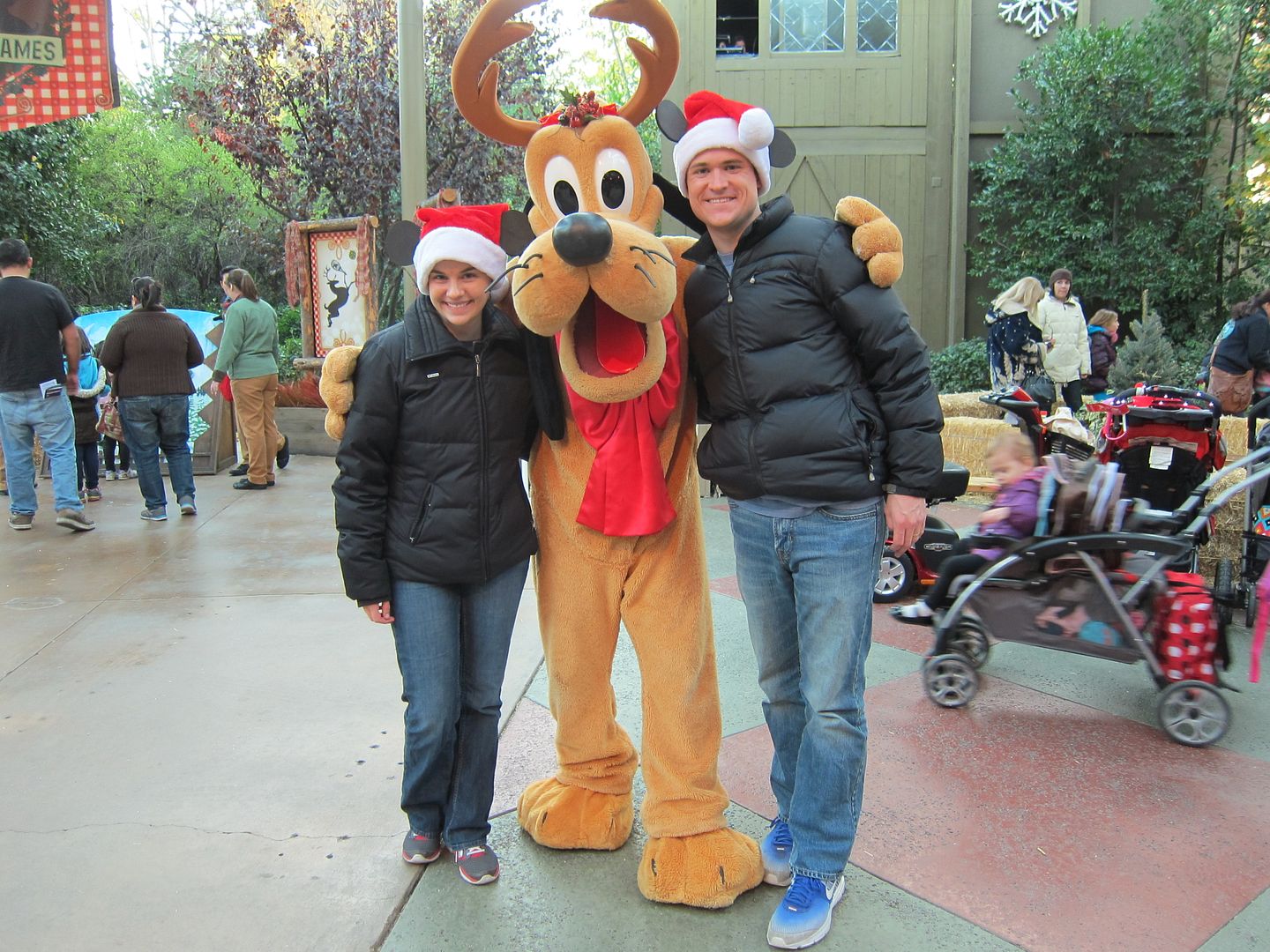 I know it feels like they've been gone for ages, but Billy Hill and the Hillbillies were performing their Christmas show.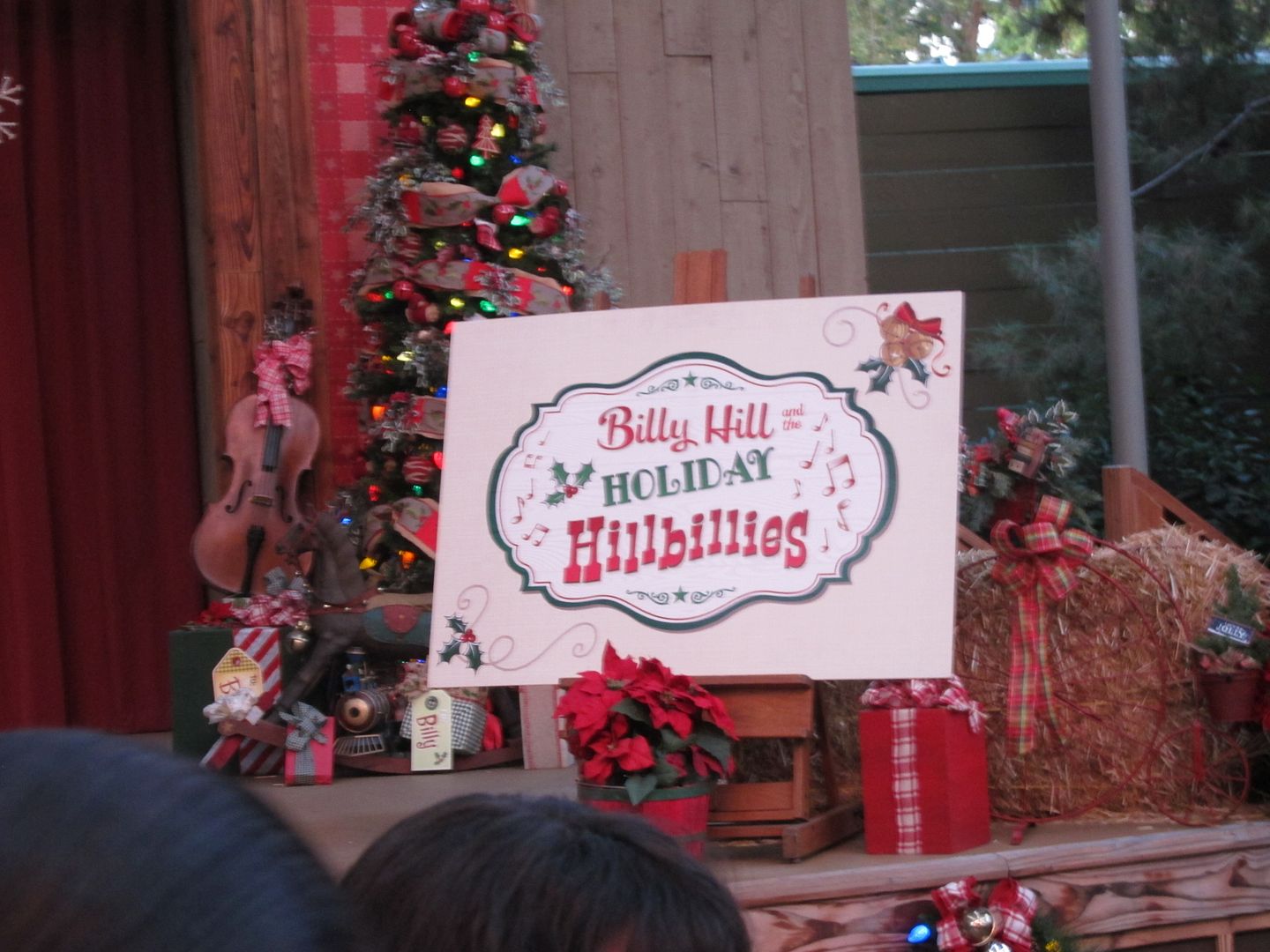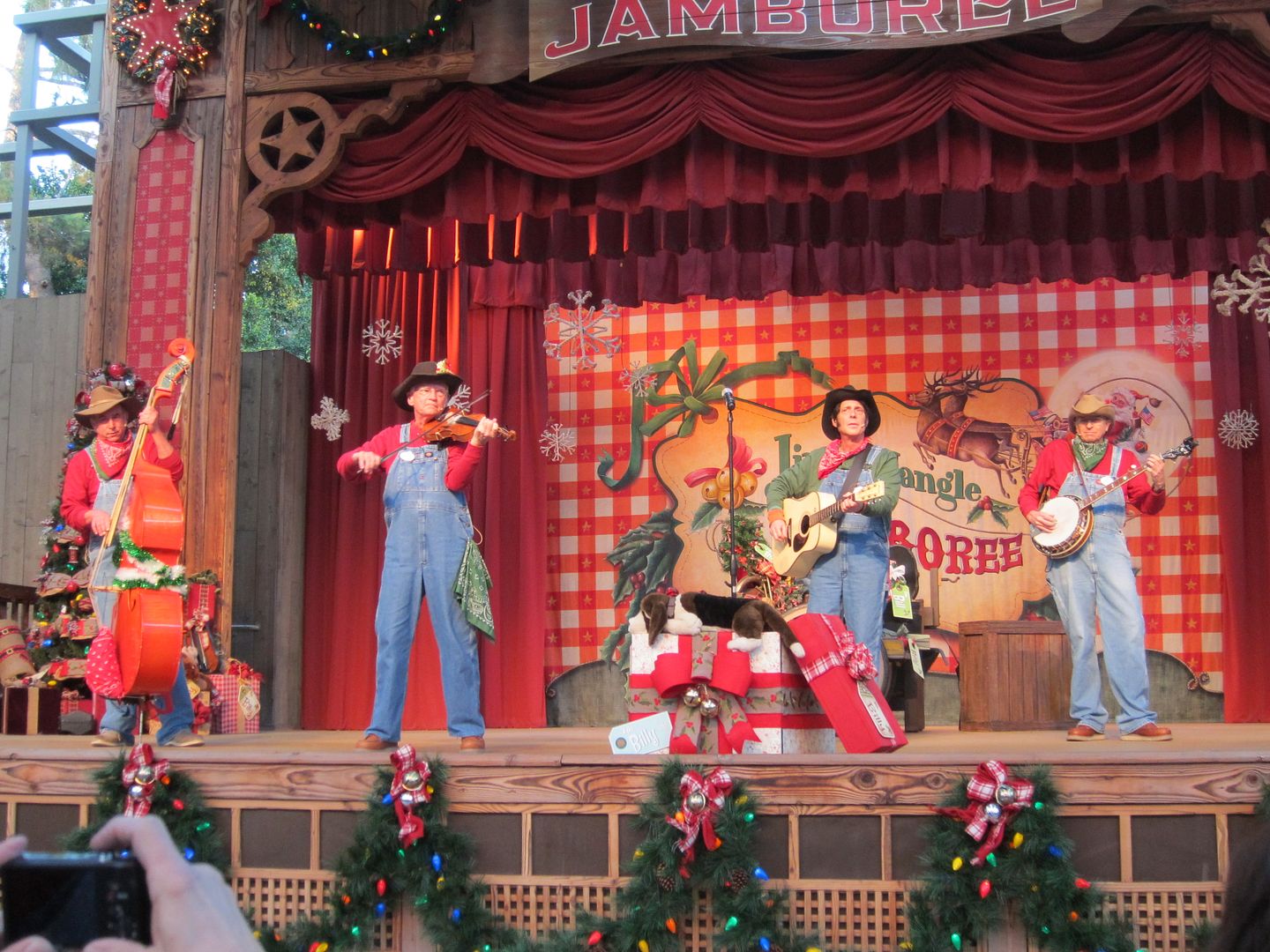 I miss these guys.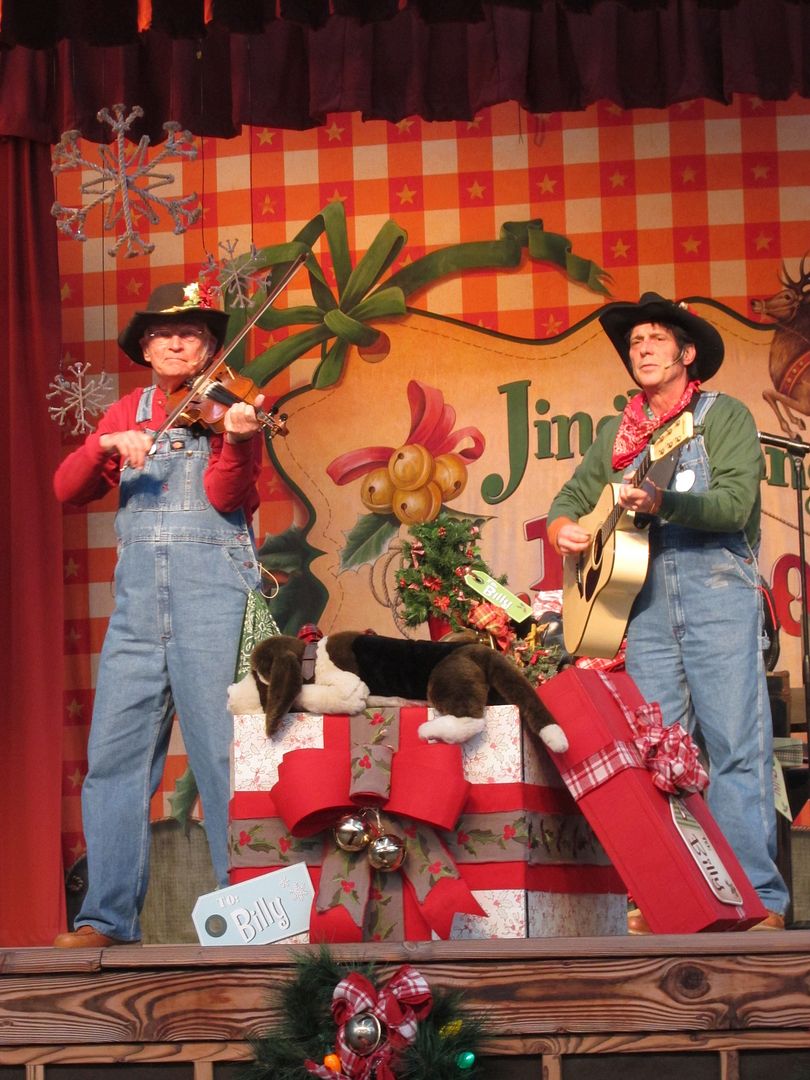 In case you don't know the words…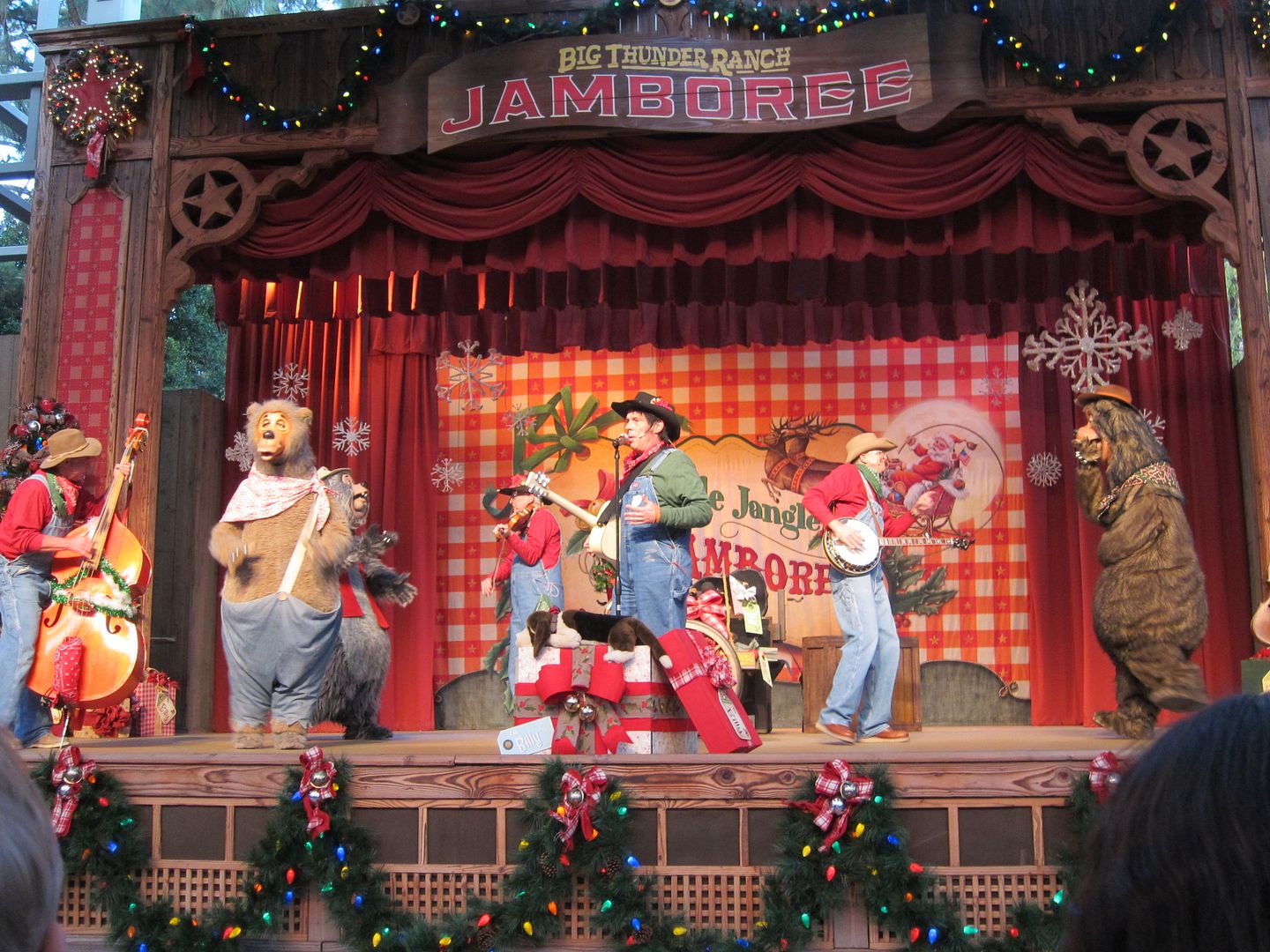 If you remember back to the description of my birthday in October, our dinner reservation at Big Thunder Ranch Barbecue was canceled because it was raining. We had been wanting to reschedule for a while now, but this was the first opportunity we'd gotten, so we made a reservation a couple days before.
We were still about 30 minutes early for our ADR, but we checked in early and were seated.
This was the first time we'd ever been to this restaurant, but we'd been admiring it for months.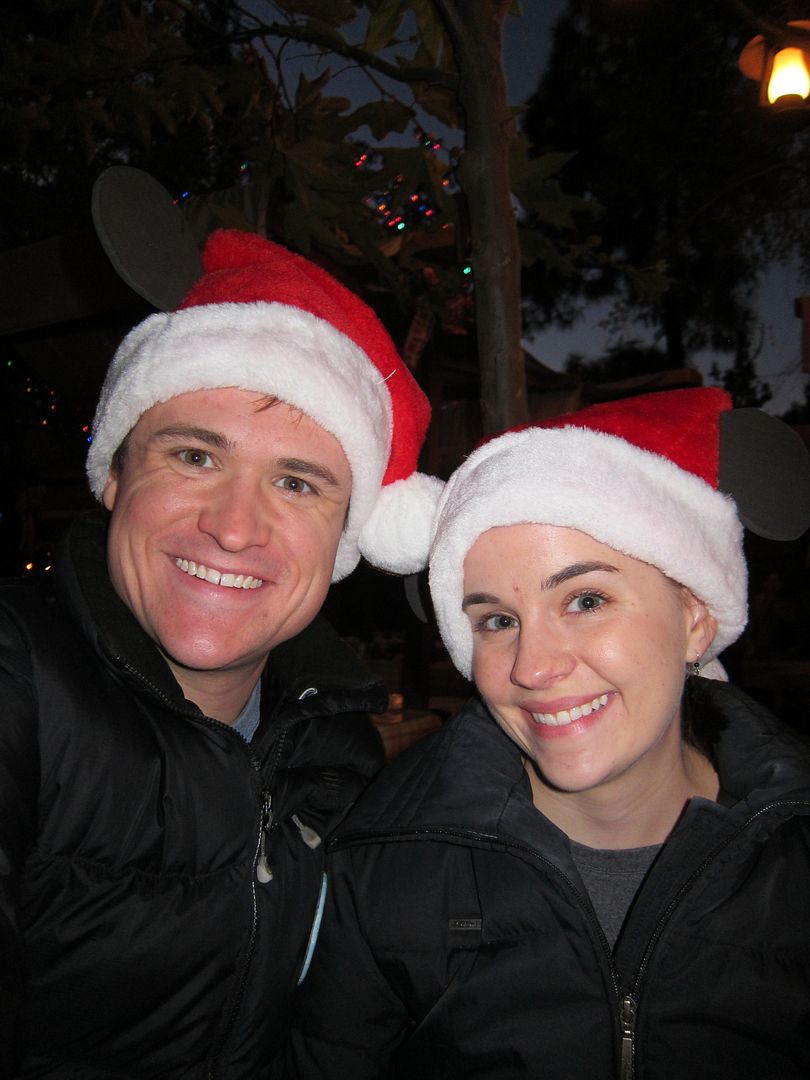 We loved that there was live entertainment going on during our meal.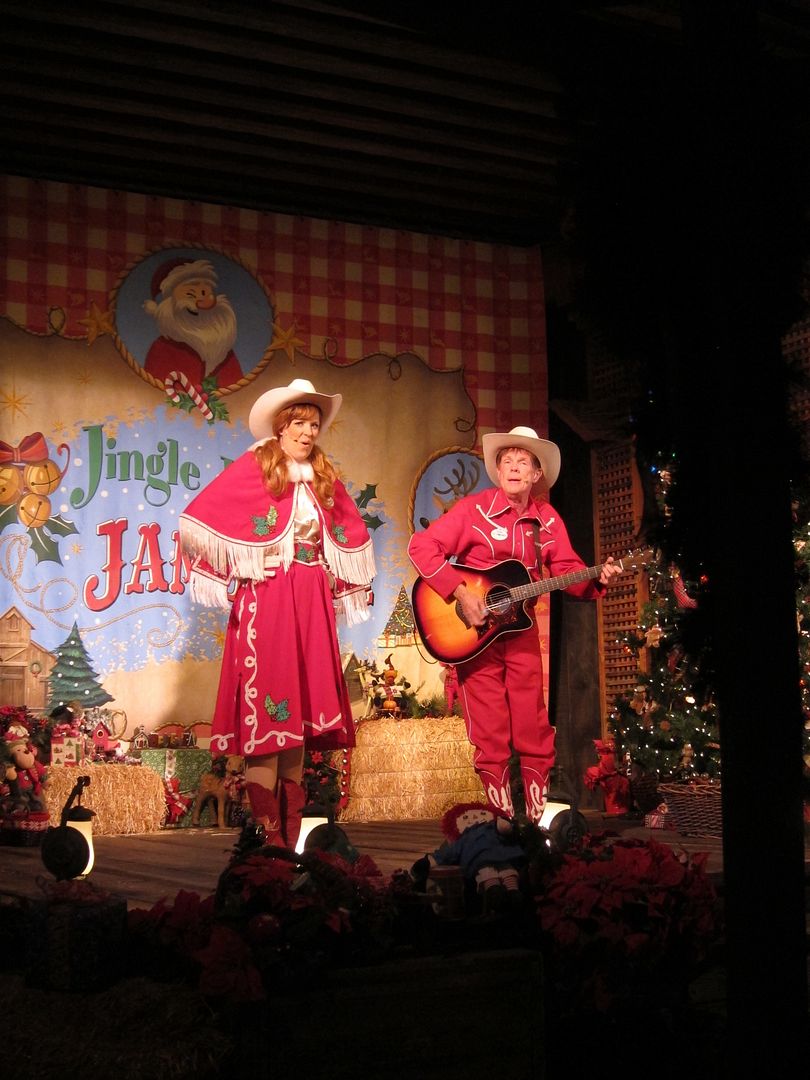 I'm also a fan of the mason jar glasses—adds an air of authenticity.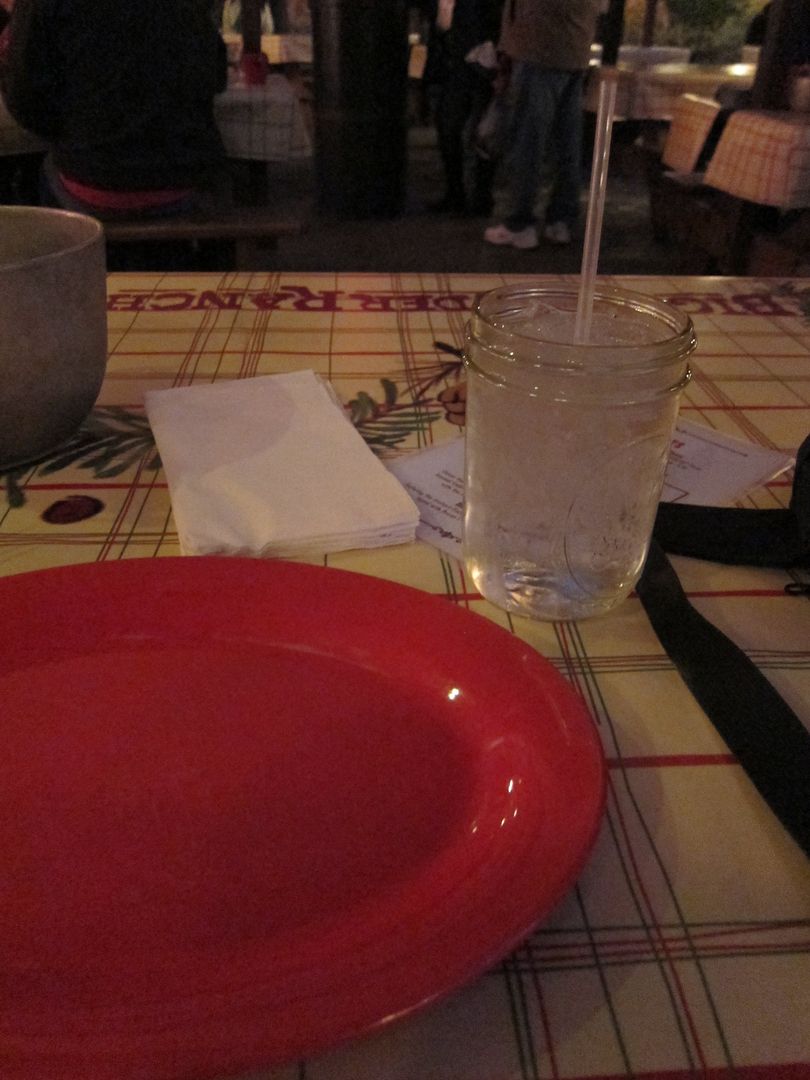 Soda is even included with the prix-fixe meal.
It was extremely exciting seeing our smorgasbord coming out from the kitchen.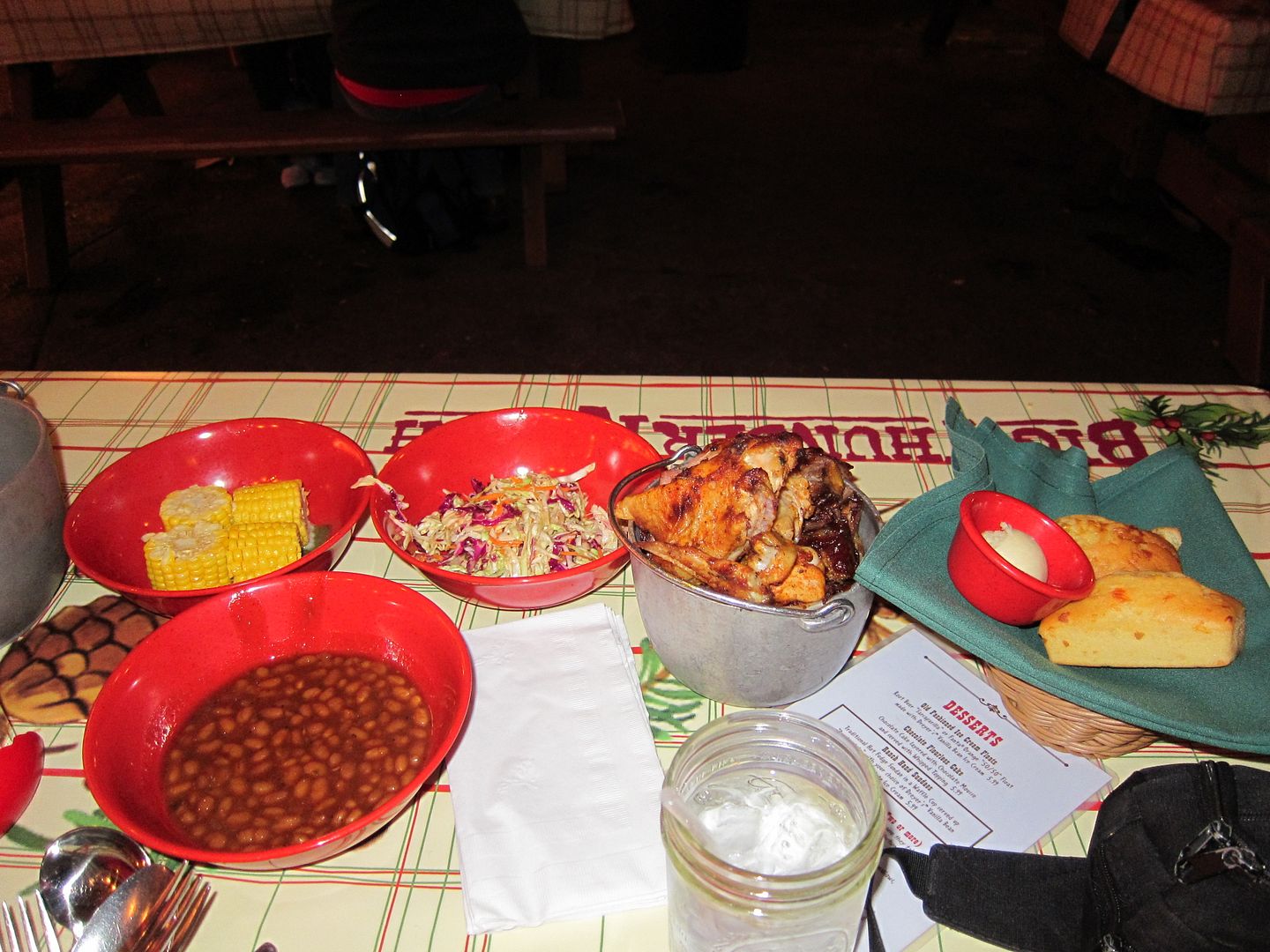 Everything was pretty phenomenal. I'm a huge fan of cornbread, pretty much anywhere, but I especially like how they have kernels in the recipe here. It's hard to say which of the meats was my favorite. I think the hot links were probably the best, but the chicken and ribs were delicious too. We didn't care about the sides as much, but they were definitely good.
Here's what it looked like after we had demolished our spread.
It was really chilly to be eating outside, so we stayed bundled up the whole time. We also gladly accepted when our server asked whether we wanted a hot beverage (we opted for hot chocolate).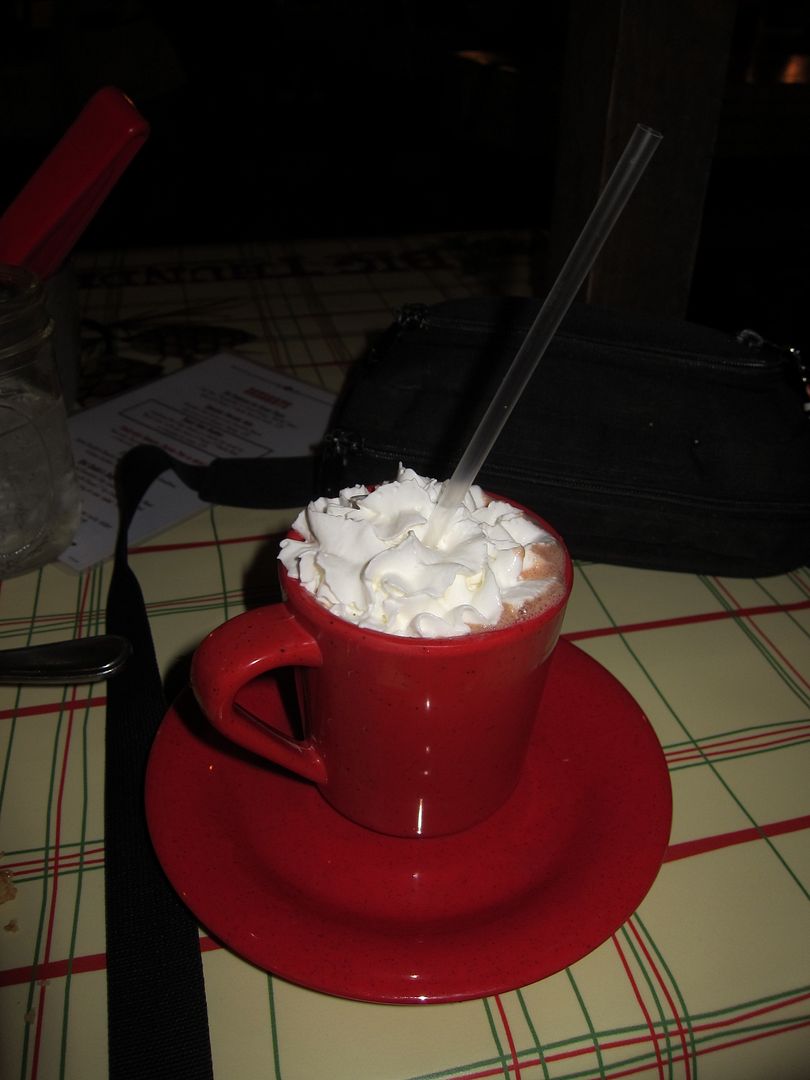 The musicians were on a break for the bulk of our meal, but they came out for another set eventually.
I had gotten a birthday button since this was my "make-up" birthday dinner. As a result, I got a free cupcake (candle and all).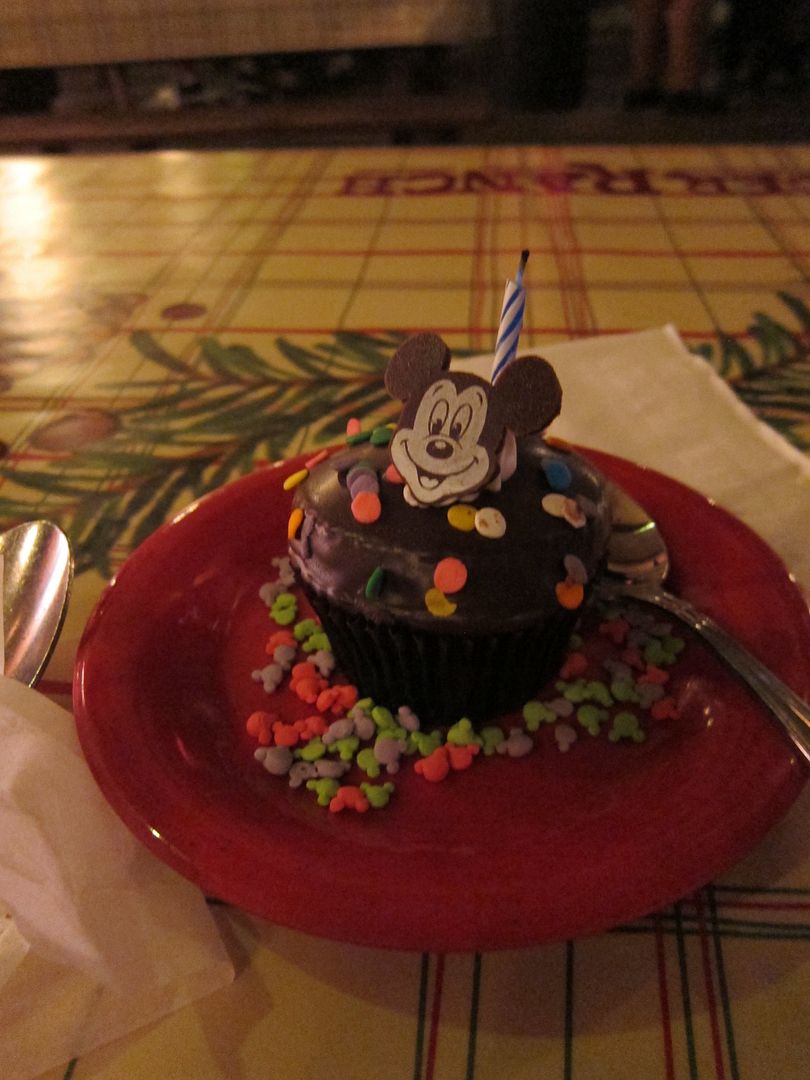 Honestly, we were so stuffed at this point, though, that we had to ask for a box for the cupcake. We settled our check and then headed out because we needed to quickly park hop over to DCA.
Overview of Big Thunder Ranch Barbecue Dining Experience
Service: We were happy with our server! 4.5/5
Atmosphere: The setting for the restaurant is perfect because it totally feels like you're enjoying a cookout in the old west. We also really loved the live performances. Our only complaint was how dang cold it was while we ate. I don't think I would recommend this restaurant at dinnertime during the winter months. 4.5/5
Food: Really fantastic. Probably our favorite meal we'd had thus far in the parks. It's definitely pricey, but you have no excuse to come away hungry because everything is bottomless. 5/5
First Visit?: Yes
Will Return?: Absolutely! In fact, we already have returned, as you'll be able to see soon in our October 2014 trip report.
Previous Post | Next Post
Table of Contents
Follow



Share