Chapter 8
Jimmy: The Sequel

---
Previous Post | Next Post
Table of Contents
Dining on our Alaska cruise had very much been a group affair. When you're going to be eating with the same couple for nine nights, you need to make an effort to be friendly and outgoing. This time, however, we didn't know what to expect because we'd only be with our tablemates (and our serving team) for three meals.
The first restaurant of our rotation was Enchanted Garden.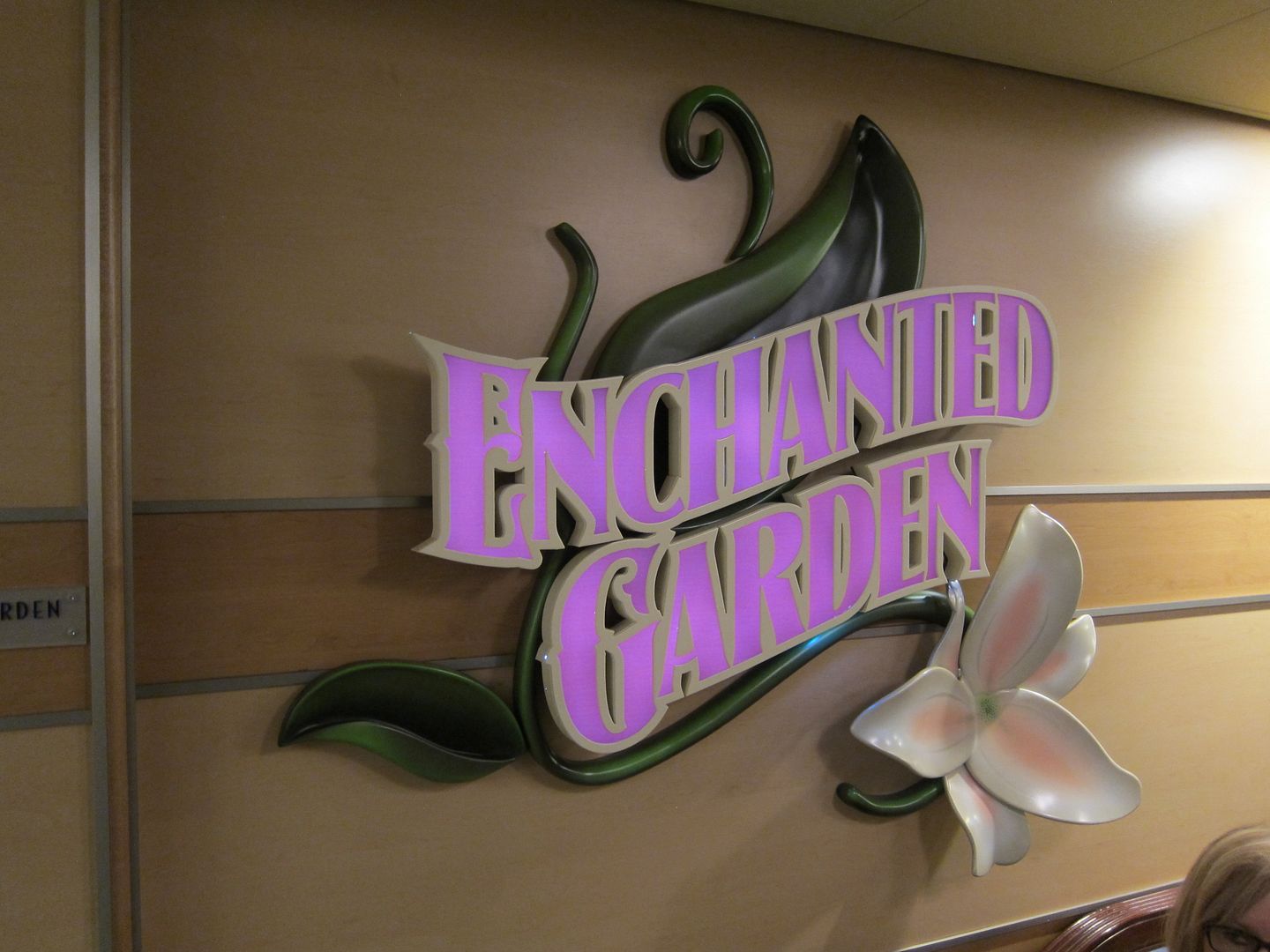 We'd already been here for our second lunch/pre-dinner, so it wasn't too new and exciting. It is a pretty restaurant, however.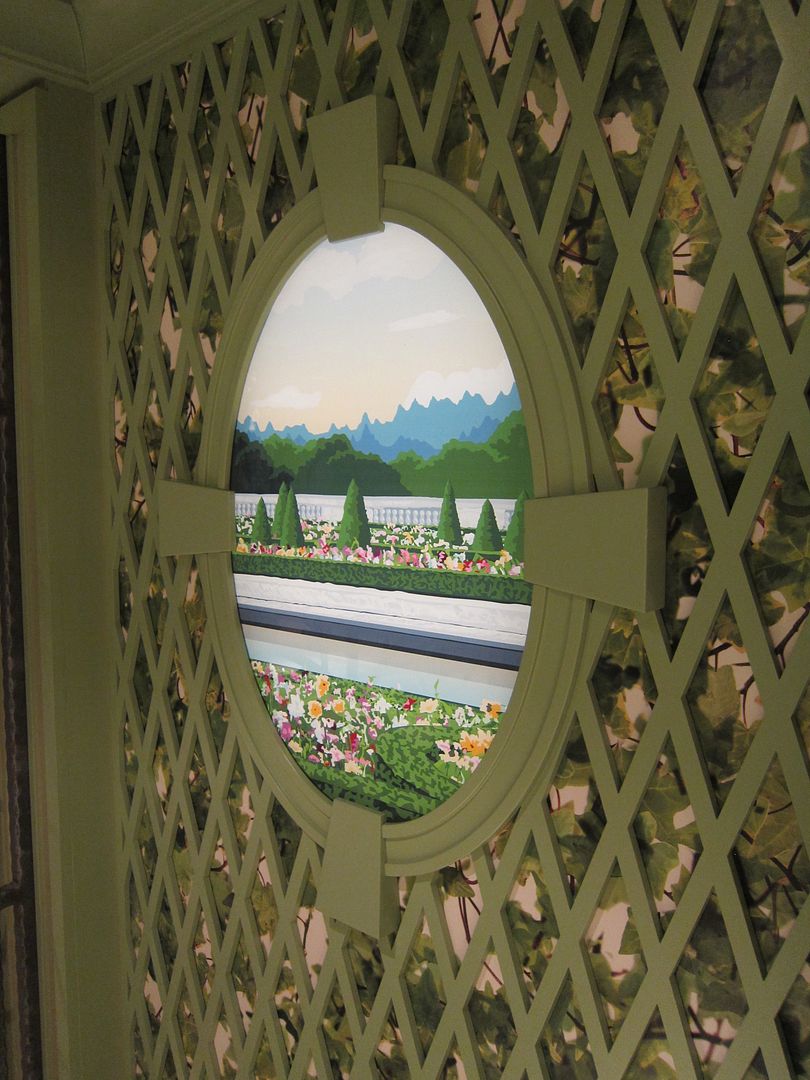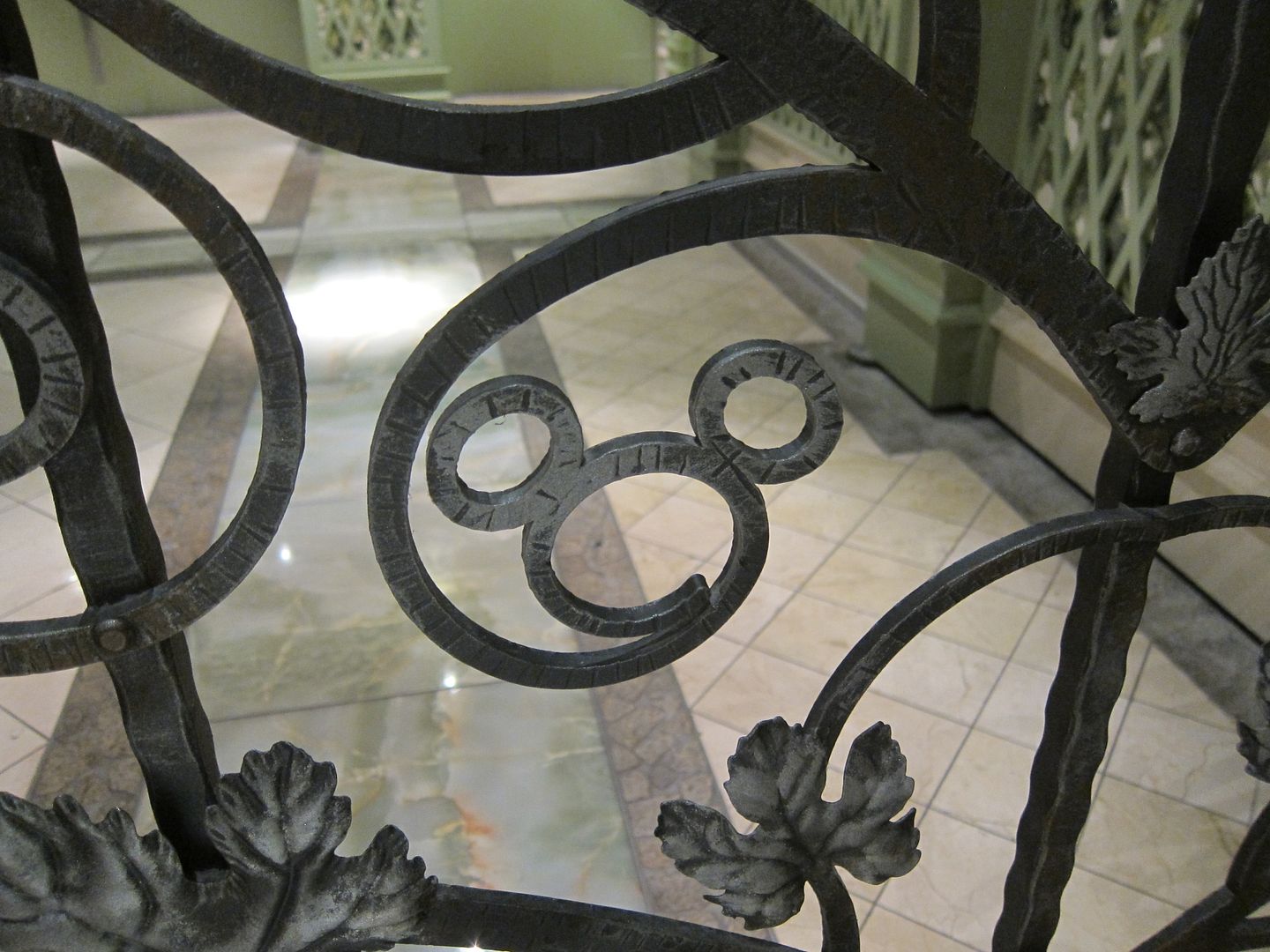 Our table setup was a six-top with three chairs on either side of the table. Though we had tried to appear friendly by sitting next to each other across from John and Candida in Alaska, this time, there wasn't any logical way to spread out the people. So Tracy and I just sat across from each other at one end of the table.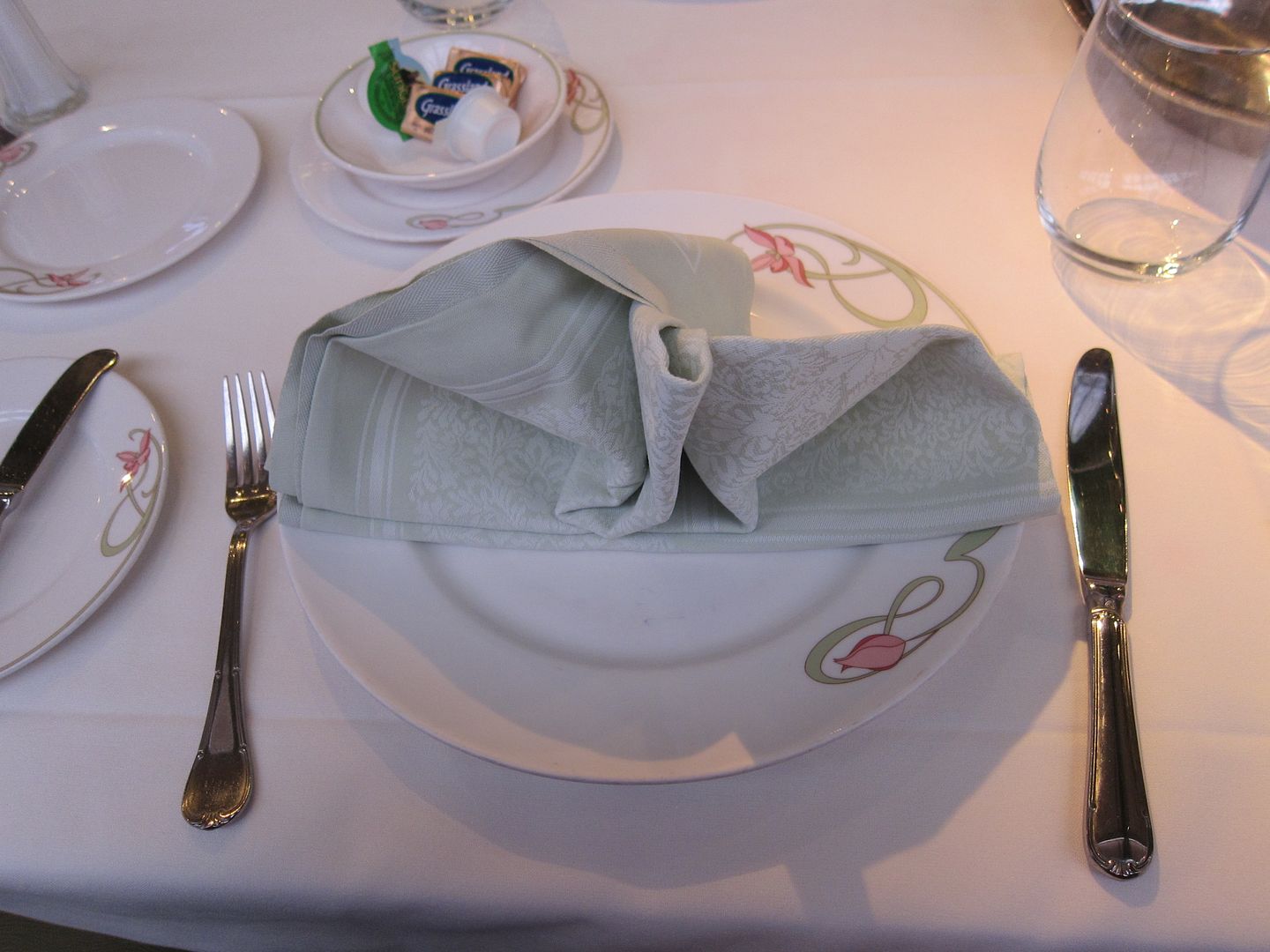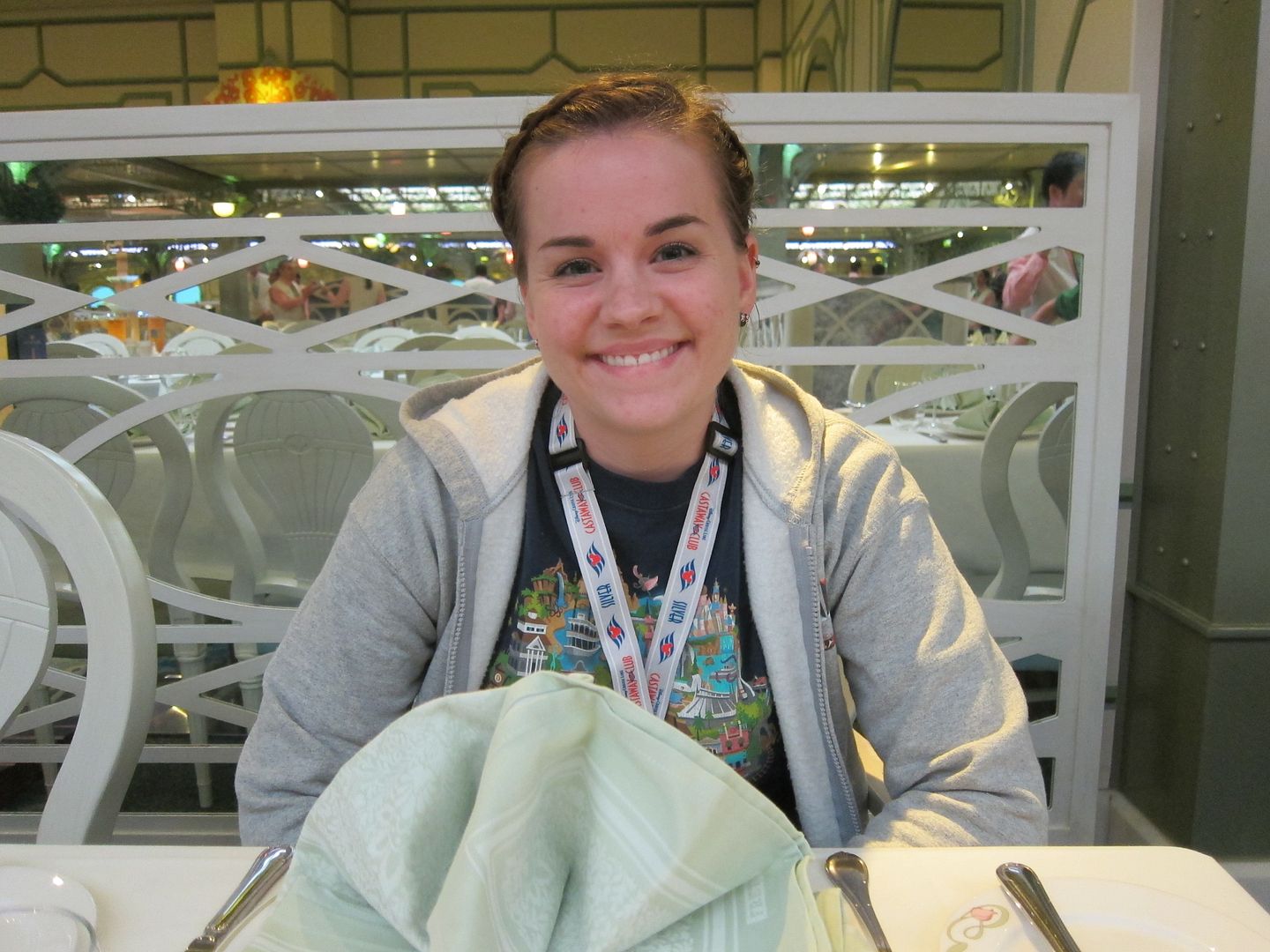 No one had joined us for a while as we started looking at the menu.
Then one other couple did come in eventually and sat at the other end of the table (still leaving an empty set of chairs between us). They never introduced themselves, and we didn't actually talk to them at all. Then a server came over and took away the settings from between us—so it was basically like Tracy and I were alone at a two-top. And that was fine by us.
The server today wasn't our real server. He was sick this evening and stayed below deck. Our assistant server, however, was the one who was actually assigned to us.
I forgot to take screen caps from the Personal Navigator app, so I don't have the detailed descriptions of the bread course like I did from Alaska, but I actually took food pictures at every meal on this cruise.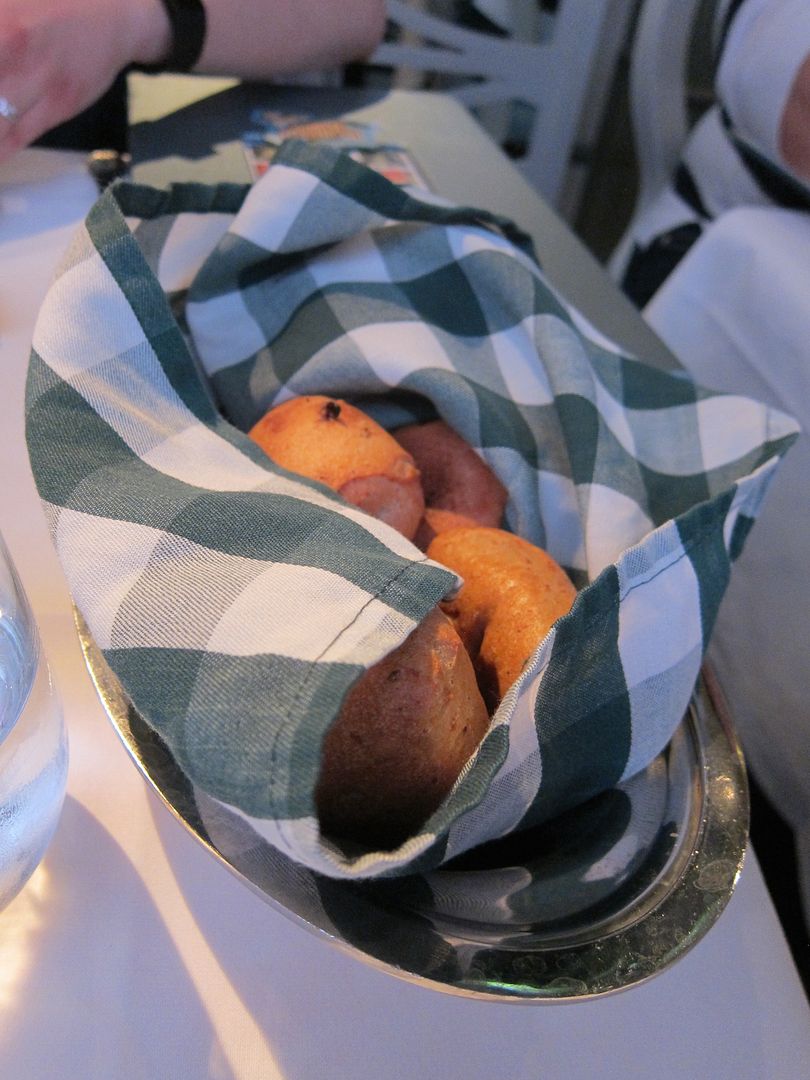 Tracy started with the Ahi Tuna and Avocado Tower (with Crispy Noodles and Wasabi Dressing).
And I got the Applewood Smoked Bacon Wild Mushroom Tart (with Creamy Leeks).
Both appetizers welcomed us back to the Disney Cruise Line dining frame of mind—delicious food in absurd quantities all the time.
Since none of the entree options particularly intrigued Tracy, she opted instead for the Cream of Green Asparagus Soup (with Crabmeat and Asparagus Tips).
I got the Slow-Roasted Prime Rib (Carved Beef served with Prime Roasted Vegetables, Double-Baked Potato, Natural Jus, and Horseradish).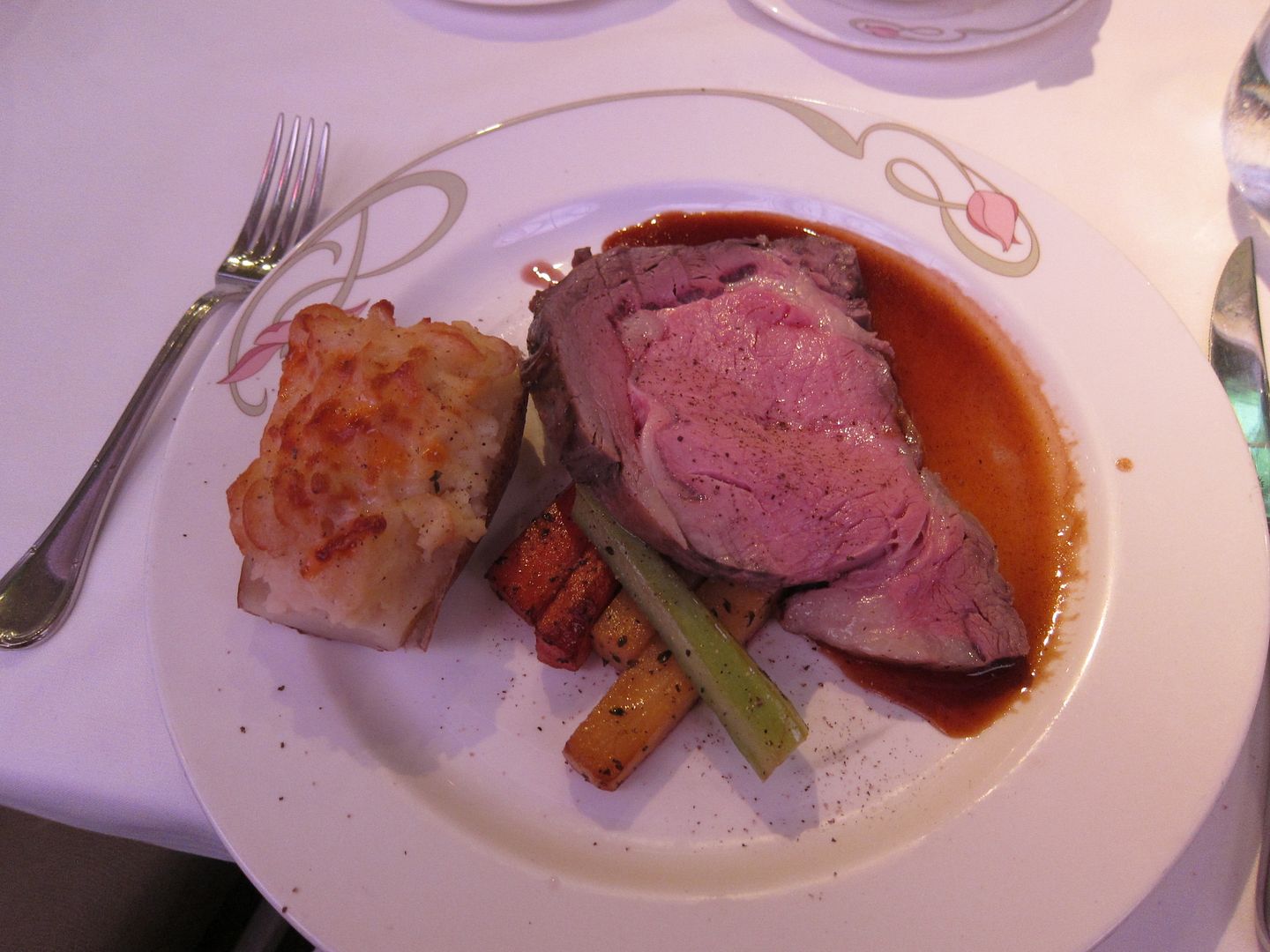 Again, super tasty, and a great first meal.
For dessert, Tracy and I both ordered Mickey Premium Bars. This substitute server gave us a bit of an odd look when we ordered them, but I'm sure it's not that rare of a request.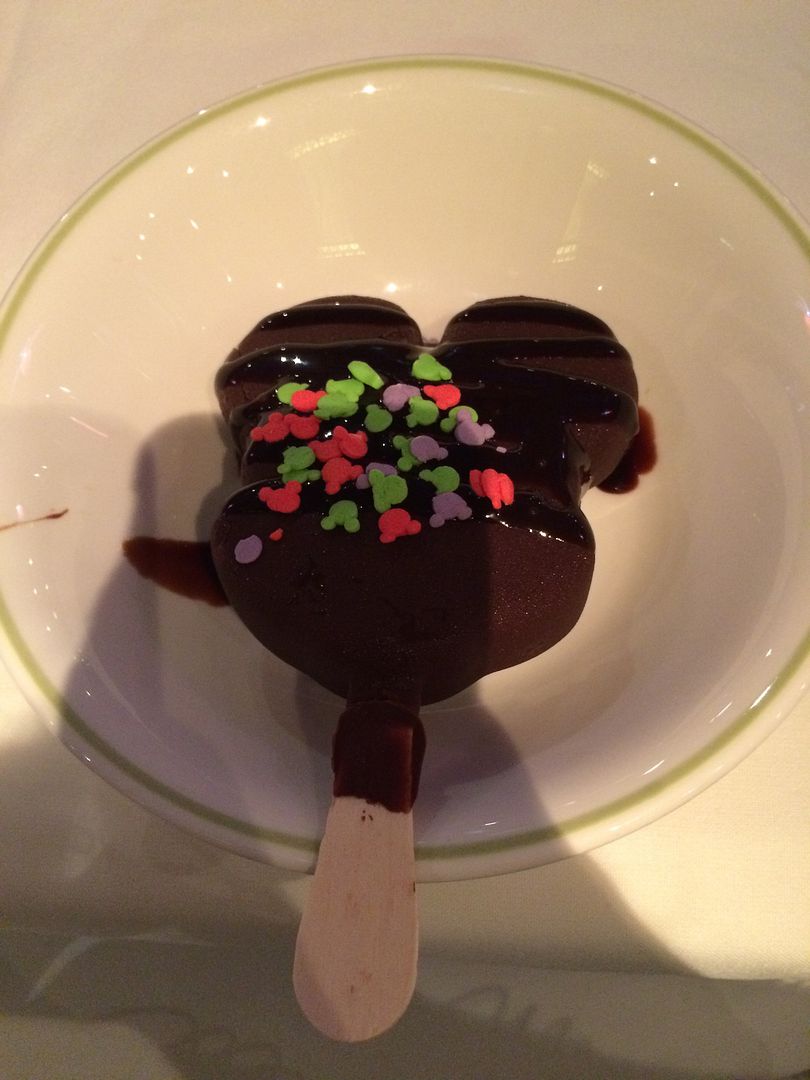 She still seemed convinced that we wouldn't be happy with just our Mickey bars, so she also brought out some truffles and marmalade.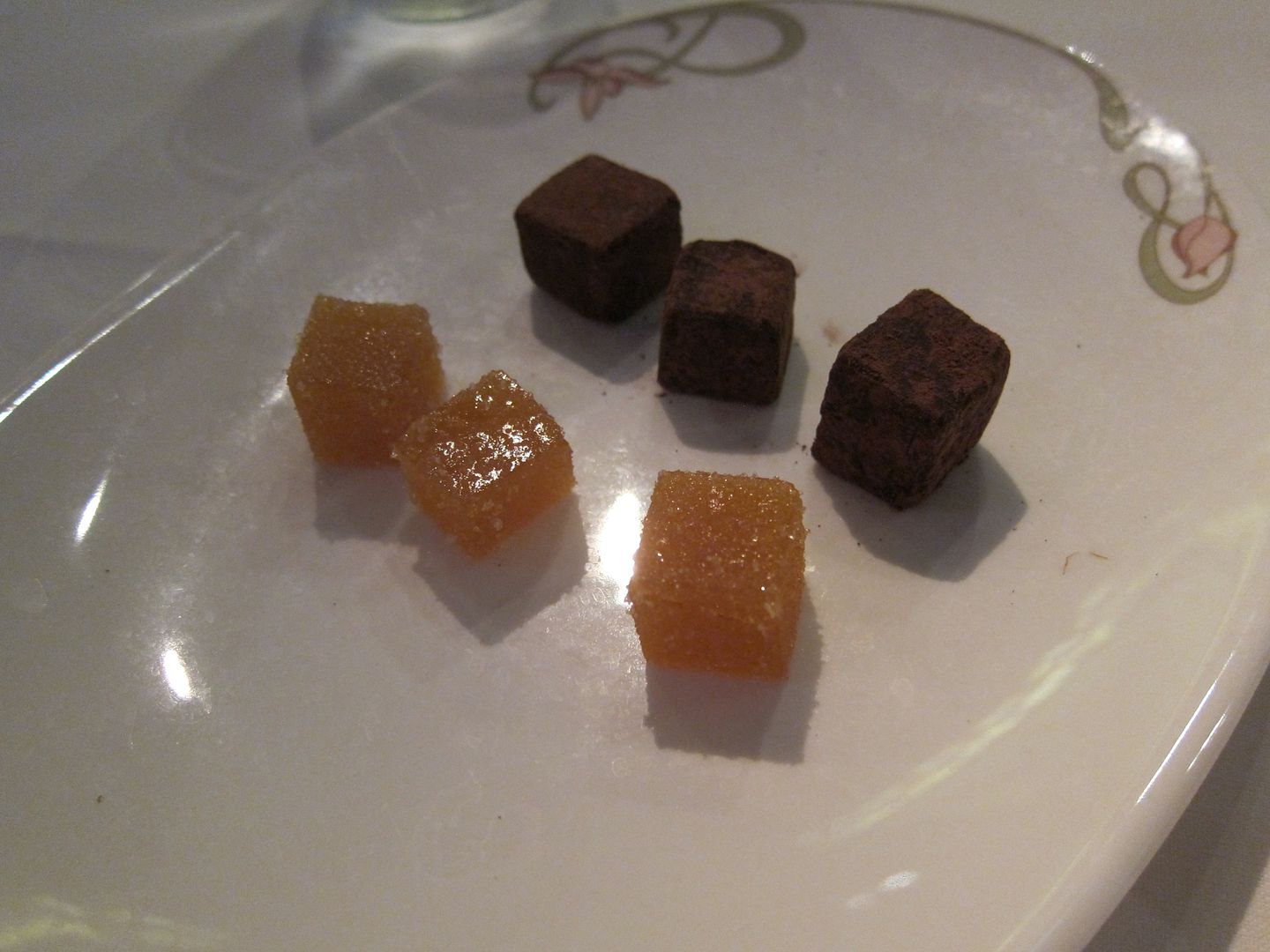 When we got back to our stateroom, we found our first towel animal—but it wasn't made out of a towel! Instead, our runner had been folded during turndown service.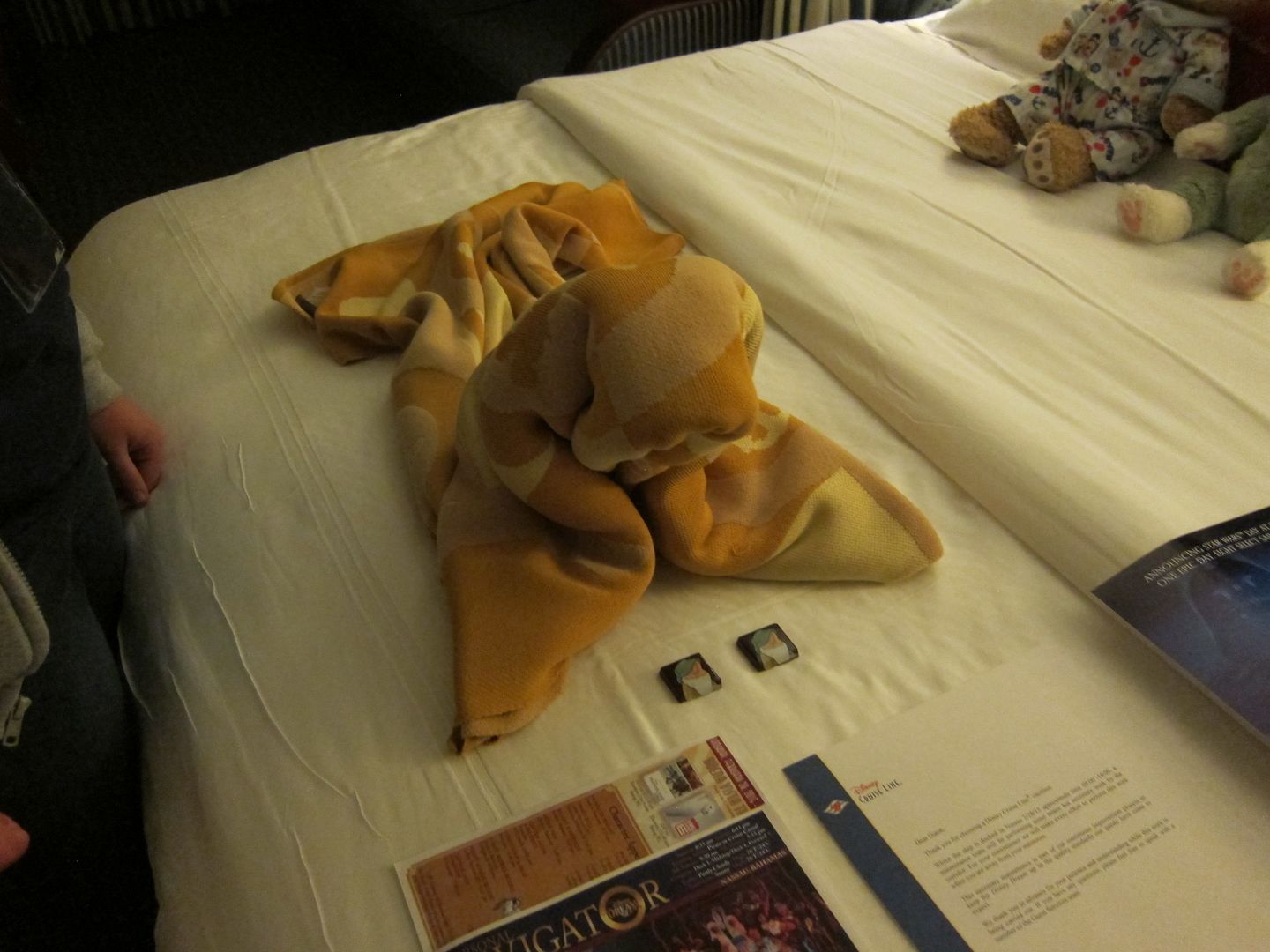 Our stateroom host had also stacked all of our friends together.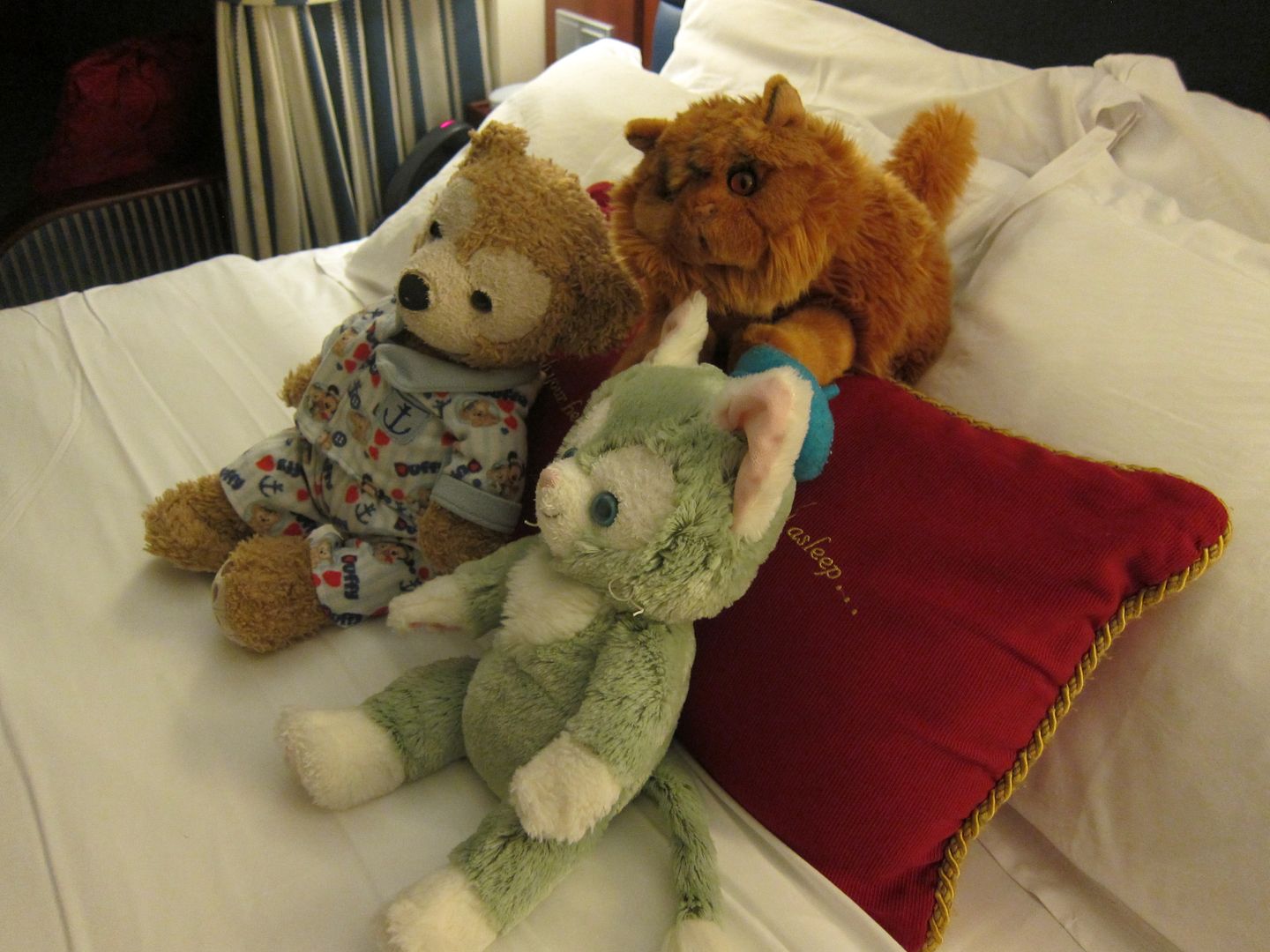 The show tonight was Golden Mickeys. Even though we'd seen it on our last cruise, we still decided to go because it had been fun. When we made our way toward the theatre, we were chosen to be interviewed on the red carpet. I think we were asked what characters we were most excited to see.
Before the show started, there was the customary "please welcome your cruise director" announcement, and we were thrilled that it was Jimmy! He must have moved over to the Dream from the Wonder sometime between the end of Alaska season and now. Since we know no other cruise director, now we'll definitely be disappointed the first time we sail without him!
The show was good. It was mostly the same as the one we'd already seen, though the Dream version did have an extra scene from Tangled. One of the most memorable parts of it was the fact that the ship started really rocking in the middle of the show. We could both feel and see it from our seats, and I was thinking how truly bizarre (and a little scary) it would be to perform when the motion of the ship is that unpredictable!
After Golden Mickeys, we made our way toward Evolution so that we could get seats for Match Your Mate.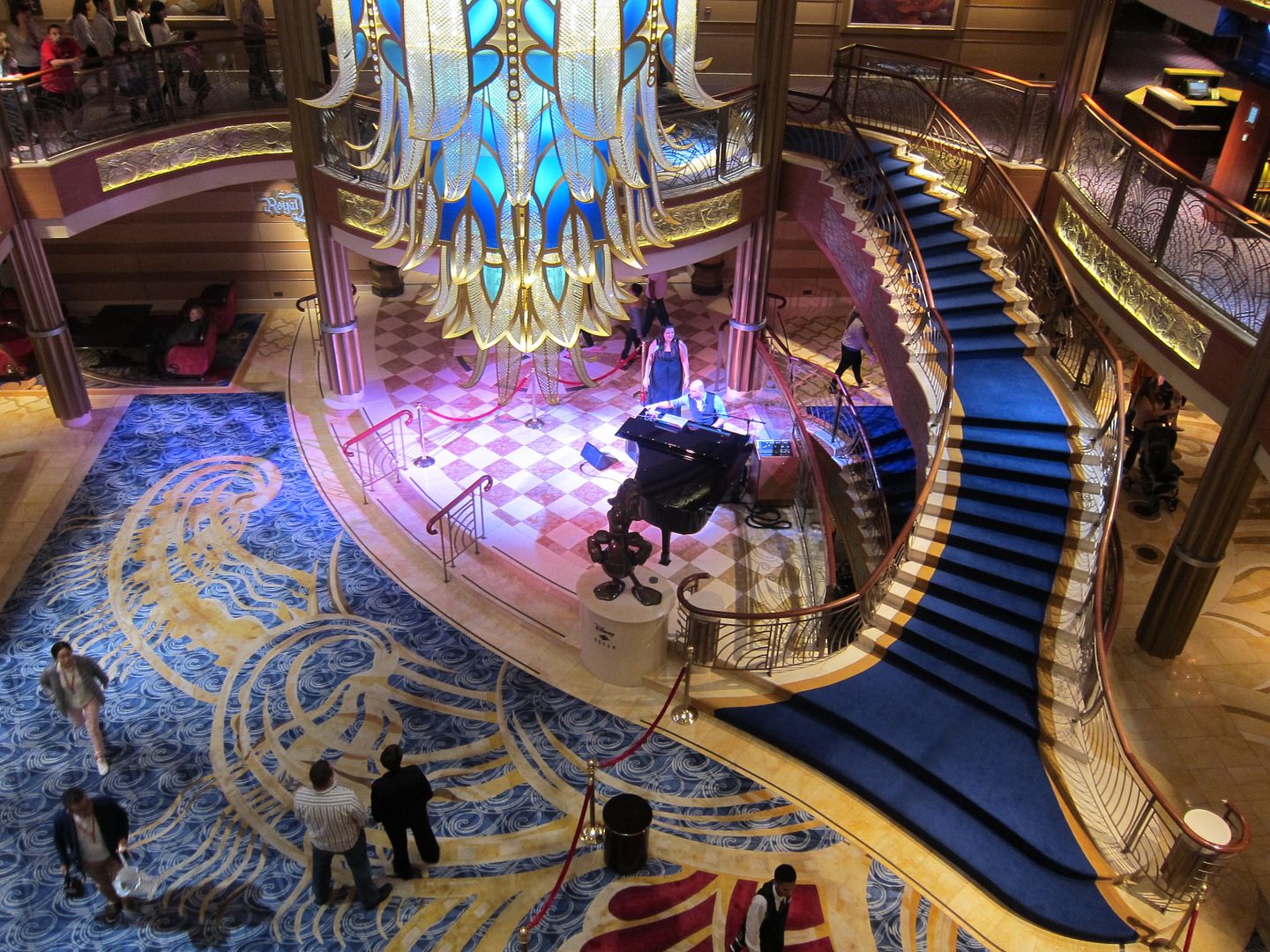 We'd had such a fun time at the show on our last cruise that we didn't want to miss it. The couples weren't quite as exciting this time, but it was still fun. During the selection process, one of the couples vying for a spot was so drunk that they fell over dancing while trying to get chosen and spilled a bottle of wine all over the stage. So that was interesting…
The guy of the newlywed couple that was chosen seemed like a bit of a douche, and I actually can't even remember the middle couple. The older couple was our favorite—although I can't remember any of their answers to the questions.
I think Match Your Mate is probably more exciting on a longer cruise because you have more people who are interested in that sort of thing and it's less about trying to cram so many events into just a few nights.
After the show was done, we headed back to our stateroom and went to bed. We had a busy day ahead of us in Nassau!
Previous Post | Next Post
Table of Contents
Follow



Share