Chapter 16

One Helluva Birthday Surprise
---
Previous Post | Next Post
Table of Contents
Tracy took a bit of a detour into New Orleans Square (I don't remember what excuse she gave), and before I knew it, she was chatting with someone I didn't recognize. A second later, the couple introduced themselves, and I knew one of them from her Twitter handle because we'd interacted many times via the Disneyland Cats.
After a minute, Tracy explained that they were going to see if we could get into Le Salon Nouveau—the new lounge area that had opened relatively recently inside Club 33! She had contacted our hosts to ask if they wanted to meet up in the parks and (knowing it was a stretch) whether they could possibly get us in to see the famously exclusive restaurant.
They rang the doorbell that we'd passed by on numerous occasions, and the door actually swung open.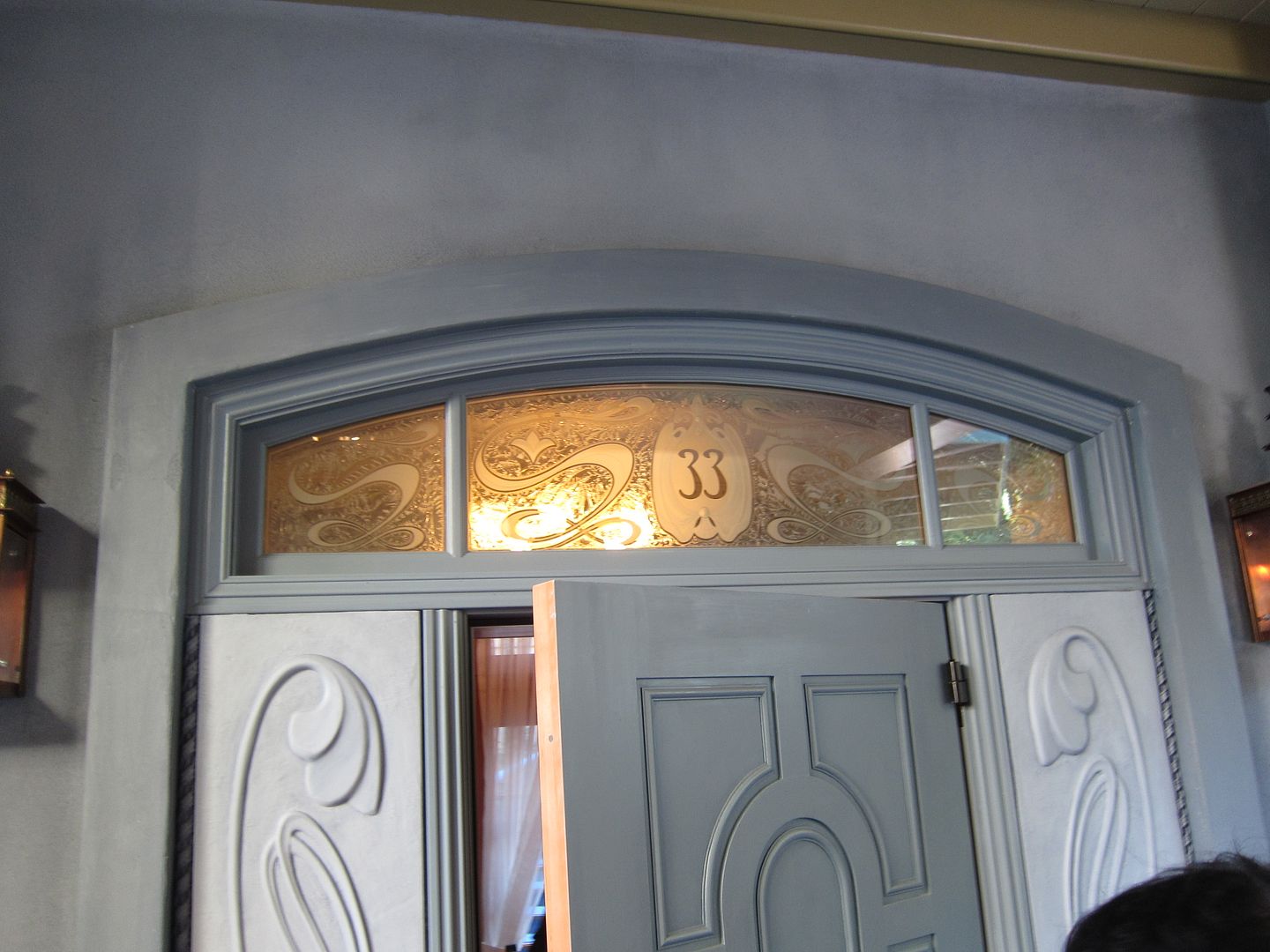 The Club 33 entryway has a concierge desk on the left and a merchandise cabinet on the right.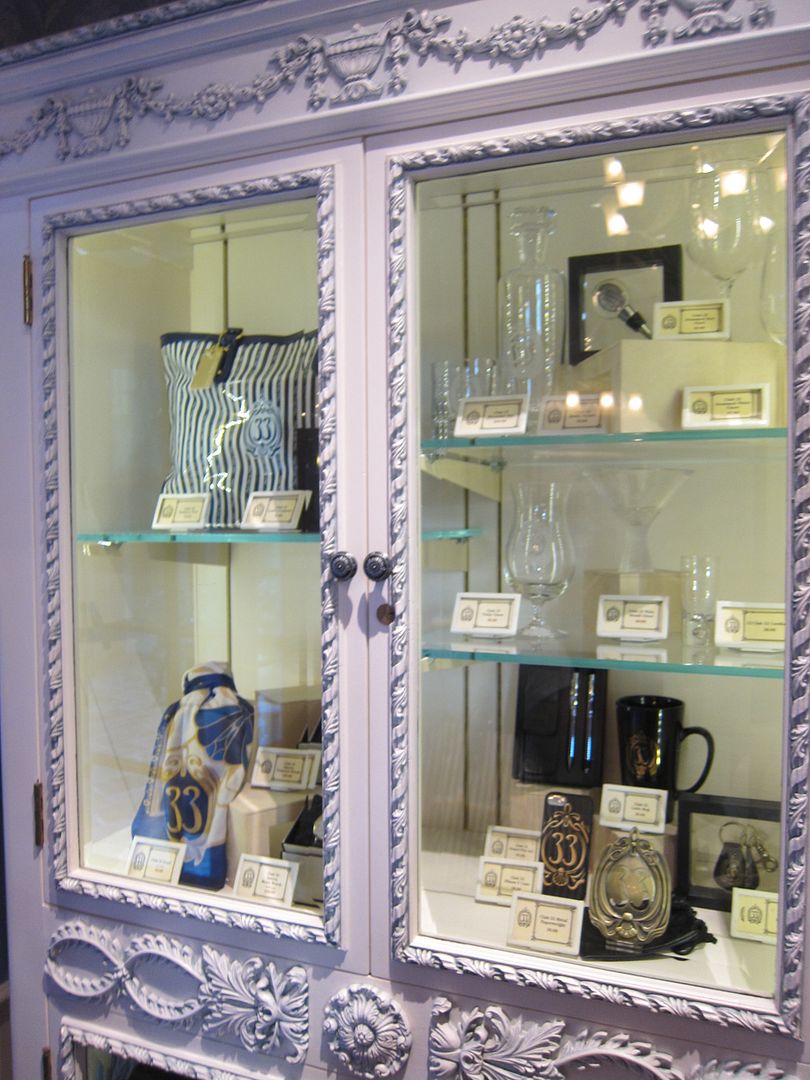 Obviously, our hosts were members, and they asked at the desk whether there was currently room in Le Salon Nouveau. Like 1901 Lounge in DCA, this lounge/bar area doesn't take reservations from members, but it is always there if they want to go in for a drink or a bite to eat. Of course, if the day happens to be popular among members, then all the tables might be taken, so there's no real guarantee that they can get in. Also like 1901, Salon Nouveau is only open to members and their guests—as opposed to the main Club 33 dining room, for which members can occasionally make reservations for unaccompanied guests. In this way, the lounges are actually a little more exclusive than the restaurant.
There were no issues with us getting into the Salon. They just told us it would be a couple minutes and invited us to pass the time in the Court of Angels.
Yes, closed off but not actually gone, the area looked almost exactly as we had remembered it before the big Club 33 renovation restricted access. They had added a couple new accouterments, like this Tinker Bell lamp.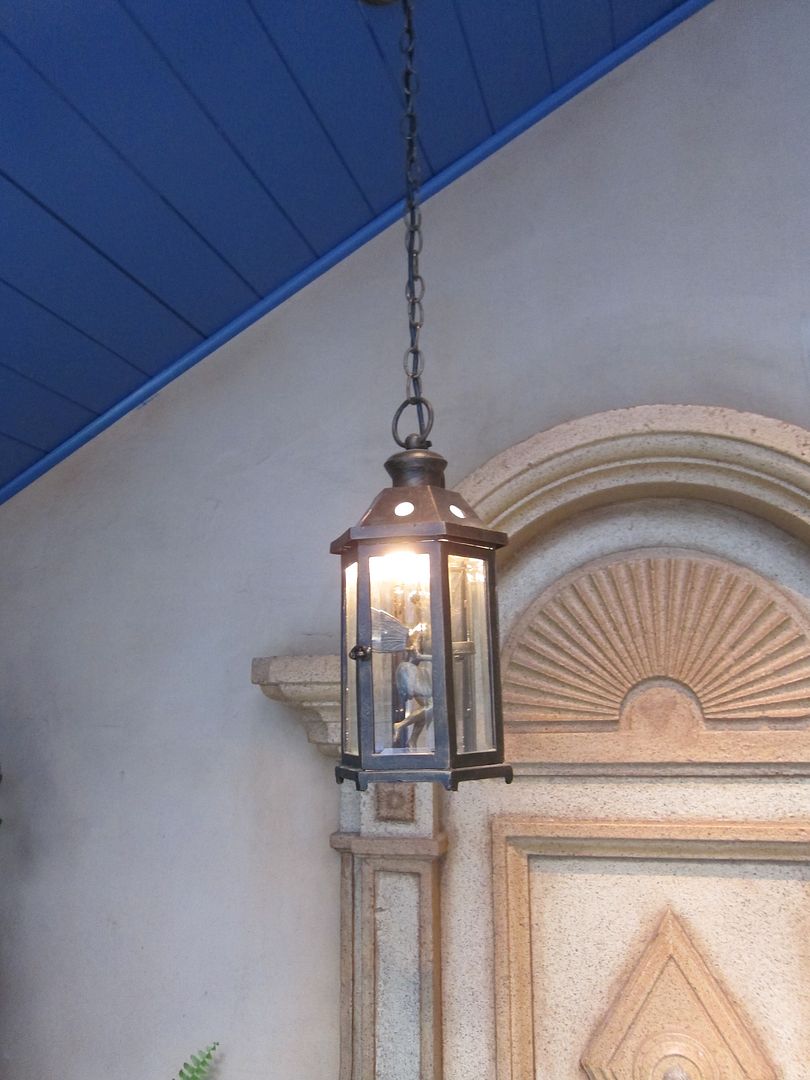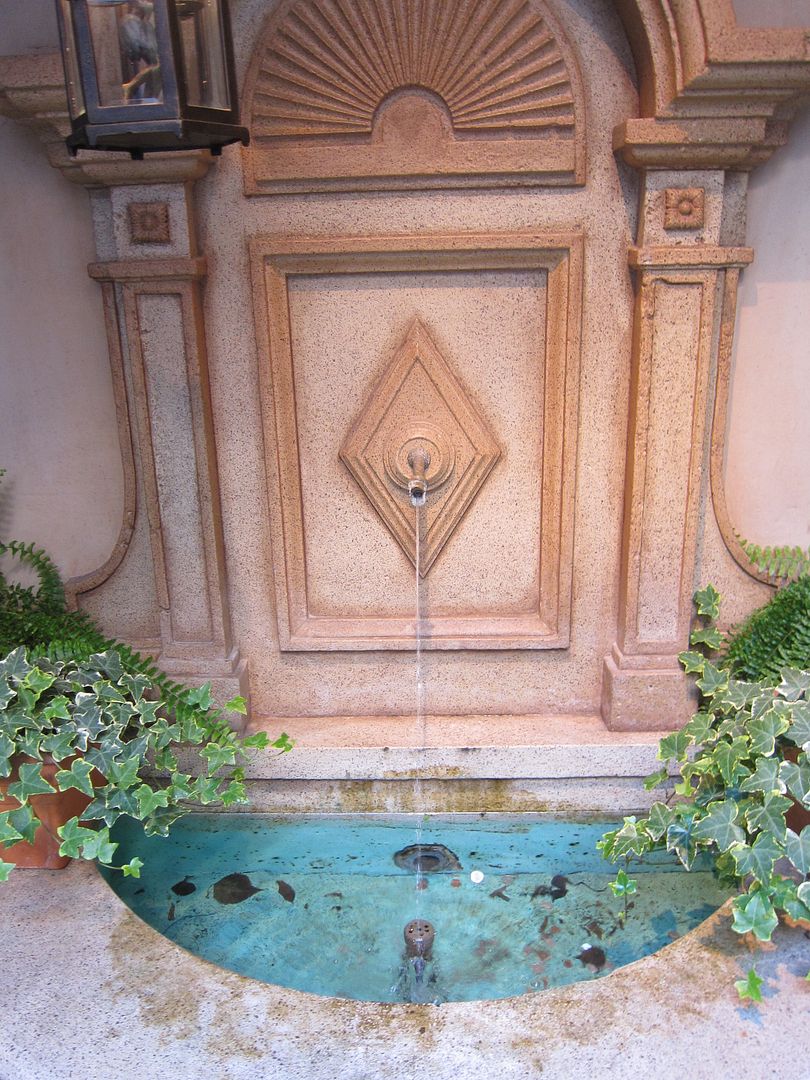 Since we didn't know the next time we'd be able to access this area (if ever), we gratefully posed for a picture on the steps of the Court of Angels.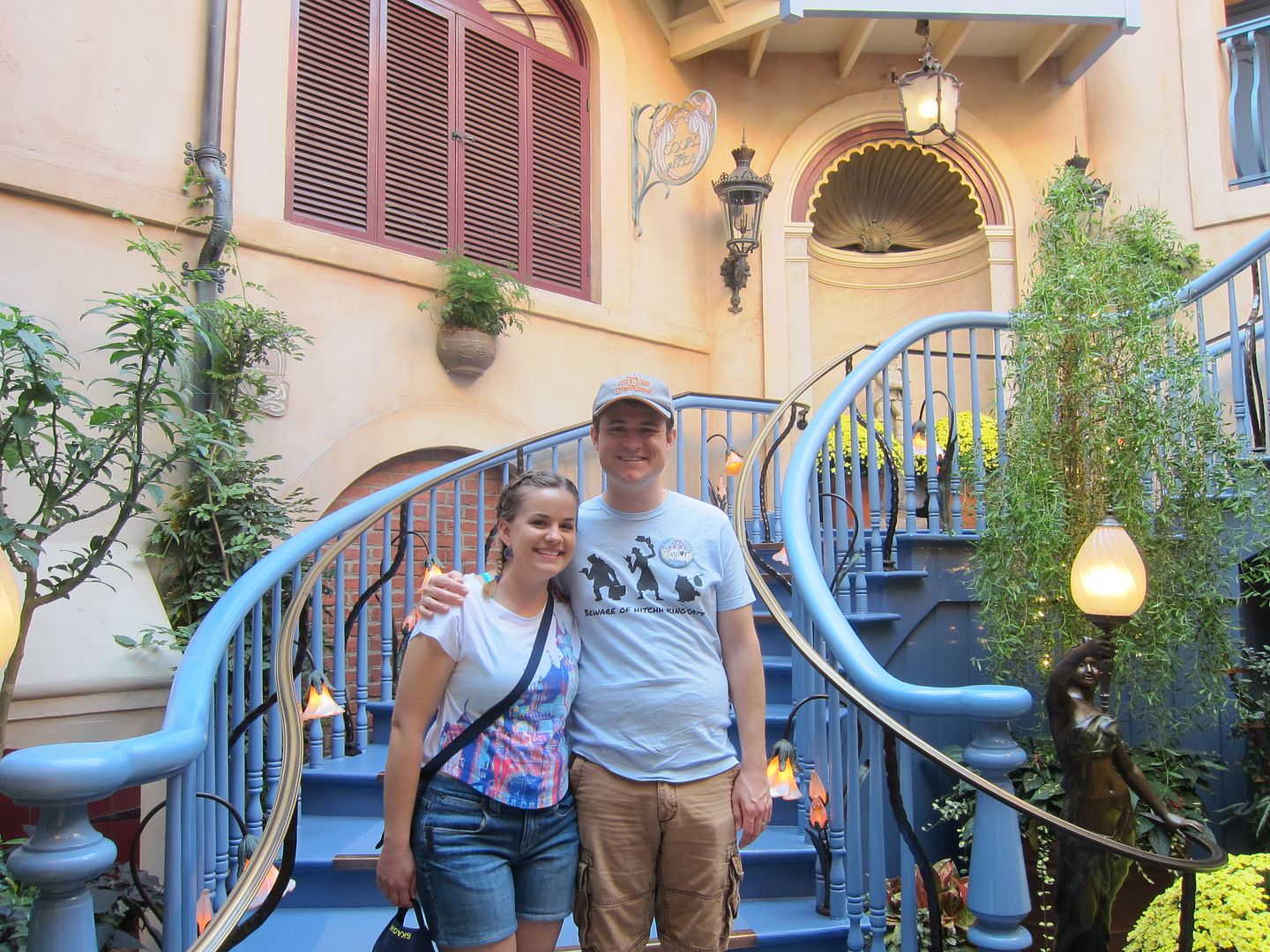 And within just a couple minutes, we had the go-ahead to make our way toward the concierge stand upstairs.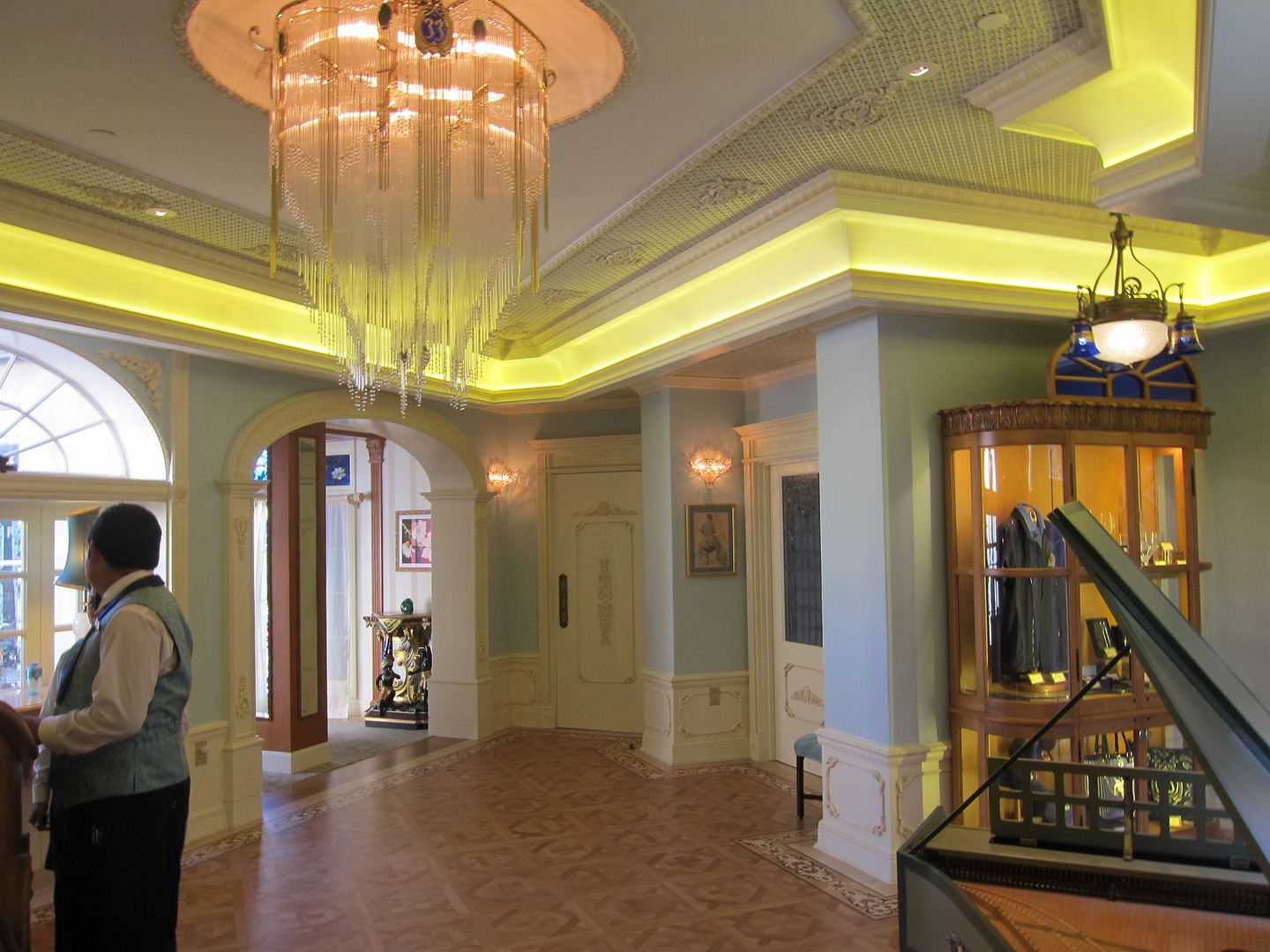 Now, since I'm not 100% sure what the layout of Club 33 was before the renovation, I can't speak to exactly what this new entryway was in days past. I feel like it was part of the kitchen or some sort of other backstage area, though, because we would often see cast members making their way through the door when we would be hanging out in the Court.
Obviously it is now a gorgeous foyer, complete with tons of natural light, elegant fixtures, and light woods. The chandelier, in particular, acts as quite the centerpiece and really draws the eye.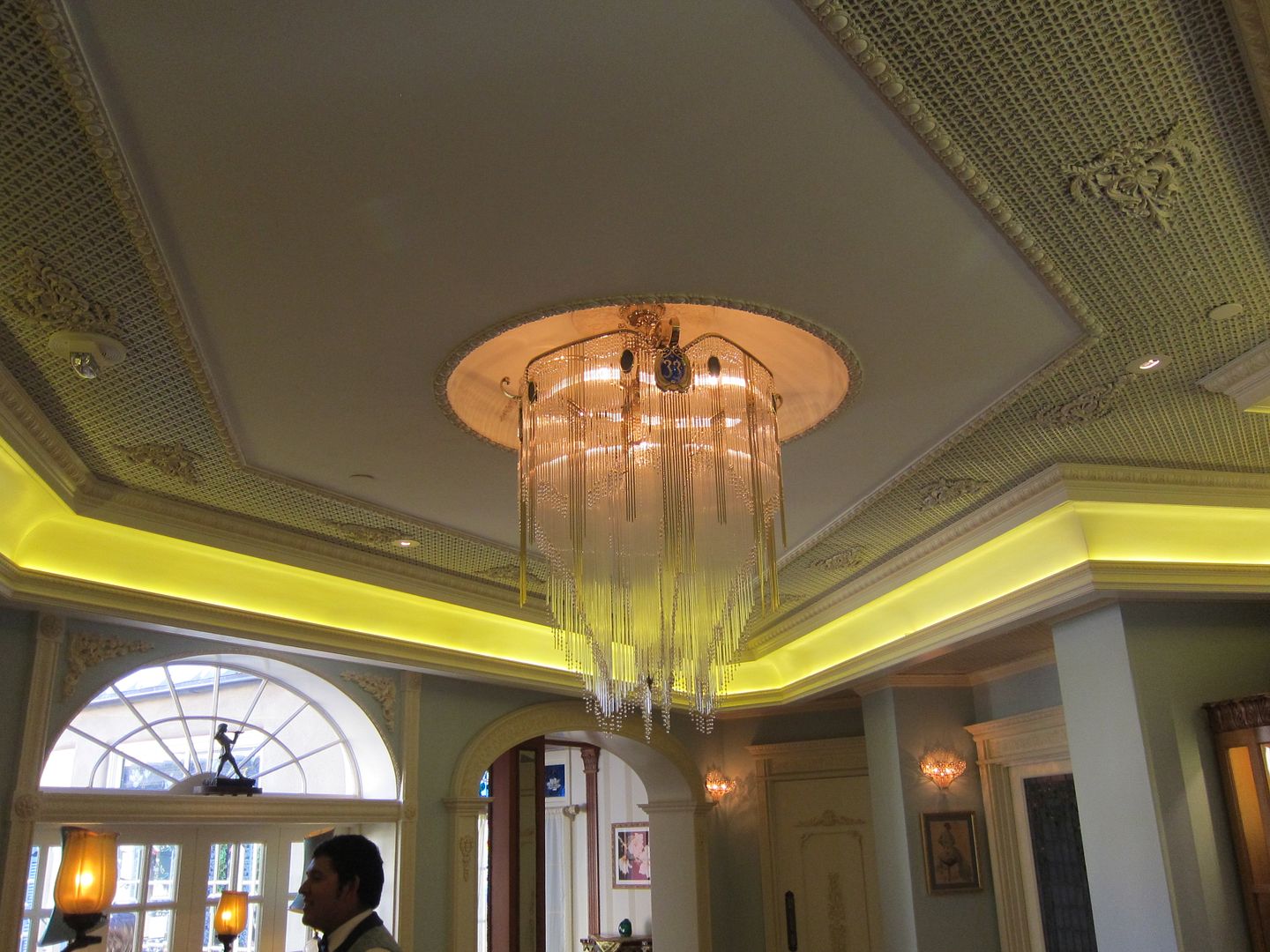 Of course, we'd heard/read about the animatronic vultures that Walt had installed into the original Club 33 Trophy Room, but I didn't know that any of them had made it into the new incarnation. Our hosts told us to keep an eye on him because he occasionally moves and talks.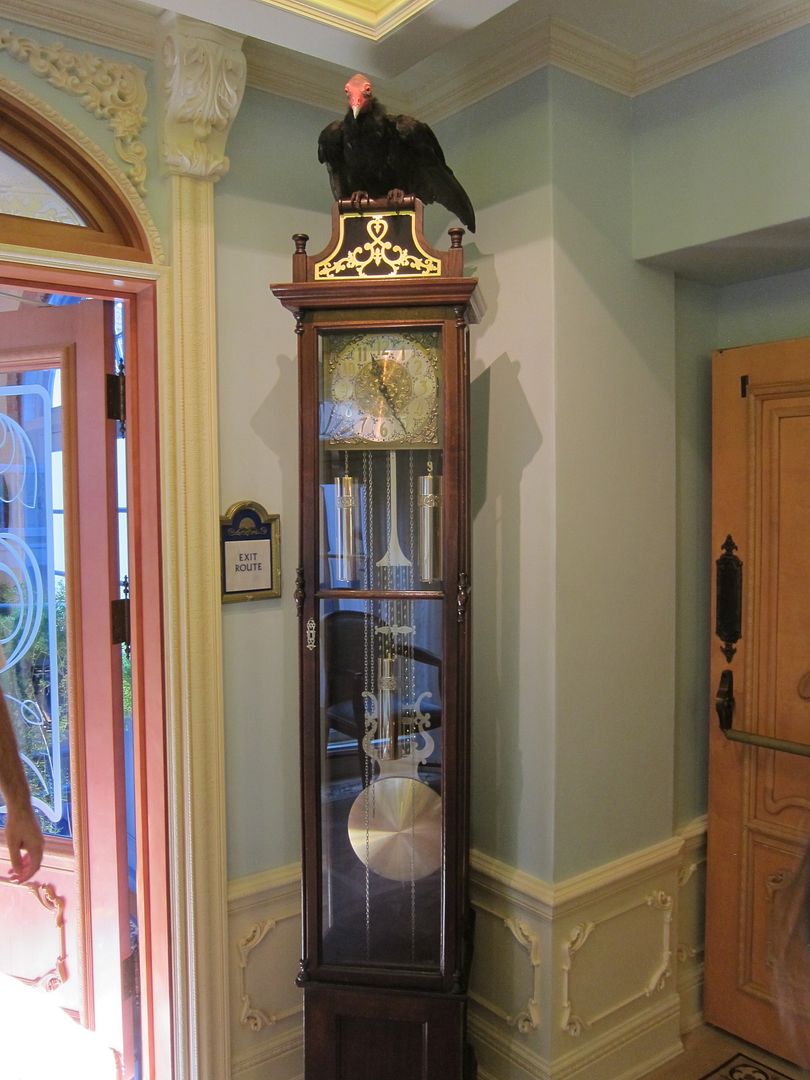 Le Salon Nouveau functions like a lounge, so it's less of a formal affair to dine there. I don't think you can really seat yourself, but our hosts were able to requests a booth that they'd been wanting to try out for a while. Almost all of the tables have enchanted artwork hanging above them, and this one was Haunted Mansion themed.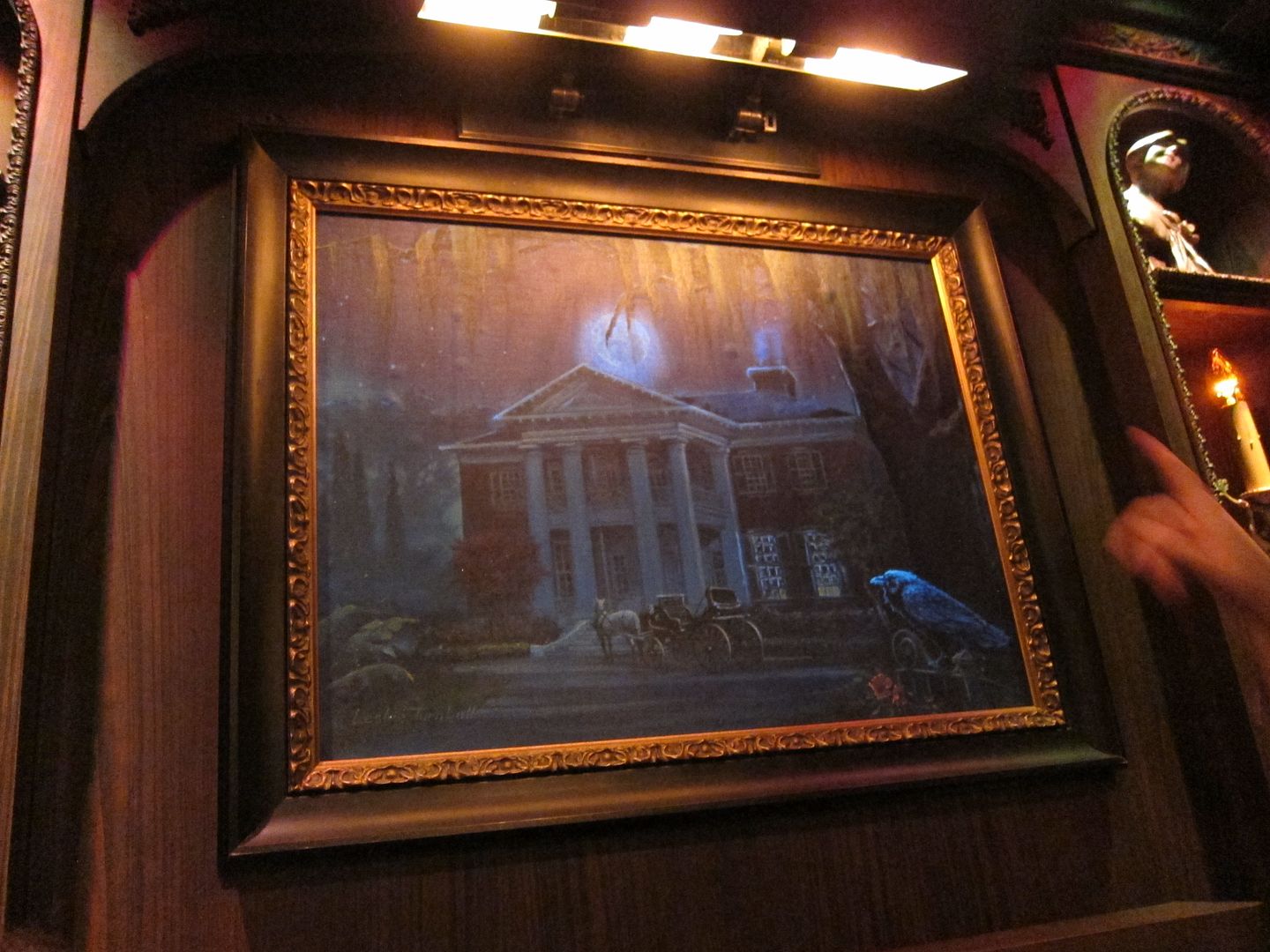 After dropping our stuff at the table, we got to experience the grand tour of the lounge. We continued down the hallway we were in and emerged into the open seating area with a bar and piano.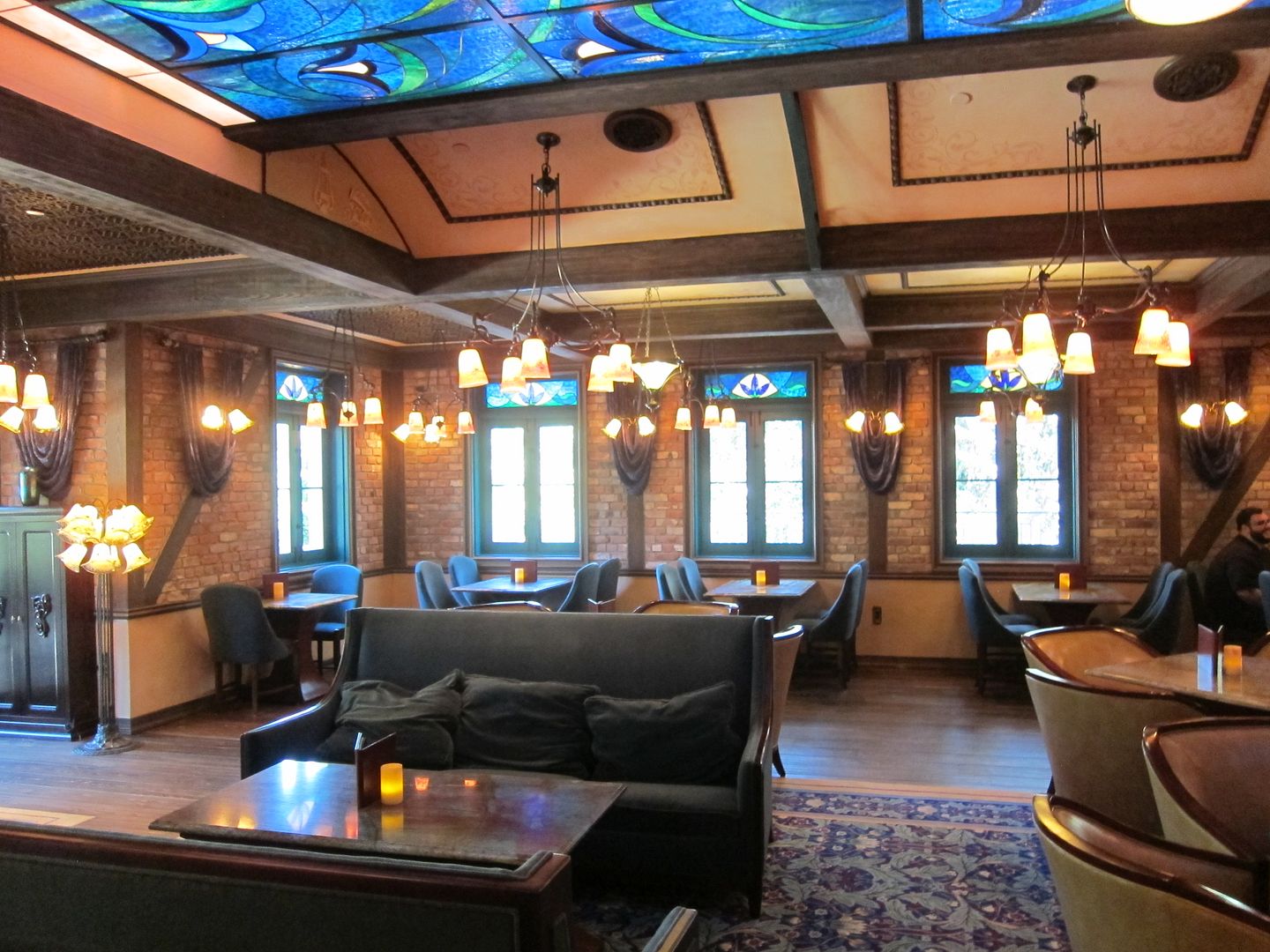 The piano apparently is equipped with state-of-the-art technology so it can be programmed to play along with live concerts around the world.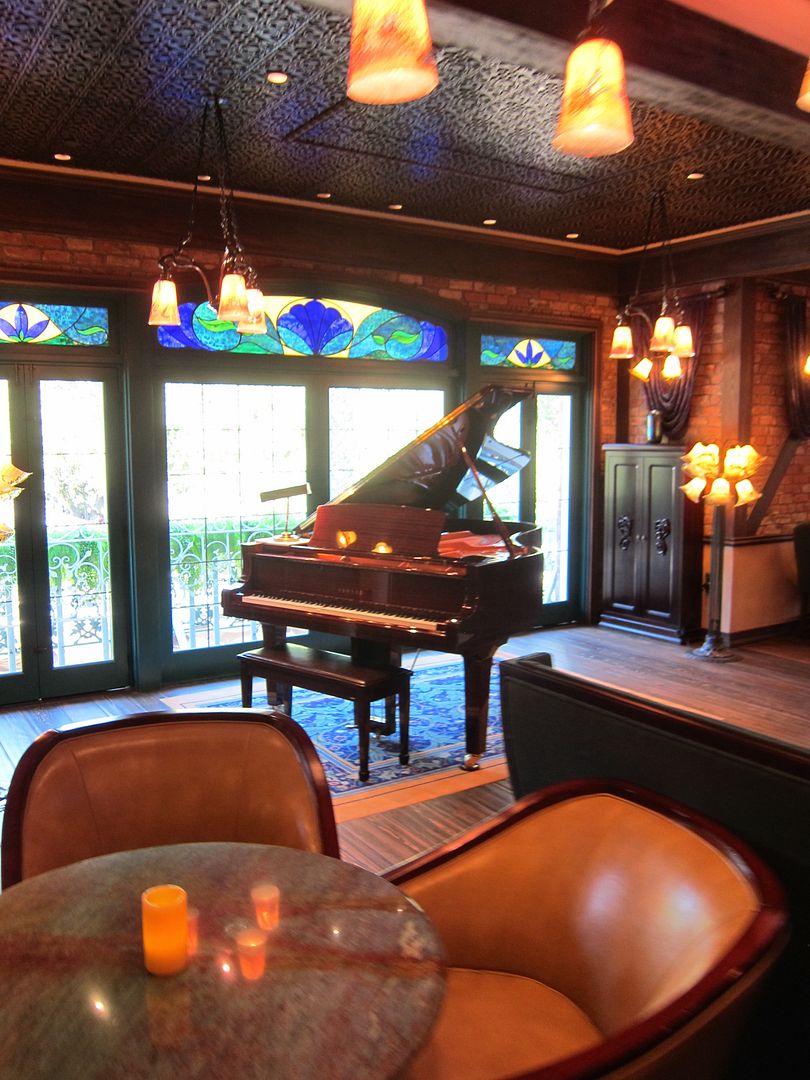 Everything about this area just had a really cool vibe—like a ritzy jazz club. I think it was the exposed brick that gave it that feeling, but there were also neat light fixtures and other pieces of furniture.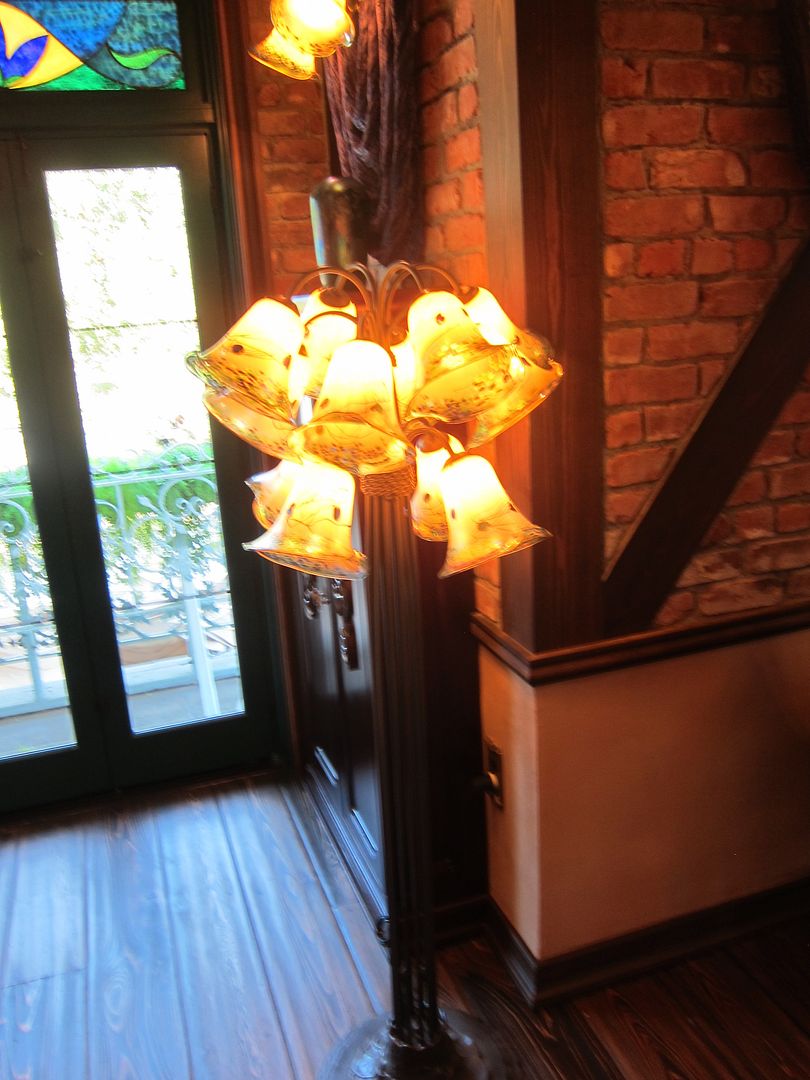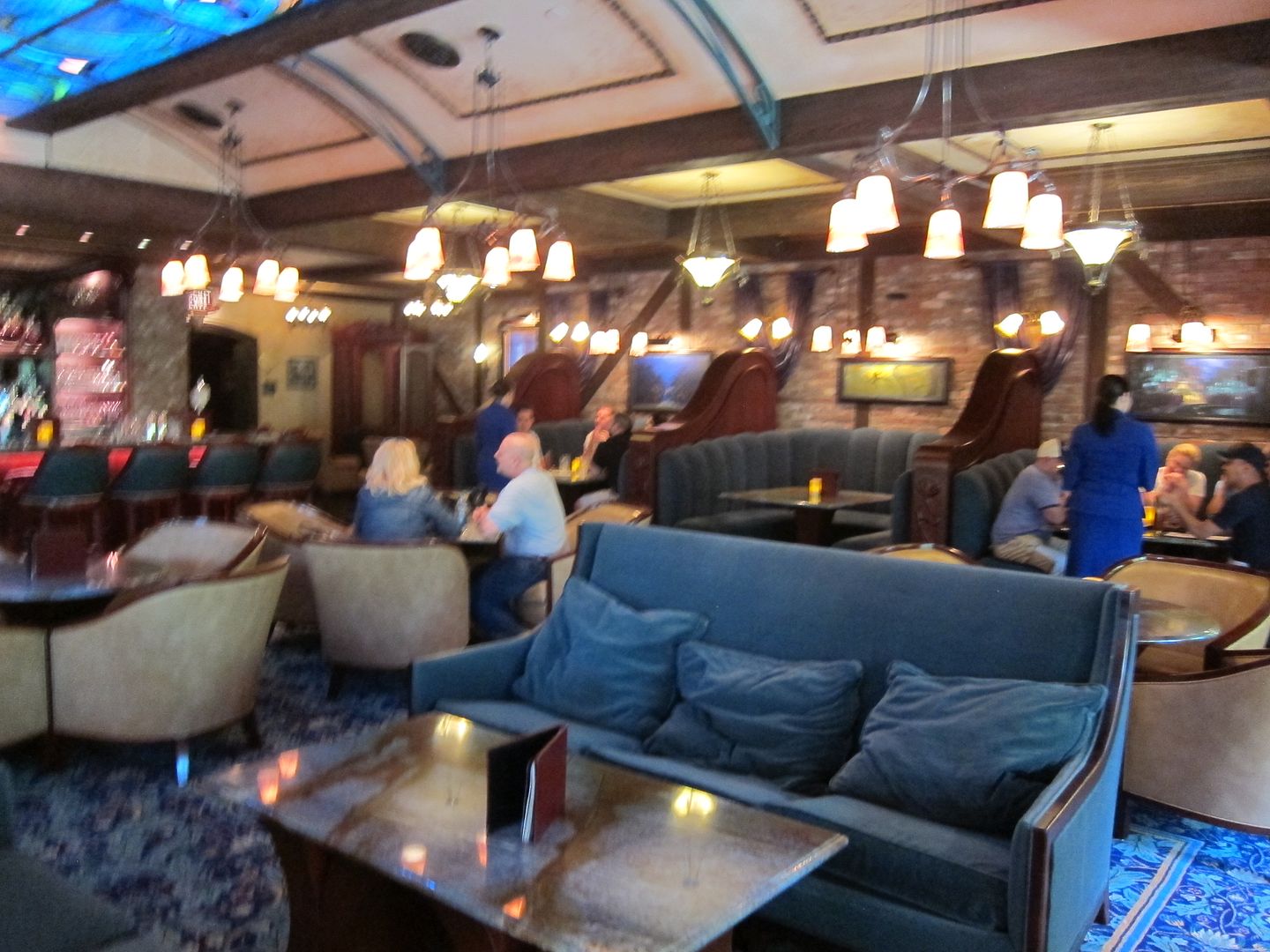 The bar itself is also very fancy and prominently features the new logo in carved wood.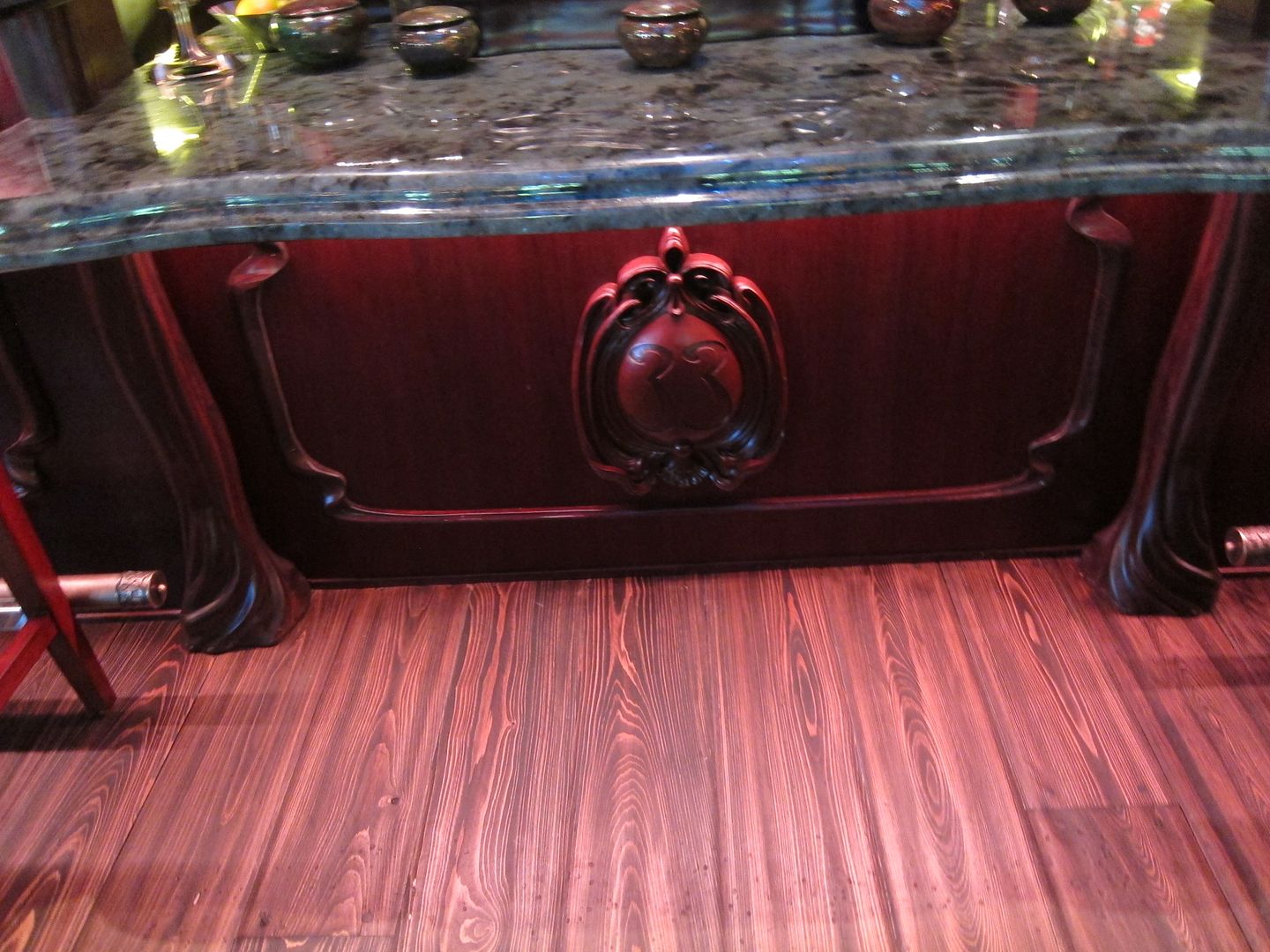 The jazz flavor continues with some of the other artwork.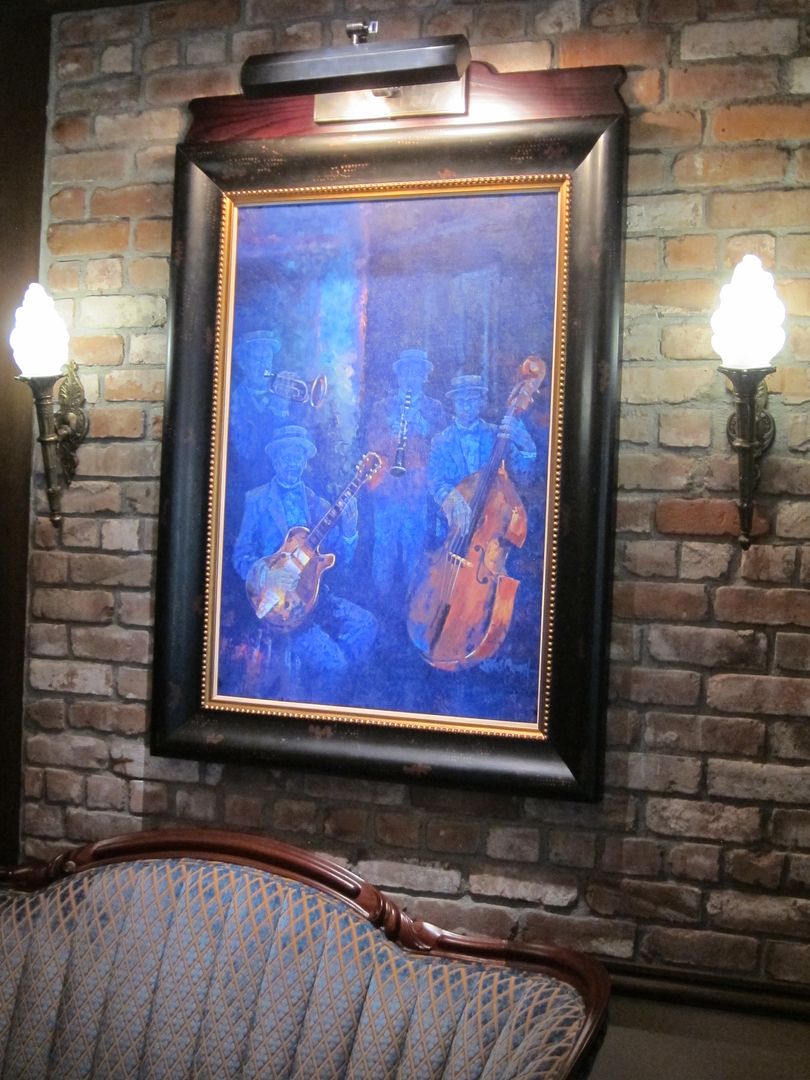 And I was particularly fond of this lamp that was made up of woodwind and brass instruments.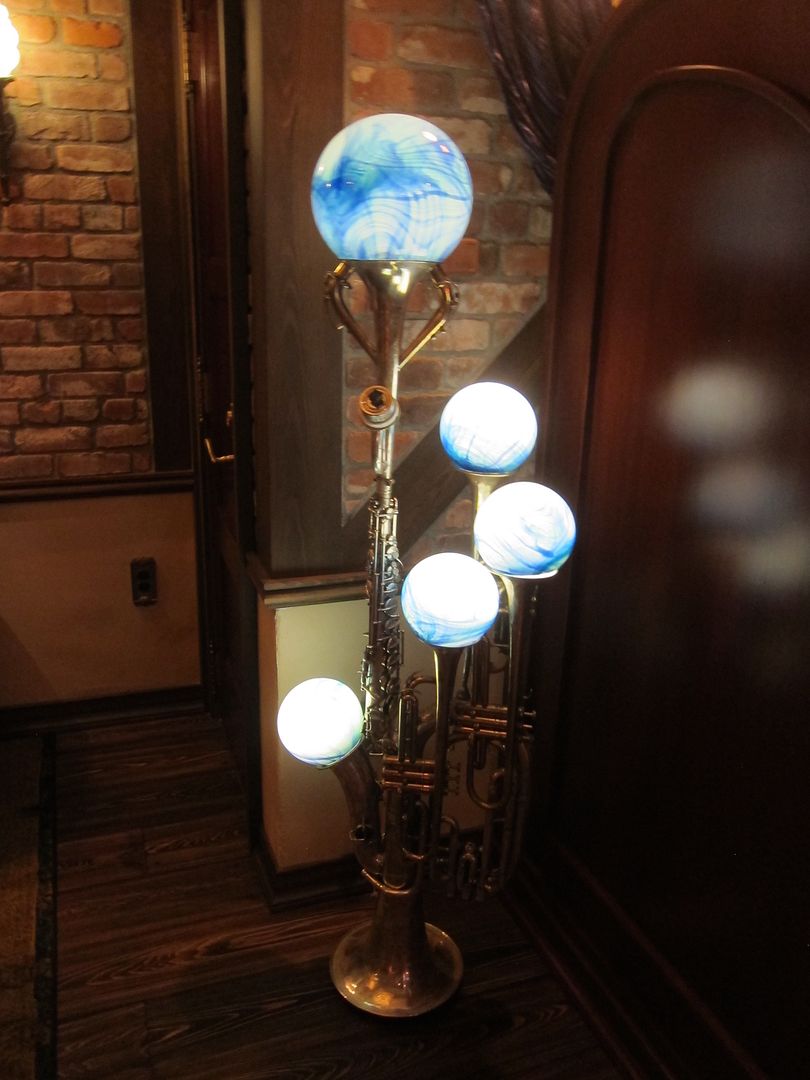 This part of the tour also took us out to see the new tables they'd added on one of the balconies, and we could see out to the New Orleans Square train station—which gave us a better idea exactly where we were within the land.
After we'd seen the whole salon (which feels bigger than I'd expected but is certainly still quaint), we sat back down and started leafing through the menu to decide what to order.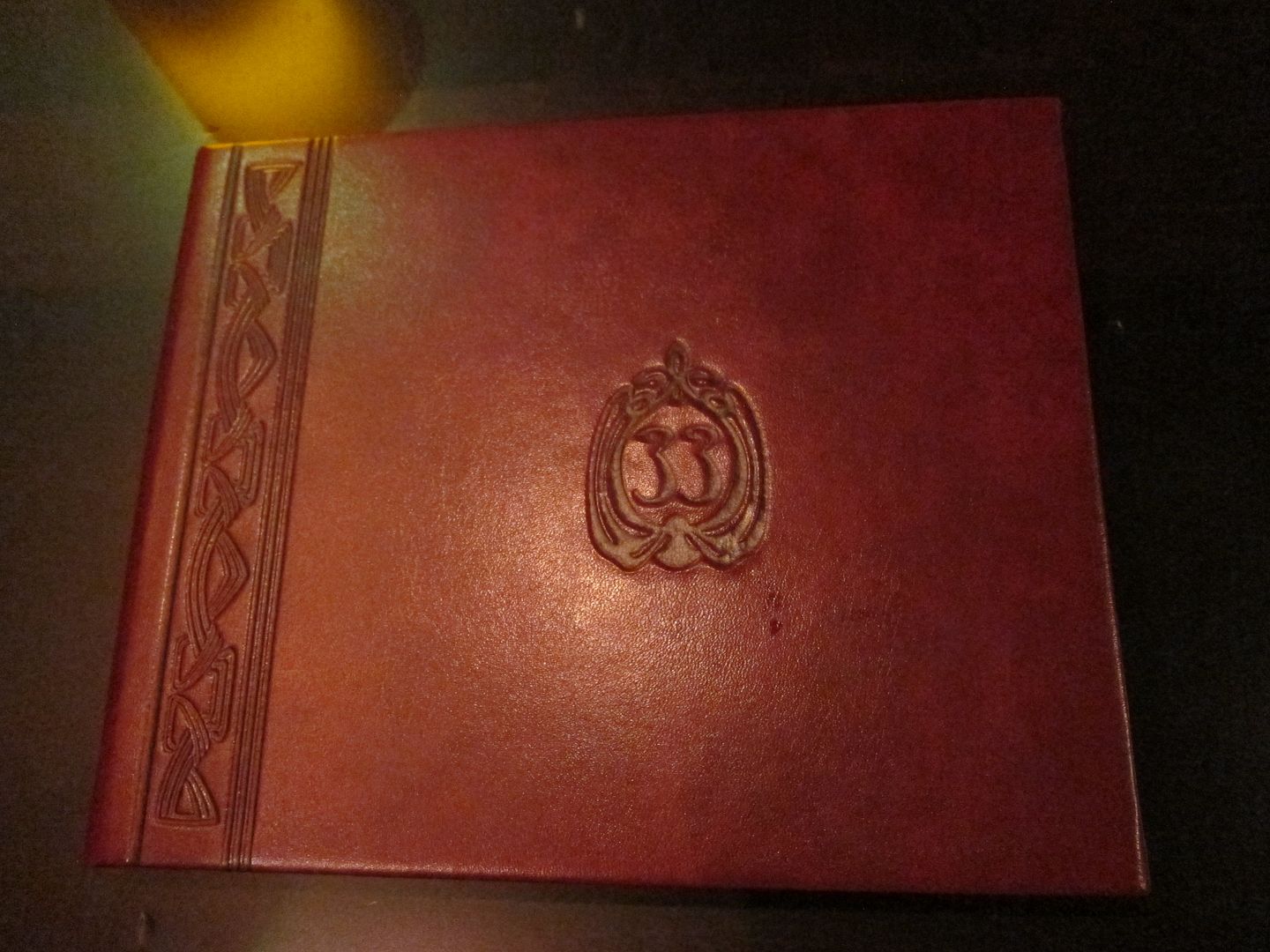 Previous Post | Next Post
Table of Contents
Follow



Share