Chapter 17

Join the Club
---
Previous Post | Next Post
Table of Contents
Did you think I'd forgotten about this blog? Well, I can't blame you if you did, but really, I've just been incredibly busy this spring. Anyway, here we return to our incredible lunch at Le Salon Nouveau.
This was the inside back cover of our menu.
At first, they just brought the drinks menu and I had a scary moment in which I wondered if they actually served food at this lounge. Luckily, when the server came back to take our drink order, our hosts asked to see a food menu as well. Crisis averted.
Tracy and I both decided to get drinks (because when else would we have the chance to drink alcohol in Disneyland without breaking the rules?). I got a Hurricane, while Tracy opted for the Club 33 Diamond Martini. It's a little hard to see, but her ice cube is, in fact, diamond-shaped.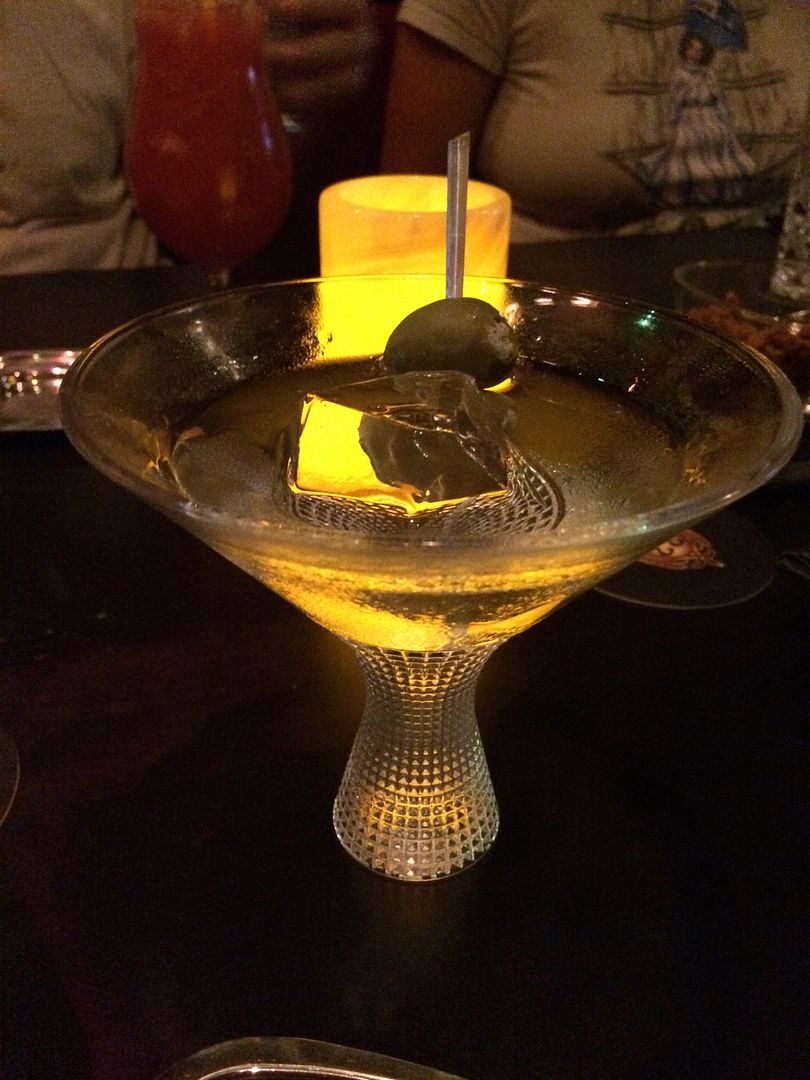 And here is my drink.
Our sever brought over the food menu next.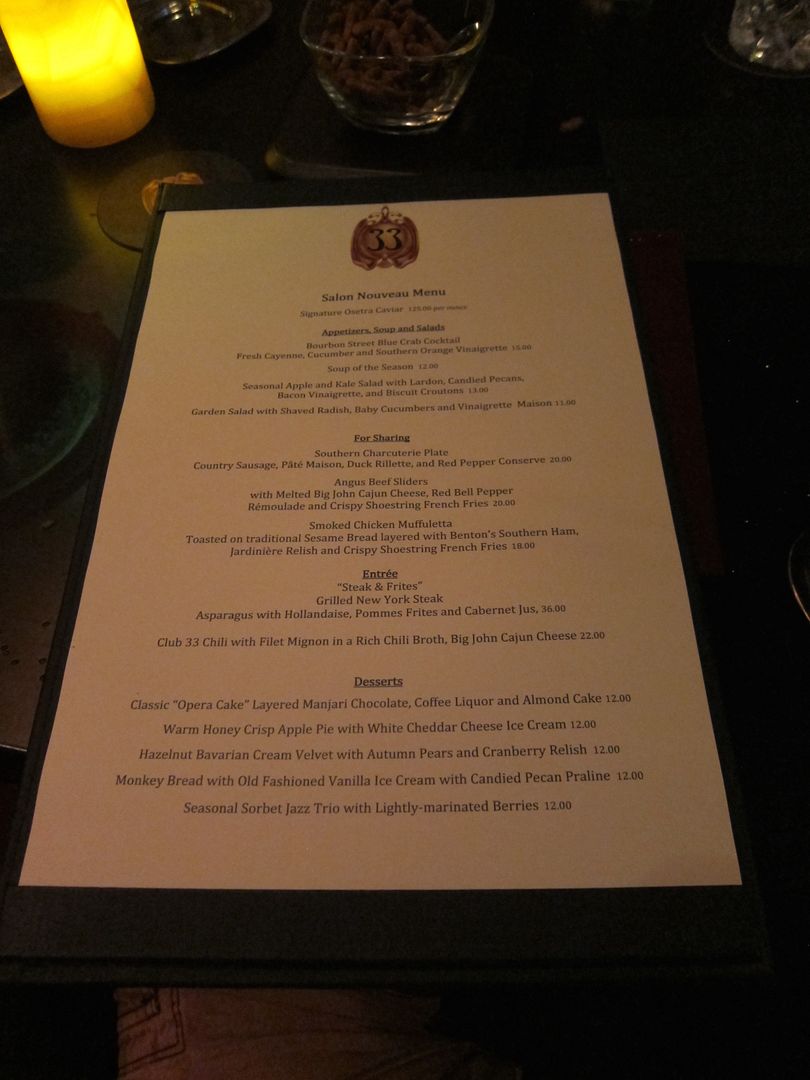 We took one look at the menu and decided to order two Smoked Chicken Muffulettas (Toasted on Traditional Sesame Bread layered with Benton's Southern Ham, Jardinière Relish, and Crispy Shoestring French Fries).
This was super delicious and everything we hoped it would be. Our hosts also offered us one of their Angus Beef Sliders (with Melted Big John Cajun Cheese, Red Bell Pepper Remoulade, and Crispy Shoestring Fries).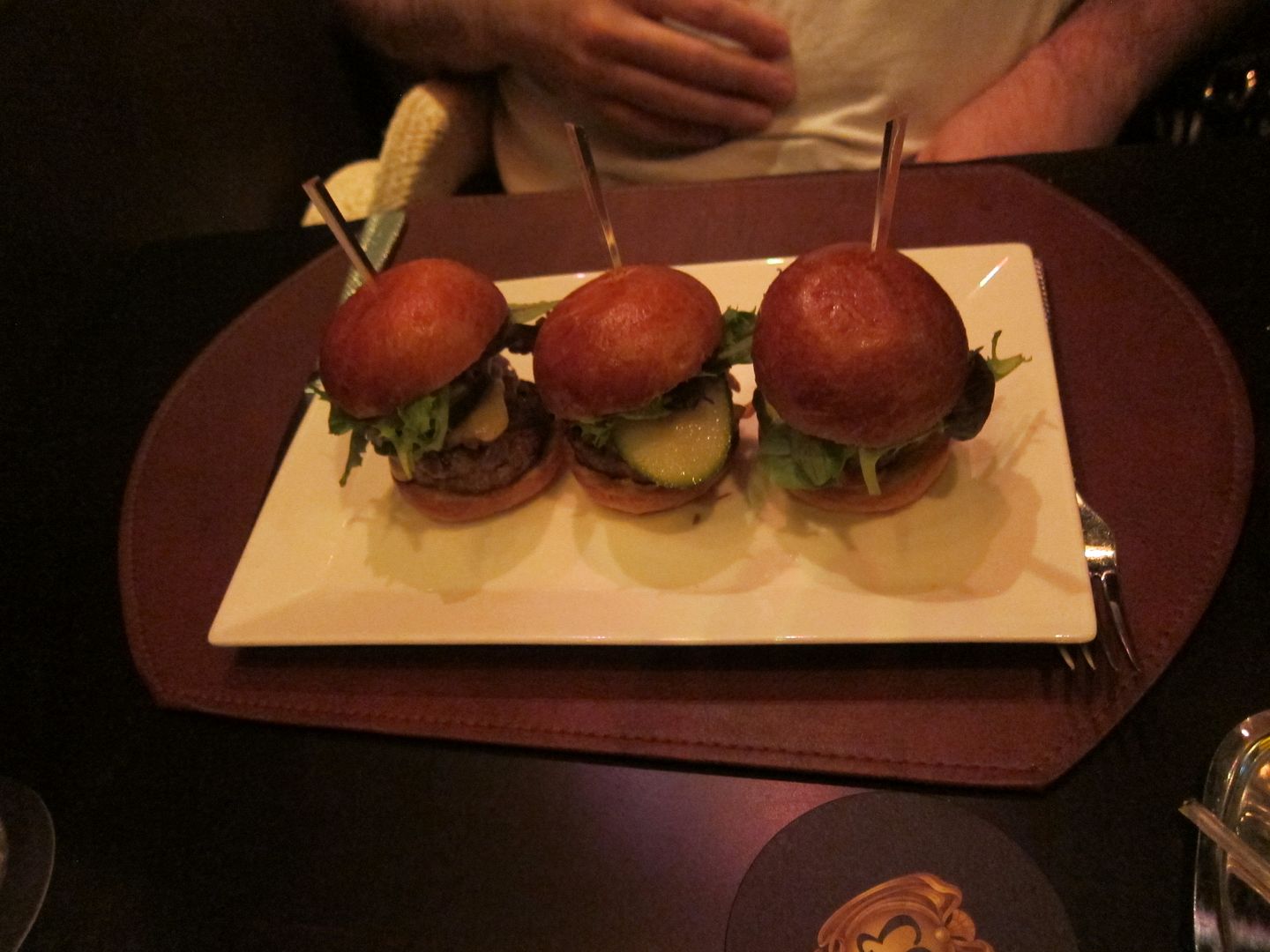 This, too, was really good!
Of course, if the food was good, the conversation was even better. There are some people we've met via the Disney fan community who are just easy to talk to right from the get-go, and our hosts were definitely that sort. I love that fellow Disney-lovers always have a set of conversation topics to touch on because we share common interests.
We were as interested in the couple's stories as they were in ours. They were lifelong Disneylanders who'd had some experience at Walt Disney World but were looking forward to going back. They also told us all about visiting Tokyo Disneyland. We also gabbed about the Twitter accounts that had introduced us to one another, as well as the book that I was in the middle of writing. Our hosts graciously offered up some cool experiences they'd had that ended up in my chapter about a "Disney bucket list." One of the most fascinating things to hear about was that one of them had gotten to stay in the Dream Suite for a night. On their last Walt Disney World trip, they also made a point of visiting the Magic Kingdom and Disneyland in a single operating day.
We also chatted a little bit about how they happened to become Club 33 members. Unlike some club members, they aren't just rich people looking for the ultimate in exclusivity. Instead, they are regular, working people who live in L.A. and got on the waiting list several years before being invited to join. They consider it their big "splurge" purchase and joked that joining used up all their money. Honestly, while I know they were underselling themselves a bit, it was really nice how down-to-earth and very appreciative they were of the opportunities Club 33 afforded them.
 This was our hosts' first time sitting at the Haunted Mansion-themed table, and they were just as excited about the enchanted artwork there as we were. We all watched as it started raining at one point, and then smoke started coming out of the chimney.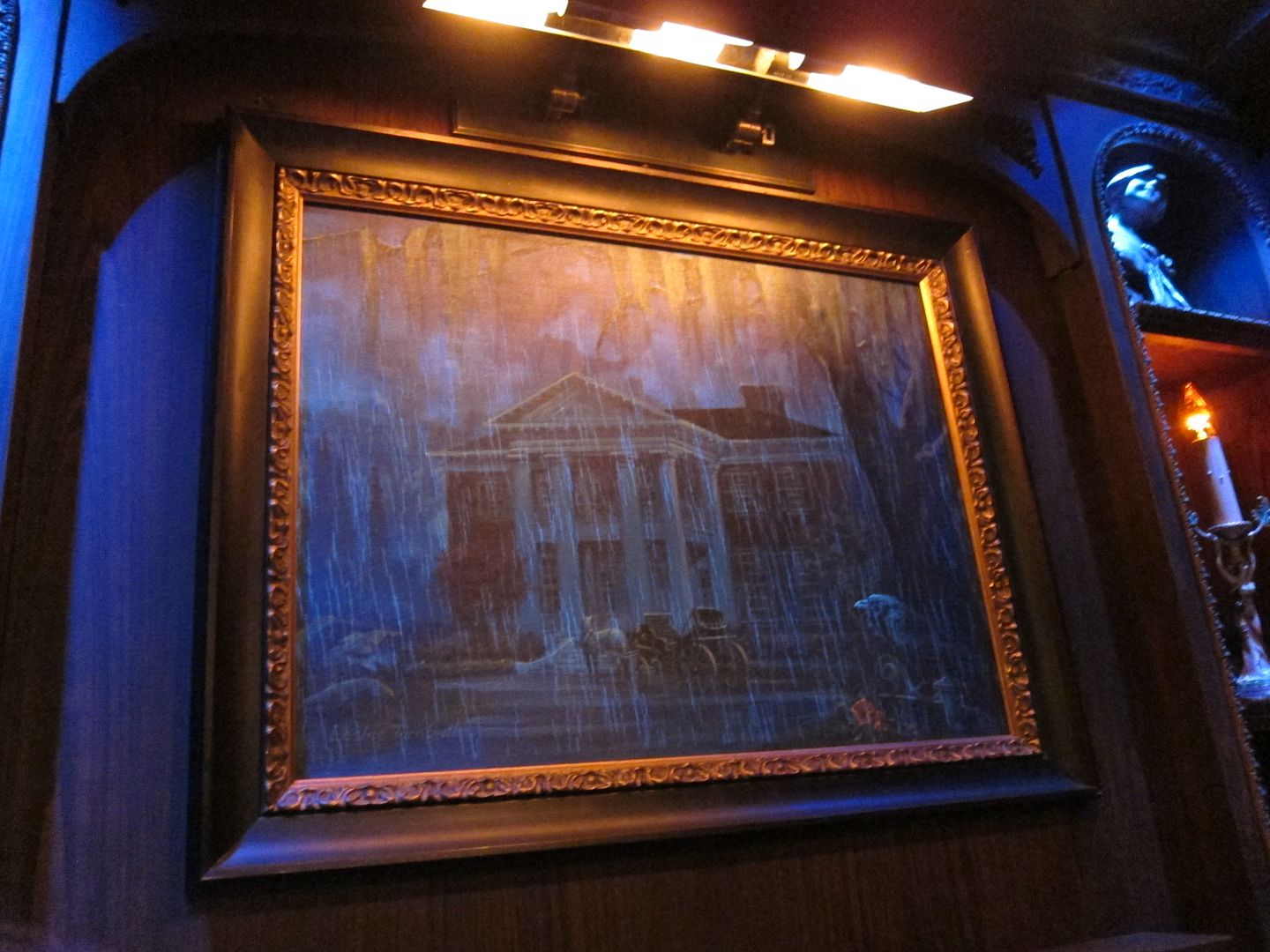 After eating our food, Tracy and I got up to explore a little more, and we both went into our respective bathrooms (I feel like bathroom pictures aren't really acceptable anywhere except Club 33). Here's the men's room.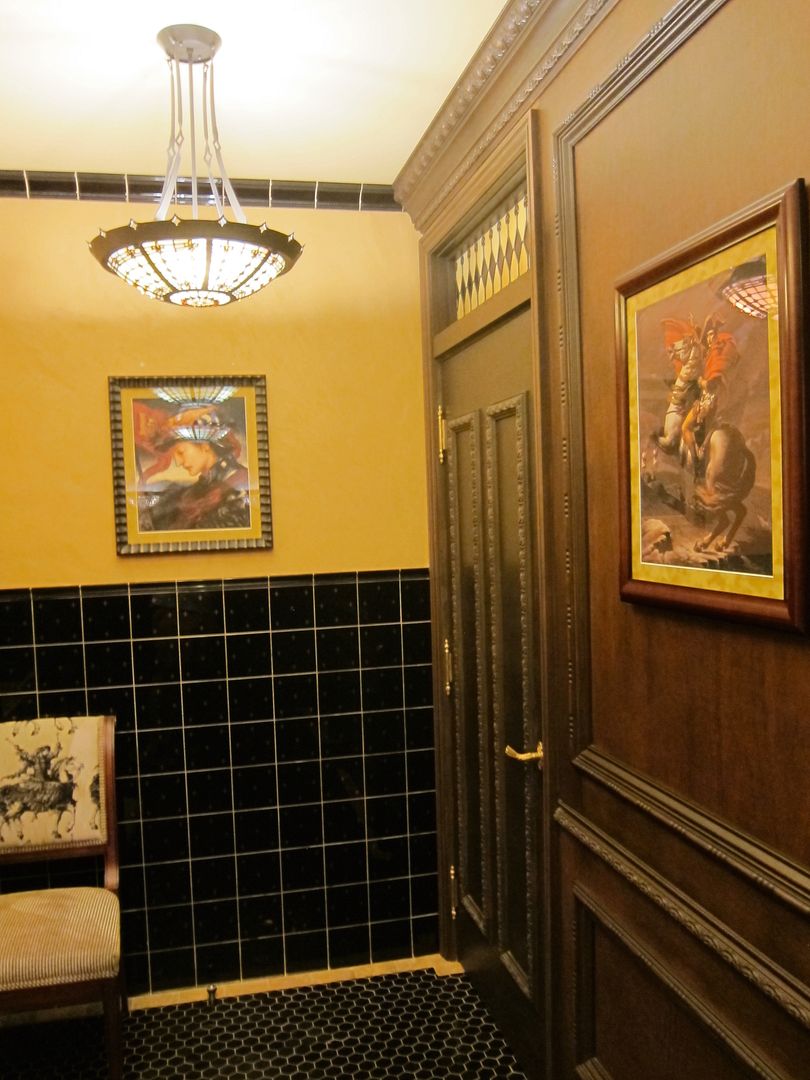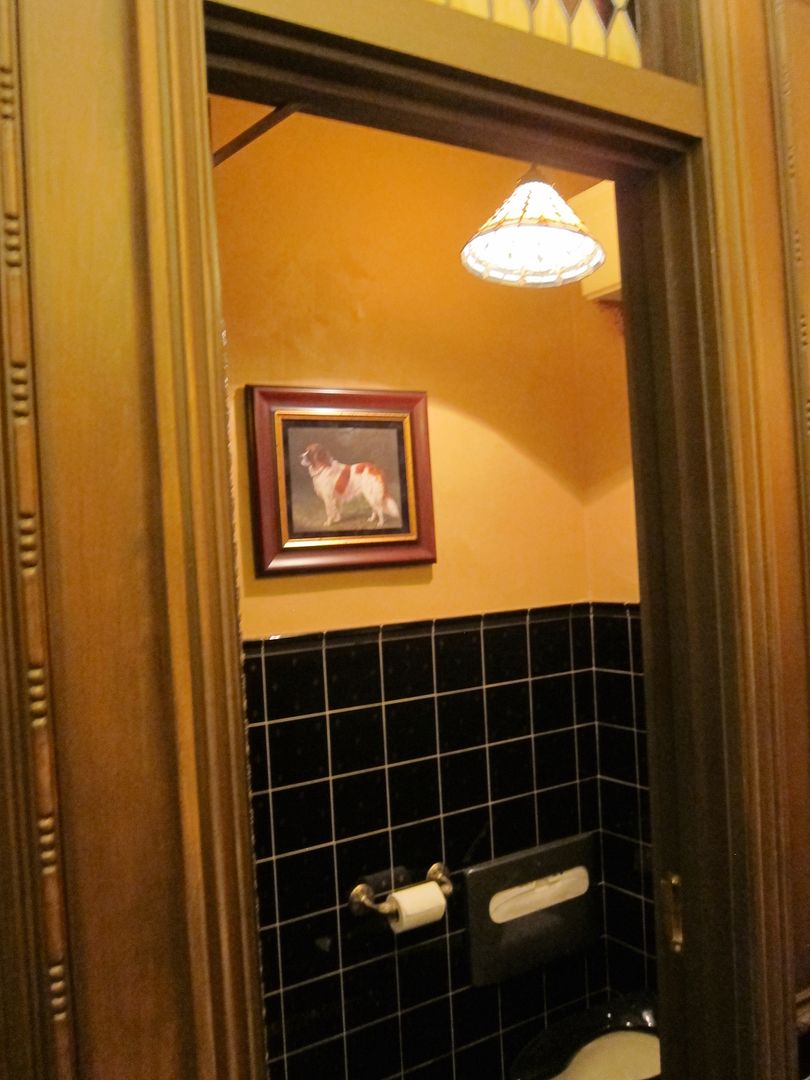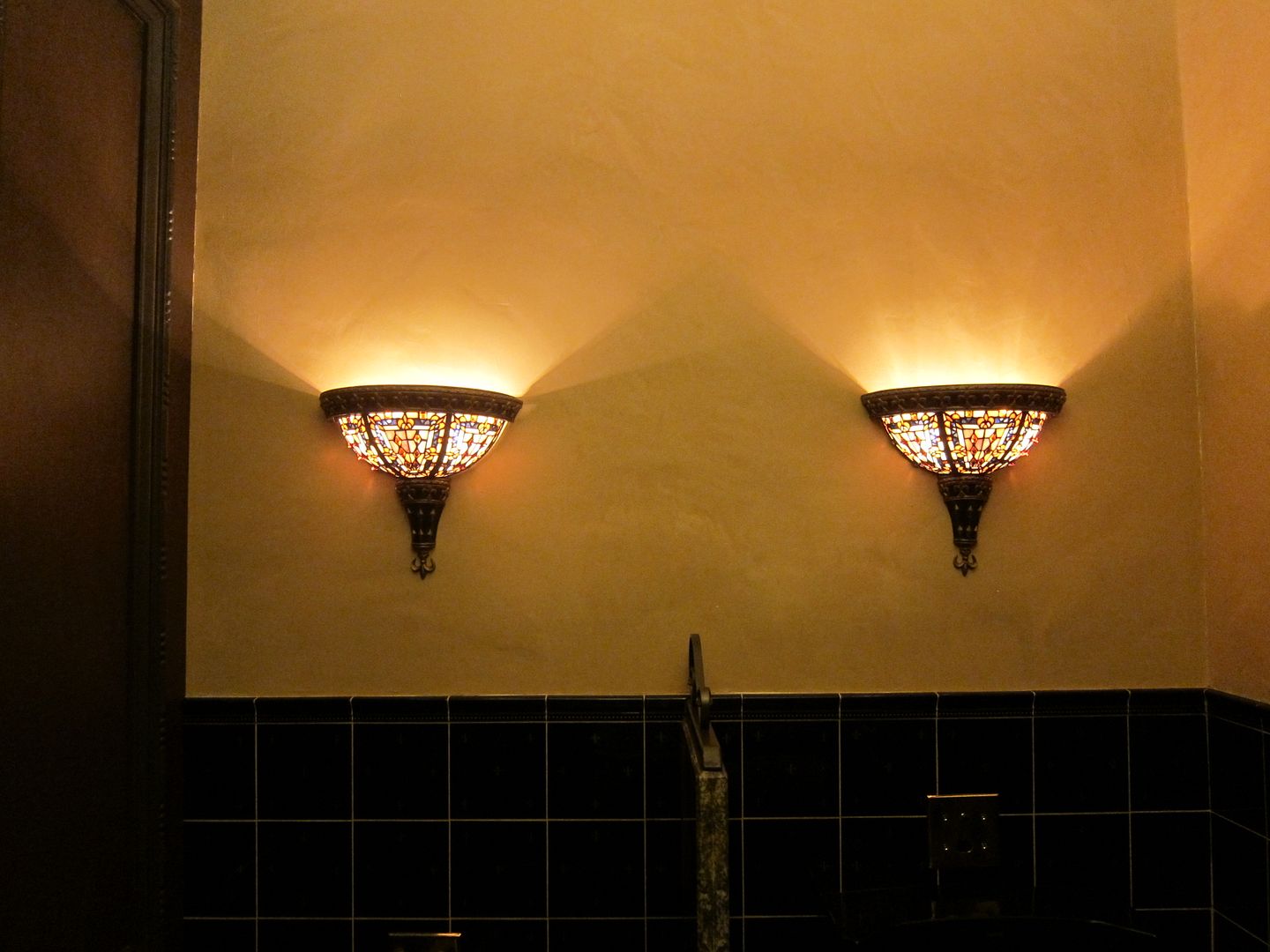 We also got the tour of the main dining room from our hosts (though we couldn't go all the way in and disrupt lunch). This is the hallway leading to it.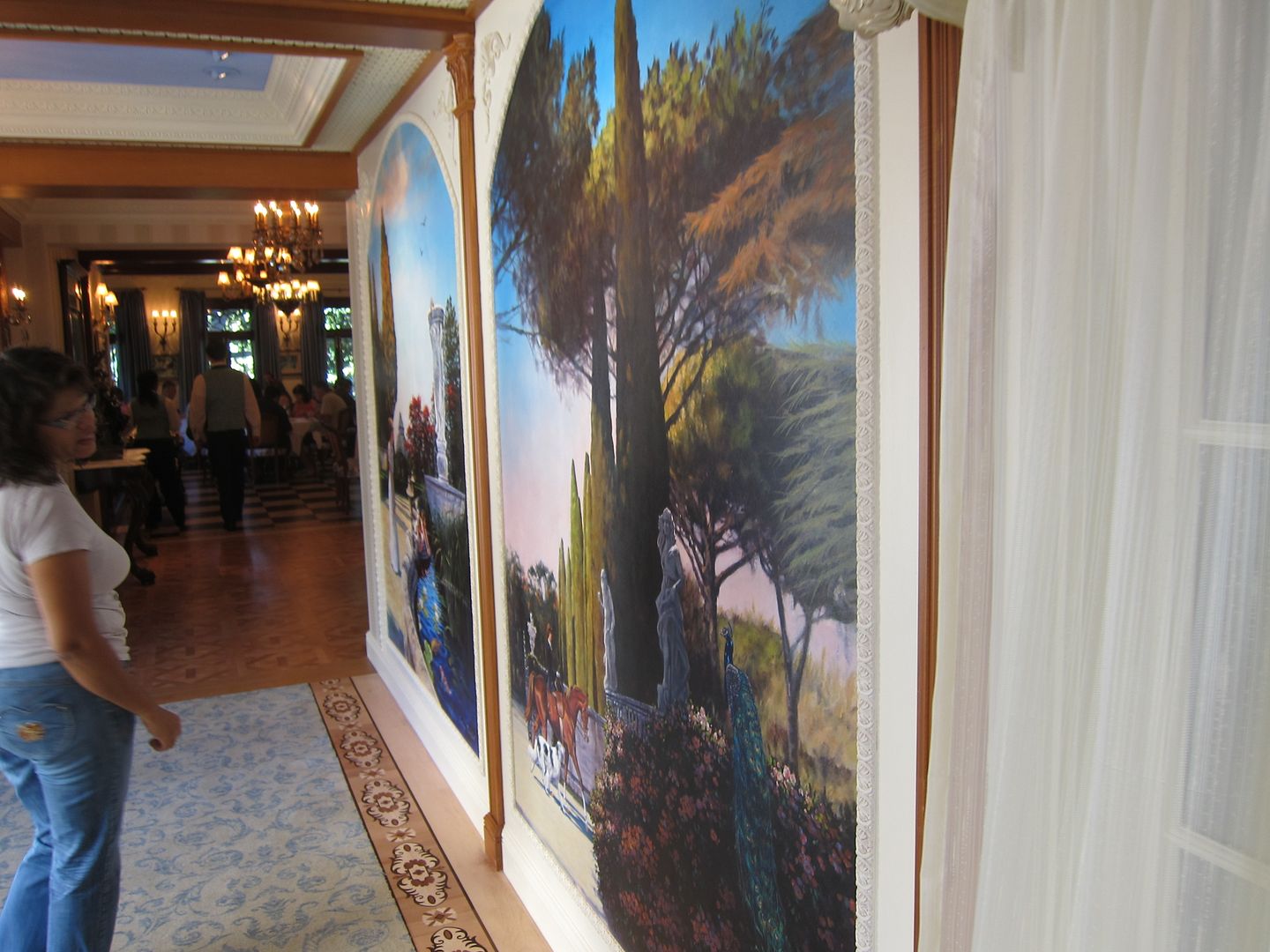 We also took another full loop around the lobby.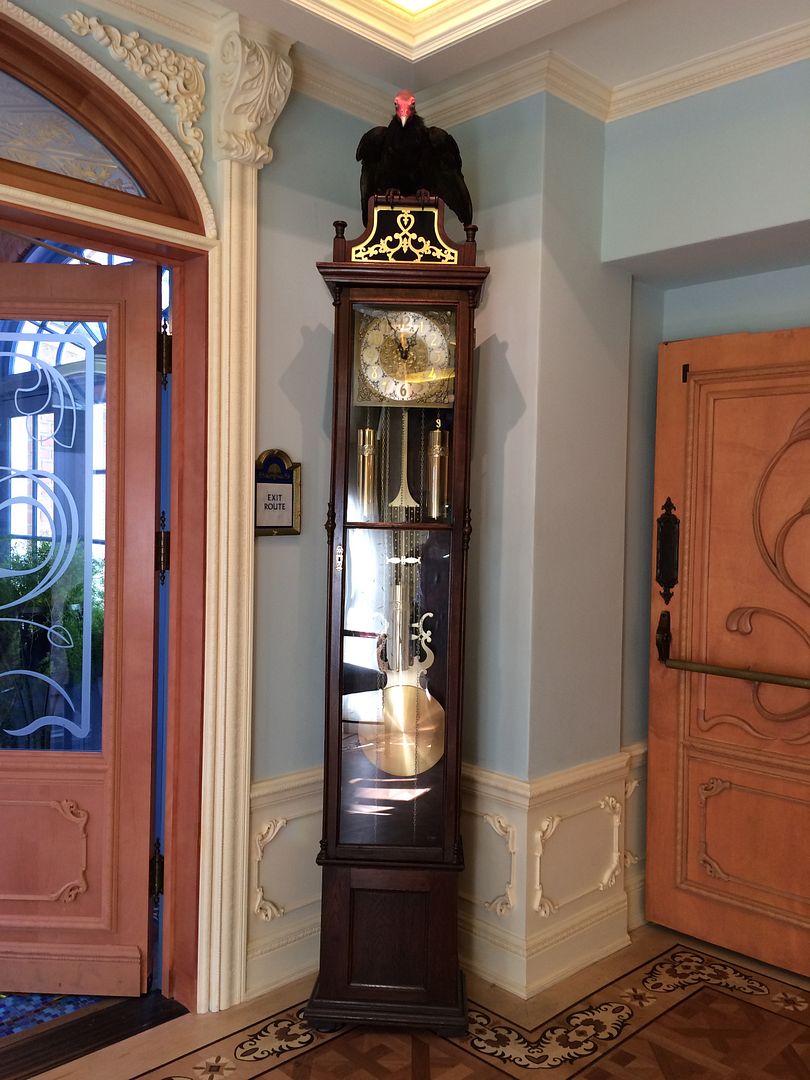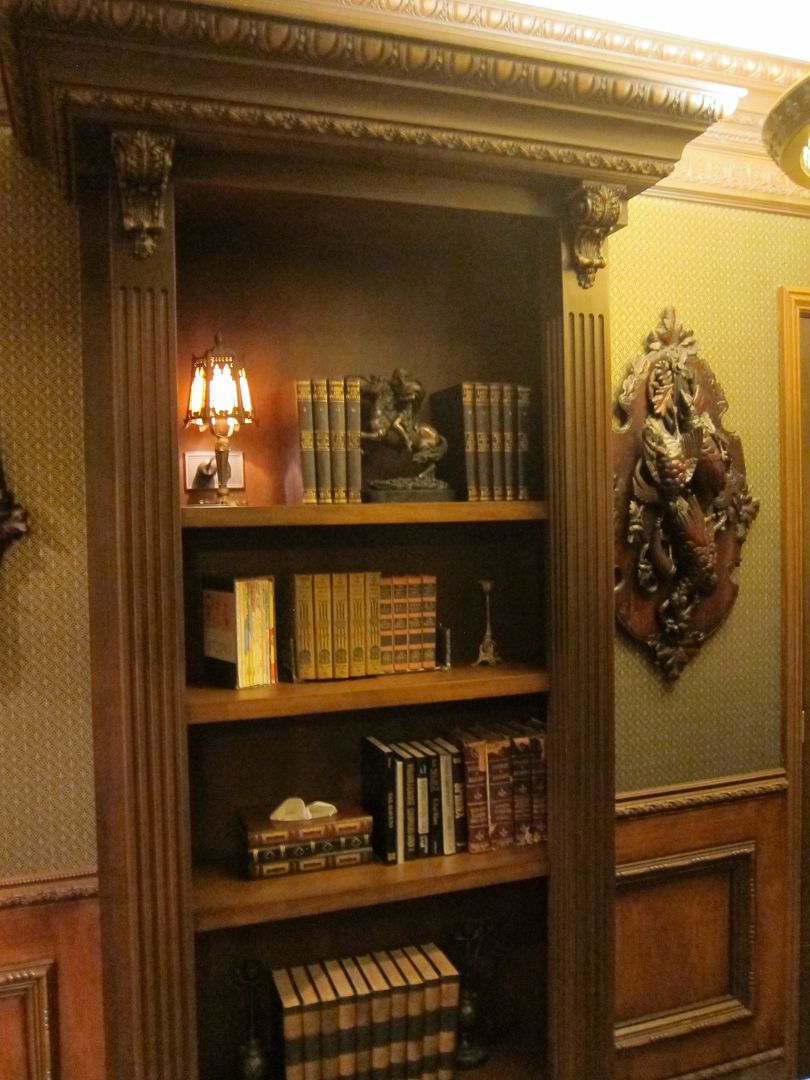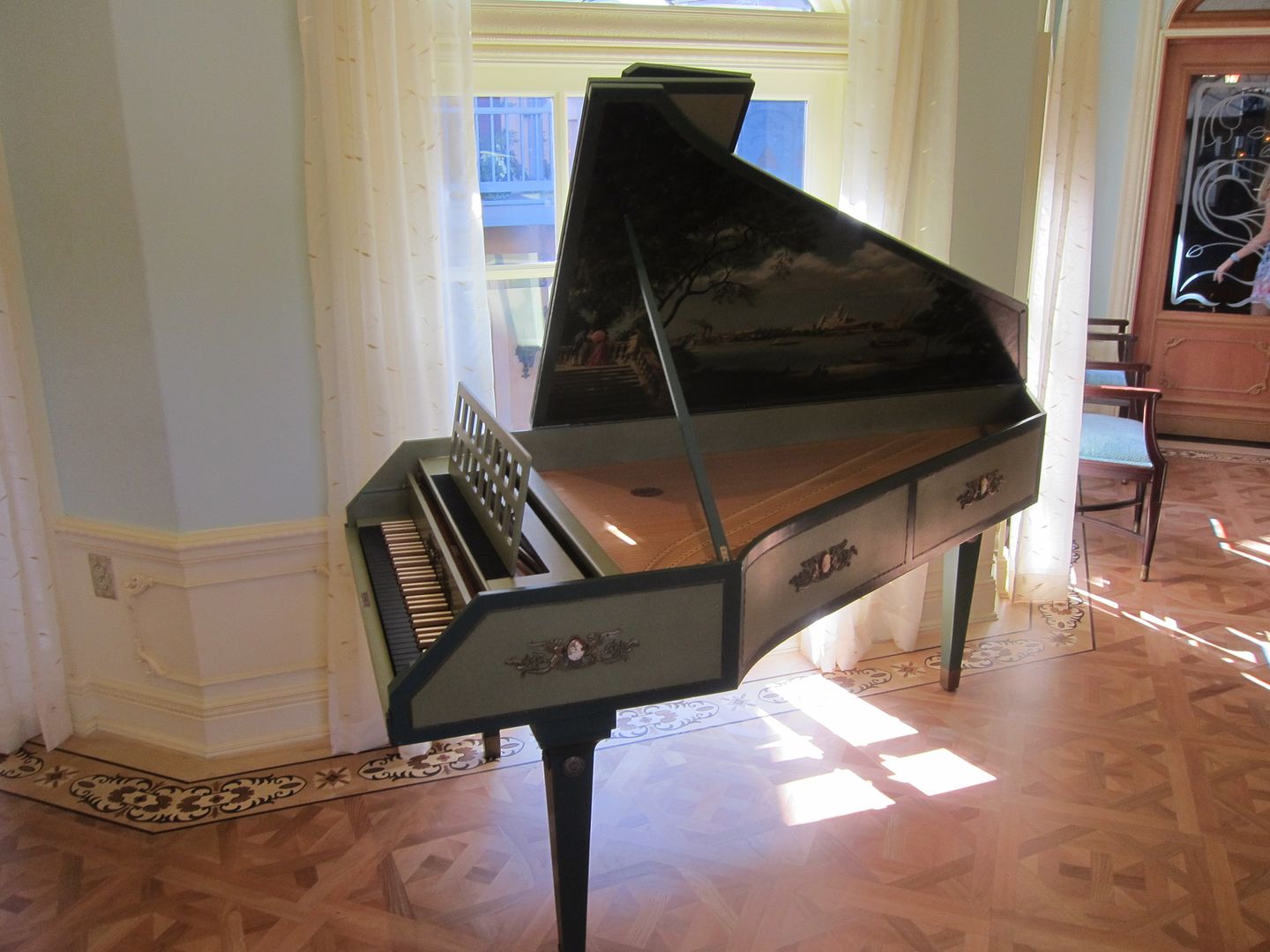 Peeking outside, we could see one of the balconies that we've often spied from below when riding the Disneyland Railroad.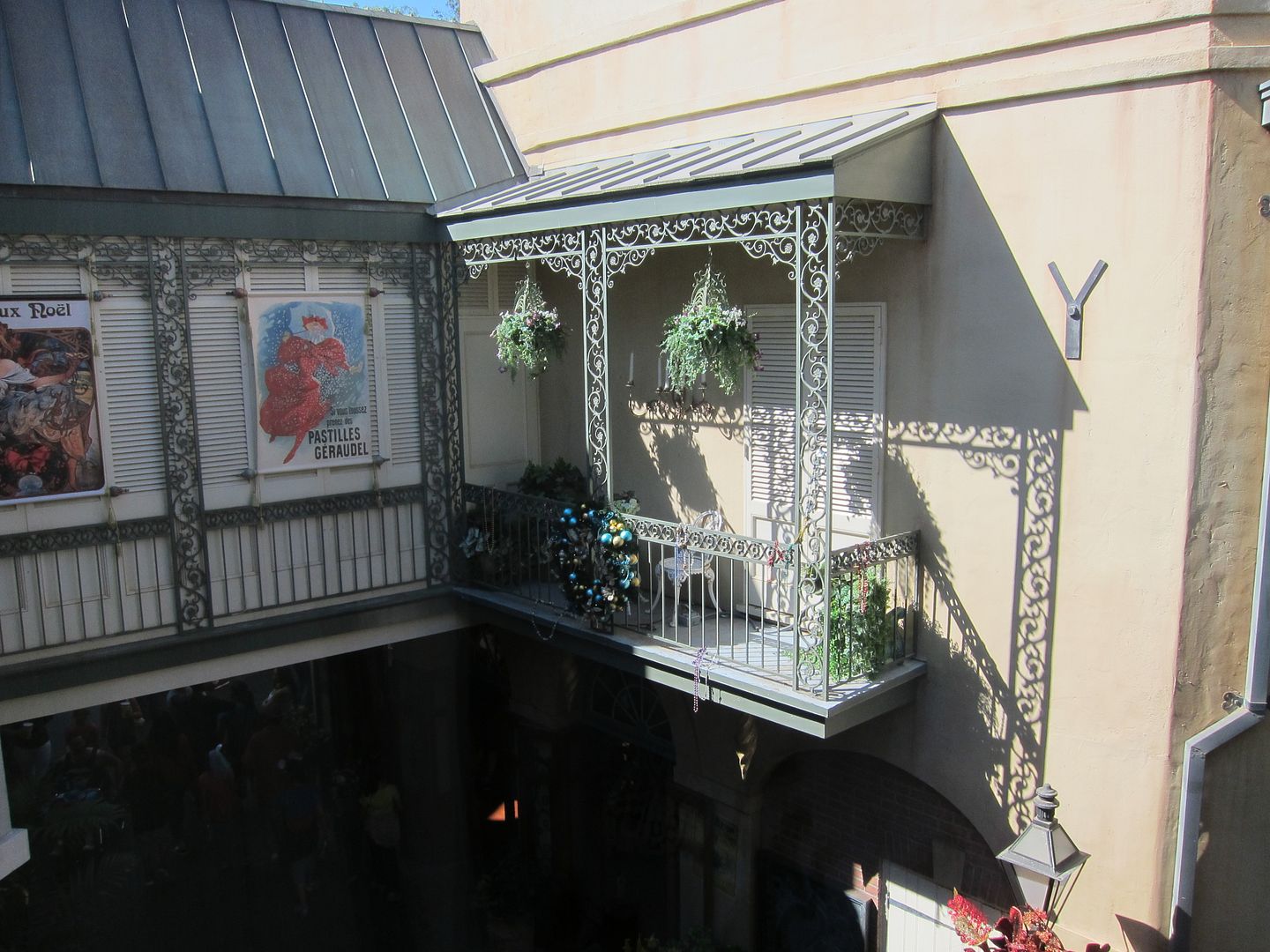 Since prime lunch time had passed, the main bar area wasn't as busy, so we went back through to look at everything again without as many people around. The famous elevator that used to shuttle guests up from the club lobby has now been retired and repurposed in Le Salon Nouveau.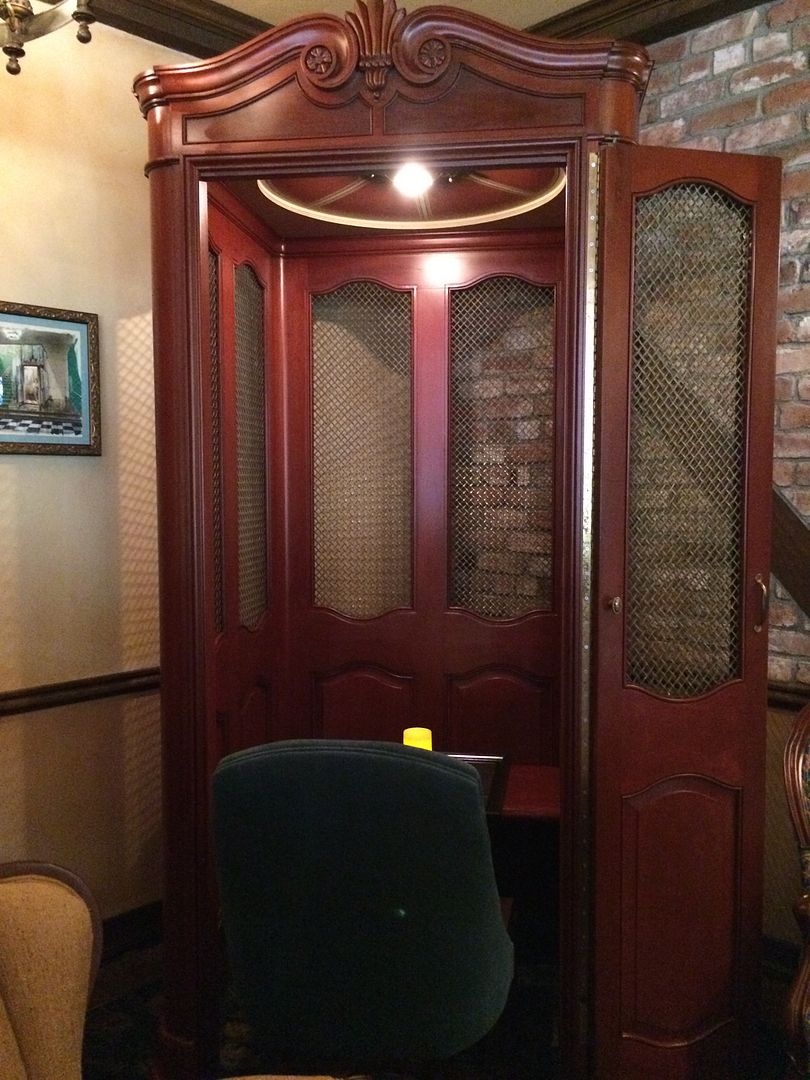 There wasn't anyone left sitting at the bar itself.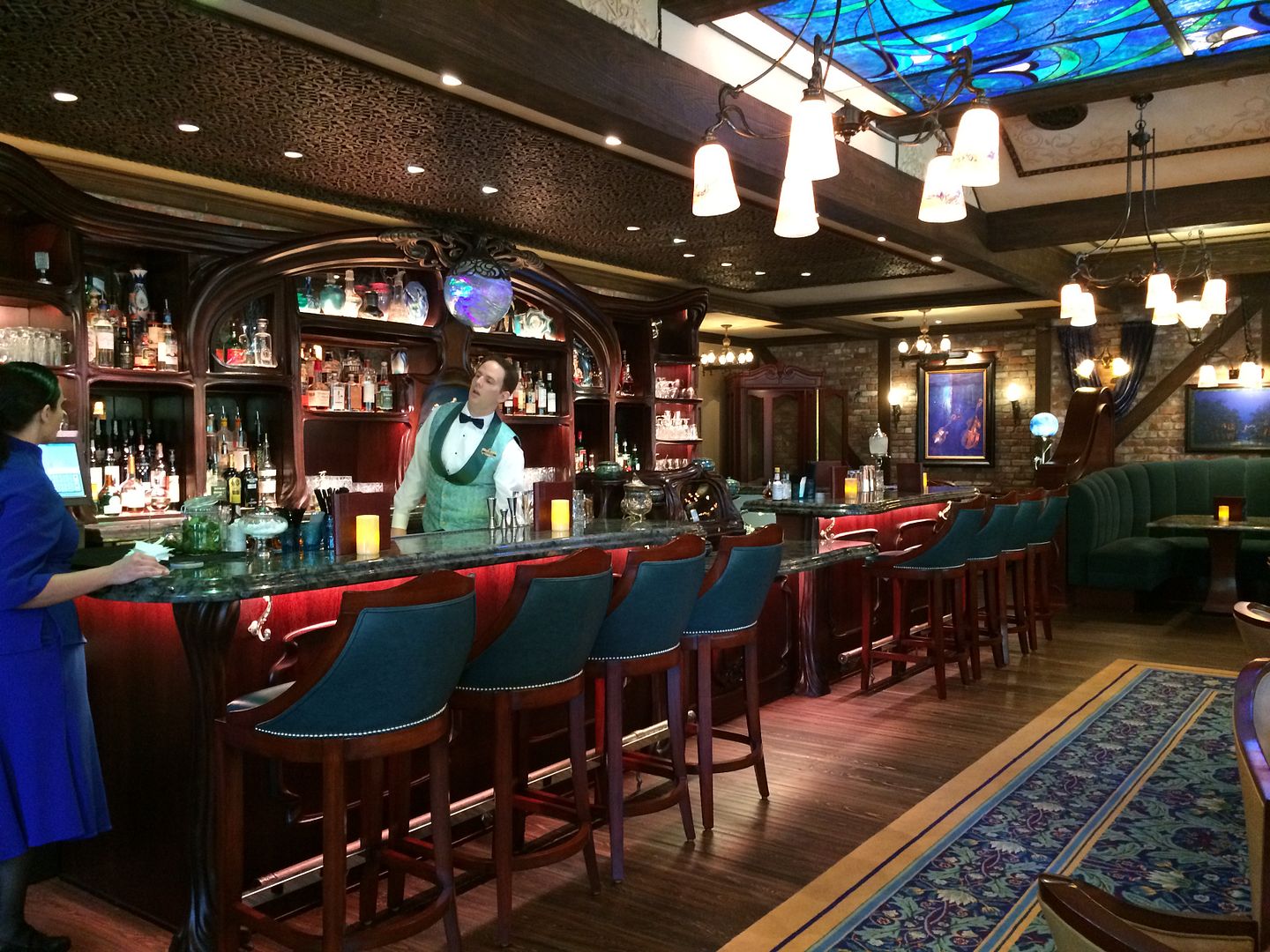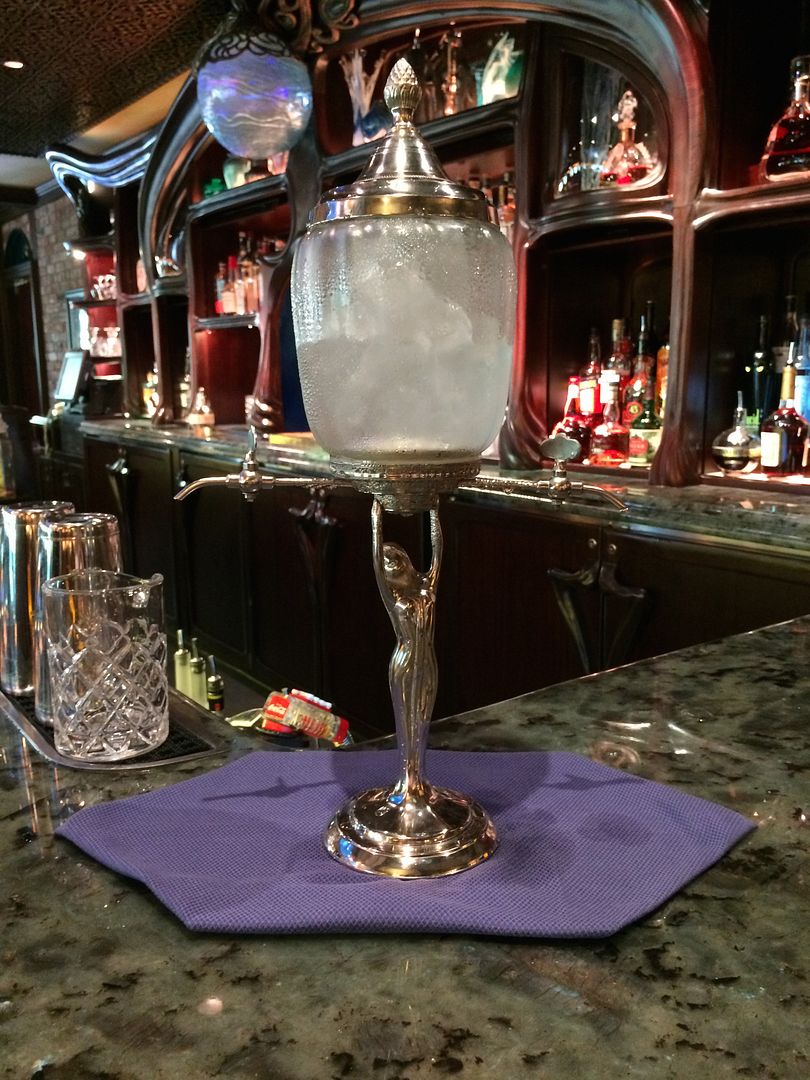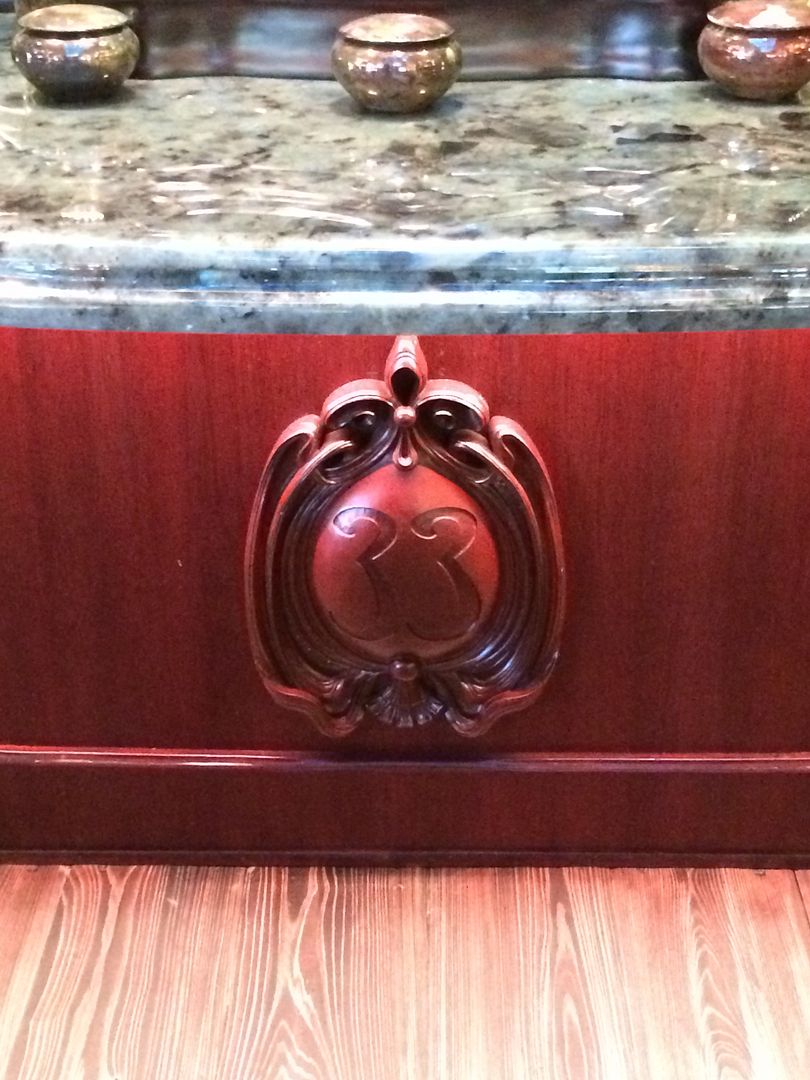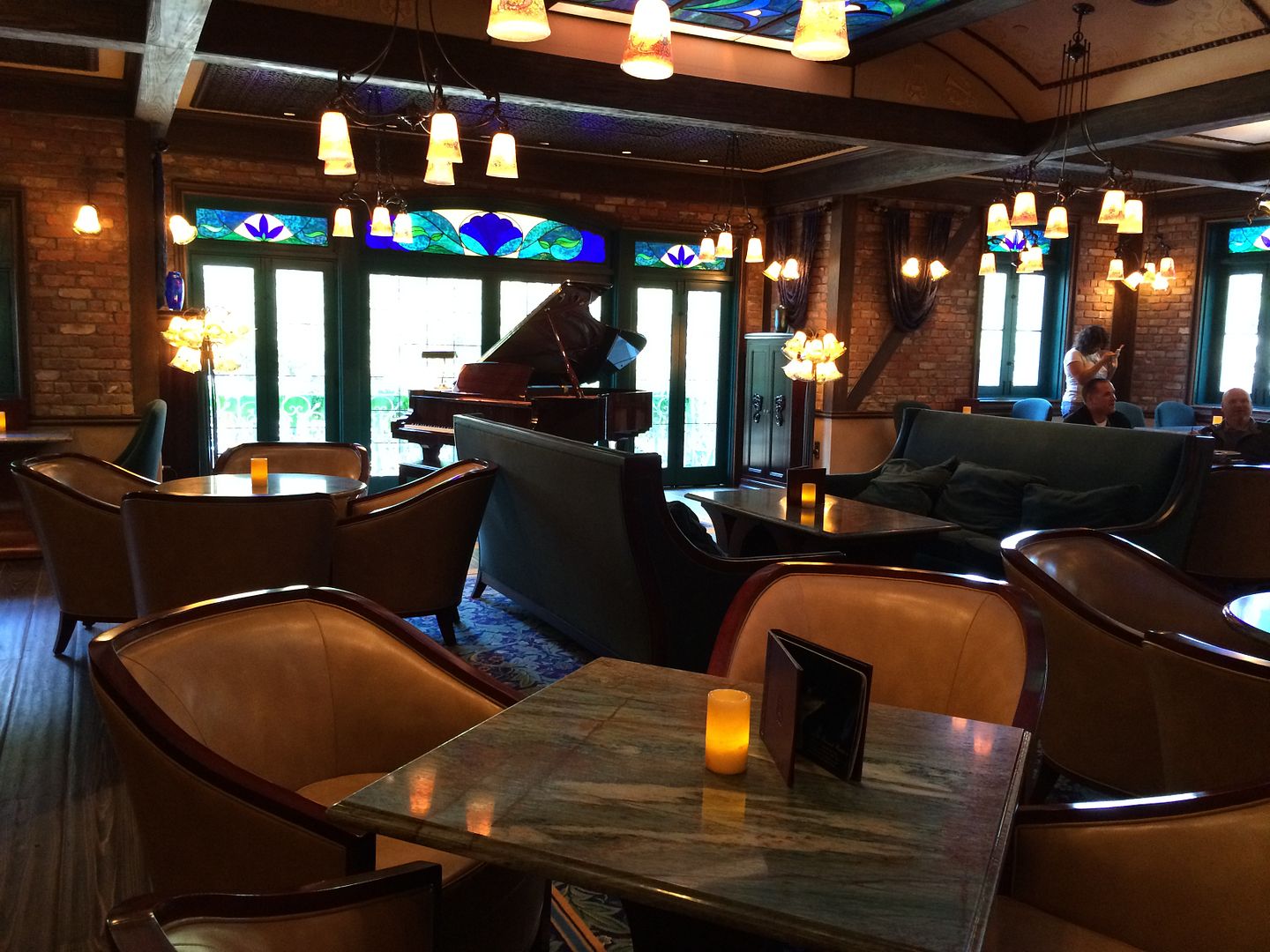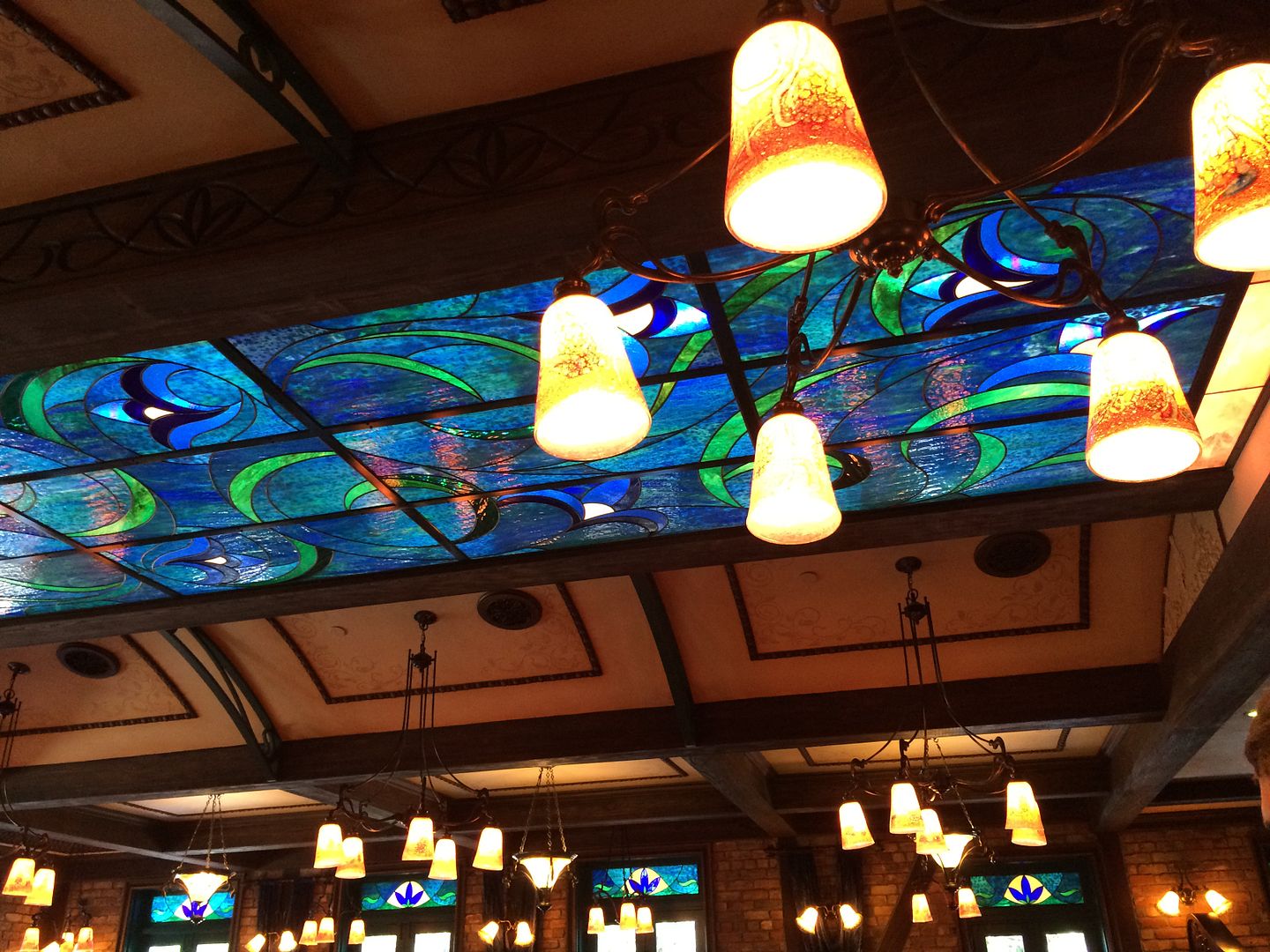 Here's more enchanted artwork.
And our hosts were very eager to point out this painting, with its hidden Darth Vader lurking in the background. Can you spot him?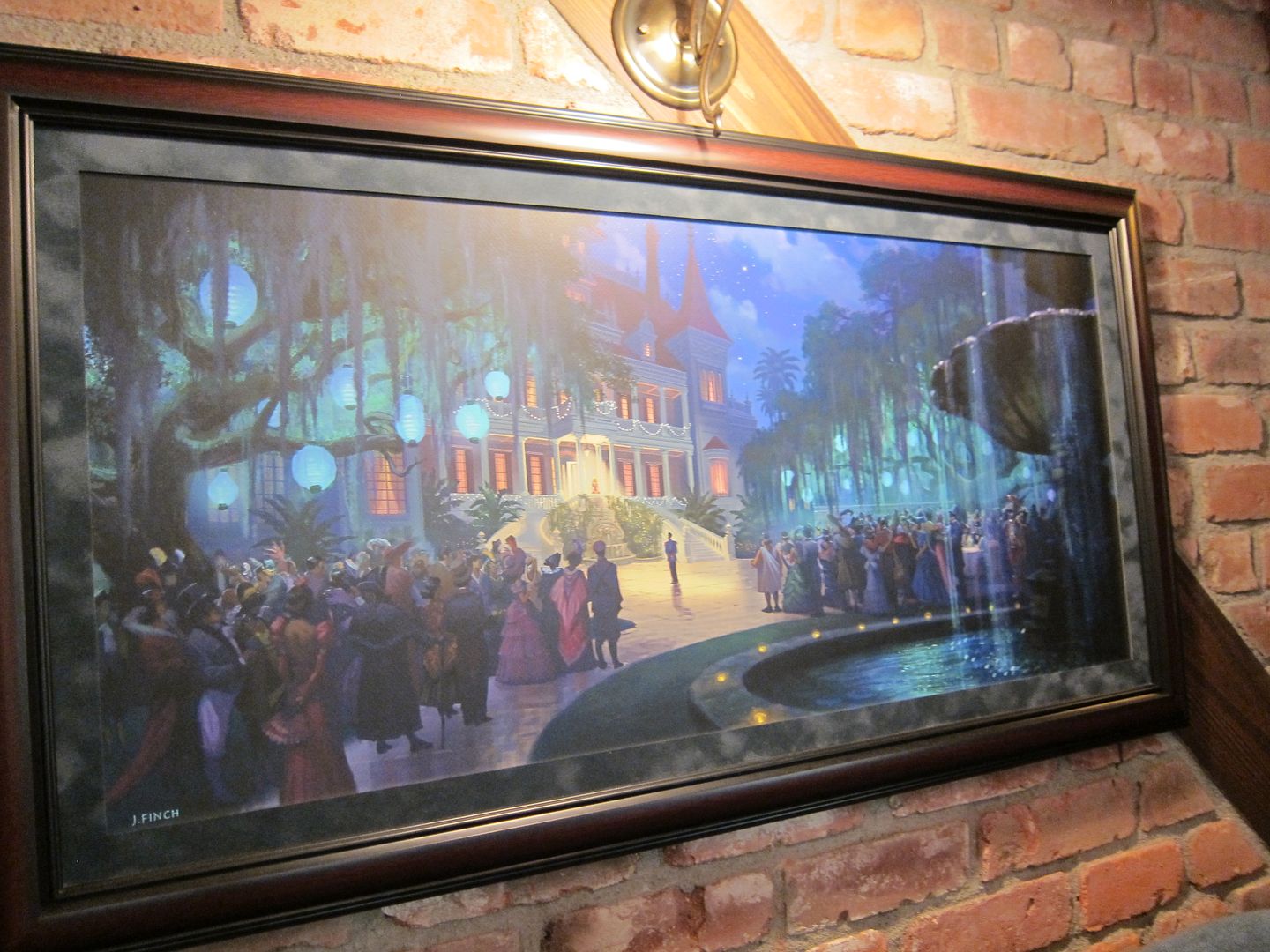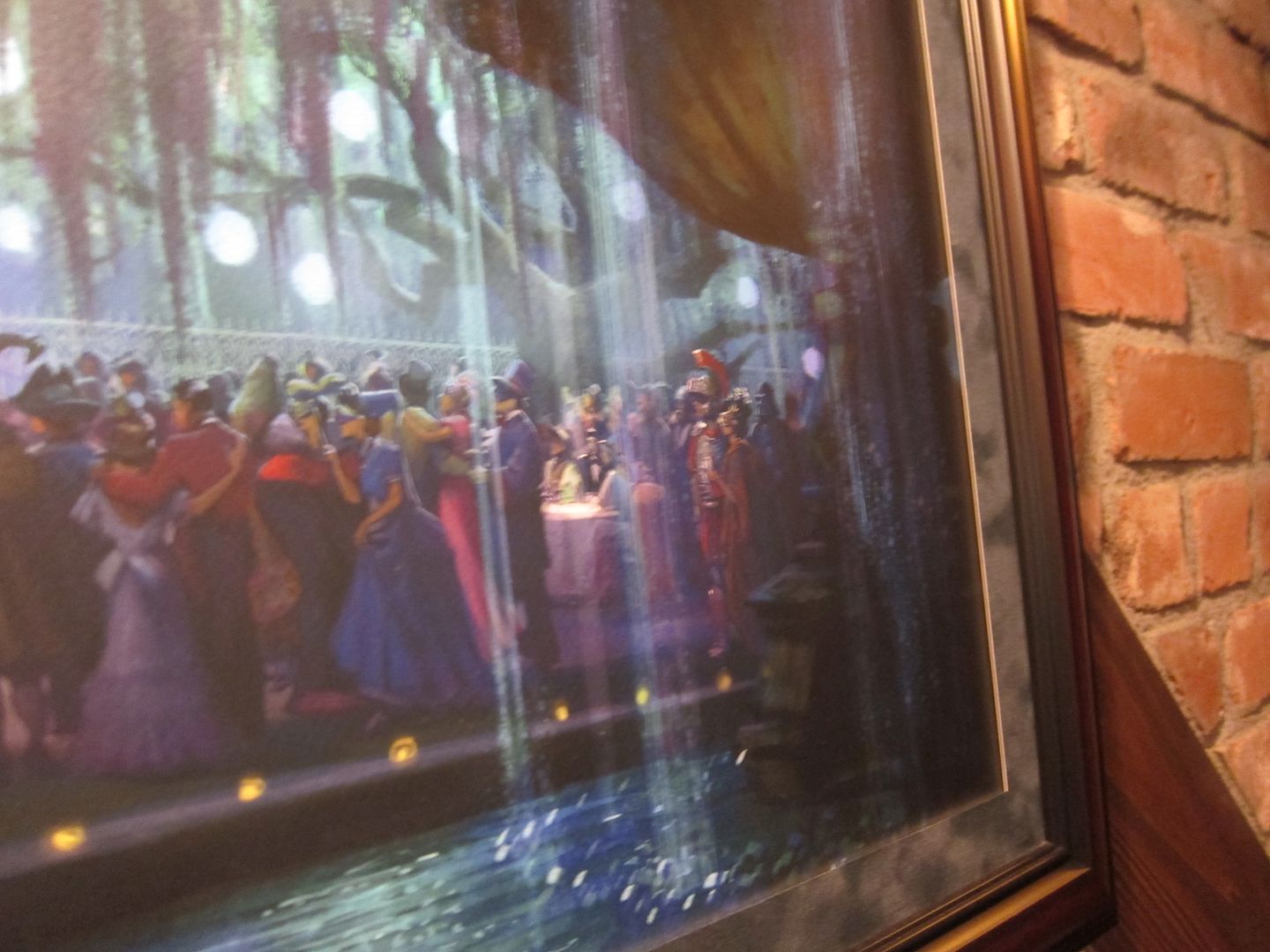 By this point, I was just snapping pictures of everything, so feel free to scroll fast if you get bored.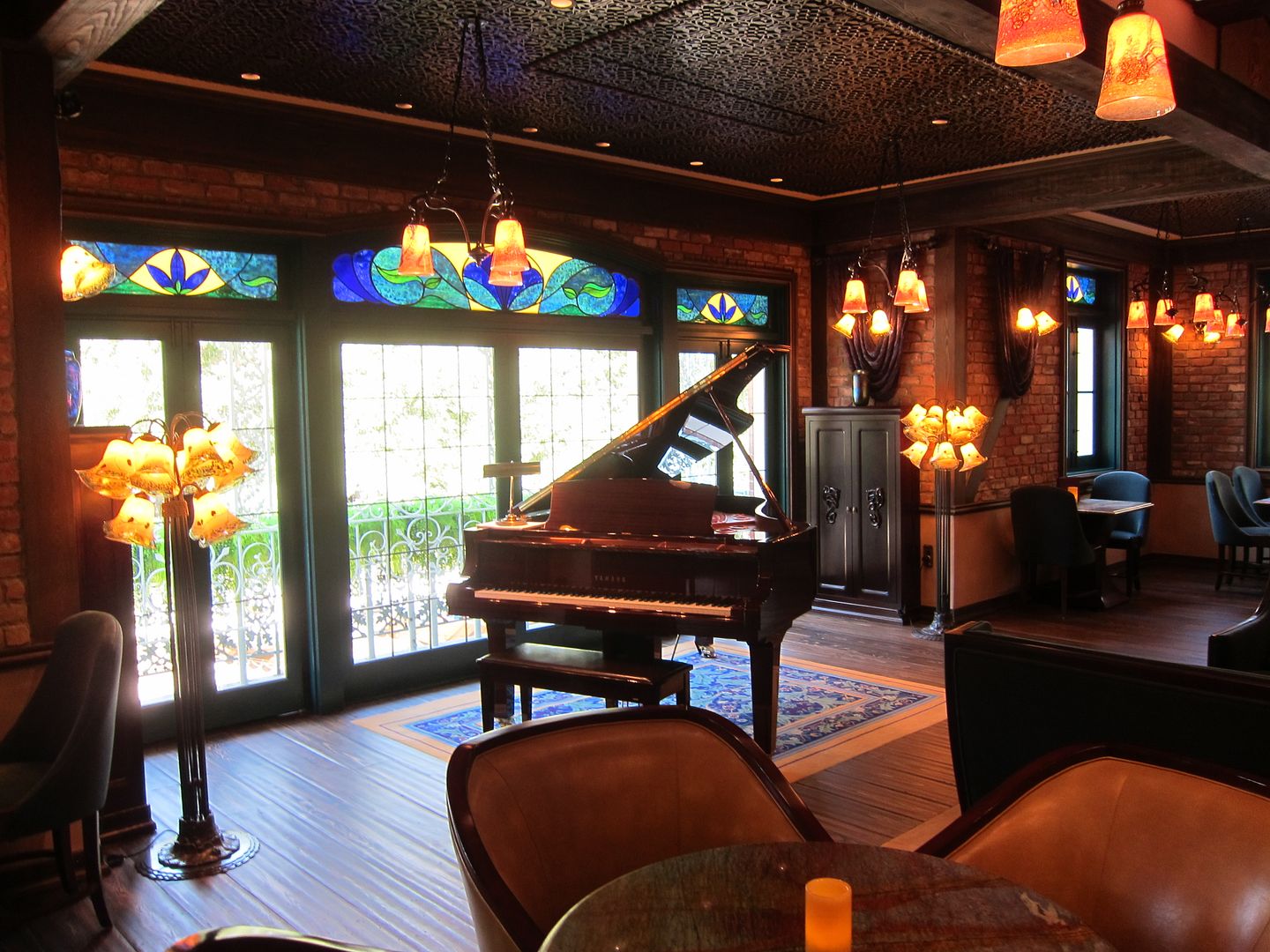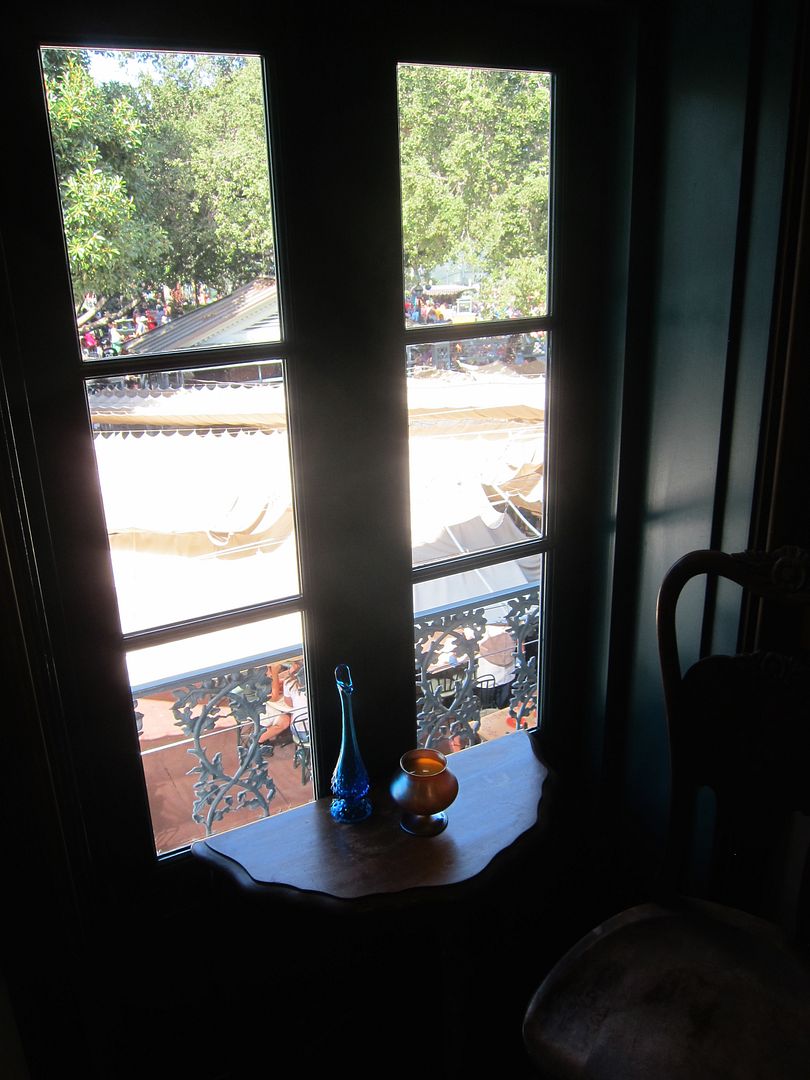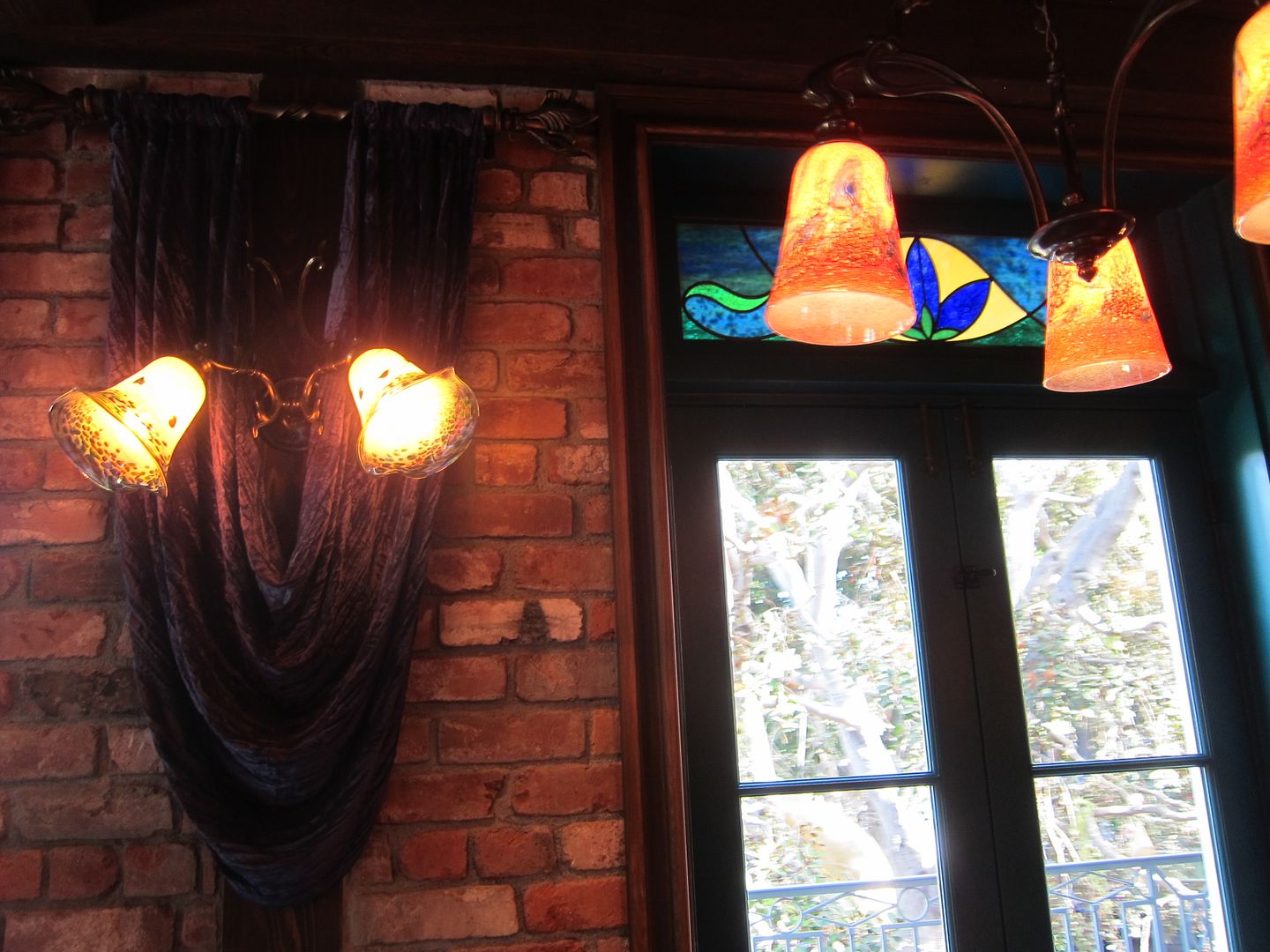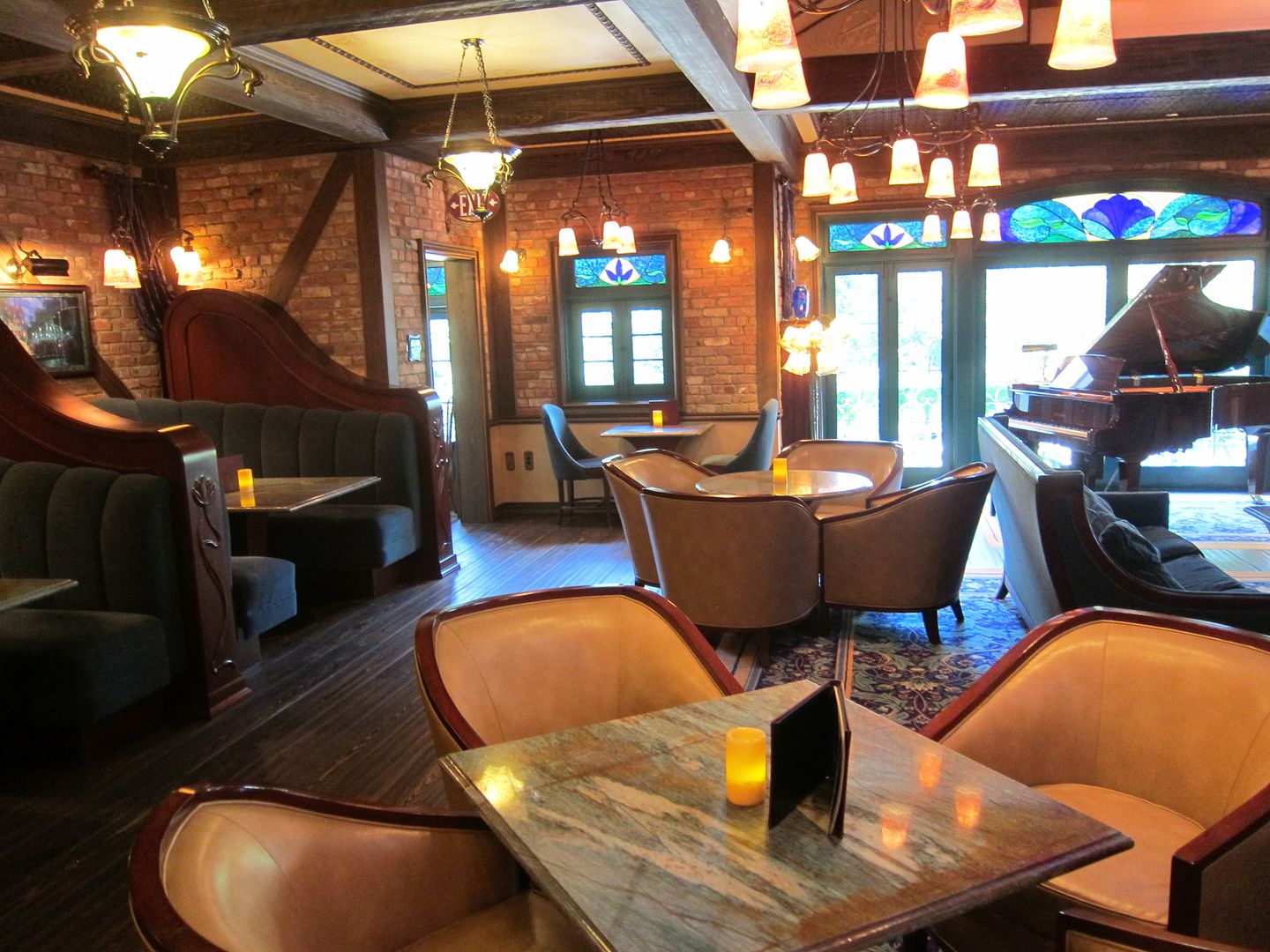 One necessity before leaving was hitting up the display case with all the Club 33 merchandise!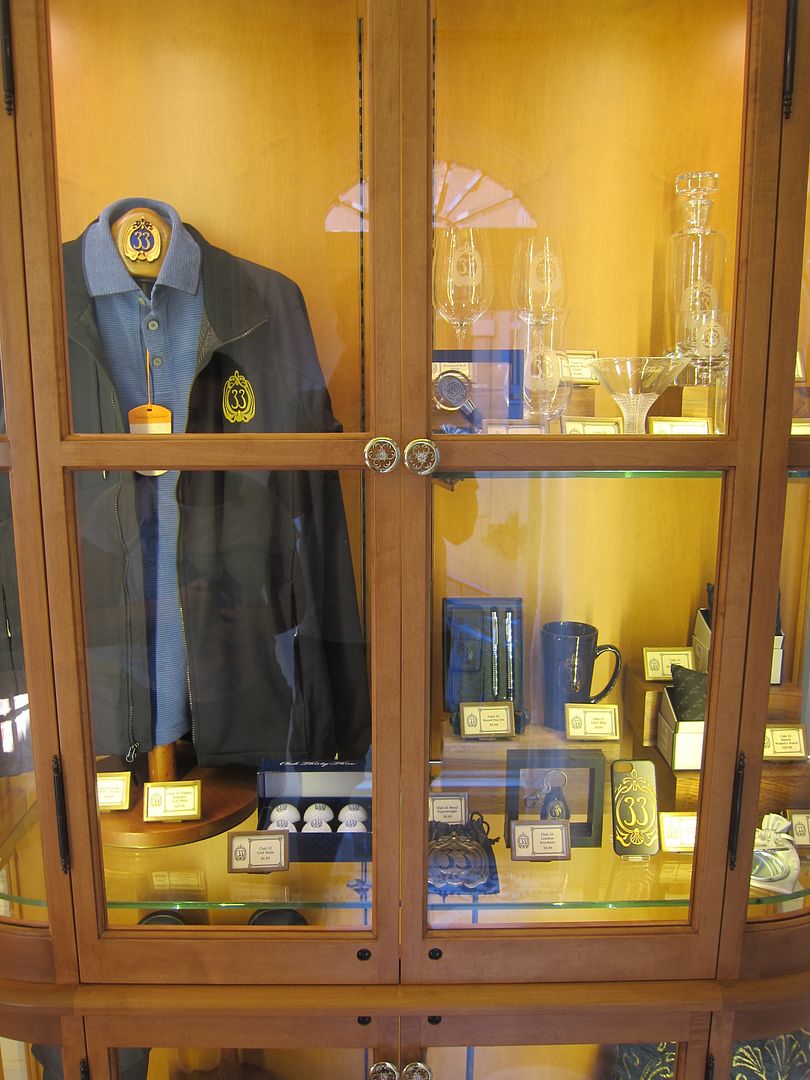 While we wanted to buy everything in sight, we had to restrain ourselves. In the end, I got a hat, while Tracy went for a large tote bag, and we also got a coffee mug and a Disney pin.
We continued to try to soak in all the little details as we left the club and went back down the stairs into the Court of Angels—after all, we didn't know when (or if) we would ever be back.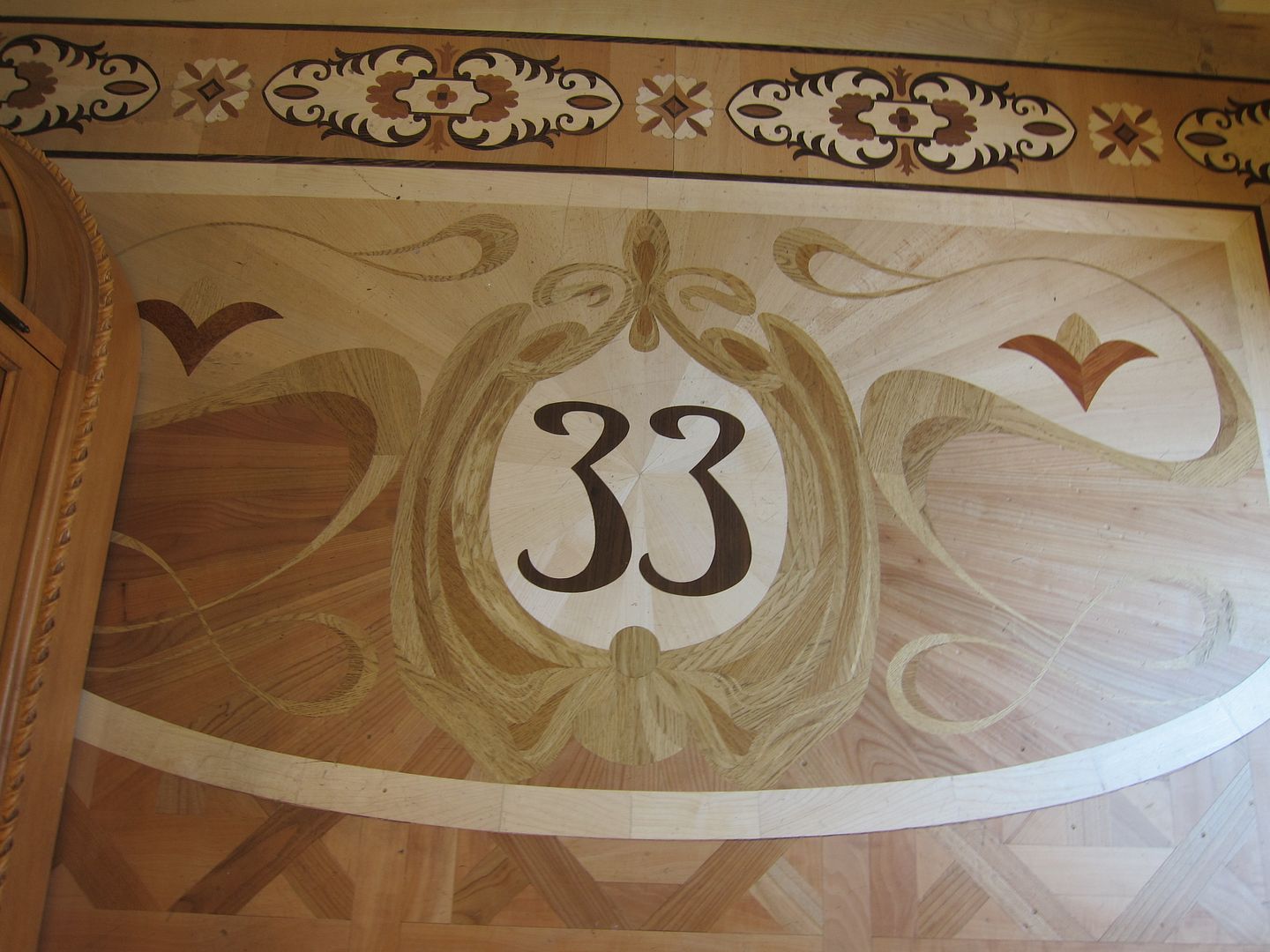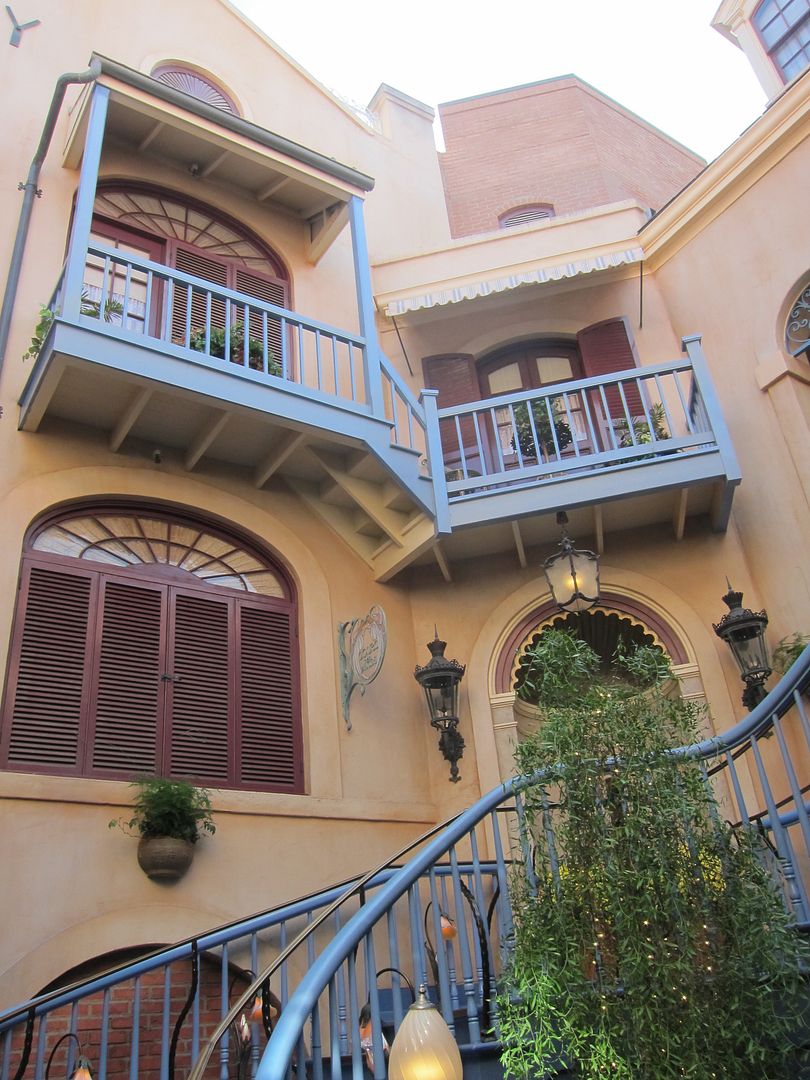 Here's some artwork in the entry foyer.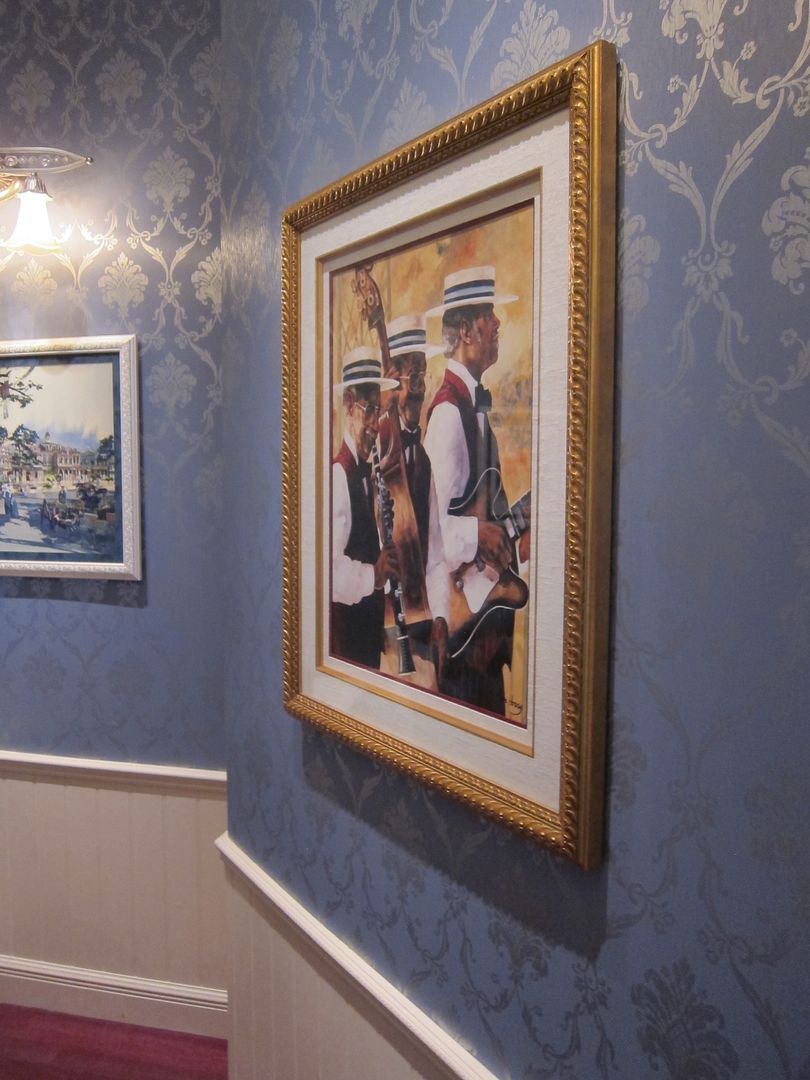 I also liked this mirror.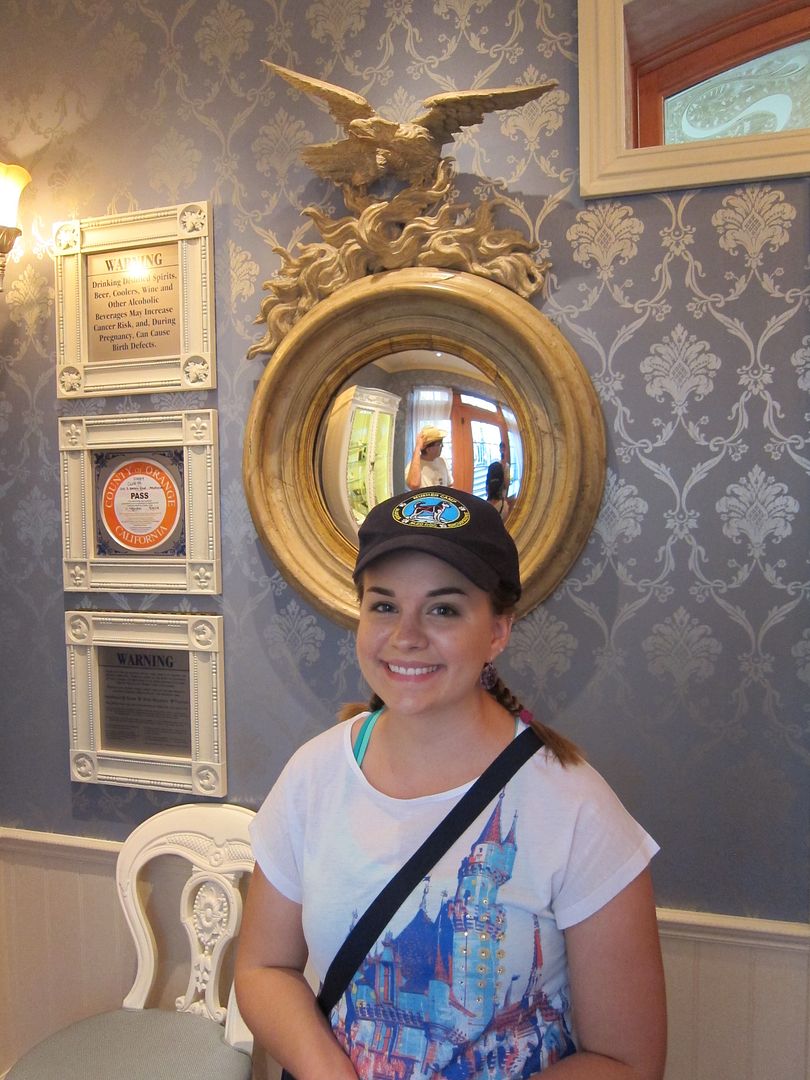 And here I am wearing my new hat.
As we exited the club, we thanked our hosts profusely and went our separate ways.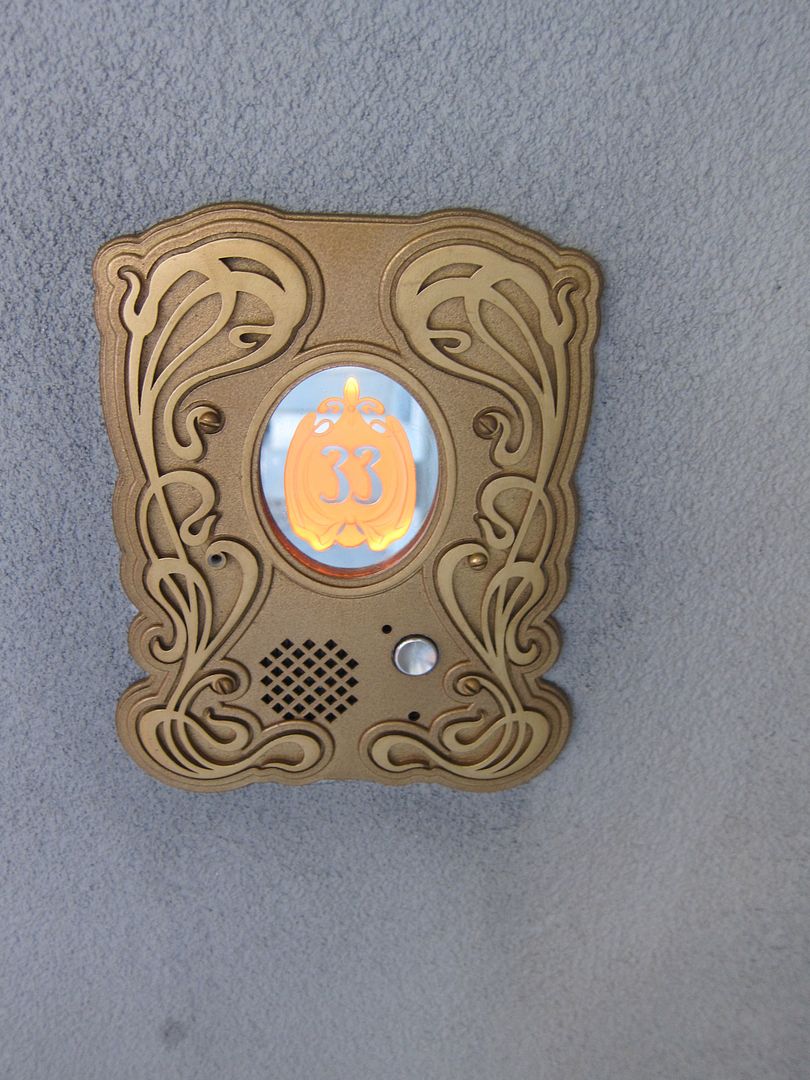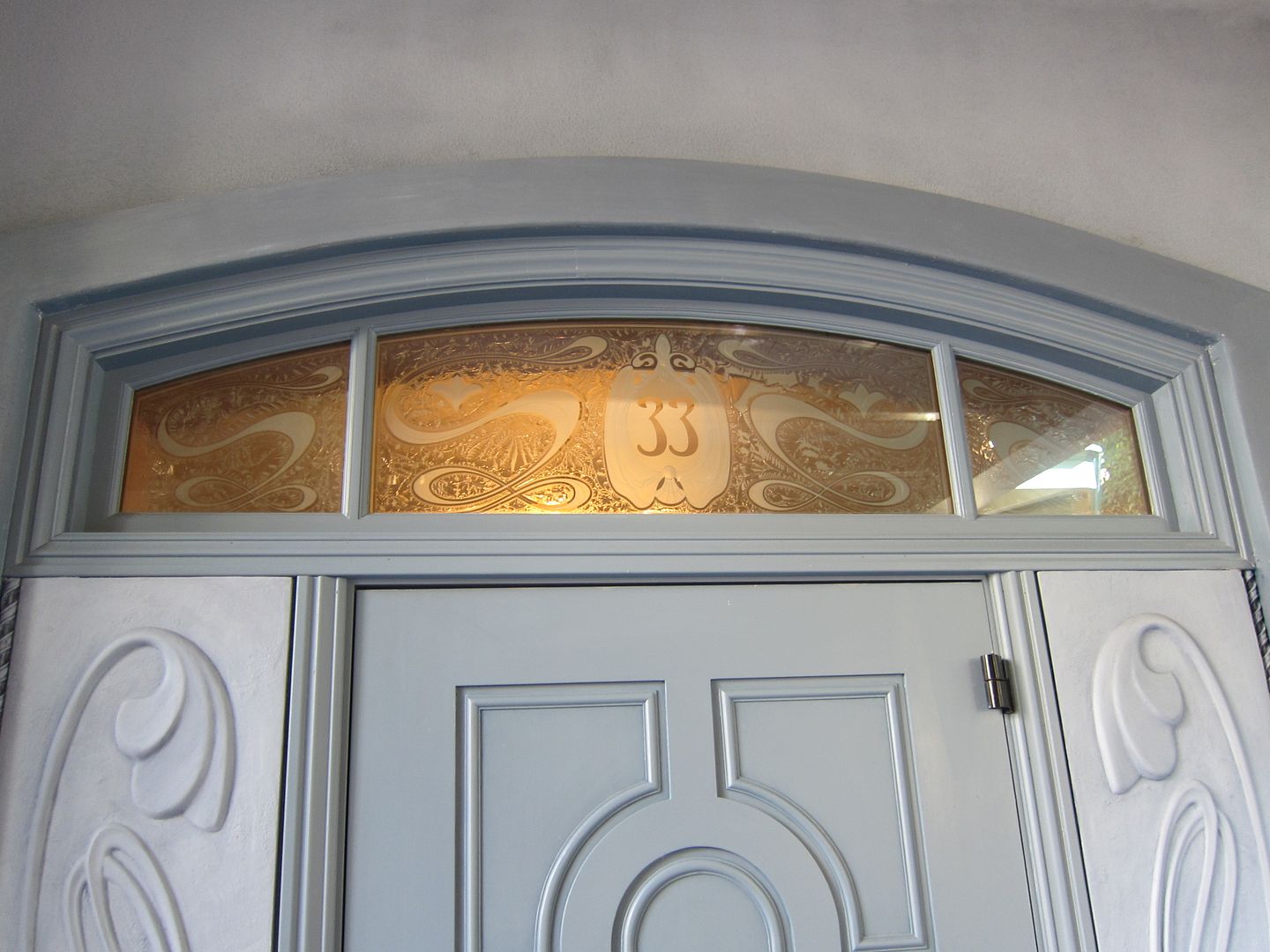 Previous Post | Next Post
Table of Contents
Follow



Share