March 5, 2015
Chapter 27
Decade-iversary
---
Previous Post | Next Post
Table of Contents
The day arrived around which we had planned our entire trip (both land and sea). It was the 10th anniversary of Tracy's and my first date, and we were excited to be celebrating in one of our favorite places. It's impossible to argue with the view from our room upon waking up.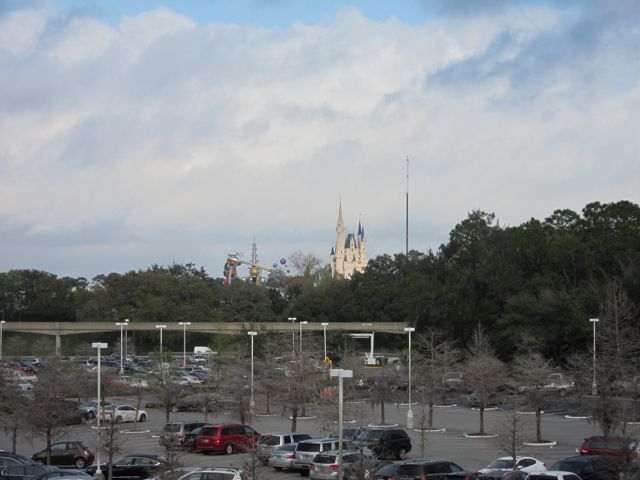 Our plan was to spend most of the day at the Magic Kingdom, except for a dinner reservation elsewhere. We finally were smart about how we decided to take advantage of our hotel location, and we walked to the park rather than trying to rely on transit.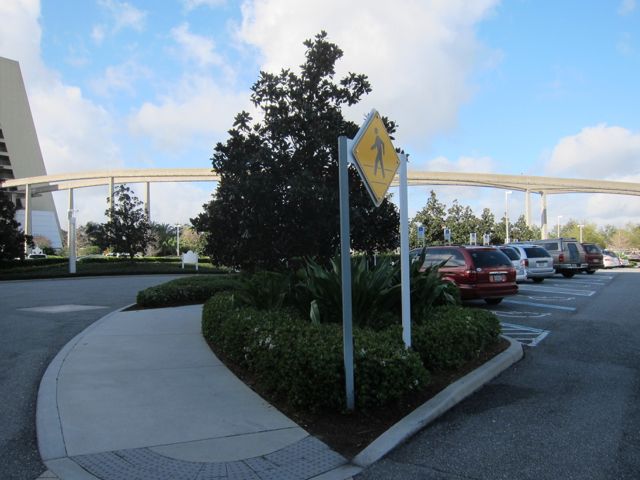 The facade of the Contemporary is cool from pretty much any angle.
Tracy definitely dressed up for the day (a.k.a. she wore her Gelatoni purse).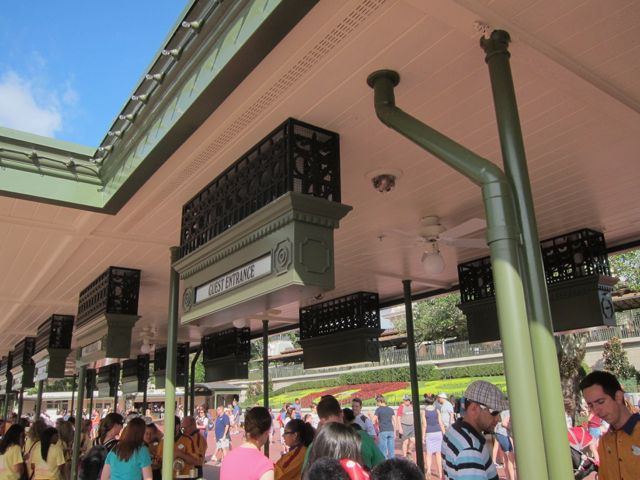 This was as close to rope drop as we get these days. You can tell that it's still pretty early, though, because the Main Street Vehicles hadn't been put away yet. And the Trolley Show was going on as we entered Town Square.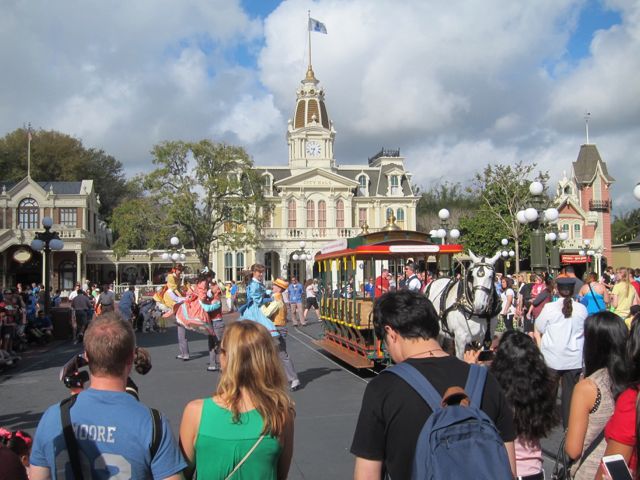 We hung out and waited for the show to end because we wanted to ride the Horse-Drawn Streetcar up Main Street.
Dutch was our equine escort for the day.
Obligatory rump shot!
Our anniversary buttons were finally accurate today.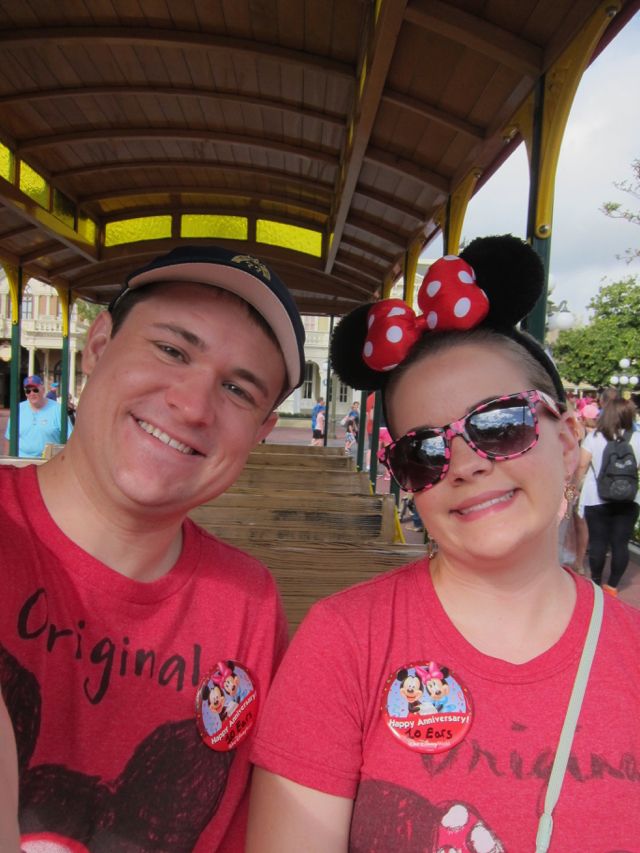 And we're off!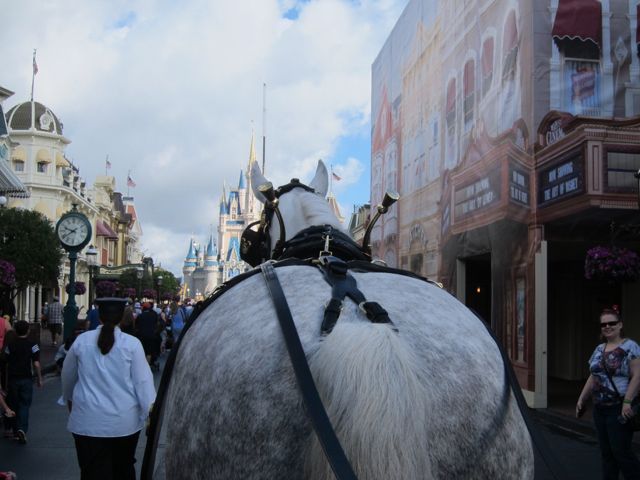 The castle was very obviously "craning" today.
Here are Tracy and Dutch.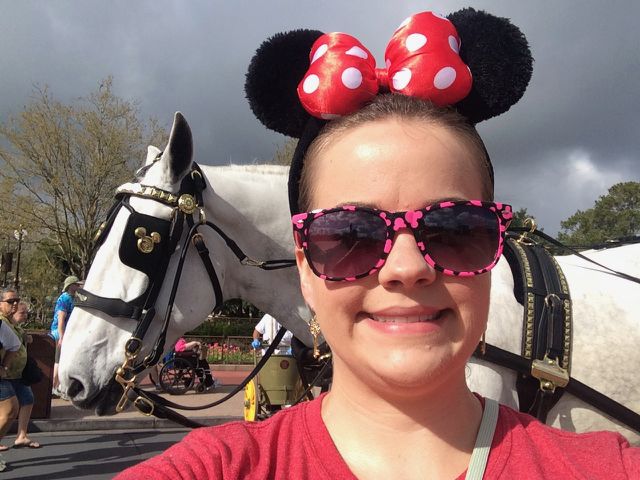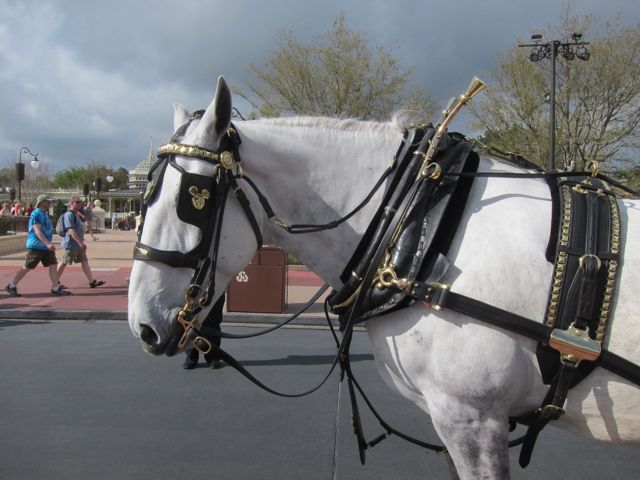 Entertainment was out in droves this morning, and the Dapper Dans took over the streetcar as we disembarked in the hub.
A cast member with a keen eye saw us taking a picture of the Dans and asked if we wanted one with them as well.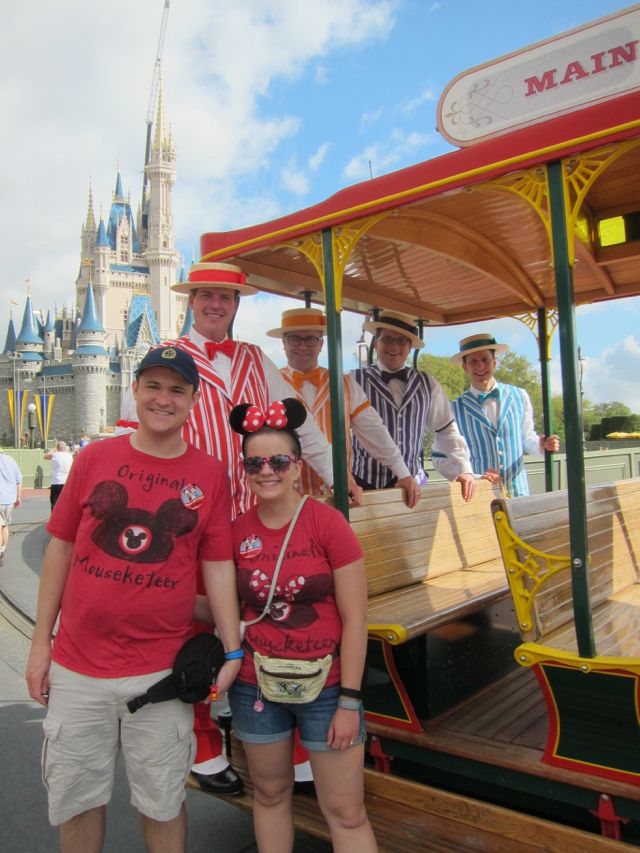 We started across the bridge into Liberty Square. Here's that lovely castle angle… with a lovely crane.
We went for a nice walk down the river of poo.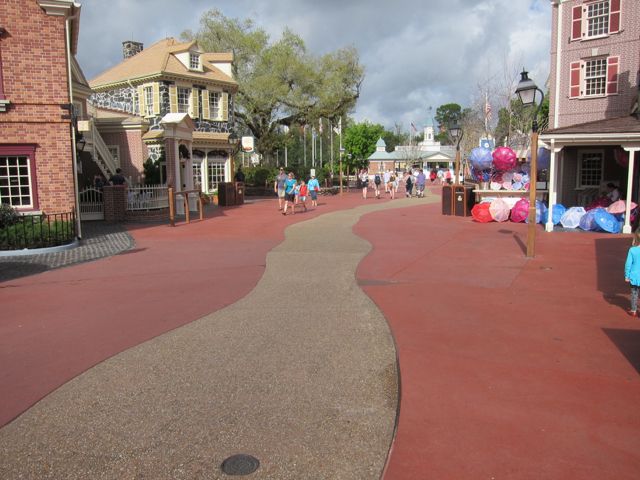 Look at those authentically crooked shutters.
The Liberty Tree is so massive that it's difficult to capture in a single picture.
We were just passing through at the moment, because we mostly wanted to use the Tangled bathrooms.
Say what you will about the fact that this is the only Tangled representation in the Magic Kingdom, but it's pretty hilarious that Disney has made such a photo op out of its restrooms.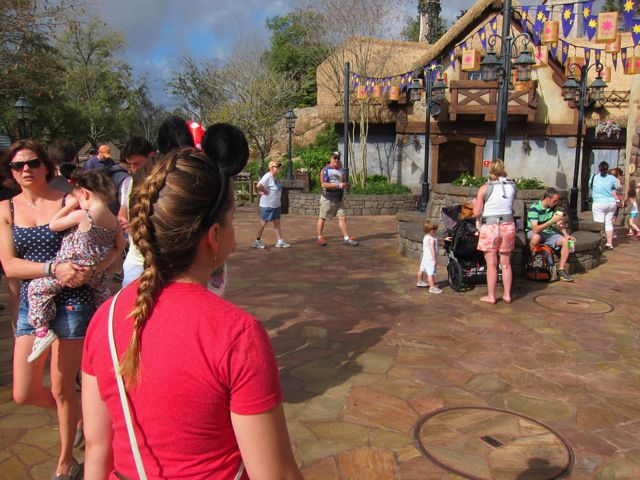 And then we were back into Liberty Square to use our Haunted Mansion FP+. Somehow, I think this was our first ride on this attraction on this trip.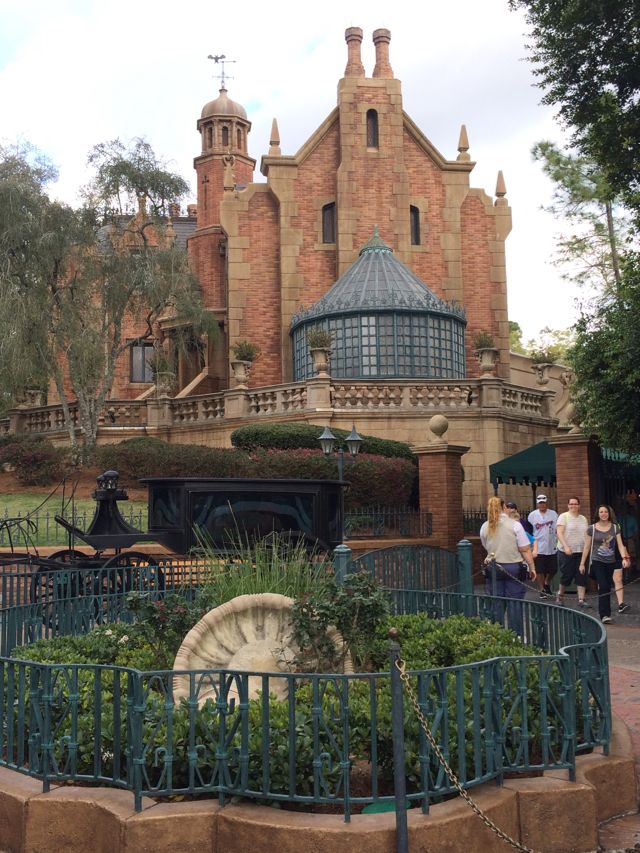 As much as I love the Disneyland version, I think WDW takes the cake when it comes to the Haunted Mansion (maybe with the holiday overlay excluded from judgment).
I think they just make a little better use of the space (and have more of it). Plus the attraction is slightly longer, which is always okay in my book.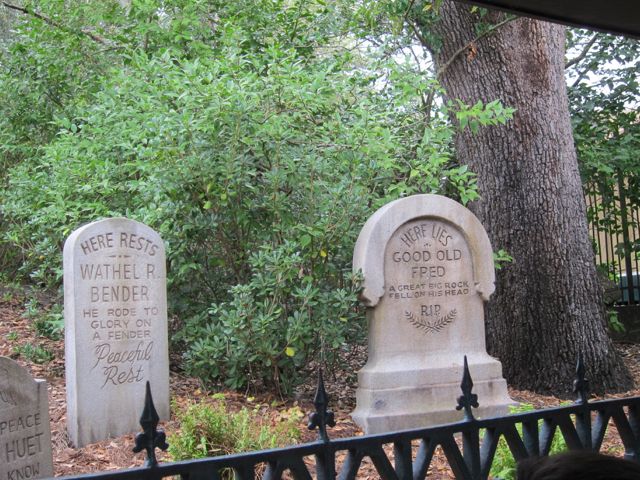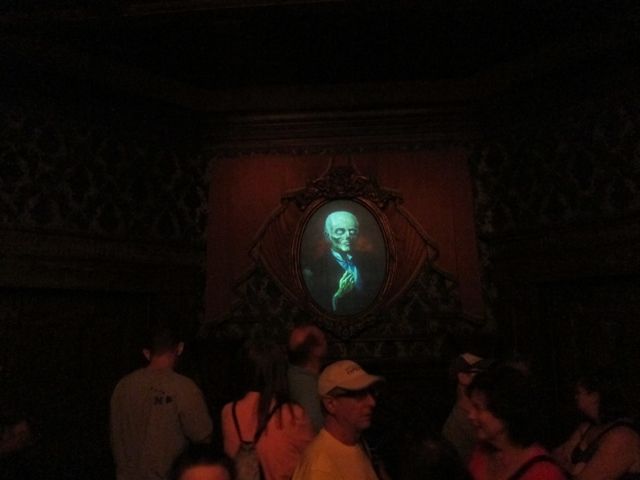 Who doesn't love puns?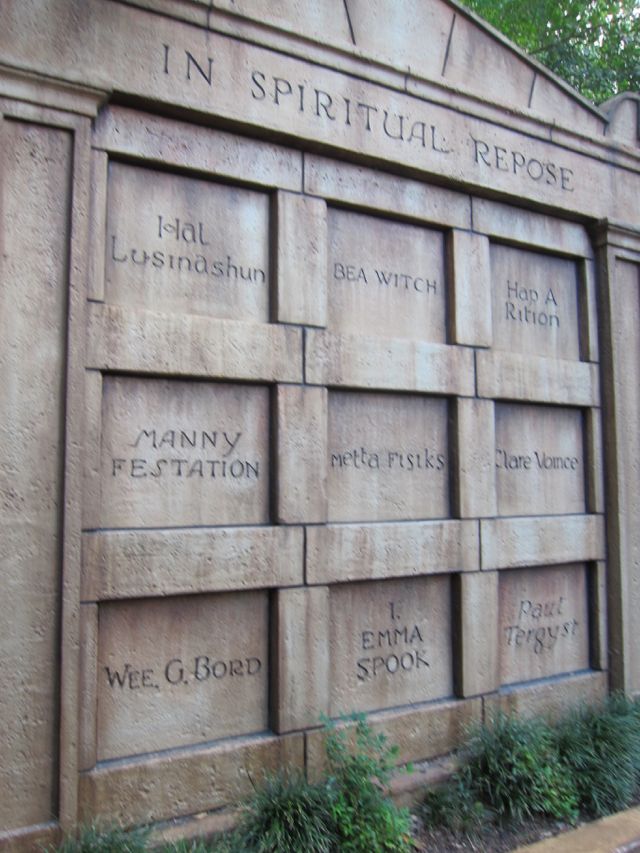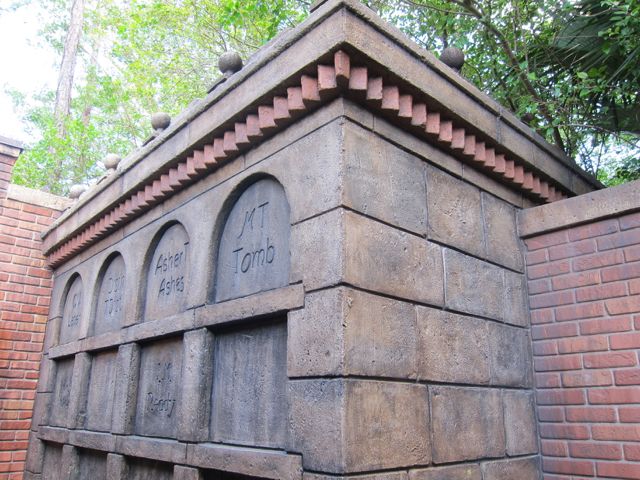 Look at poor Mr. Toad in the pet cemetery…
I had never noticed this part of the cat's gravestone, which gives death dates for each of his nine lives.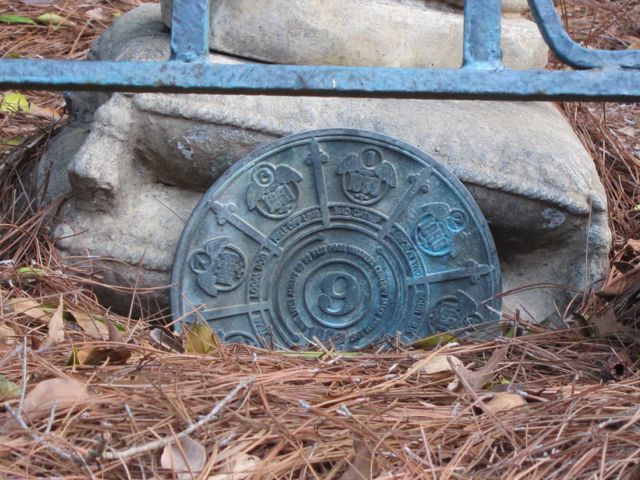 We crossed the bridge back into Fantasyland.
Honestly, the crowds continued to be pretty light this morning, which was a nice change of pace.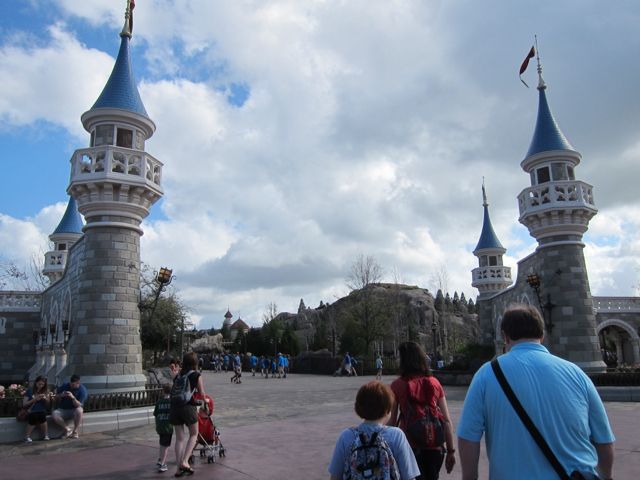 It was time for our second ride on the Seven Dwarfs Mine Train — but the first one in daylight!
Again, I think this attraction is just a lot of fun and a really good integration of some of Disney's best technologies.
We walked toward the Beast's Castle…
But then we veered off into the village instead to make our first visit to Gaston's Tavern.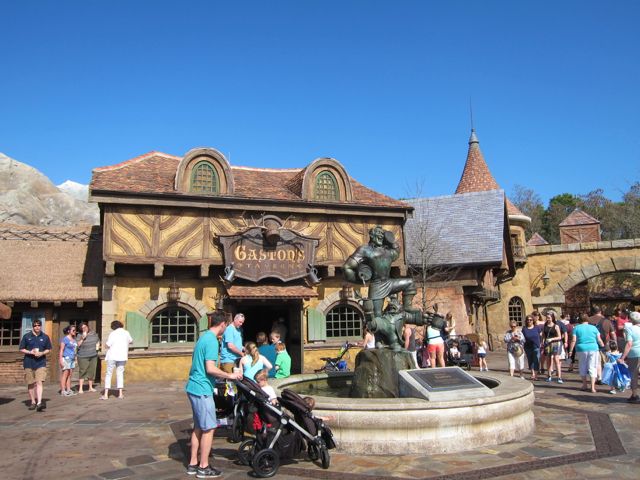 It was time for breakfast (so we weren't going to have pork shanks or LeFou's Brew this time around).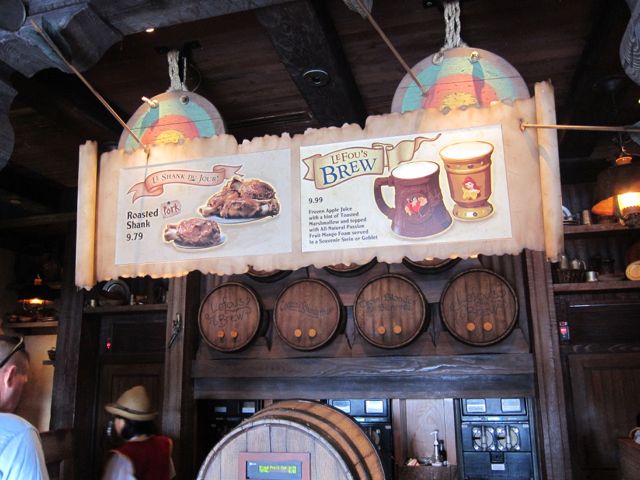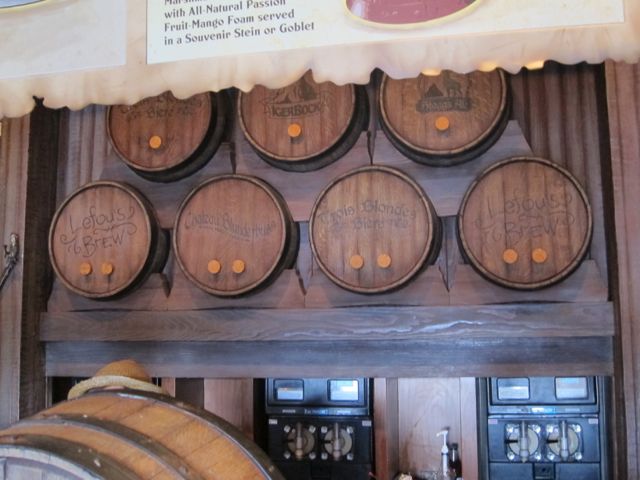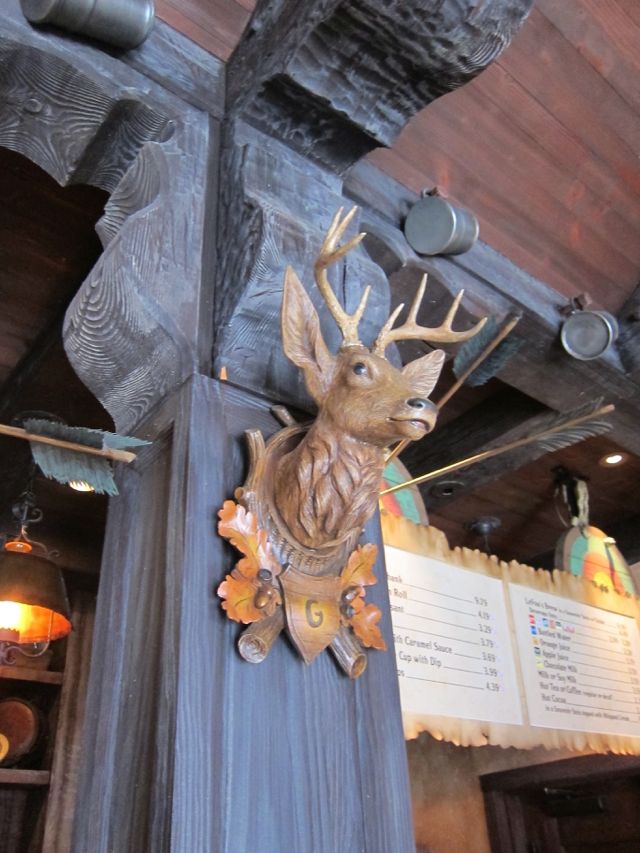 These nods to Bob Iger and Tom Staggs are just subtle enough to be clever.
Look at this massive cinnamon roll! And the best part — it didn't have the gross cream cheese frosting that makes these super unappetizing at Disneyland!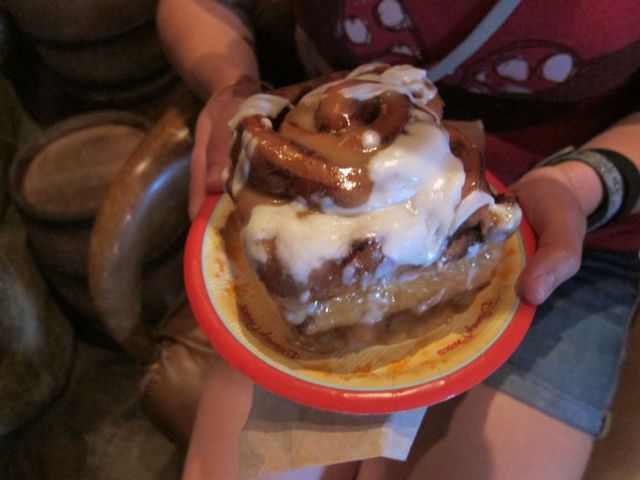 Tracy and Gaston are about the same size…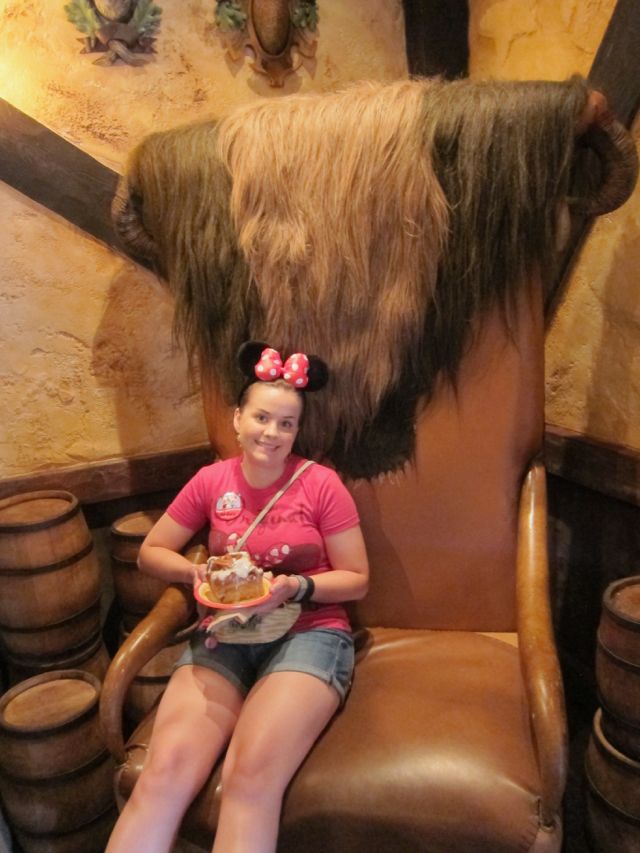 We toured around the restaurant a bit and admired all the little details. This location is actually impeccably themed.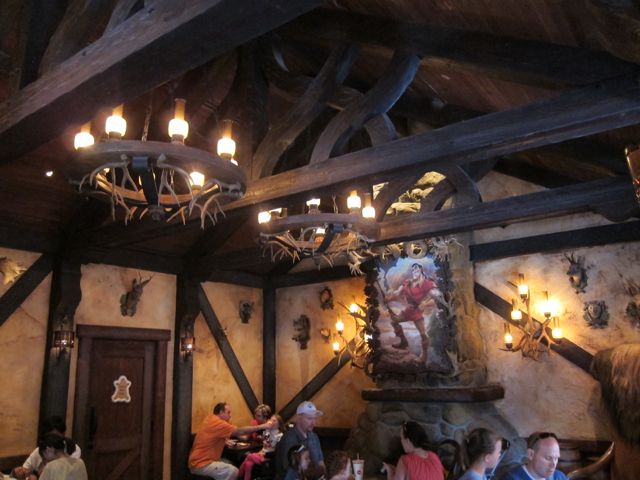 I'm still not sure if there's a story behind the Davy Crockett hat hanging from Gaston's chandelier, but no matter…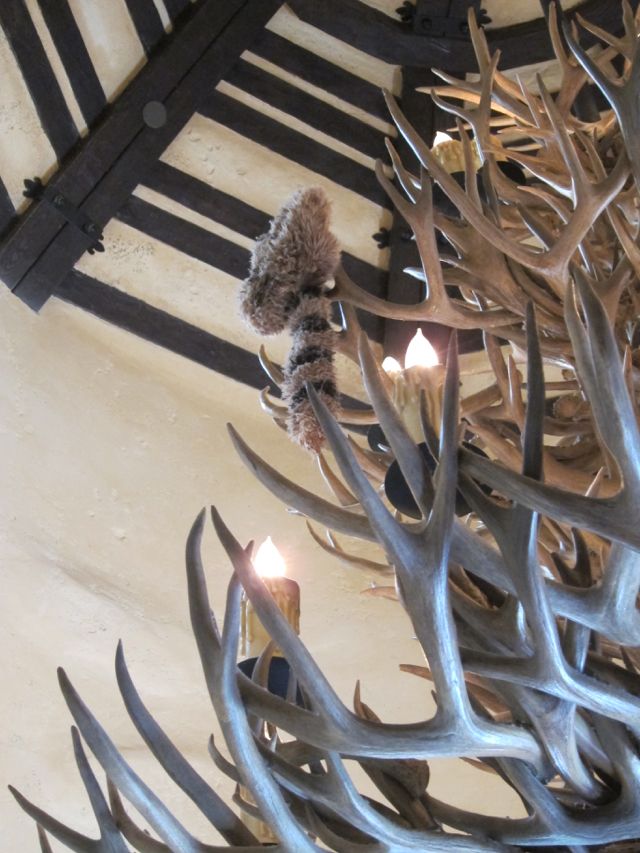 Previous Post | Next Post
Table of Contents
Support the Wandering Mouseketeers! Do your online shopping via our Amazon link!
Follow



Share