Chapter 25
Winter Without the Wonderland
---
Previous Post | Next Post
Table of Contents
The next part of our day needs a bit of backstory. If you can remember back to our red-eye flight to London, Tracy and I were in separate rows for most of the night so that we could sleep. While Tracy was being served our in-flight dinner (at 10pm), the flight attendant struck up a conversation with her about how it was our first time visiting London and how it was particularly fun to come here at this time of year. One of the attractions that the flight attendant told Tracy to check out was Winter Wonderland in Hyde Park, which she described as being sort of like a fair but with a Christmasy theme and a bunch of fun vendors and booths. We had thought it seemed a little early in the season for a Christmas attraction to be open, but then we had already seen how many decorations were up all over the city, so we thought this might be a unique localism.
Before setting out to go to Winter Wonderland, Tracy pulled up the website for the event and checked that we were within the dates (it was supposed to have started the 17th, she saw, and this was the 21st). So we ambled out the door and started walking toward Hyde Park. The location of the park is a little inconvenient when it comes to taking public transit, so the mile-and-a-half sojourn over there did sound a little daunting considering how tired our feet were, but we were determined to tough it out.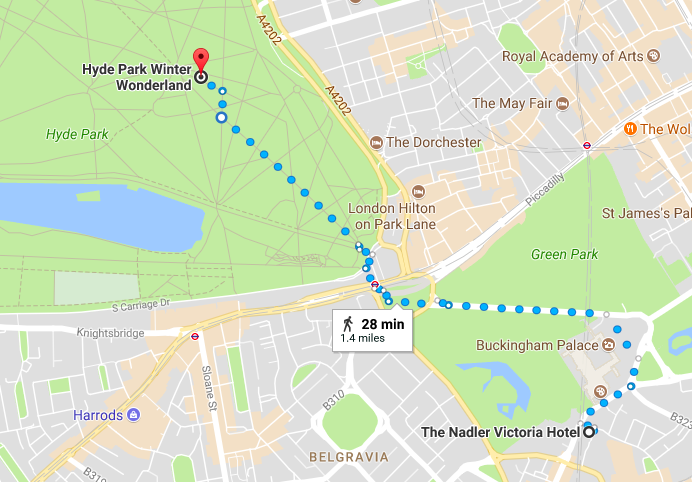 The palace was really lovely as dusk started to turn to night.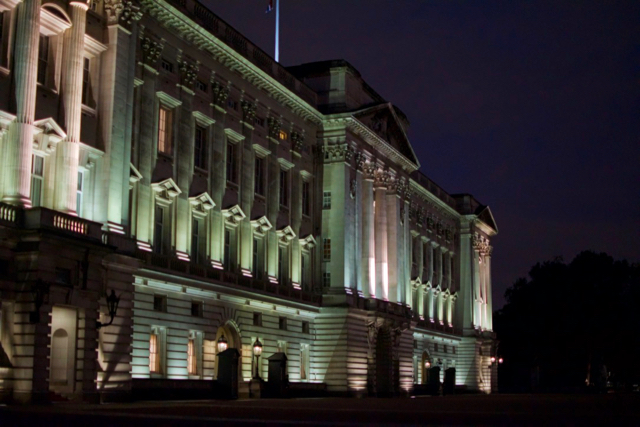 I particularly loved the look of the Union Jack flying against the cobalt blue sky.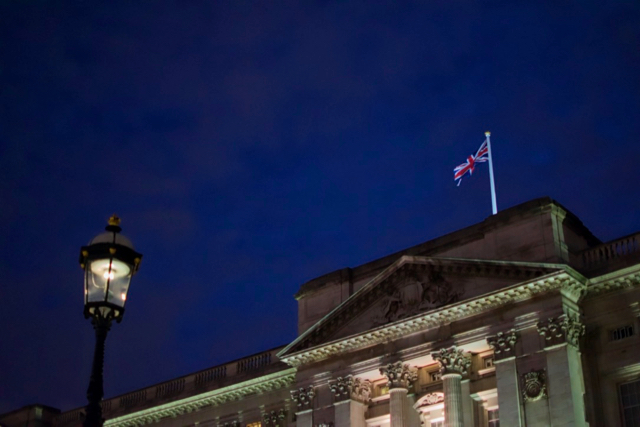 Our walk began by taking us back to where we had emerged from the tube on our first day, so here's Wellington Arch again.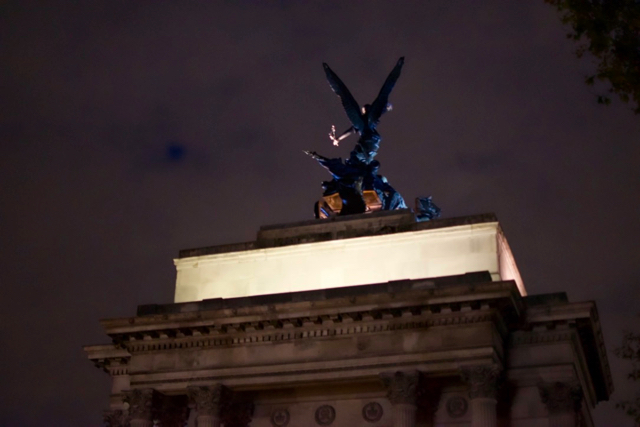 When we started making our way into the park, it felt a little scary — just because there quickly stopped being many streetlights and we felt slightly alone. What we should have realized more quickly is just how odd it was that we seemed to be the only ones walking deep into the park when Winter Wonderland was supposed to be a very popular event.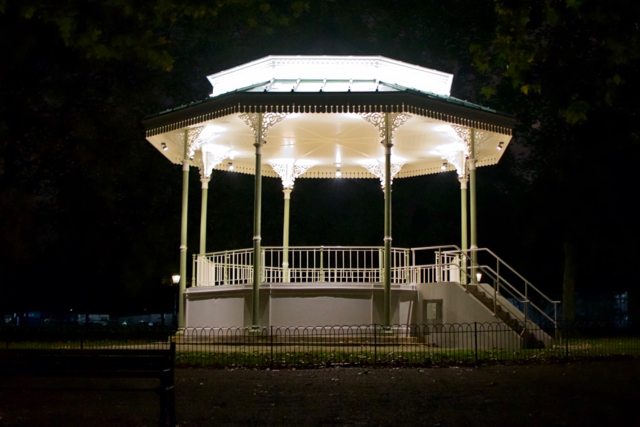 Google Maps took us toward the dot you can see on the map above, but we never did see any sign of Winter Wonderland. Finally, we reached a large area of the park that was cordoned off and had some large cranes and lights, but the carnival was nowhere to be seen. I pulled up the website for Winter Wonderland on my phone and saw that it did indeed start on the 17th — November 17th. Just a little under a month away. I couldn't blame Tracy for misreading it, but I do blame that confounded flight attendant for getting us stranded in the middle of Hyde Park with her misleading promises of a Winter Wonderland.
One thing we have gotten pretty good at on vacation is recovering relatively quickly from setbacks like this one. We are very spur-of-the-moment travelers anyway, and we do our best not to dwell on things that don't go according to plan. So we did our best to regroup and checked if any of the other attractions on our list were nearby. It turned out that Harrods was on this side of town, so we walked back out of the park and made our way in that general direction.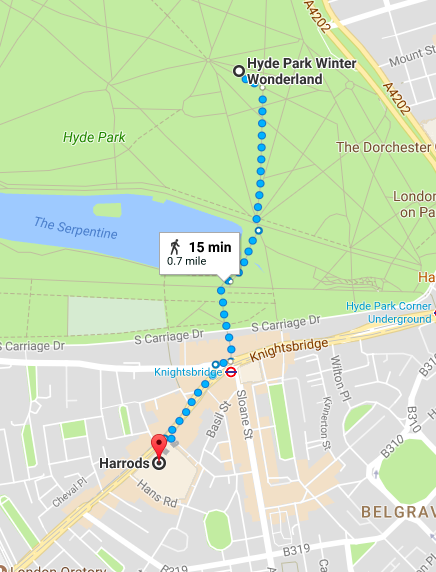 We had already walked more than 2 miles since leaving the hotel this evening, and our watches were telling us that we had surpassed 20,000 steps on the day, but we made it to Harrods by sheer willpower.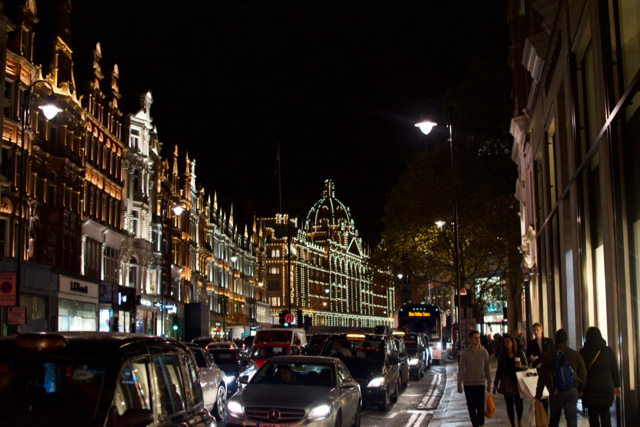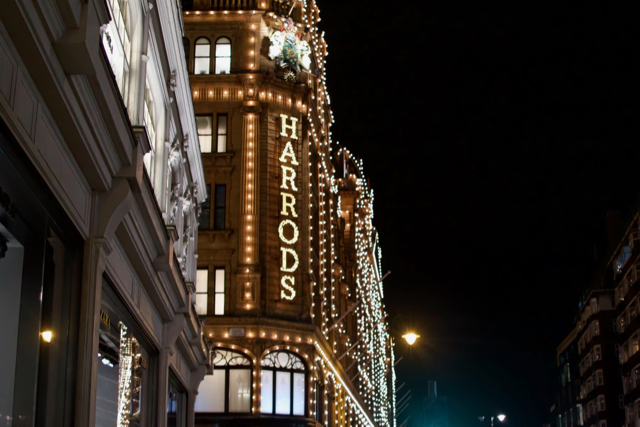 While this department store is a London staple, however, we quickly realized it was also just a department store — and a very high-end one at that. So we weren't impressed and didn't really want to be here very long.
Having been disappointed by both Selfridge's and Harrods now, we realized that maybe department stores just weren't up our alley.
Up until this point, we hadn't yet tried taking the bus for transportation. To an extent, we were a little worried we would have trouble figuring out the system or getting accurate directions. Mostly, though, we were annoyed that using our Oyster Cards to pay for the bus wouldn't be covered by our daily cap on fares like using the tube is. So every ride would cost £1.50, which we thought would add up quickly.
Since we were way down in the Knightsbridge/Belgravia area, there were almost no good Underground options, and we realized that the bus was probably our most logical method of getting across town. Even though shopping had failed us so far this evening, we decided to head back to the Oxford Street area for a couple reasons. For one, Tracy had her eye on a style of Adidas shoes that were just starting to gain popularity here in London and weren't yet available stateside. We also realized we hadn't been to Primark yet, which we figured would be a store we'd actually enjoy. Taking the bus northwards was pretty easy. It's a little weird waiting on what feels like the wrong side of the street, and we had to double check our bus number a couple times to make sure we were actually going the right way, but none of that was overly intimidating.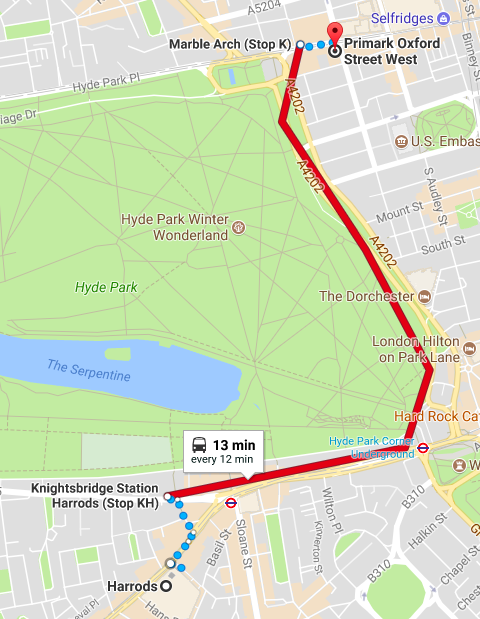 As we zoomed along the streets we had exhausted ourselves walking over the last couple hours, we settled into seats on the upper level of the bus and enjoyed taking a load off.
We got off the bus in the center of the shopping district and found Primark fairly easily. This store was much more our speed — the prices were cheap, the merchandise was more fun, and there was a really wide selection. We honestly didn't know much about Primark going in to this trip, but we watch a lot of UK vloggers these days, and it seems like all of them shop at Primark very frequently.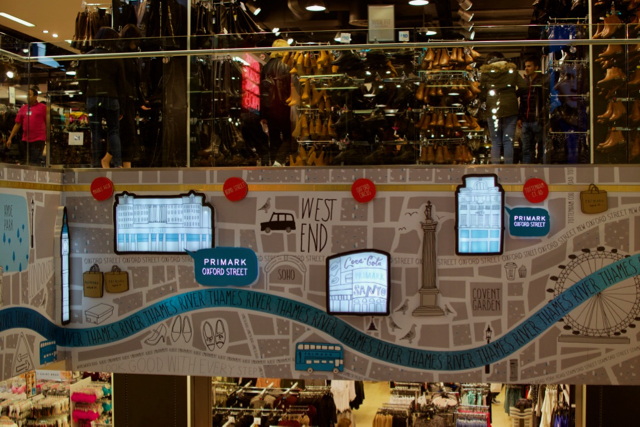 I don't have a "haul" picture to show, but Tracy and I both found fun items to buy. Some of the highlights were pajamas, socks (mine had the Harry Potter houses on them), a Union Jack winter hat, a London top for Tracy, and more.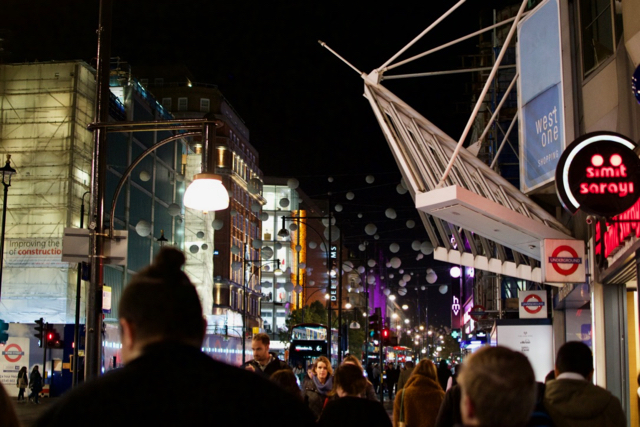 We also went looking for Tracy's Adidas, but all the stores we went in either didn't have her size or didn't have her color. Finding them would become the start of a shopping mission that lasted several days.
We hadn't eaten anything since afternoon tea because it had been so filling, but we suddenly found ourselves feeling very hungry. Interestingly, the app for the London Pass had a few coupons that had nothing to do with the attractions the pass covered. One of them was for like 10% off at a restaurant called Wafflemeister here on Oxford Street.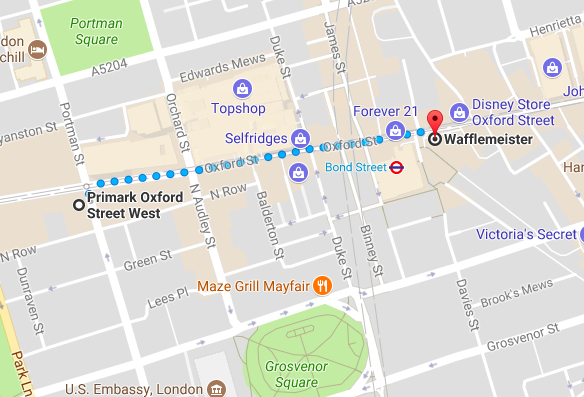 A hearty dessert waffle was actually the perfect choice for this evening, because we still weren't feeling like a heavy meal, and because it's something we don't really have easy access to at home.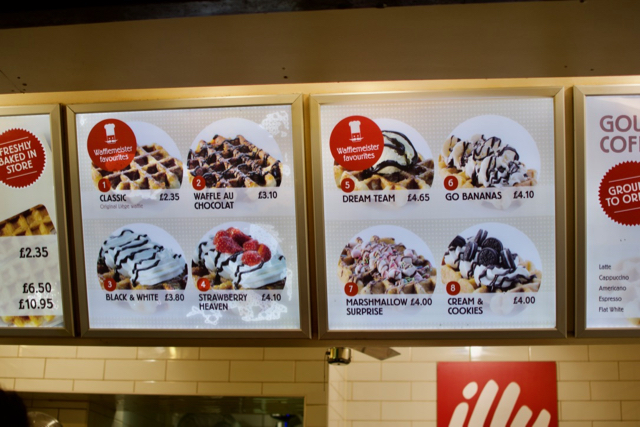 Tracy got the Go Bananas.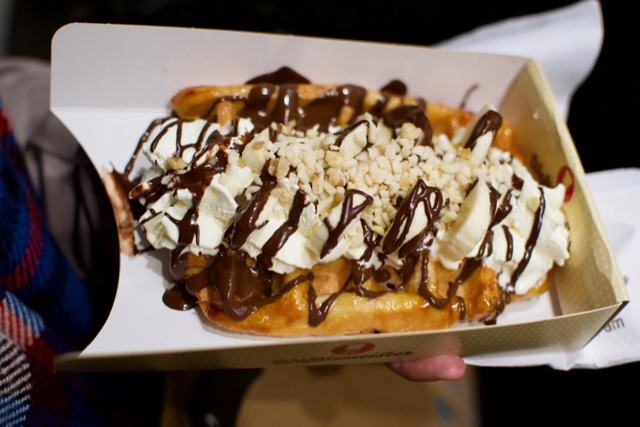 And I opted for the Dream Team.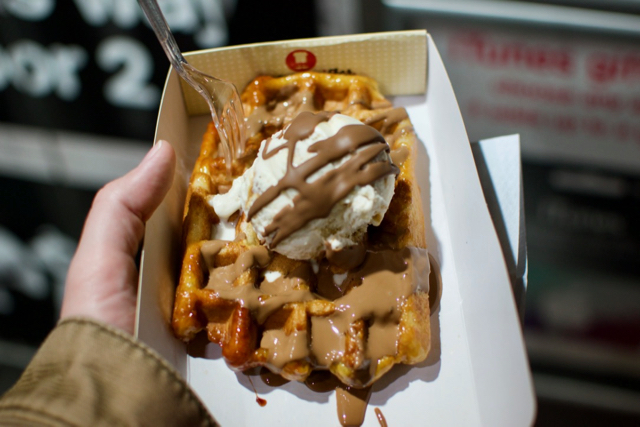 Both waffles were totally delicious and exactly what we wanted. After eating, we hopped on the bus to head back to our hotel. Even though we had been apprehensive about this mode of transportation mere hours earlier, we had totally embraced it now and got to Victoria quite easily.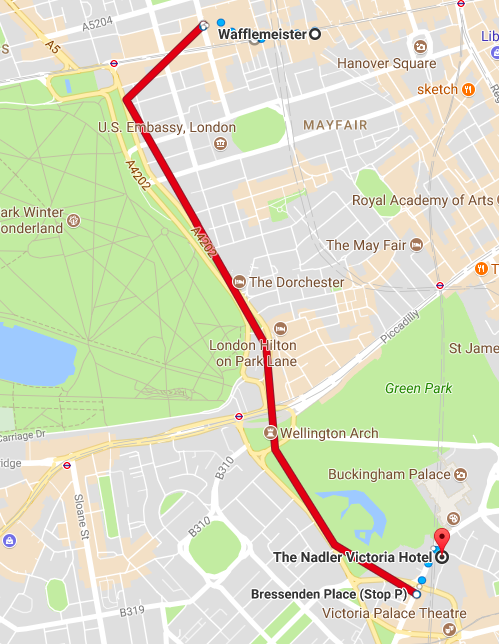 The construction all around our hotel messed with the stops a bit, but it was simple enough to find our way "home" and turn in for the night.
Previous Post | Next Post
Table of Contents
Support the Wandering Mouseketeers and get yourself a little something! Do your online shopping via our Amazon link!
Follow



Share