Chapter 12
Hiya Fabian
---
Previous Post | Next Post
Table of Contents 
While we'd been so loathe to pose for pictures taken by the ship's official photographers up until this point, something about formal night brought out a desire to commemorate the occasion—even if we had no plans to actually buy any of these photos. Ironically, the first photos we submitted to were actually among our favorites in Shutters by the end of the cruise, and we decided to purchase just one. Here it is:
While we waited in line for the photo op, we enjoyed some of the live music being played in the atrium.
By the time we'd finished with this one backdrop, it was already time for us to head into Triton's. We were led to our table and were officially introduced to Candida, who had made it down for dinner this evening. We chatted with her and John about how all of us had spent our day at sea. When we asked what they had been up to and they replied "pictures," I'll admit that we were a bit confused. But it would start to become clear a little later on the cruise.
Other conversation topics on this second night included the motion of the ship (their cabin was on Deck 2, and they were not awakened in the middle of the night by closet and bathroom doors slamming) as well as tonight's entertainment offerings. Since they were doing back-to-back cruises, our table mates had already seen all the shows just a few days earlier, but they were still going to watch The Golden Mickeys tonight because they had a few friends in entertainment who they were excited to see in the show. Apparently, if you live in the Toronto area like they do, you can go check out the new casts doing their final dress rehearsals before they actually start their contracts. We have known several people I went to school with who have done DCL contracts, so we knew they rehearsed in Toronto, but this was a new bit of information. Well, John and Candida had checked out some of the rotating casts several times and had gotten to know a few regulars.
Once again, Tracy and I had checked out tonight's menu on the iPhone app before heading to dinner, and we had already picked out what we wanted to eat. The bread service tonight was Freshly Baked Rosemary Potato Loaf (with Rosemary and Garlic Oil Dip). For appetizers, Tracy ordered the Caramelized Bay Scallops (Served on a Leek and Sundried Tomato Risotto) while I opted for the Crispy Cheese Ravioli (Breaded Envelopes Served with Tomato Concasse and Lemon Zest). I remember enjoying my raviolis quite a bit, and I know Tracy liked her scallops, so it was a good appetizer course overall.
Moving onto the main course, I ordered the Jumbo Shrimp and Porcini Mushroom Tagliatelle (with a Garlic-Porcini Mushroom Cream Sauce topped with Parmesan Shavings). This entree was delicious, and they seriously weren't kidding when they described the shrimp as jumbo. Tracy didn't think anything on the regular menu sounded that great, so she opted for the Oven Baked Filet of Salmon (Served with Garden Vegetables and Your Choice of Steamed White Rice or Baked Potato). This came from the "Lighter Note Offering," and I was deeply ashamed that Tracy had even LOOKED at the healthy menu. Still, I think she enjoyed her fish.
Of course, we still had room for dessert in spite of getting plenty full from our meals, and I got the Crepe Suzettes (with Orange and Strawberry Salad, and Vanilla Ice Cream). Tracy had the audacity to order a dessert from the No Sugar Added Dessert menu—honestly, I barely recognized my wife this evening—and she chose the Lavender Infused Creme Brûlée (with Lemon Cookies). Actually, I guess I can't fault Tracy for choosing this option based on her undying love for all things creme brûlée. I'll let it slide…
Before the meal was over, Putu came over and recited what we would soon start to recognize as his nightly spiel. He wanted to make sure we were aware of the plethora of activities on board this evening, so he read off several from a copy of the Personal Navigator he had stashed in his pocket. We probably wouldn't have thought much of his suggestion to see "Match Your Mate" in Wavebands that evening, but John and Candida chimed in and let us know that this game show was actually one of their favorite events on every cruise. They piqued our interest enough that we decided we might check it out.
Heading out of Tritons, we found that the Captain's Reception was in full swing in the atrium. We also noticed that our good pal Pluto was out doing a meet and greet, so we ran over to get in his line.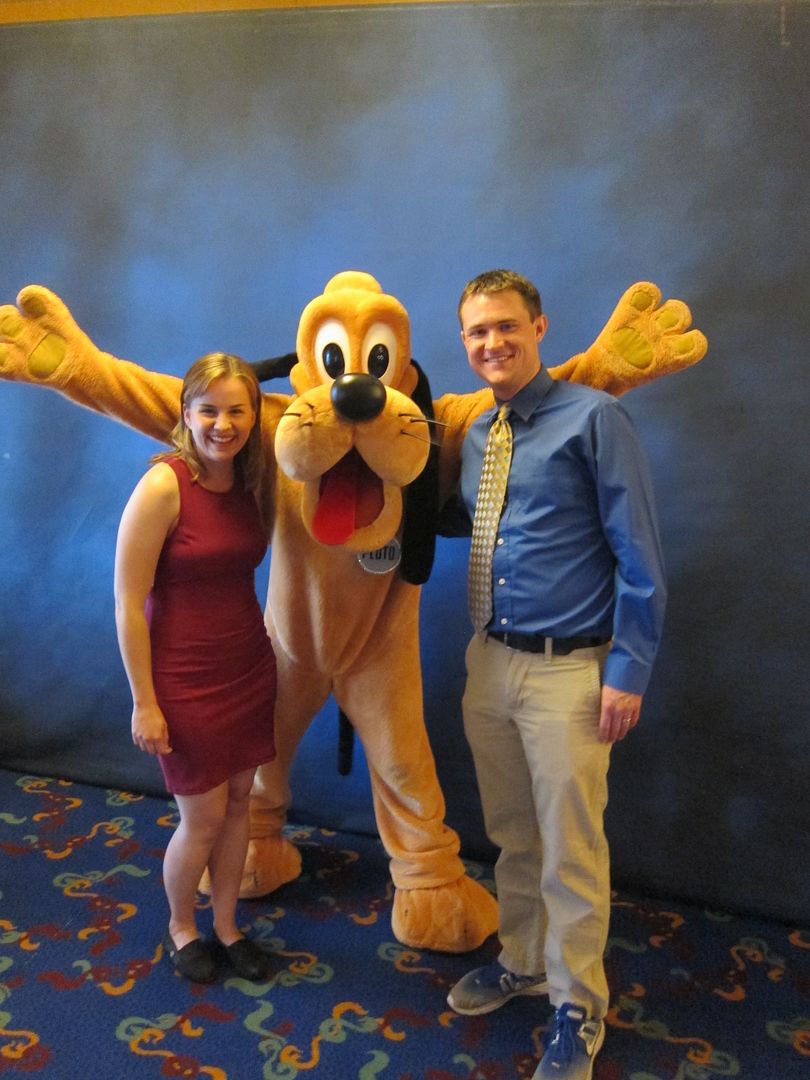 Everyone was out and about in this break between dinner seatings and evening shows, so the whole of Decks 3 and 4 felt very lively.
They were even handing out free cocktails. I think this one was a Cosmo.
Since everyone else was doing it, we decided to get in line to meet Captain Fabian himself. The heraldry involved was certainly amusing. Before we stepped forward to be introduced to Fabian, members of the cruise staff team took our family name and hometown (similar to what they had done when we first boarded the ship) and then introduced us as "The Roberts Family from Southern California" to the waiting captain.
We also handed our camera to another member of the cruise staff team and didn't really know that she would be taking candids throughout our conversation with Fabian.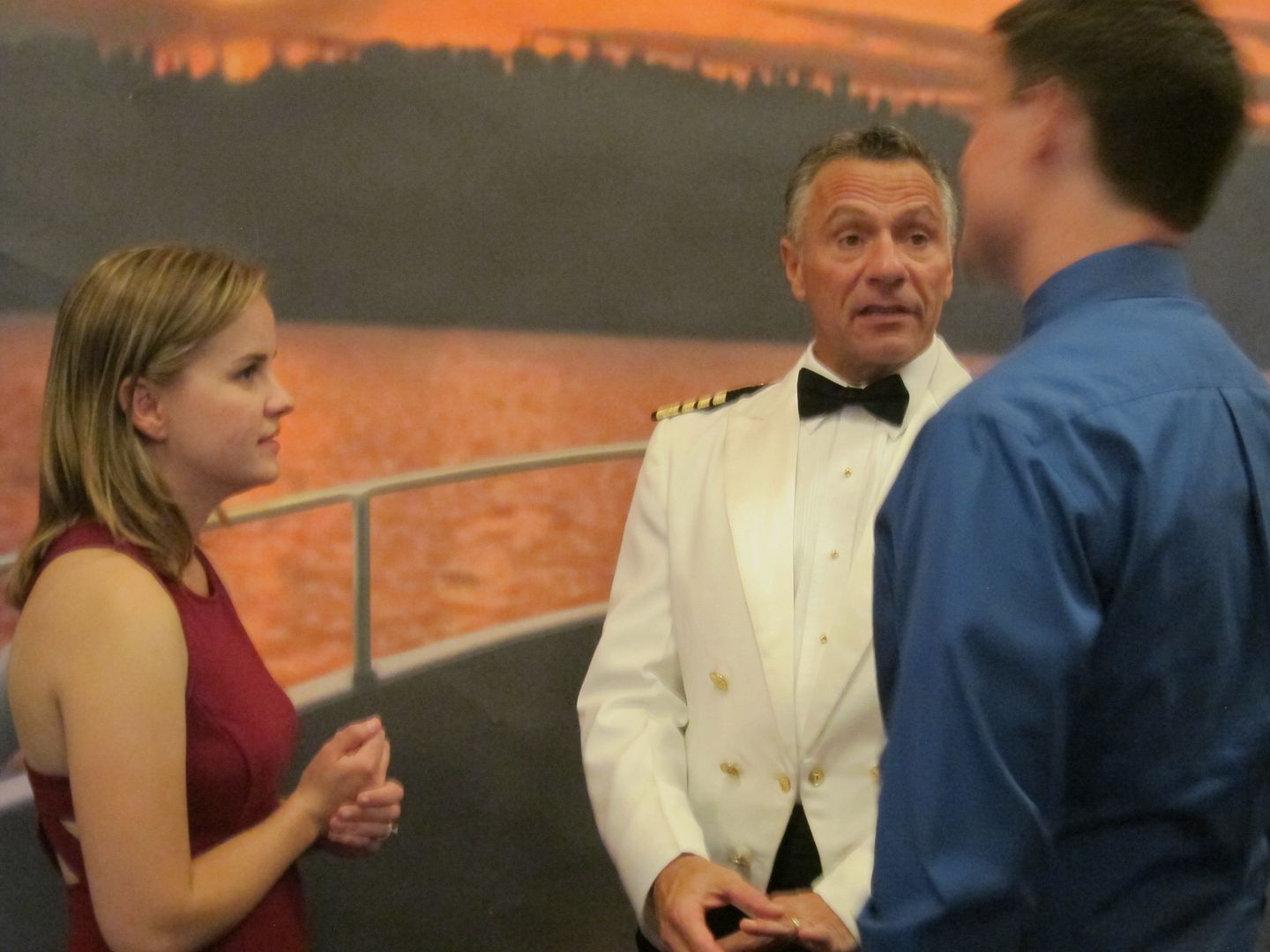 Disney has all their cast members so well trained to be guest facing, so even the upper echelon like ship captains are able to relate well to lowly passengers. Fabian chatted with us about how this was our first cruise and how we had enjoyed our first full day at sea. Occasionally, we found it a little difficult to understand his Argentinian accent, but on the whole the conversation was a lot less awkward than I would have anticipated.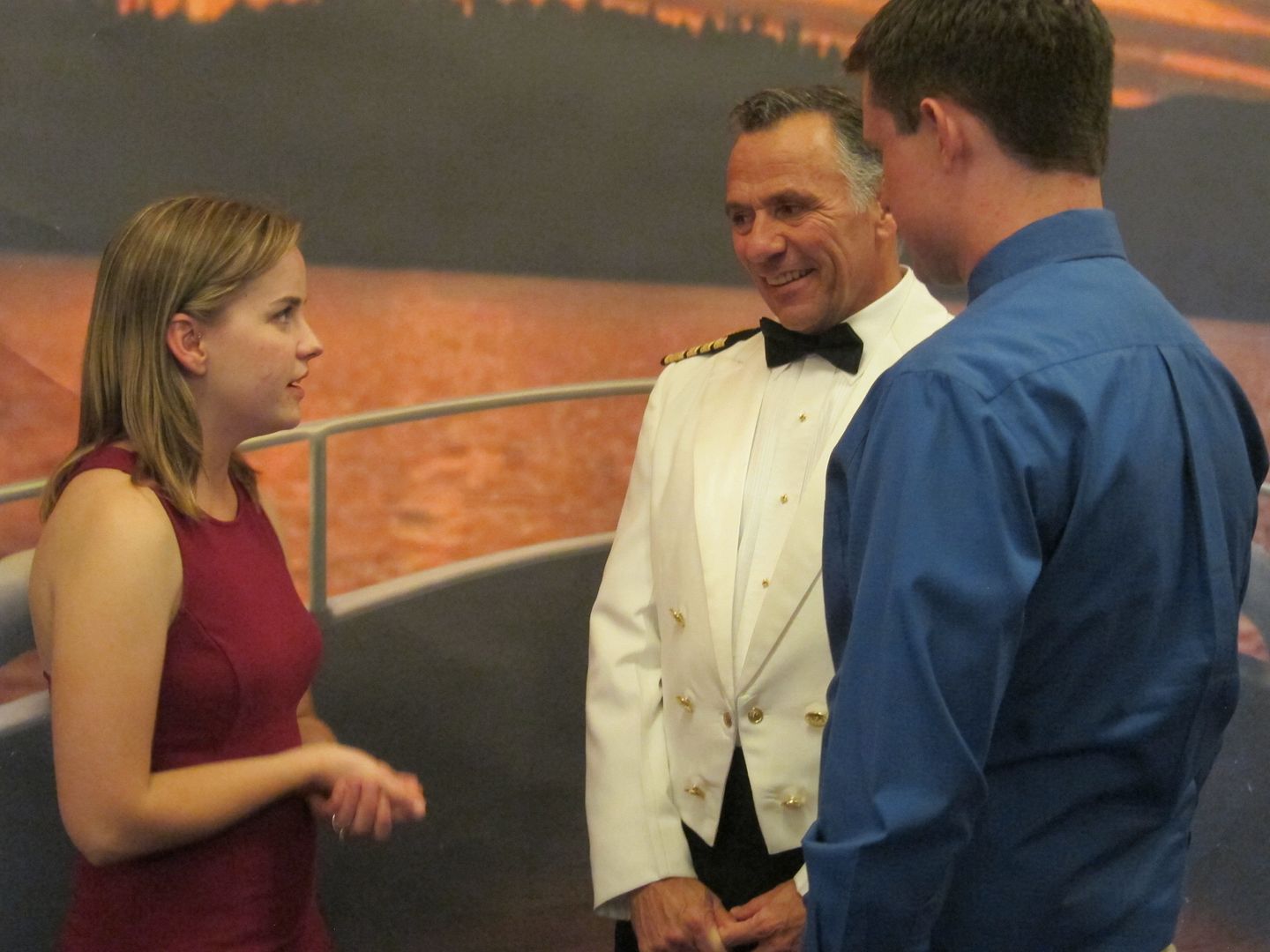 Of course, after we were done chatting, we had to actually pose for a picture.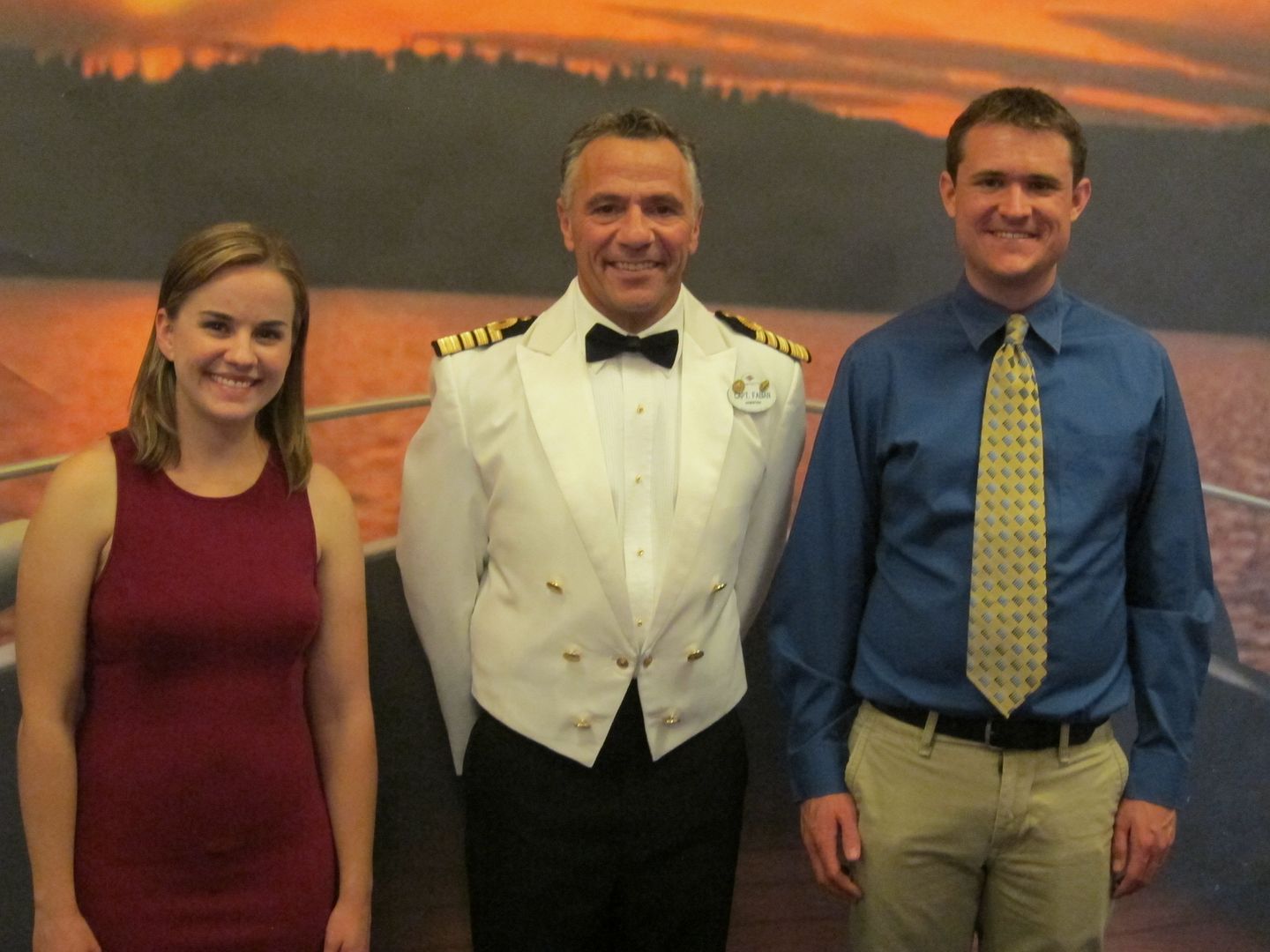 Though we'd completely mocked the idea of the Captain's Reception before we'd actually experienced it, we had a lot of fun. It was clear that the ship was in good hands with this friendly and competent gent.
Now, while we had already met the "official" captain of the ship, we couldn't pass up the opportunity to meet the real captain (and his lovely lady-friend). Especially because they were so nicely dressed for the occasion of The Golden Mickeys.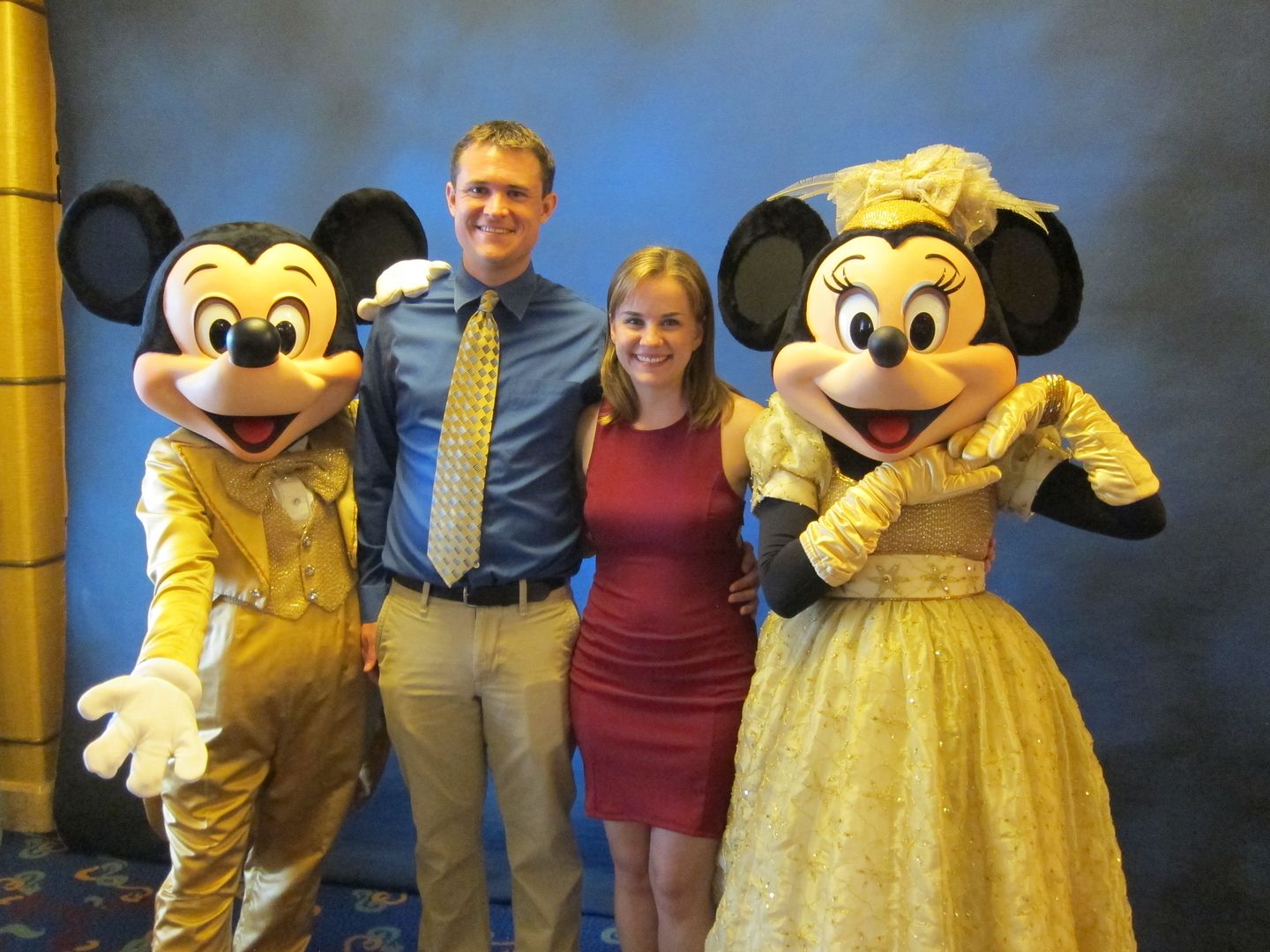 We accidentally cut it super close while waiting to meet Mickey and Minnie, and we barely had a few minutes before showtime. Luckily, we hurried down the red carpet and scrambled into seats in the Walt Disney Theatre right as the curtain was about to rise on the first full-fledged production of our cruise.
Previous Post | Next Post
Table of Contents 
Support the Wandering Mouseketeers and get yourself a little something! Do your online shopping via our Amazon link!
Follow



Share