May 30, 2014
Chapter 39
One Big Glacier
---
Previous Post | Next Post
Table of Contents
We'd made it to Day 7, so of course we had another Personal Navigator. Click here to see it in full detail.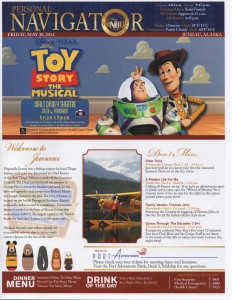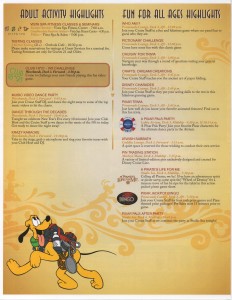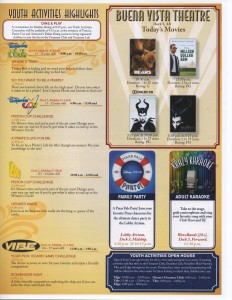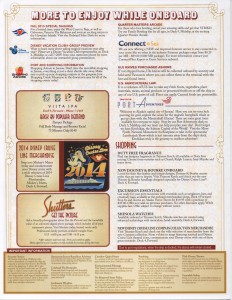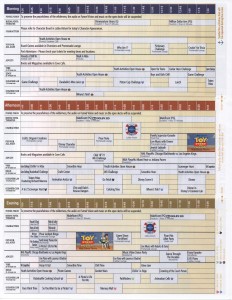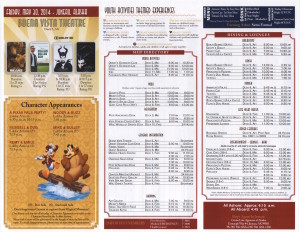 Going out to the verandah upon waking up, we could see that we were already docked in Juneau.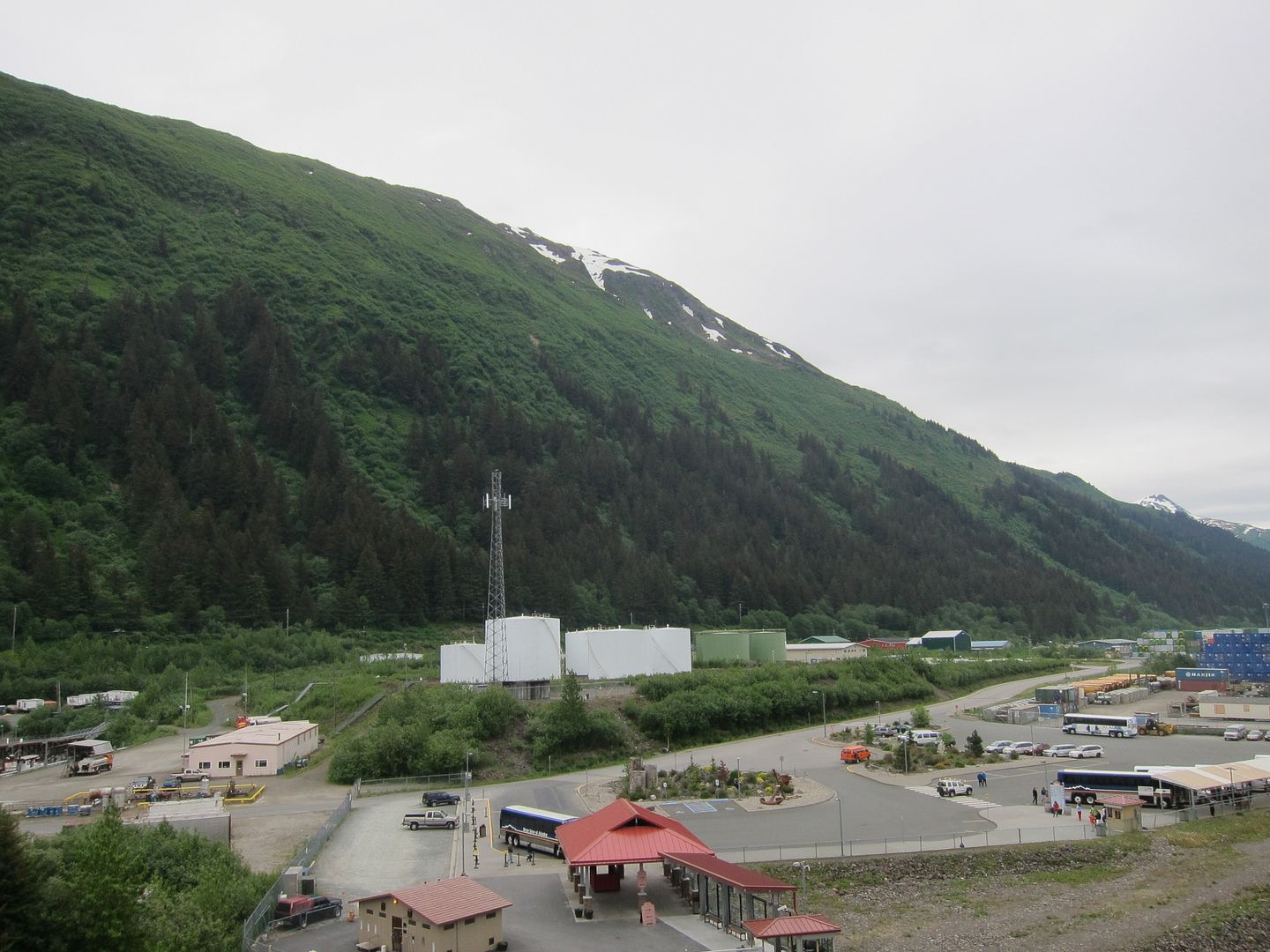 After our organized full day in Skagway, we were honestly glad that we didn't have any Port Adventures to check in for this morning. Instead, we were able to head to Beach Blanket Buffet and grab breakfast before getting ready to disembark the ship on our own.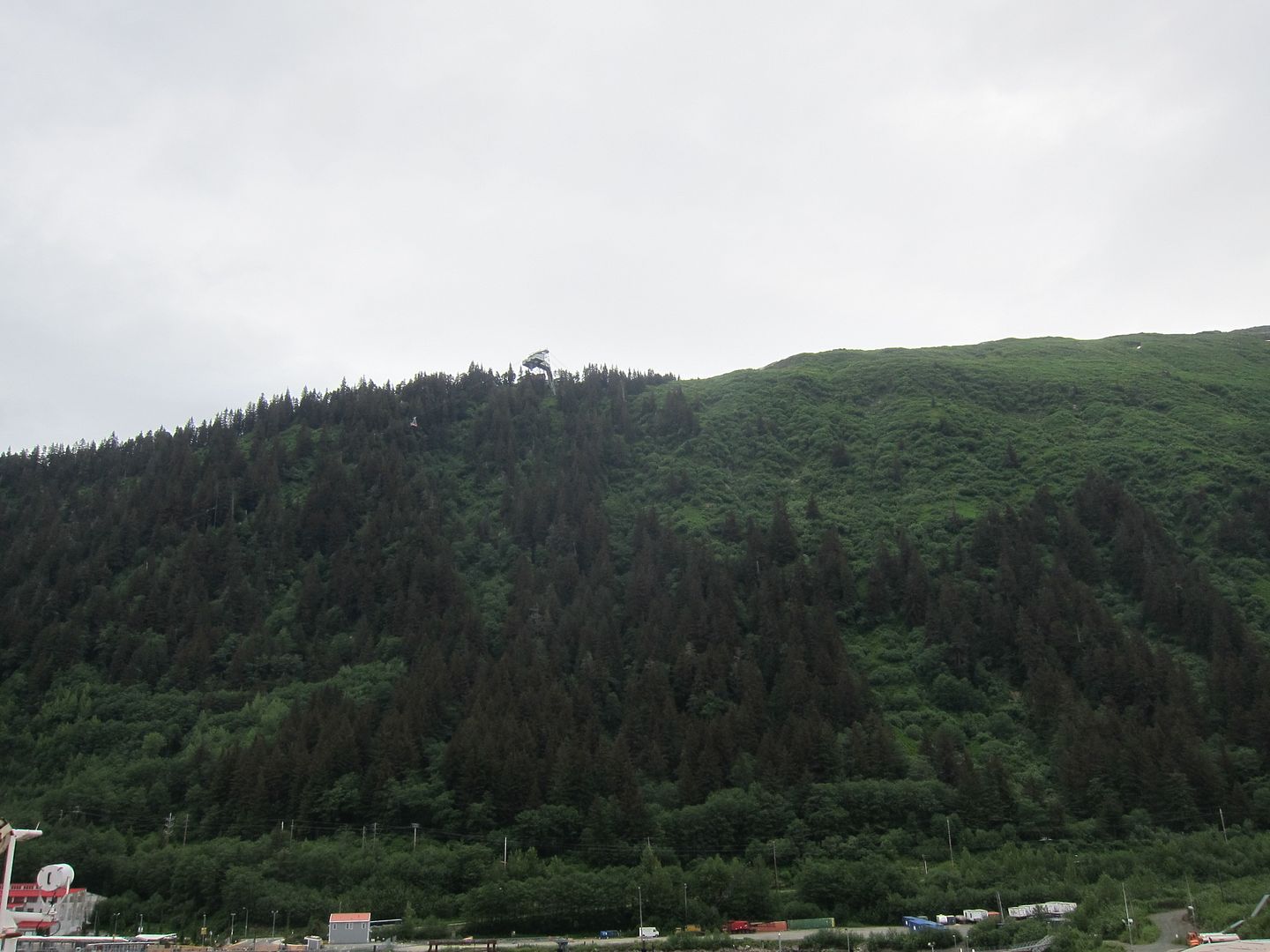 It was cold today, and rain was in the forecast, but we were hopeful that it would be light (if it fell at all). We'd had amazing weather for Alaska at this time of year, so we were just hoping our streak would hold out.
i have no idea what deck we had to go to this morning to get off the Wonder, but I do know that once we hit solid ground, there were free shuttle buses to take us to the heart of town. The dock was technically close enough that it could have been walkable, but we figured we would just use to bus so as not to tire ourselves out first thing.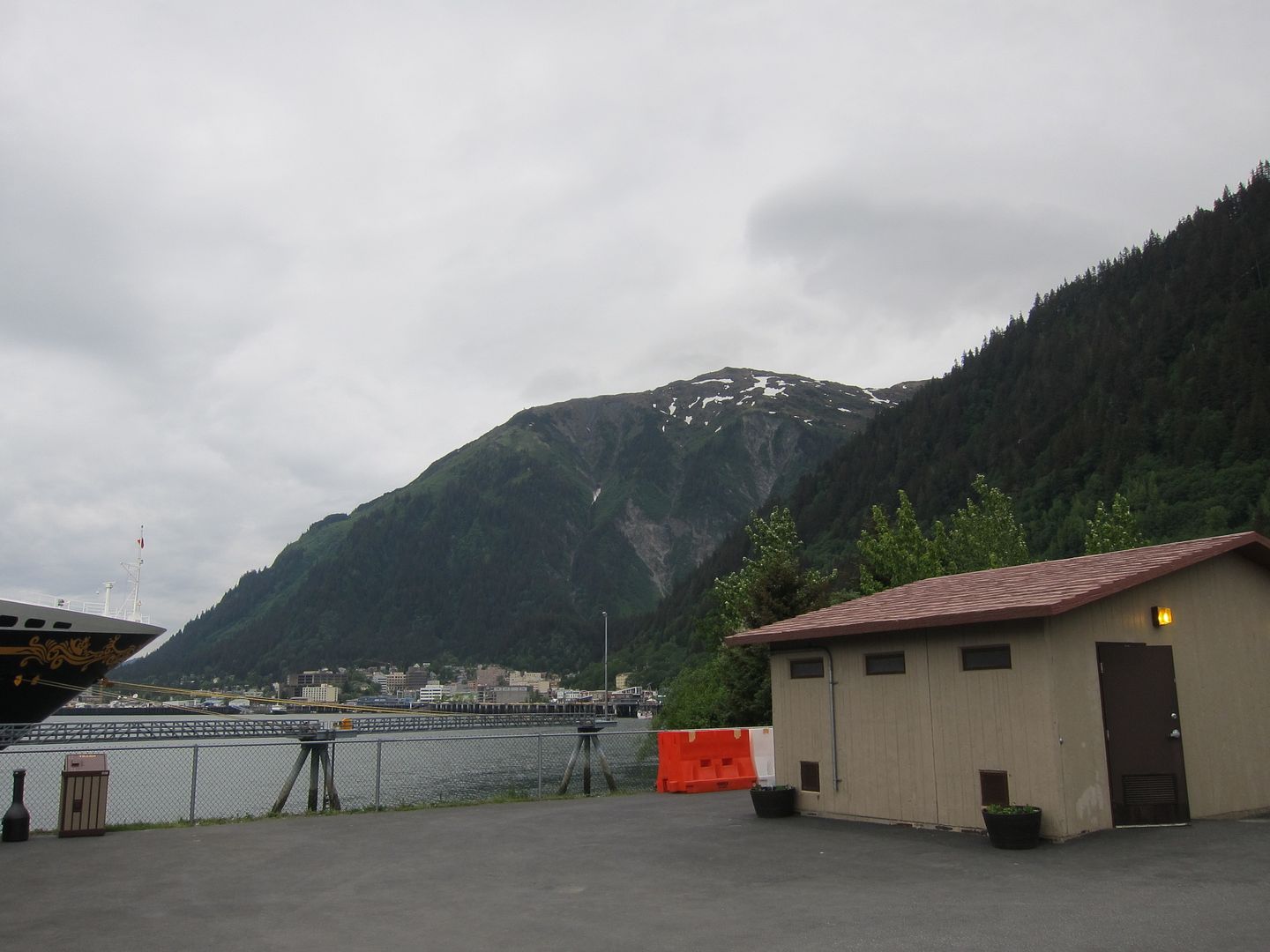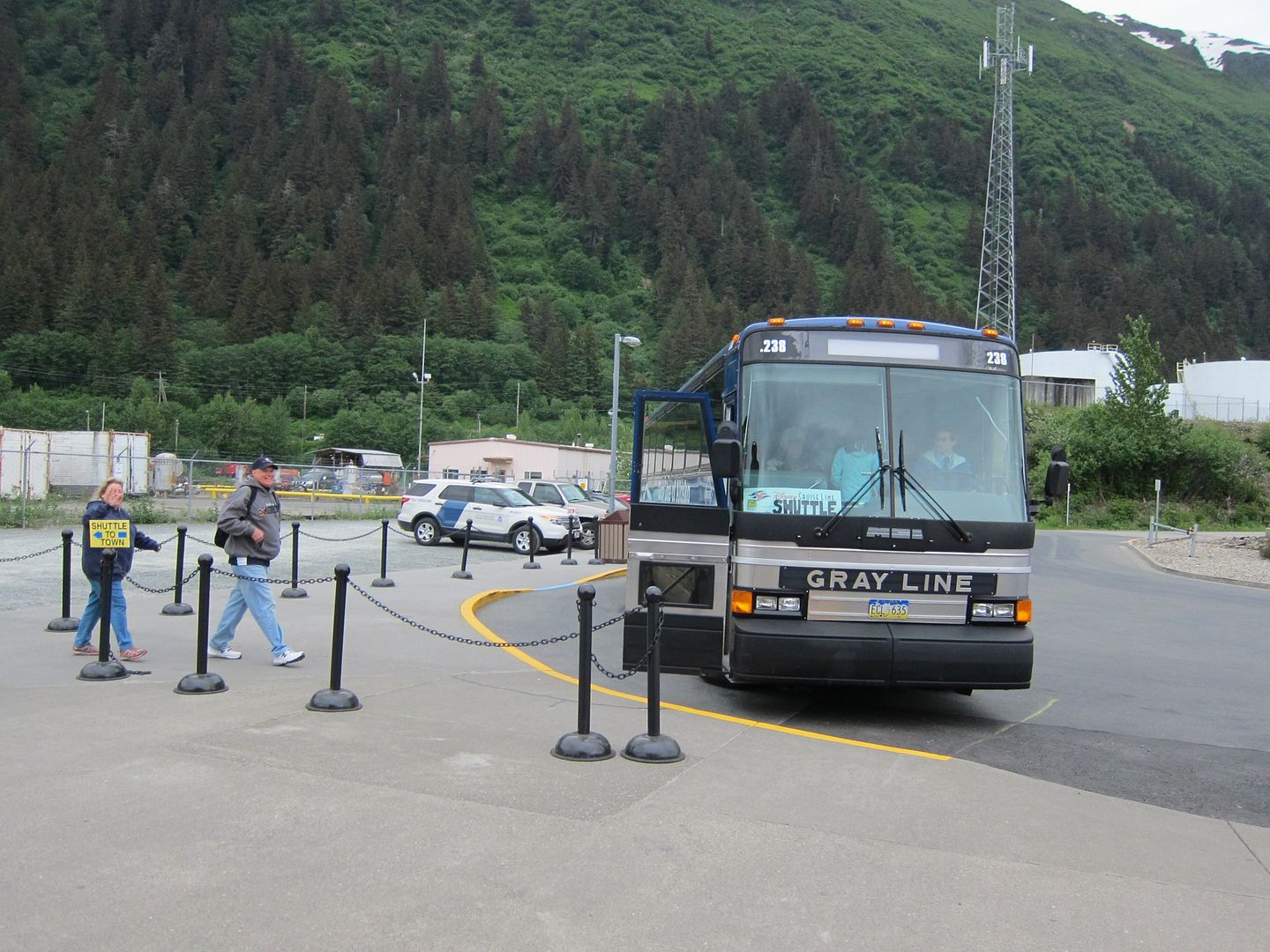 The bus let us off in a sort of town square. The Mount Roberts Tramway was ascending right in front of us.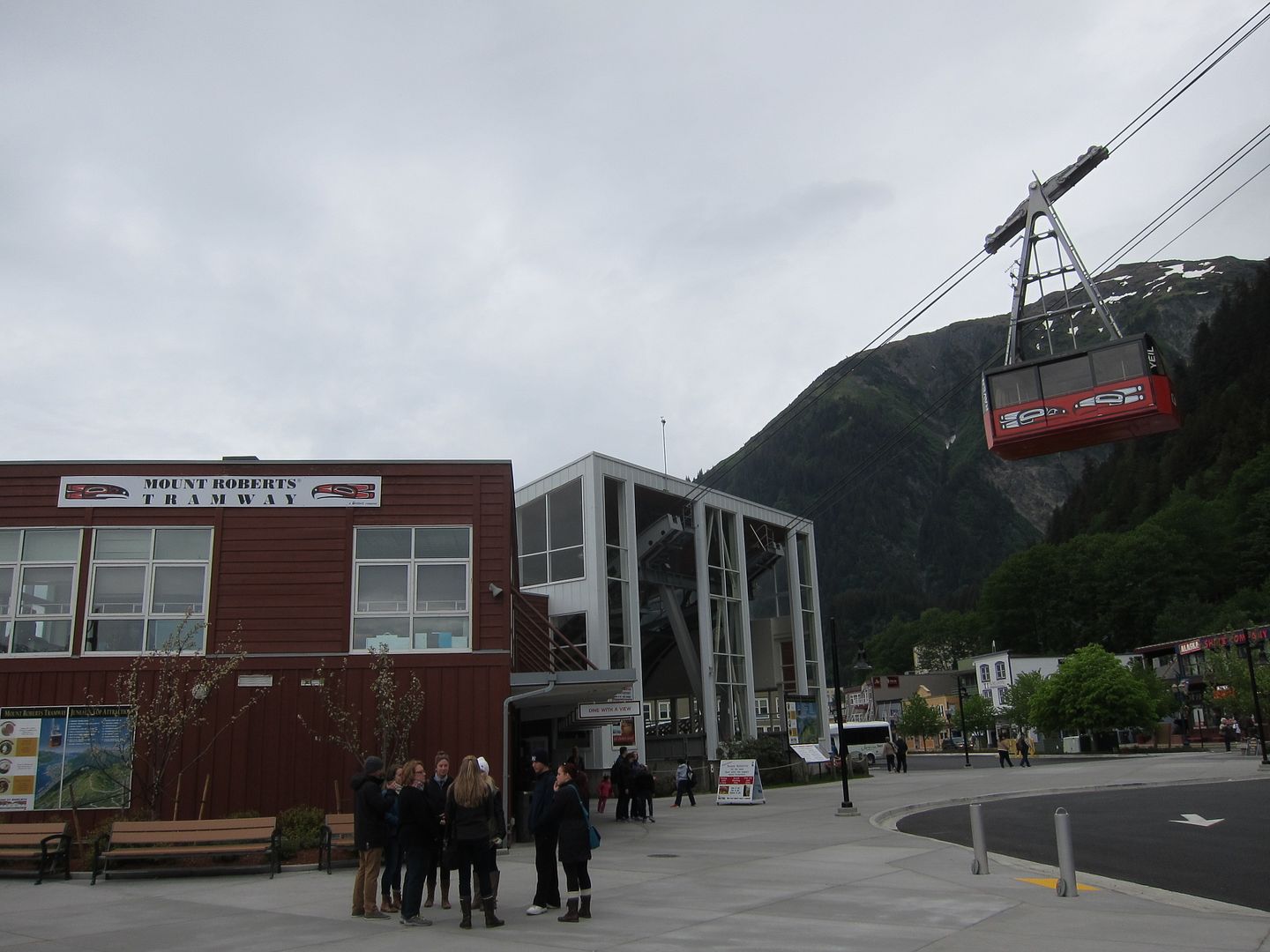 Set up adjacent to the bus stop, there were several booths selling tickets for various excursions, and it seemed to be a contest of who could yell loudest to try to lure tourists over.
While we were annoyed by the system and didn't really want to give our business to any of these pushy salespeople, we did need bus tickets, so we found one booth that clearly offered them. Our first destination this morning was going to be Mendenhall Glacier, and we'd read in our pre-trip research that it was better to just find a way to get there on your own rather than trying to book one of the Port Adventures that went there in addition to making several other stops.
Our bus tickets were $21 each, round-trip, and we discovered that only one company actually offers shuttles to the glacier (as opposed to summers past when there had apparently been a few to choose among). We waited for the "Big Blue Bus" that would be arriving in just a few minutes. As we stood around, we also looked around at our surroundings.
Like clockwork, the Glacier Express pulled up almost right on time.
We climbed aboard and got seats next to one of the windows so we could look out while we drove.
En route, the driver told us a little about Juneau and the history of Alaska's capital, but he wasn't quite as informative as our Skagway guide had been, and his spiel didn't last for the whole trip.
Luckily, it didn't actually take that long to get out of town and pull into the parking lot near the Mendenhall Glacier visitor center. Even from a distance, we could already start to see the glacier itself.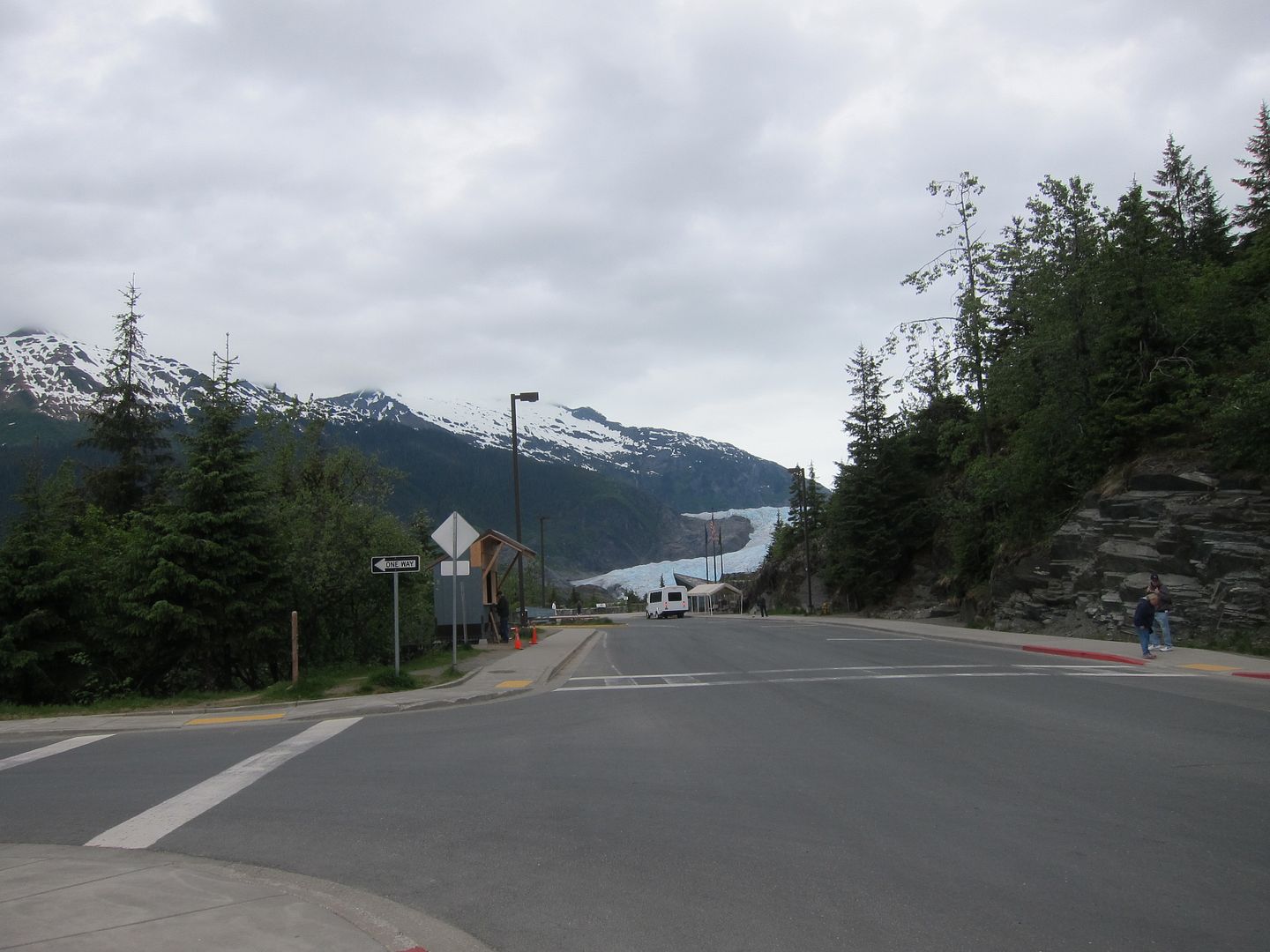 Since we had turned around pretty far from Sawyer Glacier in Tracy Arm, this was by far the closest either Tracy or I had ever been to a glacier, and it was clearly beckoning us to come even closer.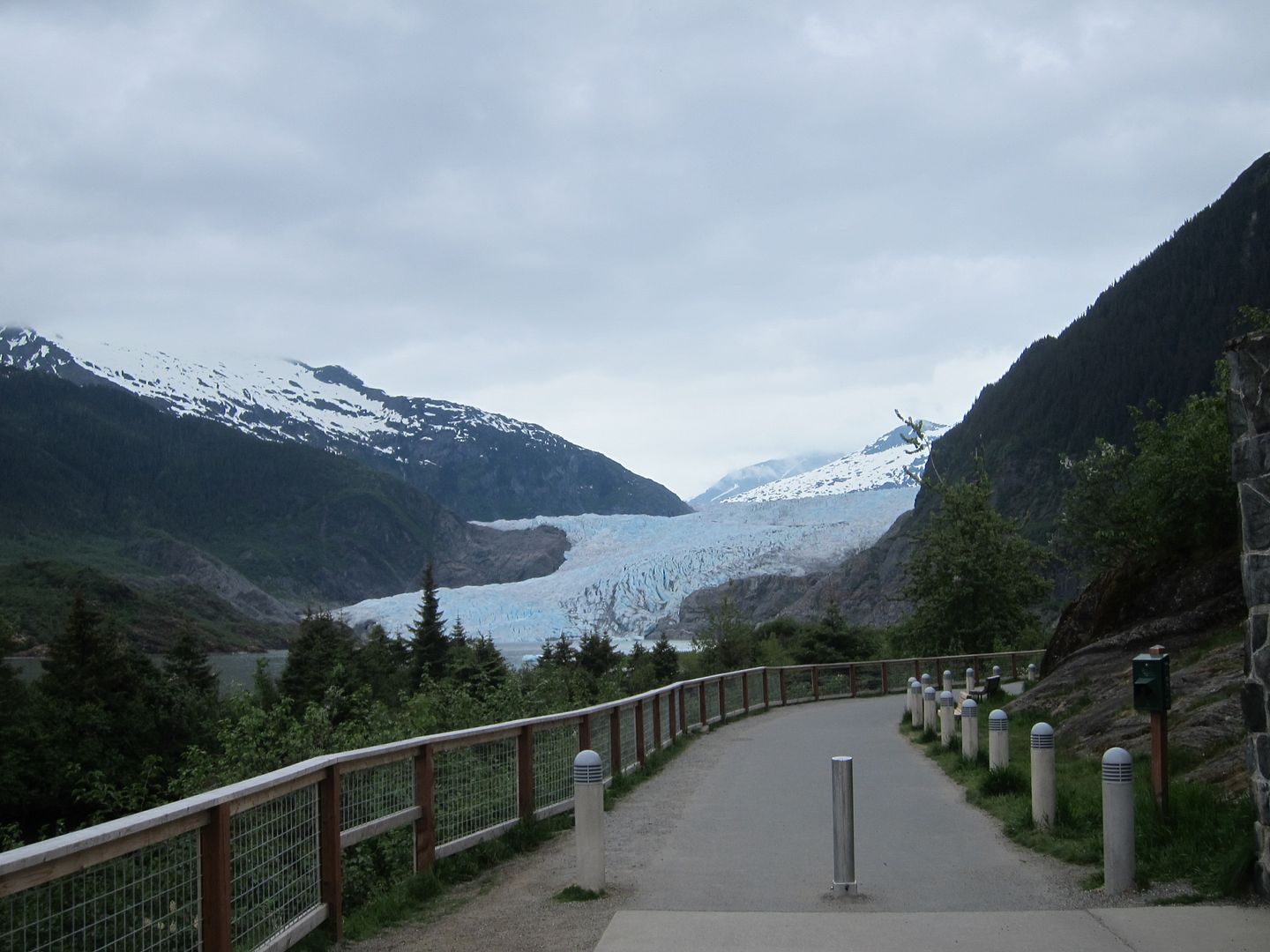 Essentially following the crowd, we started trying to get to a place where we could take some unobstructed pictures.
We ventured out onto this muddy beach and were just hoping that our shoes wouldn't sink into the muck as we walked.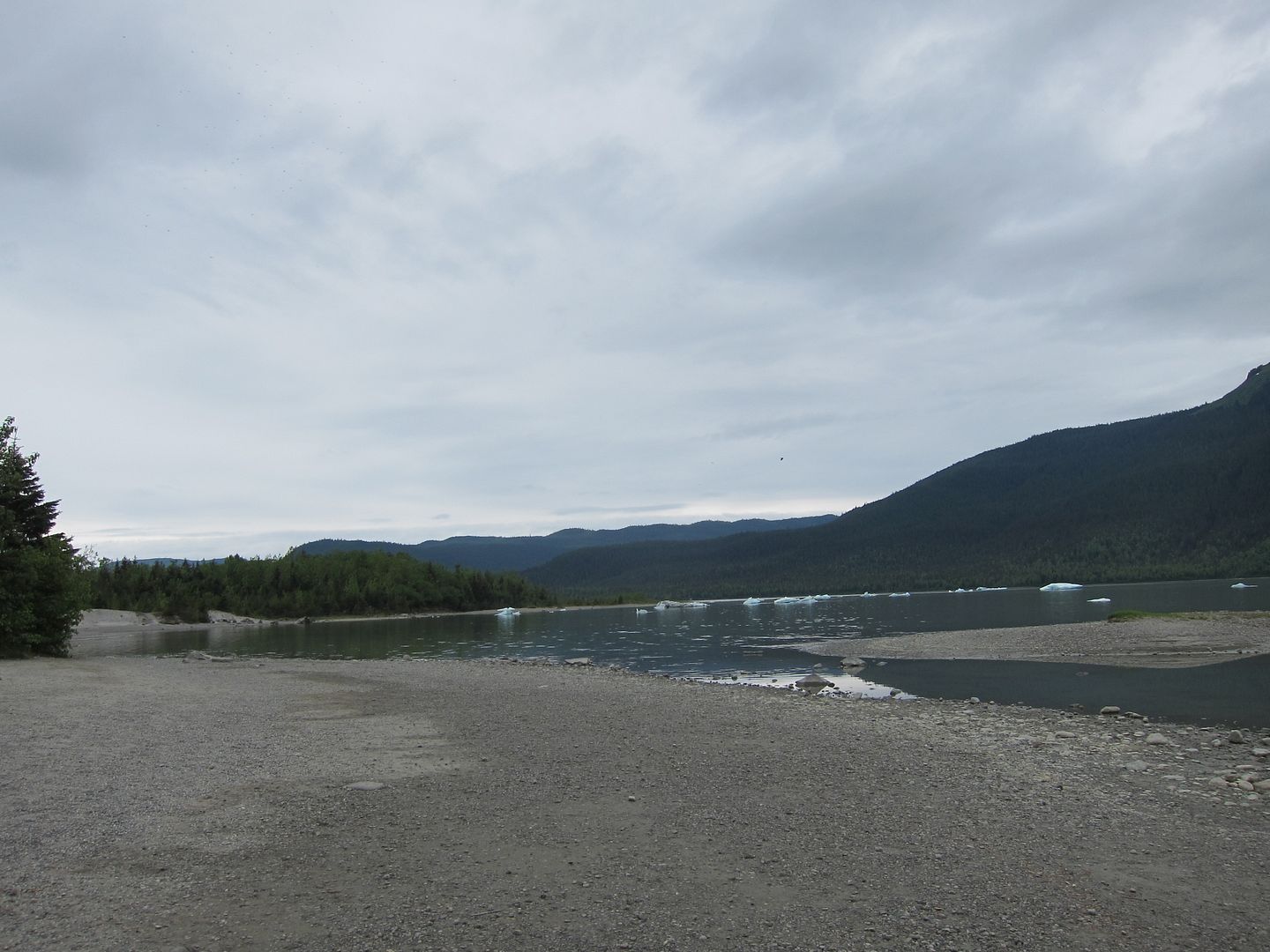 On a couple occasions, we had to jump over little patches of water and scale some rocks to try to keep going further.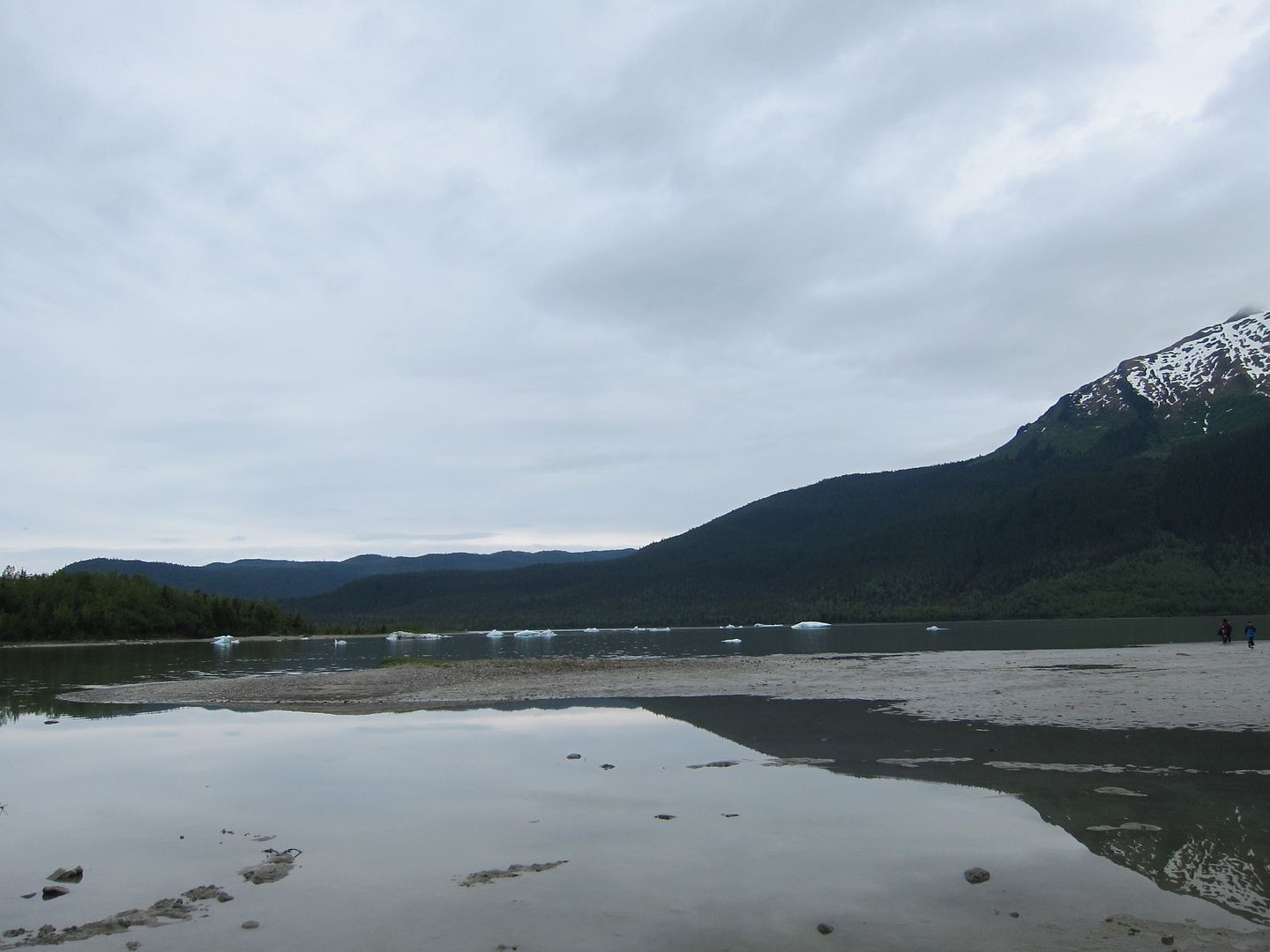 Eventually, we made it to a broad clearing with a direct view of the glacier.
Tracy and I realized that our buddies from Disney Theme Park Trivia the other day were also here, so we struck up a conversation and actually introduced ourselves this time (none of us had learned each other's names during the entire trivia game). I'm embarrassed now to admit that I still don't remember the mother's name with 100-percent confidence (I think it might have been Karen), but I know the daughter was named Lisa.
Anyway, we chatted for a while while we hung out not too far away from this massive glacier. We'd already learned a little about them during trivia, but now we were mostly asking about how their cruise experience had been so far. They had done the train in Skagway as well, but they'd chosen the longer version that goes all the way into Yukon Territory. We also exchanged stories about table mates, and it seemed like we got a much better deal. Their group was pretty massive—I think they might have said they had nine people at their table—which apparently made it much more difficult to have conversations during meals.
While we talked, we were all going around taking pictures from various angles.
Here's Tracy and the glacier.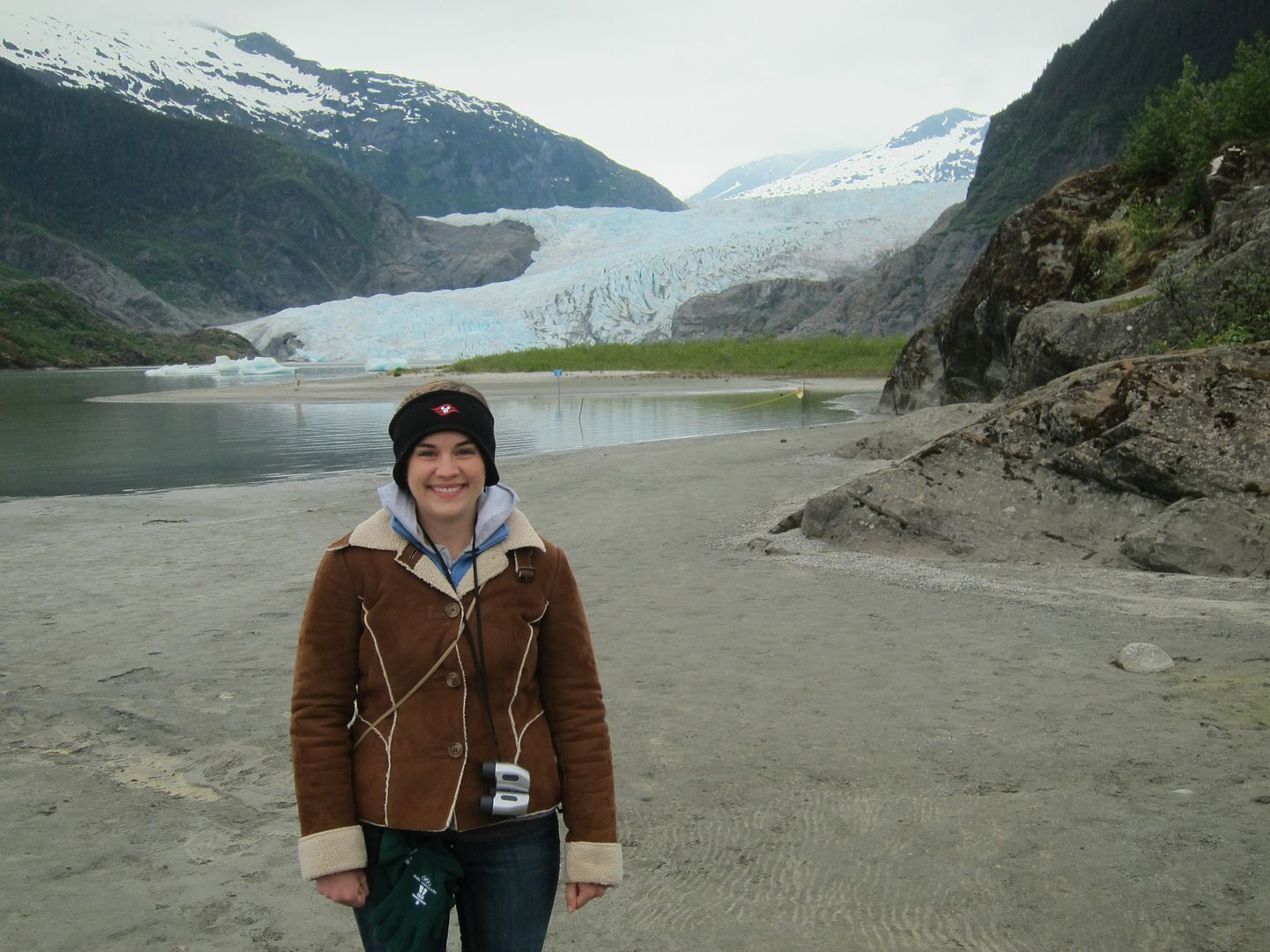 Here's me with the visitor center in the background (much less impressive).
Now here's me and the glacier.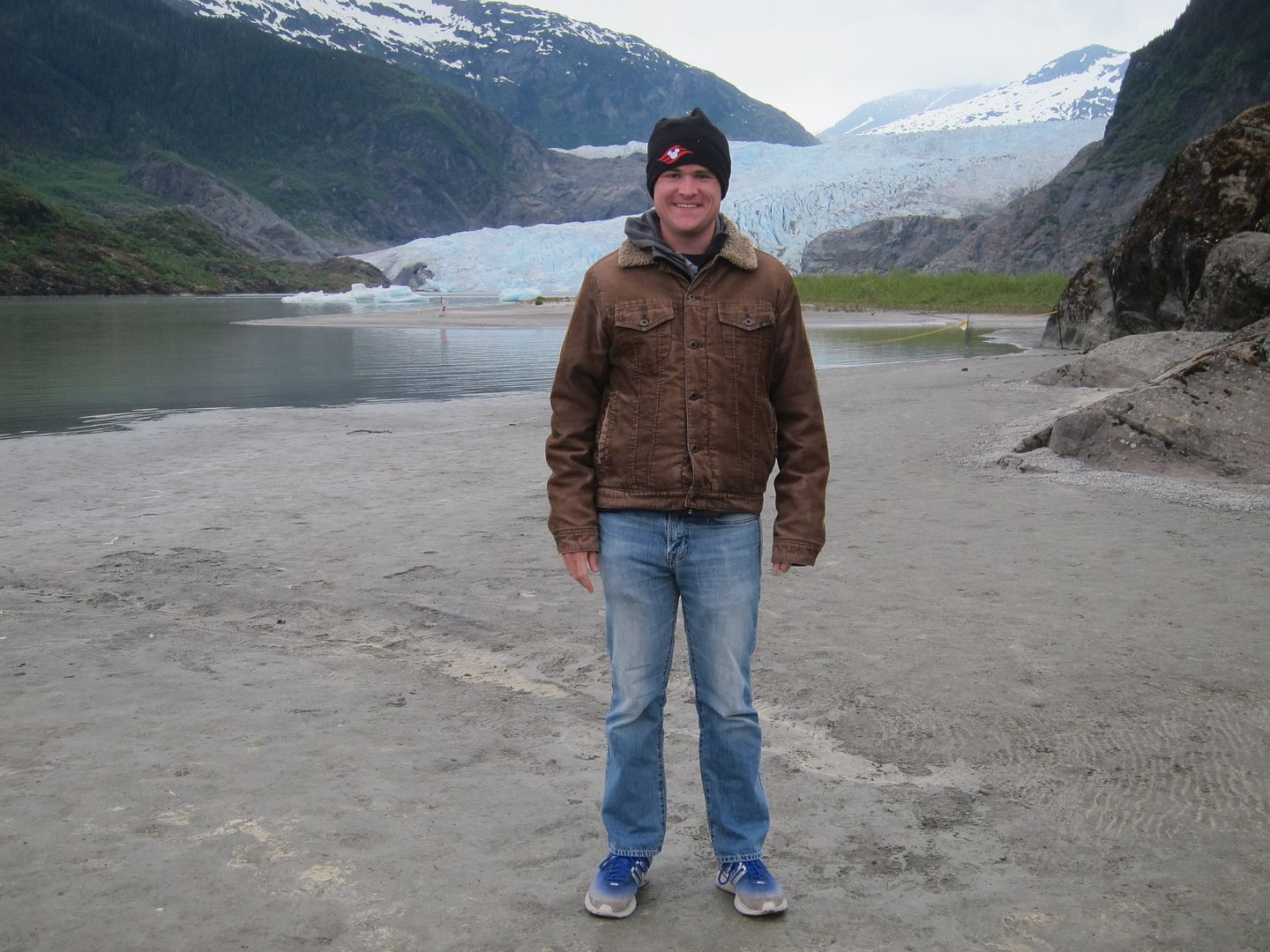 I think this glacier selfie was actually really well framed considering I couldn't see how it would turn out.
We also traded with our buddies and took each other's pictures.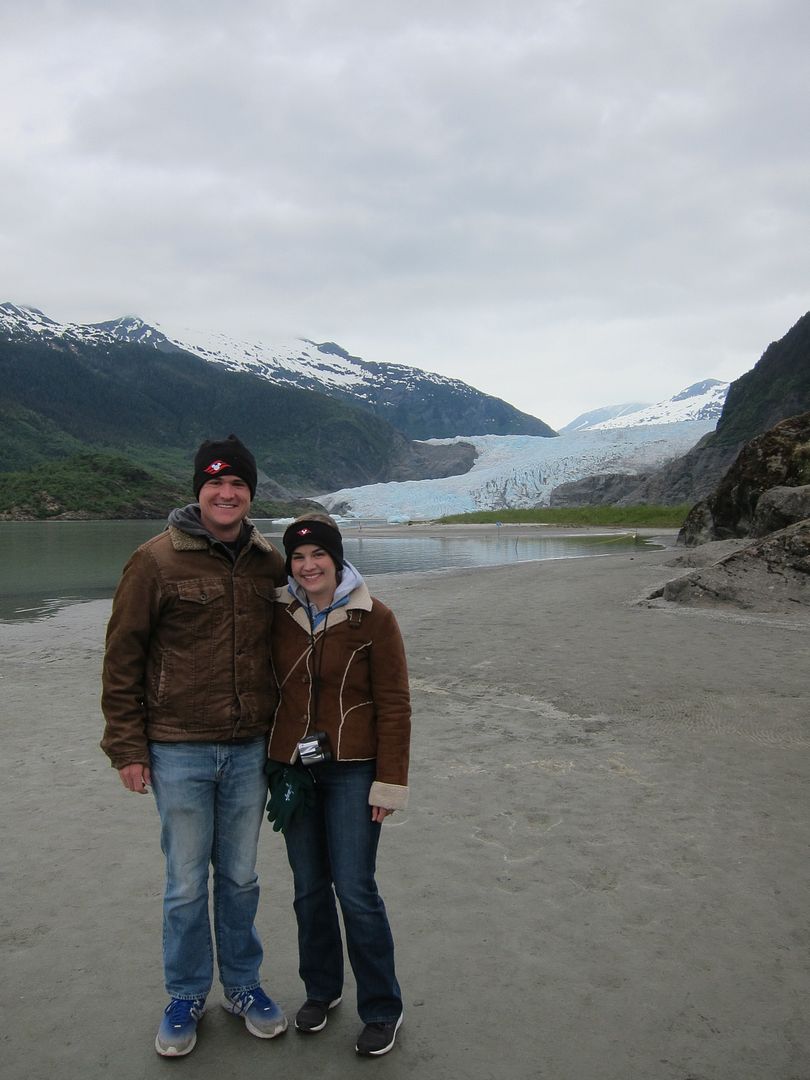 It's funny how you can look at the same general landscape for several minutes and just keep seeing it from new angles. If you're all tired of looking at pictures of this glacier, however, I understand.
When we'd had our fair share of this angle, our two duos went our separate ways. Lisa and her mom started on the hike toward Nugget Falls, but Tracy and I decided to check out the visitor center next.
Previous Post | Next Post
Table of Contents
Support the Wandering Mouseketeers and get yourself a little something! Do your online shopping via our Amazon link!
Follow



Share