Chapter 4
Joy in Mudville
---
Previous Post | Next Post
Table of Contents
One thing we noticed immediately upon entering the Magic Kingdom after so many consecutive visits to Disneyland was just how much bigger the train station was.
We proceeded under the archway and into Town Square, which also looked a little like it was on steroids from the quaint little version in California.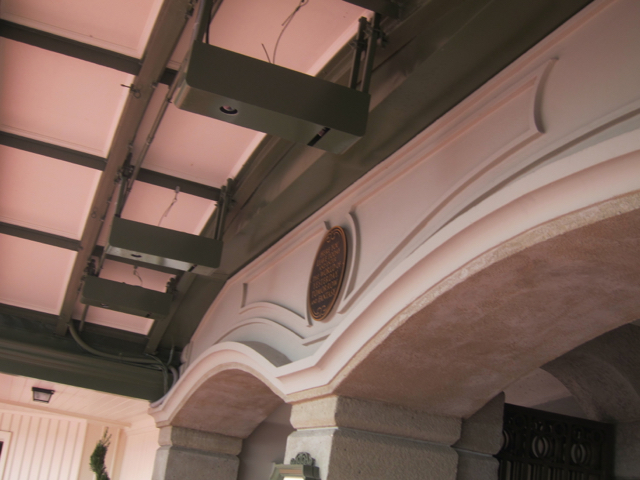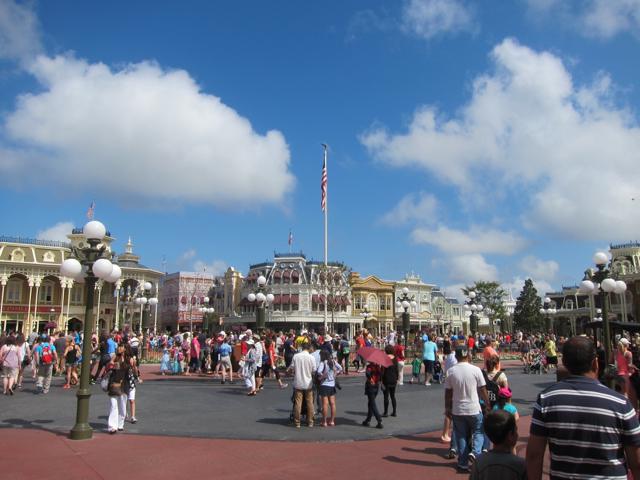 It's always thrilling entering a Disney park for the first time on a vacation because so many great experiences lia ahead. Our administrative tasks weren't quite done yet, though, and we made a beeline to City Hall to pick up a DAS card (they still had cards at WDW at this point in time, even though they had moved past them at Disneyland).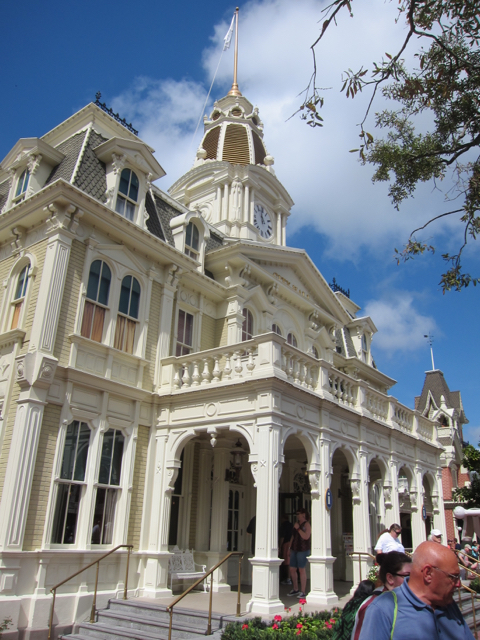 Luckily, the process wasn't too difficult, as I've gotten used to explaining my medical issues to the City Hall cast members by now.
Heading back out into Town Square, we saw that Marie was doing a meet-and-greet, and the Dapper Dans were starting to gather a crowd for a performance.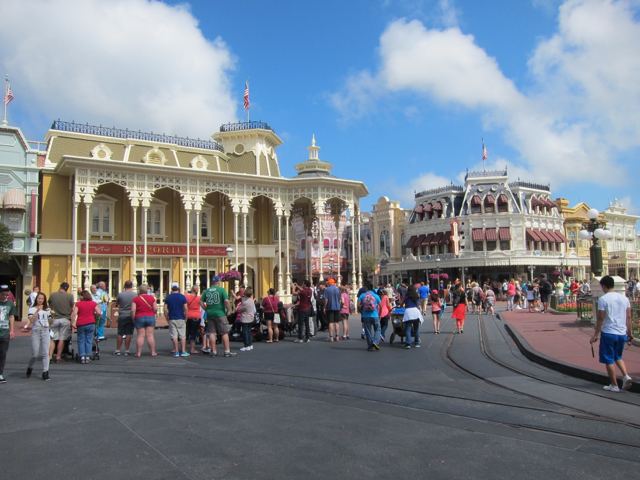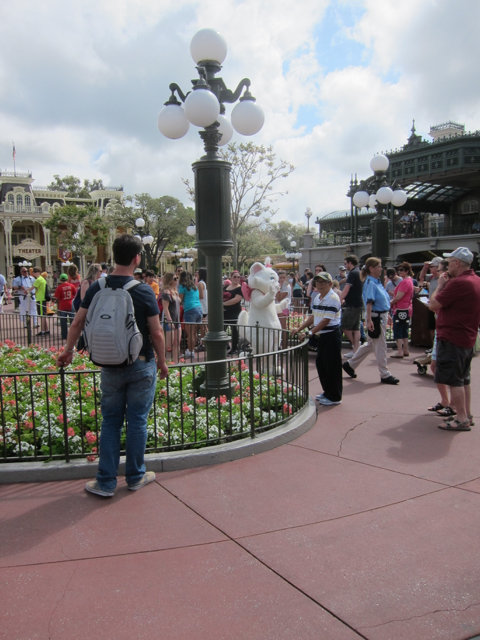 We had other plans, so we didn't stay to watch for too long, but it's impossible to walk right by the Dapper Dans without stopping for a few moments.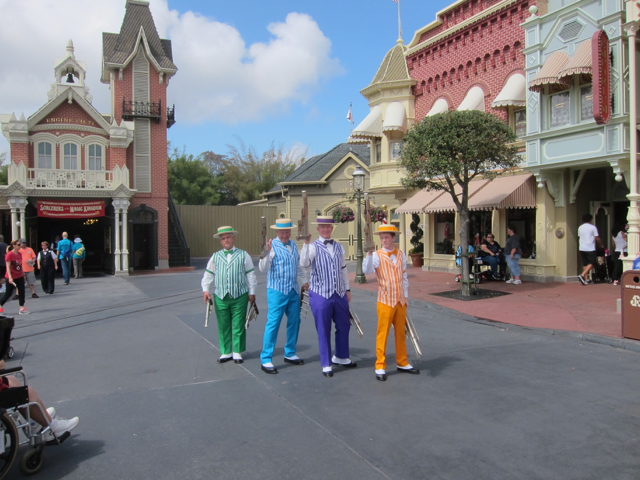 We started to walk up Main Street and saw Cinderella Castle looming large up ahead. Amazingly, it had already been almost three years since we'd last glimpsed this icon. Even though we kind of rolled our eyes at the omnipresent crane, we also laughed at its obtrusive silhouette.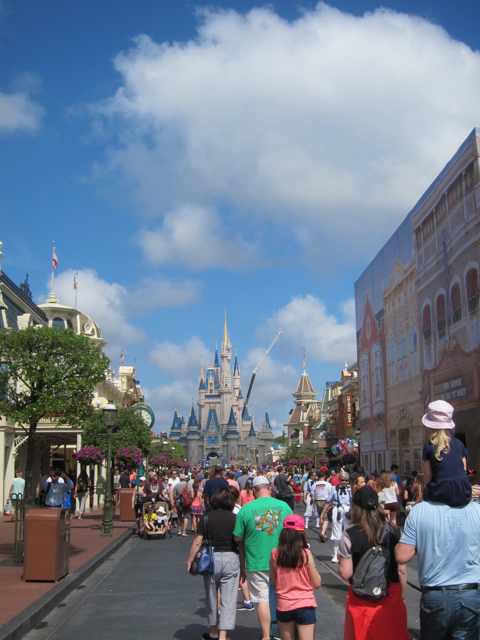 A few buildings along Main Street were having exterior refurbishments done, so we passed some scrims as we walked.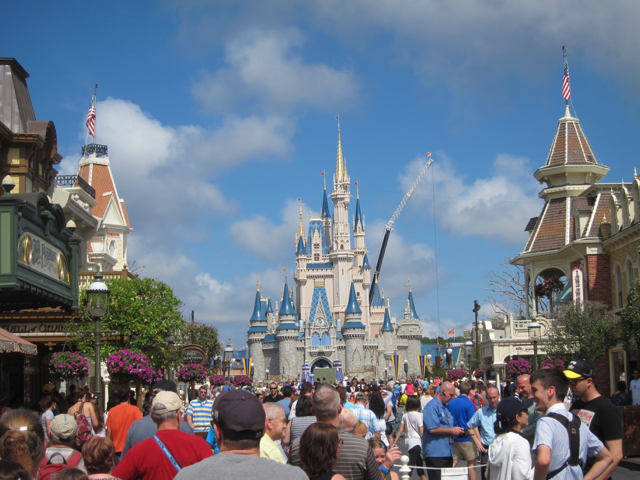 It's become something of a tradition on our Walt Disney World trips for us to be starving when we arrive at the Magic Kingdom, and today was no exception. Rather than charging toward any attractions, therefore, we made our way to Casey's Corner instead.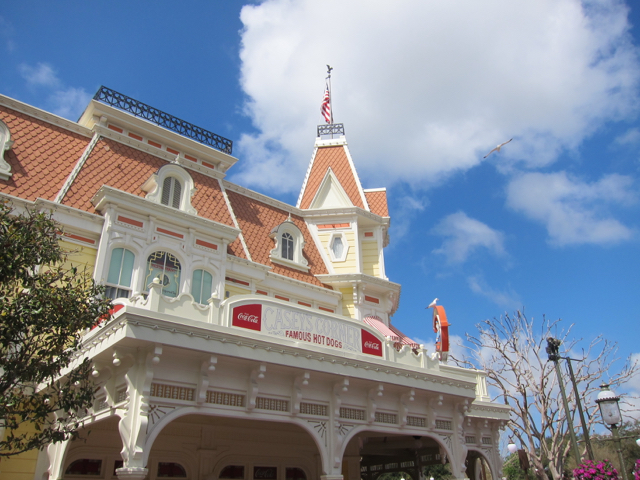 Tracy knew she wanted a Chili Cheese Hot Dog, but I wasn't sure what to get.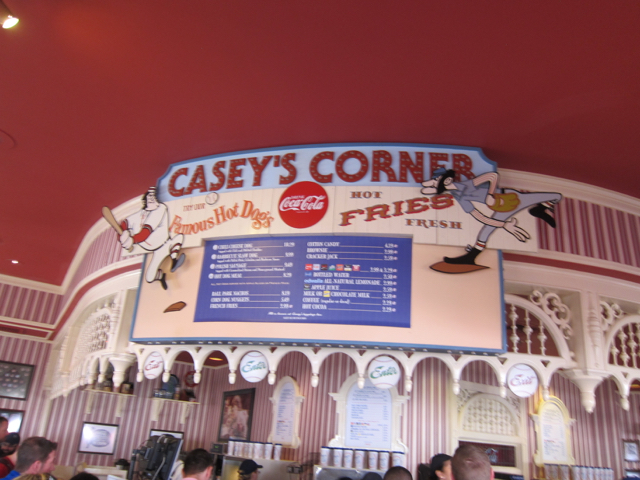 Then I spotted the Foot-Long Barbecue Slaw Dog on the menu and decided on that.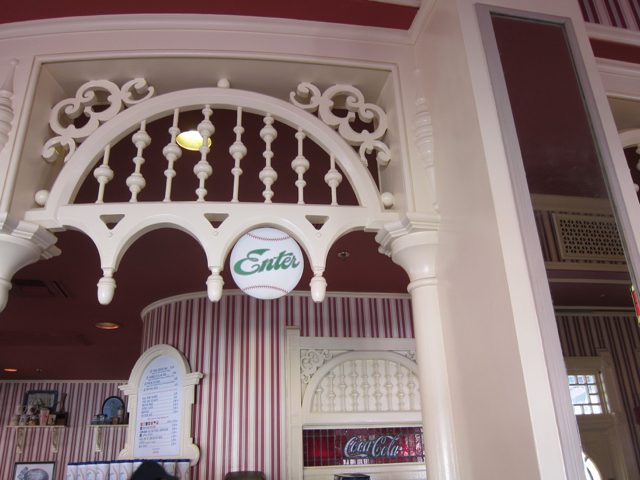 Casey's is definitely one of my favorite places to eat at the Magic Kingdom—both because of the food and the decor.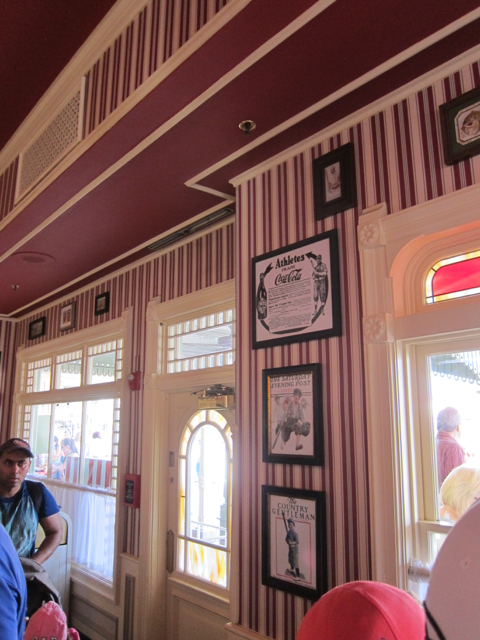 One thing we have noticed about this restaurant, though, is that the lines are always crazy long and they don't move as quickly as it feels like they should. Still, we were able to order eventually.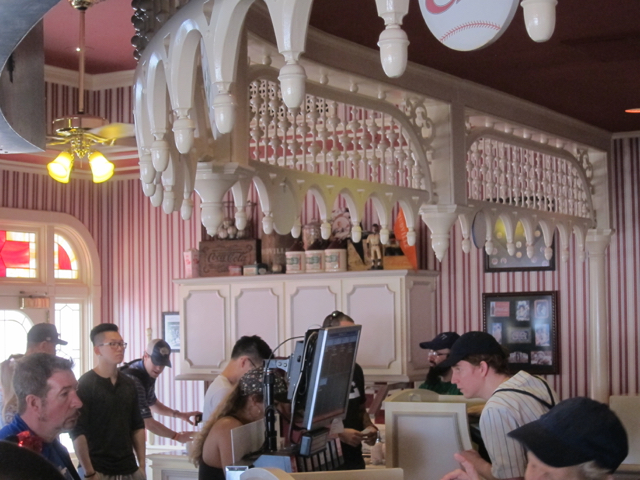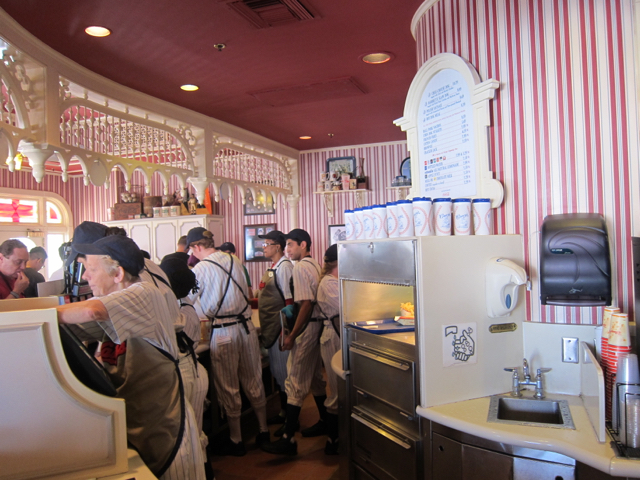 Our food looked delicious once it arrived.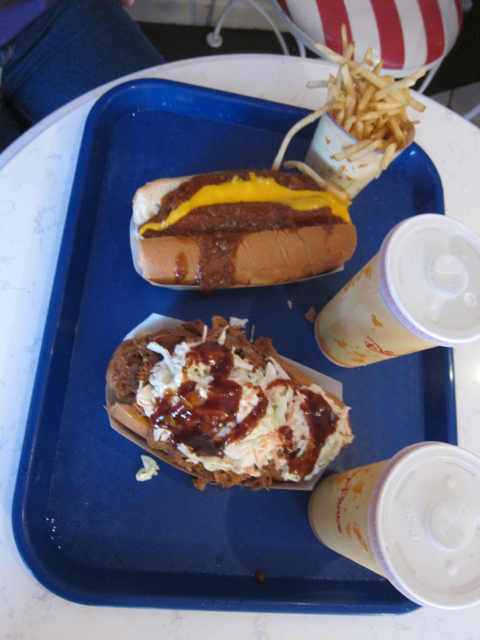 And we were somehow able to find seats at an actual table, which is also pretty rare for this restaurant. Tracy had tried the chili cheese dog plenty of times before, but this was my first experience with the pulled pork. It's honestly like two full meals in one (a whole hot dog and a whole pulled pork sandwich). It's so much food, and it's a pretty good value for the price.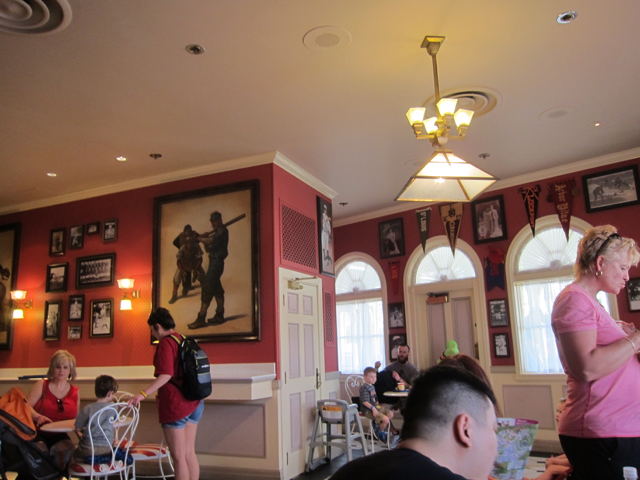 The big news around Walt Disney World around this time was that the hub was starting to reopen after its lengthy construction. The new "hub grass" had just been introduced a few weeks earlier.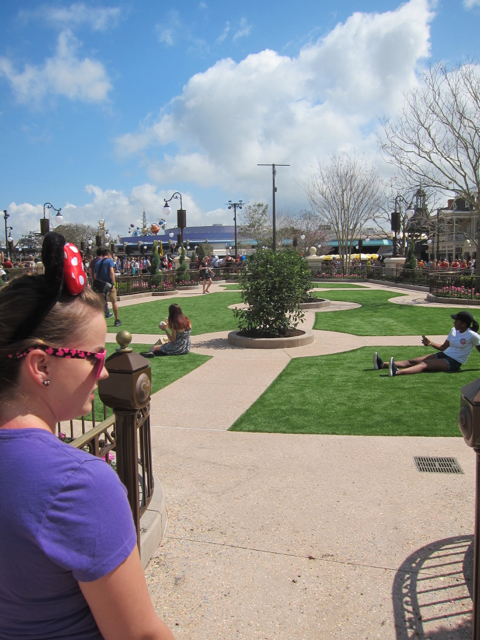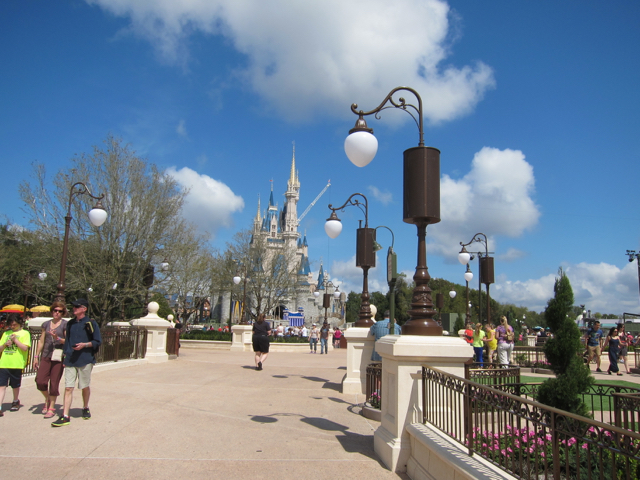 There were still quite a few walls up in front of the castle, though.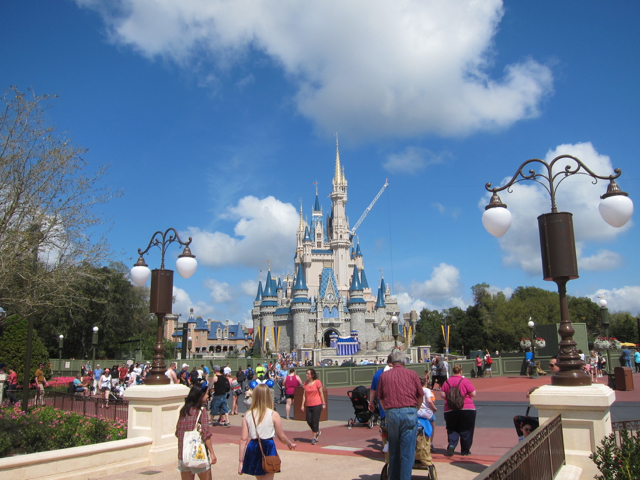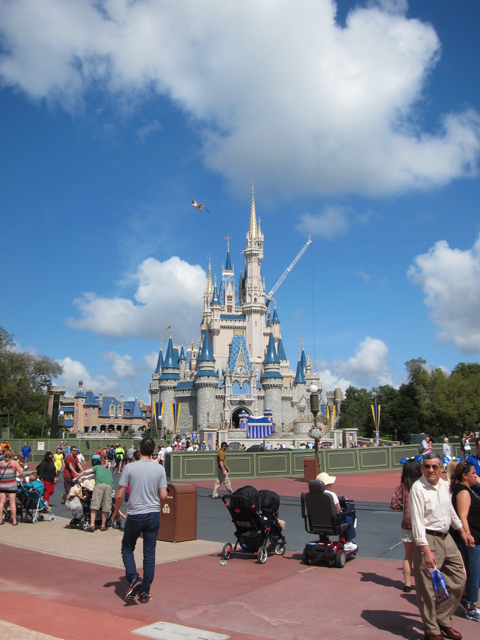 We spotted our first ibis of the trip, which proved we were really in Florida.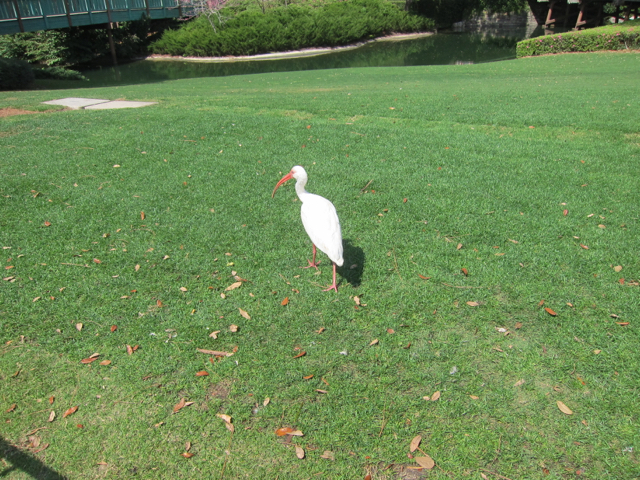 Even with the hub development, we immediately felt the "blessing of size" that WDW has and that DLR lacks. There was so much green alongside the hub.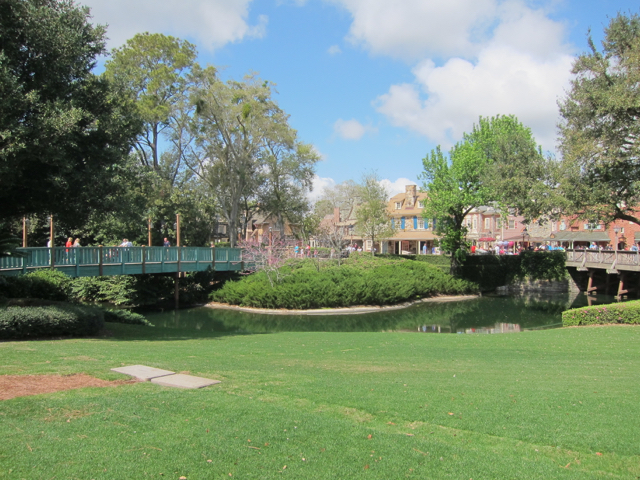 And now it was time to head into Adventureland to ride the first attraction of our trip!
Previous Post | Next Post
Table of Contents
Follow



Share