Chapter 15
Fireworks at Sea
---
Previous Post | Next Post
Table of Contents
There wasn't a Pirate Night on our Alaska cruise, so this was the first time we had experienced it. We headed up to the deck party after Villains Tonight!, and there were lots of characters doing a show.
This Jolly Roger was our host on the big screen.
The lighting and the entire mood out on deck had changed in preparation for the evening.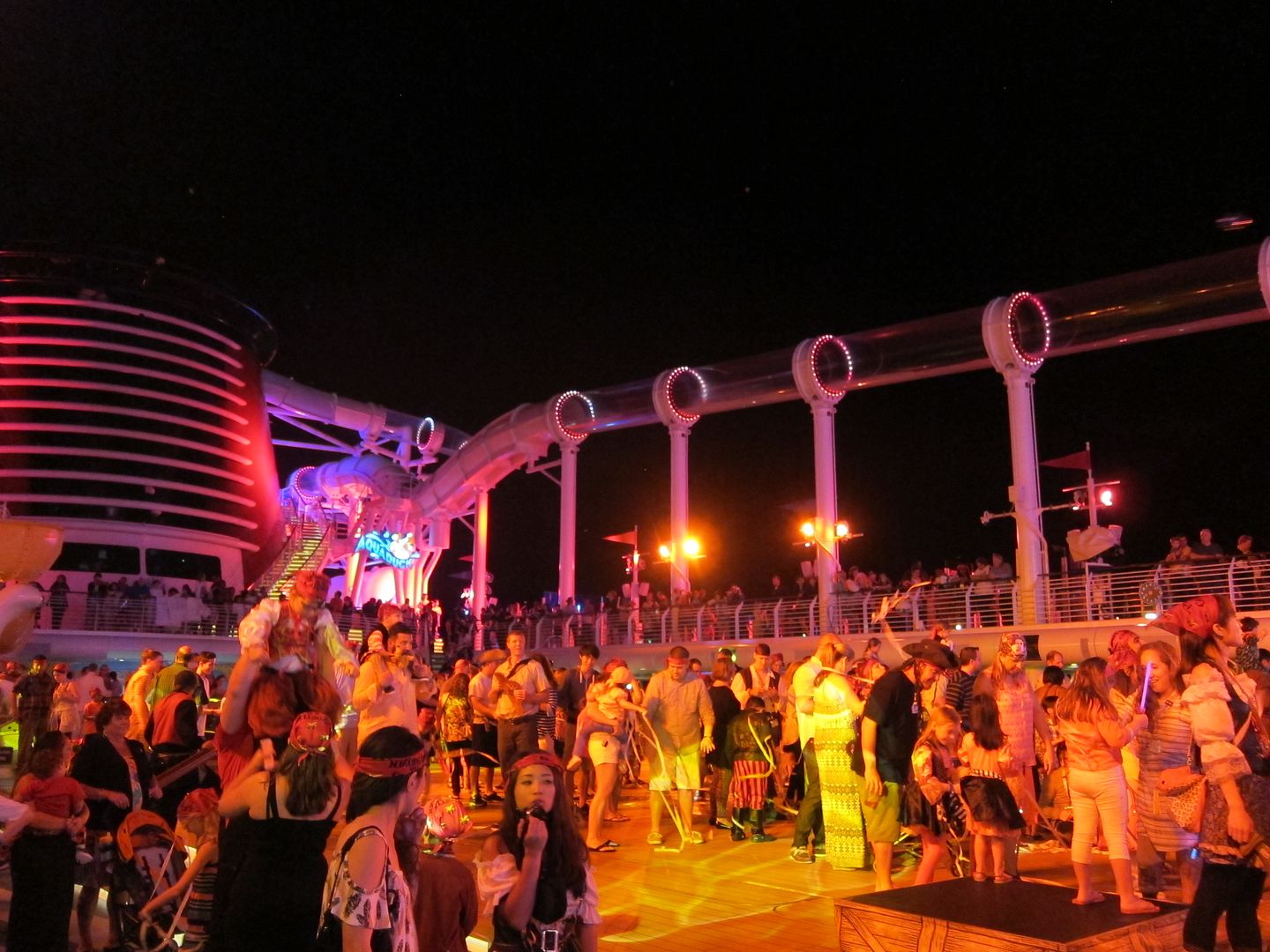 We went back inside for a little while because it was actually a bit chilly out on deck now that the sun had set and we were back in motion.
Several of the pirate characters were doing meet-and-greets.
We had to get a picture with "Captain" Mickey.
Keeping an eye on the Personal Navigator, we knew when we needed to go back outside for fireworks.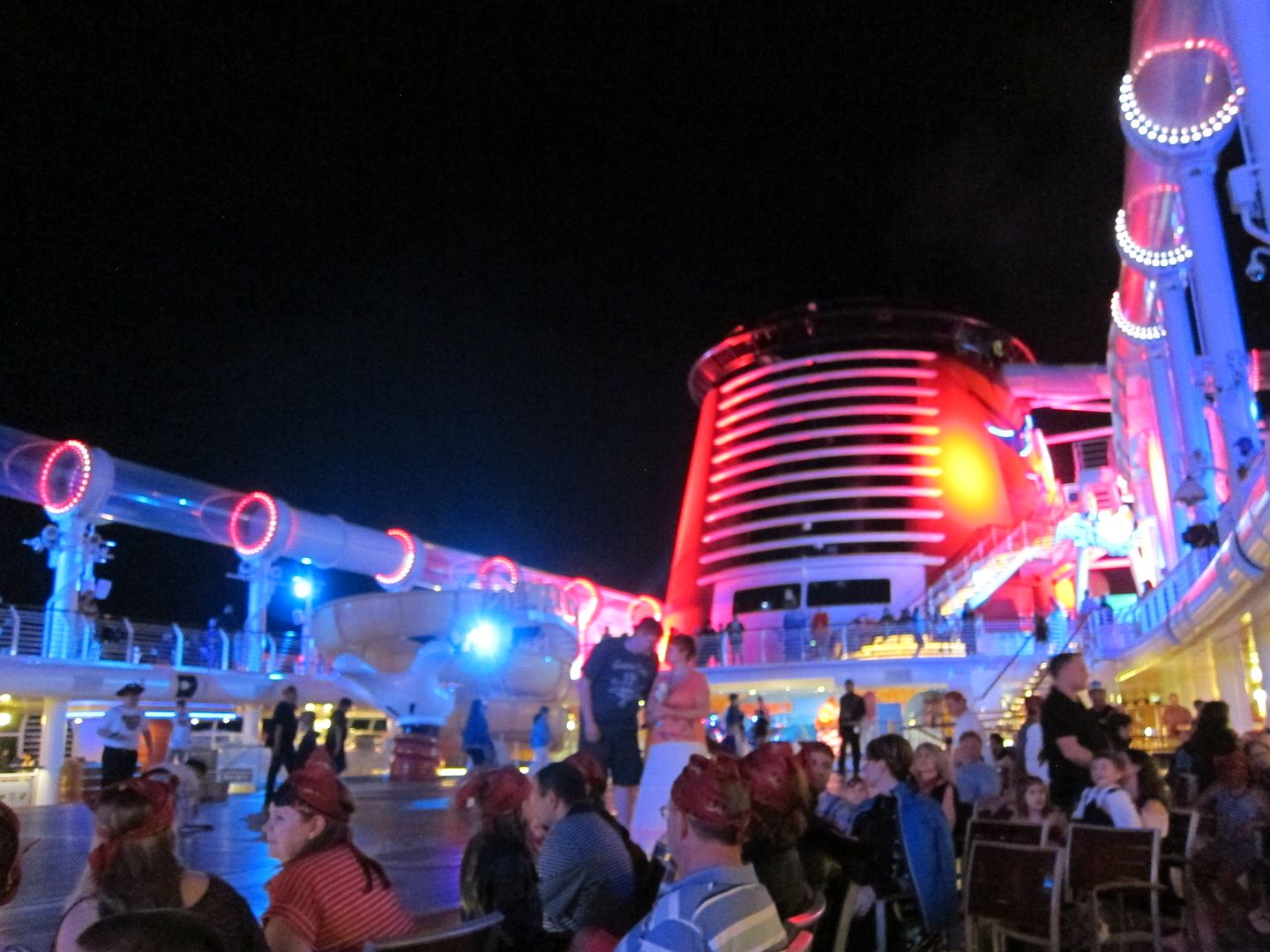 We were lucky enough to find some chairs about 15 minutes before they were scheduled to begin.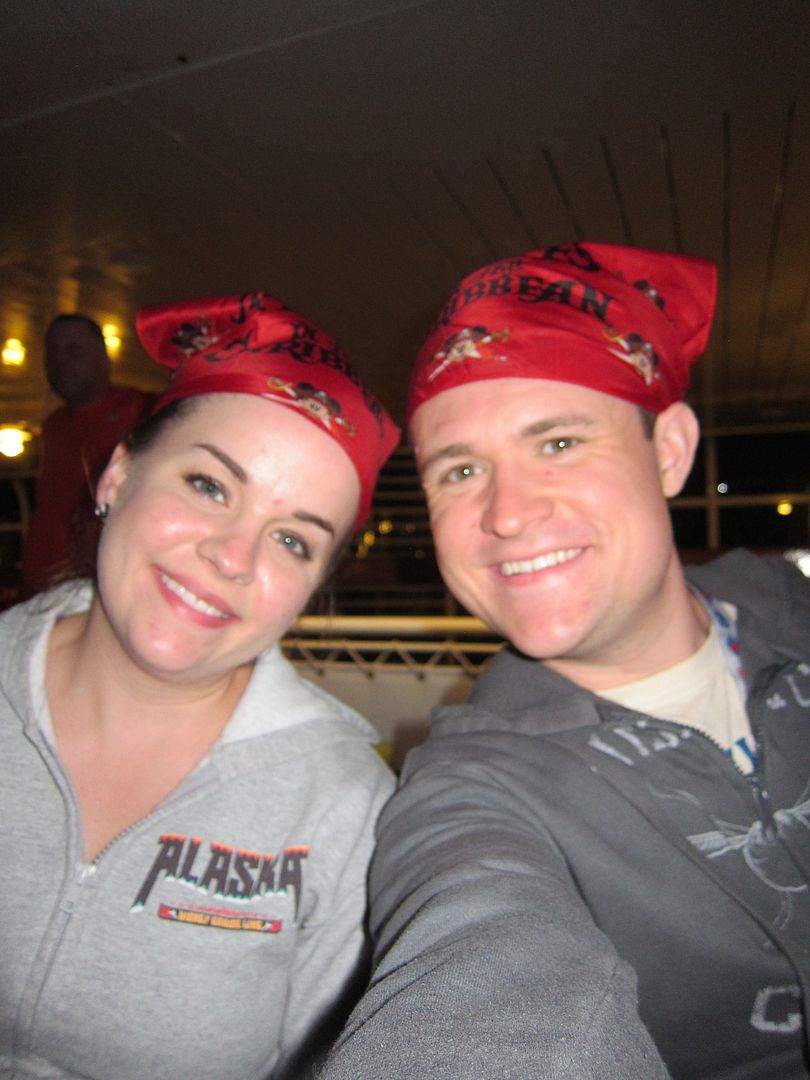 This was our angle, which we were hoping would afford us a decent view.
The moon was out for now, but it was getting a little cloudy.
Jolly Roger came back to introduce us to the stage show that we were about to see with Jack Sparrow and crew.
This was quite the swashbuckling display of piratery.
The show transitioned right into the fireworks, and it also started to rain right when they began going off. Luckily, it mostly kept to a drizzle—though the conditions weren't exactly ideal. For those who haven't seen the fireworks at sea, it's worth noting that they aren't really as spectacular as those at the theme parks. Most of the explosions are a little smaller and not paced quite as quickly, but it was still fun to see them light up the sky above our ship.
Once the fireworks were done, we went back below decks to our stateroom for another night's sleep. It was hard to believe that our cruise was essentially half over already. But we were still very excited for our upcoming day at Castaway Cay!
 Previous Post | Next Post
Table of Contents
Follow



Share