Chapter 8
Wildest Ride in the Wilderness
---
Previous Post | Next Post
Table of Contents
Liberty Square is completely unique to Walt Disney World, so this was a land that we really hadn't experienced in almost three years. It's also one of the best-themed lands in the whole Magic Kingdom.
It's been a while since the last time I listened to Lou Mongello's Liberty Square audio guide, but I do know that everything in Liberty Square is very deliberately based on the story of the land. So I'm sure there's some reason why these cauldrons are all on the ground…
I also remember from either a podcast or that same audio guide that I learned the "misspelling" of Pennsylvania (spelled with only one "N") on the Liberty Bell isn't a misspelling at all—it's just one of the acceptable ways the colony's name was spelled at the time.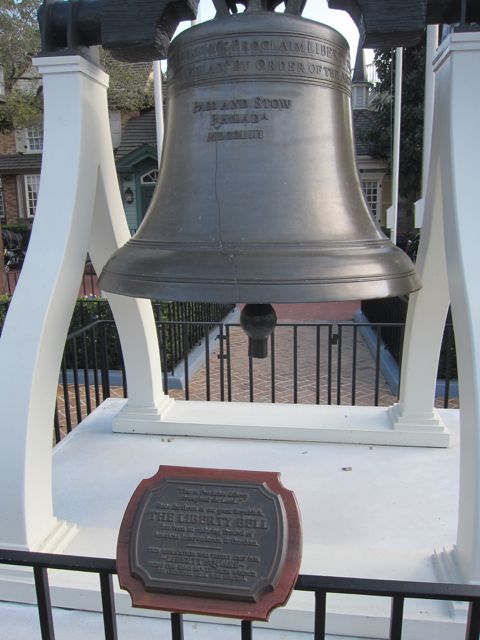 I will never not laugh at this speaker cleverly disguised as a birdhouse.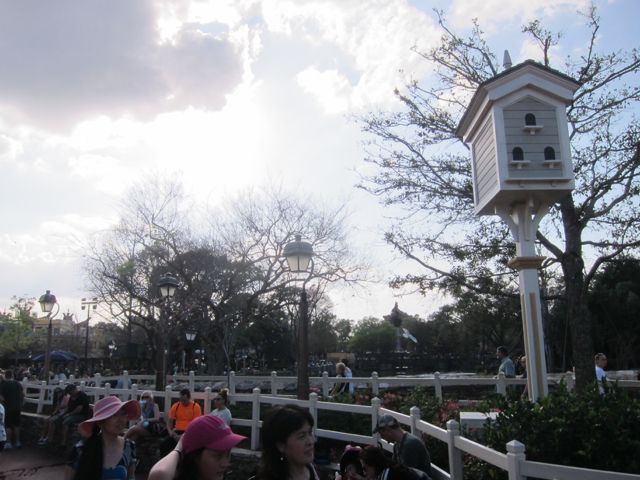 So many buildings at Walt Disney World just sit, entirely unused, for most of the year. The Diamond Horseshoe is one of them. We've never been inside because it's only open for counter-service dining during the craziest seasons at the parks.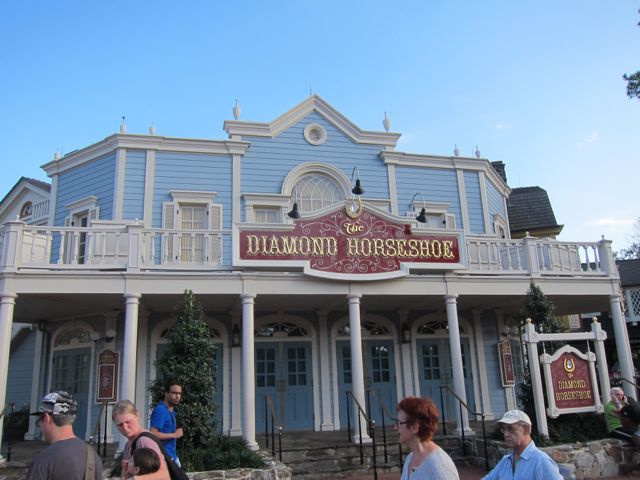 The "blessing of size" is keenly felt in the Magic Kingdom's Frontierland and Liberty Square. The walkways are so wide and have plenty of little pullouts (most of which are, unfortunately, smoking areas these days).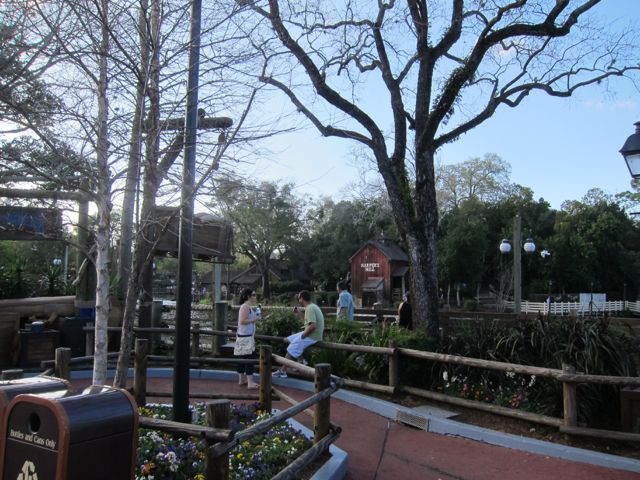 On our last trip, Big Thunder Mountain was down for refurbishment and re-opened the day after we left (much to Tracy's chagrin). Luckily, it was open today and was our next destination.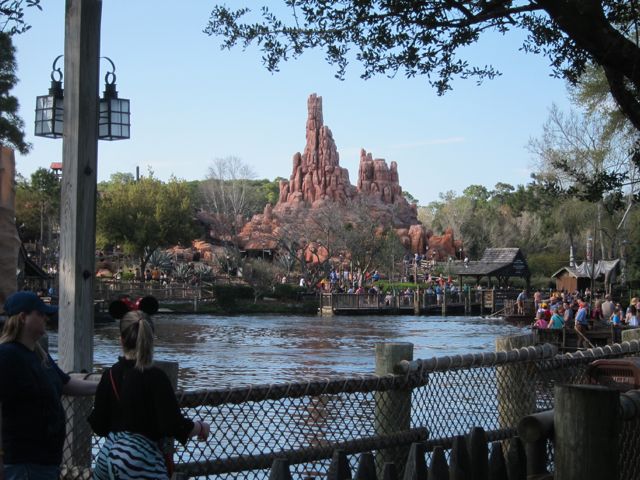 It's a little funny how you can always see the castle from every land at the Magic Kingdom. It breaks the illusion a bit, which is otherwise so seamless.
We had FP+ for Big Thunder, so we were able to head right up this ramp.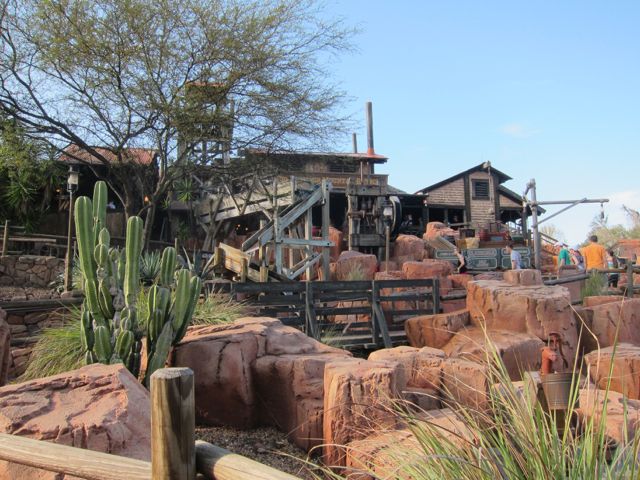 The queue for this attraction is so well done, in a very simplistic way. It really gets you all prepared for the attraction ahead.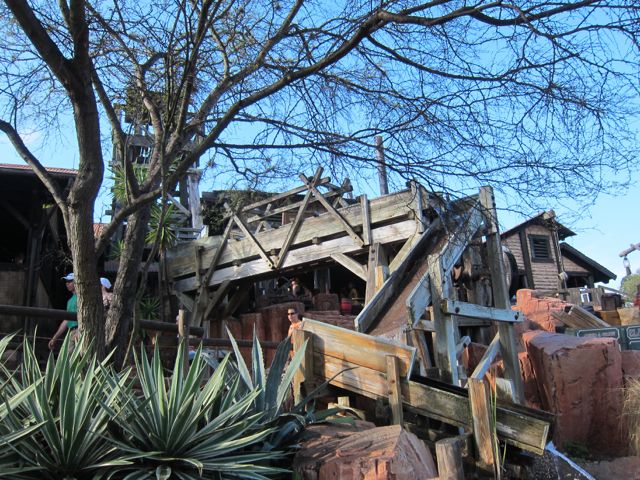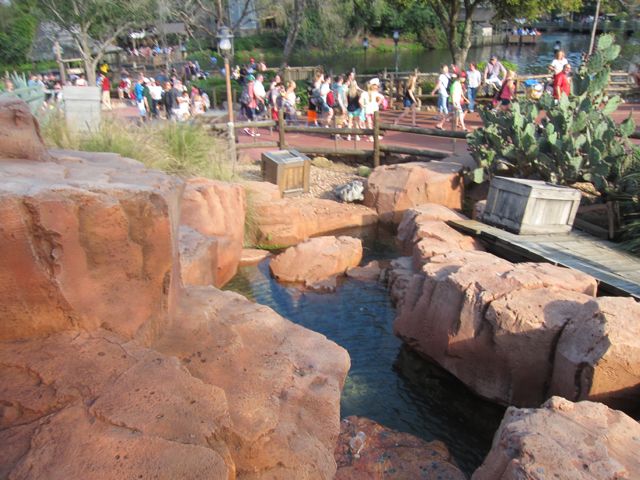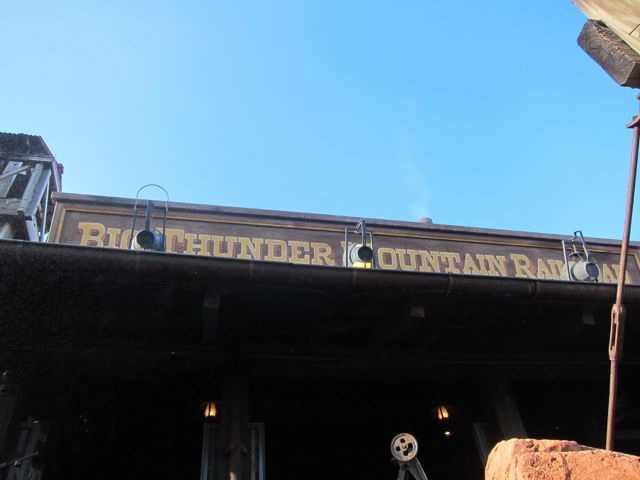 We were totally whistling as we went past this sign. And kidding.
There are so many chances to choose right or left at Disney World. Years and years ago, I heard that left was often faster, but I think that was debunked. So now it's just stressful knowing we might pick the much slower line…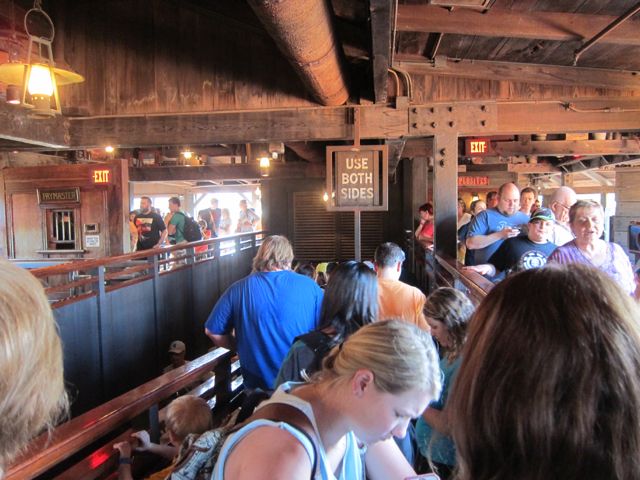 Okay, so it's not that stressful.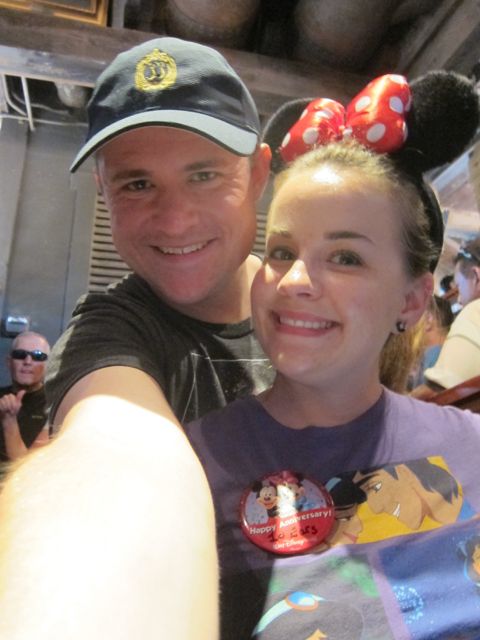 We got our seats in our train.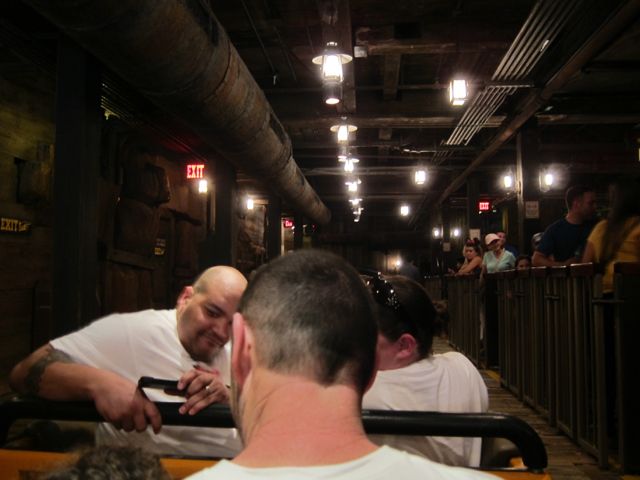 The Thunder Mountains on both coasts are very comparable. I still prefer the "new" explosion scene on the third lift hill at Disneyland, but there's nothing to complain about here. Just a fun attraction all around.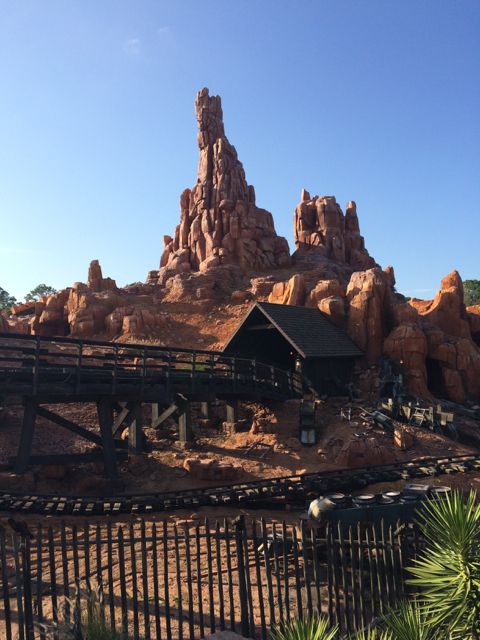 We asked a kindly stranger to take our photo in front of the attraction's iconic facade.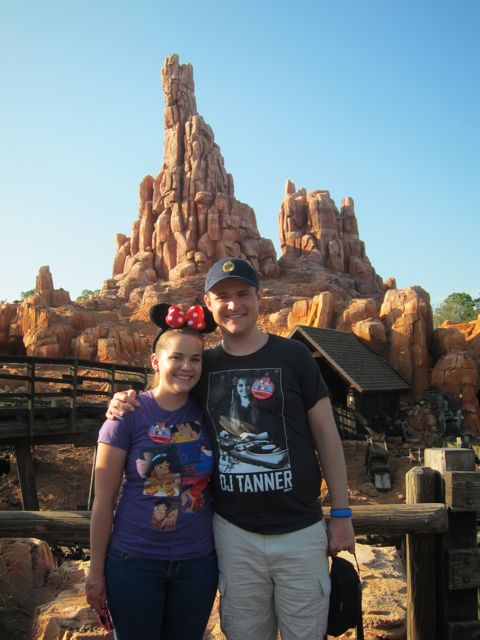 It's funny being able to see over to Liberty Square (and past it to the Tangled bathrooms in Fantasyland) from the exit queue out of Big Thunder. Plus, we were excited to see the Liberty Belle float by.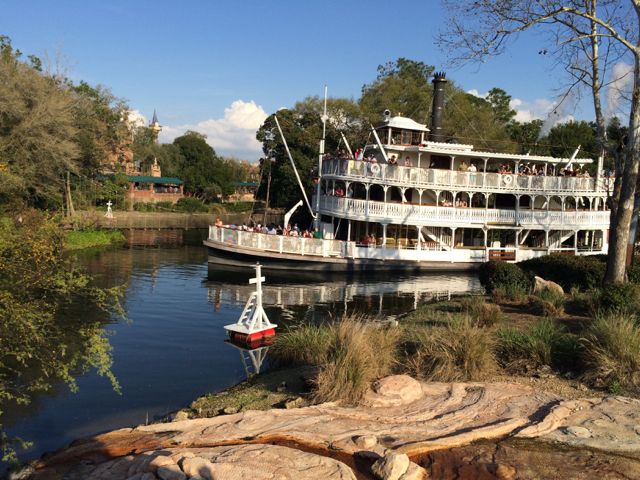 The geysers and hot springs are fun too.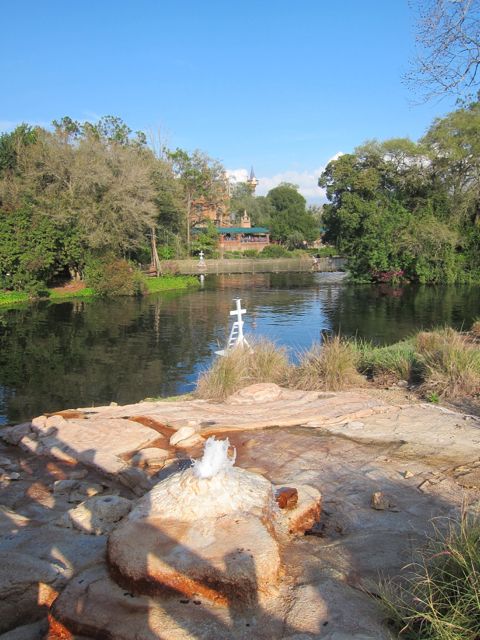 I kept having my pictures stymied by the position of the sun, but this one turned out pretty well.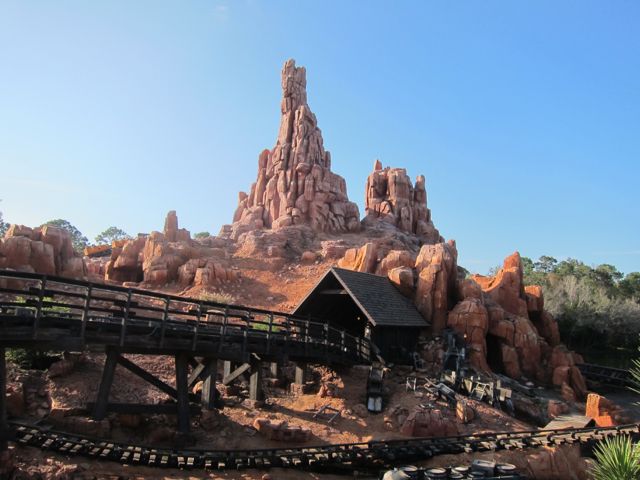 There's that riverboat again.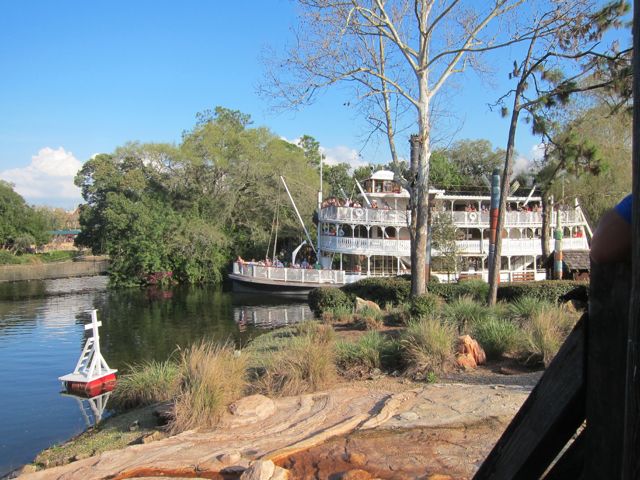 Continuing our walk through Frontierland, we passed the Splash Mountain logs emerging from their big drop. We weren't ruling this attraction out just yet, though Tracy hadn't much enjoyed her last ride on it at Disneyland.
We knew we probably wouldn't make it over to Tom Sawyer Island any time soon. We'd gone on our last trip, and it just eats up so much time…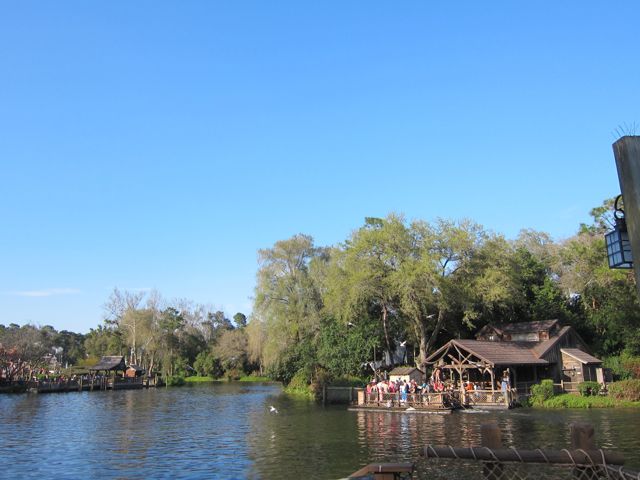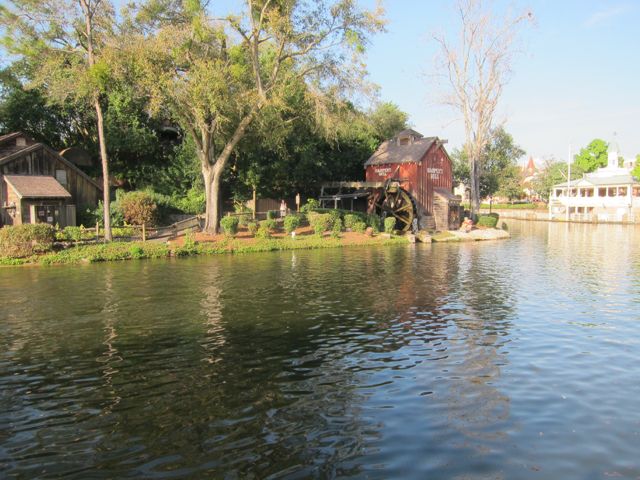 The ibises (if that's the correct plural) were multiplying.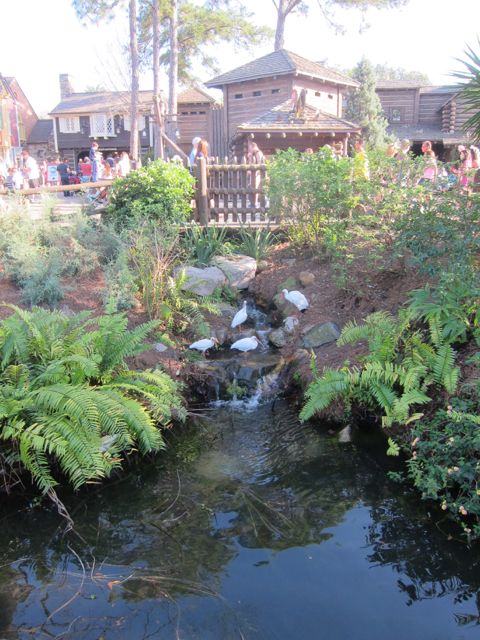 I love this subtle nod to Walt's grandfather who was named Kepple (quite a unique name).
And then it was back across the bridge toward the hub.
These flowers formed a Hidden Mickey.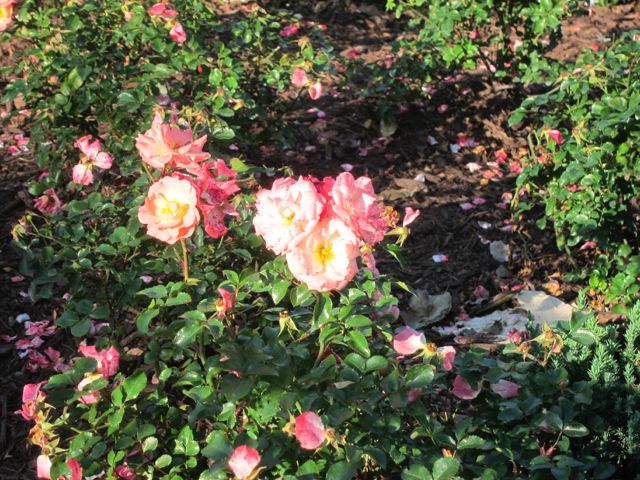 We continued back down Main Street.
In Town Square, we took a few photos of the Main Street shop windows.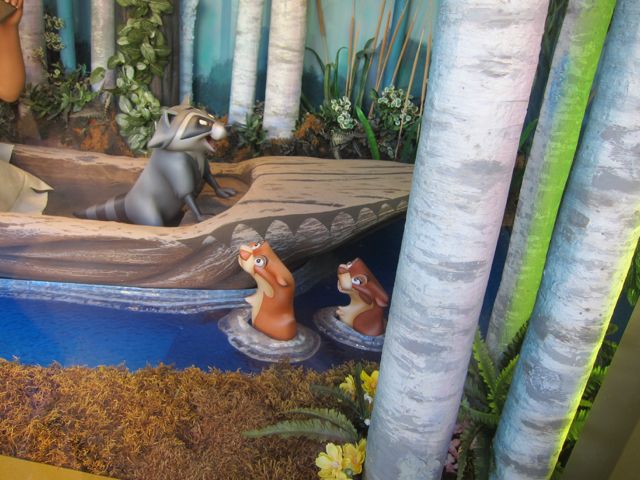 I'm all for forced perspective, but Lumiere is a little absurdly giant in this one.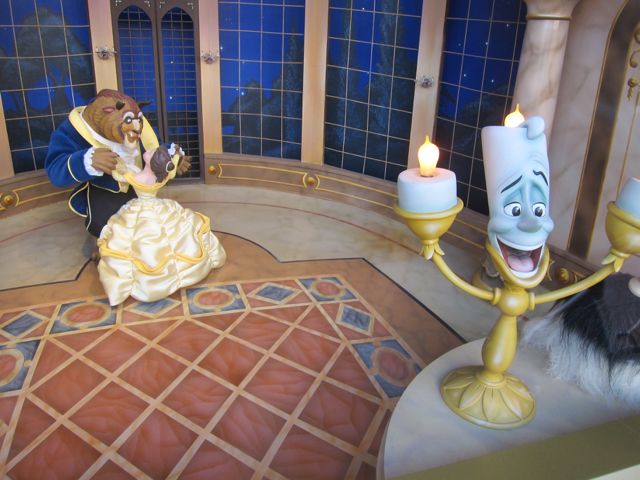 I also learned about Osh Popham in Lou Mongello's Main Street audio guide, but I need to listen again because I've forgotten that whole story as well.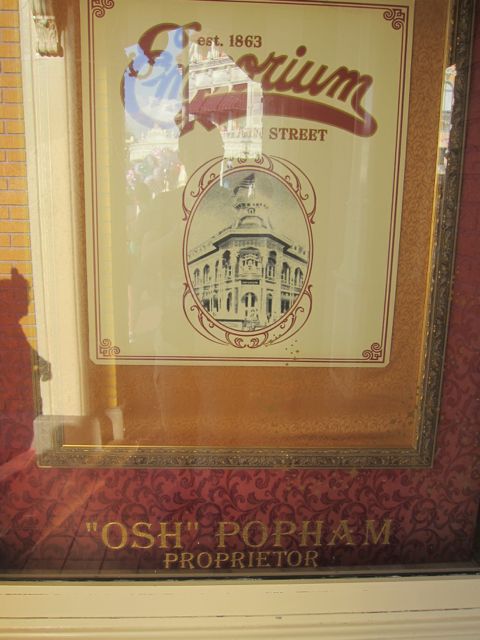 We were getting ready to leave the Magic Kingdom. But unlike partings that would happen later in the trip, this one wasn't sad at all. It was just our first day, and we would be returning many, many more times over the course of the next week.
I always enjoy looking at the attraction posters that line the tunnel.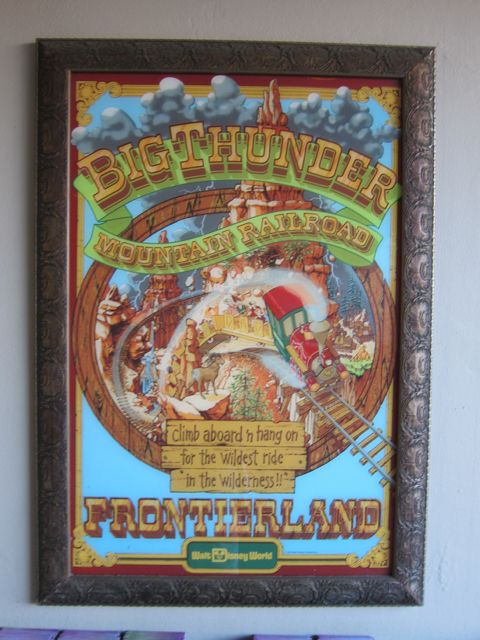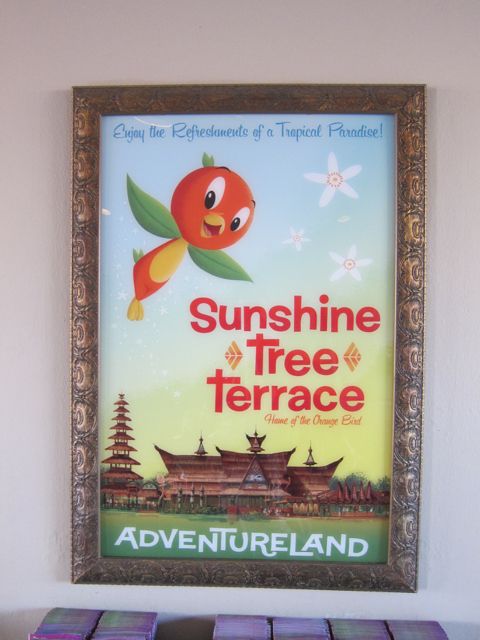 We took a glance back, and the park looked positively peaceful. But for now, it was getting to be time for us to go eat some dinner!
Previous Post | Next Post
Table of Contents
Follow



Share