Chapter 14
Riddle Me This
---
Previous Post | Next Post
Table of Contents
Since it was only the end of February, sunset was pretty early, and dusk had already made an appearance before dinnertime.
Unfortunately, the AquaDuck had an hour wait even now.
Tonight, our dining rotation was sending us to Royal Palace.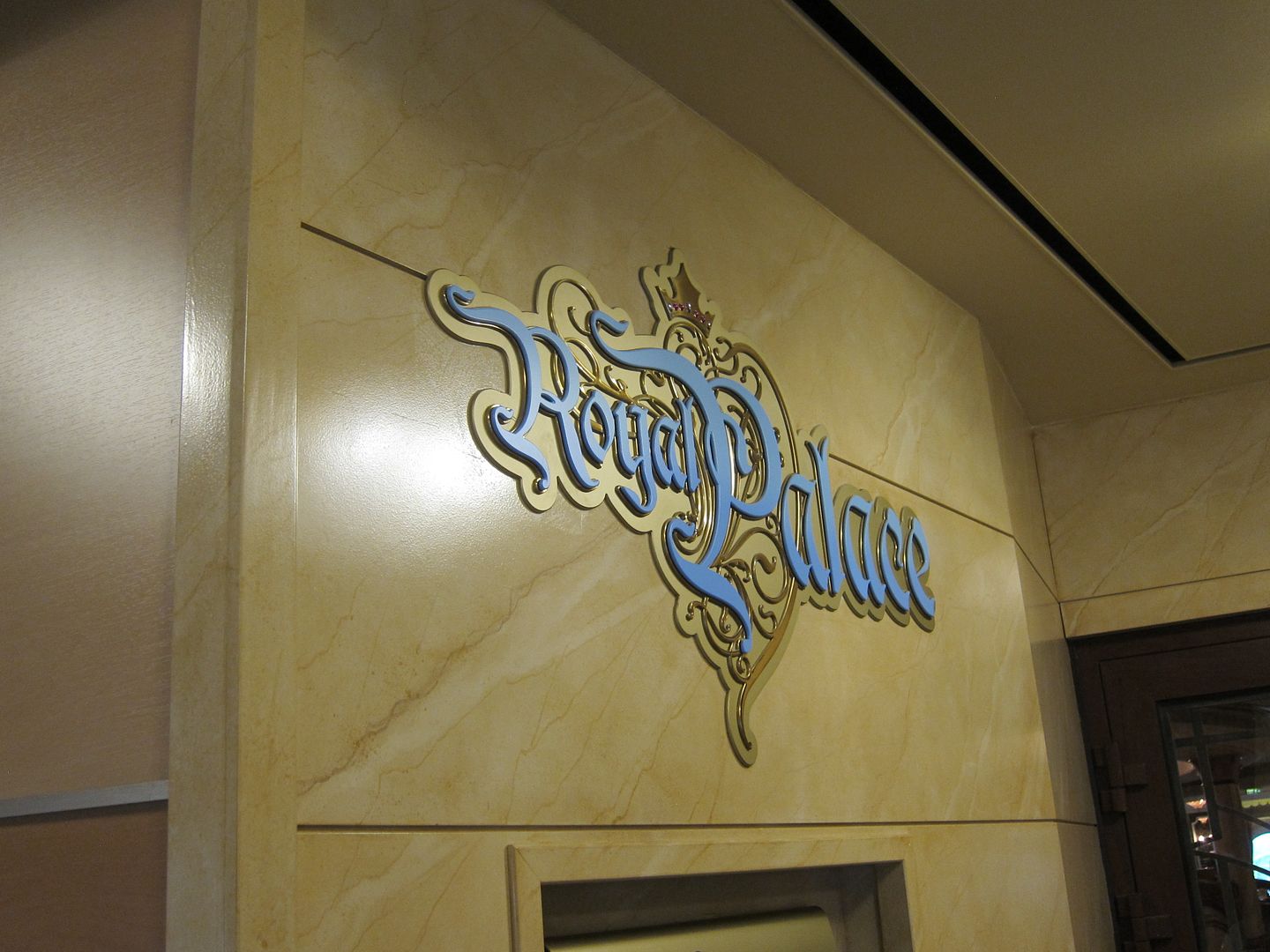 We'd already checked out the restaurant at breakfast, but this was the first and only time we'd actually sit at our table with our serving team and all.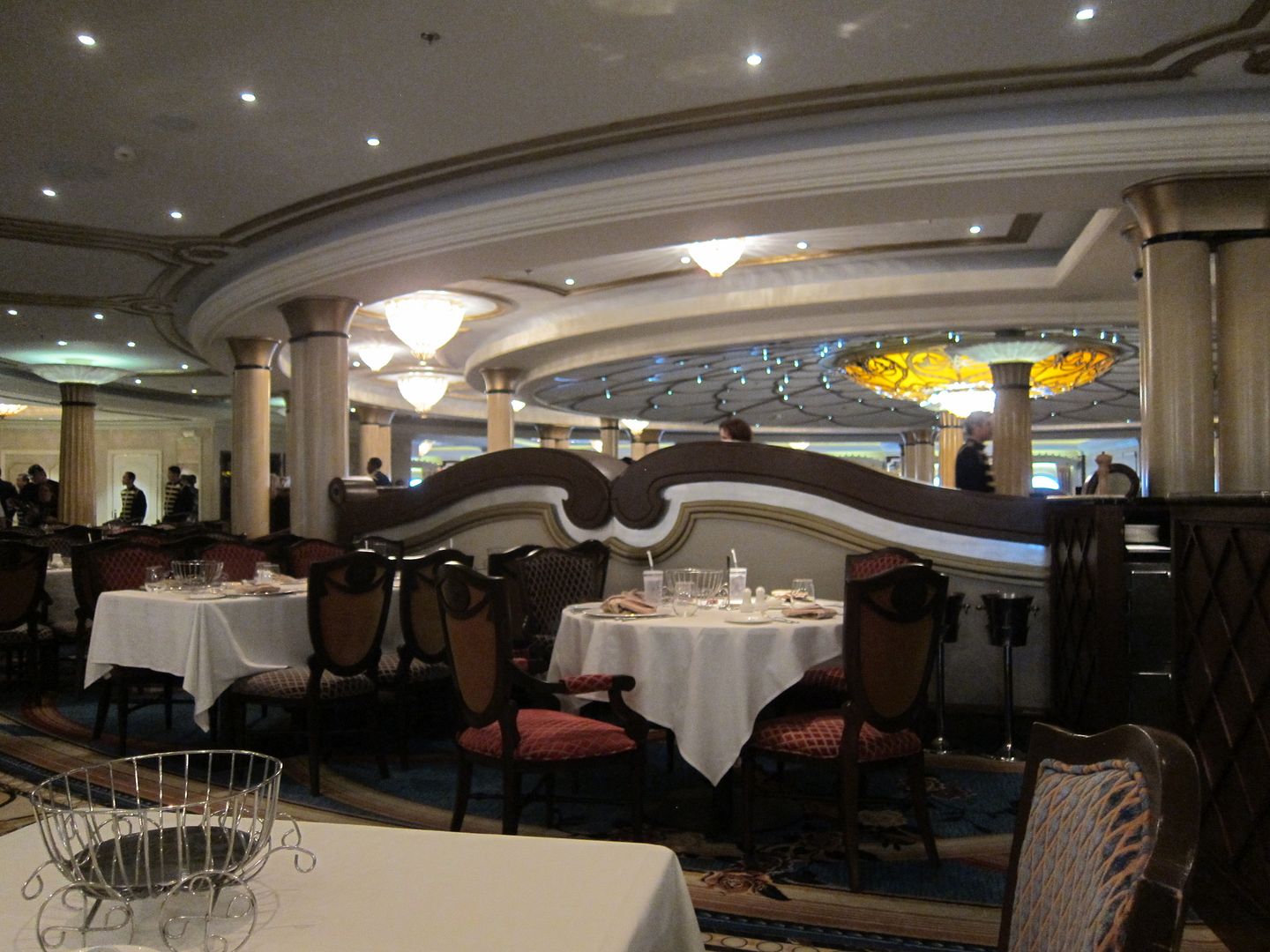 We actually had our real server this evening (he had been under the weather the night before).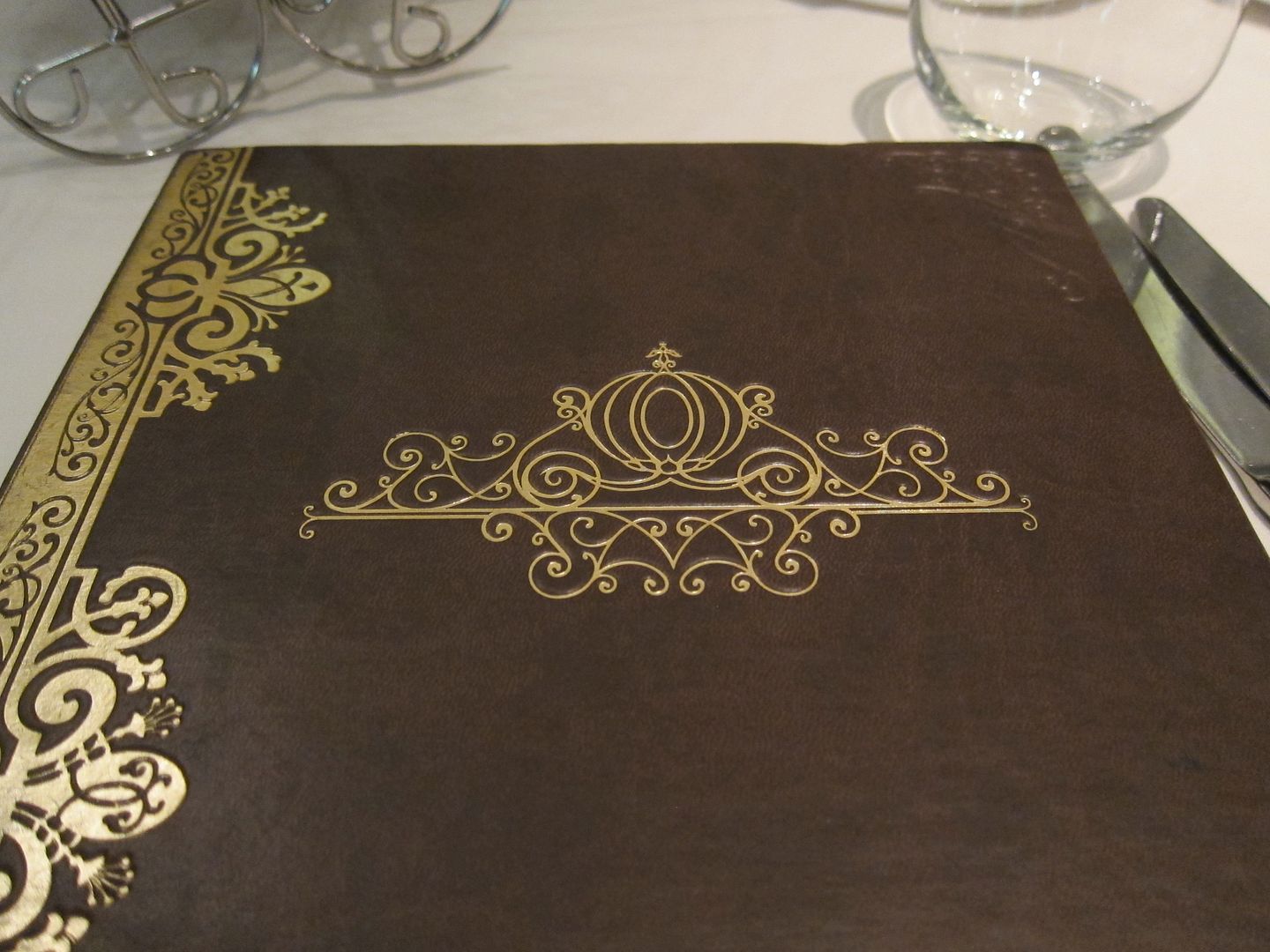 Bread service was a Warm Herb Brioche with an Olive Spread (shaped like Cinderella's carriage), and it was really good.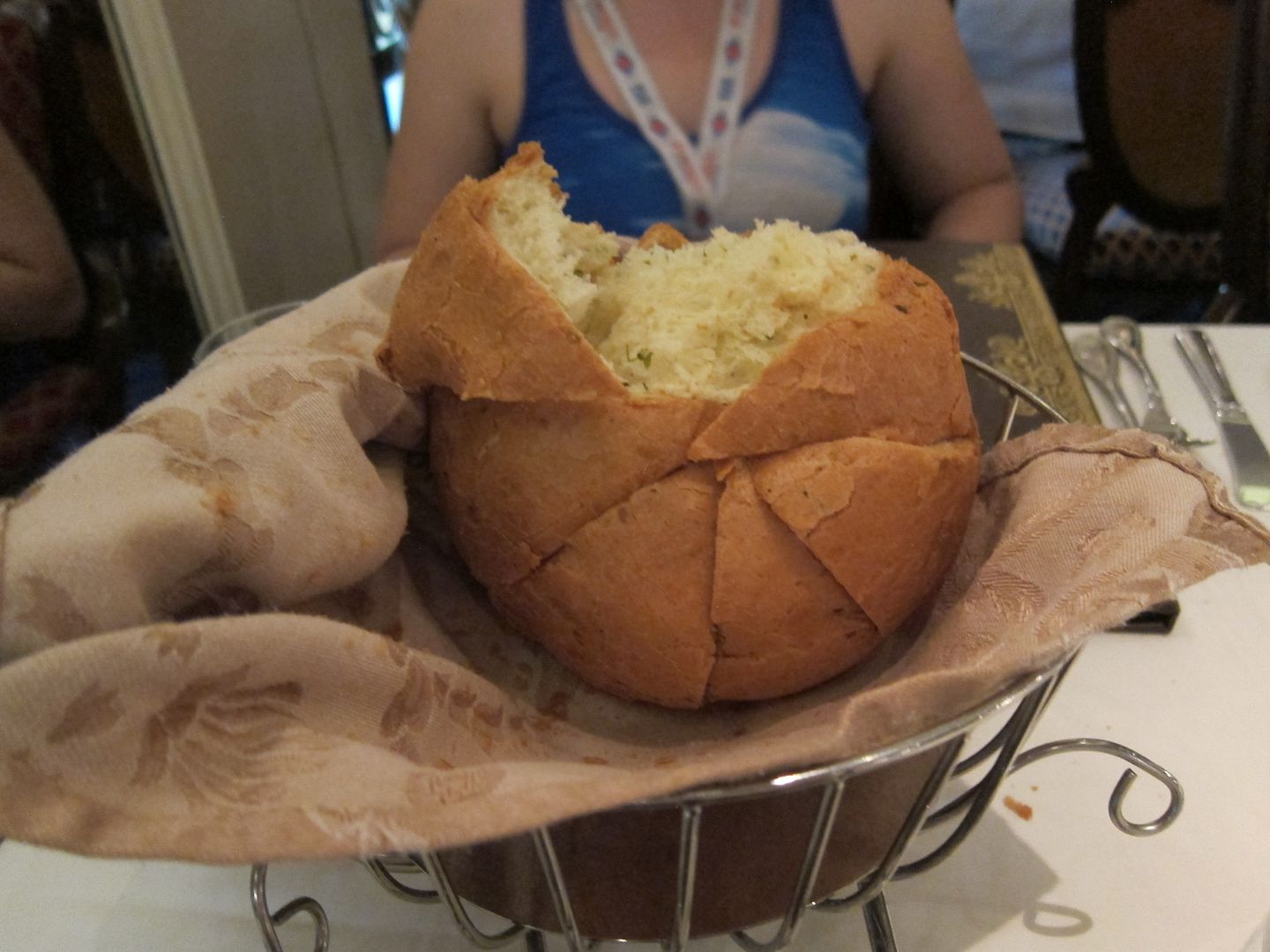 I ordered a Shirley Temple to drink (cruise tradition).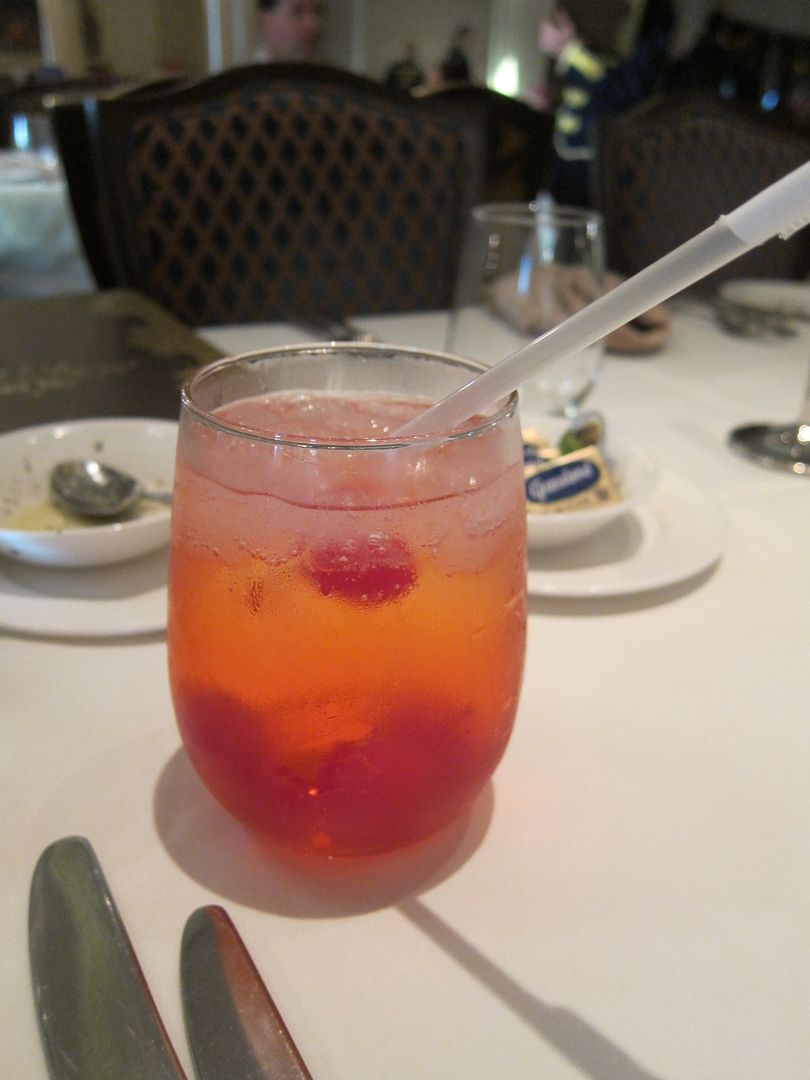 For appetizers, I ordered the Breaded and Deep Fried Brie (with an Orange and Cranberry Chutney).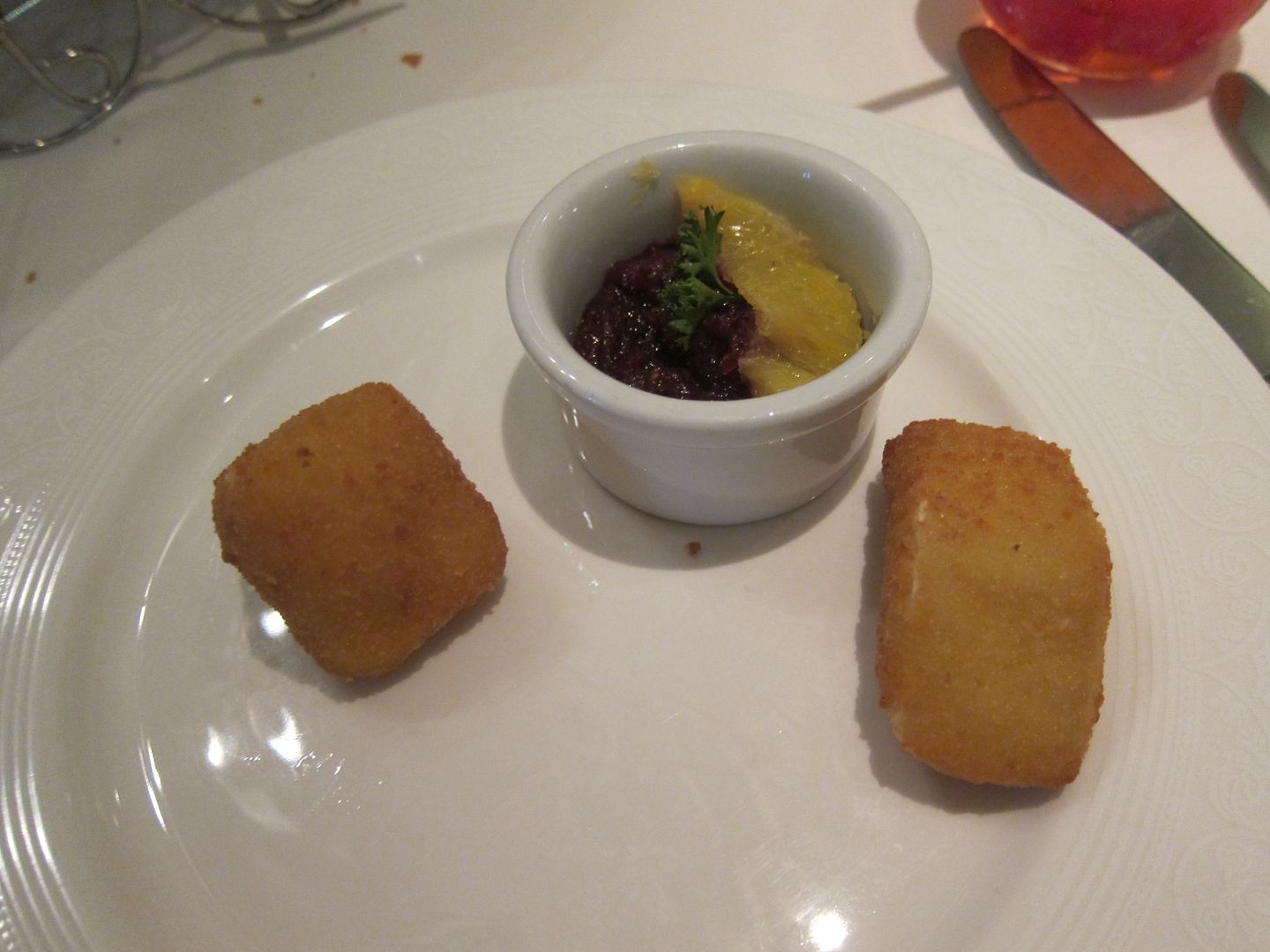 Tracy got the Onion Soup Gratinée (with Baguette and Gruyere Cheese).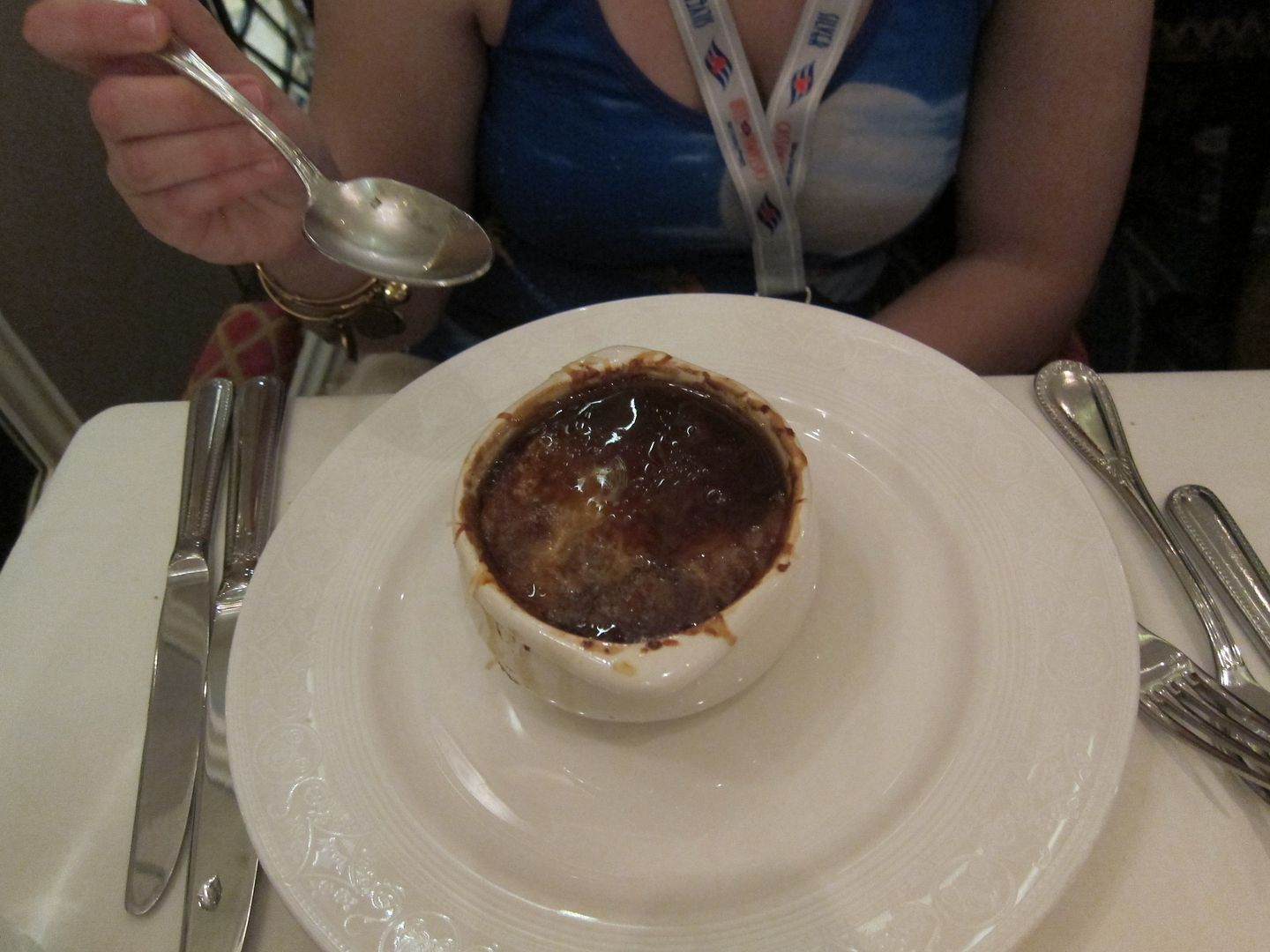 I love brie and Tracy loves French onion soup, so it was a good day for appetizers. When it came time to order entrees, I got the Chateaubriand-Roasted Filet Steak (Roasted Filet Steak, Crushed New Potatoes with Shallots, Buttered Green Beans, Red Wine Jus, and a Bernaise Sauce on the side).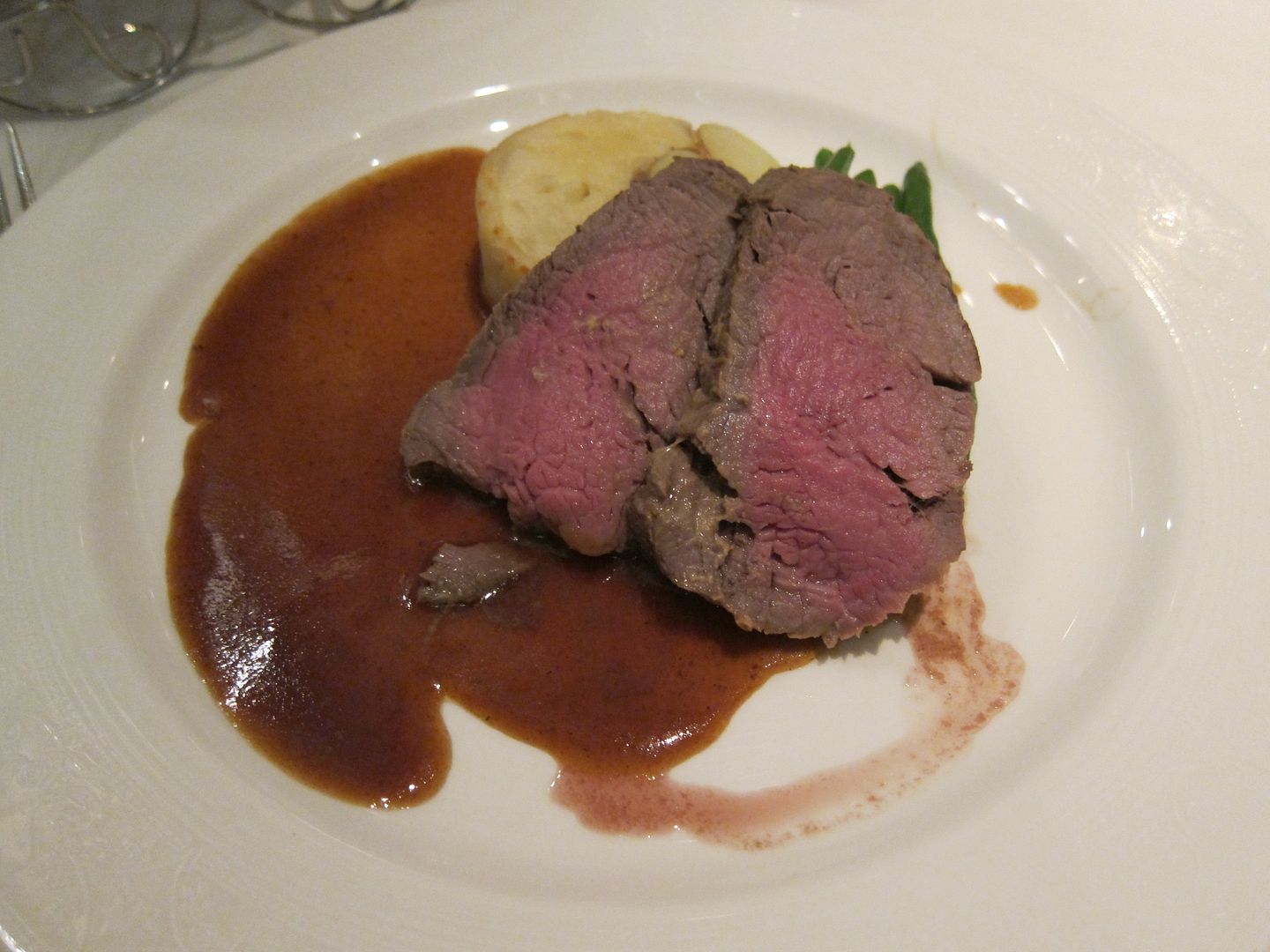 Tracy went for the Lobster Macaroni (Elbow Pasta mixed with Lobster Meat, Tarragon, Gruyere, and Cheddar Cheese Sauce, drizzled with a White Truffle Olive Oil).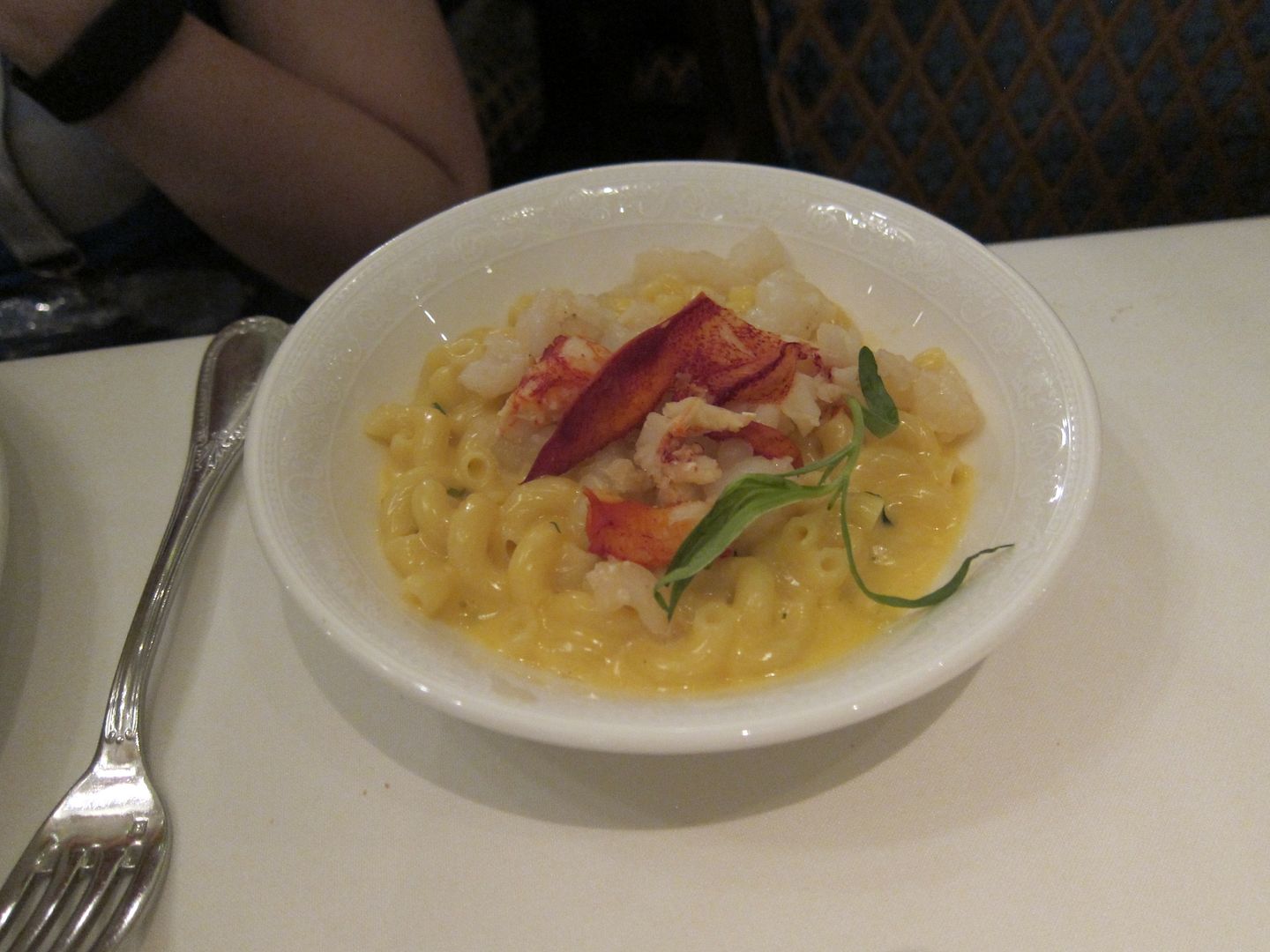 These main courses were both excellent as well. The dessert menu came next and was packaged like an invitation to a fancy ball.
My decision was easy, because I had spotted the Grand Marnier Soufflé (infused with fresh Orange Zest and served with Grand Marnier Creme Anglaise) when I had been browsing the DCL app earlier that day.
Tracy was slightly torn because she also thought the souffle was hard to pass up, but she just had to get creme brûlée if it was on the menu. This was the Tahitian Vanilla Creme Brûlée (with Almond Biscotti), and I think she was pretty happy with her decision.
The last souffle I'd eaten was the famous dessert at Palo on the Disney Wonder, so this one had a lot to live up to. I didn't think the Grand Marnier was quite as good a flavoring as that chocolate sauce had been, but it was still very tasty.
Our server, it turned out, was into riddles. He came over with a crayon and drew the following on our placemat:
10 10 10
950
He asked us to draw one line that would make the top and bottom lines equal. I'll let you stew on that one for a while and put the answer at the bottom of this post.
I can't really remember how the second riddle went even though I have a photo… All I know is it involved rearranging crayons. I don't even know if we got that one right or if our server had to show us the answer.
When we went back to our stateroom after dinner, we found this blanket animal (slightly fancier than a towel animal).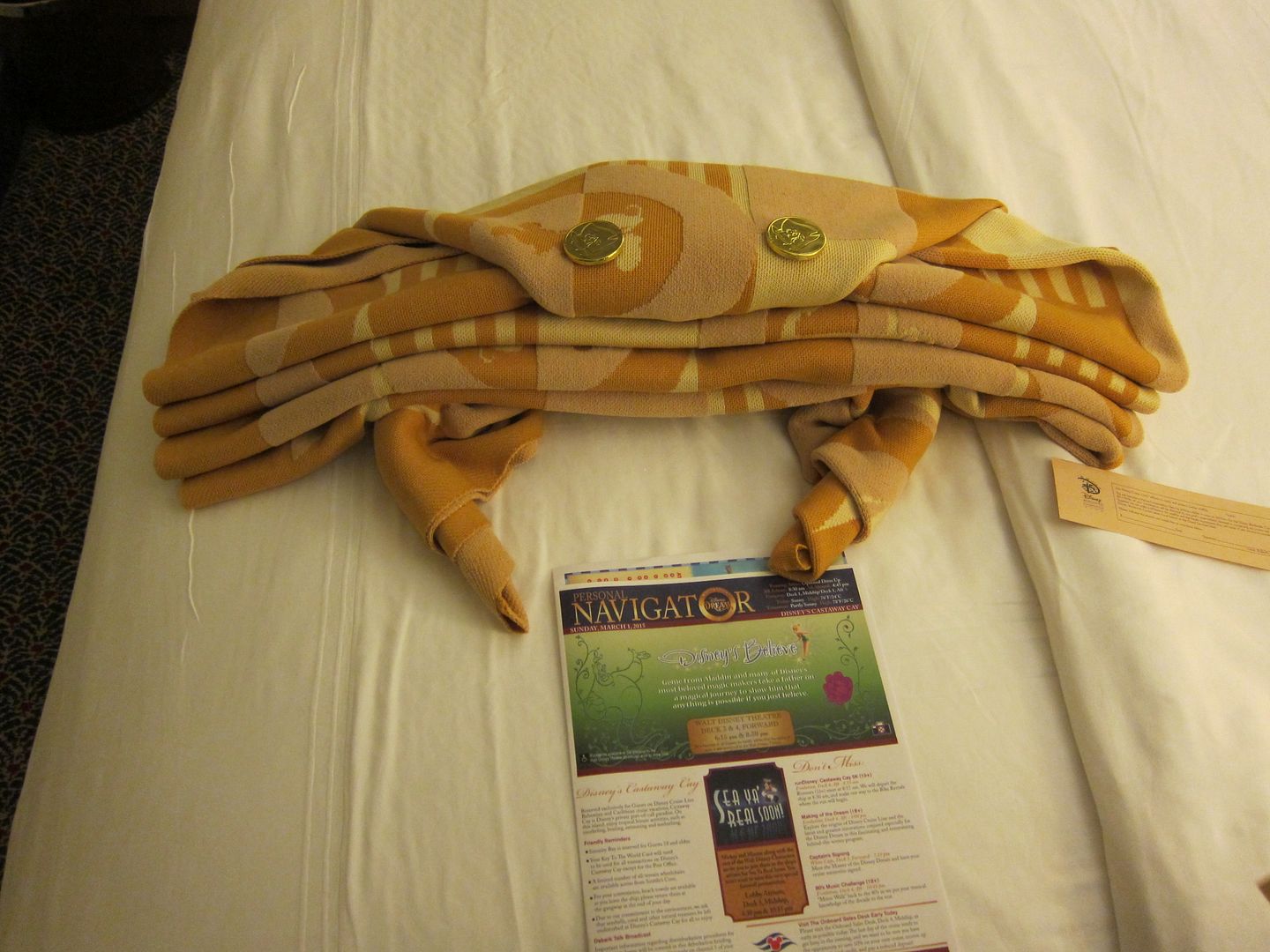 Gelatoni, Duffy, and Crooky were all arranged on the bed as well.
Tonight's show in the Walt Disney Theatre was Villains Tonight!. I'd read that this wasn't exactly Disney's best production, and I do have to agree after seeing it. The show was fine, but I'm just not as into the villains as some people are. There were certainly a few laughs (and some eye-roll moments), but I felt that the show was lacking any really good music—which is so key to one of these performances.
The night wasn't over after the show, however, and we still had to make sure to stay awake long enough to enjoy the Pirates in the Caribbean deck party.
(Here's the answer to the dinner riddle, in case you were wondering).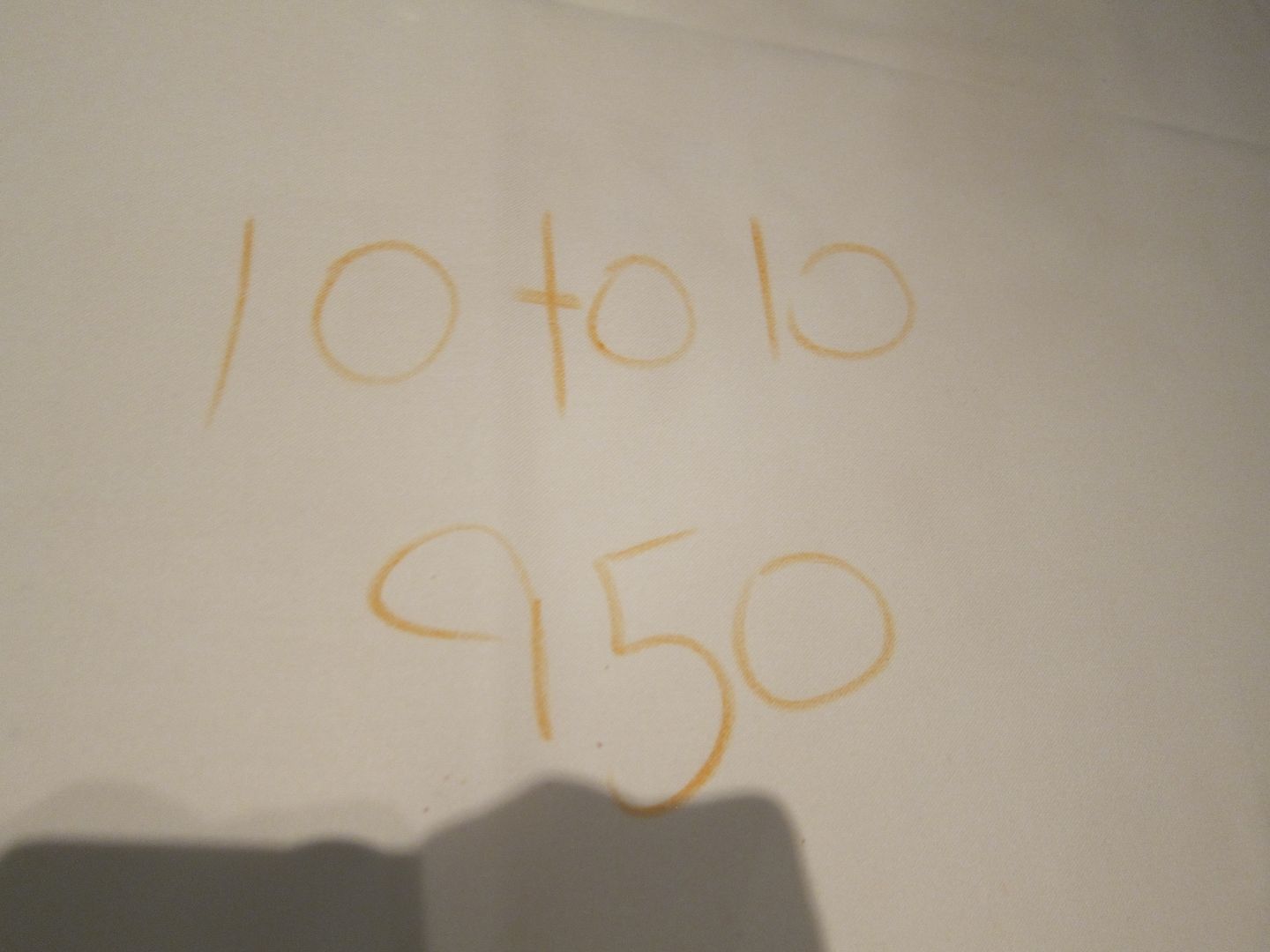 Previous Post | Next Post
Table of Contents
Follow



Share