A Meal to Remember:
Dining at Club 33
Part IV: Until Next Time
---
Previous Post | Next Post
Table of Contents
We took a little while to leave Club 33, even once our check was paid. Since we didn't (and still don't) know if/when we'll be back, we wanted to savor the time there. So we stepped back outside to see a nearly empty New Orleans Square below. The park hadn't quite closed yet, but without any entertainment happening on the west side this evening, no one was really around.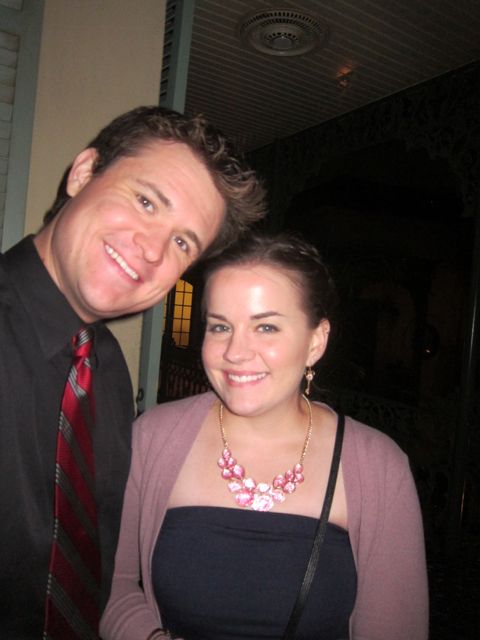 We also meandered toward the exit, making sure to see and photograph any decor we might have missed thus far.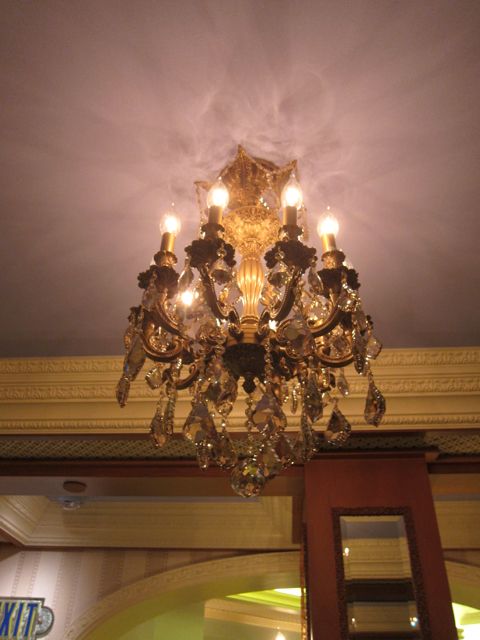 We couldn't depart without signing the Club 33 guestbook.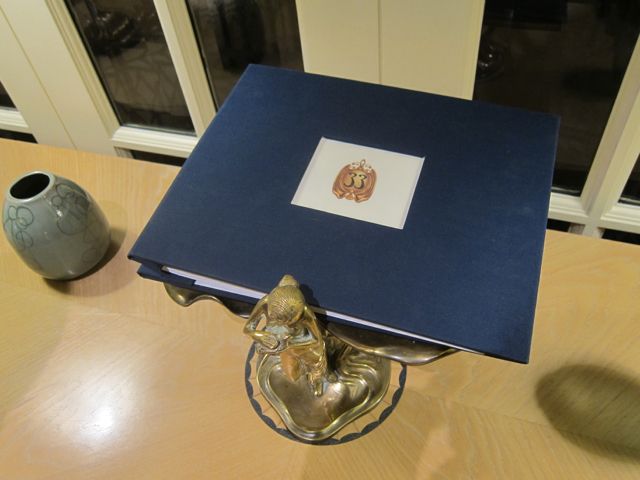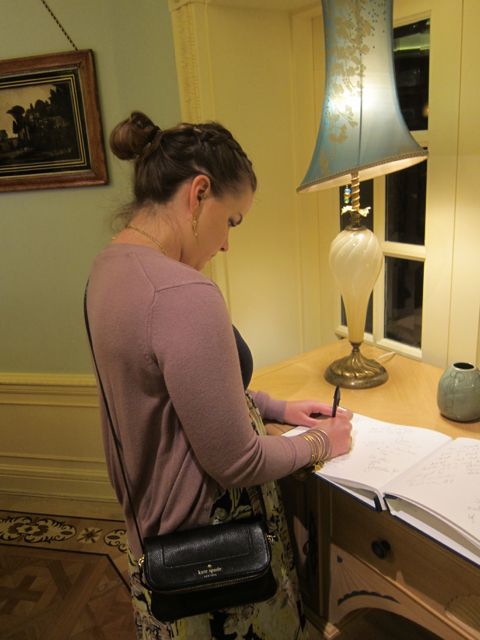 Here's what we added.
I swear this lamp somehow uses forced perspective…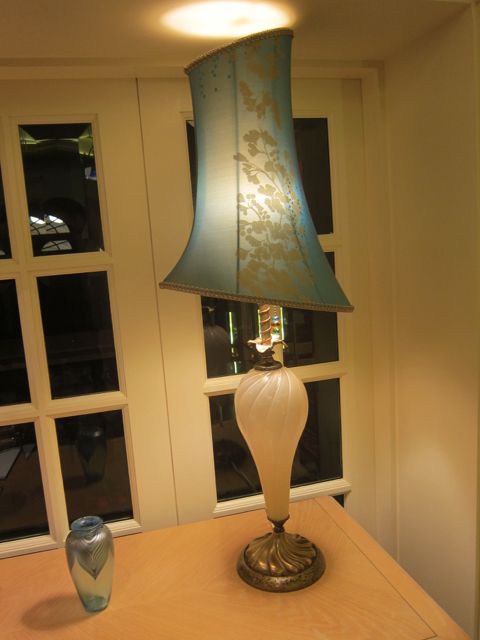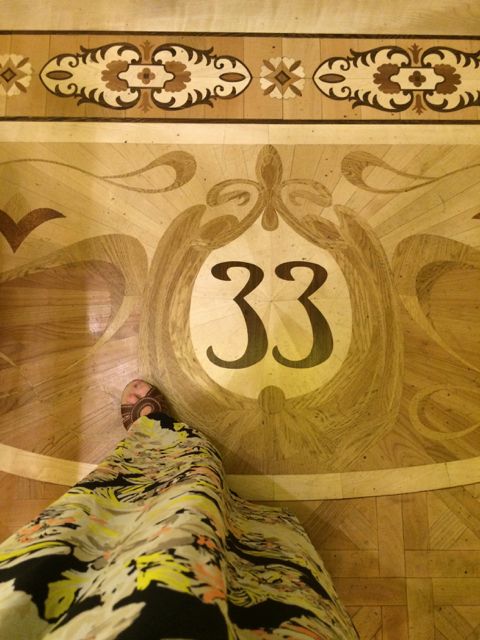 And you'd be crazy if you think that we could eat here and not raid the cabinet full of souvenirs. Even though we'd spent quite a bit on dinner, we weren't ready to put away our wallets just yet.
This time, we kept our shopping just a bit more low-key than we had when visiting Le Salon Nouveau. Tracy got the scarf you can see in the lower case, I got a pin, and we also went for a set of Mickey ears that we could add to our wall display.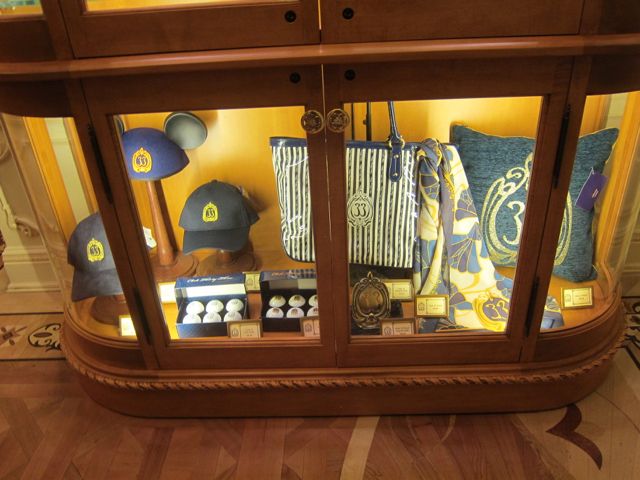 Here are our feet atop the floor logo.
Just as we were about to leave, the vulture finally talked!! Unfortunately, I have absolutely no recollection what he said…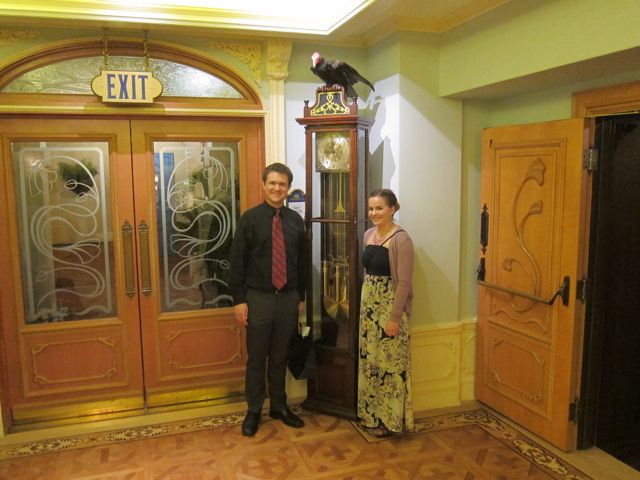 Once he'd spoken his mind, he went back to silently judging us all.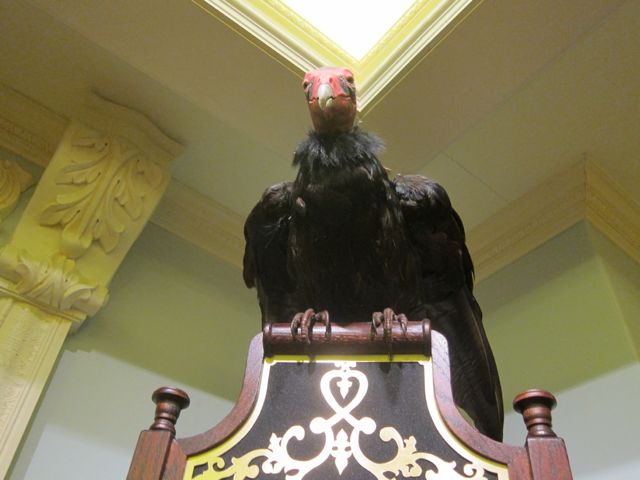 Just a couple more pictures, and then we felt like we actually should leave (even though we certainly weren't the last ones in the restaurant).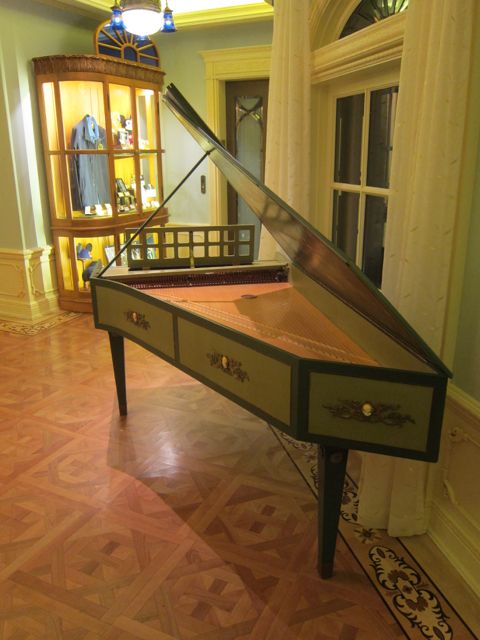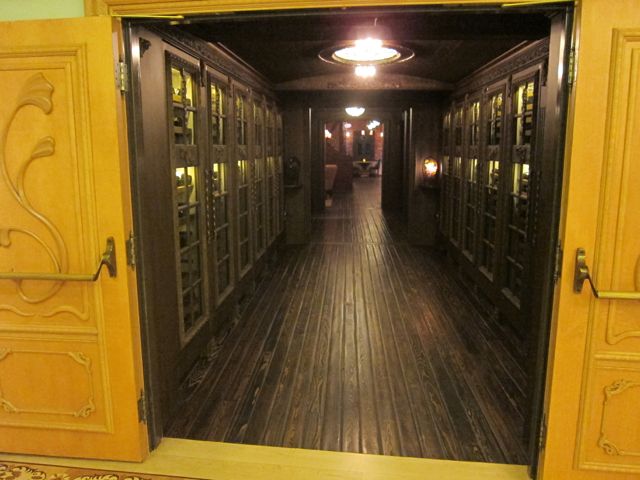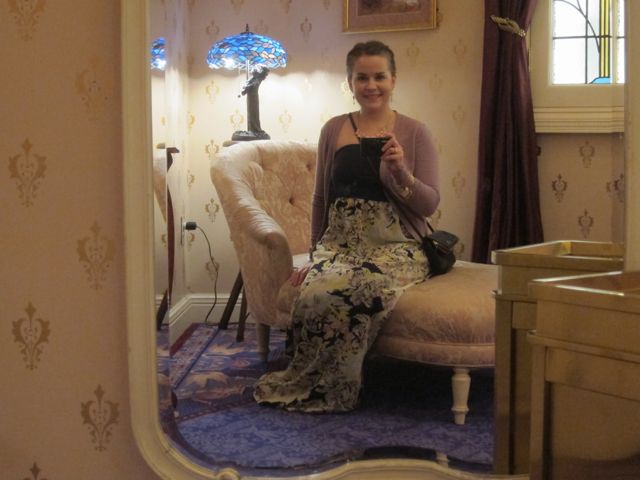 We also loitered in the Court of Angels for a bit before actually leaving—again, who knows when we'll be back!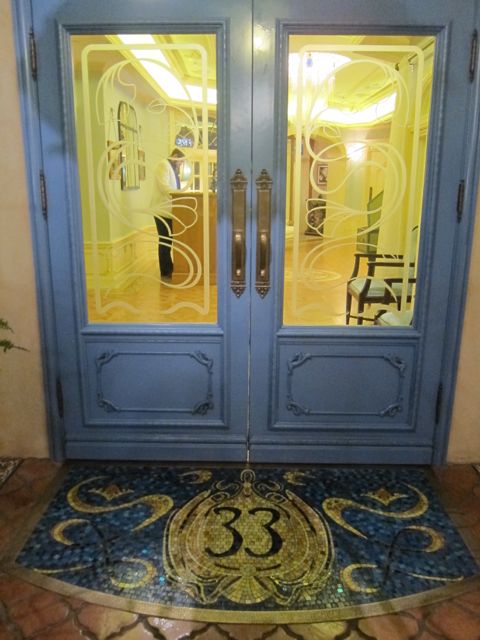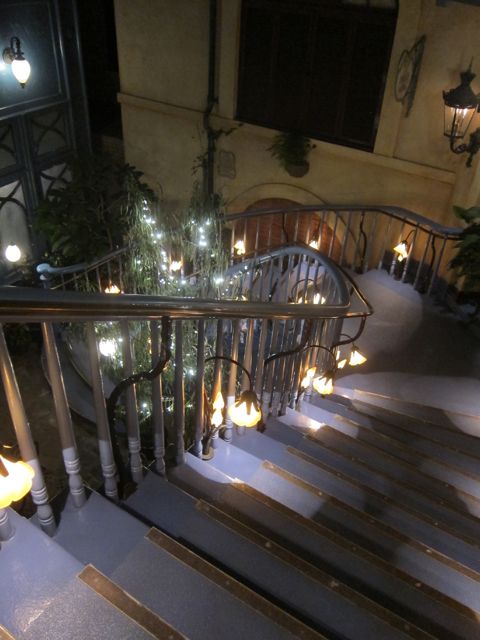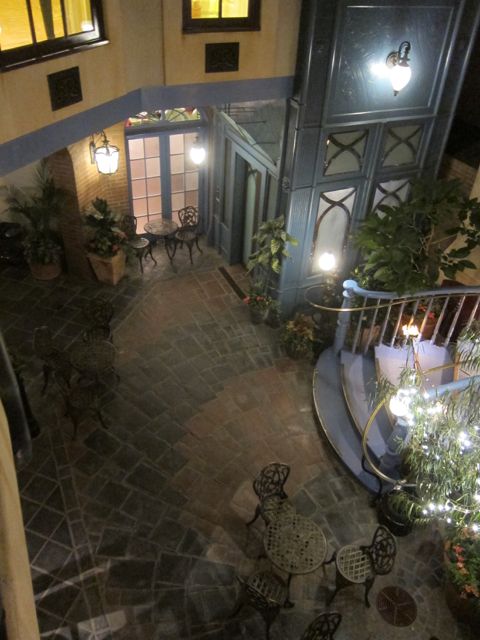 It was a little stressful deciding to leave because we knew once we were on the other side of those doors, we weren't allowed back in!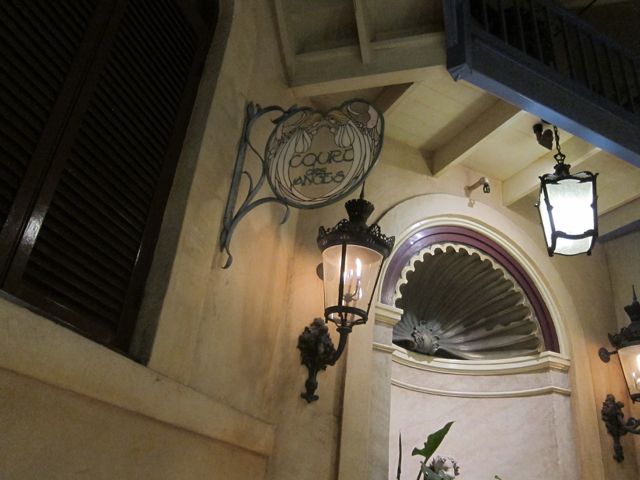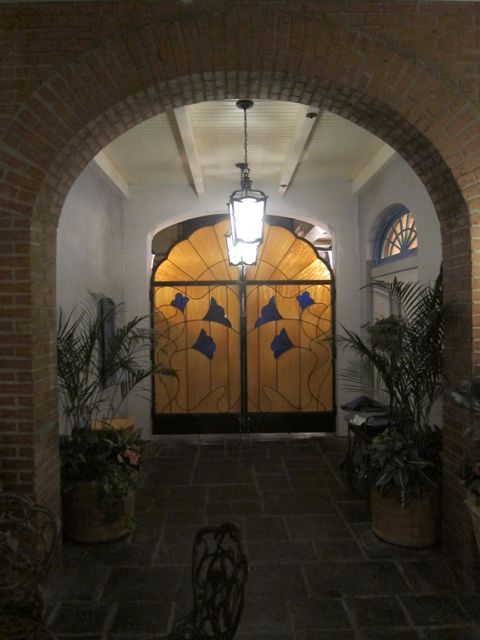 Finally, we headed to the exit and looked back up at Club 33 now that we were once again peons.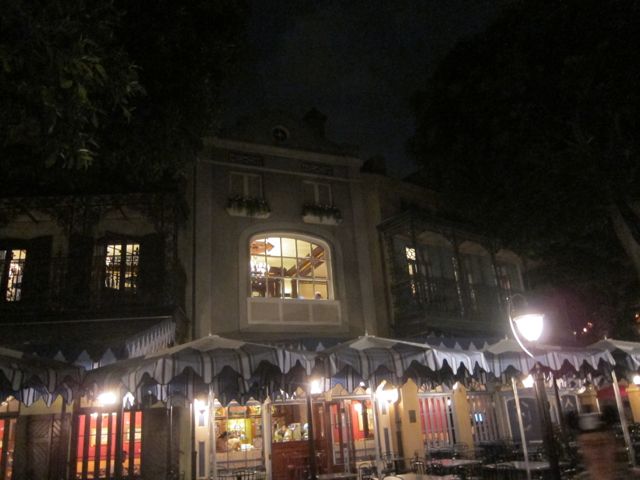 The park was just closing as we walked past the lit up Mark Twain and toward the exit.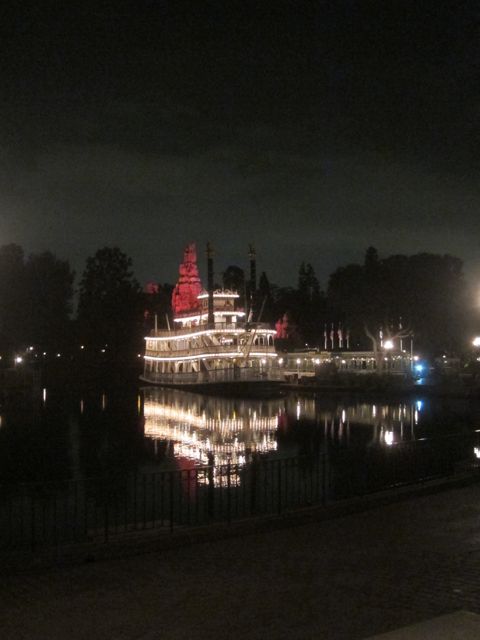 Overview of Club 33 Dining Experience
Service: Impeccable. The servers at Club 33 are the best of the best, and ours gave us the same treatment we would have expected if we were members paying thousands a year. 5/5
Atmosphere: Can't beat it! We loved soaking in all of the little details (and getting tons of pictures) because the atmosphere is what makes Club 33 worth the wait. 5/5
Food: This was easily one of the best meals we'd ever eaten. We don't typically go to fancy restaurants (except at Disney parks), but this was definitely primo food. 5/5
First Visit?: Yes
Will Return?: We certainly hope so someday! It's probably good that we don't have some open invite every time we visit Disneyland. Mostly because our wallets certainly couldn't bear that, but also because I think there's something great about this being a restaurant that really epitomizes special occasions.
Support the Wandering Mouseketeers and get yourself a little something—do your online shopping via our Amazon link!
Follow



Share