October 19, 2016
Chapter 2
Hyde Park Corner
---
Previous Post | Next Post
Table of Contents
"Nighttime" was a bit of a misnomer on our red-eye flight, but both Tracy and I got a decent four or so hours of sleep in our respective rows. It was already after 10am London time when we decided to treat the flight attendants delivering breakfast as our "wake-up call." The seatbelt sign was on at first, so I couldn't move back to our shared row until after eating what was supposed to be something akin to a bagel, as well as a yogurt and some fruit.
When we reunited in our actual seats, Tracy let me know that she had bonded with the flight attendant, who was excited to dole out some advice to first-time visitors to London. But more on that later. We filled out our customs cards and got ready for landing (which involved a few extra circles before our final approach). Even though we had taken off almost an hour after our scheduled departure time, we still had wheels down before our scheduled arrival. It's amazing how much time you can make up when flying east!
Deplaning was a bit slow-going because we were way in the back, but they did have the two jetways open again, which sped up the process a little. After that many hours in the air, it felt good to be on solid ground once more. As we walked through the terminal, we could see our large plane just waiting to turn around and fly right back to Denver.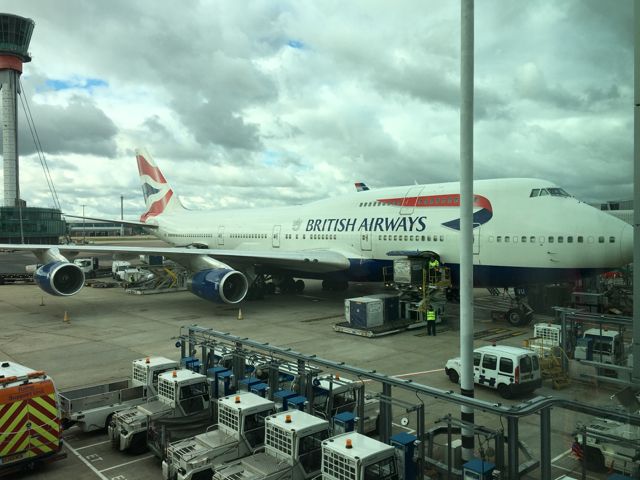 My last memories of Heathrow weren't exactly pleasant. When flying back from Paris in 2004, my party had a very tight connection in London, so we'd had to dash through the airport (and our luggage got left behind and delayed for a day). This time, however, it was much more calm, pleasant, and practically empty.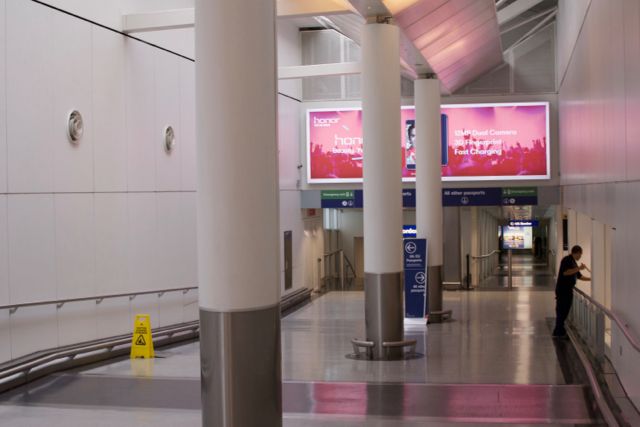 It didn't really feel like we had actually crossed the ocean to another continent, but there were some Londoners adorning the wall and welcoming us to their city.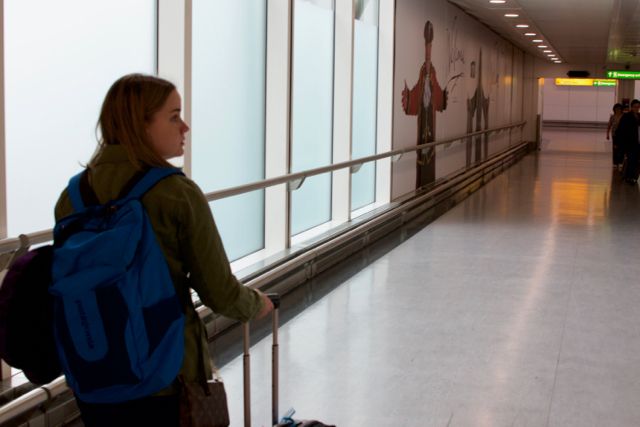 When we got to the customs line, we ran into the rest of the passengers from our flight. The EU passports line was so short, but ours had several switchbacks. Luckily, it kept moving pretty steadily, and we got to the front within about 20 minutes.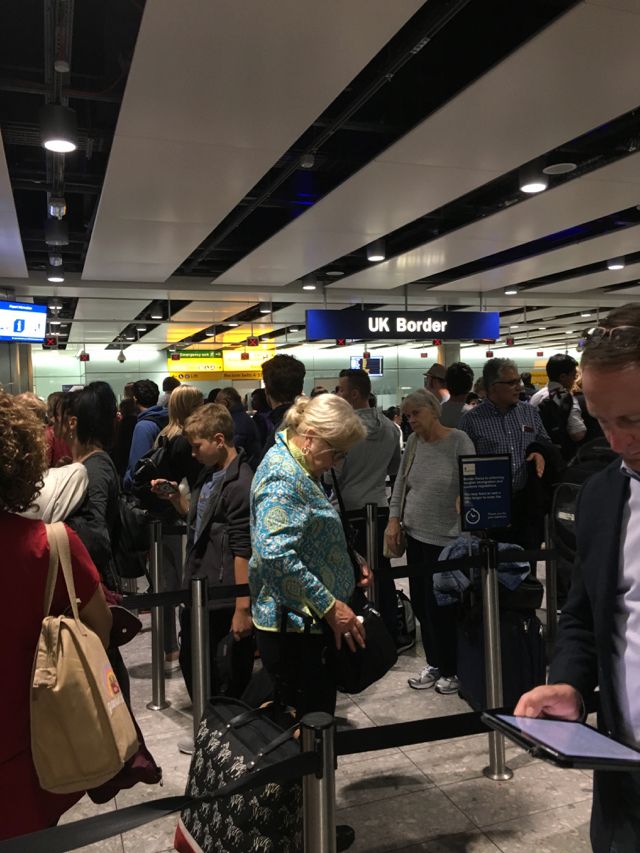 Since neither Tracy nor I give off a very threatening vibe, we were waved through pretty quickly and finally got our passports stamped (on our two Disney cruises, we hadn't acquired a single stamp in spite of departing from Canada for one and visiting the Bahamas for the other…).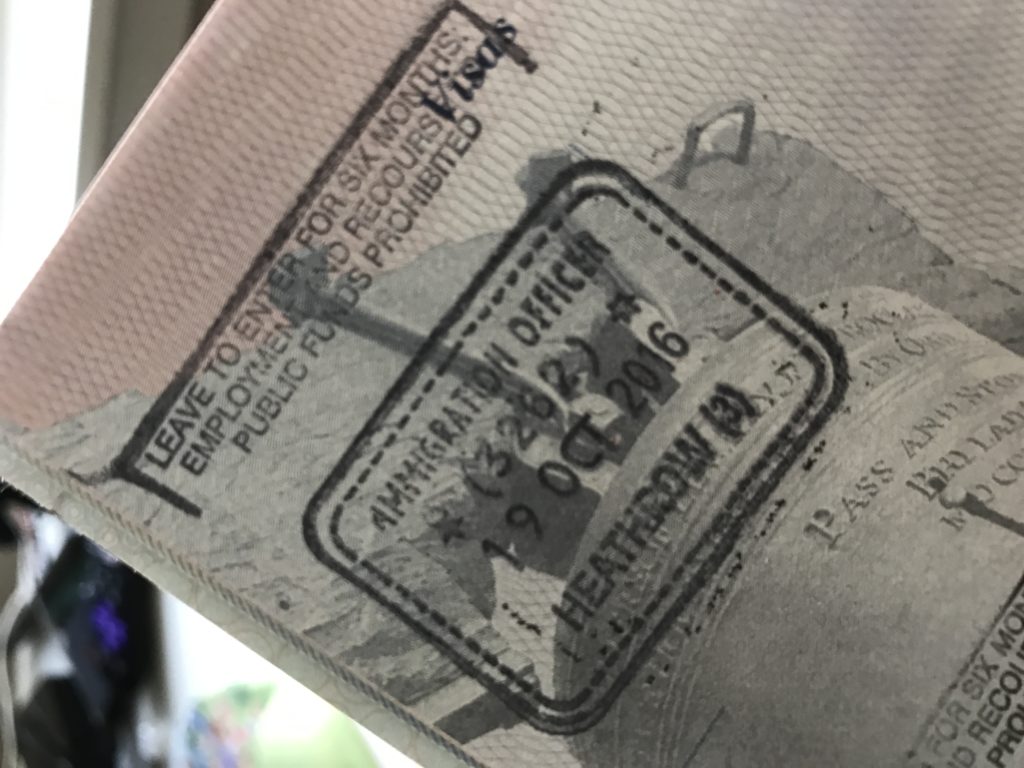 I almost missed this next photo op because I was distracted with where we were supposed to be heading, but then I happened to have Hugh Grant's voice ringing in my ears as he talks about the arrivals gate at Heathrow Airport at the beginning of Love Actually. There weren't too many people waiting, but they all did seem pretty excited to be welcoming their loved ones.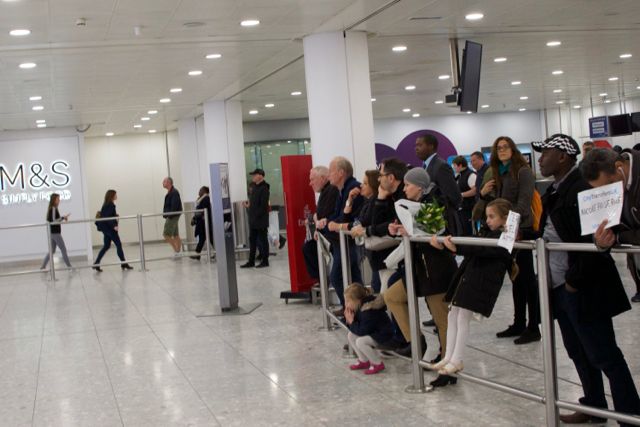 If there's one thing that's been pretty standard everywhere we have ever traveled, it's signage at airports, and we had no trouble whatsoever figuring out where we needed to go.
We were jumping right in when it came to public transportation. We are super experienced with traveling via subways, and we had no desire to spend £100 to get from the airport into the city via cab—especially considering the excellent reputation of the Underground.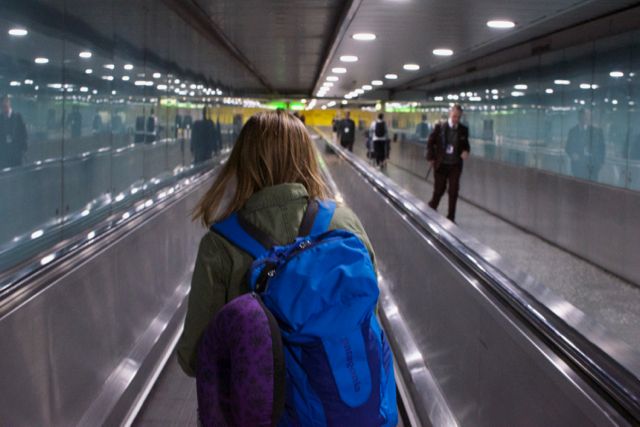 Rick Steves told us to get Oyster Cards that we could top up as needed throughout the trip. These have two major benefits: 1) You pay a 50% discounted fare every time you ride, and 2) There is a maximum on how much you can get charged in a single day when you stay in the main zones within the heart of the city. We started with £20 or so on each of our cards and went to take our first ride.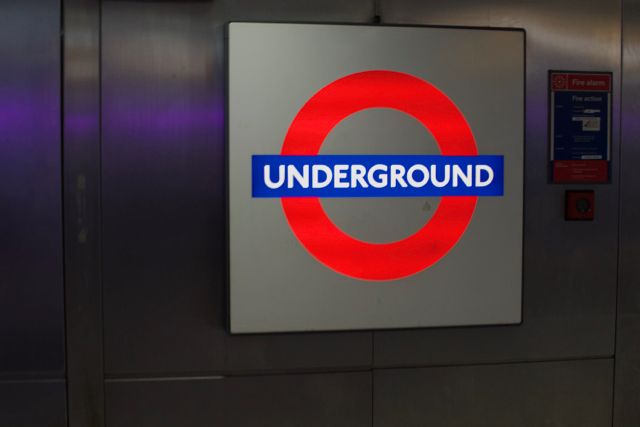 A few logistics for anyone planning a similar trip abroad from the U.S. We have a credit card with no foreign transaction fees, so that's what we used throughout our trip. In both London and Paris, it worked perfectly without any hiccups, and we always got a much better exchange rate than we could have ever hoped for if we had dealt with cash. We also decided to "splurge" a little bit and enabled international roaming on my phone via our Verizon plan back home. Doing so cost $10/day to essentially replicate my unlimited calls and texts and beefy data plan in whatever country we were visiting. The key advantage to this strategy was that we could use Google Maps wherever we were to avoid getting lost at all (which we basically never did) and also have easy access to the Internet and various apps that would help us in our travels. We didn't want to pay an extra $10 a day for Tracy's phone, so she just tethered off of mine whenever she wanted to use data.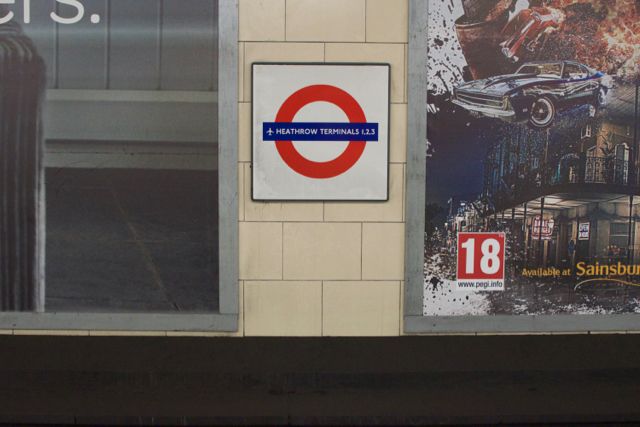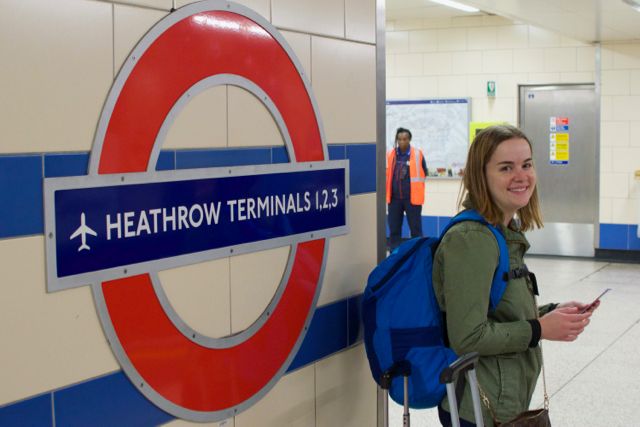 It becomes clear the minute that you take your first tube ride in London just how much better maintained this system is than similar ones in other cities. Obviously, our most direct comparison was New York—where we had relied on the shoddy MTA for years—and the London option beats out that mess, hands down. The carpeted seats are much more comfortable, the trains all have technology that you can tell was introduced within the last few decades, and the carriages generally don't smell like urine. Obviously, no public transit system is perfect, but our first impression was definitely positive.
Rather than trying to change trains with all of our luggage, we opted for the route that would involve more walking above ground once we had arrived in the Victoria area.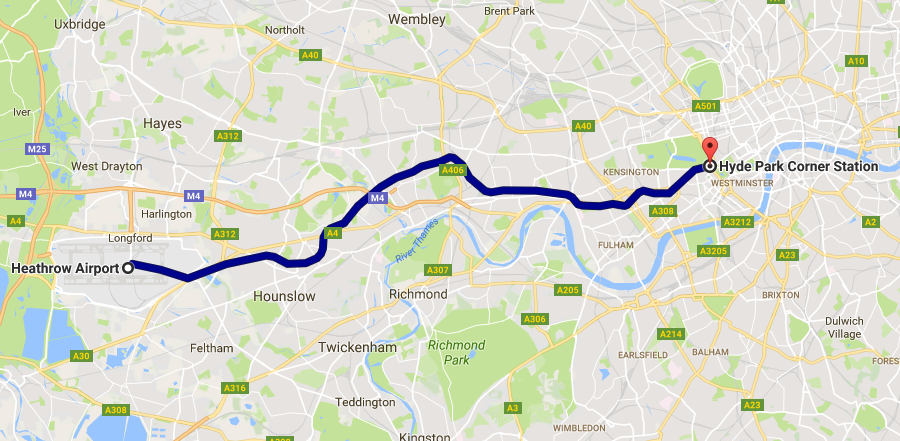 The station we exited at was Hyde Park Corner (which will now inevitably be associated in my mind with the "code word" meaning the King is dead in the Netflix series The Crown).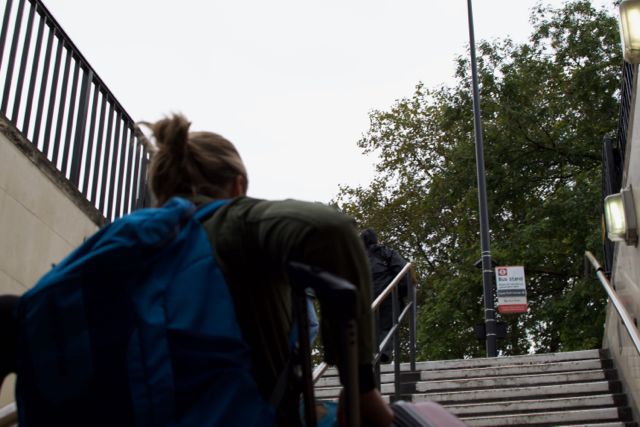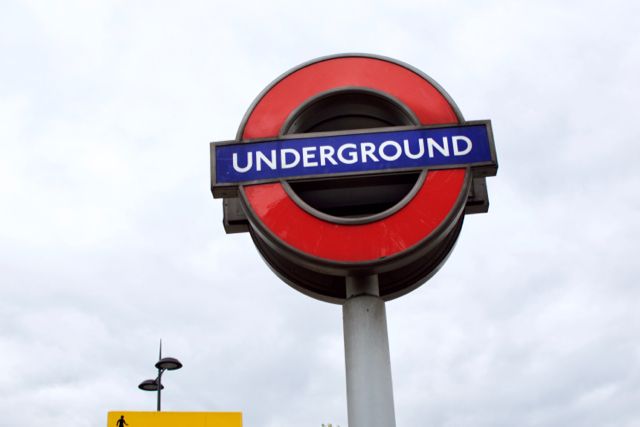 The walk from Hyde Park Corner to our first hotel was just under a mile, which sounds extremely doable when you are imagining it but ends up feeling much longer when you are dragging a 50-pound suitcase and have another 20+ pounds slung on your back.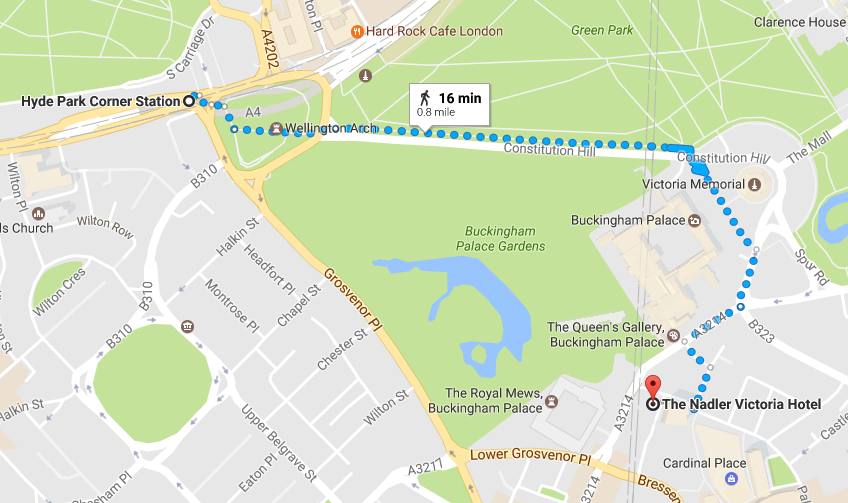 Luckily, we were getting our first taste of London proper, so we were kept pretty distracted from the drudgery.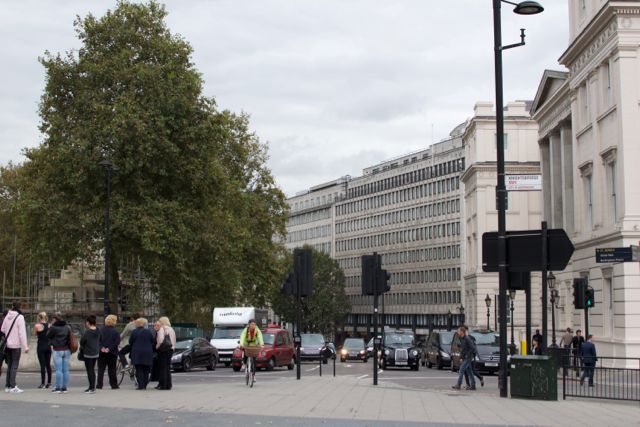 We chose the path that took us through Green Park and past Buckingham Palace because we wanted to start sightseeing as soon as possible!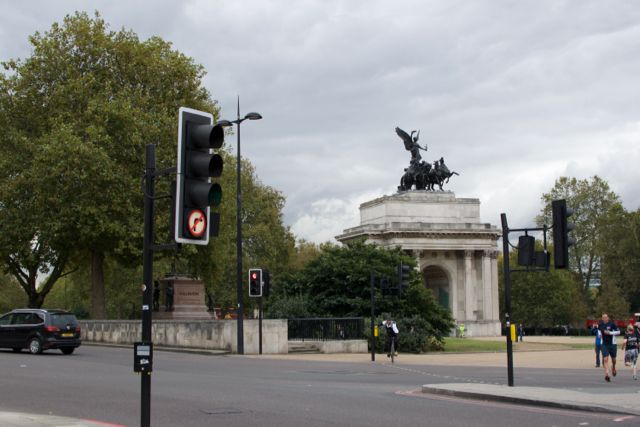 Here's Wellington Arch—named for the Duke of Wellington, hero of the Napoleonic Wars, but now featuring a statue of the Goddess of Peace.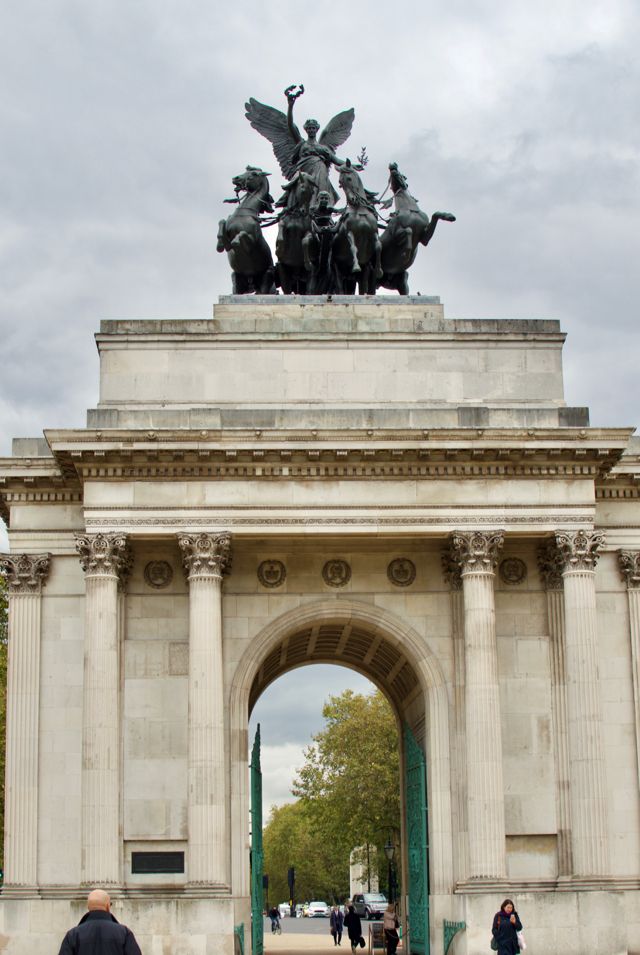 As we continued our walk, it took us along the park's edge, so we were surrounded by greenery even in the midst of the city.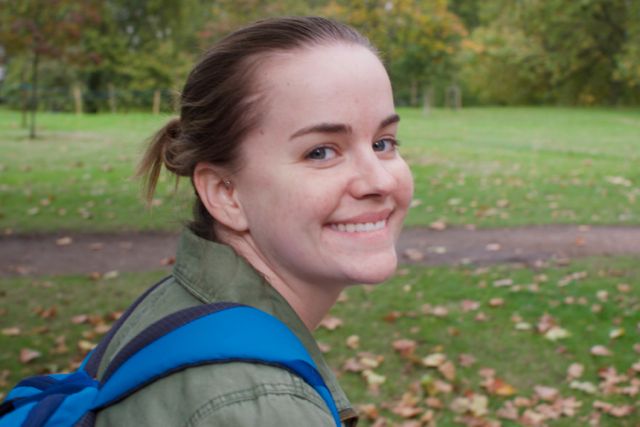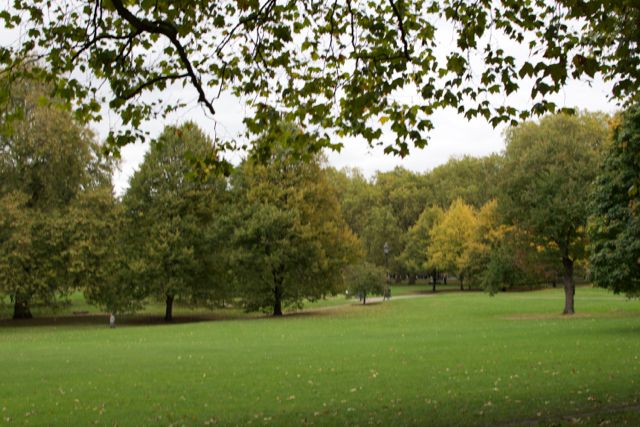 Previous Post | Next Post
Table of Contents
Support the Wandering Mouseketeers and get yourself a little something! Do your online shopping via our Amazon link!
Follow



Share